25+ Best Video Player WordPress Plugins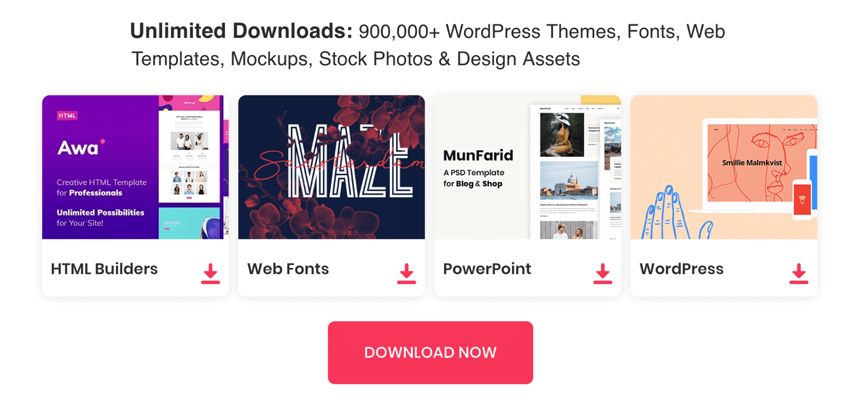 A Video Player WordPress Plugin allows you present video content in your WordPress blogs, posts, and pages quickly and easily. Here is collection of the Best Video Player WordPress Plugins latest 2016 which are flexible options.
You may also like:
Today, We are going to reviewing the more than 25 best WordPress video player plugins. The video player plugins made easy to embed videos. Enjoy !
HTML5 Video Players WordPress Plugins Bundle
This Video WordPress Plugin contains 3 WordPress plugins which cover a vast area of video players, with support for Self-Hosted MP4, YouTube & Vimeo.
Elite Video Player – WordPress plugin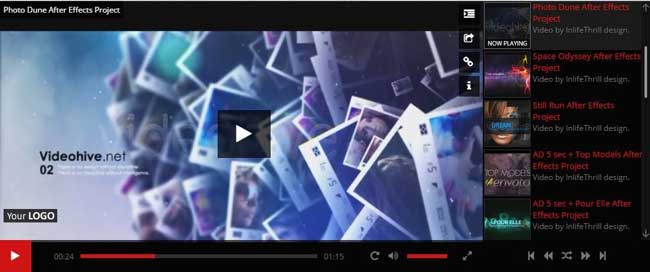 Elite Video Player is modern, responsive, fully customisable high-end video player for WordPress that support advertising and the most popular video platforms like YouTube, Vimeo or self-hosting videos (mp4).
Visual Composer Addon – HTML5 Video Player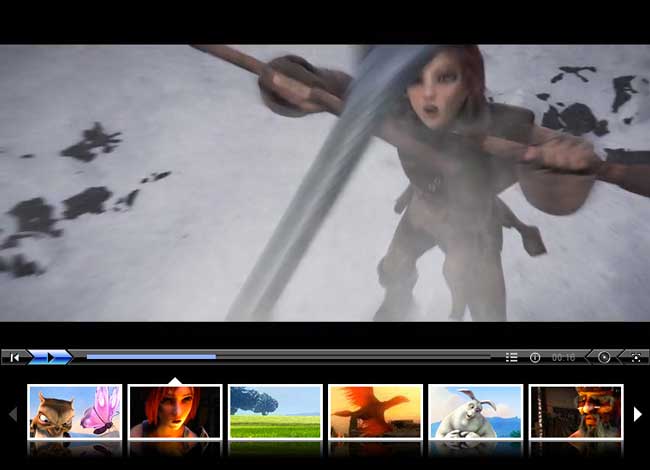 This Visual Composer Addon – HTML5 video player comes in two versions: Right Side playlist and Bottom Playlist. It plays .MP4 and .WEBM video files
Video Player HTML5 Youtube Vimeo – Wp Plugin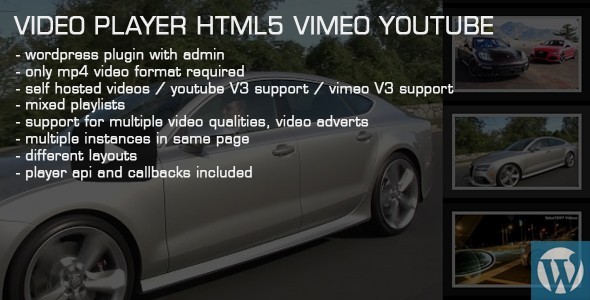 Multiple predefiend layouts (horizontal / vertical playlist, 100% layouts, button / scroll navigation, no playlist (use as single video player)
Multiple instances in same page supported
Only mp4 video format required for all browsers and devices
Load videos from folder of mp4 files
YouTube Data API (v3)
Video Ads Player with Google IMA, VAST/VPAID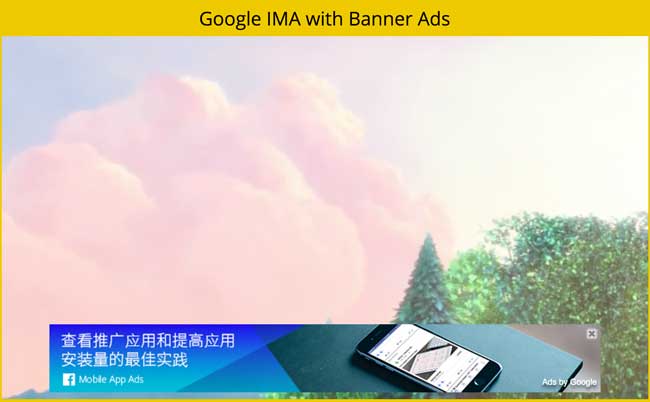 This is a premium wordpress plugin that fully supports Tags from:
– Google Adsense for Video with Google Interactive Media Ads (IMA), including Preroll, Postroll, Banner and Text;
– Video Ad Networks, including Double Click Publishers with VAST 2.0/3.0 and VPAID Rich Media Interactive Tags;
– Add Any HTML Overlay over your video, including buy buttons, optin forms, banners, WP Shortcode, and more.
– Special Features include Facebook Retargeting, Dimmer Lightbox Effect, and Timer Countdowns in Video included.
HTML5 Video Player – with Grid Style and Lightbox Popups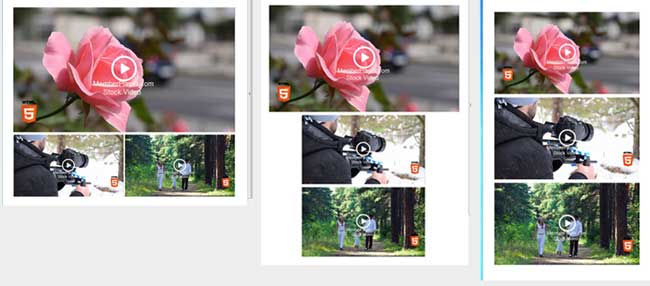 MemberPlayer's™ Mobile Responsive HTML5 player ensures a A+ viewing experience across devices, platforms and browsers. HTML5 or Flash? No worries. MemberPlayer leads with HTML5 player first, and then will autoswap to Flash if your website visitors browser does not support HTML5.
Video Player WordPress Plugin – YouTube/FLV/H264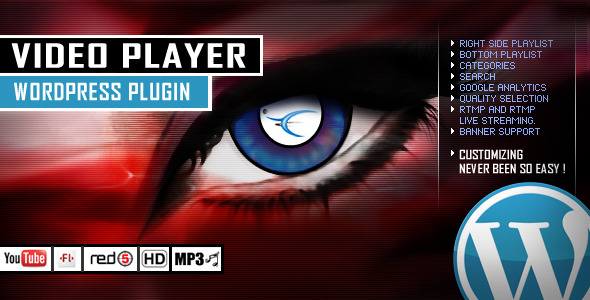 This wordpress plugin will help you administrate the entire video player using a very friendly interface. You'll be able to customize the player look & feel, playlist and CSS file. The plugin comes in two versions: Right Side playlist and Bottom Playlist
Vimeo Video Player WordPress Plugin with Playlist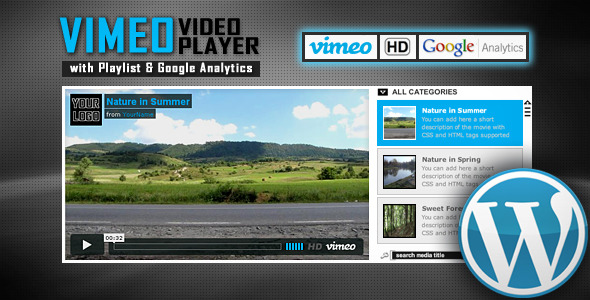 This wordpress plugin will help you administrate the entire video player using a very friendly interface. You'll be able to customize the player look & feel, playlist and CSS file.
WebCinema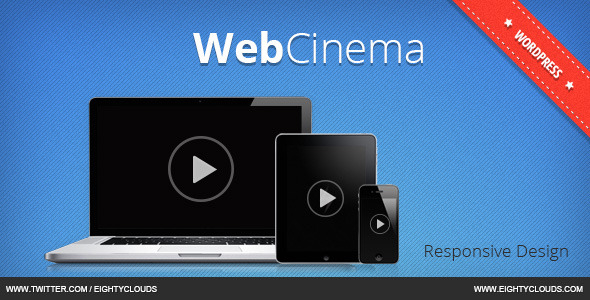 WebCinema is an easy to use WordPress Video Plugin with responsive design that gives you the possibility to display your videos or video playlists on your website.
ProgressionPlayer – WordPress Plugin
Show off your work with this easy-to-customize and fully featured Audio/Video Player. When purchasing this player, you will receive a detailed help file along with additional features like 5 custom skins and Responsive Layout.
Generate Video From Links PRO ( WordPress Plugin )
Generate Video From Links PRO is a wordpress plugin which generate video players from links. (video website: youtube.com, vimeo.com, dailymotion.com and metacafe.com.You can create your own video player style for every video and you also can configurate settings.You will be able to insert it in any page or post.( select directly from short code generator menu ).
WTB Youtube & Vimeo Gallery
With this powerfull plugin you can add youtube and vimeo videos to different gallerys and categorys easy via shortcuts. Its really easy to integrate the plugin in your existing wordpress intallation with shortcodes.
Youtube Playlist Player
Youtube Playlist Player (Berry Edition)
WooCommerce Video Links – Product Embedded Videos
WooCommerce Video Links – Video Previews In WooCommerce
Multi media player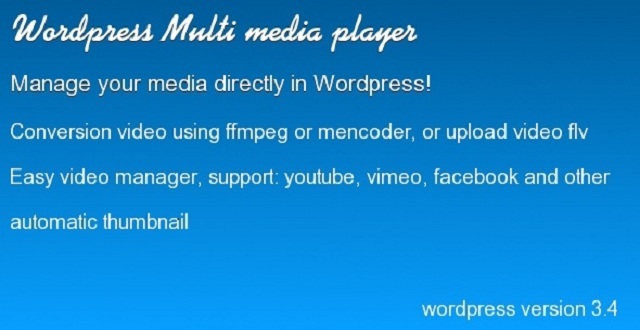 Multi media player Manage your video directly in WordPress! The multi media player is a plugin easy to manage, to manage video, with the possibility of creating catalogs, videos and video clips. Supports most video provider: youtube, vimeo, facebook, dailymotion, myspace, metacafe, revver, 5min, clikthrough, dotSUB, Revision3, VideoJug, blip, viddler, Screenr, slideshare, hulu, Qik, Flickr, funnyordie, twitpic, Yfrog, break.
HTML5 Music Player for WordPress with 3 Skins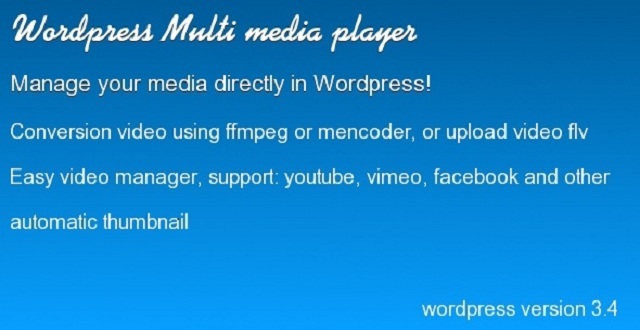 This HTML5 music player is great for anyone who needs their music to work on both desktops and mobile devices. It has three CSS3 based skins to choose from and comes with a custom built Flash fallback for older browsers that don't support HTML5 Audio.
Useful Video Player
Useful Video Player allows you to embed videos to your WordPress powered website without hassle.
WP Video Music Box
WP Video Music Box – WordPress Plugin is first wordpress floating music player in the world. A music search box an player with the button "music" that will floating on the left of the web page. If the button click, the form will appear with slide effect. The form is using AJAX , so the page wont be reloaded. WP Video Music Box allows you to quickly create, save and modify your lists. WP Video Music Box uses youtube. You can search any kind of musician add them to your lists. This script is very modular so you can add other resources very easily. It can be integrated into any existing PHP page within minutes using a simple file include.
WordPress YouTube Instant Player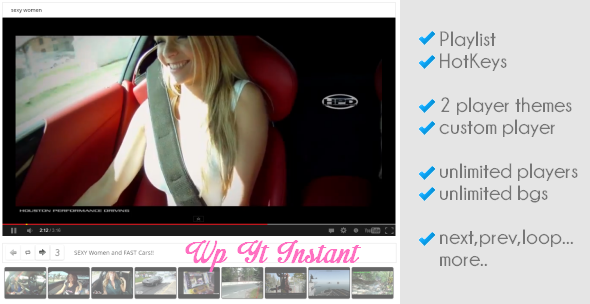 WordPress YouTube Instant Search Plugin, I can tell you that is a very powerful application that will turn your wordpress website into a fun place to stay.You can use it to give your guests the ability to search in millions of videos in a few seconds and all they have to do is typing the name of the video, but this is only a small part of what it can really do, I'll let you check.
jQuery responsive youtube playlist for WordPress
A very simple way to show a youtube playlist with jquery and fully responsive player. You can choose the following playlists. A regulair playlist (the default), user_uploads (channel), make a list with search keywords or make your own custom list all with the use of shortcodes
Spotify Player & Playlist Builder
Embed a playlist, song, or album from Spotify into any page, post, or sidebar text widget using your personal Spotify account OR the built in Playlist Builder. The Playlist Builder will allow you to search Spotify for songs and add them to a playlist. Once you're playlist is ready you can use it as your default playlist or generate a shortcode to paste into a page, post, or sidebar text widget.
Yabani – Video Gallery for WordPress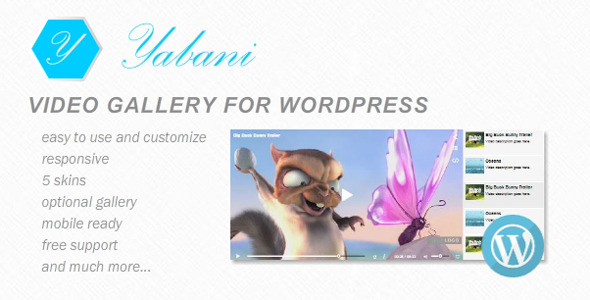 Yabani is Responsive Video Gallery for WordPress powered by HTML5 video. You can use player without gallery with only one video, or you can build your own gallery with thumbnails, titles and descriptions. Number of videos is unlimited. Gallery comes with 5 pre-built skins and it's resizeable and customisable so it fits perfectly in every website design.
Full Width Background Gallery with youtube Video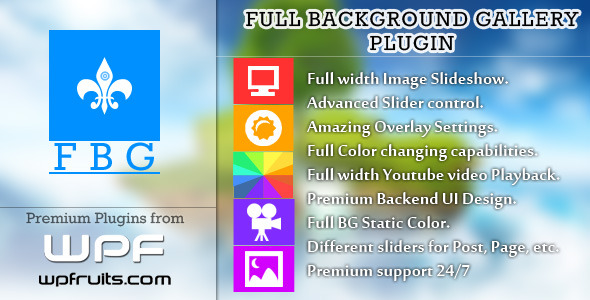 This full width background gallery plugin is a extended version of full width background slider with an option to add unlimited slides and a revolutionary feature of adding youtube video to the background. You can add a different video to each page or slider to one page and video to other page and background color to another page.
YouTube Videos for WordPress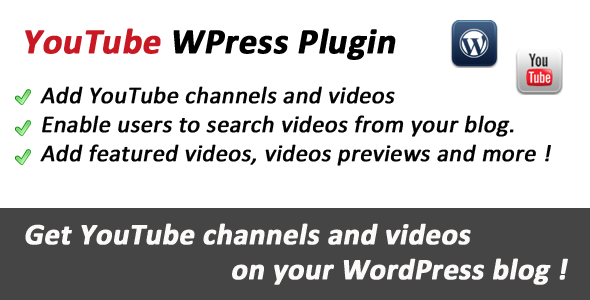 This Premium YouTube Plugin for WordPress enables you to integrate different YouTube feeds into your blog. You can integrate YouTube channels, featured YouTube videos (Most Popular videos, Most View videos etc…), videos from playlists (New), videos from search results and also videos from default Categories (Music, Autos, News etc)
ZoomBox 2 WordPress Plugin DZS – Creative Lightbox
ZoomBox 2 – The Photographer's Lightbox ! What makes ZoomBox unique to the other lightbox scripts ? In short – quality, user-friendliness, design and social media connectivity. Take a look at the demos and be convinced.