25+ Best Pinterest Style WordPress Themes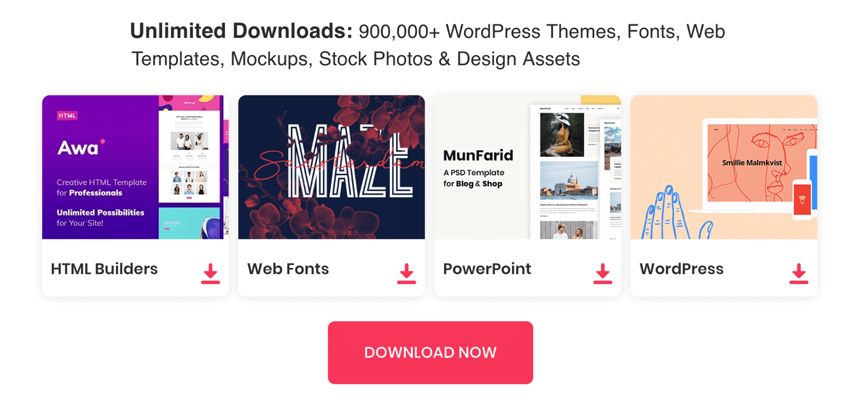 Pinterest Style WordPress themes became really popular after the Pinterest social networking site started emerging as one of the leading Social site. So if you are looking for a Pinterest WordPress Theme clone or just want to create your own website with a Pinterest style design, the Best Pinterest Style WordPress Themes below are great options.
Below are more than 25 awesome free and premium Pinterest style for WordPress which help you create a nice Pinterest style website with WordPress in no time. Check them out below!
Sampression Lite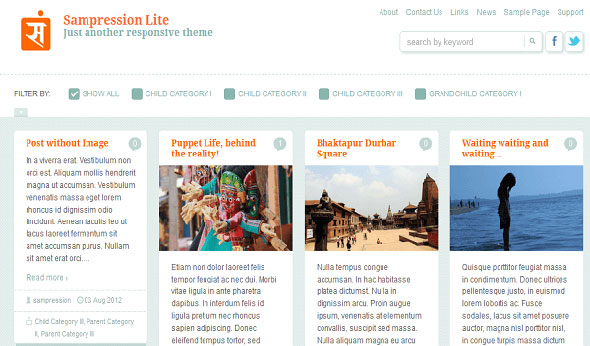 Sampression Lite is a minimalist, fully responsive, retina ready, translation ready, clean theme, perfect for blogging. It's lightweight responsive design allows this theme to adapt across a range of screen sizes. Besides an elegant design, Sampression Lite features customizable menus and widgets, supports custom header color and image, custom background color and image, along with a threaded comments section. It supports sticky notes with special effects and allows for the best placement of feature images on posts. It is a full fledged theme with easily customizable theme option page.
PinThis – Best Pinterest Style WordPress Theme
PinThis is Pinterest inspired WordPress theme that comes chock full of style and customisation options. PinThis is a cutting-edge, masonry based, multi-purpose theme. With its clean design it is great for projects that emphasizes a stylistic and modern look. Design Theme is made in a beautiful FLAT style. It is suitable for Personal Portfolio, Creative Agency, Designer Portfolio, Illustrator Portfolio, Photographer Portfolio and more. PinThis has been built and designed with simplicity in mind.
Shaken Grid (lite) – Pinterest Style WordPress Theme
Shaken Grid (Lite) is very beautiful responsive wordpress theme with pinterest style. This is very nice for your image gallery blog. This theme comes with free and paid version. Free version is also highly customizable.
Clipboard – Pinterest Inspired WordPress Theme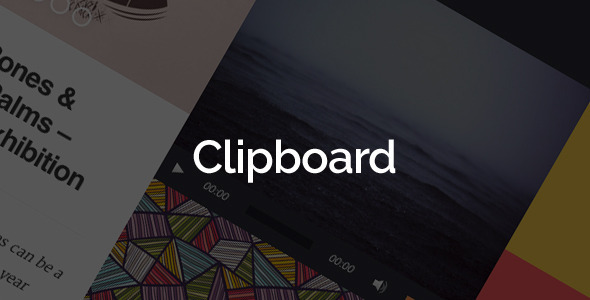 Clipboard is Pinterest inspired WordPress theme that comes chock full of style and customisation options. If you are looking to get started with microblogging then Clipboard is the way to go! Clipboard supports all of the core WordPress post formats and has been built and designed with simplicity in mind.
Gridly – Best Pinterest Style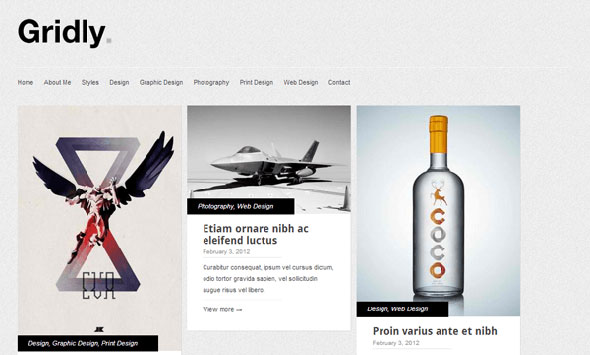 Gridly is also responsive wordpress theme which looks like pinterest. This is free theme but has lot more features. It has two color schemes, featured images and lot more features.
Ikebana – Masonry WordPress Portfolio Theme
Ikebana is a premium WordPress portfolio theme created by Satori Studio. Our aim was to develop a minimal, clean, and aesthetically pleasing, yet stable, powerful, and highly customizable theme to use for agency websites, personal portfolios, photography or art showcases, as well as personal blogs and Pinterest-type collections. Ikebana is a responsive and retina-ready theme, which means your website will be equally usable and good-looking on both large monitors, laptops, tablet devices, and smartphones, including those with high-definition screens.
SUPER GRID | Fullscreen Grid-Based Portfolio/Blog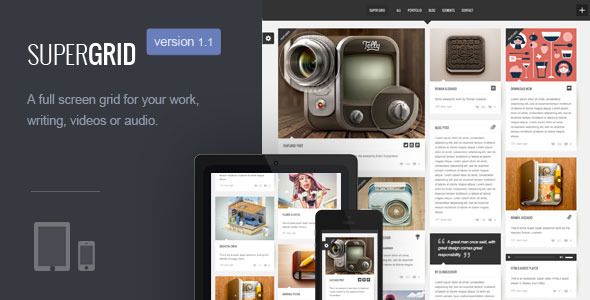 Super Grid is a retina ready, fully responsive, unique, grid-based, minimal, layout-shuffling WORDPRESS THEME to showcase your work. It can be used as either a Portfolio or a blog or both! It is a unique theme filled with many features that will make your work stand out from the rest.
Pinpress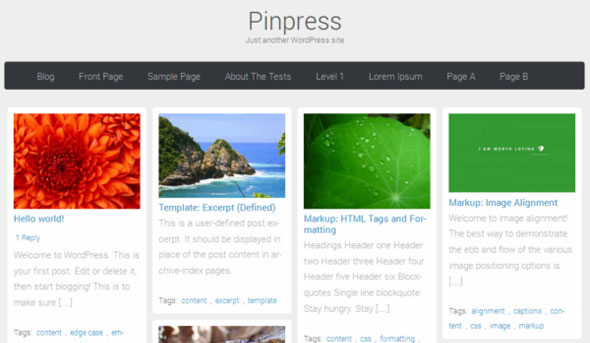 A responsive theme with neat masonry layout similar to pinterest with infinite scroll. If you need a perfect mobile theme, then pinpress might be the right option.
Spaces | Full Screen Grid-Based Blog/Portfolio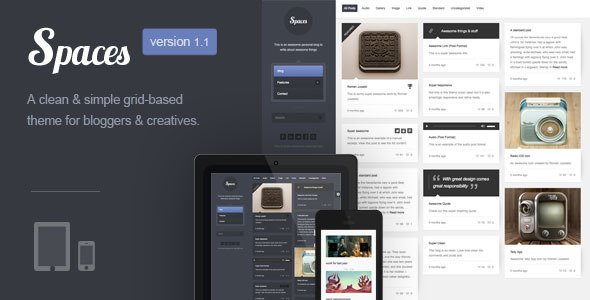 Spaces is a clean, minimal, fully responsive, grid-based personal blog to write and collect your favorite things. The unique Pinterest style layout is perfect for showcasing your work, and collecting and writing about the things you like.
Nano – Responsive Portfolio and Blog Theme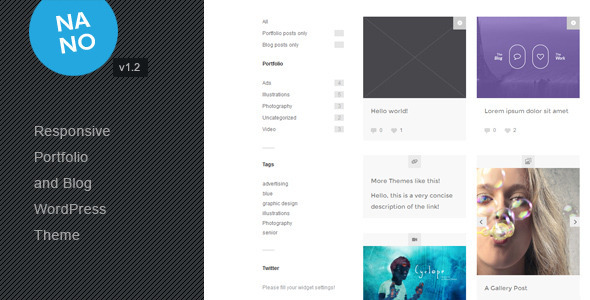 Nano is a professional Portfolio, Blog and Photography WordPress Theme. It's minimalist design creates focus on your creative content and comes with powerful features that make it perfect for a design, photography, agency, or other creatives or blog enthusiasts. You can also create a pinterest style blog with this theme.
Fotografia, WordPress responsive theme for artists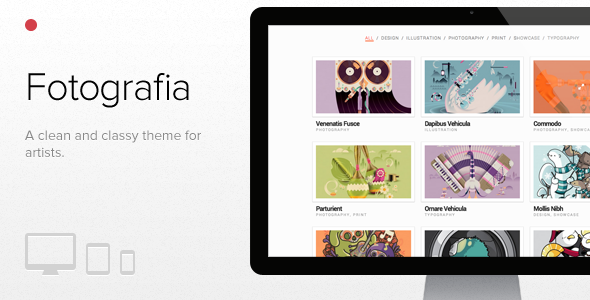 SympaGrid – Responsive Grid WordPress Theme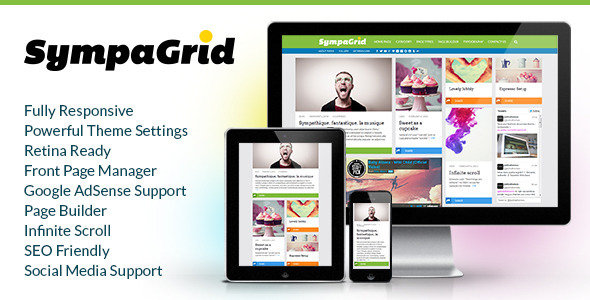 SympaGrid is a grid-based, fully responsive, retina ready, post-format supporting, SEO friendly, clean and modern WordPress theme suitable for any kind of creative, personal or business use. It comes with a powerful Theme Settings, Page Builder, Front Page Manager, Infinite Scroll, Social Media Support, Google AdSense Support, Slider Revolution Support and many other options. Importing the demo content with one click gets you going with SympaGrid in no time! If you want even more customizations, you can easily add custom CSS directly from Theme Settings or you can use pluggable functions or Child Theme. Enjoy!
Ultra Grid Theme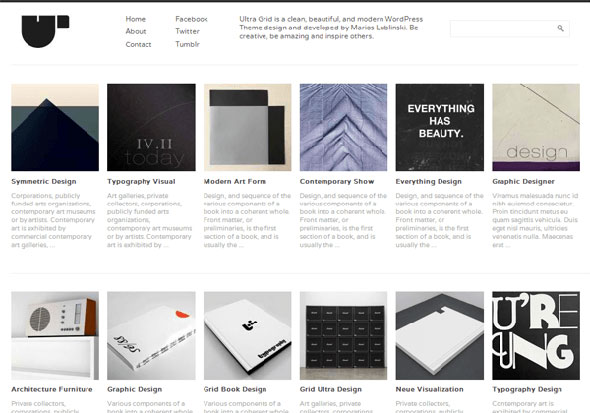 This theme displays images and their excerpt in grid format. This theme utilizes perfect square shape. It has hovering effect also. Theme has user friendly interface, avoids complexity.
Inspire – A Multi-purpose, Masonry Theme
Inspire is a cutting-edge, masonry based, multi-purpose theme. With its clean design it is great for projects that emphasizes a stylistic and modern look. Add the powerful grayscaling option for an instant artistic, noir feel and Inspire is sure to stand out in its own understated "less-is-more" kind of way.
Bayside – Responsive WordPress Theme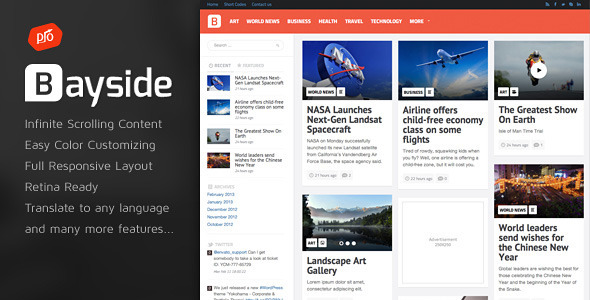 Show off your work with this easy-to-customize and fully featured WordPress Theme. When purchasing this theme, you will receive a detailed help file along with additional features like Unlimited Color Schemes and an Infinite Scrolling Portfolio.
Bulletin Responsive Tumblog WordPress Theme
Bulletin is a simple and elegant "Tumblog" style WordPress theme perfect for many types of websites such as blogs, portfolios, photography, and personal use sites.
Artworks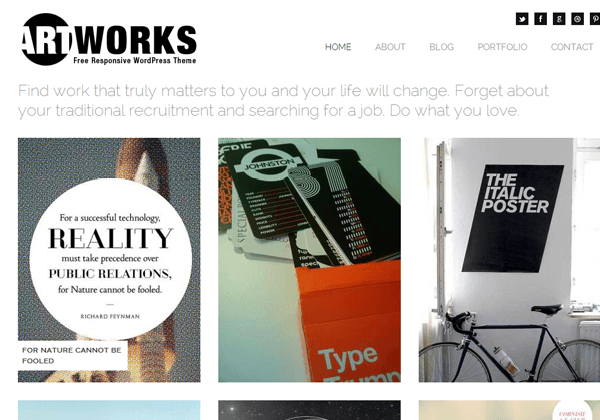 Artworks is very beautiful wordpress theme which is responsive. It has modern look and perfect for showcasing your work specially artworks. You can also use it as portfolio.
Quickly – Handcrafted WordPress Theme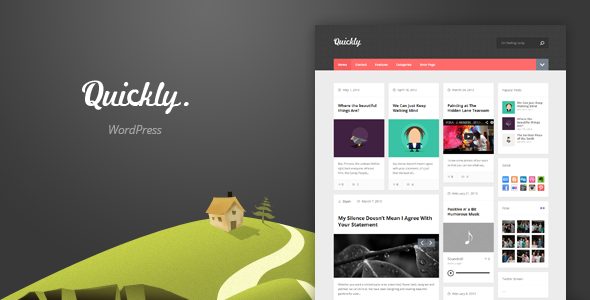 Quickly is a handcrafted WordPress theme that focus on user-experience, usability, and beautiful typography. It comes with four predefined color schemes, optional homepage sidebar, post formats and much more design options. This easy-to-use but powerfull WordPress theme will make your blog stand out from the crowd.
Modern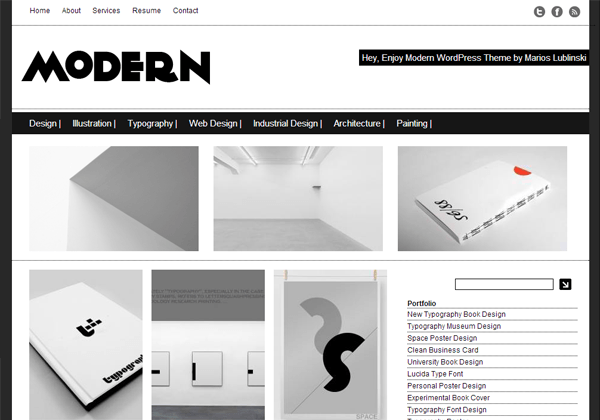 Yet another pinterest inspired wordpress theme with black and white color scheme. Good for your image or portfolio blog. It has also widgetized sidebar.
TheWall – Grid-A-Licious Blog and Portfolio theme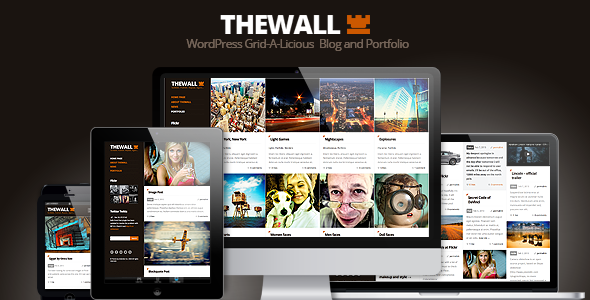 THEWALL comes equipped with powerful theme options that let you control all of its vital aspects; grid (size, color), font (size, color, family), backgrounds, navigation … literally everything.
InGRID – Responsive Multi-Purpose WordPress Theme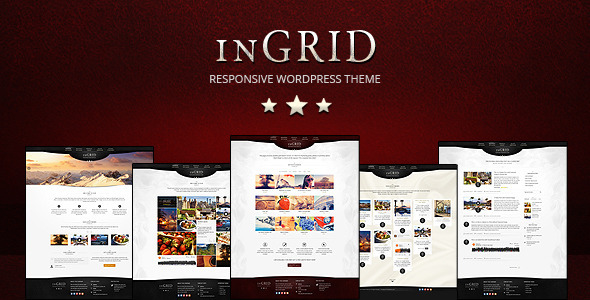 This responsive WordPress theme is perfectly suitable for both business and personal type of websites!
Kollection: 3D Folding Portfolio Theme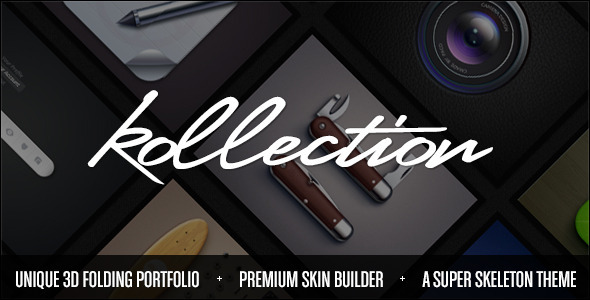 Welcome to Kollection! : A feature-rich, easy-to-use responsive WordPress theme built on the popular Super Skeleton theme system (with a community of over 10,000 users).
Pronto
This theme is designed by WpExplorer. It displays your content in grid format. Post titles, images and excerpts are displayed in grid format. It also features your tags in stylish format.
Grid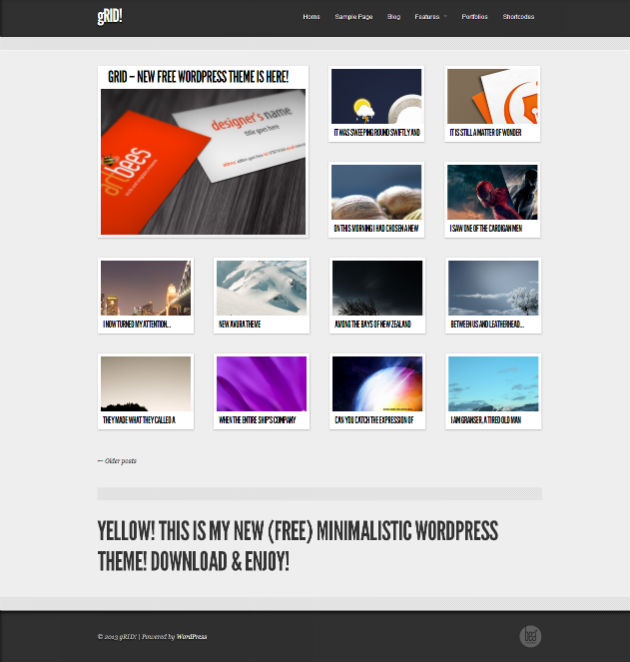 Grid is very attractive pinterest style wordpress theme. I am sure it's design will impress you. It's headers nav and footer is also very elegant looking. This theme is best suited for your photo blog.
PinStrap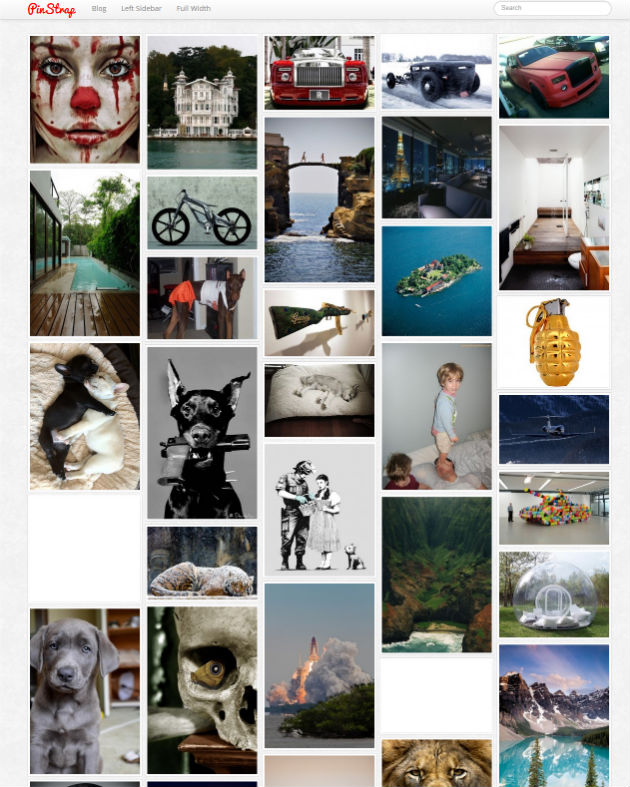 PinStrap is a responsive WordPress theme that uses Twitter Bootstrap and mimics the famous Pinterest! The homepage automatically resizes images and places them in a responsive grid thanks to the Wookmark jQuery plugin.