15+ Best WordPress WooCommerce Coupon Plugins 2018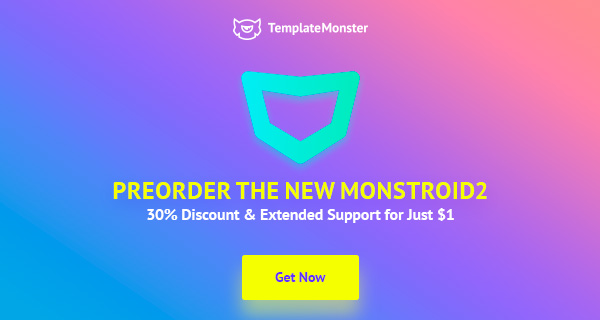 Are you looking for an extra Woocommerce addon plugin for coupons? So, Here are collection best WooCommerce Coupon Plugins which allows you to render coupon information and show content based on the validity of coupons. I hope after this article, you can get right coupon plugin for your site.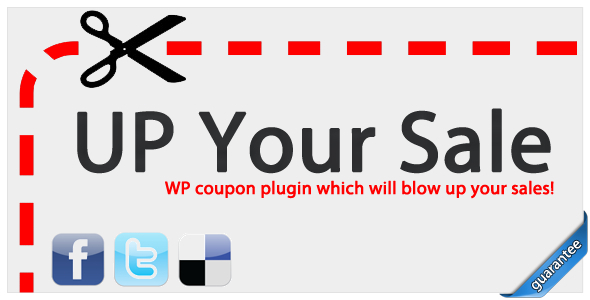 You might also like this:
Review of the best coupon and gift certificate plugins for WooCommerce. This little selection of WooCommerce Coupon plugins should help you have some unique features in order to stand out. Enjoy!
Coupon Wheel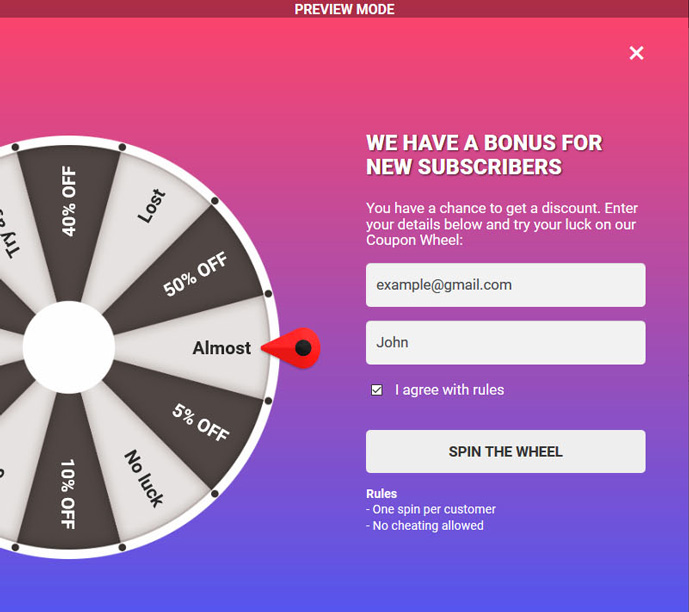 Coupon Wheel Plugin help engages your customers by giving them a chance to win a coupon by spinning a fortune wheel in the popup. You can set popup display options: exit-intent trigger & timed trigger. Also, add the text color customization and 250+ beautiful popup gradient backgrounds. This plugin work flawlessly with all major browsers and devices. You can add new subscribers directly to your MailChimp with Coupon Wheel. Try it today!
WooCommerce Coupons by Location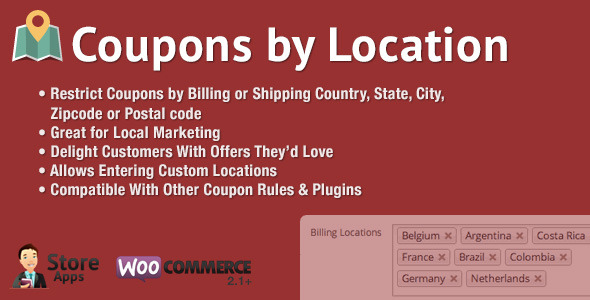 WooCommerce Coupons by Location restricts coupons by customer's billing or shipping country, state, city, zip, pin code or postal code. According to research, customers convert more when offered a discount. Additionally, offering location-aware, contextual offers significantly boosts conversion rates.
WooCommerce Every Order Coupon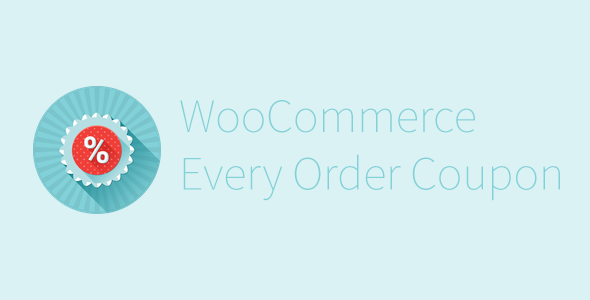 After every order, the customer will receive a coupon for their next order. This way, after the first order, they will get a discount and be more motivated to come back. The generated coupon needs a role model coupon, which can be configured via Coupons managements in WooCommerce.
WooCommerce Coupon Exclusions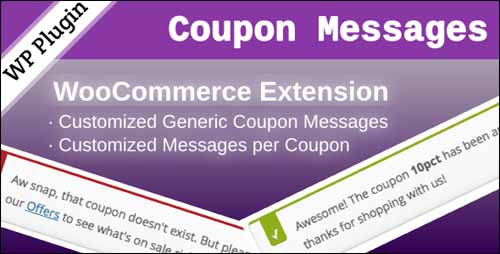 WooCommerce Coupon Exclusions is a powerful and easy to use WooCommerce extension which provides extended coupon usage restrictions.
WooCommerce Coupons Countdown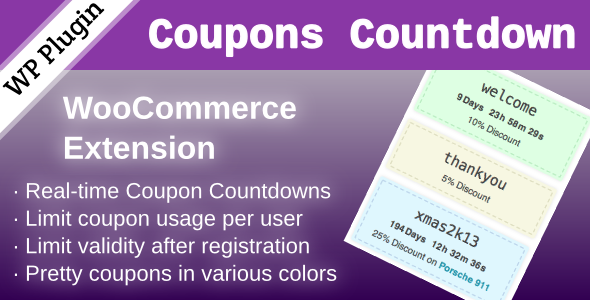 WooCommerce Coupons Countdown is an extension for WooCommerce, providing pretty coupons with real-time countdown counters. Show your customers the coupons they can use and when they expire.
WooCommerce Sponsor a Friend Plugin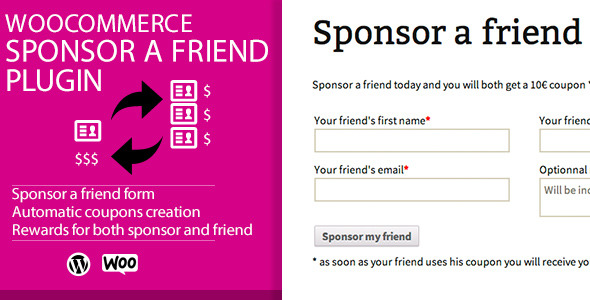 WooCommerce Sponsor a Friend is a great marketing plugin that allow your customers to become your ambassadors. Once the plugin is set up it gives the opportunity to your customers to sponsor (or refer) friends by filling a simple form with their friends data (First Name, Last Name, Email address and an optional message). If the form is valid (email must not already belong to your active customers database), it will send an email containing a unique Coupon for that person. You decide the amount, the type and the duration of that coupon.
WooCommerce After Sales Coupon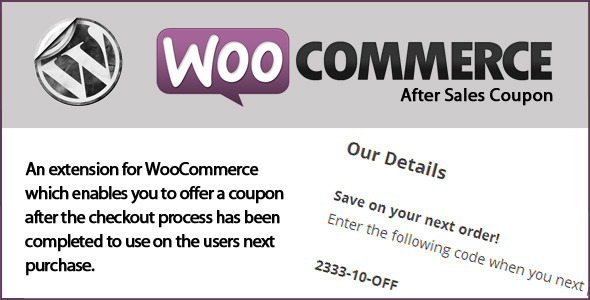 An extension for WooCommerce which enables you to offer a coupon after the checkout process has been completed to use on the users next purchase. An options page will be added to WooCommerce which allows you to set the options for the coupon that is created.
WooCommerce Role Discount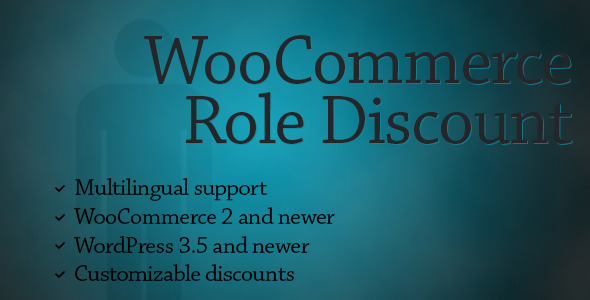 Before this plugin, there wasn't any possible way to create different discounts for different user roles. With this plugin, you can take advantage of WooCommerce`s built-in Coupons system and WordPress User Roles. Add as many custom roles as you want and create different discounts for them. As this is based on WooCommerce`s Coupons system, you can simply use all of the coupons system to manage it for every role.
WooCommerce Coupon Messages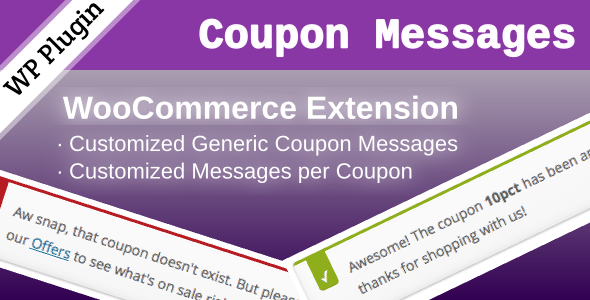 This extension for WooCommerce allows to override the default messages for coupons.
WooCommerce Volume Discount Coupons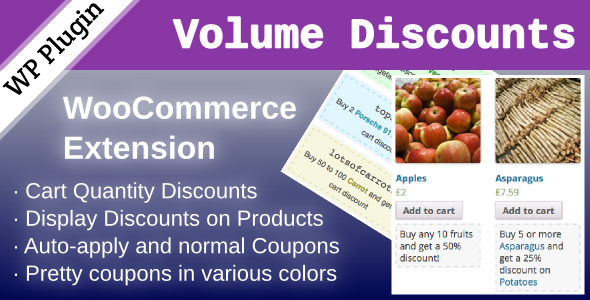 WooCommerce Volume Discount Coupons is an extension for WooCommerce, providing automatic discounts and coupons based on the quantities of products in the cart.Volume discounts are normally of little use unless customers are made aware of them. This extension provides an excellent solution to this need, allowing to display discounts directly on products when they apply.
Code Shop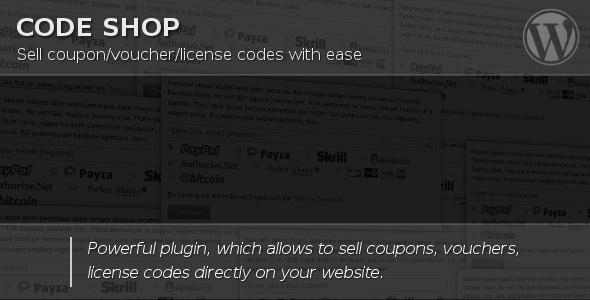 Code Shop is a powerful WordPress plugin, which allows you to sell coupon/voucher/license codes directly on your website. It handles payments through multiple payment gateways (PayPal, Payza/AlertPay, Skrill/Moneybookers, Authorize.Net, InterKassa, EgoPay, BitPay and Stripe) and can be easily integrated into WordPress pages using shortcodes. Code Shop is the easiest and perfect way to distribute coupon/voucher/license codes and monetize website.
 Woocommerce Gift Car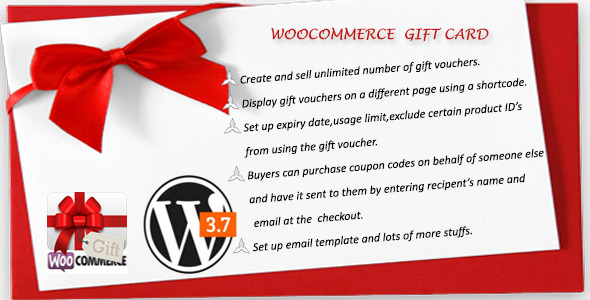 Woocommerce Gift Card plugin allows you to sell redeemable gift cards on your Woocommerce store. The gift cards are coupon codes which are generated automatically and can be applied to carts or products at checkout. It gets more interesting as you can send gift cards to other people. Ramson adds a gift card to cart and on checkout,on the field "I'm sending this Gift Card to someone" he enters Isaac's email and name then Isaac receives the gift card. I bet this would come very much in handy for Xmas ! At the checkout,if you want it sent to someone else,input the name and email of the receiver.
Refer A Friend for WooCommerce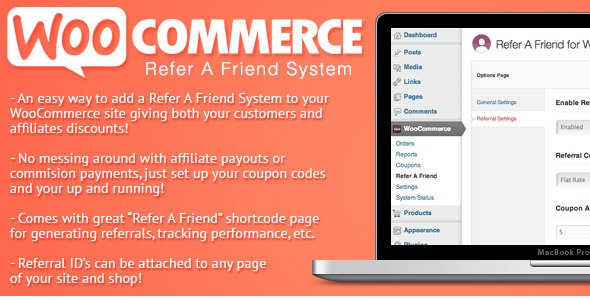 Refer a Friend for WooCommerce is a WordPress plugin that allows you to add a referral / affiliate type system to your site without the headache of payouts. Give both your buyers and users discounts for generating sales on your site, allows your "affiliates" to track their referral stats and coupons, and much more!
Woocommerce Mailchimp Discount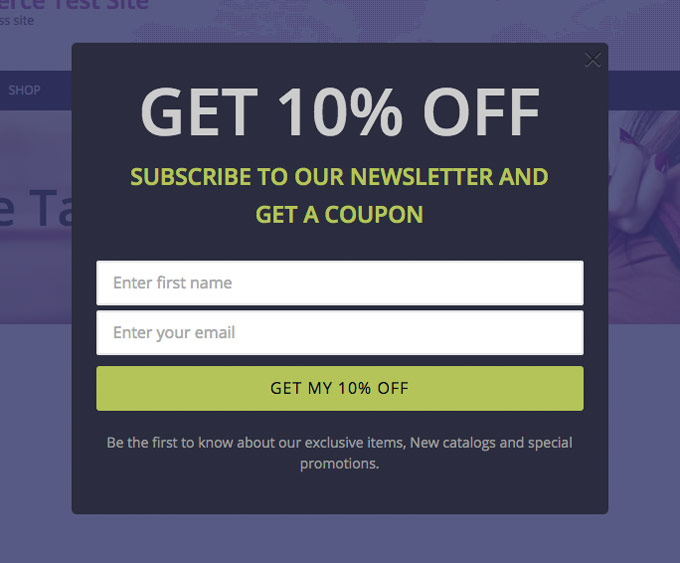 With Woocommerce Mailchimp Discount plugin you can easily make your MailChimp email list with newsletter subscription box. It providing a one time discount when someone subscribes to your MailChimp list. This plugin automatically adds a MailChimp subscription popup to your website which can be used to capture the Emails and when the user successfully subscribed to your list then he gets a coupon code. Try it now to boost your sales.
Up Your Sale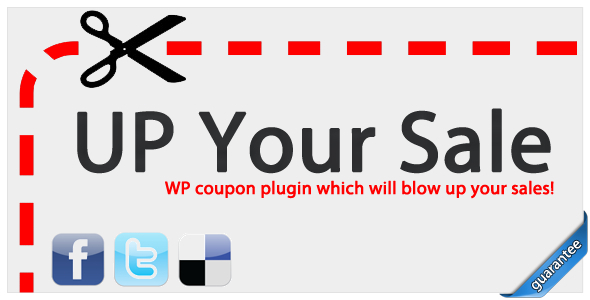 WP coupon which will blow up your sales! The goal of Up Your Sale is to create mini groupon website in your existing blog or website. You already know that everyone loves to buy with discounts even if they don't need those things or services. So with this plugin you will sell everything from book to various services. It's a big opportunity to do something right now in 24 hours or less that will increase your sales!
KWoo Integration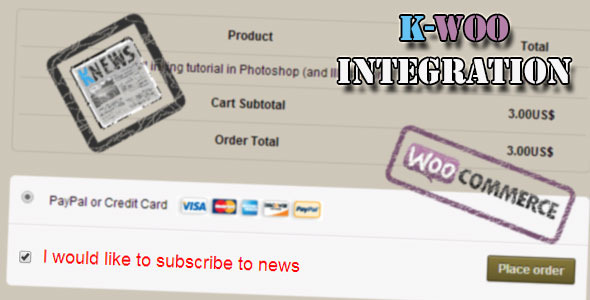 It's hard to get customers but it's harder to keep them, so you must keep them informed about your business. For this Kwoo Integration has been created, a plugin that integrates your WooCommerce Customers and your news systems Knews.
WooCommerce PDF Vouchers – WordPress Plugin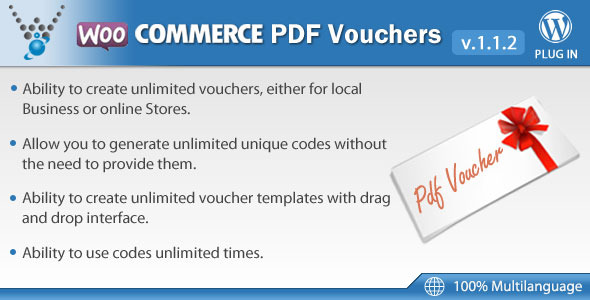 WooCommerce PDF Vouchers allows you to create Coupon Codes to make your Products even more attractive, or you could give these Coupon Codes to your loyal customers as a gift. With the PDF Vouchers Extension, You can create unlimited vouchers, either for Local Businesses / Local Stores or even online stores.
Loyalty Rewards for WooCommerce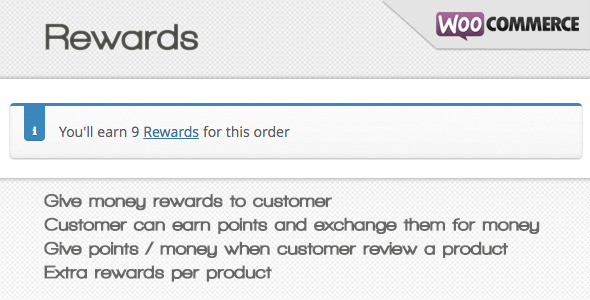 WooCommerce User Discount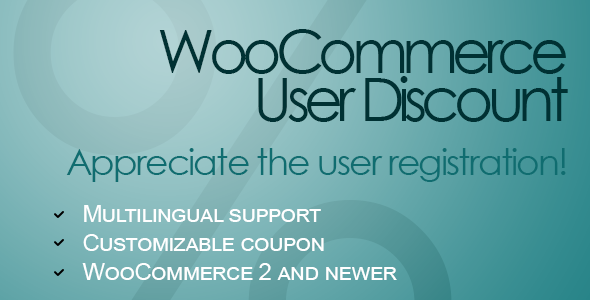 Enables you to set custom discount for registered and logged in users. This will bring more customers to register (to get the discount).You probably own a e-shop on WordPress platform with WooCommerce. Most of the customers usually do not register before they make an order, because they do not have any benefits of being a registered customer.
WooCommerce Customer VIP Profile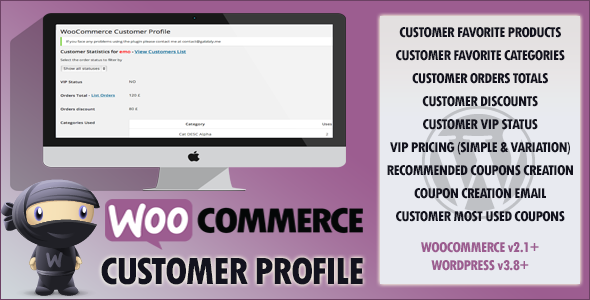 This plugin provides important data for shop managers about their users. It allows you do discover what your customers are buying, their favorite categories, create coupons specially for their needs, and more!