25+ Best Responsive WordPress Gaming Themes
Today, Designmaz will put together an awesome list of the best responsive wordPress gaming themes 2015 that will help you easily run an outstanding online gaming magazines website, blogs . Lets finding good and high-quality gaming theme for your website.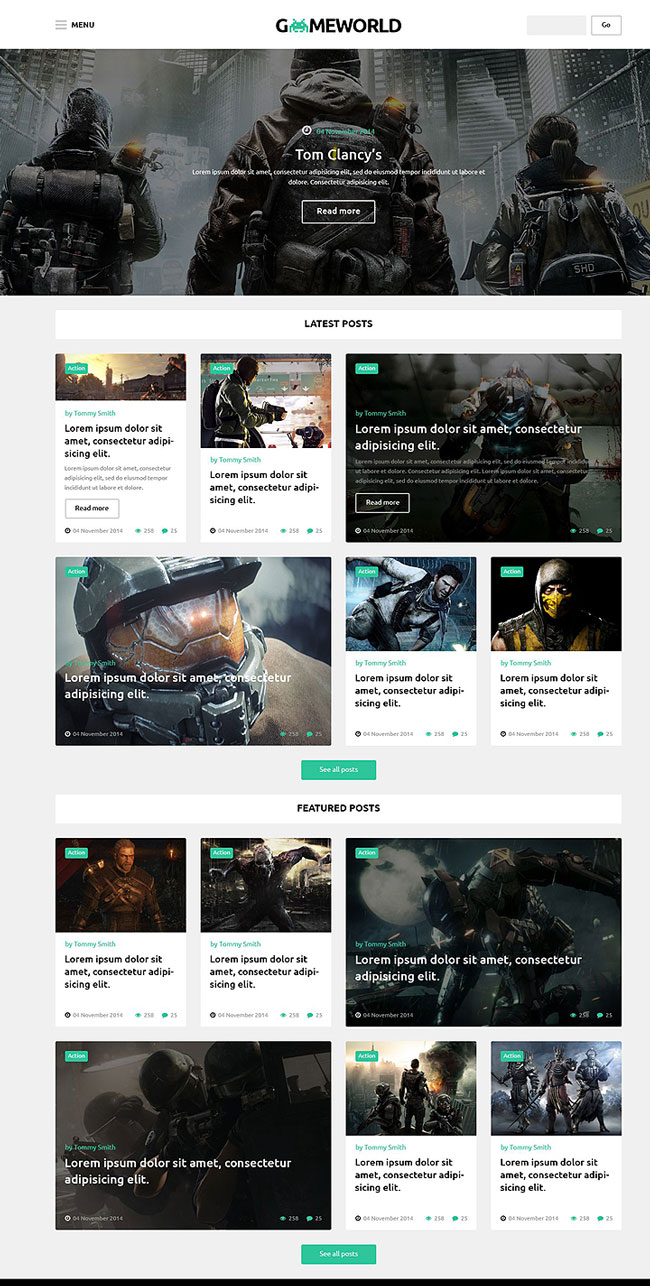 There a lot of Responsive gaming WordPress themes that you can choose from and there is also a myriad of plugins that you can download from the internet. But in this collection we want to present a mix of 20 premium Responsive WordPress gaming themes that I think are among the best available right now.
Youplay – Gaming WordPress Template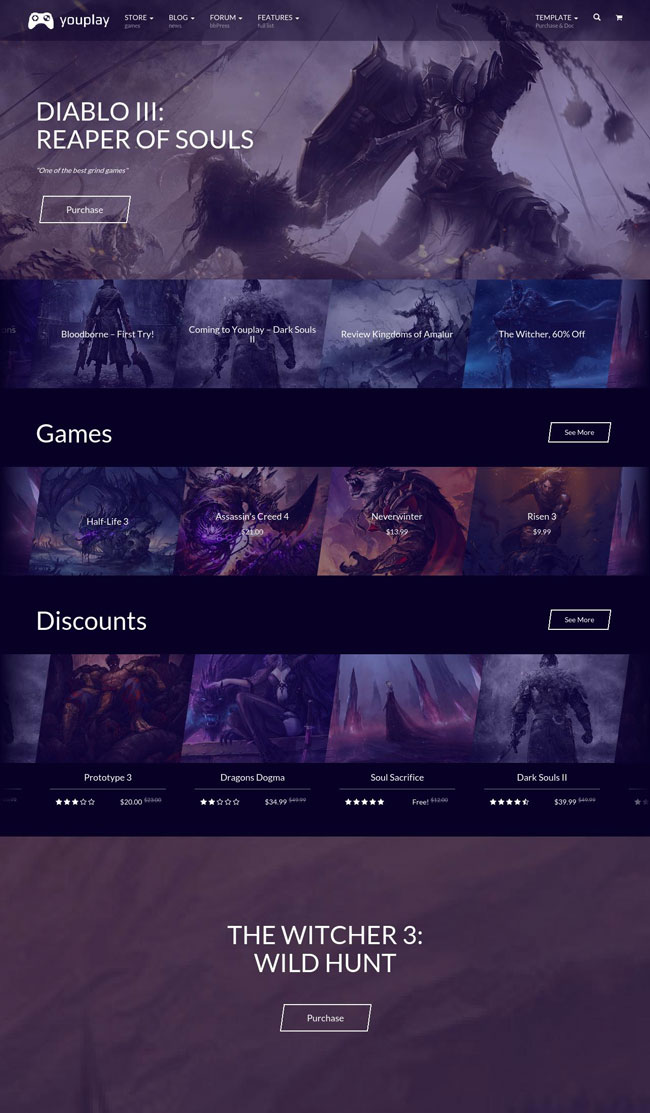 Youplay is creative gaming template for WordPress. It allows you to create WooCommerce store, bbPress forum and WordPress blog. It is clean, flexible, responsive, working with the awesome Visual Composer and created with a powerfull admin options panel to fine tune the theme. Unlimited color schemes for your site.
Kappa – A Gaming WordPress Theme

Kappa is a premium gaming wordpress theme designed to empower, inspire, and help express your love for all things gaming. Share your unique passion with the gaming community create game reviews, highlight the latest gaming news, showcase your favorite fan artwork, market your merchandise, and more.
Game Portal WordPress Theme

Responsive layout makes this Game Portal WordPress Theme accessible from various handheld devices, whether it is a laptop, a tablet or your smartphone. Awesome jQuery and gallery scripts add more interactivity. Video integration and embedded audio player will leave a good impression on your website audience. This template is also equipped with the latest Bootstrap and Cherry Framework functionality features, which will facilitate styling and coding.
Gameworld Gaming WordPress Theme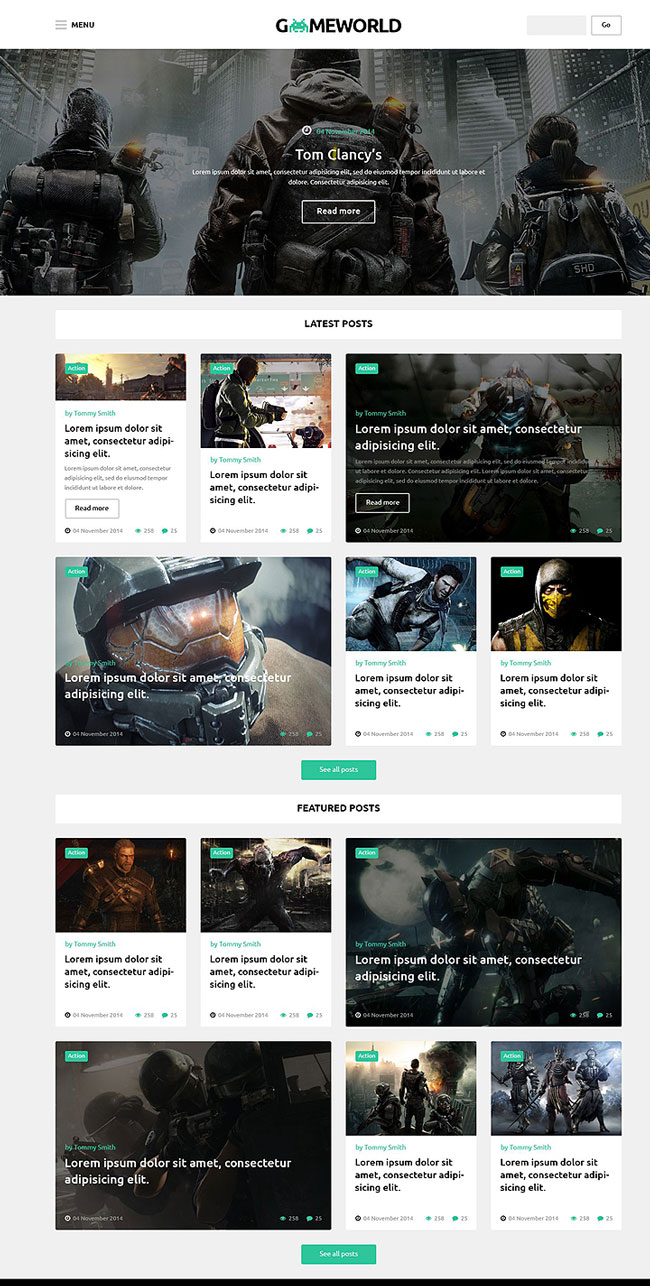 Update your gaming portal with Gameworld, a responsive parallax WordPress theme powered by Cherry Framework. Its header features a burger menu that keeps the layout clean and provides an easy access to all the website spots. To showcase your visual content, you can make use of a slider with full-width images, captions and a trendy ghost button. Furthermore, this games WP theme boasts a mega footer with website categories, contact form, Facebook Like Box, social icons, newsletter subscription form, contact details, about info, and popular post thumbnails. Being dark in its look, the footer contrasts with the main content area that is clean and light.
Gaming Fan Board WordPress Theme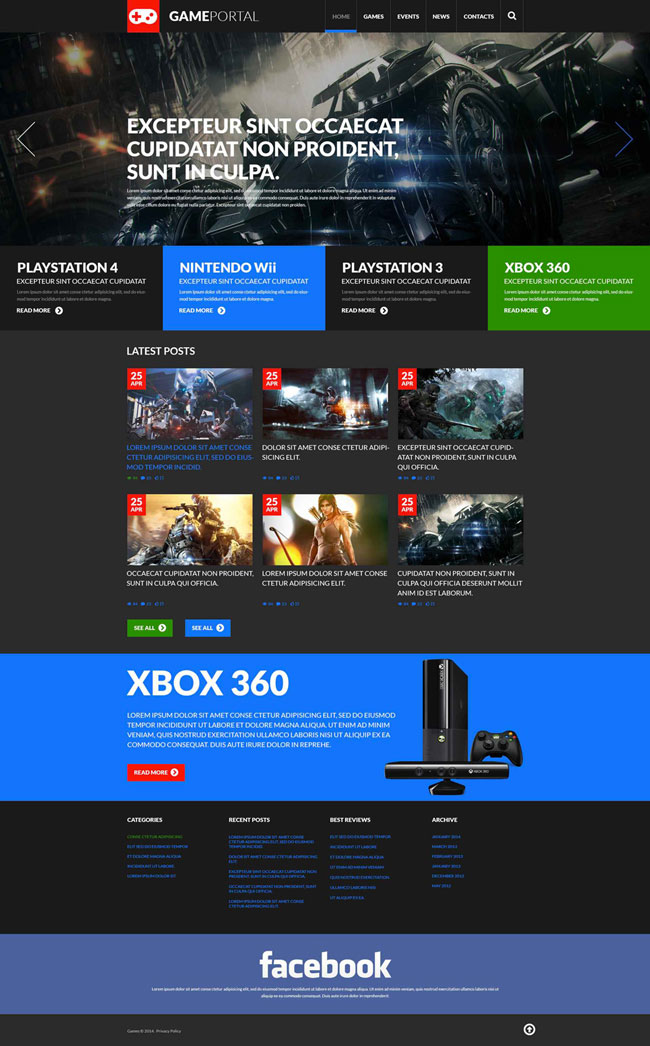 Unlike other common websites, games resources should stand out with their mysterious atmosphere. The theme under review is more than an ordinary info spot, it focuses on how to draw more players in. Its mystic design and print are dedicated to adding creative touch for your business. As people navigate through your site, they will be able to find multiple content widgets like images, sliders and videos, which allows for simplified user engagement. None of the novelties will be missed out thanks to the handy blog integration, events calendar, and news section. If you are looking for a plain and simple, but at the same time unique way to represent your gaming business online, this design is a way to go.
Game Portal Responsive WordPress Theme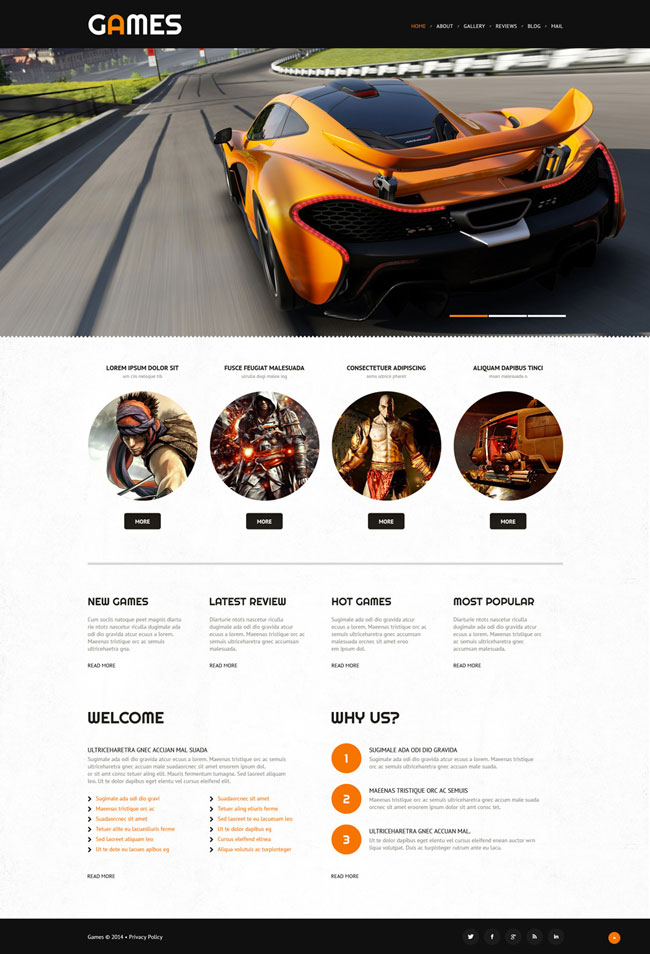 Game Portal Responsive WordPress Theme for clans and gaming. It allows you to can create and manage clan wars including different maps, teams and games.
Game Addict – Clan War Gaming Theme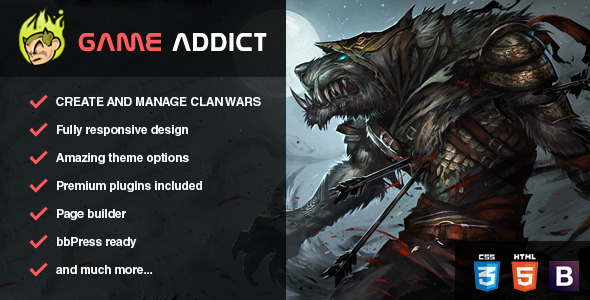 Game Addict is a theme for clans and gaming. It allows you to can create and manage clan wars including different maps, teams and games.
Oblivion – The Ultimate Multi-Purpose Gaming Theme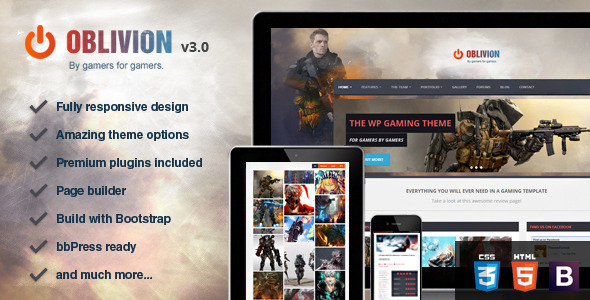 Oblivion is the ultimate gaming theme. Created using the latest HTML5 and CSS3 techniques, it allows you to create awesome review sites or portfolios for your games.
Gameleon – WordPress Arcade Theme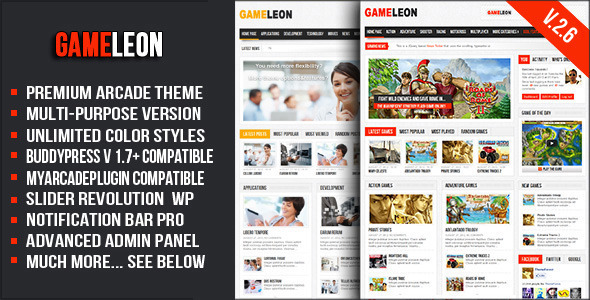 Artikulo Premium Magazine Theme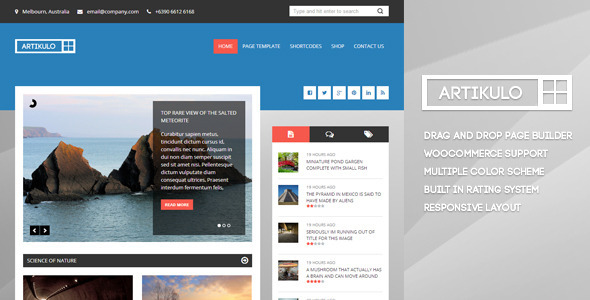 Artikulo is a clean and simple magazine theme, can used both for personal and magazine type blogs. With tons of features and options including our drag and drop functions for easy layout building, Theme options for personalized customization and of course woocommerce support so not only you can write content you can also sell your products all in one theme. Artikulo also support several minor feature such as review/rating system so you can write a review post about a product, video, music, games and everything else. The theme also supports unlimited color scheming so you can personalize your theme according to your taste. Artikulo will be the last magazine theme you will ever buy!
Hickory – A WordPress Magazine Theme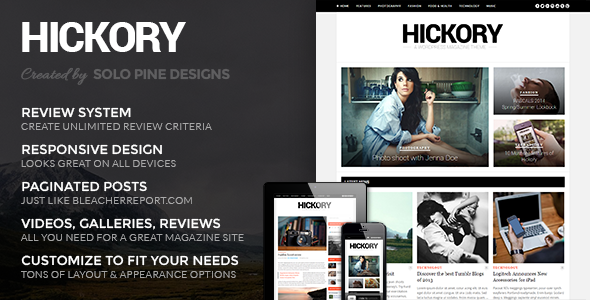 Design trends are constantly changing and it's critical to adapt at the drop of a hat; stay ahead of the game with Hickory, an incredibly customizable magazine & blog theme designed to meet your every need. Hickory's clean and highly adaptable form was specifically crafted to appeal to every niche and comes chock-full of premium features. Whatever your magazine or blog needs, Hickory is here to deliver!
Orizon – The Gaming Template WP version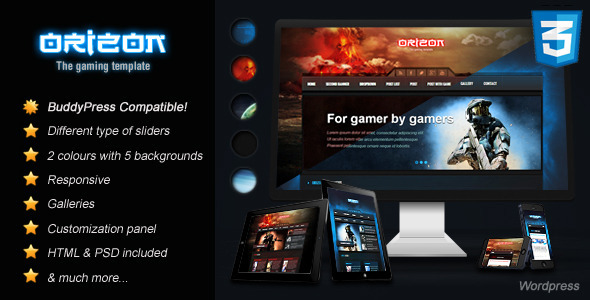 Orizon – The Gaming WP Template is a theme for gaming, news and entertainment content. Created using the latest CSS3, it gives you the possibility of creating a sleek, eye-catching online magazine, blog, gaming or personal project site.
Made – Responsive Review/Magazine Theme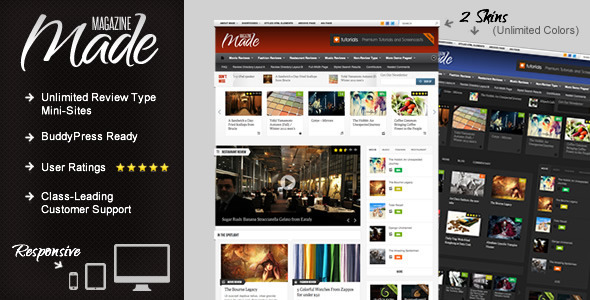 WooCommerce WordPress Theme – TechGoStore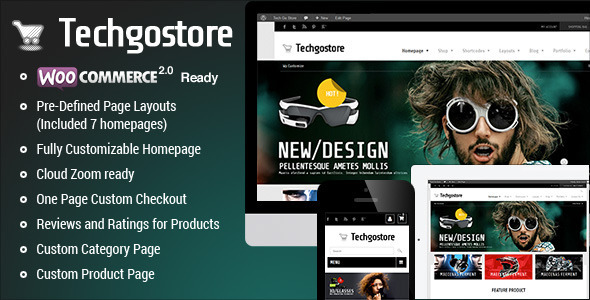 WooCommerce TechGoStore welcomes you to a world of fantasy, a world of game / digital device / electronics. We understand that theme must be suitable with client taste, so we design it extremely clean and neat, especially for people loves hi-tech. We all know that they like clean, and logic things better. Combination of strong colors (black, white, green and red) emphasize visitors' characteristic even more and make them fall in love at the first sight.
Explicit – High Performance Review/Magazine Theme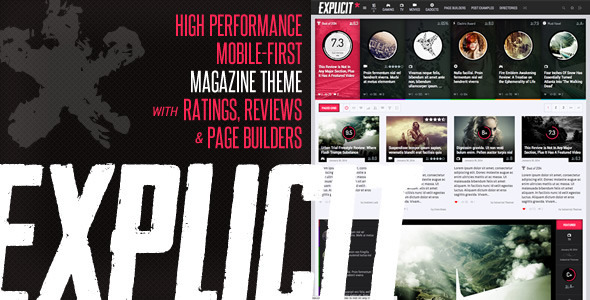 Mazaya Responsive WordPress News, Magazine Theme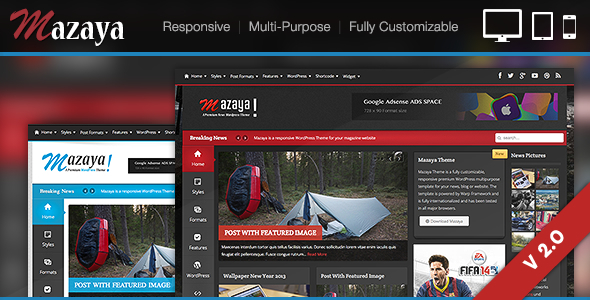 Mazaya is a powerful responsive and multipurpose WordPress theme, perfect for news or magazine, blog website and many more!. It's super flexible, clean design (and code) packed with all the features you need to present yourself with style and professionalism.
GamesTheme Premium WordPress Theme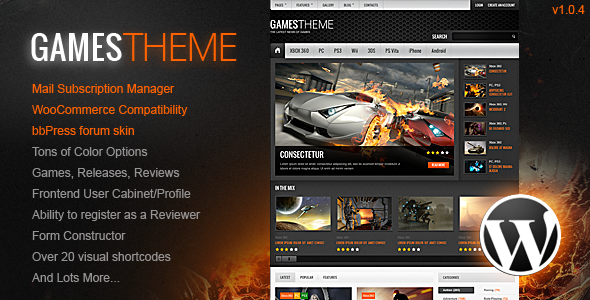 GamesTheme Premium WordPress Theme is the most powerful game portal ever. It gets you on the wave of extreme, adrenaline and desire! You are living in your own world! You can create and dip in reality which you have never been before and will never be!
Forca – Responsive News/Magazine Theme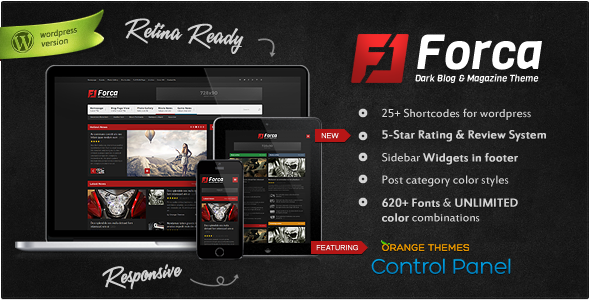 Dark style theme designed for gaming, sports, cars, gadgets sites. With an integrated review system and powerful control panel.
ReviewIt: Review WordPress & BuddyPress Theme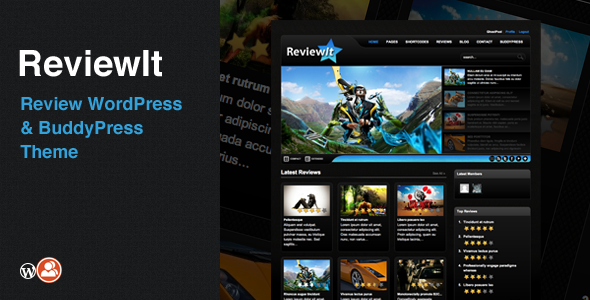 ReviewIt is a WordPress and BuddyPress theme that provides you with powerful review and community features.
MovieScope – Responsive WordPress Portal Theme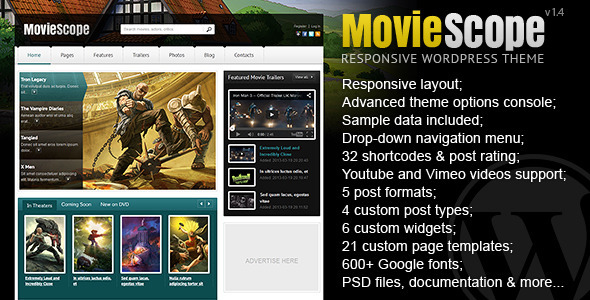 MovieScope Responsive WordPress Portal Template is an attractive an also universal theme. It can be used for music, movie, TV, sport, game, tech, auto, fashion, photo, cookery etc.
Score: Review WordPress & BuddyPress Theme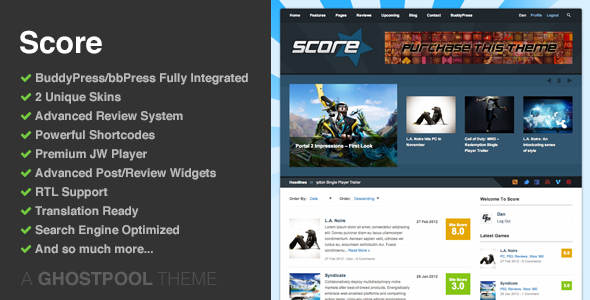 Score is a clean and modern WordPress and BuddyPress theme that is ideal for any review site. And if you want to get to know Score a little better, the theme comes with detailed documentation and top-notch free support.