20+ Best Directory WordPress Themes for Business Listings, Classifieds and Other Directories site 2017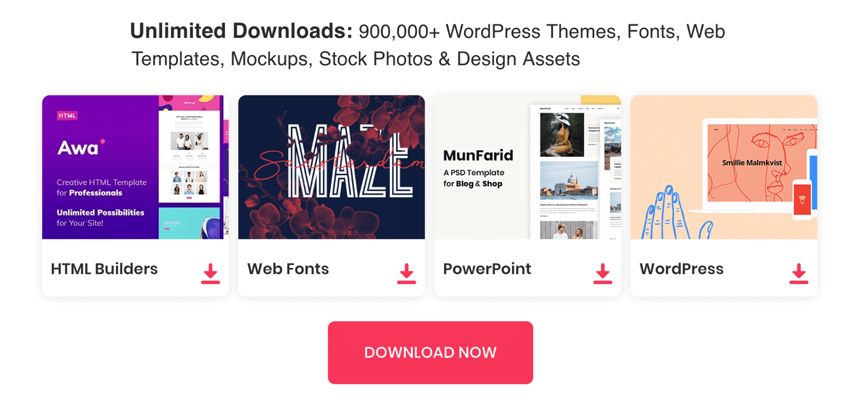 A hand-picked collection of the best directory wordpress themes for business listing, job board, car dealership, general classified, real estate and other functional directories.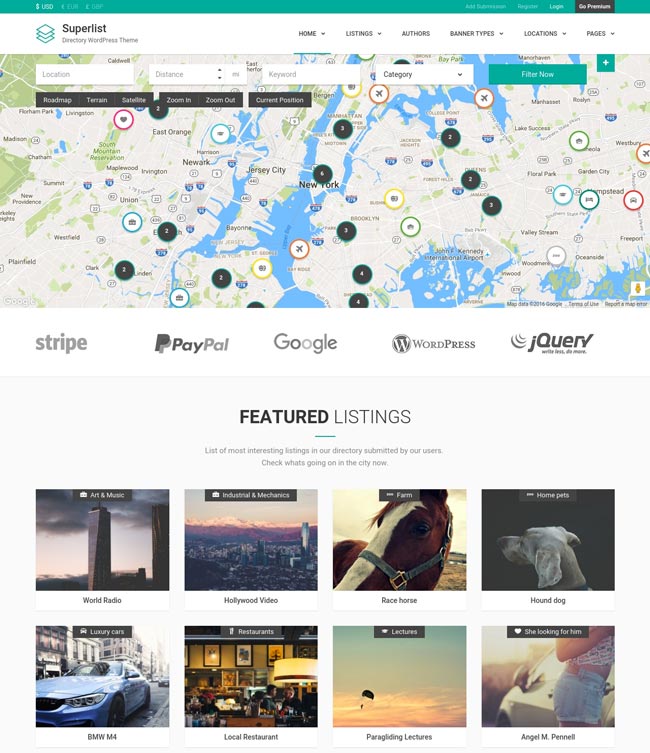 You may be interested:
If you are looking for solution to create a directory website, online listing portal WordPress would be a smart choice, since you can find dozens of directory theme for WordPress with a full range of powerful features and customization, and especially it is a perfect choice for the criteria for SEO. With this collection you have so many options of best directory theme built for WordPress, that will save you time on setting up. All themes ready to go setup will help you set your site up within minutes and you can start earning some real money by taking full advantage of niche or region based listing directory.
Try the whole themes in our collection of Directory Themes and you'll find plenty of options for your listing site suitable for your needs such as destinations, activities, restaurants, hotels, businesses, institutes, hospitals, spa and a lot more. Some themes are integrated page builder plugin will help you easily spend created a unique directory website with own favorite style.
Directory Portal Theme for WordPress is simply the best and most powerful theme to improve the popularity of any website.
Start your own directory website today with our collection of more than 20 Best Responsive Directory WordPress Themes 2017.
ListingPro
With more than 160 sales in less than 48hrs after released on themeforest. ListingPro theme become is one of the most impressive products on WordPress Directory themes. ListingPro includes an eye-catching homepage layout. The broad background image slider on the homepage does a brilliant job of showcasing the best listings from the directory so as to persuade visitors to see the rest of your directory site. ListingPro ready and built based on Bootstrap and SASS for quick website development and customization process. It comes with a very fluid layout that smoothly adapts to different kinds of mobile devices and looks great even on Retina and high-resolution displays. One of its main features of ListingPro theme is Google Maps integration, which enables you to show all your current listings on a large homepage Google Map and let users zoom in to explore the listings in your directory. The individual listings pages will appeal to businesses as they get a good opportunity to provide lots of useful information and photos about their listing, while visitors can leave user reviews to share their feedback with the community.
ListingPro includes AJAX easy search feature, Social share buttons, Pricing Tables, Multilingual ready (WPML plugin compatible) and more. This theme is built with best SEO practices in mind to ensure that your website will get more traffic and perform well on search engines. Go with ListingPro today, the smartest choice for listings on the list.
Wyzi
There are a lot of Directory Listing websites competing for attention, so it's important that yours stands out. Wyzi wordpress theme enables you to create a user-friendly and attractive site that's unique to your particular Business Finder and Service Provider or niche. Some of the specialist features of Wyzi include Google Maps integration, front end submission forms, custom payment plans, and the ability to collect fees. As well as these useful features, you also get a great looking design for your online directory and the inclusion of a premium Visual composer drag and drop page builder plugin for no extra cost. The feel is clean and professional thanks to the gridded system and superb fonts, perfect for the target market. The overall feel is complemented well by its compatibility with the Revolution Slider plugin. Admin can also create unlimitted number of Listings and manage them all from Back-end. The awesome WooCommerce commercial plugin suite lets Business Owner can be a Company or a Manual Worker or a Doctor, and Clients can buy Products or book a Service from Business Owner. The goal of any site is to grow and expand. However, that expansion must often be facilitated by multilingual capabilities. Thankfully, Wyzi theme is translation ready, offering to showcase your pages in different languages. This theme provides an advanced search system allows site visitors to see other places in your listings. Once the visitor has found a listing and used the service, they can leave a rating and review evaluating the business, or other entities that are listed in your directory. These user ratings and reviews can all be moderated by the site admin. With this plugin, users also get the ability to flag their favourite listings to help them quickly find them again when they return to the site. It is compatible with all major web browsers and fully optimized for SEO. If you are looking for a theme to enable you to build a directory site using WordPress, in order to list businesses, places, events, or other attractions, then Wyzi comes highly recommended. Try Wyzi now!
MyCity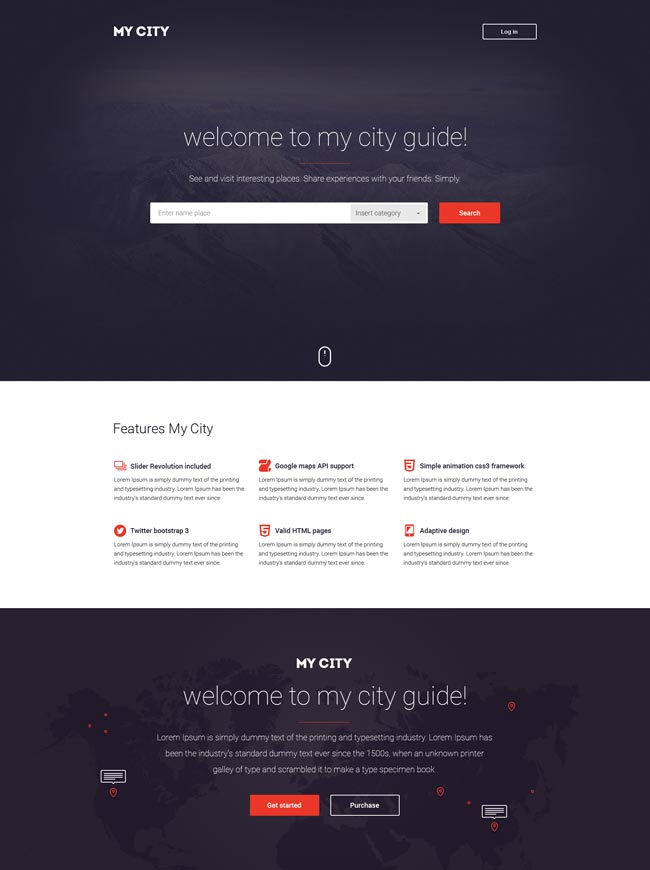 MyCity is a WordPress theme for those who wish to create reliable directory and listing sites. This theme is made with functionality and usability in mind. It is fully integrated with Visual Composer plugin Drag & Drop page builder, Marketing & SEO tools, Social login, Mailchimp… With Membership subscriptions function to let your visitors can upgrade their account via Paypal.
In addition, MyCity also includes video backgrounds, listings maps, Geolocation, Custom widgets, Google fonts, color skins, Uber taxi affiliate API. If you want you earn extra income from your directory site, this beautiful directory theme allows you to display ads especially Google Adsense, charge users for adding a listing, claiming a listing and even viewing listings and accessing the website.
This theme included support for rich snippets to ensure that your listing will be visible on search engine, particularly in Google Search Engine. This simple functionality not only boosts your directory site's SEO rankings but it also gets greater click through rates.
Directory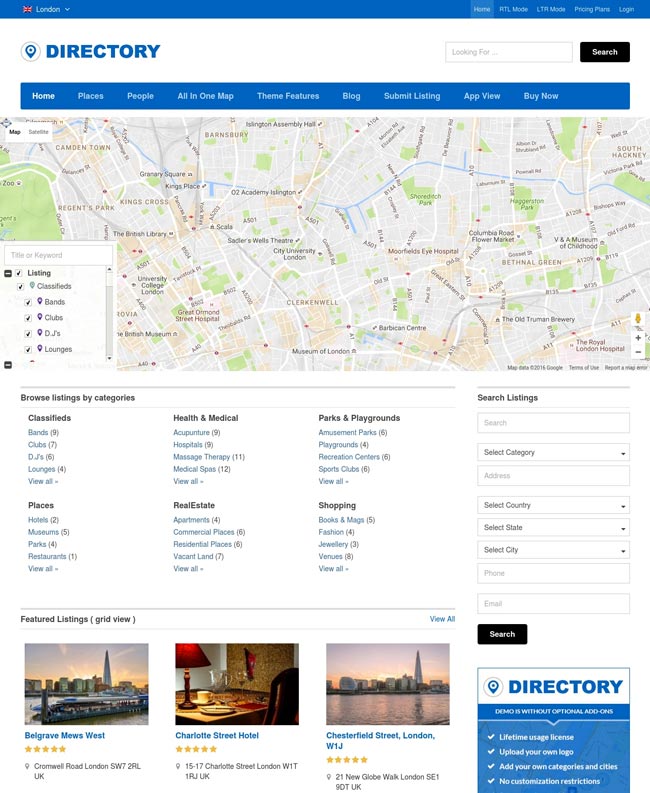 Directory is a classically designed, extremely high quality and high performance, expansively coded and ambitiously all-inclusive, wide-spanning and technologically vast, stylistically vintage and retro-inspired, dynamic and interactive, pliable and customizable responsive WordPress directory theme helps you create, manage and monetize a directory site for literally any purpose so you can build an online business of showing listing ads for various businesses such as car, real estate,restaurants, hotels, destinations, activities etc…
This theme offers amazing flexibility and features allows to create a modern and functional directory websites across a huge spectrum of industries, interests, fields and niche markets, at local, city and multi-city regional levels. You can create your own categories, free or paid submission packages, custom fields, change the colors and turn it into a directory for anything. With Visual Composer plugin integrated you can easy to create custom page layouts with ease and insert countless page elements into those layouts.
The installation and setting up your Directory website is as easy as installing WordPress, importing Directory, and that's it–add content d go live. You can start earning some real money by taking full advantage of niche or region based listing directory. This is also an RTL Directory theme so allows you to build portals for right-to-left languages such as Arabic, Hebrew, Persian or Urdu. Try Directory today, the smartest choice for listings on the planet!
Superlist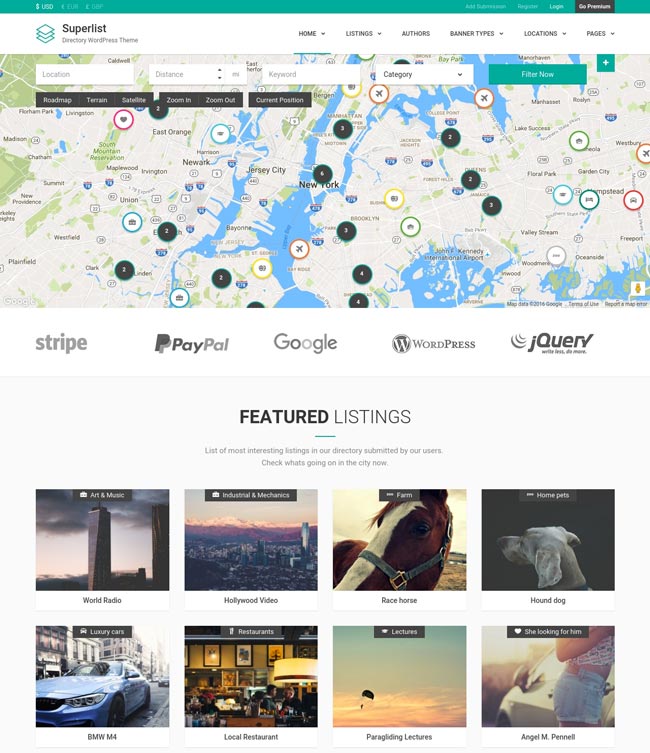 Superlist is an amazingly on point and spectacularly, polished and simple, fully functional and robustly developed, efficiently coded and very lightweight, technologically impressive and resourceful, easily navigable and very customizable, modern and appealing, reliable and responsive WordPress directory and listings multipurpose business website theme. Superlist is a clever and purposeful toolkit, offer best directory experience with all out of the box bundled plugins, shortcodes, template pages and whole demo websites readily available for your convenience, saving you time, money and effort as you set up your gorgeous and modern directory websites across a veritable cornucopia of feasible businesses, markets and niches, ranging from new and used cars and properties to hotels, restaurants, travel destinations or even used assorted items or classified service offerings. This theme has strong focus on code quality. It is quite easy to modify theme or the plugin from the child theme because everything is properly wrapped in action or filter hook. Experienced developers will be happy to use the theme. With the good code is easier to create a great and maintainable product.
Superlist theme has front end submission system for authenticated users. Your clients can post their listings into directory by logging in. They have full featured dashboard with the listings, profile and password management. In their dashboard they can manage other stuff too like search queries, favorites, invoices, transactions, watchdogs and so on. Users are able to see their listing views.
Javo Spot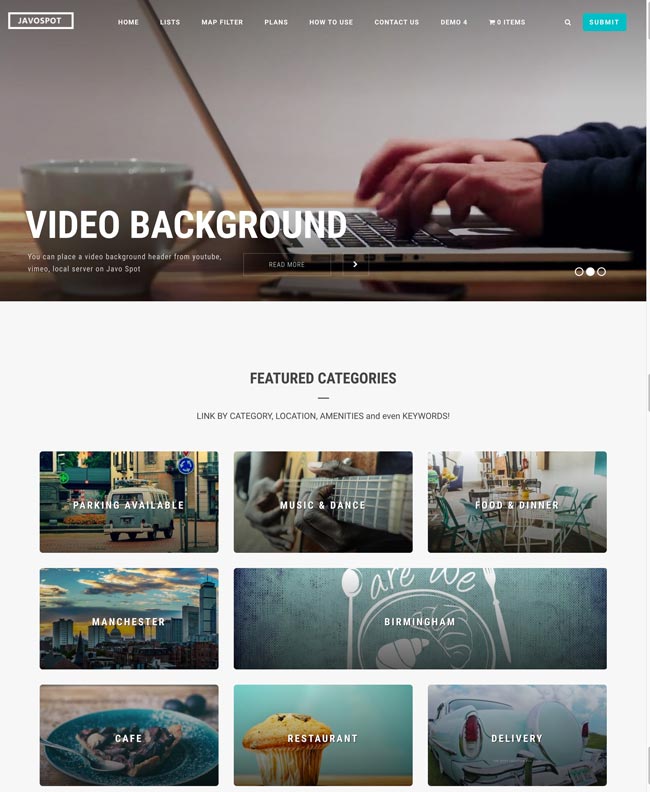 Javo Spot is a multi-purpose, fully responsive, bootstrap directory wordpress theme allows you to create a profitable, global or local, business directory portal. Javo Spot is a beautiful and superbly functional WordPress theme that is entirely dedicated to empowering webmasters without any previous coding experience or background to quickly and efficiently churn out the most polished and professional looking directory and listings websites on the market because it comes with Visual Composer Drag & Drop plugin and Extra Shortcodes plugin, while packing a slew of useful, convenient and handy shortcodes and widgets that expand the functionality of your Javo Spot website and pages to seemingly no end.
The installing Javo Spot theme was never easier, considering the inclusion of an Easy Install feature. Once the theme is implemented, you can choose to press a button, and import the theme demo. It will handle all of the heavy lifting, including the configuration, and the addition of content examples. In addition WooCommerce integration compatibility, which will allow you to sell Listings Packages as well as Subscription Based Packages with ease and speed, in a fully customizable, highly attractive and engaging graphical environment.
DirectoryEngine – Responsive WordPress Directory Theme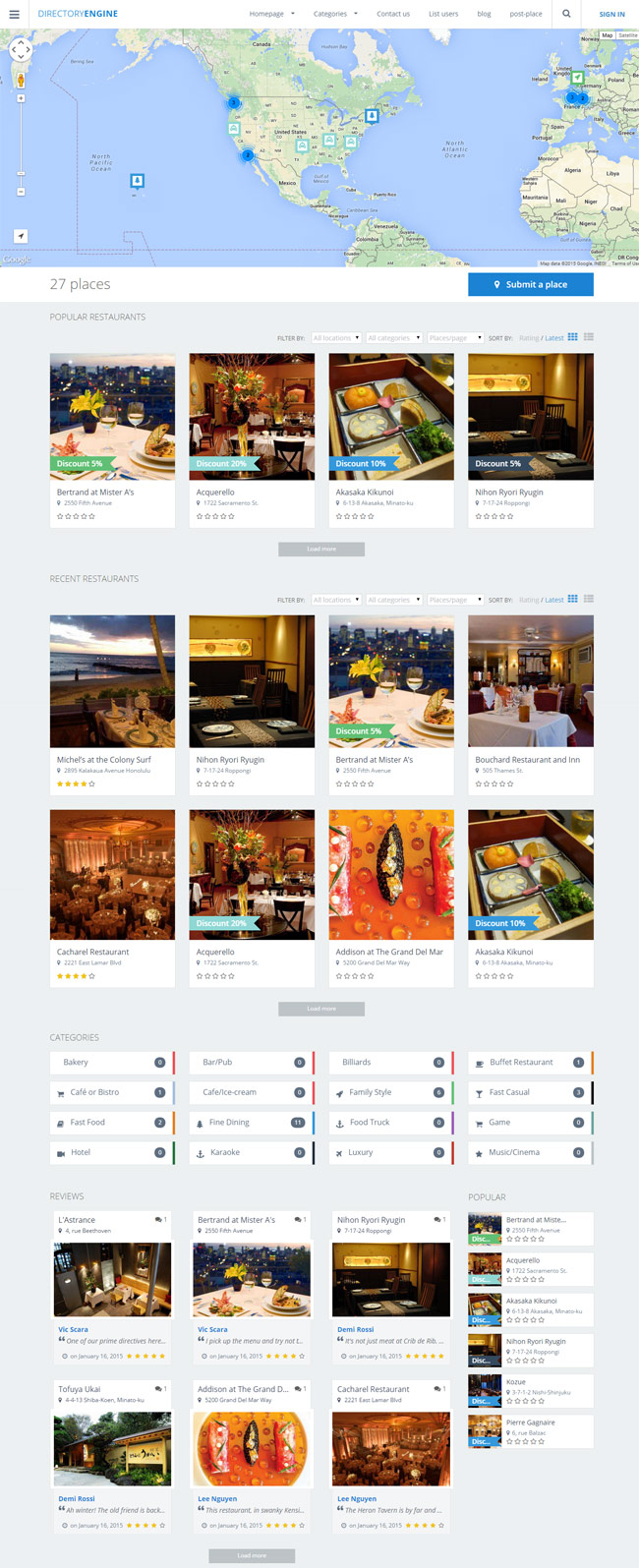 DirectoryEngine is the best business directory wordpress theme solution for you. Take this simple business directory website template and build up your success in wp business directory.
Point Finder
Point Finder Directory Theme was designed to allow you to create a listing & directory website as you wish. You can create your own customized system within minutes thanks to its customizable fields and search system. Point Finder offers you a lot of control over Google Map, and it is unique with its superior features. You can obtain more information about our theme by browsing Real Estate, Car Rental, Construction and Directory demos we prepared for you to demonstrate the features of our theme.
Listify – Responsive WordPress Directory Theme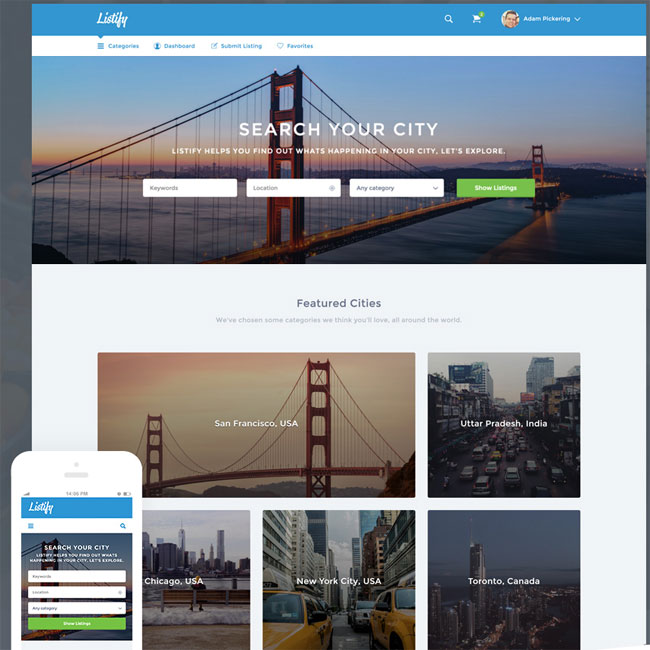 This won't be the first time you look for a directory theme, but it will be the last time. Because with Listify you have more than you could ever want or need. Whether you know it or not, many of the websites you visit are powered by directories.
When you buy a house – real estate sites show listings.
When you buy a car – car sites show listings.
When you pick a restaurant – ratings sites show listings.
When you book a vacation – travel sites show listings.
Your site will be a thing of beauty. Let's be honest, the problem with most of those sites, while highly functional, is that many of them aren't very pretty. It's why the beautiful ones are so popular, because they match great photography with fantastic functionality.
Directory Portal WordPress Theme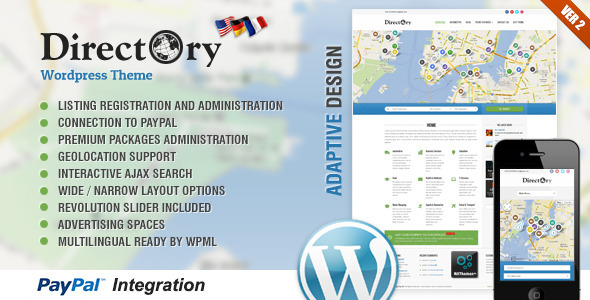 Directory theme is an absolutely unique theme concept, first time ever on themeforest. You're able to easily set up an online directory portal listing categorized items of any type – companies, shops, websites and so on. We've spent quite a long time developing the theme as many things were changed several times to make it right. Theme also includes Easy Admin that simplify item administration. Users won't get lost in WordPress backend any more
Business Finder: Directory Listing WordPress Theme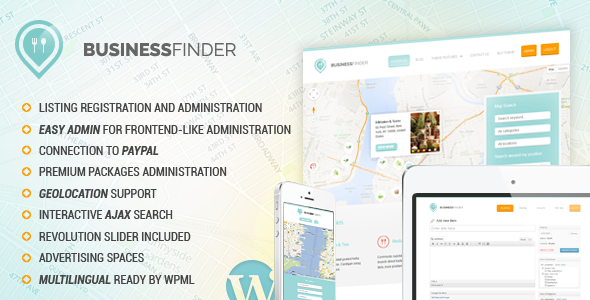 Business Finder theme is an absolutely unique theme inspired by our very successful Directory Theme we released few months ago. Business Finder theme is fully compatible with Directory theme, you can switch between themes without loosing your data. There are many things added on top of the Directory theme functionality making Business Finder theme even better. Theme includes Easy Admin that simplify item administration. Users won't get lost in WordPress backend any more.
Atlas Directory & Listings Premium WordPress Theme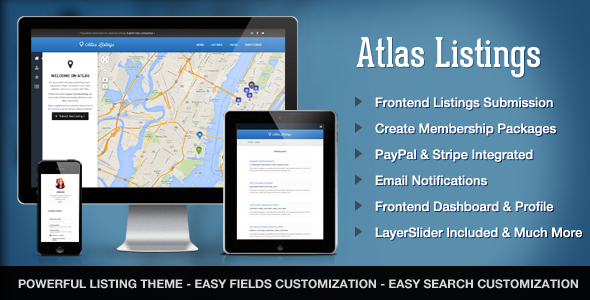 Atlas Directory & Listings theme is an absolutely unique premium WordPress theme, it is the result of months and months of development and constant feedbacks from users and buyers. This theme is built in cooperation with you!
GLOCAL – Directory & Listings WordPress Theme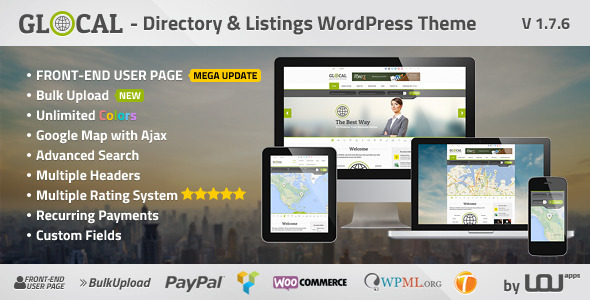 Glocal is a content driven Directory Portal that is ideal for listing any kind of entity or activity, whether it's a restaurant, an event, a candidate, a vacancy or even a consortium of companies.
U-Design WordPress Theme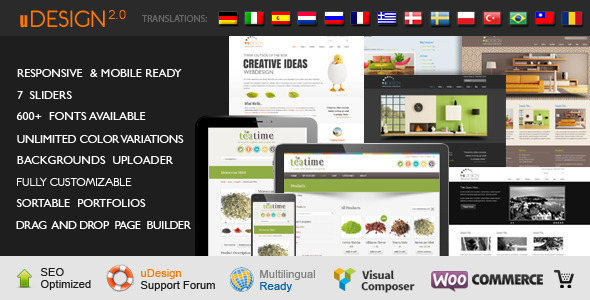 U-Design is a very powerful theme which suits both, users with no programming background as well as advanced developers. It will help you build your site in no time to your liking with minimal effort. It empowers you to set any color to elements such as backgrounds, links, text, menu links, etc. You can completely change the look and feel of your site in seconds. You can also choose from over 500 fonts, including Google Font Directory and Cufón fonts. This number will grow with time since many new fonts are being added to the Google fonts library. The theme also features 6 (six) Home page sliders for you to choose from.
The Navigator: Premium WP Location Guide + Blog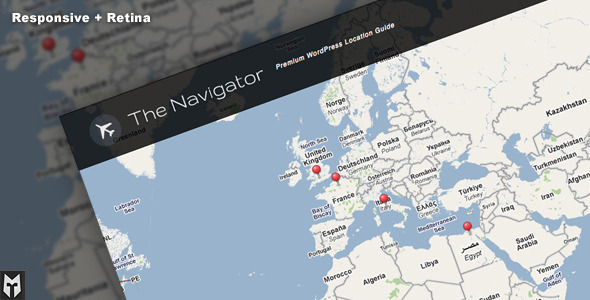 This directory-based theme utilizes Google maps to display exact locations and provide users the ability to interact with the location. The Navigator is ideal for travel blogs and/or location guides, but could also function as a real estate listings directory or store locator.
FlatAds – Classified AdsWordPress Theme
The FlatAds is a Premium Directory/Listing WordPress theme, super flexible and has a fully responsive design (try resizing your browser). Built with HTML5 and CSS3 . A lot of thought and care were put into FlatAds making it a pleasure to use. The FlatAds comes compatible with woocommerce 2.1, bbpress, MailChimp for WP plugin.
Explicit – High Performance Review/Magazine Theme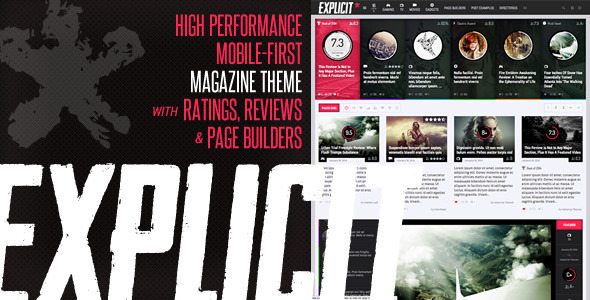 The Directory Responsive WordPress Theme
The Directory is a grid based, minimalistic and fully responsive WordPress Theme. From showcasing content, to running a jobs board, this theme is perfect for displaying your content in a modern and sophisticated way.
Properta – Real Estate WordPress Theme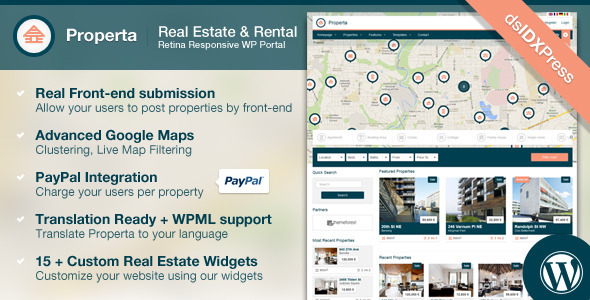 Enigmatic – Responsive Multi-Purpose WP Theme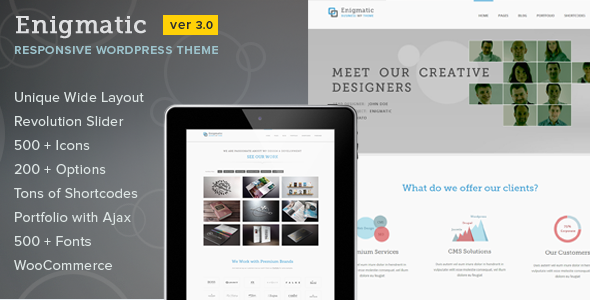 Enigmatic lets you create pages that are as unique as you are. It comes with unique function of letting you create beautiful pages with custom headers, define pages featuring multiple page segments that span the entire screen width with each segment styled differently. Have a look at our home pages and other companion pages to see what this means for you.