35+ Best Responsive HTML5 CSS3 Website Templates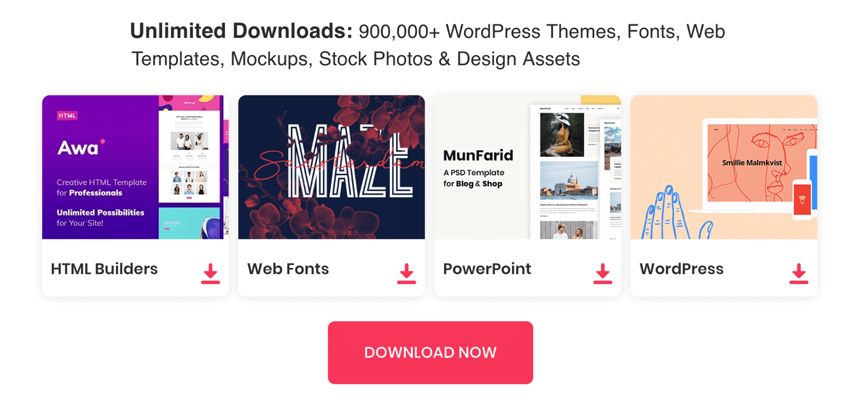 If you are looking for a base template that is HTML5/CSS3 and Bootstrap Framework compliant, fully responsive and super customisable and Can not choose the best tutorial for yourself ?
Today we will show top free responsive HTML5 and Css3 website templates for you .In this collection, i have collected more than 35 free and premium responsive HTML5, CSS3 and Bootstrap Framework templates.I hope that it can help web designer and developer to find out more about HTML5 and responsive layout.
AKAD – Free Digital Agencies HTML Template
AKAD is a free HTML Website Template with modern and clean style. AKAD is great for Digital agencies or Creative Portfolio to showcase portfolios. AKAD build with Bootstrap Framework so easily customized to suit your wishes, PSD version included.
Mountain King – Free Bootstrap One Page Template

Mountain King is a free Bootstrap One Page Template. Mountain with clean and responsive design layout. It's includes 336 vector icons, masonry picture galleries, off-canvas menus and CSS3 animations. Mountain King is great for make portfolio sites, travel landing page, or photographer portfolios..
Selena – Free Multi-purpose HTML5 One Page Template

Senela is a modern multi-purpose Responsive HTML5 and CSS3 Onage Page Template. It is well organized and very easy to customize.
Pluto – Material Design Html5 App Landing Page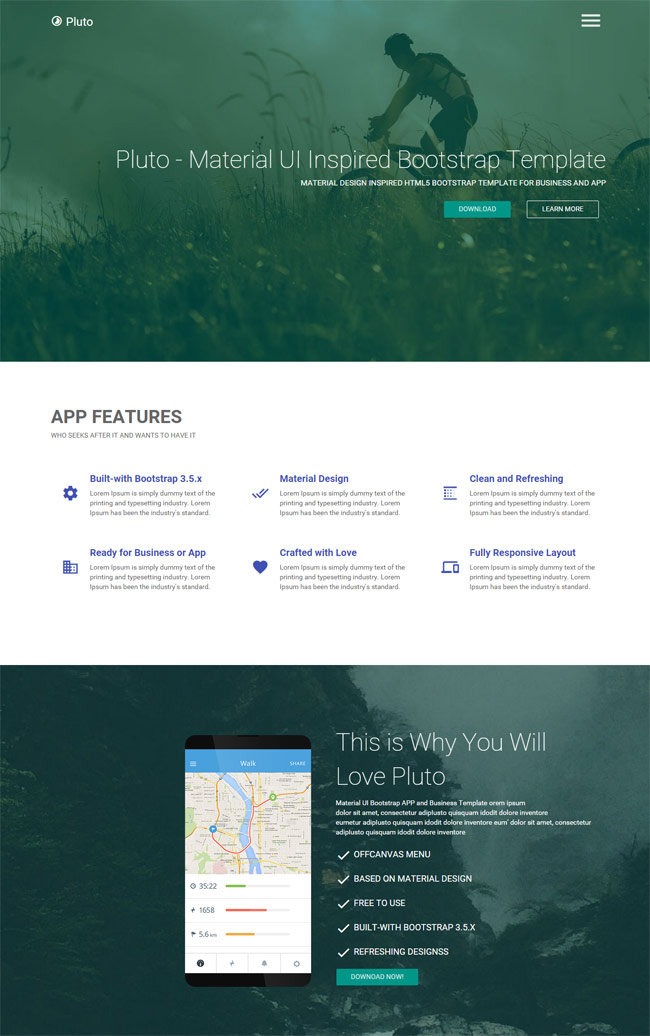 Pluto is a Material Design App Landing Page based on Bootstrap framework & HTML5/Css3. All components are based on Material Design UI. Pluto suited for Business, App Showcase, Product, Agency, Startup, Corporate and Portfolio Websites.
ActiveBox – Free Responsive HTML5 One Page Template

ActiveBox is a free multi-purpose responsive one-page HTML template with clean and minimalistic design. You can free download and use for your projects.
Unika – Free HTML5/CSS3 One Page HTML5 Template

Unika is a free Responsive One Page HTML5 Template perfect for personal portfolio or small business agency. Unika Onage Page Template built with html5 & css3 works well on all devices and browsers.
Spectral – Free HTML5/CSS3 Template
Spectral is a free HTML5/CSS3 Template,  Spectral includes HTML files, stylesheets, supporting images/JS assets, mockup/asset PSDs, and Sass sources.
Landed – Free Responsive HTML5/Css3 template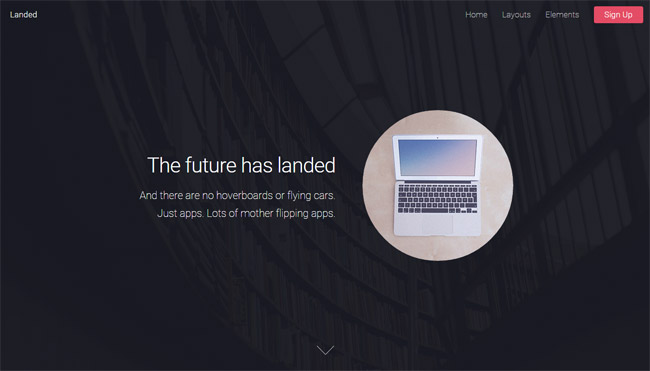 Landed is a free Responsive HTML5/Css3 template by HTML5 UP includes HTML files, stylesheets, supporting images/JS assets, mockup/asset PSDs, and Sass sources.
Flat Design UI Components Responsive web template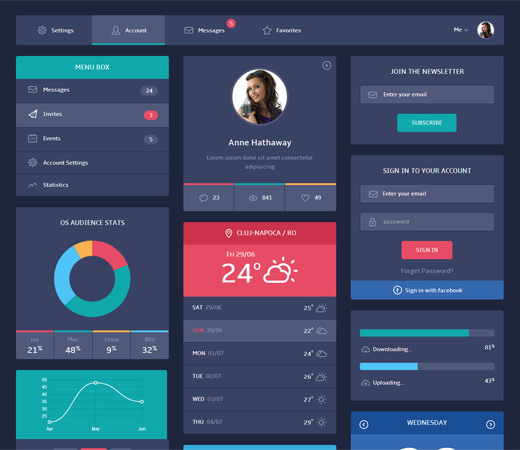 This is HTML CSS version of Flat Design UI Components which is inspired by GraphicBurger. UI kit includes a set of beautiful components which can be used to create websites and applications. Inspiration for this design is GraphicBurger's Flat Design UI Components if you want PSD file of the design link for the source is provided below. we have made three different versions web templates , Smartphone and Mobile check the demo.
Limelight Download Gallery Responsive Website Template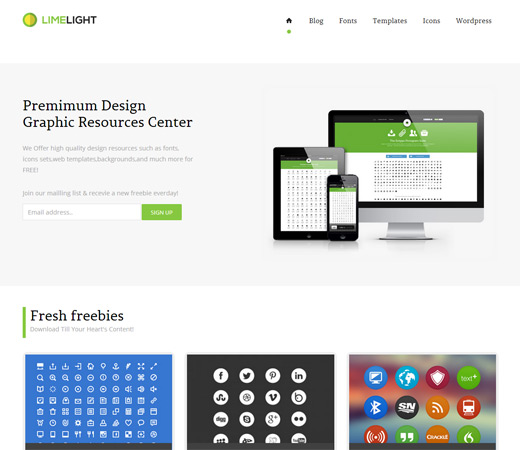 Limelight Download gallery is inspired by Freebiesxpress's Limelight gallery Template which can be used to start a design resource depot website where design resources like icons, PSD's, Fonts and More can be provided for free download or sales. Its Responsive web template and Mobile template download the package design will support all the devices. You can use this template for different needs like corporate website, Photo Gallery, Blogs and more….
Launchpad Product Service Launch Responsive web Template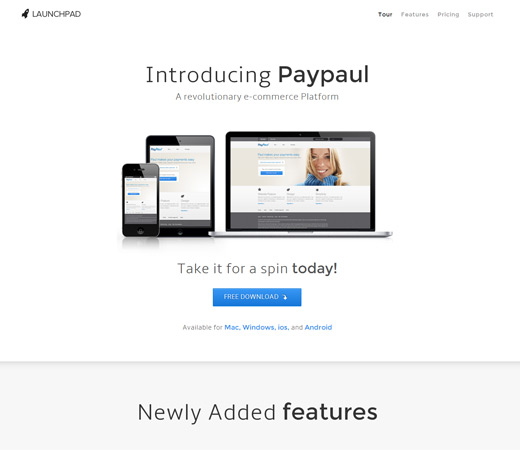 Today's Responsive web and Mobile template is Launchpad which is designed by FreebiesXpress. it's a minimalistic design 100% Responsive, SmartPhone and Mobile versions
SmartStart – Responsive HTML5 Template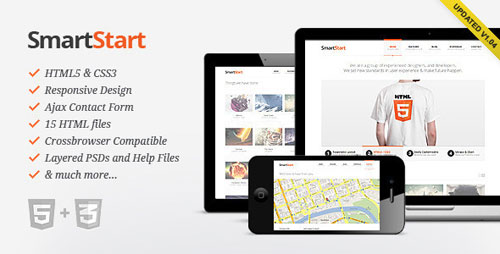 SmartStart is a simple and clean but still professional template suitable for any business or portfolio, and it's created by using the latest HTML5 and CSS3 techniques. With a responsive design it is easily usable with any device (Desktop, tablet, mobile phone…), without removing any content!I'm also ready to your suggestions to improve this template.
Super Skeleton: Responsive, Minimal, Beautiful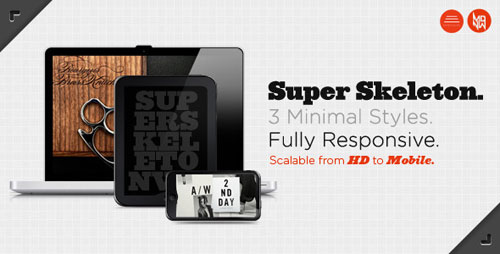 This is the HTML standalone product, which is intended for buyers who only want the raw HTML /CSS/JS framework. SuperSkeleton is responsive (try resizing your browser)… that means that it'll flex to fit massive screens, or itty bitty iPhone screens (and everything in between). Touch gestures even work on the slider!
Website – Responsive Template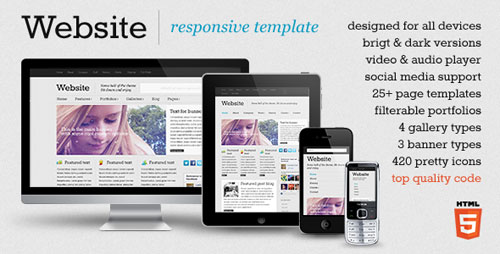 Website is a responsive template, which means it adapts to the device on which it's displayed. The template cares for your content so it looks great on all devices, but you can also decide to show part of a content on some versions only, and hide on others.
Responsive Paradise Hotel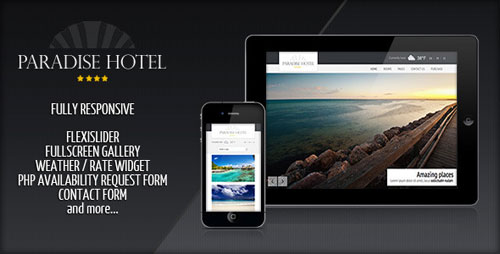 Responsive Paradise Hotel is an HTML5 /CSS3 site template suitable for hotels, restaurants, spa and similar. The layout looks beautiful at any size, be it a laptop screen, iPad, iPhone, Android Mobile or tablets.
Attracto – HTML Responsive Theme
Attracto is elegant Responsive Theme. By default You have two styles to choose: light and dark. Additionally You can choose from 50 prepared backgrounds. Easy to edit stylesheet make Your life easier with color changes. Now with couple clicks Your theme can look so much different than the original. Theme can be used as portfolio, photography or, with some small changes, can be easily adapted for Your business site.
Sapientia – Responsive HTML/CSS Template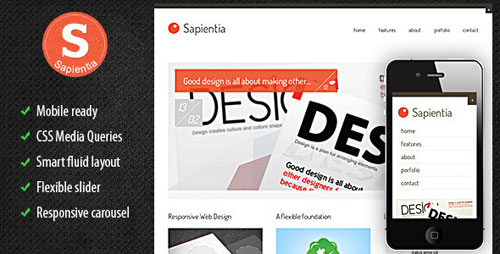 Sapientia is a minimal portfolio template with a responsive layout using a smart fluid grid and CSS Media Queries. The template layout will adapt to any screen resolution and device down to mobile. The design is unique and can be easy to customize.
Responsy – Responsive HTML5 Portfolio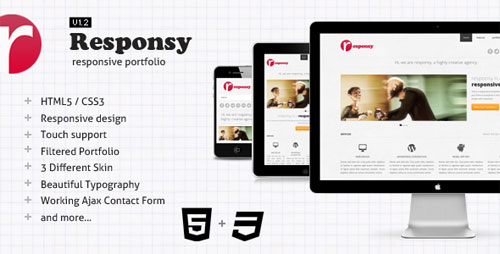 Responsy is a responsive html5 template suitable for personal portfolios or creative agencies. Responsy has been coded in HTML5 & CSS3 and jQuery.
Projection – Responsive HTML5 Template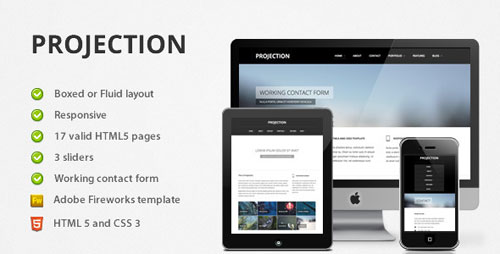 Projection is fully responsive template with minimal and elegant look. Projection includes top quality HTML5 and CSS3 code.Optimized for all devices – desktop, tablet or mobile.
SevenWonders – Clean Responsive HTML Template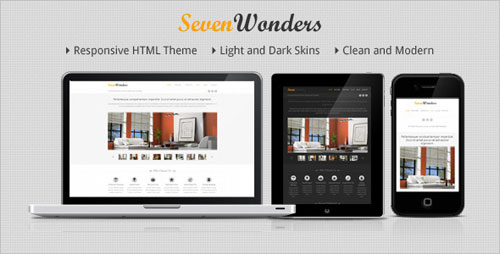 SevenWonders is a clean and modern HTML Templae that Fully Responsive, which mean the layout will adapt depending on the device screen size.This theme suitable for portfolio, photography, business, blog and almost any kind of websites.
Human – Responsive HTML5 Theme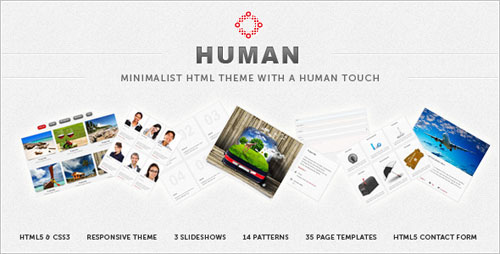 Human is a clean, simple theme, best suitable for company, personal or agency related websites.
Responsive Site Launch Coming Soon
The layout looks beautiful at any size, be it a laptop screen, iPad, iPhone, Android Mobile or tablets.
Cadena – A Responsive Creative Template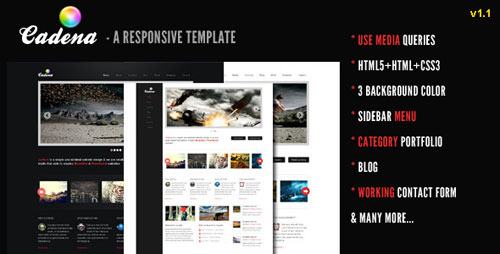 Cadena is a clean and minimalist style template that is good for portfolio, blogs and businesses. This theme is flexible and is used media queries to adapt screen sizes, whether it is iphone, ipad and wide screens.
Venturize – Bootstrap Responsive HTML Template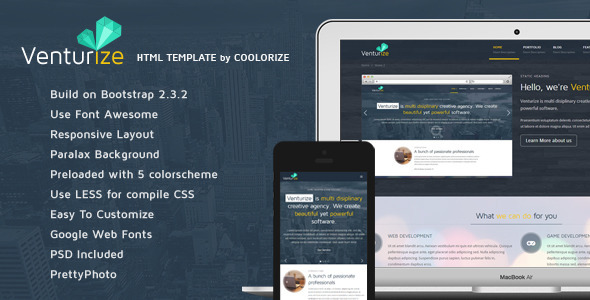 Venturize is a highly customizable Responsive HTML Template. You can use this theme for company profile, Showcase, to promote good product (Apps) or almost any other kind of website.
Oakland – Responsive Corporate HTML5 Template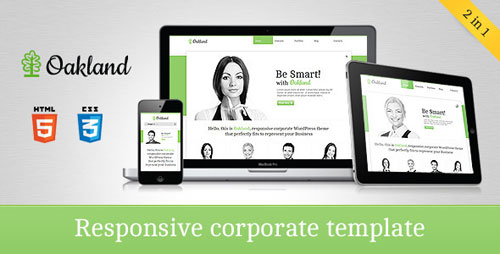 Oakland is a HTML5 and CSS3 corporate template which is represented in two versions:Responsive version is build to adapt to the visitor and to look great in all browsers and media sizes, such as iPads, iPhones and tabletsy, without missing content and having to zoom in. It goes with unique Responsive Slider. You can drag images with mouse or with finger touch.
View – HTML5 Responsive Single Page Template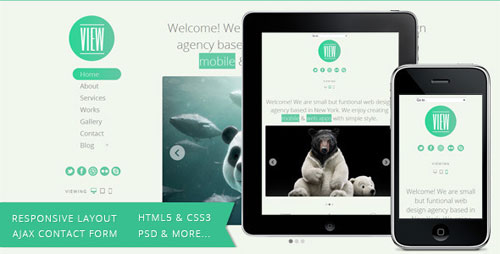 View is a Responsive and an HTML5 based template. This is minimalist design and is best for personal and portfolio site. A lot of features like gallery, video, flex slider, and a many more.
Rawa – Clean / Responsive / Minimal / HTML5
Rawa is a clean, minimal and responsive HTML5 / CSS3 template. It looks fantastic on mobile devices such as iPhones/Smarphones or Tablet-Pc's.
Quickr – Responsive HTML 5 Premium Template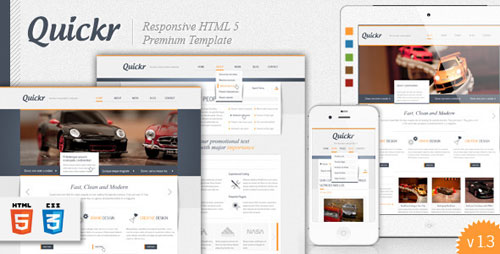 Quickr is a premium responsive HTML5 / CSS3 which uses the best practices of latest technologies and is compatible with all mobile devices. Quickr is suitable for wide range of websites, from personal blogs to small business and corporate websites. 6 Sliders (2 of which -responsive), Audio/Video posts, pricing tables and numerous jquery enhancements are just a small part of what the template offers.
Spark – A Responsive One-Page HTML5 Website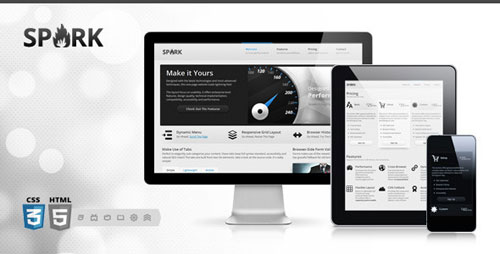 The other great implementation of this design is the flexible, responsive layout. With one website you actually get 3-4 specific layouts for desktops, tablets, phones, and any other devices: The layout adapts itself to what the browser is capable of displaying.
TXT Responsive Website Template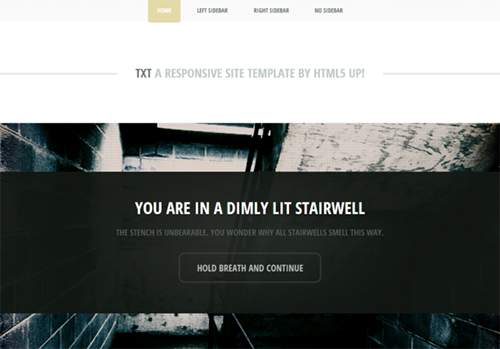 Aqueous – Responsive HTML5 Template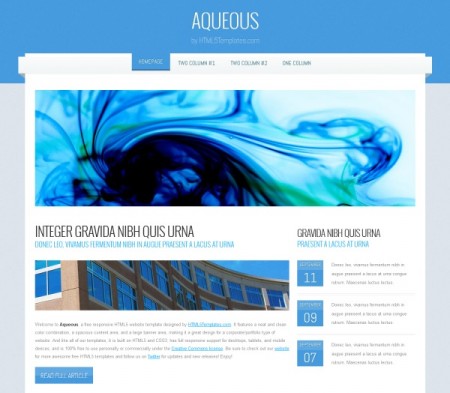 Aqueous is a free responsive HTML5 website template designed by HTML5 Templates. It features a neat and clean color combination, a spacious content area and a large banner area. It is a great design for a corporate or portfolio type of website.
Citrusy – Free Resonsive HTML5 Template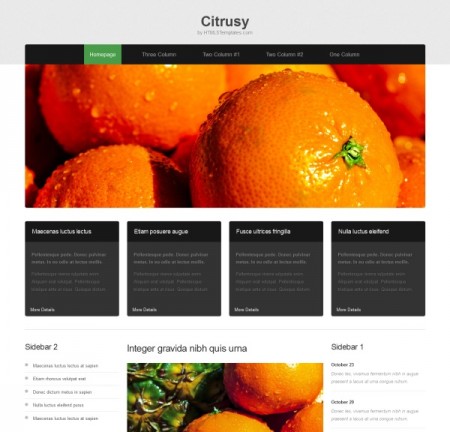 Citrusy is a free responsive HTML5 website template. It features a modern business-oriented design and an easily replaceable banner.
Affinity – Responsive HTML5 Template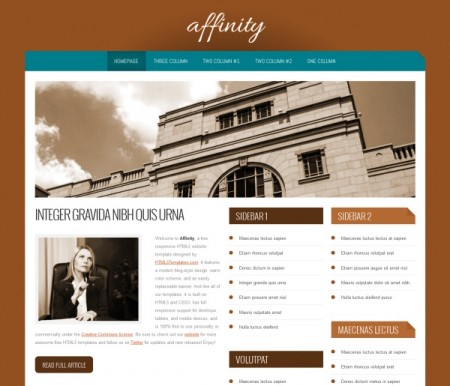 Affinity, a free responsive HTML5 website template. It features a modern blog-style design. It has warm color scheme, and an easily replaceable banner.
GoodCook – Responsive HTML5 Template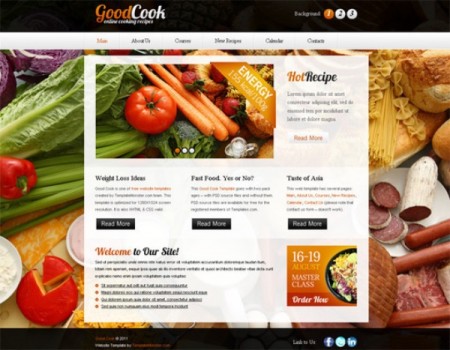 GoodCook is a responsive HTML5 template. It comes with Slideshow for Cooking Site.
Hostcompare cloud hosting Flat Responsive Mobile website template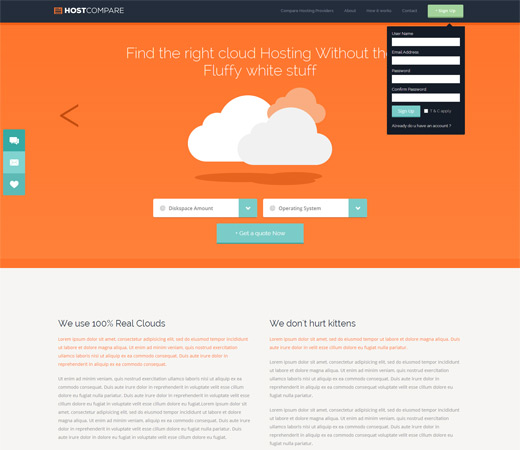 HostCompare is a clean and crisp cloud hosting Flat Responsive website design which is inspired by BlazRobar's Hostcompare – Free PSD Web Template. This template contains floating header, plan selection and price table. choose the hosting plan and click get quote now button price table will appear. Use HostCompare to start or redesign a web cloud hosting provider services website. It's Mobile smartphone ready your web hosting business is ready reach all the visitors irrespective of their devices and browsers. change the slide images and other stuff related to your business, a crisp clean Flat Responsive website with Mobile support is ready.
Ascend eCommerce Responsive Mobile Website Template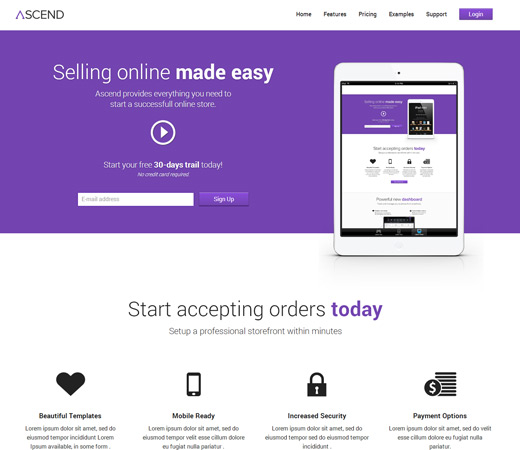 Ascend is insperied by Freebiesxpress's  Ascend – eCommerce Service Template which is a e-commerce web template with floating header and good features it can also be used for Mobile app website and lot more. Having an e-commerce website has become an integral part of running a business these days. And the demand for providers of e-commerce solutions such as Shopify, Big Commerce, WooCommerce, and others seem to be on a continual rise. Having been inspired by these service provider's clean and modern design layout
Use Ascend  to start a eCommerce website, Mobile App website or some service website. It's responsive and designed using HTML5, CSS3 Thanks to Freebiesxpress for allowing us to use PSD's.
Appstore Responsive Mobile website template
Use Appstore Responsive template to start a Mobile App website or any application website by changing the images and other content. it's header is floating and the template is very user friendly with good looks.
Today's Responsive web and Mobile template is Appstore it's a minimalistic design 100% Responsive, SmartPhone and Mobile versions also designed by us. Use Appstore to start a Mobile app website or for your Product, service website.