30+ Best WordPress Themes for Photography and Digital Design Agency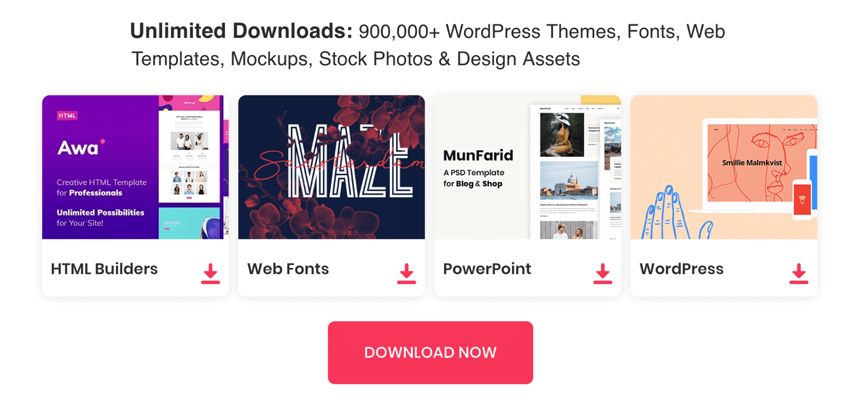 If you are an owner of Web-design business, Digital design agency and are looking for a good ready-made theme to launch your website this is the right place. Today we have chosen 30 most popular design and photography WordPress themes to make the choice easier for you.
Ready-made themes have a lot of advantages over the ones made from scratch. With them you will be able to save time and money and have the same unique and perfectly looking website. As every template has endless opportunities for customization and the process is extremely easy even for the beginners. Installation is easy and with all the documentation provided you will do it without any problems. And even if you encounter some trouble 24/7 support team will answer all your question and make your life as easy as possible. As a little bonus you get all the images in the template for free buying the theme.
So don't hesitate and take a closer look at these 30 Design Studio and Photography WordPress themes to find something that fits your interests and needs. Don't hesitate to visit the site for more of the templates.
Director of Photography WordPress Theme
This theme would be perfect choice if you want to launch your professional portfolio or online blog. Fully responsive and running on Bootstrap your website will be displayed flawlessly on every device, every browser and whatever screen resolution.

Sandy Responsive WordPress Theme
This elegant WordPress theme can be used for a web design website. It is easy to install and with Cherry Framework and Bootstrap the customization process turns into real pleasure. Sliced PSD, Back to top button, custom page templates, favicon, social options and loads of other additional features.

Art and Photographer WordPress Theme
With this WordPress theme you will be able to create an art project website or to launch your photographer gallery. The template looks pretty elegant with its ghost buttons, transparent menu and slider with huge images.

Bright Videographer WordPress Theme
This design is a perfect match for photographer or videographer business. It contains lots of spaces for photos and videos with the only descriptive paragraph at the bottom of the page. Positive bright template for your positive website.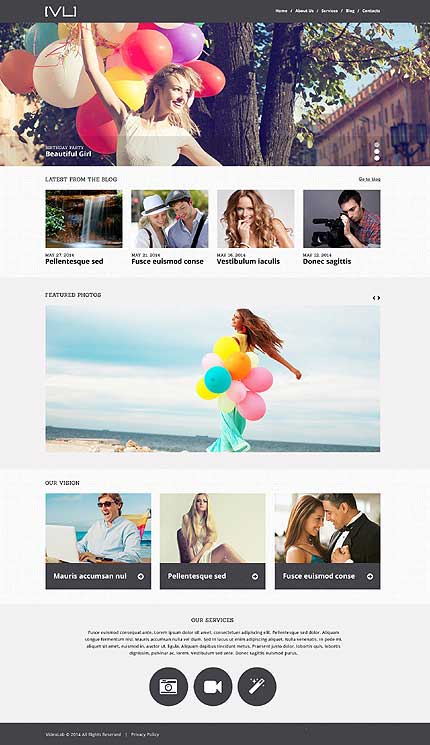 Photographer Personal Page WordPress Theme
Professionally looking WordPress theme for creating your photographer CV online. It contains everything you may need to present your professional skills in the best manner. Fully editable and 100% responsive it is a great choice.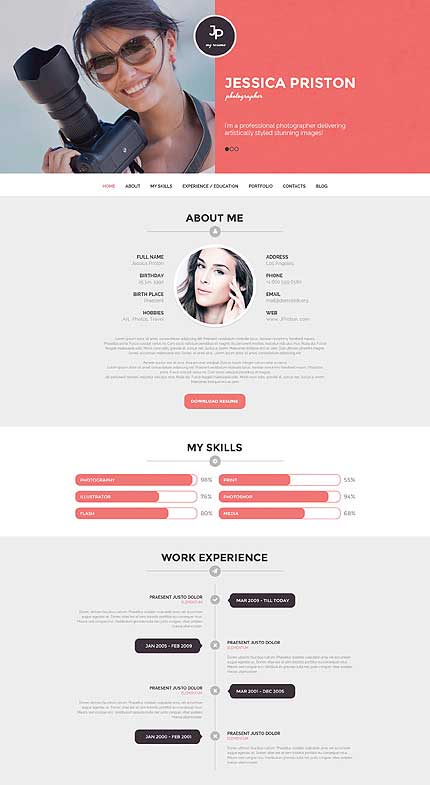 Focus WordPress Theme
You can use this template for creating photographer portfolio online. Whether you are a professional or a beginner you can always make changes to the template to make it look as you want.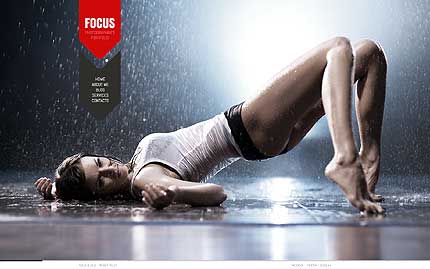 Photographer Portfolio Responsive WordPress Theme
This beautiful theme with parallax effect catches the eye at once. Being based on Cherry Framework 4.0 it is easy to use even for the complete beginners. With Bootstrap and MotoPress editor you will customize you template with minimum efforts.

Houston WordPress Theme
This stylish theme designed in the shades of grey and brown is a great choice for any business. It is retina ready, which means it will perform ad look flawless even on high-resolution displays. Cherry Framework 4.0 provides loads of opportunities for customization.

Website Design WordPress Theme
This design with polygonal backgrounds make the template look trendy and sophisticates. MotoPress editor allows you to make changes by simply dragging and dropping visual elements. Background video adds a dynamic effect to your website.

Material Design WordPress Template
Material design is trendy, stylish and modern in different areas of life. Make your web-site look up-to-date with this material design WordPress theme. Grid-based layout and fly-out menus make the content look organized and saves the space.

Out of the Box WordPress Theme
An interesting fully responsive parallax template. Would be ideal for a small web design company. With lots of great features and options you will be able to create your own unique-looking website.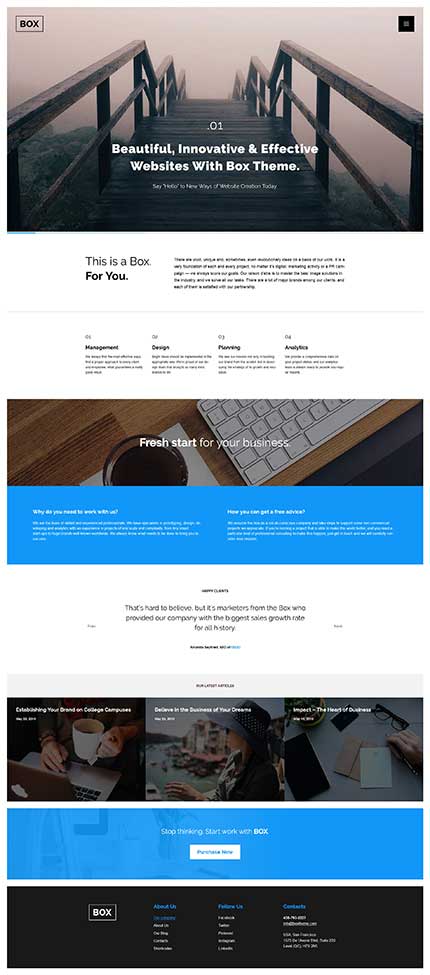 Creative Photography WordPress Theme
This minimalist WordPress theme is ideal for art and photography project. Using lots of negative space the template makes your visitors to focus on the content. With great use of space and typography the theme looks impressive and well-balanced.

Photographer Portfolio WordPress Template
If you want to create your professional CV online take a closer look at this theme. It looks stylish and strict at the same time. Clean and minimalistic layout is what you need to underline your professional features.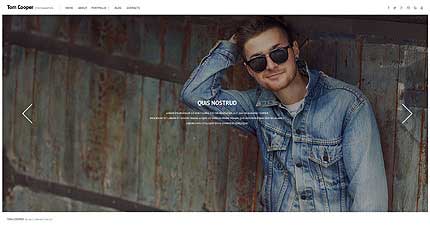 Photolab Responsive WordPress Theme
The bright accents of this theme make it look captivating and eye-catching. Being based on Cherry Framework it will provide you with endless opportunities for customization and make it easy even for a beginner.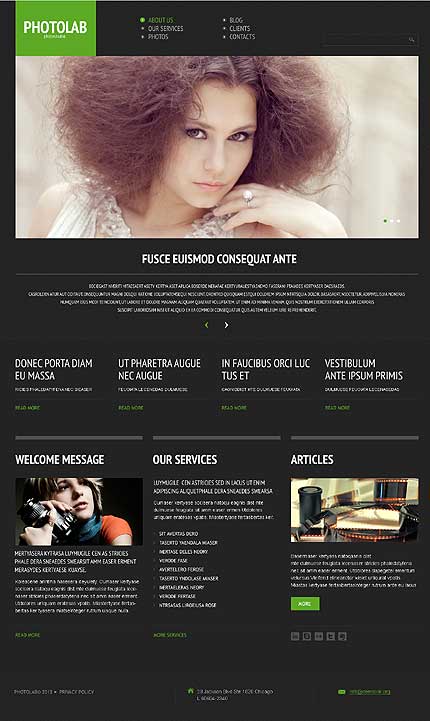 Photographer Gallery WordPress Theme
The theme uses classical black background which outlines perfectly your photo and video works. Big fonts and captivating images and what else is needed for a great design?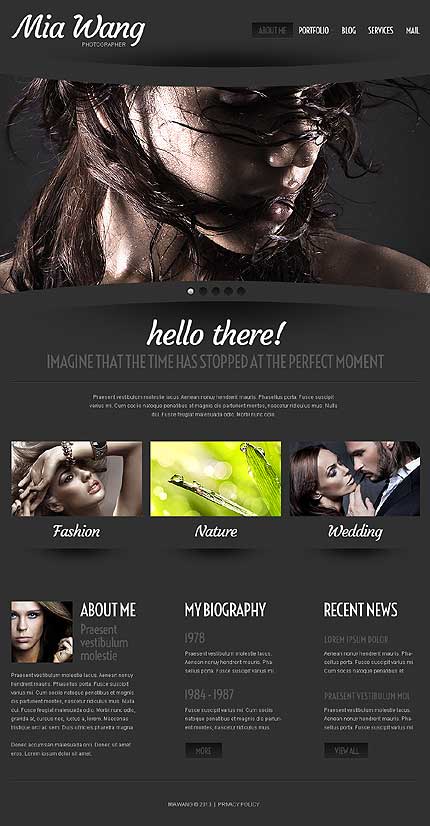 Best Photos WordPress Theme
If you want to run your own blog and keep your followers updated about the latest events of your business consider this WordPress theme. Transparent design, large slider with thumbnails make the theme look well-balanced and good-structured.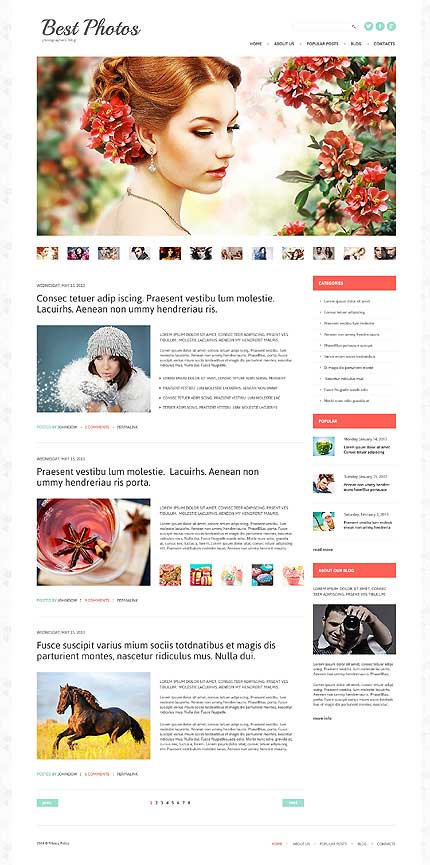 PixelStorm WordPress Theme
Everyone connected to web-design, game producing, digital art and videography should consider this template for representing their online business. Well-arranged content and wisely put accents will keep your visitors involved deeper into your website.

Design Studio WordPress Theme
This stylish template with big background image is great choice for a web-design studio. Stylish grey color scheme with bright yellow accents make it look balanced and focus your visitors' attention on the content the best way.

Photo Portfolio WordPress Theme
This theme with clean design is focused on displaying your works and will be perfect for presenting your photographer portfolio online. 100% responsive design guarantees that it will run on every device your visitor ay choose for browsing.

Design Group WordPress Theme
Professional design and clean valid code make this theme a perfect fit for and business connected to design. Yu can customize and personalize it to whatever extant you want without with no efforts.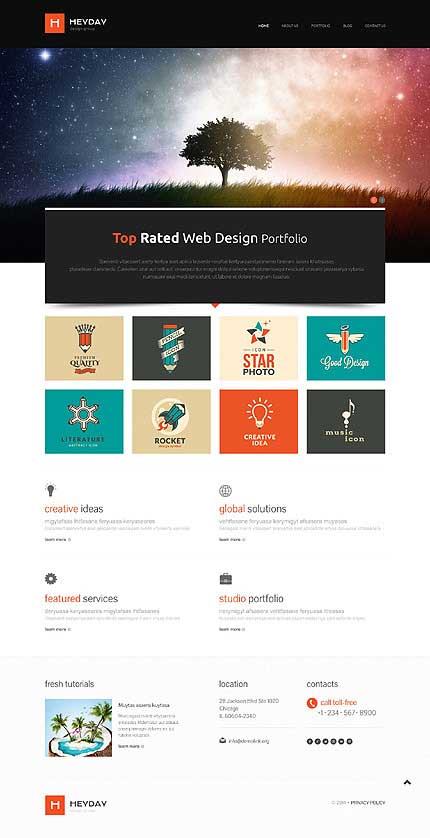 Professional CV WordPress Theme
If you are looking for a good theme to present online your professional portfolio, then here is a right choice. With this wisely designed WordPress theme you will make the employers to consider your candidature!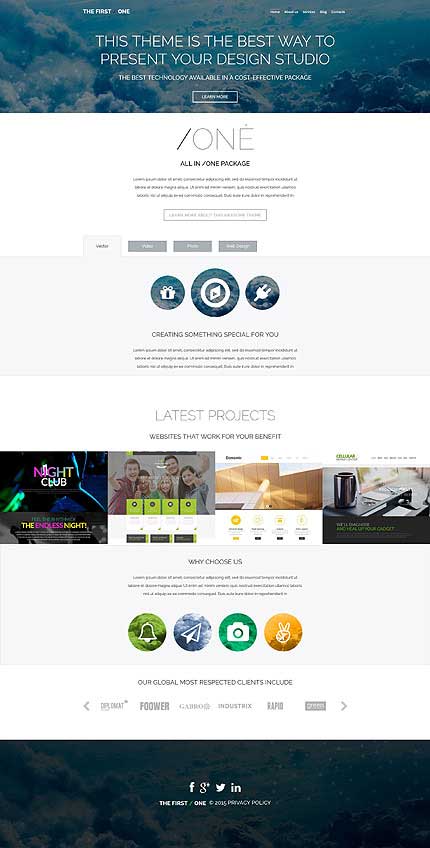 Web Designer Resume WordPress Theme
Creating a professional personal page online you should leave place for resume, portfolio, skill bars, testimonials. All this is taking into consideration within this highly professional template.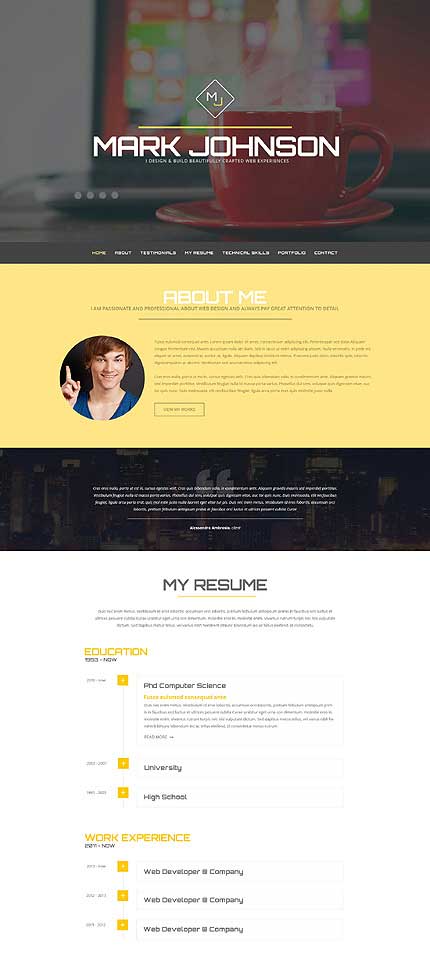 Design Studio Responsive WordPress Theme
This search engine friendly WordPress theme can be chosen for a design studio or any other sphere. With more than 80 shortcodes you will be able to customize it and adjust to any business.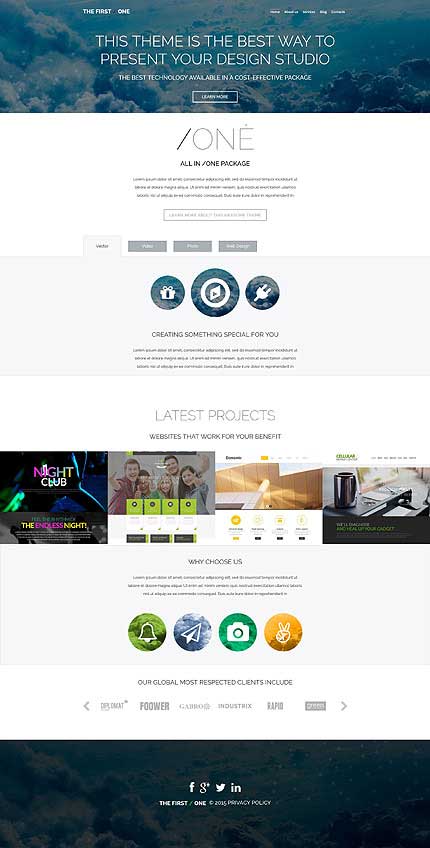 Web Design Studio WordPress Theme
Material design makes this template looks trendy and stylish. Bright elements are balanced by white content sections. So the overall feeling of harmony created by this template will attract you more visitors.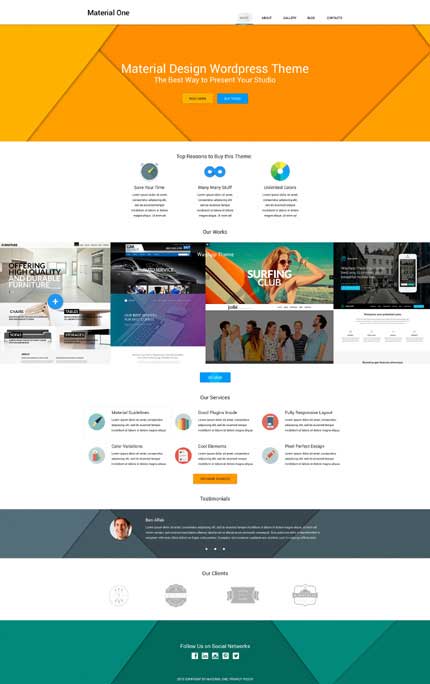 Juicy Web Design WordPress Theme
Thanks to metro style design your website will be able to attract more visitors and being fully responsive it will easily turn them into new customers. The theme has a lot of cool features and it will be a total pleasure to work with it.

Creative Project WordPress Theme
Lots of configuration options and cool design accompanied with the uncluttered layout make this site good for and creative project you may think of. And Parallax effect gives a dynamic touch to it.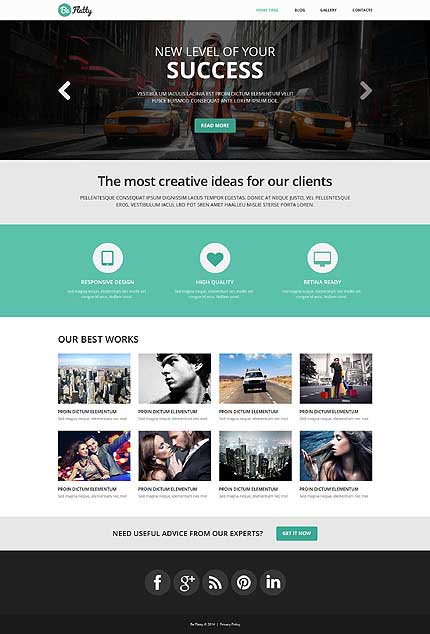 Cool Projects WordPress Theme
This theme will be good for those who are going to create an online CV. To be effective it needs to catch the eye and to focus on the main professional points. That is exactly what this theme is about.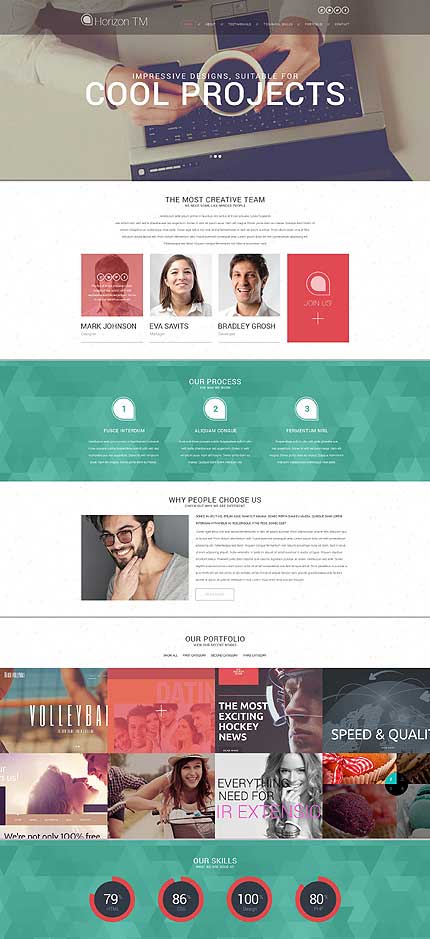 Web Designs Company WordPress Theme
Neutral grey background with bright accents look strict and at the same time professional and modern. Taking a look at your website your visitors will be sure that you will be able to represent them in the best way possible.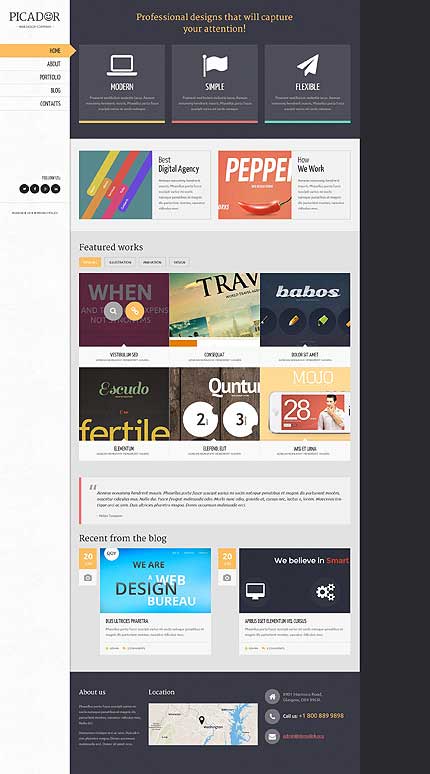 Web Design Agency WordPress Theme
Multi colored palette will give your visitors certainty that you are full of creative ideas. This template is an ideal choice for a web-design studio or small company.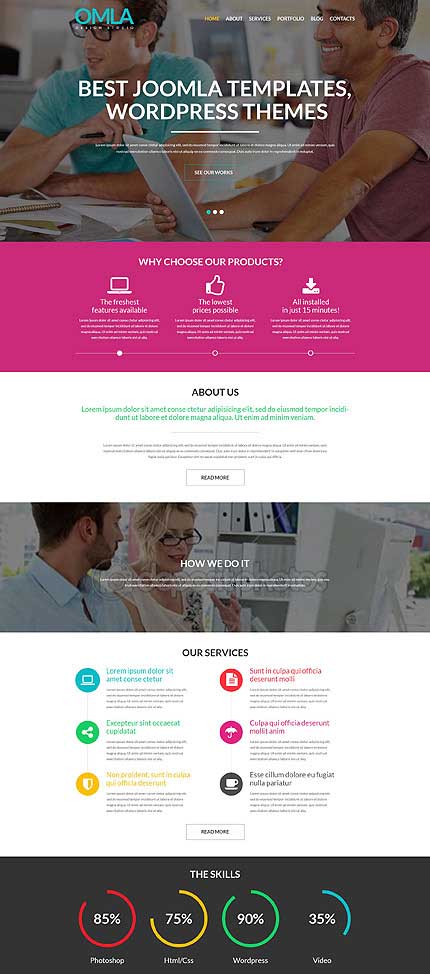 Cool Design Agency WordPress Theme
Every website connected to design should look stylish and trendy. The color palette used for this theme is really popular today. Easy navigation and cool design make it great for and design agency website.