35+ Best Full Screen WordPress Themes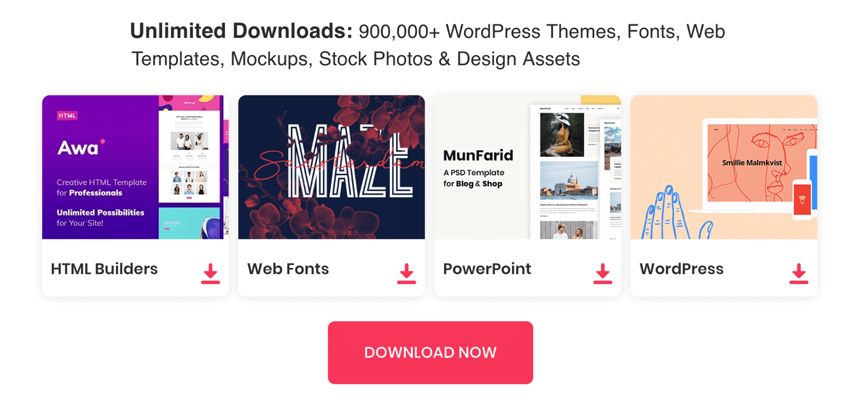 You are looking for a WordPress Theme to show off your photography and design work ? so these WordPress themes full background image are for you. In this post we have collected a list of the best full screen WordPress themes of 2014 which fill up full screen width and height with background images or videos.
Full Screen WordPress themes are perfect for photographers, designers and any other creatives to showcase their works. Most of these WordPress themes in here are fresh, fully responsive and professional look which could help drive more traffic to your site. If you knew any Fullscreen theme that has not made it onto this list, feel free to add a link to the comments below.
Moler – Full Screen WordPress Portfolio
Moler – Full Screen WordPress Portfolio
Elevate: A Full Screen Theme for WordPress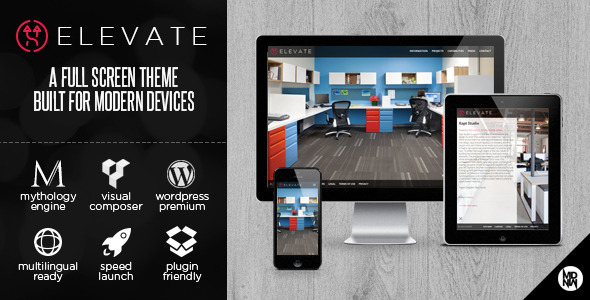 Elevate is a fullscreen responsive WordPress theme for creatives, photographers, illustrators and designers. You can use it for other projects, of course, but we specifically created this one for folks that want to show off amazing images in a unique way.
Depth – Full-Screen AJAX Portfolio WordPress Theme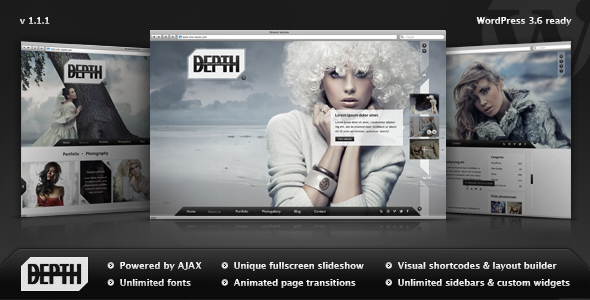 Depth is a perfect foundation for Creative / Portfolio / Personal site with Blog, Portfolio, Galleries, etc. If you want to impress your visitors with an awesome unique and fresh-looking site – this template is exactly right for you!
Storm WordPress – Full Screen Background Theme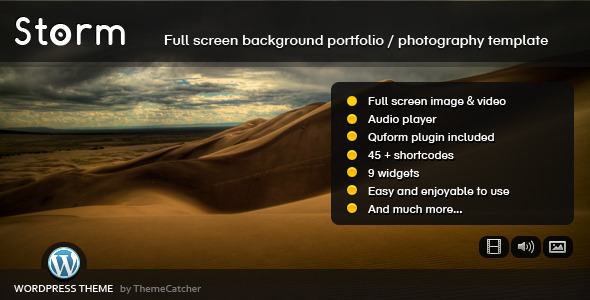 Storm is a stunning full screen image, video and audio background template with a custom full screen gallery. Imagine a multimedia packed website with the ability to easily create any form with our amazing Quform plugin also available with the theme. Storm is perfect for showing off your visual or audio work or perhaps you would just like to use media to sell yourself, what ever you do!
Portal – Multipurpose WordPress Portfolio Template
Portal is a full screen wordpress portfolio template with tons of options for displaying your work. We have prepared over 35 layouts for displaying your content in the perfect way. Portal portfolio template has logo portfolio, architecture portfolio, web design portfolio, product portfolio, illustrations portfolio and software portfolio ready for you to insert your content.
MoWo The Next Generation One / Multi Page WP Theme
Discover MOWO and the art of minimalist design in a fully featured, high-end and responsive WordPress theme. MOWO is a smashing full screen WordPress theme, and suitable for all kinds of business purposes.
Smooth – Responsive Full Screen Music Theme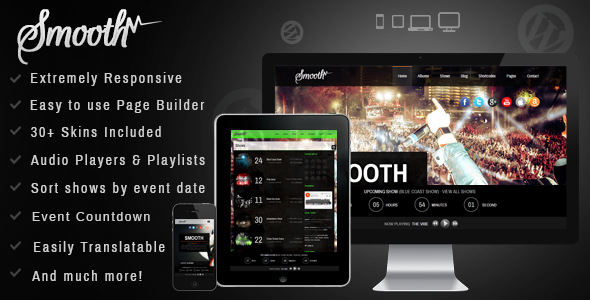 Smooth is a great full screen music WordPress theme, create an amazing website with this theme. Have your website setup in a instant with all the demo content included in the package. Over 30+ skins, Multiple Playlist's, As well as a intuitive way to display your shows in the order of the time the event will take place. This theme is also highly responsive and displays well on mobile and tablet devices. Smooth is a sure to be a great investment in your next music website, whether your a musician or looking to setup a website for event's this theme is perfect for you.
Paws – AJAX Responsive Portfolio WP Theme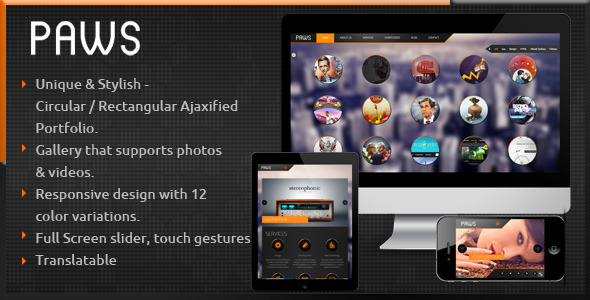 Paws is a full screen, responsive wordpress theme with an AJAX based portfolio section. It has a very unique design, looks stylish & modern and has powerful features packed into it to help you give your visitors a stunning visual experience.
Sleek | Responsive & Creative WordPress Blog Theme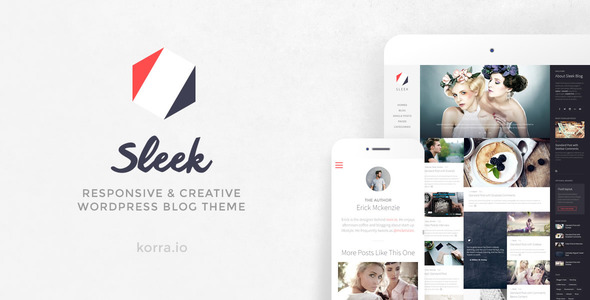 Sleek is creative and responsive blogging wordpress theme, built to bring functionality and style into the blog. Sleek's smart layout makes use of full screen size, while making a sidebar fixed and independent in scrolling. With enabled sidebar comments, Sleek makes commenting much more prominent and substantial part of a blog. Lightweight, mobile-first layout progressively enhances across all screen sizes to bring native & smooth experience on any device, accompanied with a full retina support. AJAX navigation and AJAX comments bring speed, animation and interactivity for a full UX.
Wynn-Fullscreen Ajax Portfolio / Photography Theme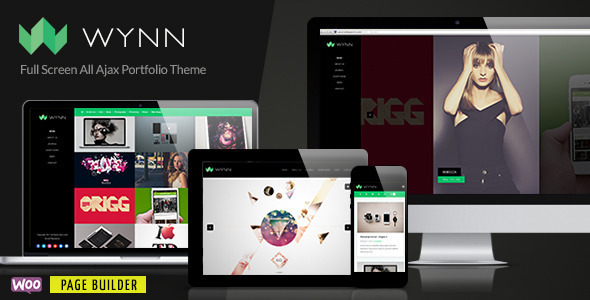 Wynn is a responsive, full screen , all ajax wordpress portfolio theme that has a stylish look and a slick experience. Wynn is ideal not only for agencies, freelancers and photographers but for all creatives. Wynn comes packaged with plenty of great features and is highly customizable.
BIG Gallery WP – Fullscreen Photography/Portfolio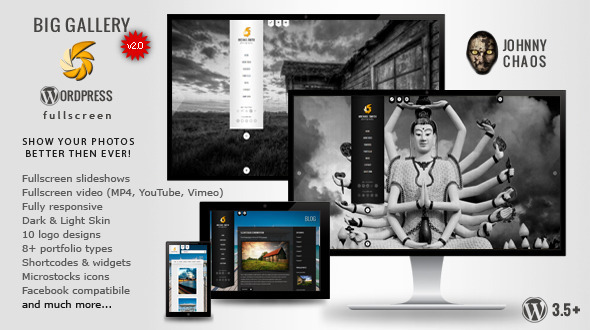 BIG Gallery – WordPress Fullscreen Photography Portfolio is an unique way to present your photos. It allows you to show your work as big as possible . With creative use of CSS3 and Javascript this theme will delight your visitors!
Scroller – Parallax, Scroll & Responsive Theme
Scroller is clean, minimalistic and elegant WordPress theme with fully responsive layout. Theme is suited for all photographers, creative, business and portfolio websites. Theme includes lots of advanced features like full-screen sliders, Parallax effects, And scroll – One Page Homepage. All functions and are based on solid back-end framework.
Unik – Ultra-Customizable WordPress Theme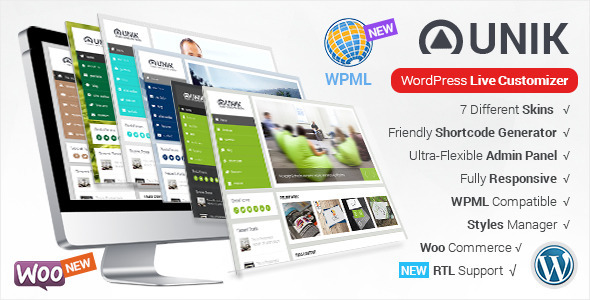 Flight – Responsive Fullscreen Background Theme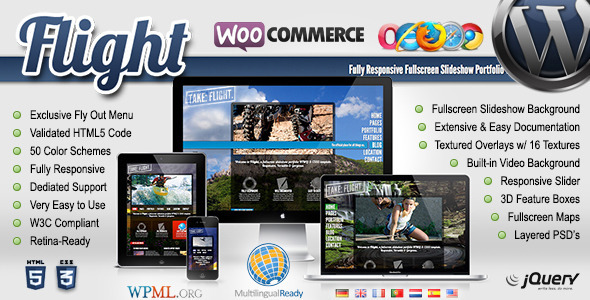 Flight is a stunning, interactive, fully responsive, Retina-ready, fullscreen background slideshow WordPress theme. It has a modern transparent look and includes a completely unique fly out menu that responds on command.
BIG Gallery – Fullscreen Photography Portfolio
BIG Gallery – Fullscreen Photography Portfolio is an unique way to present your photos.
Kodax – Full Screen Landing Page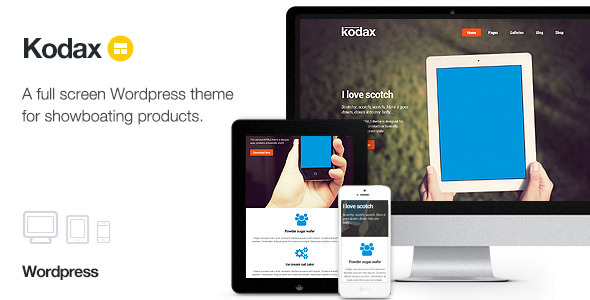 Kodax is a clean WordPress theme specially designed for showcasing items in a full screen slider. A beautifully designed multi-purpose WordPress theme, perfect for blogs, portfolios, company and personal websites. Kodax is clean minimal and sharp, putting critical focus on your content and photography.
Artboard | FullScreen Portfolio + Blog
Artboard is a full screen portfolio theme + a full featured blog that leverages the best that WP 3.5 has to offer!
Incidental – High Class Photography WP Theme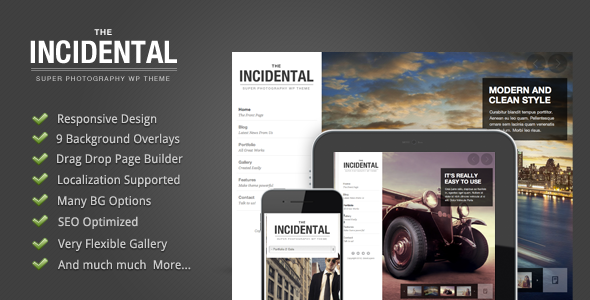 Incidental is a premium WordPress theme for photographer. The theme provides a very flexible, drag drop tool to manage your gallery. You can create both full screen gallery or if you like the traditional way, you can build it as column style as well.
BigFormat – Responsive Fullscreen WordPress Theme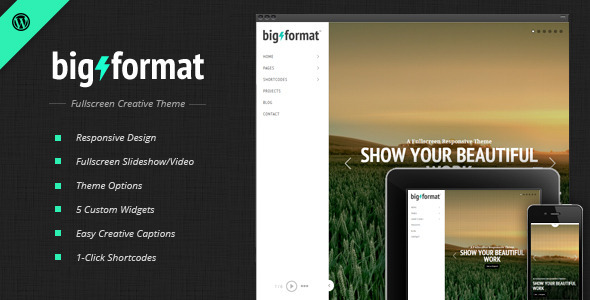 BigFormat is a fullscreen responsive portfolio theme for freelancers, web designers, photographers and videographers alike, built to showcase your work at a large scale.
Delight Fullscreen WordPress Portfolio Theme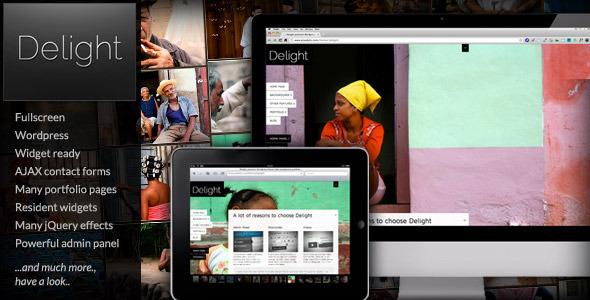 Delight is a Powerful Professional WordPress Theme, with Fullscreen background.
Village – A Responsive Fullscreen WordPress Theme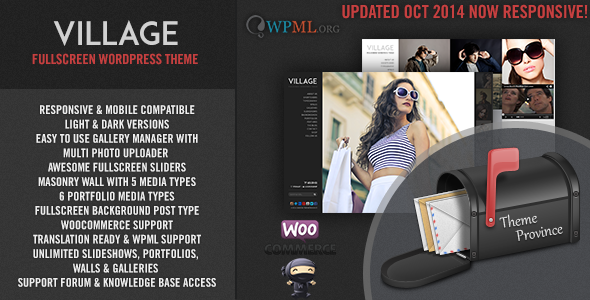 If you love photography or general creativeness and want new interesting ways to display your work then this really is the theme for you. If you are not that familiar with WordPress the video tutorials will guide you through how to create everything you need. The theme also has helpful hints throughout to let you know what everything does…
ePix – Fullscreen Photography WordPress Theme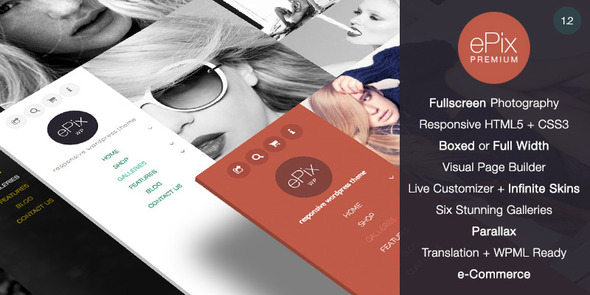 ePix is the best fullscreen responsive WordPress Photography theme, perfect for photographers looking to showcase work on a professional platform.
King Size – Fullscreen Background WordPress Theme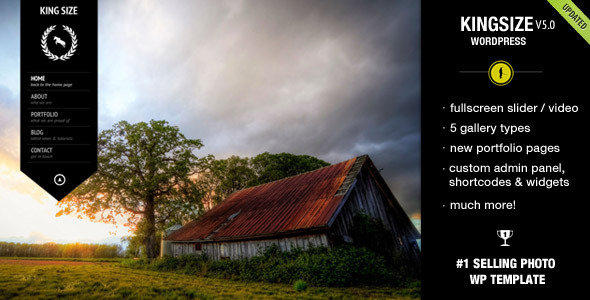 KingSize WordPress is now a fully responsive fullscreen background WordPress theme that comes packed with 6 different Gallery types, unique Portfolios and 4 different layouts options for each Portfolio and Galleries. Great for Portfolios, Galleries, Bloggers and more! Why stop there? Create Unlimited Galleries, Portfolios and Fullscreen Backgrounds.
Ideas – Fullscreen Responsive WordPress Theme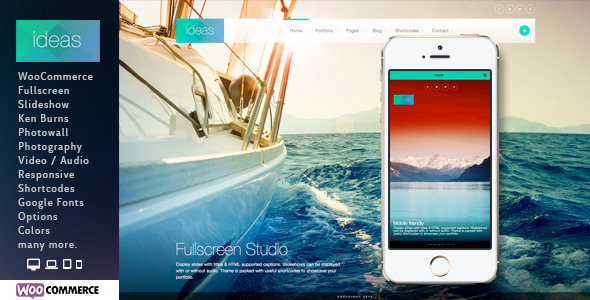 Ideas is a Fullscreen Responsive Studio theme for WordPress with a variety of fullscreen posts ( Slideshow, Kenburns, Video and Photowall ) The theme is WPML ready and includes .po .mo language files. Social header area is specially designed for WPML widget & Social link widgets.
Konzept – Fullscreen Portfolio WordPress Theme
KONZEPT is a portfolio solution for creative professionals of refined taste. Extensive control options, responsive behavior, fullscreen experience and clutter-free approach put your works in focus.
SmartScreen fullscreen responsive WordPress theme
SmartScreen is a fullscreen responsive wordpress theme which offers CMS functionality to your website.
Agency: Fullscreen Minimal WordPress Portfolio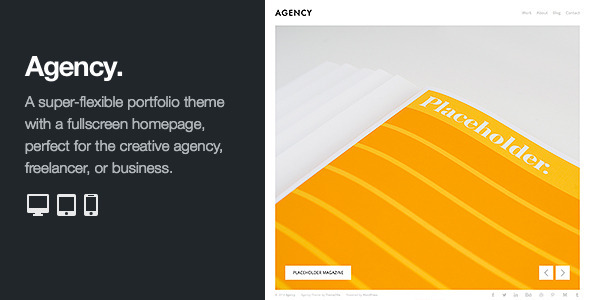 Agency was designed with creative agencies and freelancers in mind. The fullscreen homepage, two portfolio layouts, and strong typography offers a blend of flexibility and minimalism in this feature-set theme.
Kose – Fullscreen Portfolio WordPress Theme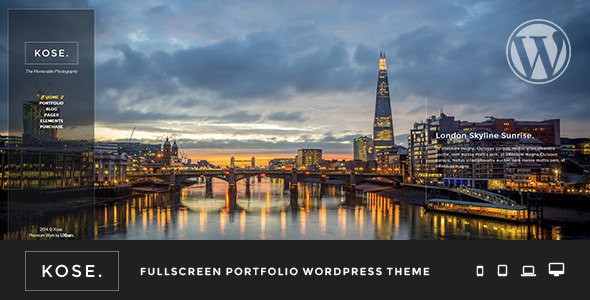 Want to show your awesome portfolio or photography works? Simply let Kose theme help you! It comes with a powerful page builder powered by Visual Composer plugin.
PictureThis – Fullscreen Portfolio WordPress Theme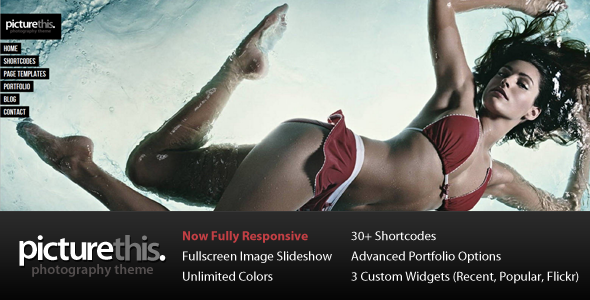 PictureThis is a powerful, premium WordPress theme great for photography and portfolio websites but can also be used for other projects.
Rockford – Fullscreen Photography WordPress Theme
A fancy and versatile theme for photographers and artists.
Blend – Fullscreen Photography WordPress Theme
Blend is Fullscreen Photography wordpress theme which designed to focus on display your photos/portfolio in many effect way to attach your visitor each time they visit your site. Blend was designed by our talents and passion, we take care any details to make it look perfect.
Olimpia | Fullscreen WordPress Fitness Center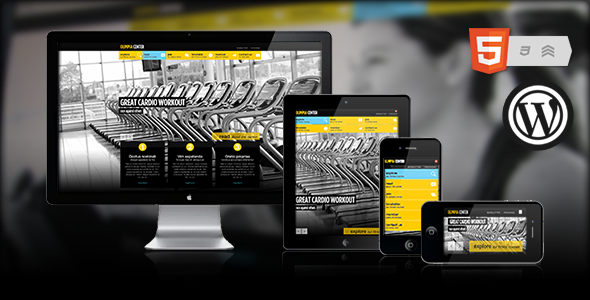 WordPress theme suitable for Fitness Centers, Gym, memberships and health Clubs. Olimpia offers a full screen slider and a lot of useful features to achieve a perfect website for health and fitness centers.
Studio Zen Fullscreen Portfolio WordPress Theme
Studio Zen is a powerful theme for photographers and creative artists.
Panorama Fullscreen Photography WordPress Theme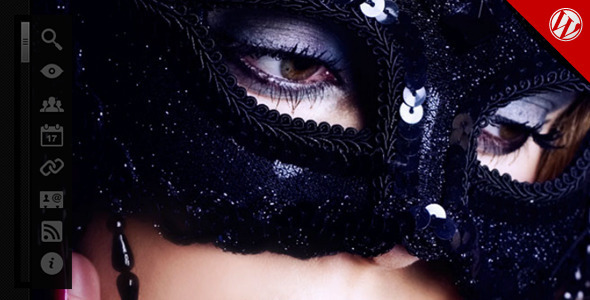 PANORAMA is a full screen WordPress theme perfect for a variety of purposes, even is focused for photographers and photography, or other wide graphic works. It requires PHP5. It's easy to use, easy to customize to fit your needs and doesn't bring things what you don't need.
Imperia – Fullscreen Portfolio WordPress Theme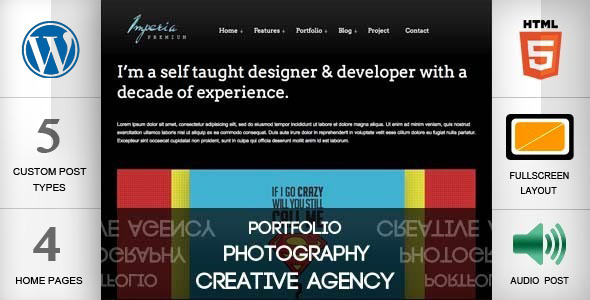 Imperia is Premium WordPress Template Designed with Minimal yet Professional Approach. It comes with Unique Fullscreen Layout with Fixed Header & Footer. The Minimalistic Design is Perfect for Personal Portfolio & Photography as well as for Creative Design Agency / Studio.