10 Best Free Video WordPress Themes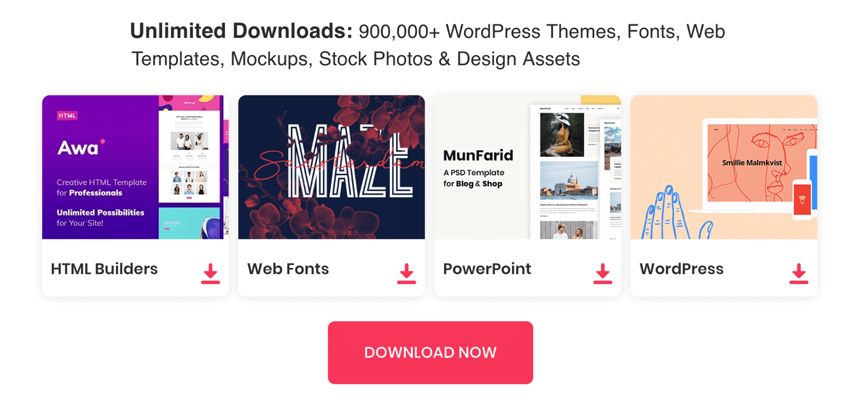 Collection top 10 best free video WordPress Themes that perfect for show off your video blog, video sharing website. With these WordPress Video themes,you will get get a professional video site up and running quickly.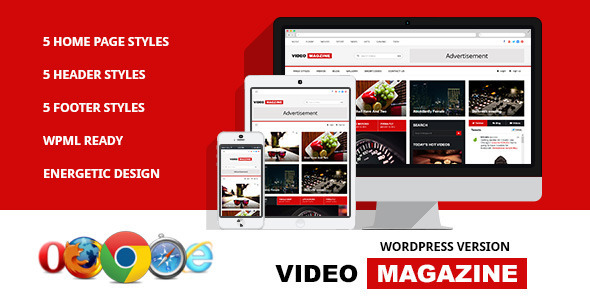 You may also like:
Bellow you will see some of the top free video WordPress themes available for download. The WordPress themes have been supported for video blogger, videographer, and other video sharing website like YouTube or Dailymotion. Let's choose a best suitable Video theme for your website.
Webvideo – Free Video WordPress Theme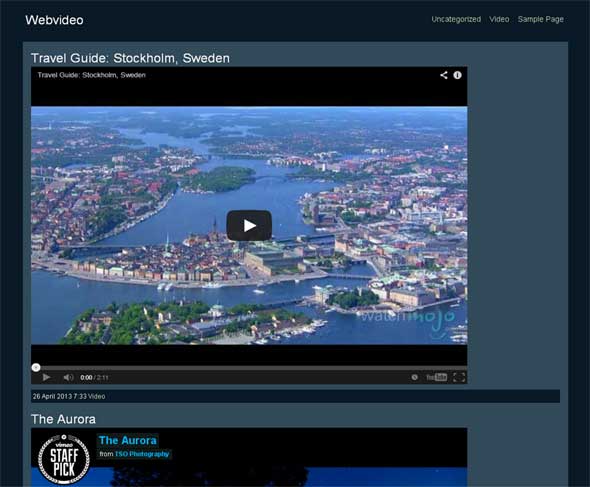 Webvideo is a Video WordPress Theme designed for video site, video blog video Portal. Webvideo is a Fullsize Image and Video WordPress-theme for photographer or designers with a need for showcasing work online.
Stumblr – Free Video WordPress Theme
Stumblr is a free Tumblr style WordPress theme ideal for Microblogging photos & video.
Pinboard – Free Video WordPress Theme
A crafty and elegant theme powered by an advanced theme framework and grid system. With virtually unlimited layout options and styles, ideal for showcasing your portfolio of works or other multimedia elements like images, photo galleries, videos and podcasts.
Sundance – Free Video WordPress Theme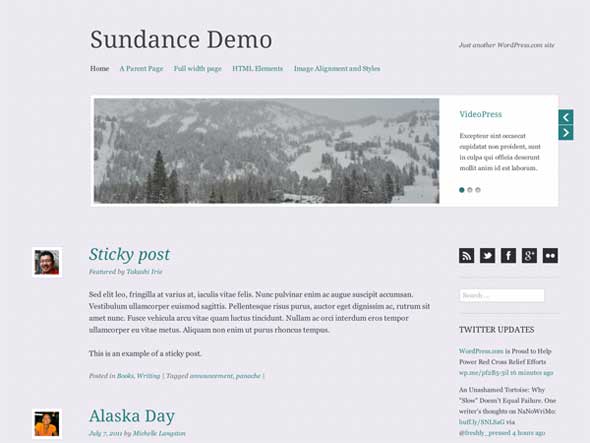 Sundance Video WordPress Theme is a free video theme brought to you by the folks at Automattic. Despite its minimalist design, Sundance was crafted with clean, elegant typography and close attention to detail. The home page offers a featured video carousel. It supports the video post format, widgets, custom background, custom header, custom menus, and a custom link feature for your social media pages.
Focus – Free Video WordPress Theme
Focus is a great theme for showing off your videos. It supports videos hosted on other sites like YouTube and Vimeo through oEmbed. You can even self host your videos – Focus has a gorgeous custom video player for MP4s. Focus can be used as a standard video blog or even an educational video site.
Edivos – Free Video WordPress Theme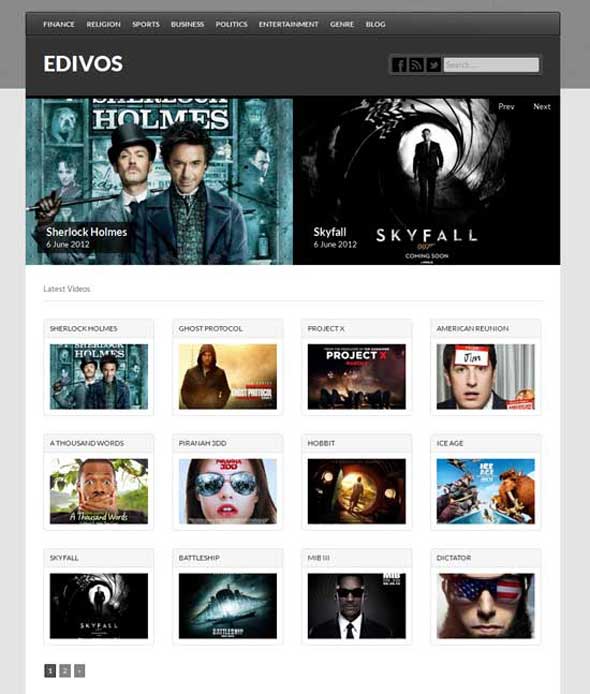 Edivos is a primarily a video listing WordPress theme. It also has the blog feature. This is a feature rich theme with features like custom menu, custom post type, taxonomies, theme options , jQuery slider etc. This theme supports video listing from from 6 different video sharing websites. The theme is built with metaboxes to make it easy fro your to create the video listings.
Garvan – Free Video WordPress Theme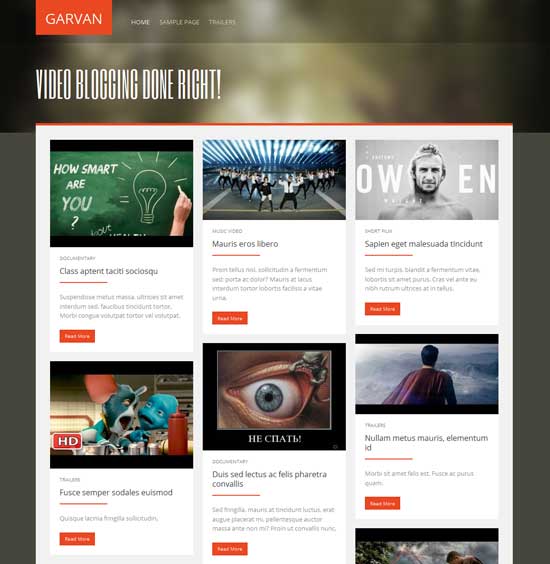 Garvan is an exclusive video blogging theme. This theme works relying on a plugin called Featured video plus. This plugins makes it easy to add featured videos to your posts, just like featured images. The video screenshot is  automatically generated by the plugin. You add videos from different video sharing sites and also use self hosted videos.
Allmed – Free Video WordPress Theme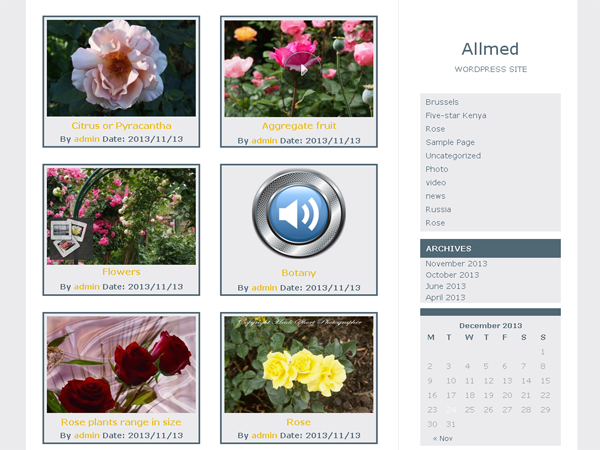 Allmed is a theme for video and audio bloggers, with a minimal design, giving you huge scope to turn the design into anything you like. The theme is simply customizable, you can choose unlimited color schemes.
Socially Awkward – Free Video WordPress Theme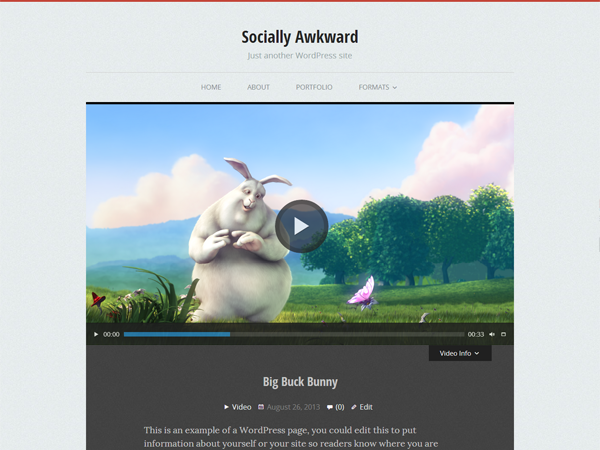 A responsive CSS3 and HTML5 media theme. The Web is an ever-changing place to interact with others socially. You need a theme that represents who you are on the Web. The theme is fully loaded to display self-hosted media (images, audio, video) and media from third-party social media sites. It integrates with many of your social networking profiles, supports all post formats, and integrates with the Custom Content Portfolio plugin, giving you the ability to share your creativity with the world
NewGamer – Free Video WordPress Theme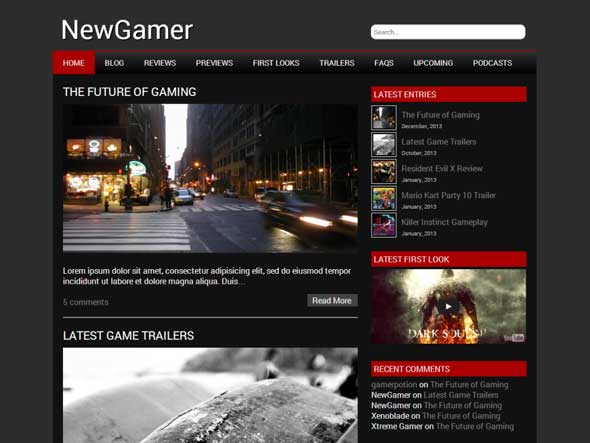 A Gaming focused WordPress theme, styled in dark and neat colors. Perfect for Video Game and Entertainment websites. Features:- Large featured images, Custom logo, Custom background, Footer widgets, and Neat typography. NewGamer uses NewTek theme as a base.