10+ Best Responsive phpBB Themes 2016
Phpbb3 is an open source forum management CMS that are widely used for forum management. If you are searching for a Responsive phpBB Themes so this post for you. In this post we will show you 10 Best Responsive phpBB Themes for 2016. Take one and make good forum.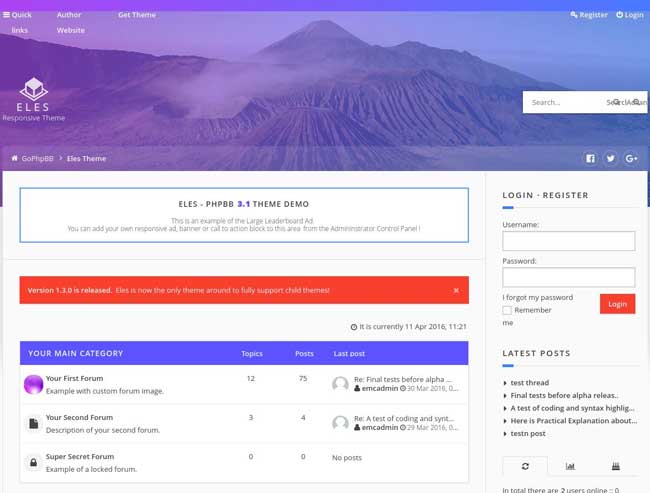 List of best phpBB Themes with responsive, unique design awesome premium looking phpBB3 styles. All phpBB Theme styles are compatible with latest version of phpBB forum software.
Canvas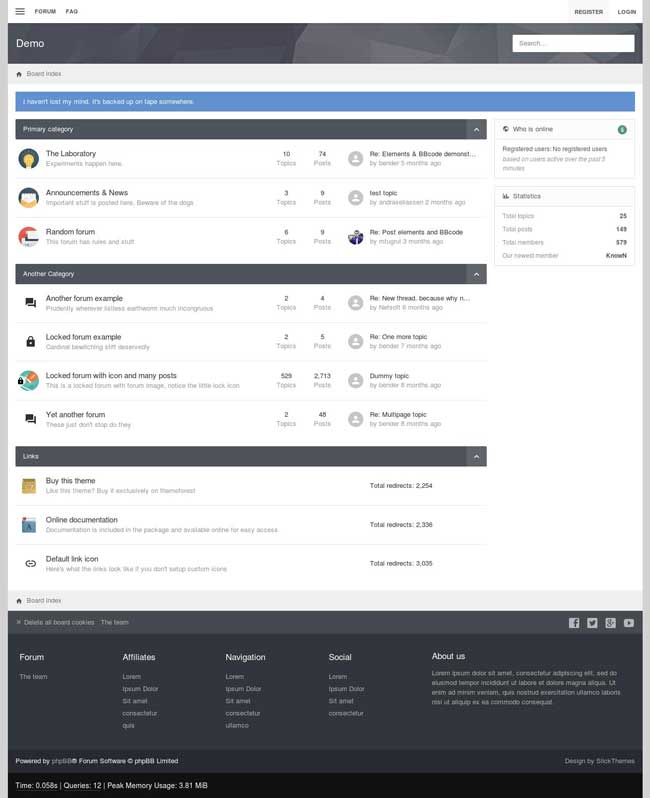 Canvas is a modern and clean responsive PHPBB 3.1 Theme. Canvas is retina ready theme, uses font icons and image-less UI elements, which make it look absolutely delightful on High-resolution screen. With many options to be integrated in the Theme panel: WYSIWYG editor, Sticky Header, Off-canvas Menu, Unlimited colors, Clickable rows… to make sure your Deskop and Mobile users have a great time.
Eles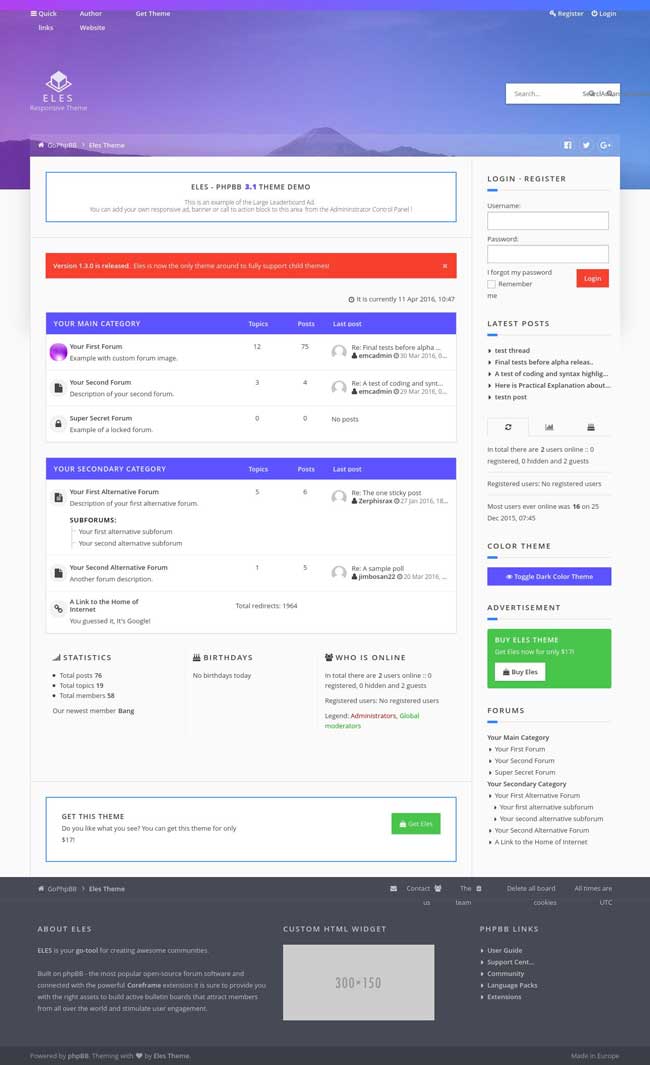 Eles is a professional, fully-responsive and retina ready Theme for phpBB 3.1. Eles is efficiently written for optimum performance and designed to provide a streamlined update experience while maintaining complete compatibility with newer phpBB versions most phpBB 3.1 third party extensions.
You can easily customizable your phpBB forum with CMS solution available via the coreframe extension, which is smartly built into phpBB and is sure to make your forum stand out from the crowd!
Ravaio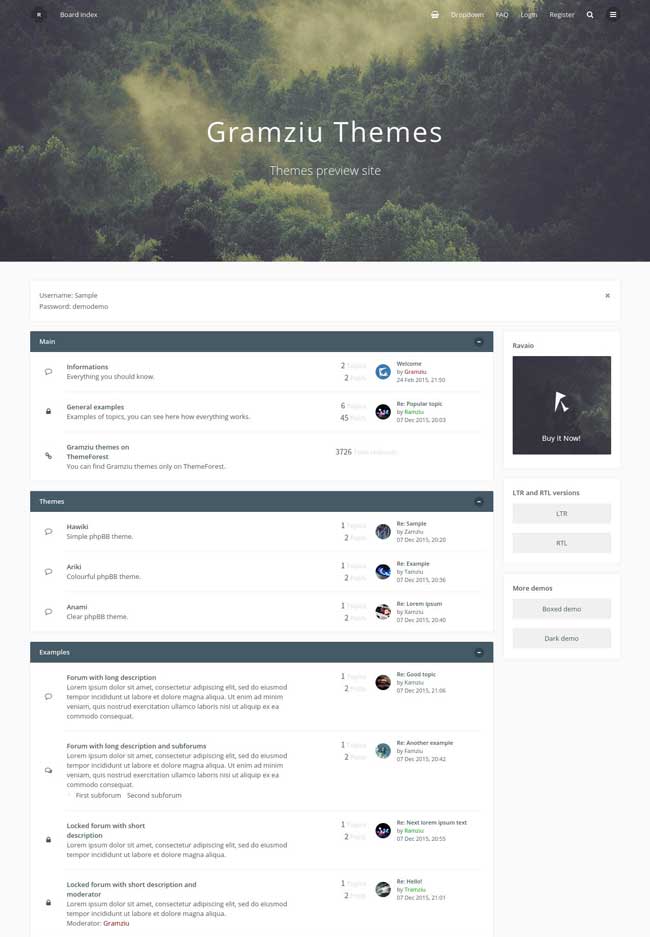 Ravaio is a Responsive phpBB Theme wiht modern and flat design. Ravaio features such as Untimited colors, editable sidebar, Customizable Navigation Settings Extension… Powerful Panel on Ravaio makes it easy to install and customization.
Ariki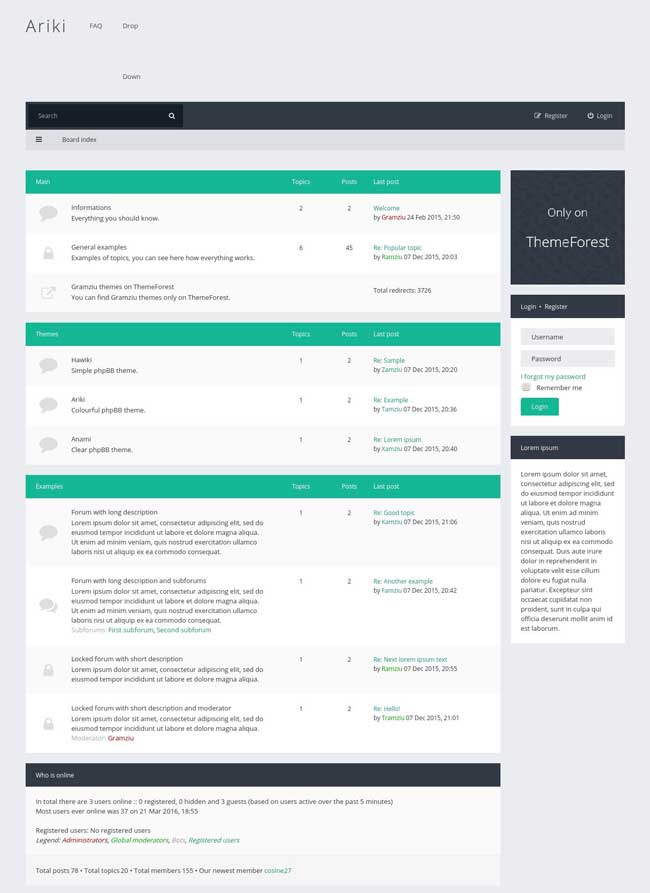 Ariki is flat responsive phpBB theme work well with latest phpBB 3.1.8 version. Ariki support for any language including RTL and Contains 17 predefined colour versions.
Subway – Flat Metro phpBB 3.1 Theme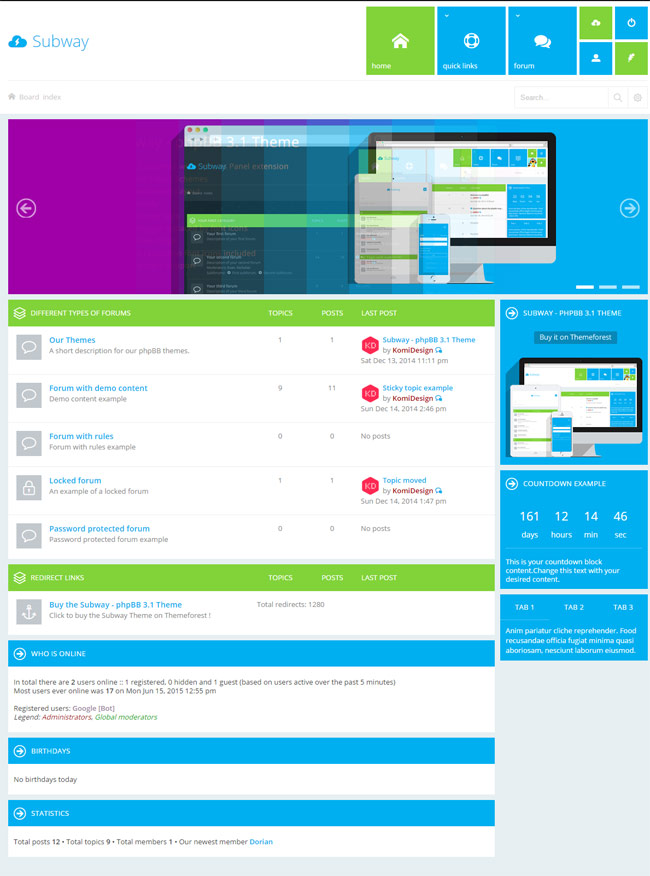 Subway – phpBB 3.1 Theme – built with great features such as the responsive layout, the Options Panel extension, retina ready, metro design and RTL support, this theme is suitable for any phpBB3 forum community and it can be perfectly viewed across all devices and major browsers. All the forum icons are fully scalable vector icons,looking crisp & clear on your high resolutions devices.
Tiaw
Tiaw is a fully responsive, retina ready phpBB Theme with classic design style. Tiaw work well with latest phpBB 3.1 version. Tiaw is very installation and customization without to install any additional extensions.
Quarto – phpBB3 Responsive & Retina Ready Theme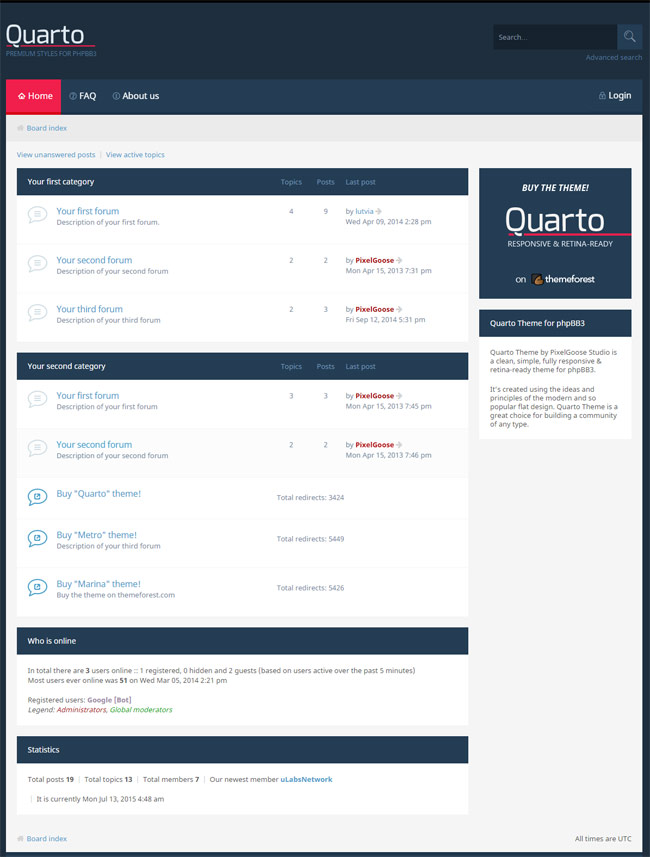 Quarto is a responsive theme for phpBB 3.0.12. It's a clean and simple style that fully supports the latest phpBB3 community software.Quarto for phpBB3 is fully responsive and retina-ready. It will look great on any desktop, laptop, tablet or smartphone.
FLATBOOTS – phpBB3
Anami – Responsive phpBB3 Forum Theme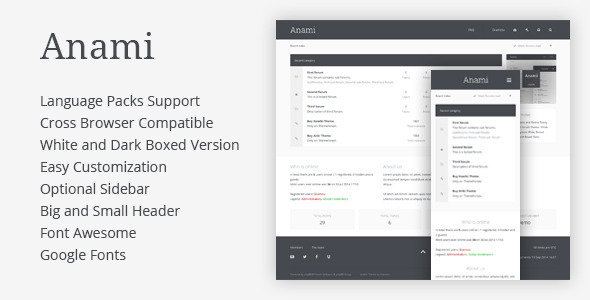 Marina – Responsive & Retina Ready phpBB3 Theme
Marina is a clean, simple, fully responsive & retina-ready theme for phpBB3. It's created using the ideas and principles of the modern and so popular flat design. Marina is a great choice for building a community of any type.
BBOOTS – HTML5/CSS3 Fully Responsive PhpBB3 Theme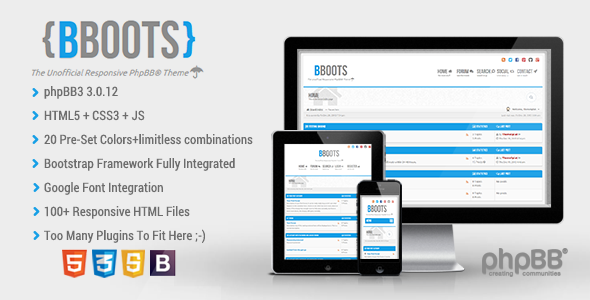 BBOOTS™ Is The First And Only Fully Responsive phpBB® Unofficial HTML5/CSS3 Theme Built Entirely from the GROUND-UP. It's Clean And Crisp Design Looks AWESOME Across All Browsers And Devices. Based on Bootstrap Framework is sure to AMAZE the phpBB Fan Club
Metro – A Responsive Theme for phpBB3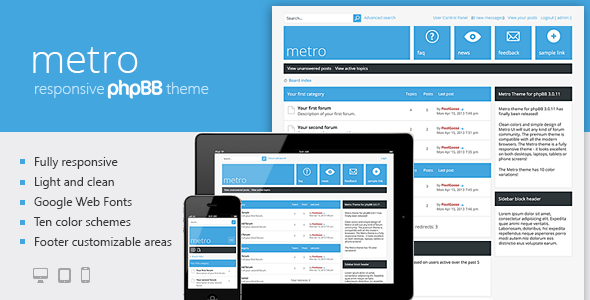 Clean colors and simple design of Metro UI will suit any kind of forum community. The premium theme is compatible with all the modern browsers. The Metro theme is a fully responsive theme – it looks excellent on both desktops, laptops, tablets or phone screens!