30+ Best Charity WordPress Themes 2016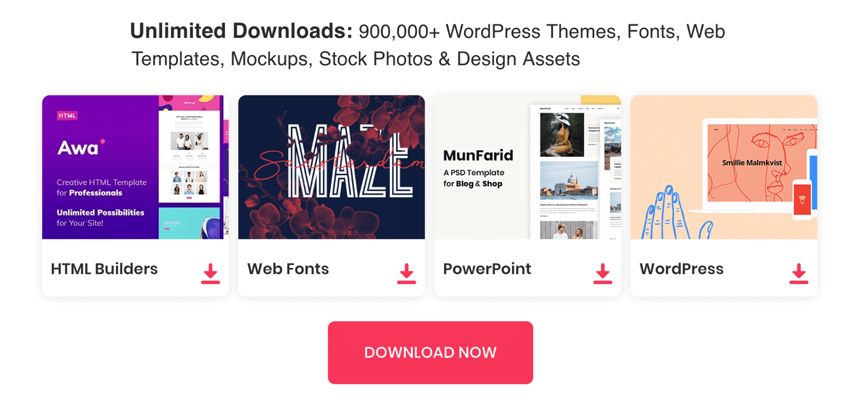 Our proposed for the Best Charity WordPress Themes help build a website for Charity Organizations, NGO, Foundations, Donation websites, etc.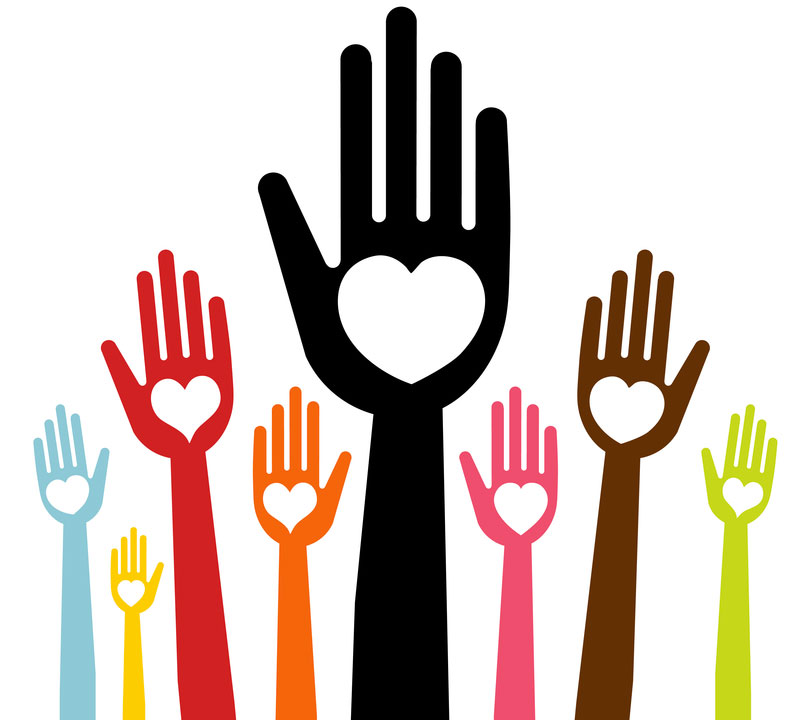 30+ Best Nonprofit, NGO and Charity WordPress Themes 2016 for charity organizations.
More than 30 Best Charity WordPress Themes is a collection modern and easy to use for WordPress site with a noble cause. All themes in this collection is suitable for Charity, NGOs, Nonprofit organizations, Church, Donation and similar websites that need a feature rich yet beautiful presence online.
InCharity – WordPress theme for Charity / Fundraising / Non-profit organization


InCharity is WordPress theme for Charity and Fundraising and non-profit organization. It will not only breathe a new air into the interface of your charity organization's website, but also the experience for the users. InCharity has full functionality that a WordPress Charity theme must have. It comes with a simple and vibrant theme design which is suitable for any charity organization, or religious institutions. It brings a contemporary design for organization that targets young and modern people
World of Charity WordPress Theme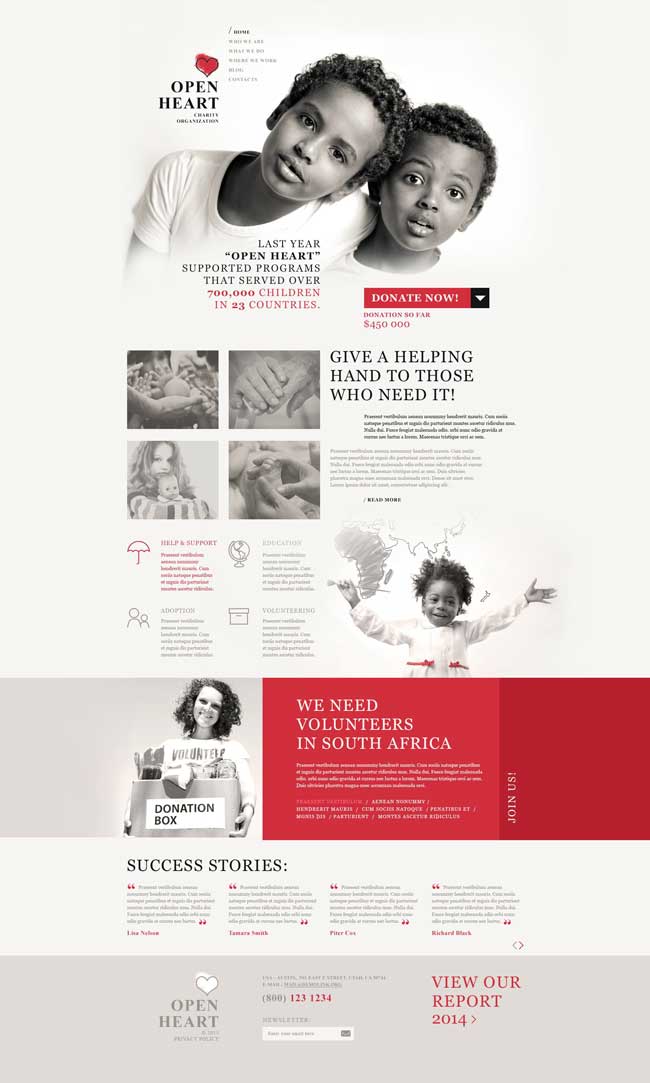 Choose this simple and minimalist design if you want to bring online any charity-related business. It will clearly tell your customers about the main ideas of your organization and present it in the most favorable light. This clean design is perfect for drawing viewers attention to your content. Retina ready images, Accordion/Isotop/Carousel sliders and embedded audio/video offer an exciting browsing process. Site visitors will be able to do it on the go due to 100 responsivity of this Charity WordPress Template. Infinite customization options offered by Cherry framework allow you to modify it to meet your business needs and set up the desired web presence.
Attyia – Creative NGO and Charity WordPress Theme



Attyia is a modern elegant NGO and Charity WordPress Theme. It comes with 2 gallery styles, projects, causes, Event Calendar, Charity Products, donations and more. Attyia is fully responsive on all devices and compatible with all modern browsers.
Charity WordPress Theme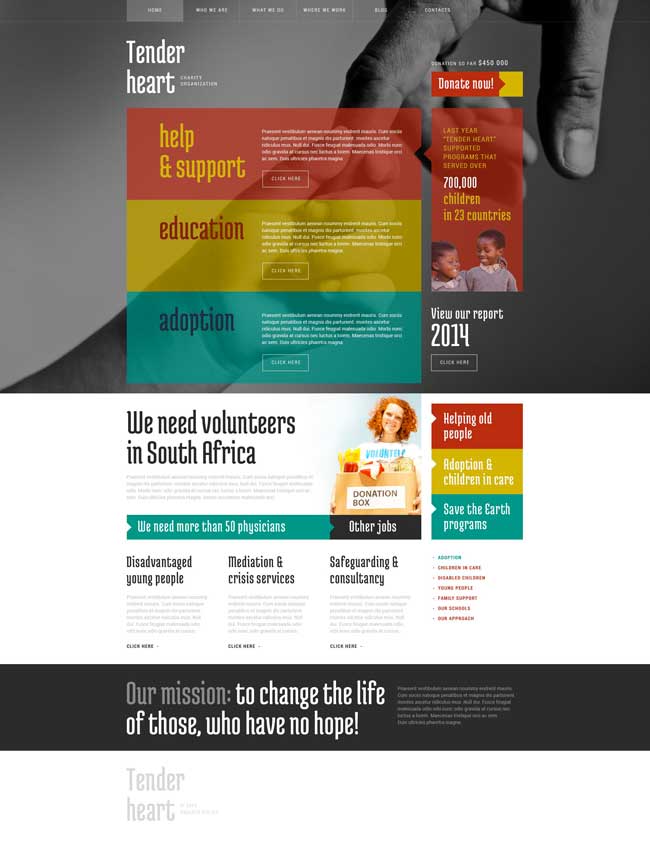 It's very noble to take part in charity projects. You can involve much more people into them with the help of a modern website that will tell about your activities and ways to join them. Black and white background photo of this charity WordPress theme looks very touching. Transparent colored blocks above it draw visitors attention and make the text more readable. Content area is dedicated to highlighting organization's needs and things they do straight from the heart. We believe that such current approach to charity has all chances to stir the community.
Angel – Nonprofit Charity WordPress Theme

Angel is a Retina Display Ready Nonprofit Charity WordPress Theme built with HTML5 & CSS3. It is perfect for nonprofit website.
Power of Hope Community WordPress Theme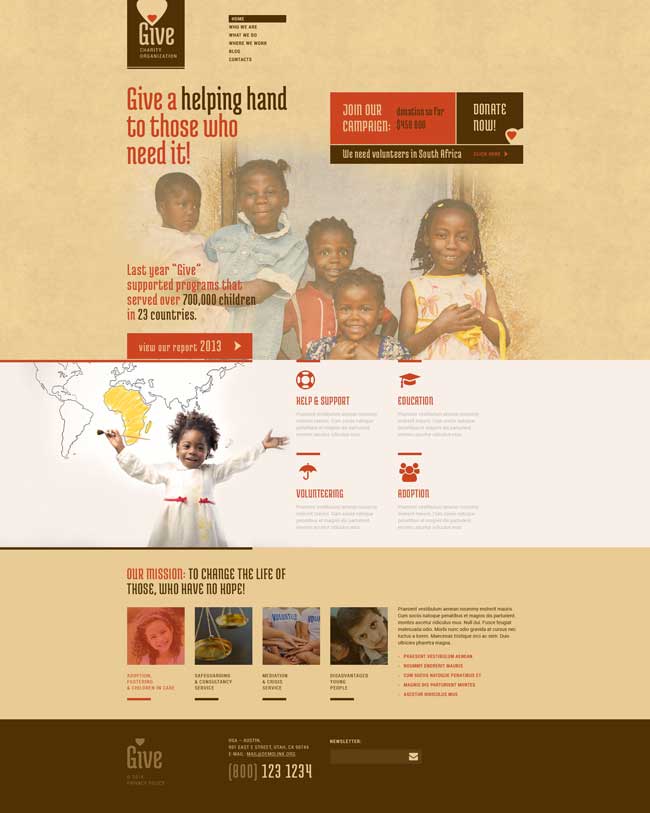 Clear and responsive websites are the best way to present nonprofit organizations globally and raise awareness about their business. The given template can become a solid starting point for setting up such a resource. Featuring pleasant to the eye beige background with photos of the needy inspires hope for better future. The donation button is in the focal point here, which motivates to click it and support those who deserve it the most. Photo and video material accompanied by text will show people what your charity organization is all about. With the help of this clean theme you'll be able to build a user friendly and easy to navigate web resource to solicit donations and do good online.
Alone – Charity Multipurpose Non-profit WordPress Theme

Alone is amazing Charity Multipurpose Non-profit WordPress Theme with the very creative design which is quite flexible and can be used for different types of nonprofit organizations, NGO, campaign project.
Welfare NGO – Nonprofit Organization Charity Theme
Welfare NGO Charity WordPress Theme is created for non-profit websites, like governmental social program websites, NGO, Donation and fundraising websites, etc. Welfare NGO is a charity theme, as well as a non profit theme for any social organizations, funds and donation campaigns.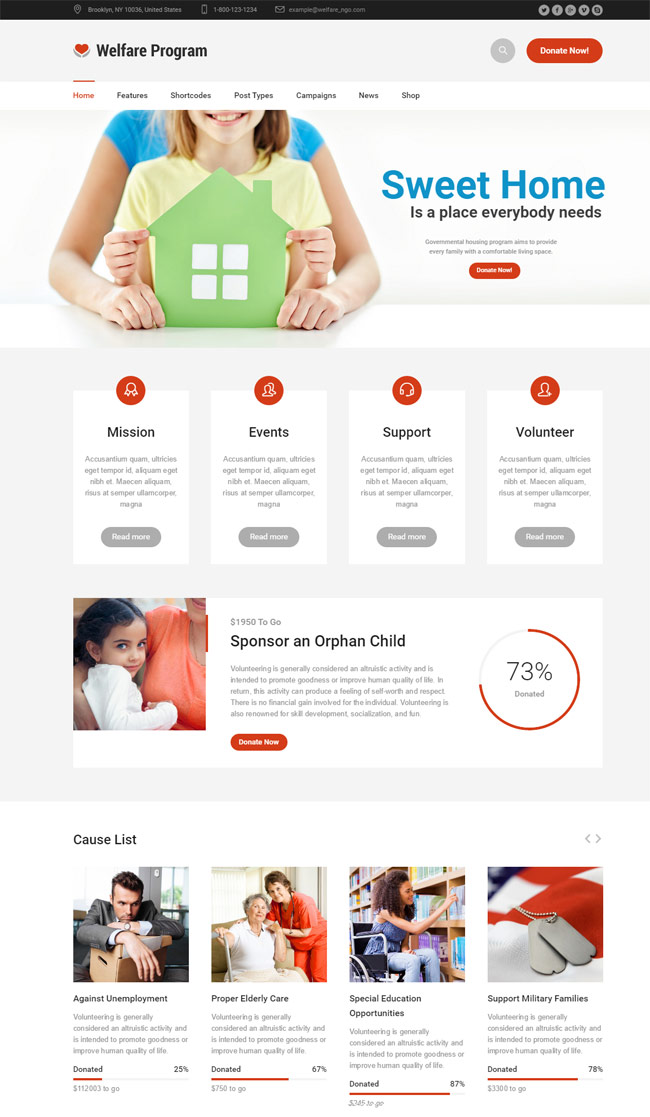 Humanity – NGO & Charity WordPress Theme
Humanity is a responsive nonprofit, charity, NGO, Premium WordPress Theme. It exudes a positive impression that is best suited for Charity, Non-governmental organization, foundations, etc. Includes all the necessary theme features that your non-profit website could possibly need. It is very easy to set up, very flexible and not a pain to maintain.
Maisha – Charity / Non-Profit WordPress Theme
Maisha is a beautiful charity WordPress theme. It is modern, responsive and mobile friendly theme. So, no worries there, Google will love it. Theme offers whole variety of cool features like different blog layouts, different header options, extensive color options and more. It is all very easily customizable directly from the WordPress customizer.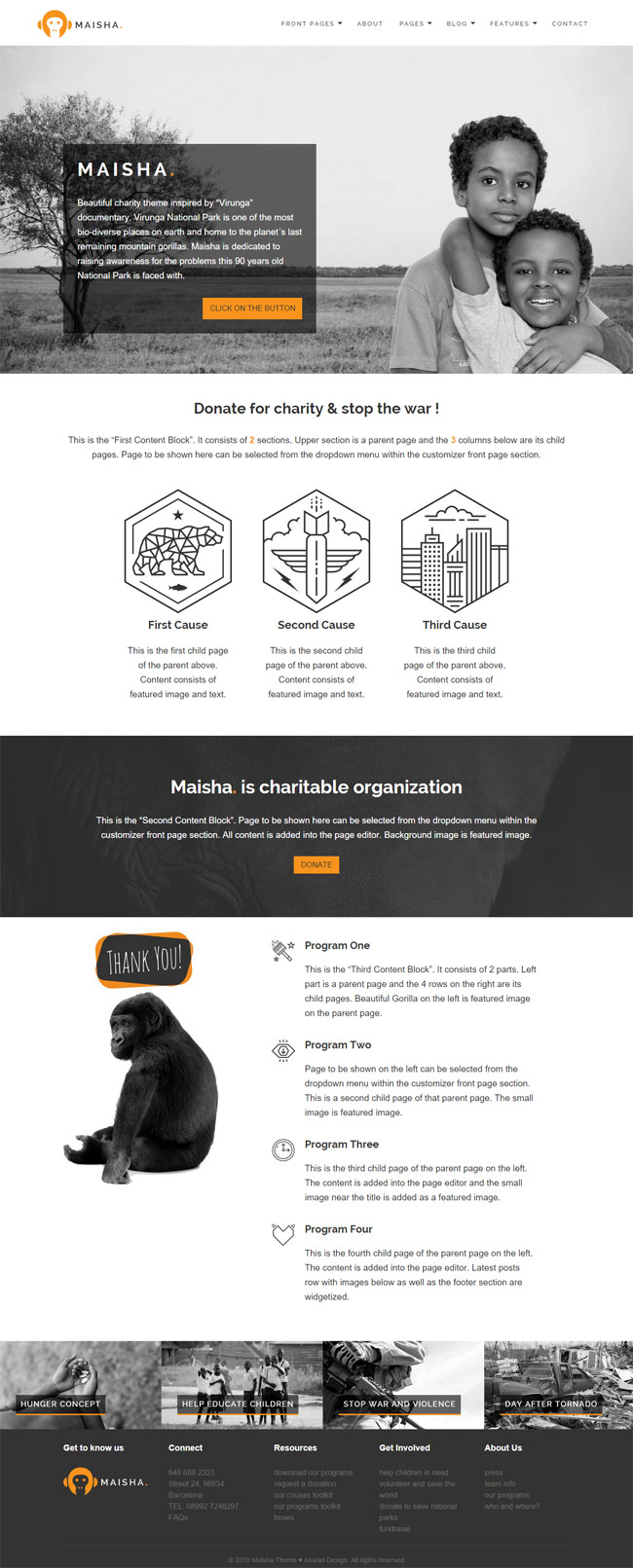 Heal – Multipurpose Charity WordPress Theme
Heal is a Premium Non-profit Charity WordPress Theme that can be used to build a gorgeous website for an NGO or Charity foundation project. Its clean, flexible, SEO ready and has a fully responsive design. Heal WordPress theme loaded with tons of features and has a powerful customization option panel.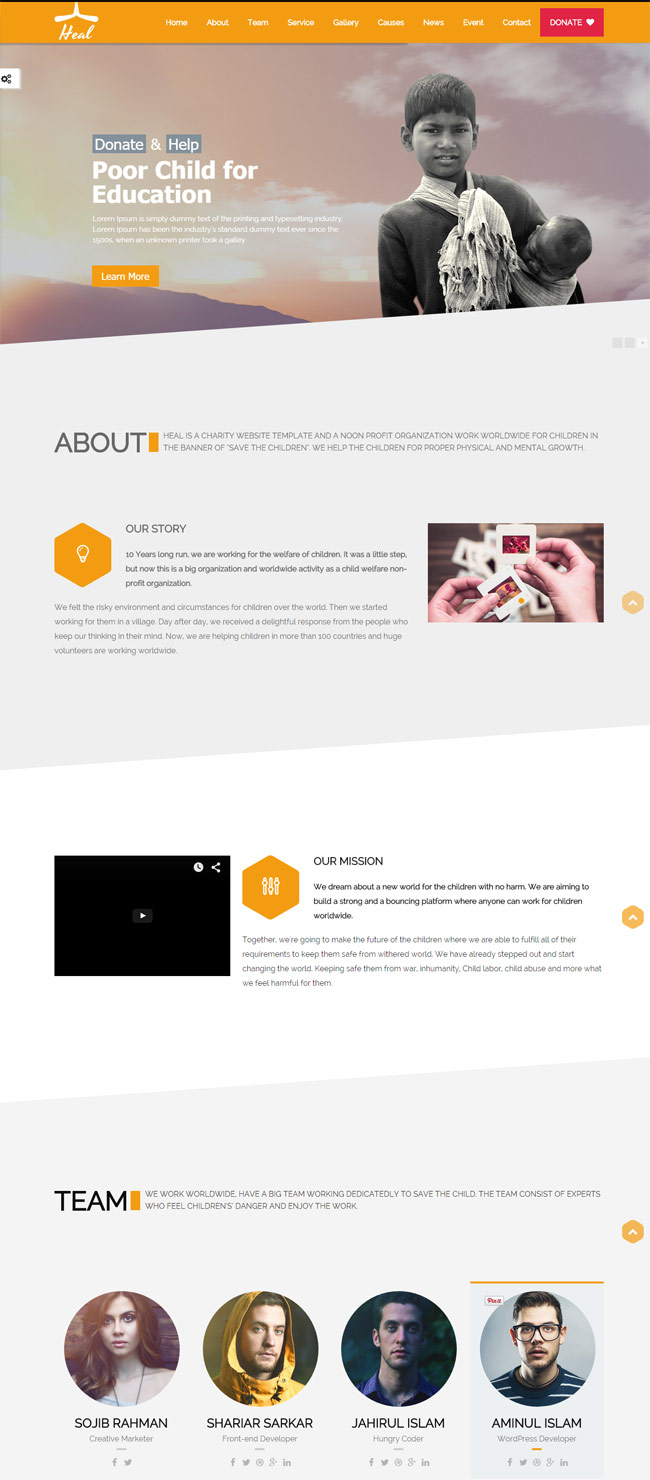 Savior – Charity & Donations WordPress Theme
Savior is a premium responsive WordPress theme for charity. You can use Savior create Non-profit websites with Paypal Donation system for Protection of the Vulnerable. It's powered by Visual Composer Page Builder – no coding required to build the pages you need. Please note that images are not included in the theme.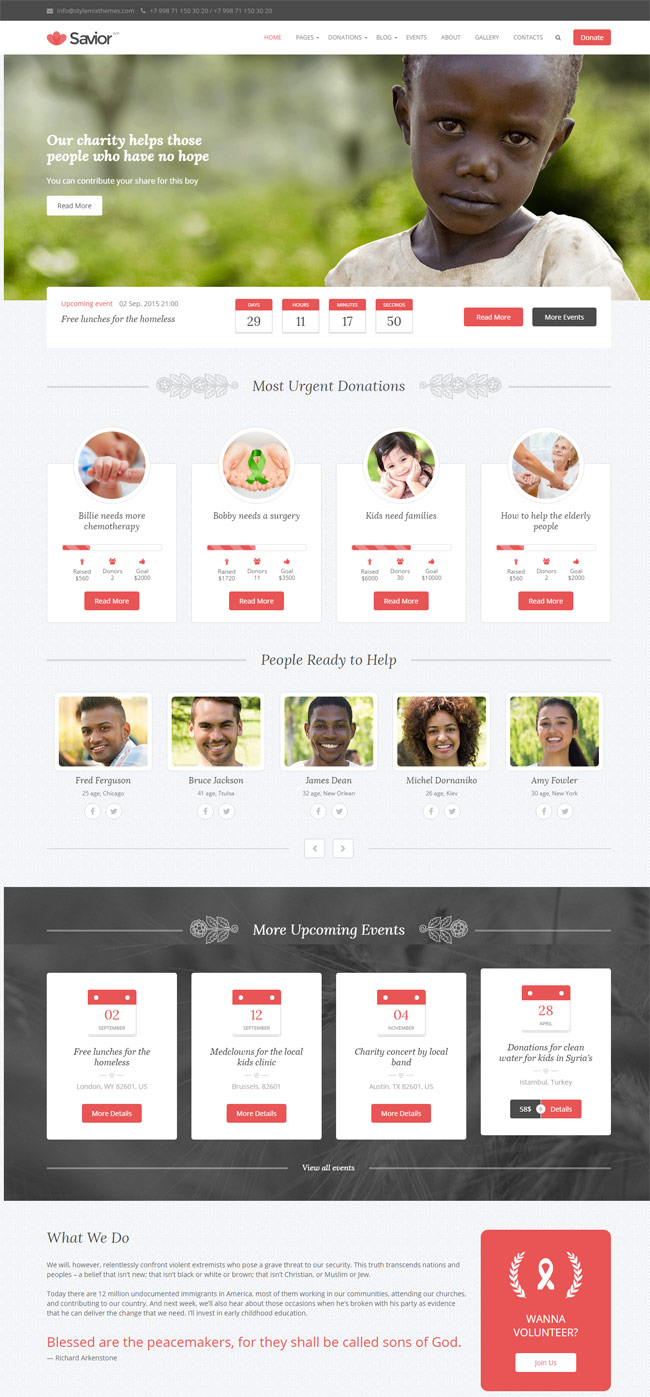 Charitiz – Charity, Donation & Auction WordPress Theme
Charitiz is a clean responsive WordPress theme. It is especially designed for charity, NGO, non-profit organization, donation, church or fundraising website. We create a custom post type 'Donation' for easily managing Cause & Donation. We also have integrated donation feature in this theme (PayPal). The system will automatically collect amount of money that sent to PayPal and convert to percentage bar for each cause.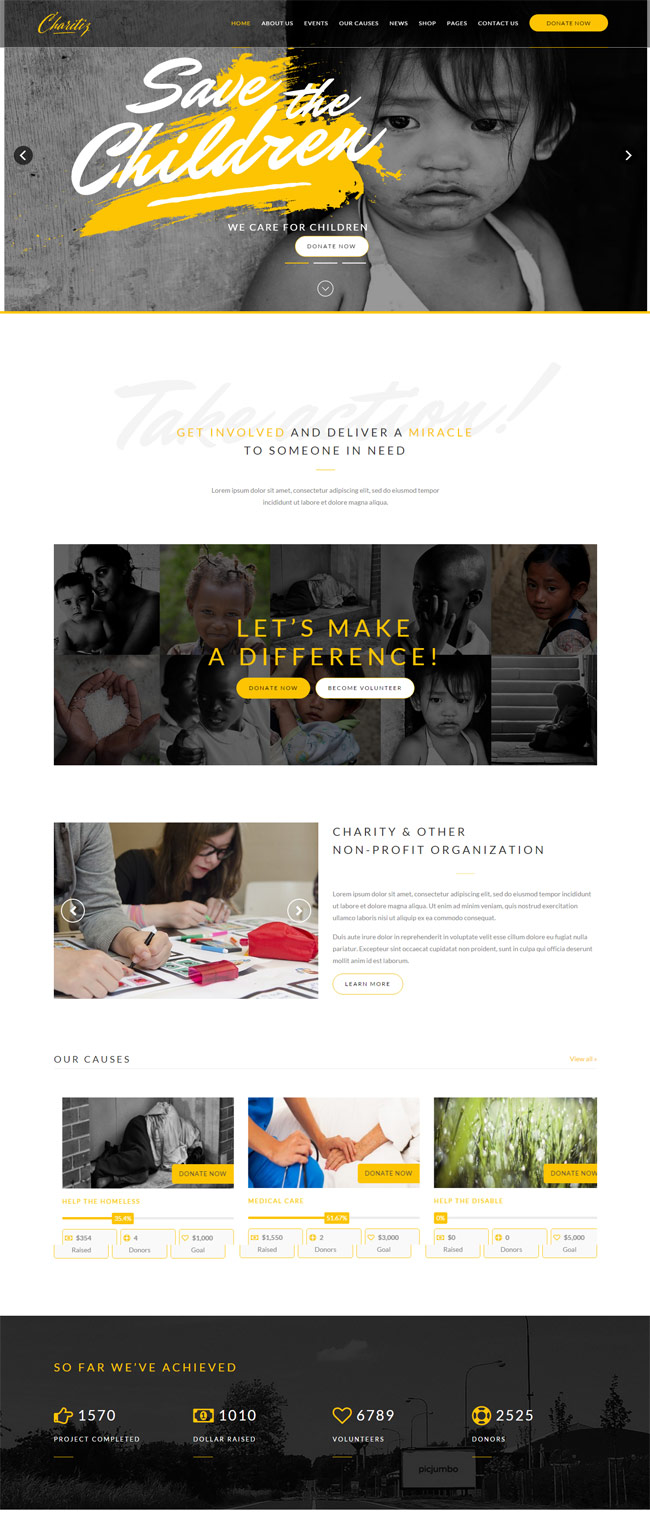 Social Welfare – Charity WordPress Theme
Social Welfare is a premium responsive Wordpres Theme for charity and foundation website.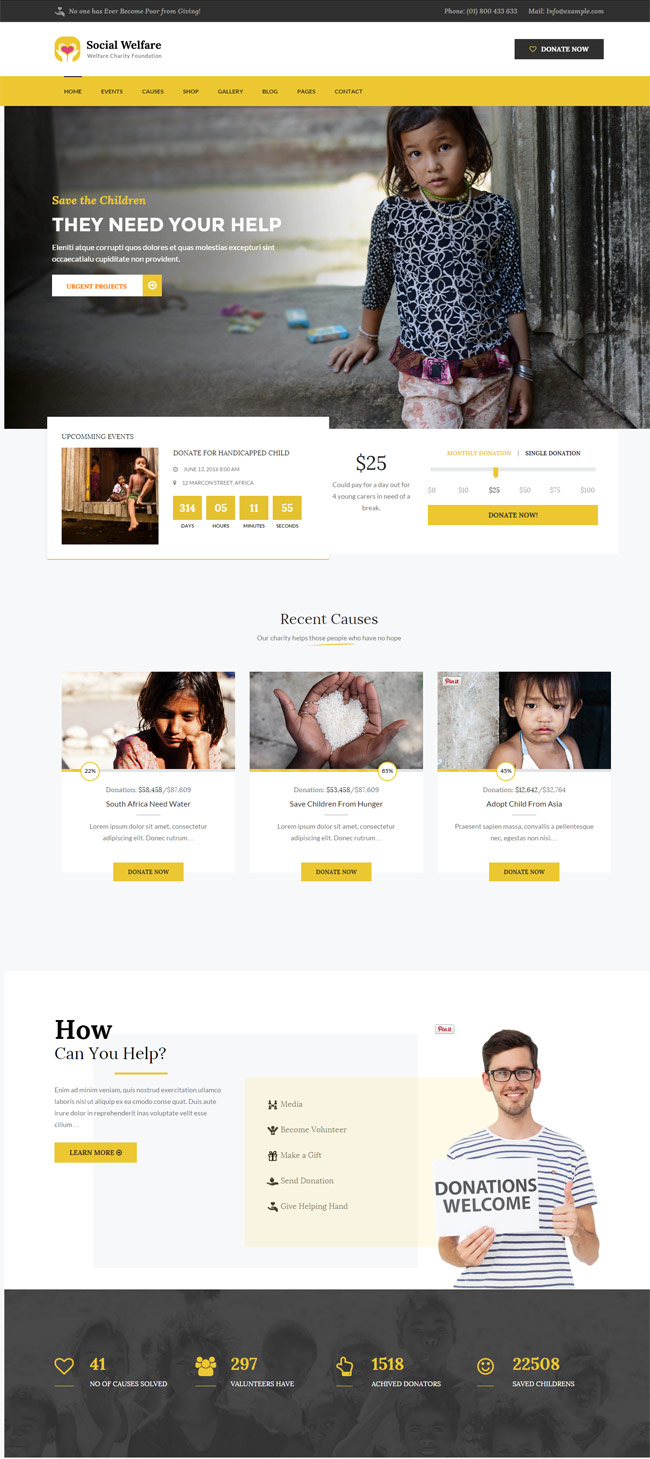 Mission – Responsive WP Theme For Charity
Mission is a premium responsive WP template for charity and foundation website. After purchasing this theme, you will receive the WordPress version as well as the full HTML version and 6 PSD files. They are all layered and well organized in folder for easier use.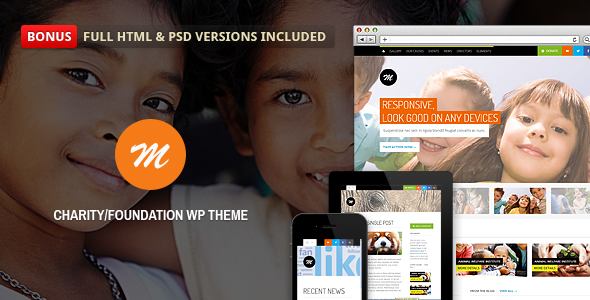 WordPress Aid: Charity + Blog Theme
WordPress Aid is ideal for charity organizations. It's focused on raising funds for your charity and alerting visitors to important issues happening in the world.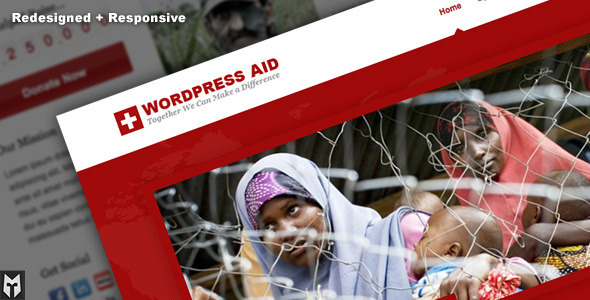 Kindness – Premium WordPress Theme
Kindness is the best responsive wordpress theme for nonprofit organizations and charity foundations. Looks great on any device with any screen resolution. Supports Post Formats, has awesome widgets and a wide variety of useful short codes.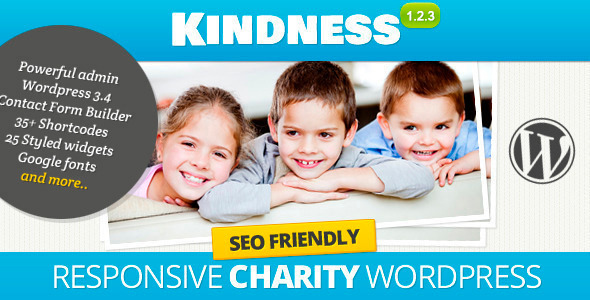 Relief – Charity Responsive WordPress Theme
Relief is a highly customizable Responsive WordPress Theme designed with Charities and other non-profit organisations in mind.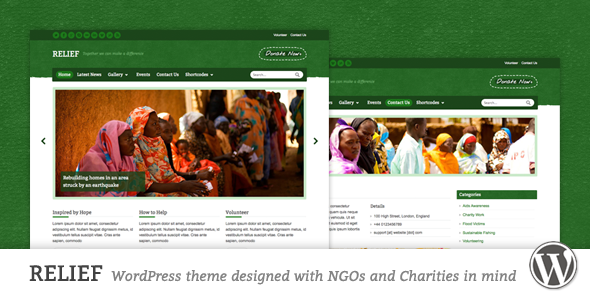 Give: Charity Responsive WordPress Theme
Give your charity or NGO organization a new face with this brand new theme. Give is Charity & NGO oriented WordPress theme, featuring a responsive design & focus on content & events. It is an extremely versatile and a rock-solid foundation to build upon.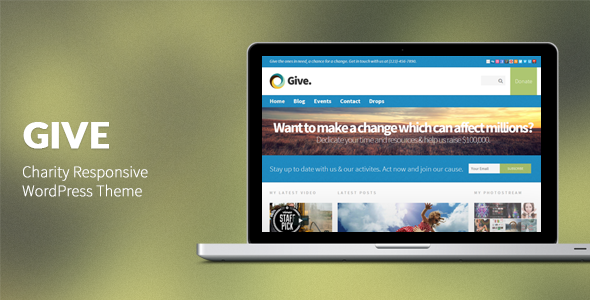 Outreach – Charity WordPress Theme
Outreach is a theme that's made with non-profits and charity organizations in mind. It's built with the WP Email Capture plugin in mind to collect names and emails of your supporters and The Events Calendar plugin to display all of your upcoming events. There's also an easy to set up donation button in the header. Outreach is also responsive and Retina Display ready. Your iPad has never looked so cool.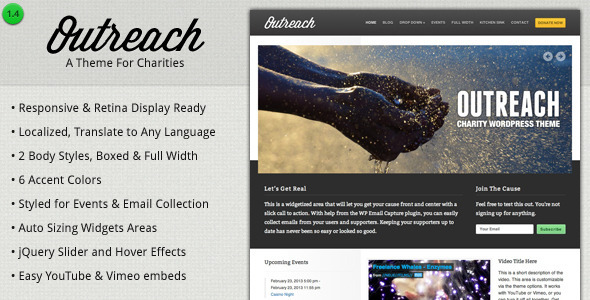 DonateNow | WordPress Theme for Charity
DonateNow theme is clean, flexible, retina ready and has a fully responsive design. DonateNow theme is loaded with features, and has powerful customization options. Built with HTML5 & CSS3. It comes with free support on our support forum. DonateNow theme can be used for any type of non-profit; charity, products, corporate, portfolio, blog, etc. It's very quick to setup and easy to customize, thanks to the intelligent admin panel.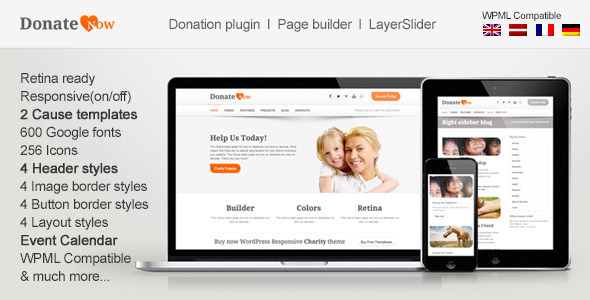 Be Human – Charity Multipurpose WP Retina Theme
Be Human WordPress Retina theme is a web masterpiece which is designed for Charities. Theme is suitable for charities and nonprofit organizations & similar websites that need a feature rich yet beautiful presence online. It is compatible with all modern mobile devices. A very wall designed theme with a blog, gallery, events management, WooCommerce Store, Crowdfunding using Ignitiondeck. The main features, which are extremely important and super useful are, Events Calendar & Management, Multilingual support, 3D Layer Slider and Facebook fan page compatibility.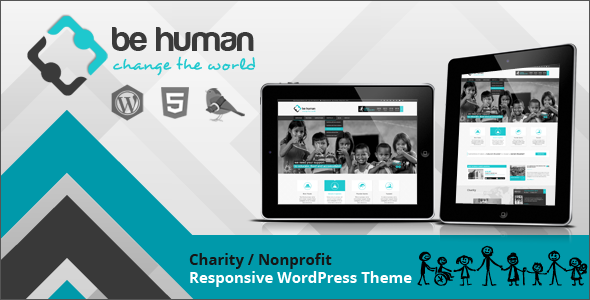 Rive – Responsive Charity WordPress Theme
Rive is a powerful, feature-rich theme that lets you customize a wide variety of features from the comfort of your Dashboard. Rive theme is packed with amazing donation system and you only need to enter your PayPal address or Authorize.net API details to start using it!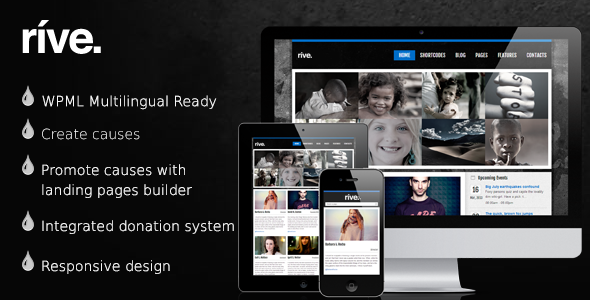 GiveAHand – Charity Responsive WP Theme
GiveAHand is a creative WordPress Theme for charity organizations. It's focused on raising funds for your charity and alerting visitors to important issues happening in the world. It's perfect for those who're tired of ordinariness and want to stand out among competitors.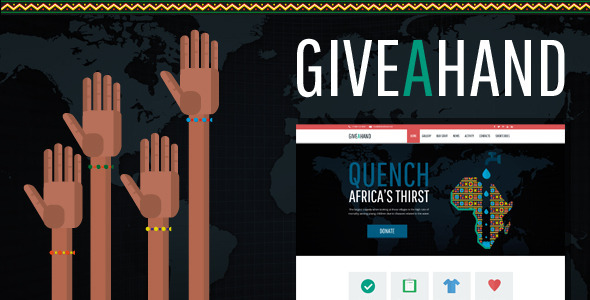 Aid Reform: NGO Donation and Charity Theme
AidReform is a clean and elegant theme, developed mainly to setup charity, NGOs, nonprofit organizations, church, donation and corporate websites. Best suited for the charity organizations aiming to attract the attention for raising charity organizations. It has been built on the latest bootstrap frame work. AidReform has taken all nerves to make it highly creative. It includes gallery to show the recent performances, Causes to stimulate donors. With its current structure, it is best suitable for churchs. It shows the amount of donation that keeps donors on heels to meet the required amount. NGOs devoted to Environmental causes can also go for this theme without a second thought. The elegant style of showing events for fundraising add to its value. Payment mode of paypal makes it more easy to operate, secure to raise funds. The feature of publications gives freedom of writing all details of happenings of the time and resolutions for future. A detail page showing staff and all relevant personals makes it worth using product.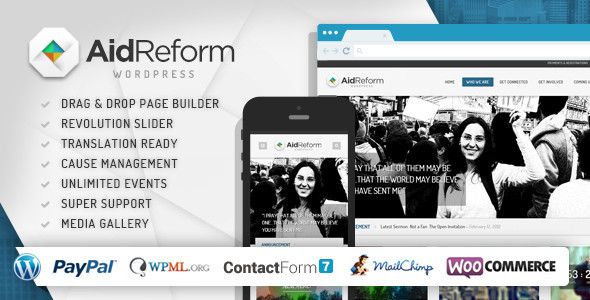 Mercy-NGO Charity & Environmental/Political theme
It's a clean and elegant theme, developed mainly to setup charity, NGOs, nonprofit organizations ,church, donation and corporate websites. Using the color scheme of your choice by using color picker make it elegant and high visual impact experience. This theme is best suitable for a small to large NGO Organizations to setup reference website.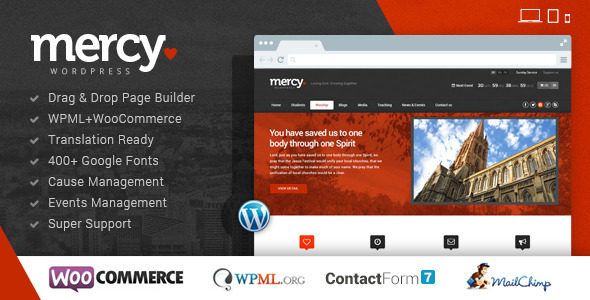 Biosphere – Environmental & Charity WP Theme
Biosphere is responsive WordPress theme designed for charity, NGOs, nonprofit organizations, church, donation and corporate websites.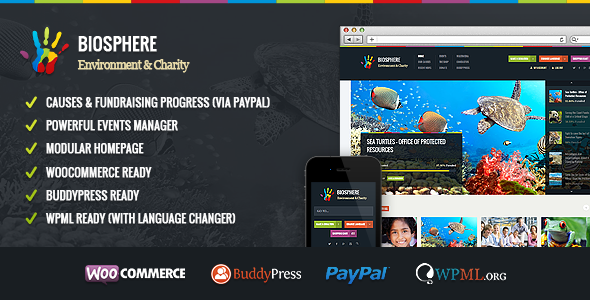 HELP – NGO WordPress Theme
H.E.L.P is specially designed for NGO's and Business Organizations. The theme is easy to modify and ready to be up and running out of the box. The PSD files included have been customized to allow fast skinning.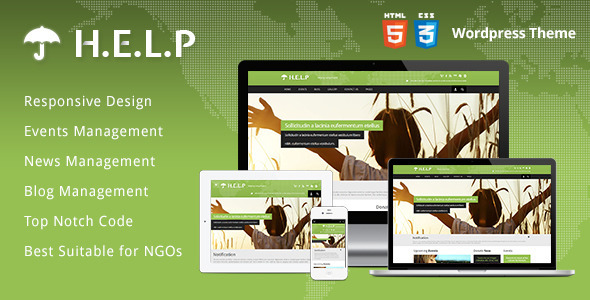 4 Children With Love-Charity WP Theme
4 Children with Love is a modern and easy to use WordPress theme with a noble cause. It is a charity theme dedicated to children but in general it is also suited for any kind of charity and non-profit organizations.