20+ Best HTML Responsive Booking Templates 2016
HTML5 resource templates has already become well known language amongst developers community. In this article we will share the Best HTML Responsive Booking Templates that are suitable for booking websites. Following templates are fully customizable. Enjoy!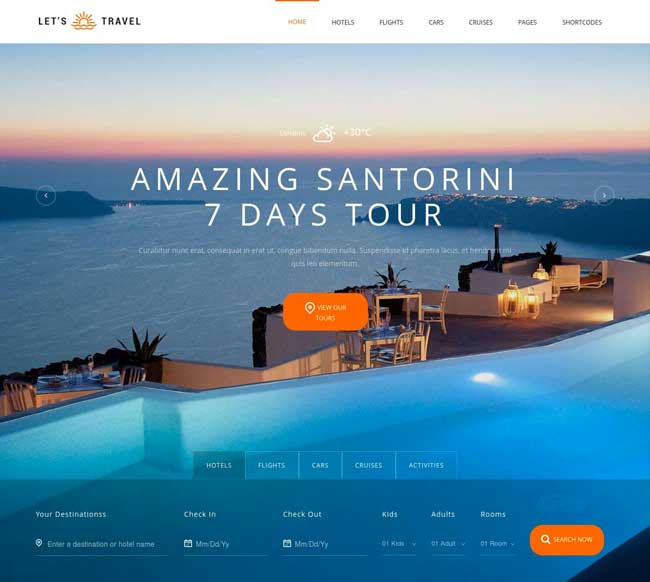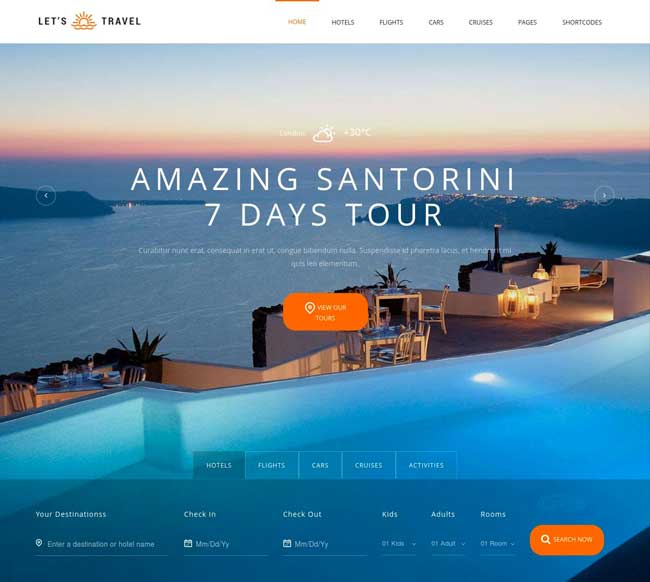 Top best premium responsive html5 css3 Responsive Hotel Booking templates 2016 that can be downloaded at additional cost. We hope you will like and use the collection of high quality responsive Hotel Booking templates for your web projects. If you want a solution to built your travel, hotel booking site faster, you can check out showcase the Best Travel & Hotel WordPress Themes. I believe you will like it.
Entrada


Entrada is a responsive html template great for tour operators and travel agencies websites offer vacations, adventures, jungle safaris, cruise packages, hiking and camping, summer tours, winter tours and hotels booking.
Let's Travel


Let's Travel is a fully responsive html website template was designed and developed specifically for travel agencies, tour operators, car hire companies and others in the tourism niche. Let's Travel with 17 Unique HomePages, with more then 30 Shortcodes, and more then 100 Pages. Let's travel boasts features such as a powerful and completely integrated booking system, an availability checker, advanced filtering, front-end management for partners, review system and much more.
Travelite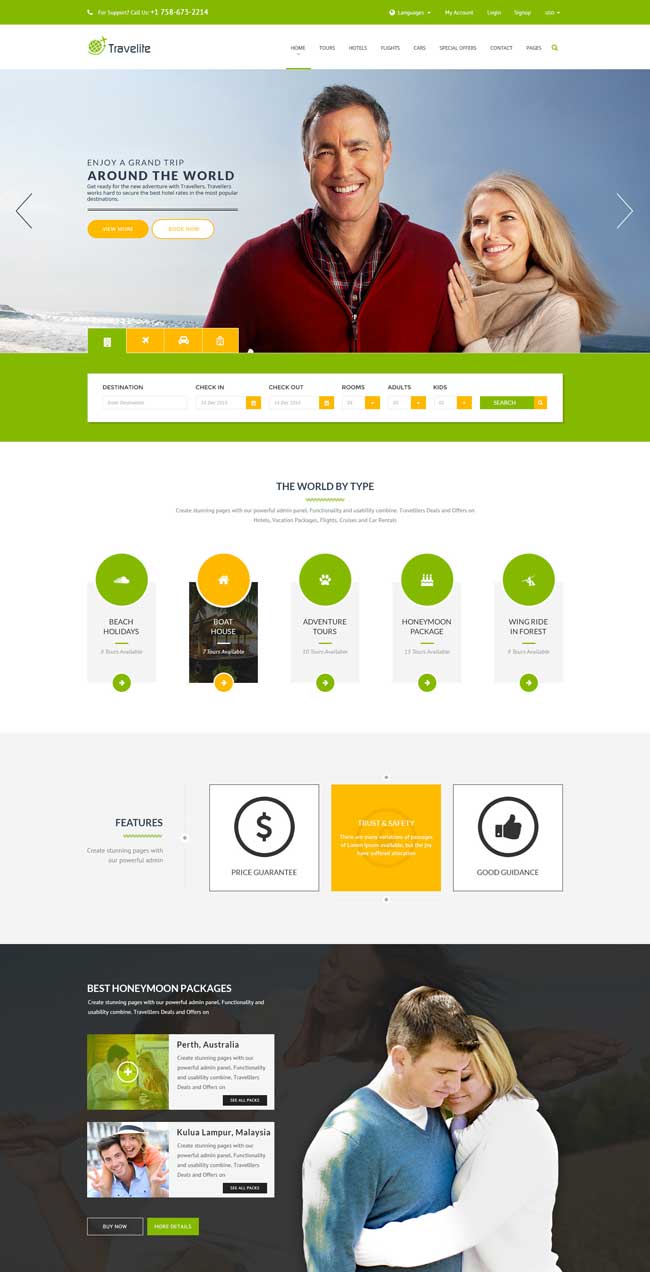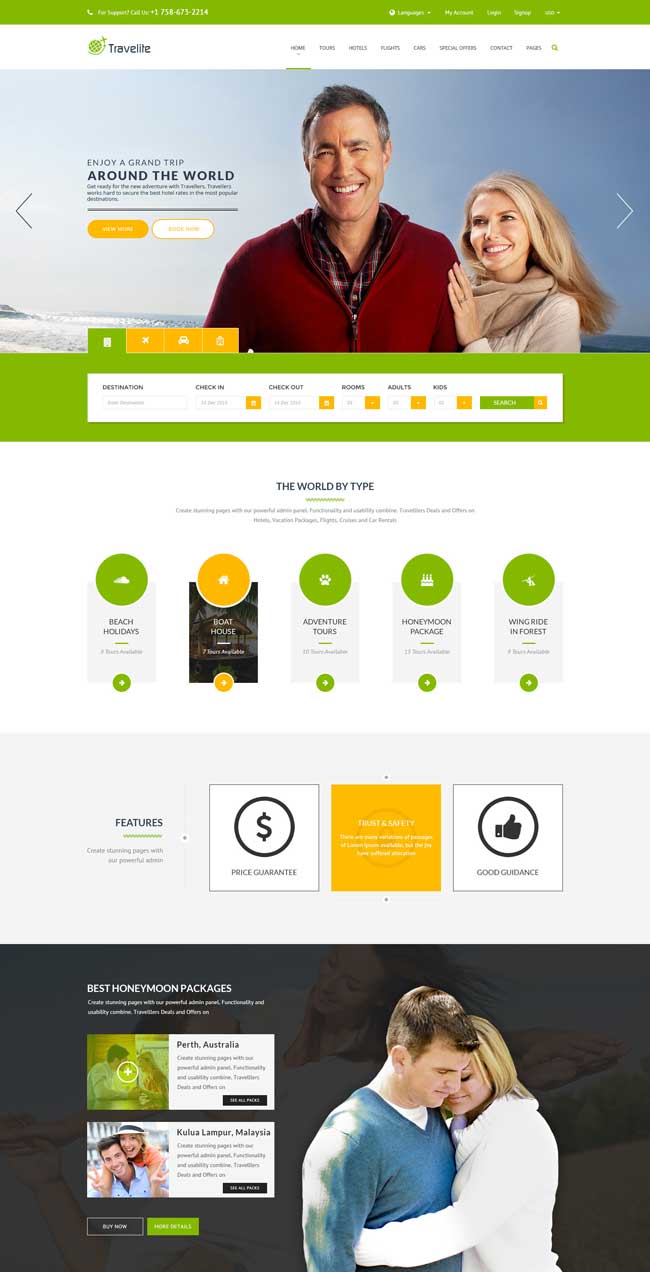 Travelite is a clean HTML5 & CSS3 HTML template suitable for Travel and Tour Operator, Booking tickets & portfolio website. Travelite comes with 48 HTML Pages based on Twitter Bootstrap Framework.
Travego


Travego is a responsive html template for travel, resorts, hotels, fly websites. Travego is an exclusive website template for showing your travels and hotels a simple and elegant way. It has features what you must need.. gallery of hotel, details of everyone, where search your favorite fly or hotels, weather page.
Sparrow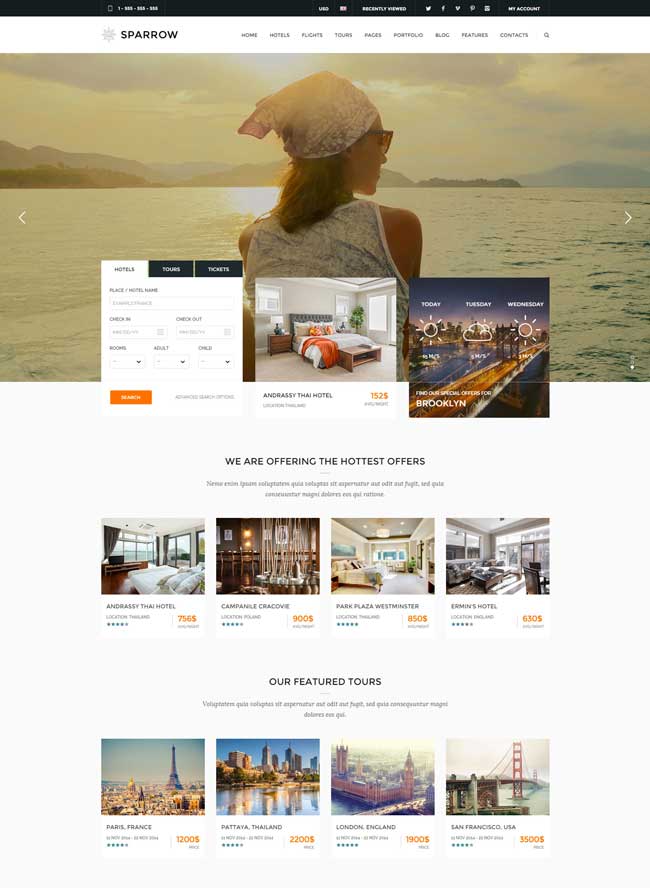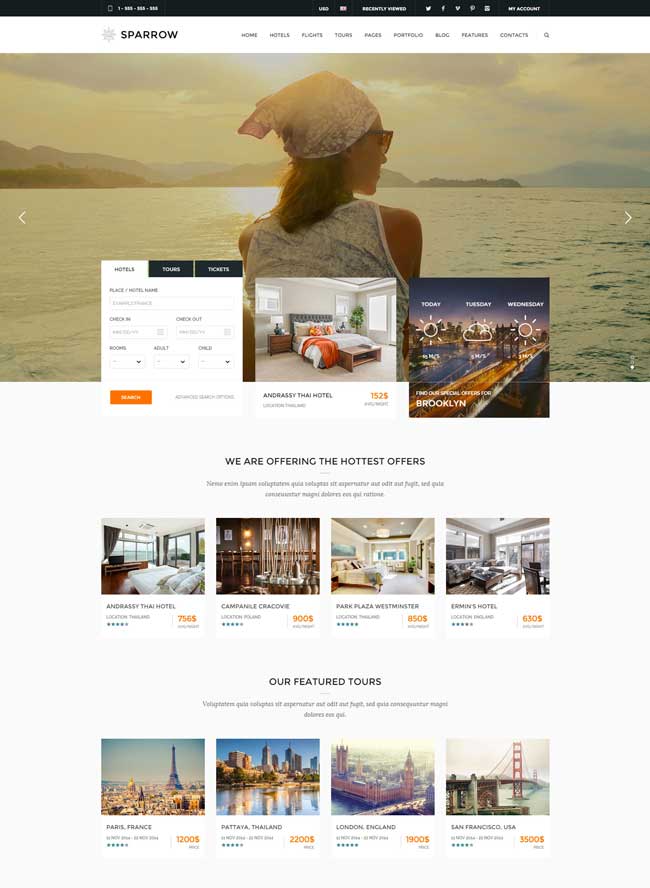 Sparrow is a modern and clean Travel Booking HTML5 Responsive Template suitable for companies/travel agencies that provide services for tourists. You can be used Sparrow to provide general city attractions information, buy tickets, tours, tour guides and hotels. Sparrow based on HTML5 and CSS3 techniques.
Hotel Booking – HTML Template for Hotels
Hotel Booking is a clean and clear booking HTML/CSS template for travel agencies. With green, designed to bring a professional feel and freshness. In line with modern design trends, creative and smart .
Cruise – Responsive HTML5 Travel Agency Template
CRUISE is a multipurpose booking template. Cruise is a perfect choice for travel websites, hotels, resorts, tours, car rental and cruise holidays etc. Cruise has lots of features and it contains all the elements required to create a fully functional travel related website. Cruise has 68 HTML files and it contains demos for Travel Agency, Hotel & Resorts, Tour & Travel and Car Rental. Cruise is created using latest version of bootstrap and it's 100% responsive. It works very well in all the devices like Laptop, Desktop, Tablet and Smartphones.
Blue Bird – Responsive Tours Travel Site Template
The Blue Bird is a custom design Travel, Hotel, Tour website template coded with Bootstrap latest version, HTML5 CSS3 and jQuery. This template suitable for tour sites, hotel listing sites, travel and local travel sites. Build your own hotel lists with our awesome sections for example hotel listing page, hotel single page, hotel checkout page and similar pages .
Gofar – Multipurpose Travel Booking Template
Gofar is an ideal solution for travel agencies and tour companies or any travel-related websites. The unique booking form helps your customers remember your company, and the advanced search feature allows customers to find tour packages that best meet their own preferences. Clean and modern design will present your destination's best spots in grid, block or list view.
TRAVELIA – Travel Package HTML5 Template
Travelia is an exclusive site for showing your travels and hotels a simple and elegant way, it has everything what you must need.. gallery of hotel, details of everyone, where search your favorite.
Book Awesome Trip – Travel Booking Site Template
BookawesomeTip is a beautifully crafted, lively and modern HTML5 template specially designed for travel agencies. It has never been easier and more convenient for visitors to experience their online ventures with a bunch of detail and helpful features: booking tour, hotel, flight, services, package deals.
Trips – Travel Hotel Booking Site HTML Template
The Trips HTML website template suitable for travel sites, hotel sites, booking systems and similar websites on the web. Trips is a beautiful travel / hotel website HTML template coded with Bootstrap, HTML5 and CSS3. It is modern and super simple, 100% responsive, 100% pixel perfect and comes packed with awesome template features for example; awesome color schemes, creative slider element, CSS3 animations and much more.! Trips hotel / travel HTML template sets the new standard with endless possibilities, top-notch support, and free lifetime updates with newly requested features from our clients.
KodeTravel & Tourism HTML5 Template
KodeTravel is a well crafted, bootstrap HTML5 responsive theme and designed for travel agencies and trip planner organizations, design try to deliver the best features for travel agencies, plan your trip and visit the most beautiful destinations.
FlawlesHotel – Online Hotel Booking Template
FlawlesHotel is a sleek and clean HTML Hotel Booking template for your hotel business. The layout is responsive which scales down to every downsized browser including tablets and mobile phones. It comes with a lot of features, short codes, pages and modules being icing on the cake. With smart design, simple but modern layout and elegant colors, this template is brilliant solution for creating an online booking website for your hotel.
Ocean View – Hotel Website HTML Template
Hotels go to great lengths to provide the perfect ambiance and atmosphere for their customers. However, most hotels overlook the importance of having an accessible website that serves as an alternative gateway to draw customers' interest in staying at their hotel.
The website of a hotel needs to attract customers visually, but also ensure that it is not a hassle to get the basic information they seek while deciding which hotel to make a reservation with.
Ocean View features 21 HTML file based on Bootstrap 3 Responsive grid system. Modern color scheme packed with clean layouts and typography is going to be a solid base for any type of Hospitality website.
Starhotel – Responsive Hotel Booking Template
Starhotel is a responsive HTML5/CSS/jQuery site template based on Bootstrap 3.0. It's not just suitable for hotels, but also for resorts, bed and breakfasts, hostels, motels, spa's and so on. The layout is optimized for all devices(iPhone, iPad, Android) and it's cross browser compatible. And last but not least: there is a WORKING RESERVATION FORM, where potential guests can request a booking!
Travel Hub – Touring Packages – HTML Template
Travel Hub premium HTML template is an awesome-looking and extremely powerful web building tool that has been finely designed to ensure supreme standards for successfully coping with intense competition over the internet. Its unparalleled beauty will cater to the very needs of your traveling business, thus fascinating the visitors and fetching promising traffic over little time. Perfect symmetry, eye-catching graphics, multiple color schemes, neat & clean layout, uniquely-styled Search Form, and outstanding Gallery pages will significantly contribute towards the immediate success of your website. Similarly, you are also being provided with two predefined homepage styles, multiple Blog pages, and a plenty of other built-in most demanding features
Hotelaila – Responsive Hotel Template
Hotelaila is 100% responsive hotel template based on Twitter Bootstrap 3. You can change template color easily and make customizing HTML files simply.