15+ Best HTML5 Web Form Templates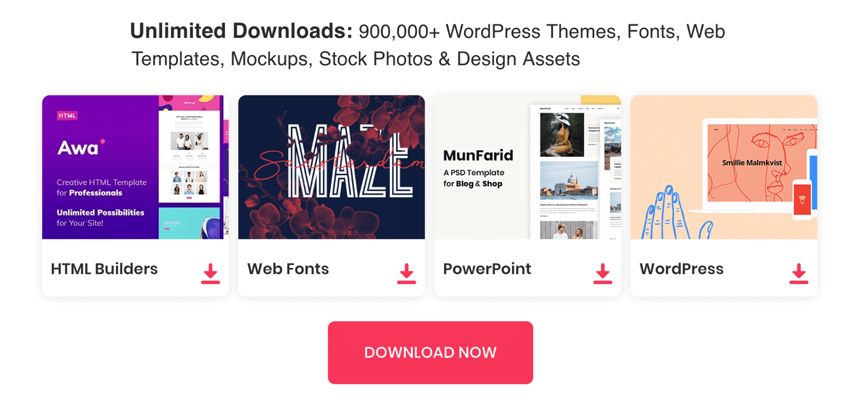 HTML5 Web Form Templates designed with HTML5 have become very popular among the folks. Here is collection more than 15 of the best HTML5 Web Form Templates which help you create creative web forms with great specifications.

You may like this: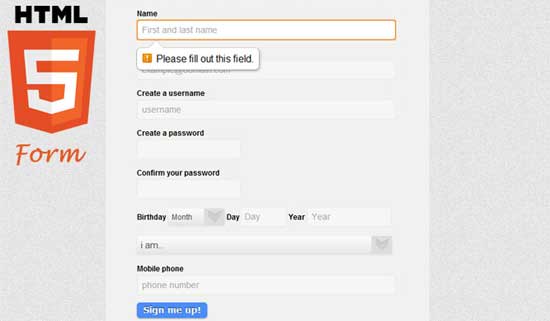 Best HTML5 Website Web Form Templates to create a new form layout. Build a responsive form without needing to write any code.
Flux – Login & Register form with jQuery validation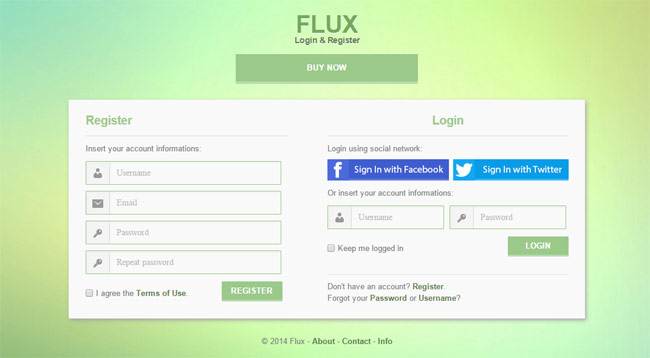 Flux is a Html5 Web form with clean, fast and very easy to customize with an elegant design. Flux very useful and can be integrated in every website or page in a few minutes, simple and fast. Built in pure and clean code, html5, css3 and jquery.
Ajax HTML5 jQuery Multi-Step Form
This is a Multi-Step form allowing a form to have several steps, with users being able to go back to previous steps and modify information. The CSS3 designed form gives a designer the ability to set up complex forms within a limited space to work with. The form built in HTML5 compatible fields ensures that the user data is validated by jQuery before they can move to the next step. A progress bar keeps track of how much the user has completed and on completing all the steps a summary of the information is displayed for verification by the user before the form is submitted. The form comes in five colors Grey, Blue, Red, Green and Black themes.
zGabi Forms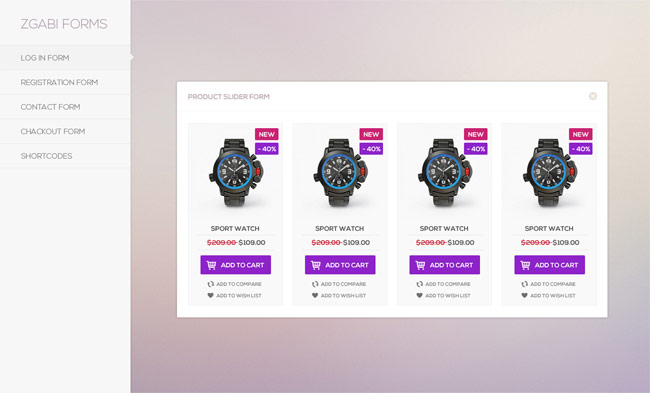 zGabi Forms is html5 form includes login form, registration form, contact form, checkout form and shortcodes.
HTML5 Ajax Jquery Popup Contact Form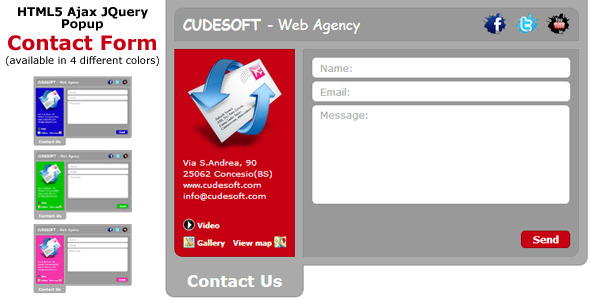 With this script you can insert a beautiful popup contact form in your website. It's very simple to put it where you want.
Impressive contact form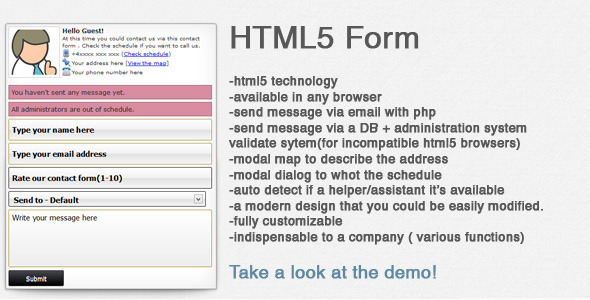 This product it's indispensable to any company's website but fits perfectly to any other websites.You have 2 ways to read/manage/send messages: mail (classic) + DB. The "DB version" includes several unique function for a contact form like : distribution of messages like a conversation. The schedule of your assistant,helper it's available thanks to a modal dialog. Each message has could be: seen or not(for information).This form – is functional thanks to a php script; look perfect thanks languages ??css3 & jquery.
jQuery QuickSign – HTML5 Signing Plugin
Our Virtual Private Server is experiencing problems and none of our demo's are available at this time
DZS Uploader – All purpose html5 uploader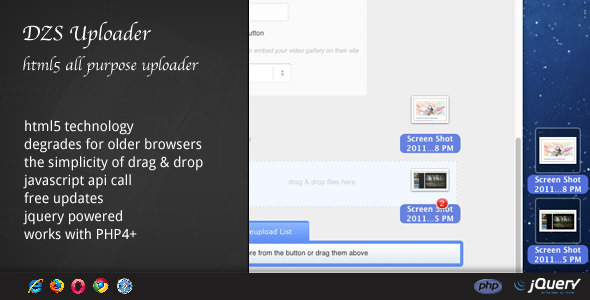 DZS Uploader is a all purpose html5 upload system. It can be used as a simple upload button ( example 1 ) . It can be used in a CMS with a pairing input field that gets populated automatically on file upload ( example 2 ) .
Mapped contact form pro
A ajax contact form inside a google maps marker info window. Works for one or multiple locations. A different email address for every location can be configured. If only on location is on the map, the info window with the contact form opens when the map is loaded.
HTML5 Pop Up Contact Form With AJAX
HTML5 Pop Up Contact Form With AJAX allows you to quickly and easily add a pop-in style contact form to your site. In just one line of code you can get a slick HTML5 fade in contact box with browser validation and AJAX!
reformed — Themeable Form Builder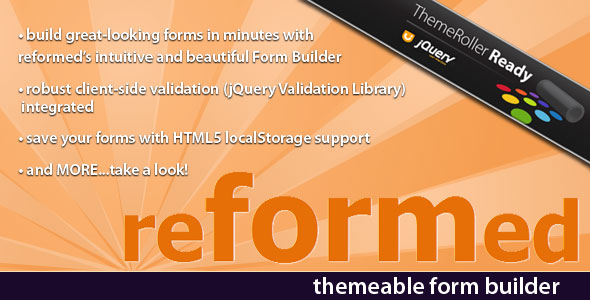 HTML 5 AJAX Contact Form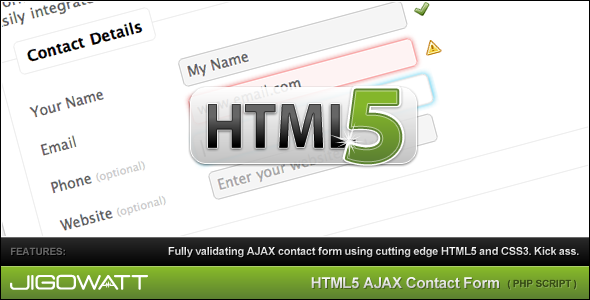 Your visitors won't be able to stop themselves contacting you with this baby. The HTML5 AJAX Contact Form utilises cutting edge HTML5 code and CSS3 animations to make your contact page elegant and ultra-usable
Register5! – HTML5 Register Form
Register5! is a simple, yet highly functional and effective website registration form. Register5! was created with emphasis on the latest HTML5 and CSS3 technologies, and designed with completely imageless graphics.
HTML5 Ajax Contact Form With Google Maps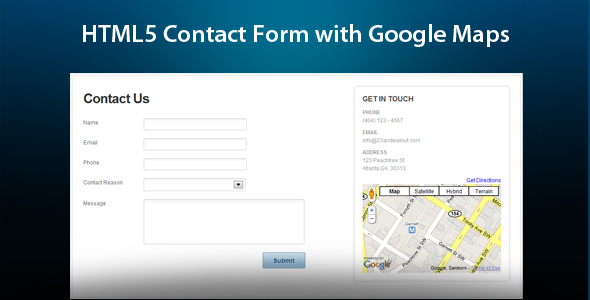 A php contact form that leverages the power of HTML5, Ajax, and Google Maps.