25+ Best WordPress Contact Form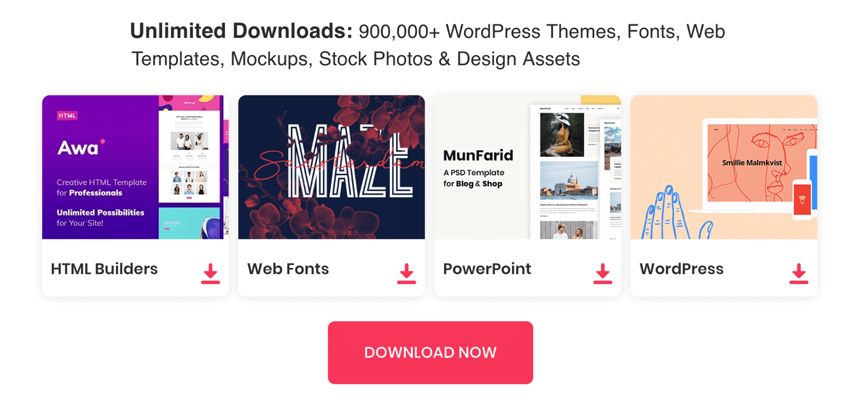 Contact forms are very important on a websites. It enable your readers to get in touch with you to provide feedbacks, suggestions about your website. We have listed the best free and premium plugins contact form for wordpress. Keep reading for our extensive review of 25 Best WordPress Contact Form.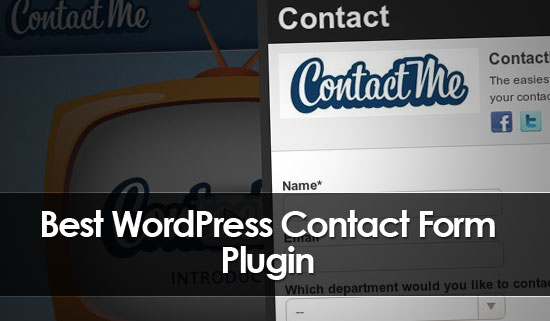 With your WordPress blog, there is no better way to make a contact form than Contact Form plugin. All plugins are easy to use, beautiful, customizable, coming with spam protection and rich extra features. Check our handpicked list of best contact forms for wordpress.
Quform – WordPress Form Builder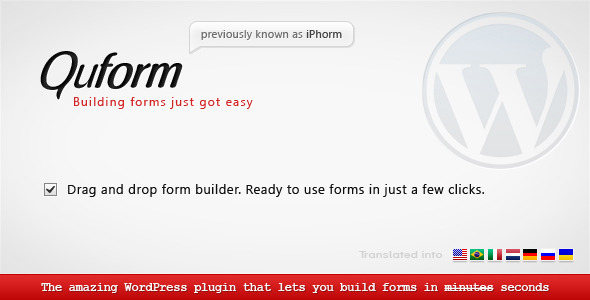 Quform is an advanced WordPress plugin that allows you to quickly and easily build multiple forms with total control. If it's a complex quote or booking form or just a simple contact form, Quform will allow you to do this without touching any code. In a few clicks you will have a fully functional form. It's that simple.
Usernoise Pro Modal Feedback & Contact form
Usernoise Pro is a minimalistic WordPress plugin for gathering and discussing users feedback thus engaging them into communication.
FormCraft – Premium WordPress Form Builder
nForms – WordPress Form Builder
AJAX Contact Forms (for WordPress)
This is a jQuery based AJAX powered HTML / PHP contact form with Twitter Direct Messaging, easily integrated into WordPress via shortcodes and functions.
WP Feedback, Survey & Quiz Manager – Pro
FSQM, is a WordPress plugin which can help you collect Feedbacks, Surveys or host Quizes in your WordPress Blog. Using it, you can create unlimited forms with custom themes and collect user submissions. All user submissions are stored inside the database which you can analyze, edit and/or print. The user can also track/see their submission (obviously if you wish to) through a page.
FormEngine – WordPress Contact Form Wizard
FormEngine is a form builder plugin for WordPress. You can have as many forms as you like.
Form Generator – WordPress Contact Form Builder
Create Beautiful Forms In Seconds With The Most Powerful WordPress Form Builder Plugin
WordPress Ajax Contact Form with attachments
The w2 Ajax Contact Form for WordPress is a complete solution to create ajax contact form in WordPress. Designed to be a flexible plugin, this item offer classics and originals features fully configurables via Admin Plugin Interface. You can easily create (Full HTML edition) your own forms HTML templates (add or remove fields) and your own themes CSS.
X Forms – WordPress Form Creator Plugin
Creative Unified Forms
You will not believe what this WordPress plugin can make for you. You can create forms with unlimited fields, content and looks! You will be able to do any kind of form, feedbacks, quizz, inquieryes and more just by: dragging and dropping + naming fields.
Daisy – Fancy Popup Contact Forms
Daisy – Fancy Popup Contact Forms is a user friendly WordPress plugin designed to make your life easier. Building contact forms just couldn't be any easier. Simply install the plugin and prepare to impress your visitors with a beautiful popup modal, that nicely renders your contact form.
Modal Feedback Form for WordPress
Our Modal Feedback Form for WordPress lets you easily add a feedback form to your WordPress blog – letting users submit feedback, and letting you view feedback + user information in your WordPress admin backend.
Simple Contact Slider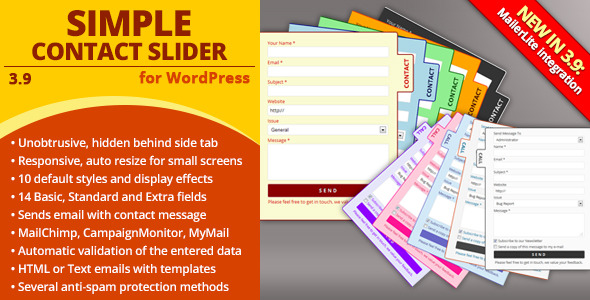 Our Modal Contact Form for WordPress lets you easily add a stylish contact form to your WordPress blog. It comes with the usual name, email, message fields, as well as reCaptcha support to prevent spam.
Ultimate Contact Page
A great all-in-one contact page for any business or organization!
Mapped contact form pro WordPress
A ajax contact form inside a google maps marker info window. Works for one or multiple locations. A different email address for every location can be configured. If only on location is on the map, the info window with the contact form opens when the map is loaded.
Contact Form Pop-up
Contact Form Pop-up is a WordPress Plugin script designed to add an AJAX contact form to your wordpress website.
WP FrontEnd Form – Multi-Purpose Posting Form
Flexible, Extendable and many extra plugins will be FREE, All extra plugins available at the page end.
Creative Feedback Form with Voting System
Creative Feedback form is a new way to interact with site visitors gaining valuable feedback which can be rated by others users of site.
Ajax user form
Enhance your Login and Registration system. Let user login, register and manage their Profile within your sidebar.
Custom Comment Field Creator – WP Plugin
Custom Comment Field Creator was created in order to allow you to quickly and easily create as many fields as you want, without having to touch the code of your theme. The installation is quick, customization is endless fields, you can rename the fields as you like, create their own html template , etc
FlexForms – Ajax Form Builder for WordPress
Contact – Friend Inviter Gold plugin & Widget
WordPress AJAX Form with Tracking and Settings
WordPress Plugin that lets you easily add contact/feedback form to your WordPress blog. It comes with the settings manager and can be directly accessed via WP admin panel.
Gravity Forms – List & Edit
wpPetition – WordPress Petition System Plugin
The plugin allows you to run a petition through your WordPress installation. The petition appears on a page or post in WordPress. Upon submitting their details the user is sent an e-mail, prompting them to confirm their signature. The may can leave an optional comment if required. Details of signatories can be exported when the petition is complete.