20+ Best Responsive Magento Themes for Digital Store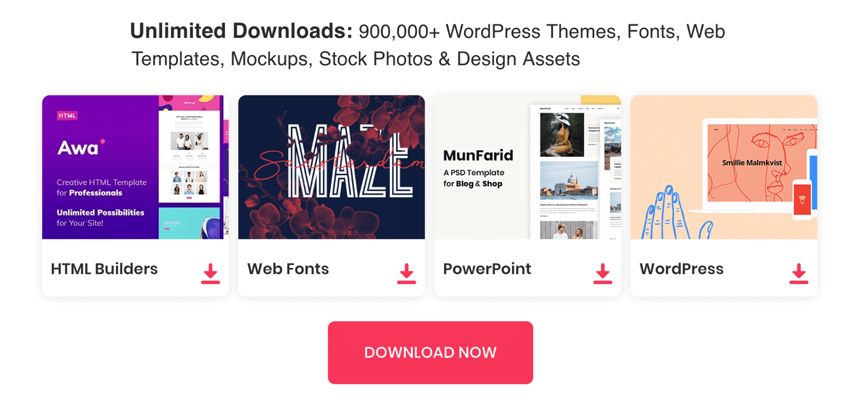 A showcase of more than best 20 Responsive Magento Themes with clean and modern design allows you to use the themes for every kind of online shop such as Digital store, Mobile shop, Computer store or any e-commerce website.
You might like this:
More than 20 Best Responsive Magento Themes for Digital, technology, computer and hi-tech store latest updates for 2016
We have selected Magento theme have designed best suited to sell digital products, all themes designed to be fully responsive layout, it will make your site have amazing look on different screen resolutions such as: mobile, iPhone, iPad and other tablets.
Muto – Mega Shop Responsive Magento Theme
Mutoshop is a luxurious and elegant Responsive Magento Template which everyone will be attracted at the first sight. You can sell everything on this mega shop theme : from fashion, accessories to digital, home decoration, wines, electronics, gifts and toys. The highlight in the homepage is the slideshow and vertical mega menu. It's very beautiful and has two styles: full width and boxed, smooth text and transition, easy to customize in admin and file.
Etrostore – Multipurpose Responsive Magento Theme
Etrostore is a responsive Magento theme suitable for any kind of store. Etrostore which is fully customizable and tailored for any heavy Magento store such as digital store, hitech store, clothing store, furniture store and book store…
OceanStore – Multipurpose Responsive Magento Theme

OceanStore isResponsive Magento theme designed with clean and clear style. OceanStore perfect for selling digital, technology, computer, accessories, hi-tech products or any other products.
HitStore – Responsive Hitech Magento Theme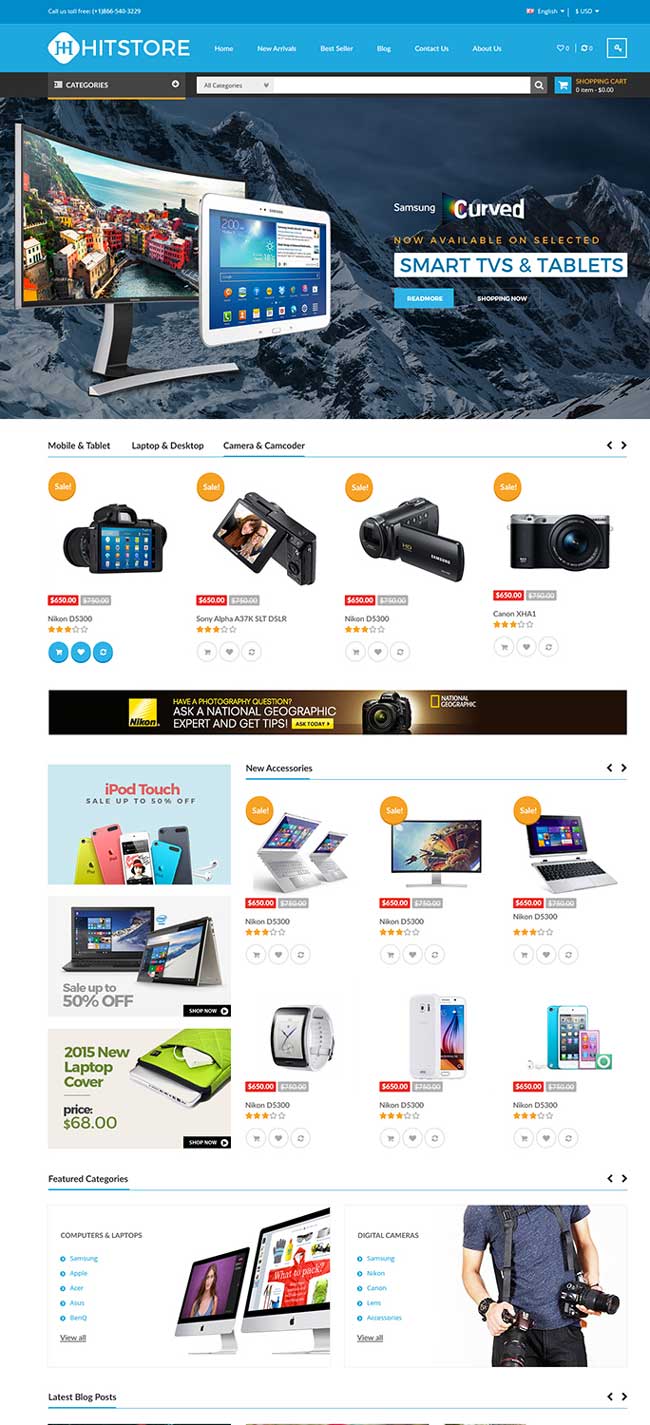 Hitstore is a responsive Magento Theme. Hitstore is easy to customize, comes with lots of required features & display to all devices: screen, widescreen, iPhone, iPad, Android. Banner Slideshow are bright and noticeable. It's highlight on the top of the homepage with big images, useful text, simple and nice effects. Hitstore magento theme great for any hitech, digital, accessories ecommerce business.
GreenTech – Shopping Responsive Magento Theme
GreenTech is a fully responsive magento theme based on bootstrap framework so extremely beautiful on mobiles, tablet devices and smart devices. This theme has many highlights with many functions in home page. GreenTech has a unique shopping cart built with ajax, and view the product quickly is another nice feature You can custom and make it become your unique store to sell everything such as digital, electronics, toys, furniture and fashion…
Xichieg – Responsive Magento Digital Theme
Xichieg is a Responsive Magento Themes for Digital Store is a the best design magento 2015 with 2 layout homepage box and wide. If you want to have a very unique and attractive design and trying to make your way among numerous store owners, Xichieg is a great starting point for you.
Boloba – Responsive Digital Magento Theme
Boloba is a digital magento theme is designed for digital, high-tech, electronics, mobiles, laptops stores. Boloba is looking good with green color and 2 homepage layouts. Built using Bootstrap 3 framework and integrated with many magento extensions.
Creatip – Responsive Magento Digital Theme
Creatip is a Responsive Magento Digital Theme, it is best design Magento 2015 with 6 layout homepage and unlimited color. If you want to have a very unique and attractive design and trying to make your way among numerous store owners, Creatip is a great starting point for you.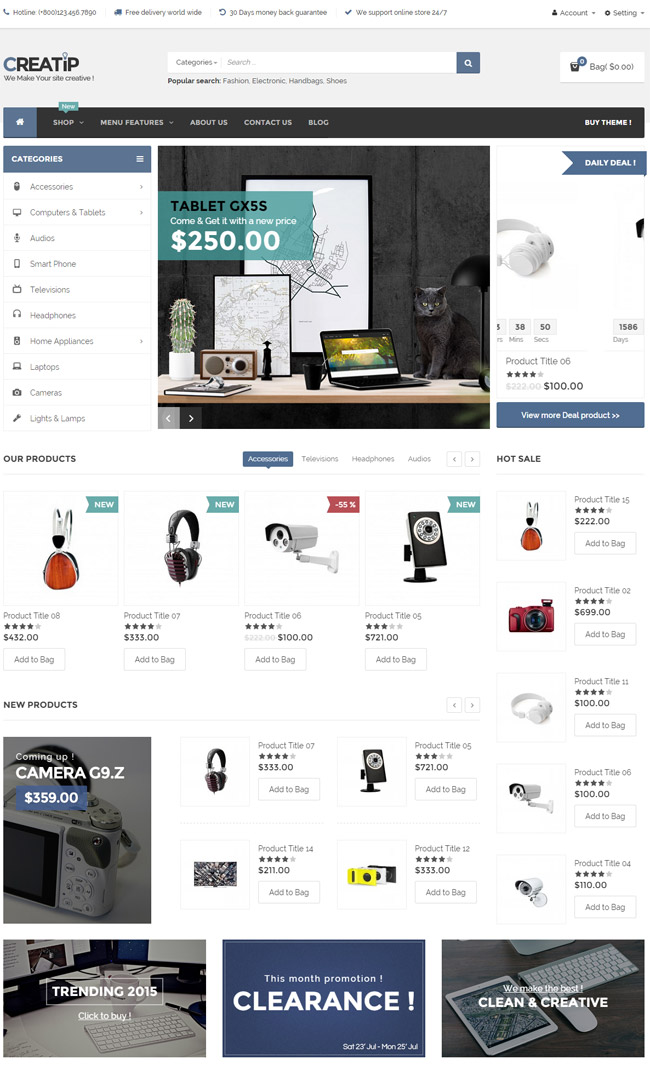 Ves Digital Store – Responsive Magento Theme
Ves Digital Store is Responsive and elegant Magento Theme. It is implemented responsive design make sure the pages adjust automatically to the screens size . The clean and modern design allows you to use the theme for every kind of online shop such as Digital store, Mobile shop, Computer store…. This layout is bright and strict at the same time which makes a proper effect on customer.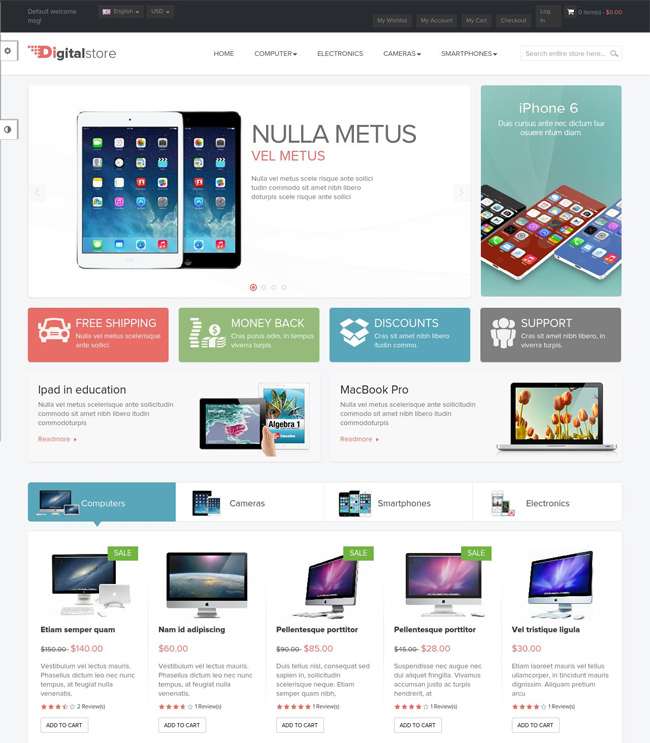 Digital Store Magento Theme
High-end design of this theme will convey the message of your store superiority to the customers. The slider has efficient image based navigation. Widgetized Specials section is supplied with product thumbnails.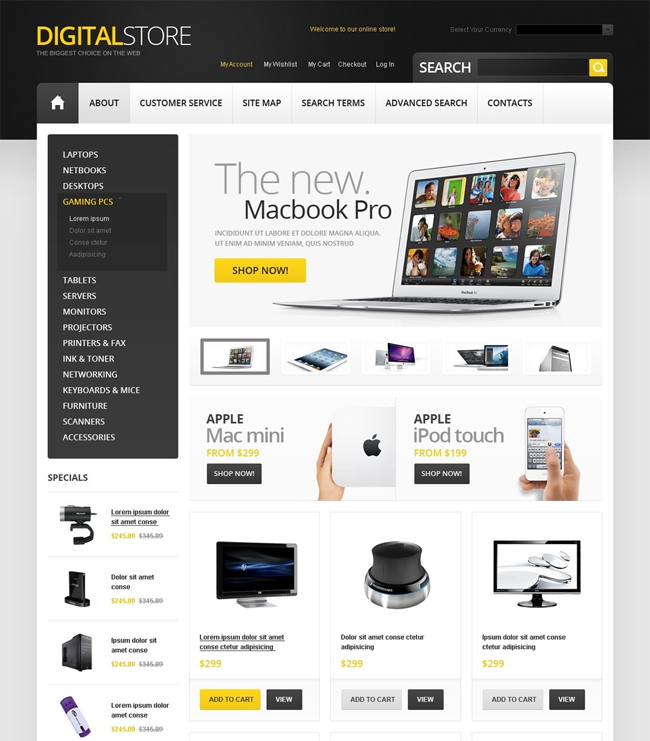 SM Viste – Responsive Multi-Purpose Magento Theme
SM Viste is a professional eCommerce template with fully responsive layout. SM Viste offers everything you want in an online webstore, it seems really perfect solution for a computer store, camera store, mobile store or any e-commerce website.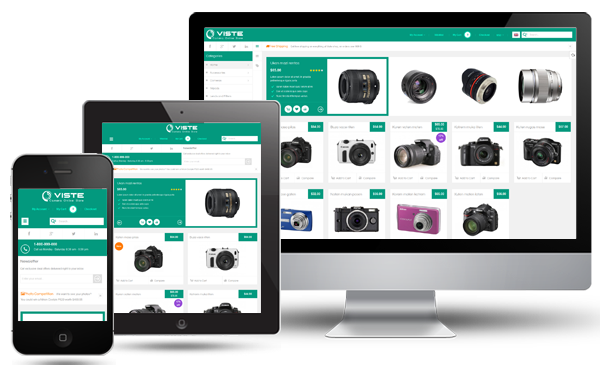 Halo MEROS – Responsive Flat UI Magento Theme
Halo MEROS is designed in Metro Style – clean and clear and utterly compatible with patches of colors and notable contents. Halo MEROS is very versatile, which means it's not only for hi-tech but for top-notch: Smartphones & Tablets Store, Computers & Laptops Store, Electronics Store… as well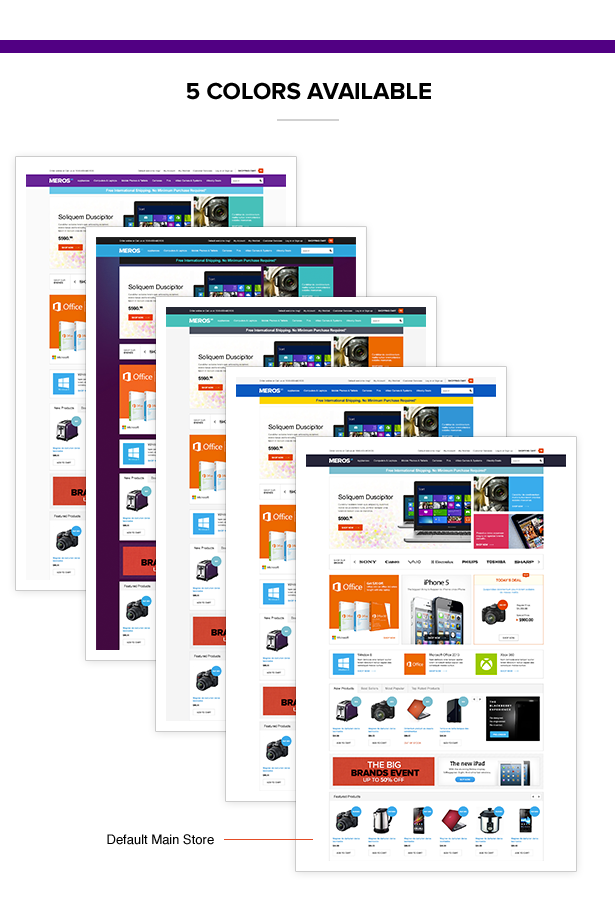 MetroShop – Premium Responsive Magento theme!
MetroShop is a universal 100% responsive Magento theme for any kind of shop with stylish MetroUI style design and powerful backend and it's created with using the latest HTML5 and CSS3 features. Admin panel with easy navigation and dozens of configuration options allows you to change every thing in theme.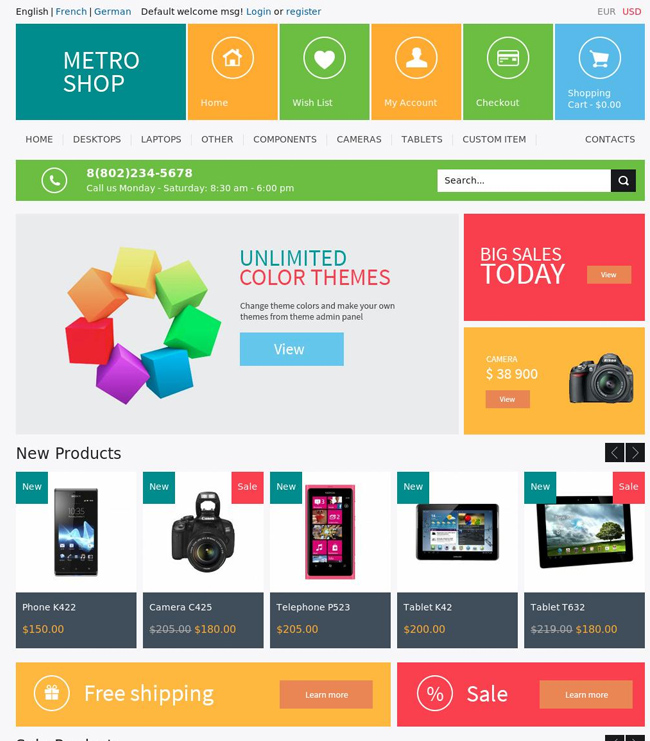 Electro Goods Magento Theme
If you want to outrun your competitors, choose this positive design. Its bright rainbow colors look buoyant and immediately raise customers' mood. On top of the page a slider showcases deals of the day. Six promo banners make the navigation simple and visual. Content area has white background, which is great for product presentation.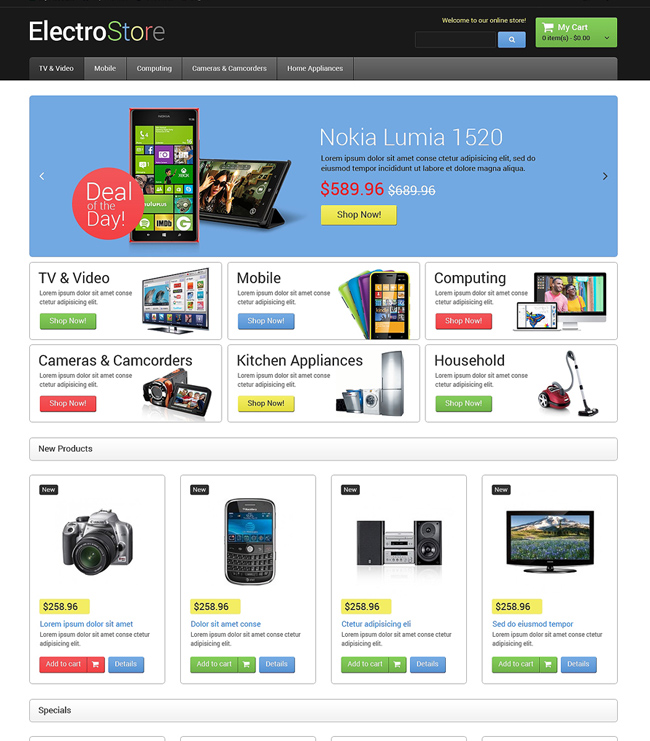 Electronics for Life Magento Theme
Leave your customers a little bit more time for themselves, sell your electronic devices online. The template has three sliders, making product presentation more interesting and entertaining. Banners and widgets are in the left sidebar and footer.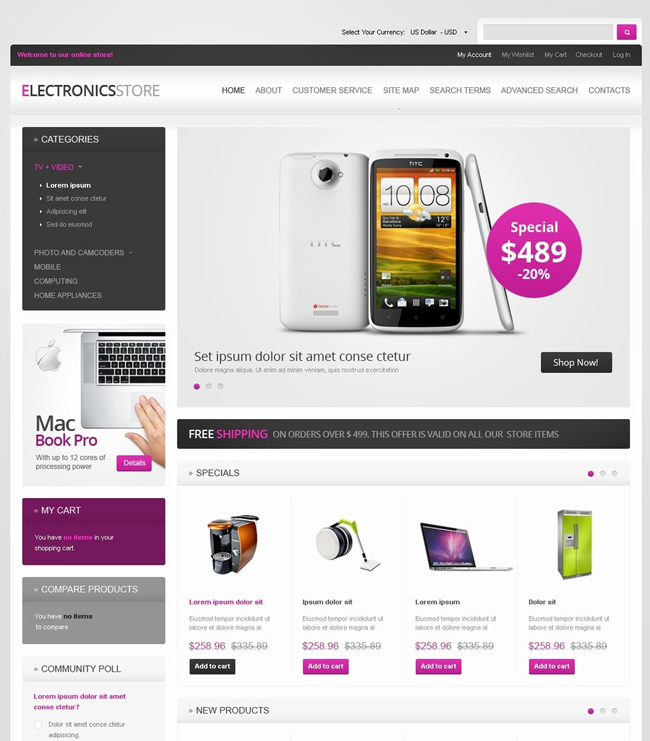 The Biggest Computers Store Magento Theme
If there's no room for all products you want to sell in your street store, we've got a wonderful way out of this situation. Online shop will not only accommodate all your items, but considerably boost your profit. Have a look at this example of a computer store with bright design elements that vivify its simple, usable design.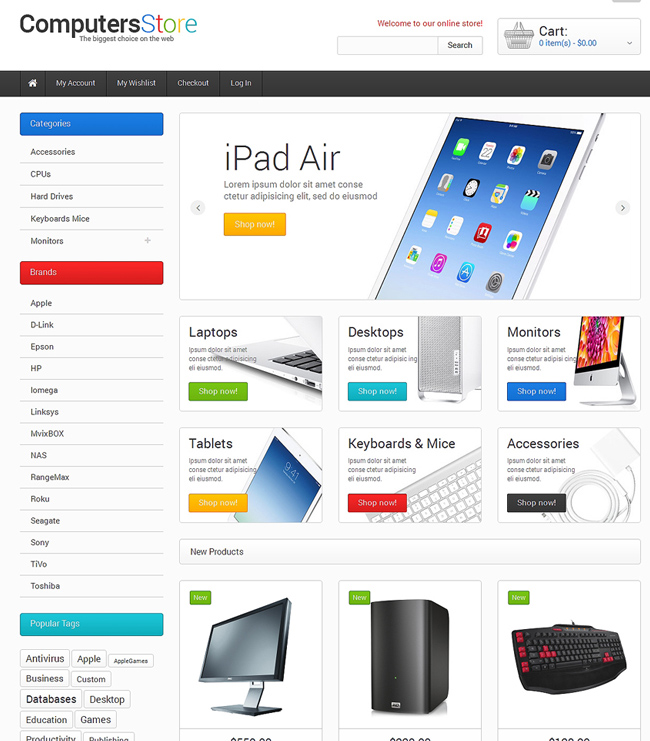 Yoming – Technology Responsive Magento Theme
MT Yoming prominently displays the latest technology products which belong to its various collections from world's top brands like Nokia, Motorola, etc. Before purchasing any product, please click on the product description below which provide you a better view about the different cell phones available, then pick the one that perfectly suits your personality.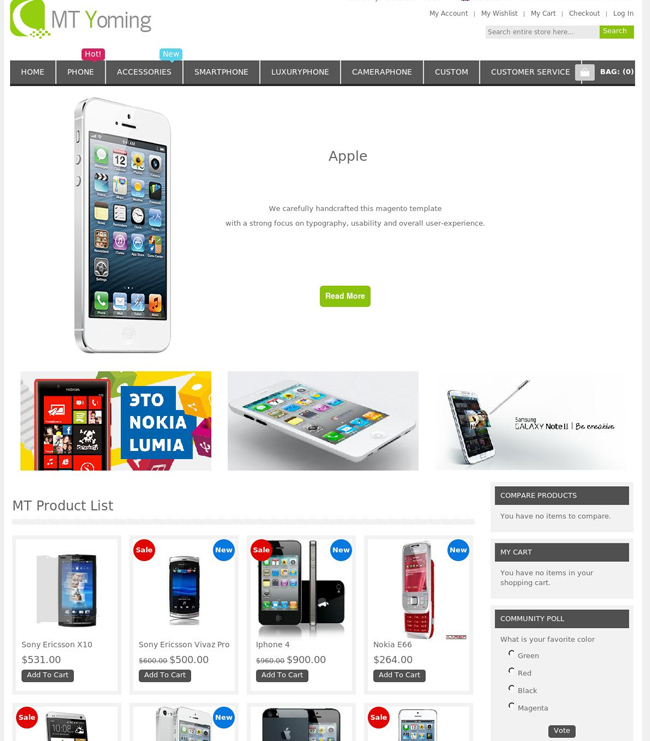 Smart Store Magento Theme
Two sliders work great for impressive product presentation. Banners make the navigation graphic and understandable. Helpful compare products block is available in the right sidebar. Newsletter subscription form is in the right lower corner of the page. Back to top button is also there for customers' convenience.