35+ Best HTML CSS3 Responsive Pricing Table Templates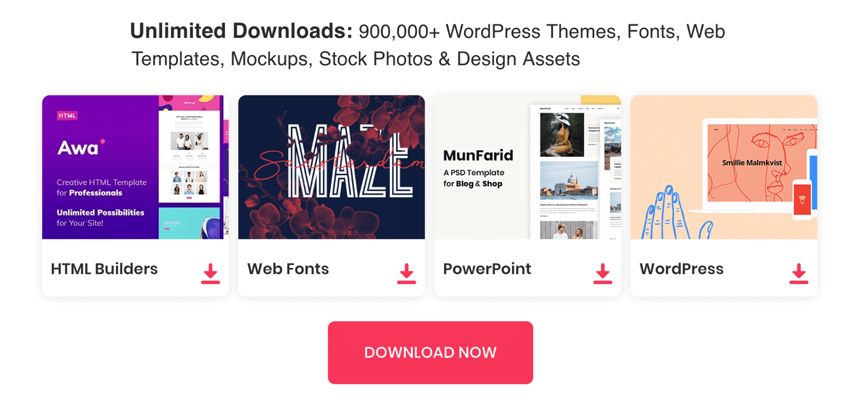 HTML CSS3 Responsive Pricing Table Template can help you to show up various pricing plans or price comparison. So, if you are looking for Best Responsive Pricing Table Templates for your commercial projects, you can find them at here.
Below are more than 30 best premium high quality CSS3 pricing table Templates that you can try to use for your website. Enjoy and explore these CSS3 templates.
Responsive Multi Style Bootstrap Pricing Tables
Pricing tables based on Bootstrap 3 with responsive web design. These pricing tables are provided with 3 different designs where each design has 20 color themes and use Font Awesome icons.
Colorful Pricing Tables
These pricing tables are provided with 2 different designs where each design with colorful themes and use Font Awesome icons.
Pricing Tables Bootstrap 3.2.0
Pricing Tables Bootstrap 3.2.0 is a pricing table which is build from Bootstrap and Font Awesome It is a responsive table and has 10 different colors scheme style.
Klaus – Retina Responsive Pricing Tables
Klaus is a retina Responsive Pricing Tables build from Bootstrap 3.3.4.
Flat Pricing Table
CSS3 Web Pricing Tables Pack
CSS3 Web Pricing Tables Pack (Grids) is a pack of pure CSS3 Pricing Tables with 2 table styles and 20 predefined color versions including: hover states, animations, ability to add a custom ribbon to the column header, possibility to set one or many columns as active (popped-up) by default, table cell tooltips. This version is dedicated for any custom CMS based site as well as for non-CMS site and will work in straight HTML or PHP based pages.
Responsive CSS3 Pricing Tables
This pack of CSS3 Pricing Tables is a complete solution for building awesome tables in minutes. It comes with 6 color variants as well as 2 table variants (light or dark).
Elitepack Classic CSS3 Pricing Tables and Boxes
Elitepack CSS3 Pricing Tables and boxes are a collection of pure CSS3 Pricing web elements that are uniquely designed to showcase pricing features for your products or services.
Pricer Pricing Grid
Pricer Pricing Grid is a pure CSS pring grid with tooltip.
Responsive Clean Simple Pricing Tables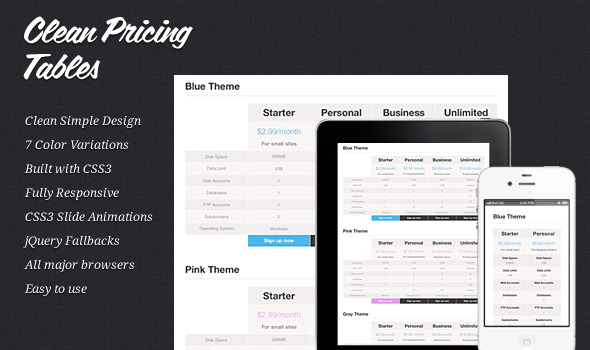 A set of gorgeous clean responsive pricing tables. Coming in 7 different color variations, these tables will shine on your website.
CSS3 Vertical Web Pricing Tables
CSS3 Vertical Web Pricing Tables is a pack of Web Pricing Tables based on pure CSS3 that will let you to create pricing tables based on rows instead of columns. It comes with 10 predefined color skins, animated hover states and font-face fonts. PSD source file is included in the package.
Clean Pricing Table
Clean Price Table. This is a clean and modern price table inspired by new Metro Windows Interface!
CSS3 Mega Pricing Tables Pack
This item pack contains 104 ready to use Pricing Tables with 4 unique layouts and 4 colors. You are getting total 52 combinations either with CSS3 mouseover animation or without any animation. Layered PSD files of these pricing tables and an easy to understand "instructions.html" have been included within this pack. These tables are perfect for any web pricing plan and can be customized easily for your next project. Check the video link below to know what you are getting in this pack.
Css3 Web Hosting Packages
Very simple and clean Css3 web hosting packages , easy to customize , 6 diffrent colors , rtl version , 2 layout type and a wordpress plugin as bonus.
4 Unique Pricing Tables in 1 Pack
Round Pricing Tables
Responsive CSS3 Pricing Tables
Simple and unique style for pricing tables. Styles to choose are Light and Dark, with possibility of choosing 16 different colors for each of the style. No images needed, pure css and html files. Fully responsive and adapted for all grid systems.
96 Pure CSS Pricing Tables
CSS Responsive Pricing Tables Mega Pack
CSS Responsive pricing tables mega pack. Consists of 30 different unique styles for responsive pricing tables. Loaded with google fonts. Based on bootstrap framework. Compatible with all major browsers. Suitable for any mobile device.
Responsive Professional Pricing Tables
Flexi is a high profile, professional pricing table collection that is responsive, stunning, and extremely easy to use. It's built with seamless flexibility and full-forced customization possibilities.
Pricing Tables for Websites
Pricely – Bootstrap Powered Price Charts
One of the most popular frameworks today, Bootstrap gives you the ability to start your web project almost instantly. Use Pricely to create elegant price charts, spiced up with some CSS3 and HTML5, for showcasing your product ranges and packages.
Set Of Responsive Pricing Tables. Animations
Set includes 7 folders (16 tables in total) with various tables that fit any screen resolution–from 1920px desktop to 320px iPhone. Come in multiple colour schemes and with nice CSS3 animations for backgrounds, pricing boxes, buttons and more.
CSS3 Responsive Pricing Tables
Pricing Tables – Fully Responsive and Bootstrap
Pricing Tables is simple yet powerful way to display your pricing plans. It is fully responsive. It has an amazing css3 zoom effect on hovering.
CSS3: Rainbow Responsive Price Tables
Say hello to Rainbow Responsive Price Tables, a set of beautiful looking responsive price tables coming in a large 16 color variations!
Web Pricing Tables
Web Pricing Tables  is a clean, simple and responsive pricing table. It was designed to be minimalist and elegant, with simplified code.
Flat Price – Flat UI Pricing Table
CSS3 Responsive pricing table
These dark themed CSS3 responsive and animated pricing tables come in 4 fantastic colours, designed to a high standard with a modern look & feel.
Flat Pricing Tables
Clean Pricing Table Coded
Clean Pricing Table, an awesomely clean pricing table for use with web hosting prices. By using this template, you will be showing off your prices with awesomeness and precision. This template comes fully coded in HTML & CSS (and of course HTML5&CSS3 where needed)
CSS Pricing Tables
CSS Pricing Tables is a clean and simple pricing table. It was designed to be minimalist and elegant, with simplified code.
Elegant Pricing Tables
Responsive Pricing Tables
If you need clean and professional pricing tables for your site, this set is probably what you're looking for. These tables are coded to automatically fit into your layout and they will take the available space you give them so you don't need to worry about width values.