25+ Awesome Christmas Tree Decorating Ideas 2016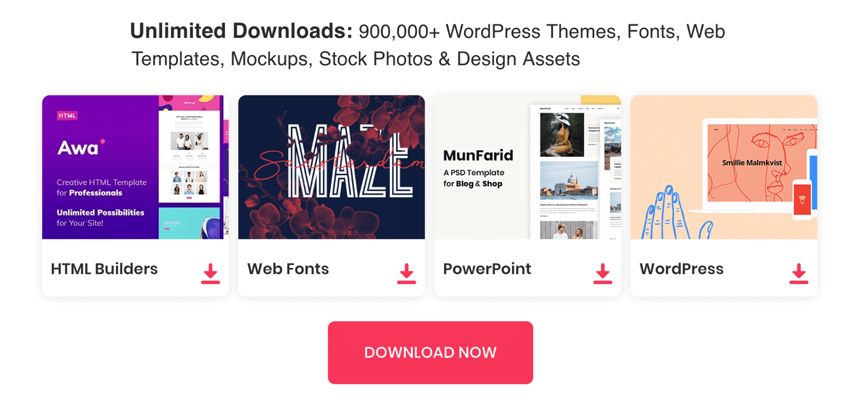 Christmas is coming so close, the Christmas tree is the centerpiece of your home. Follow these simple tricks for overcoming just about any decorating obstacle and your tree will be more than ready for those presents on Christmas morning.
If you are looking for Christmas tree decorating ideas for 2016, here are 25 awesome Christmas Tree decorating ideas suggestions for you.
Tree is the centerpiece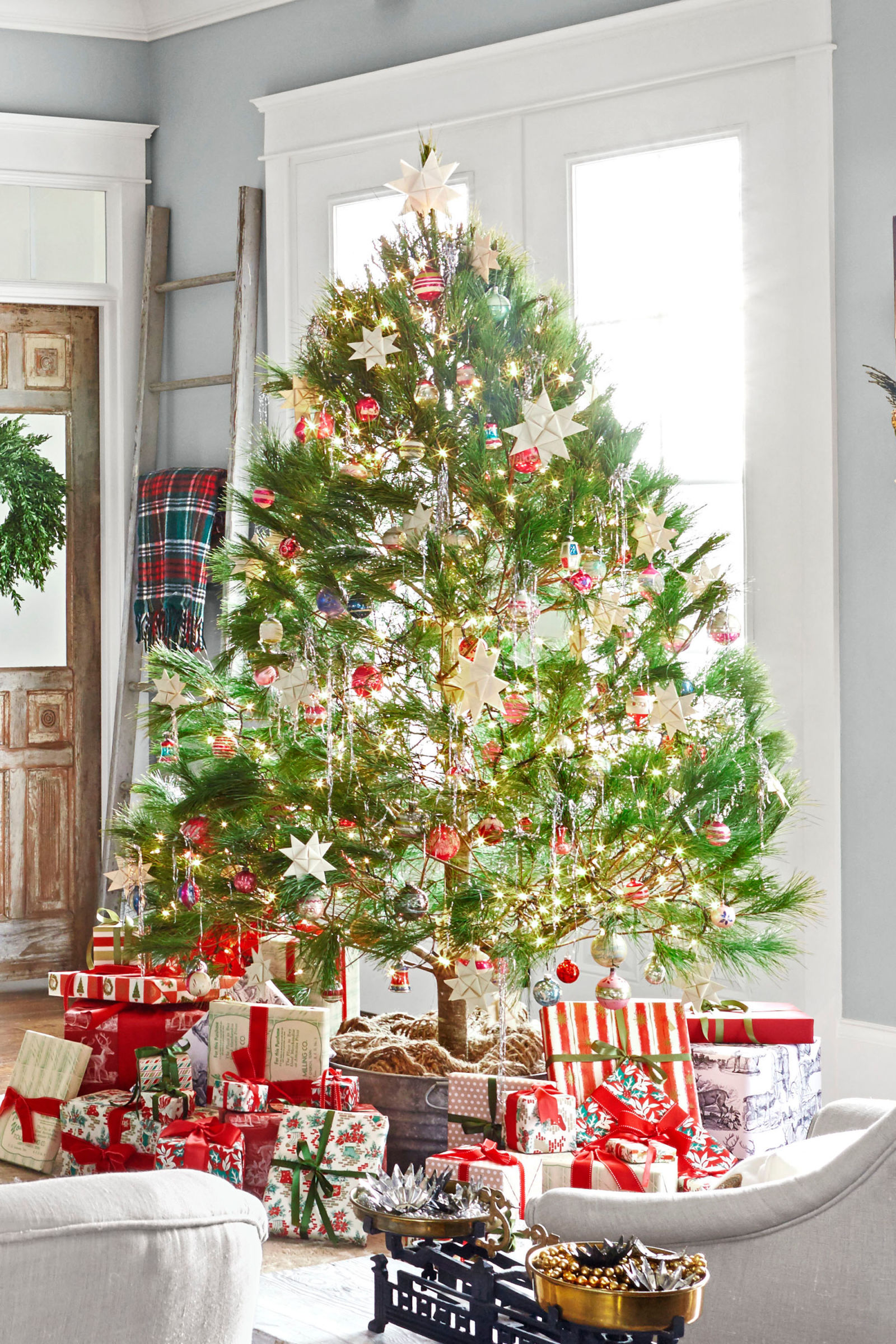 Holiday-appropriate plaid accents, like the throw on the ladder and the scarf on the caribou, add timeless charm, while vintage wrapping paper ups the nostalgia factor.
Heavenly Tree with Angels and Stars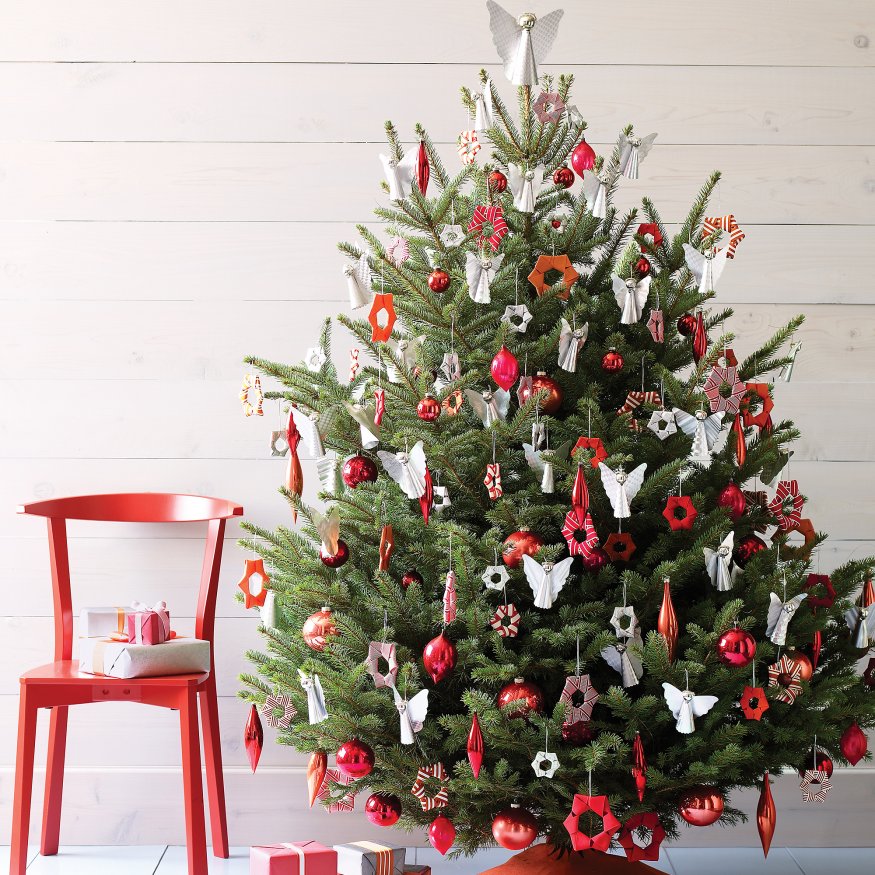 Photo source: 
Marthastewart
Up the elegance of this year's evergreen with beautiful celestial symbols. Delicate silvery angels flit among hand-tied ribbon stars. A scalloped felt tree skirt conceals the stand.
Glowing Tree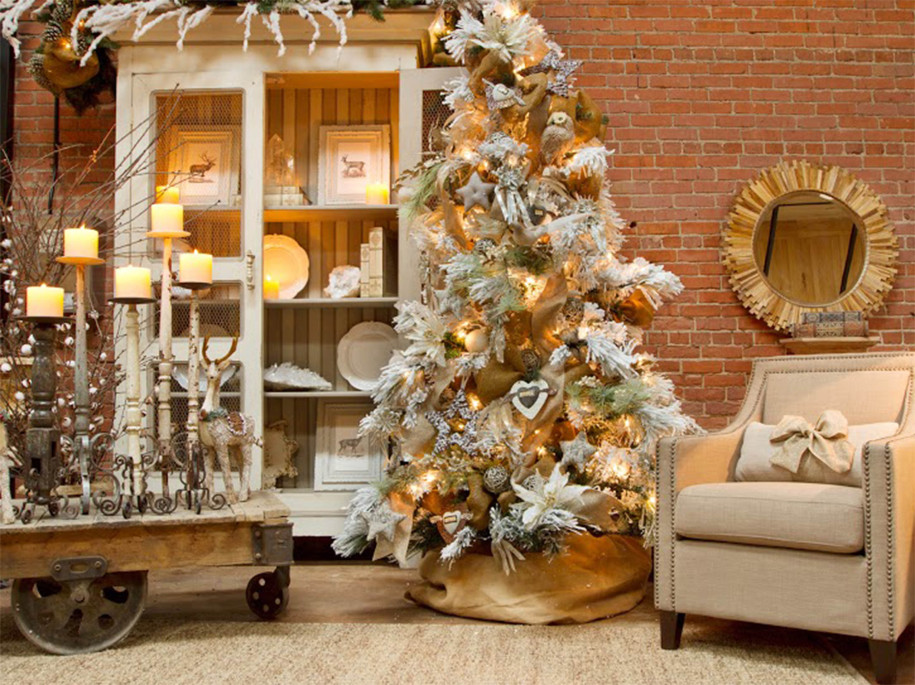 Photo source: 
Qastore
This Christmas tree shines in shades of gold, white, and blue. If you don't have a fireplace, simply hang stockings from thick twine.
Christmas Tree with Fireplace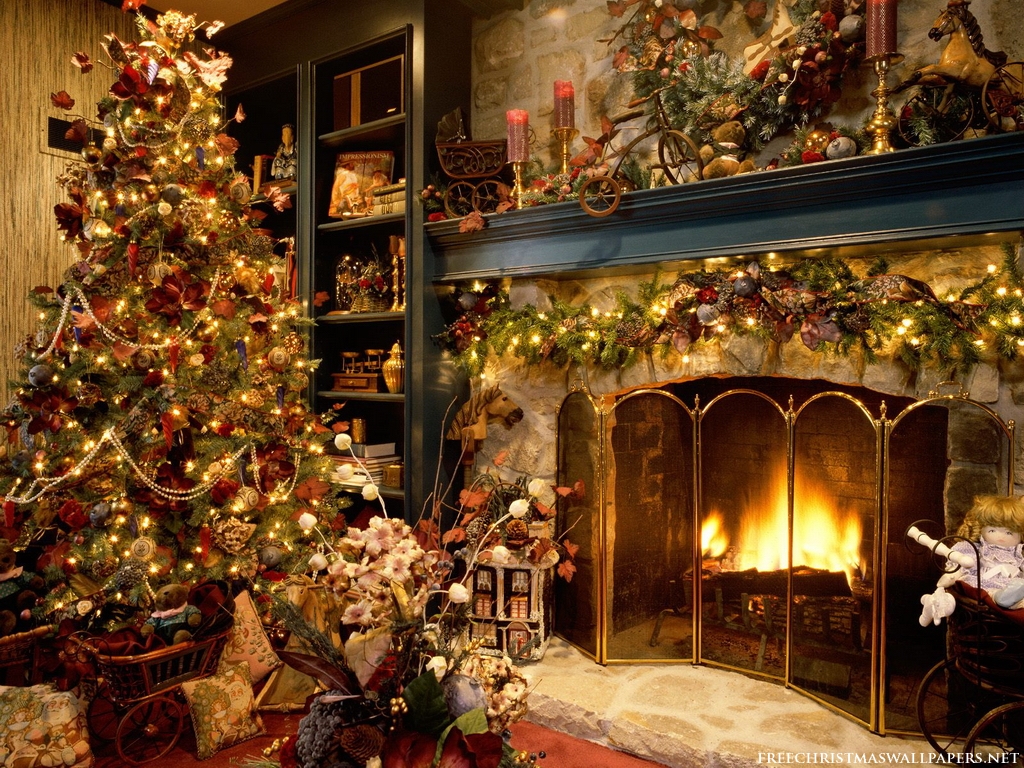 Spreading the Cheer
Photo source: 
Lucas Allen
Josh Kilmer-Purcell and Brent Ridge turned poinsettias into living ornaments in a flash with floral water tubes.
Playful Retreat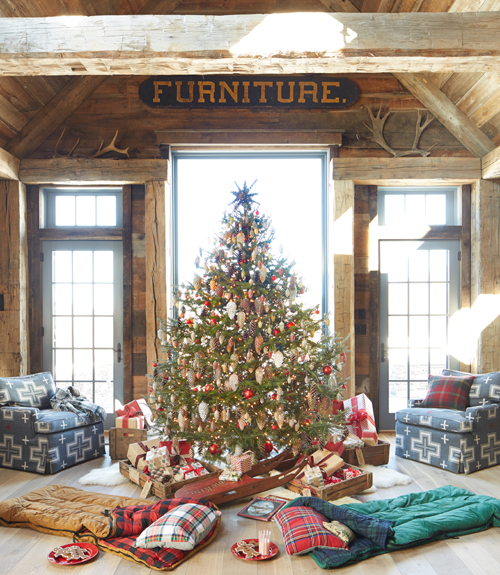 Photo source: 
Max Kim-Bee
Kids will love this idea: Add cozy sleeping bags for "campouts" under the Christmas tree.
Mobile Christmas Trees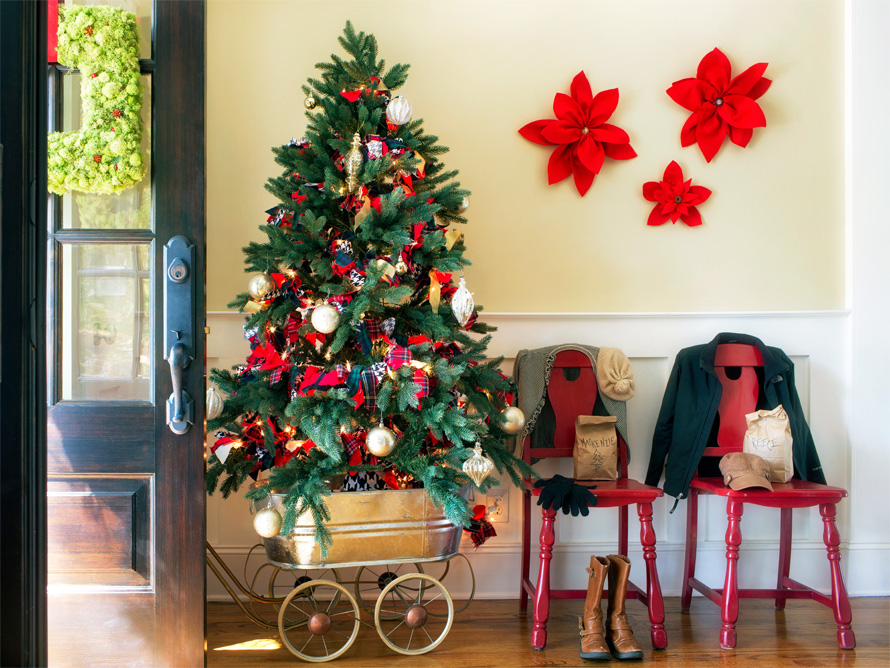 Photo source: 
Brian Patrick Flynn
Give your mobile Christmas tree a different look for each room in the house with clever decorating ideas. From an outdoor room to the kitchen, each space can easily celebrate the holidays in style.
A Colorful Christmas with Eddie Ross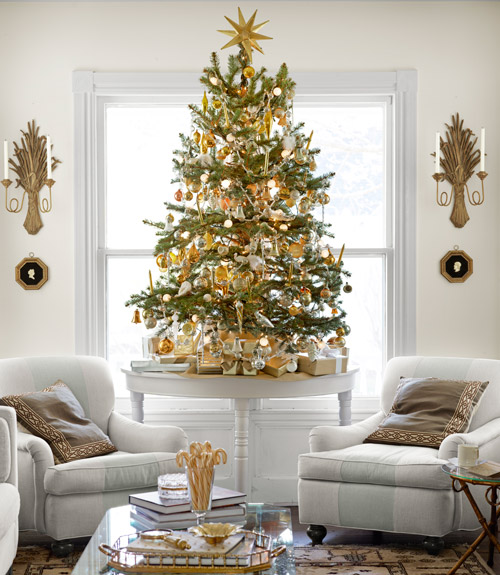 Photo source: 
James Merrell
From their New England home, see how design gurus Eddie Ross and Jaithan Kochar rewrite the rules of holiday decorating and go all out for the season.
Christmas at the Cabin – Dream Tree Challenge
Photo source: 
Thecluelessgirl
A fully decorated Christmas tree chilling in living room.
Michaels Dream Tree
Photo source: 
Lilluna
 Black, White and Silver tree that was decorated with pictures and words.
No Lights Chrsitmas Tree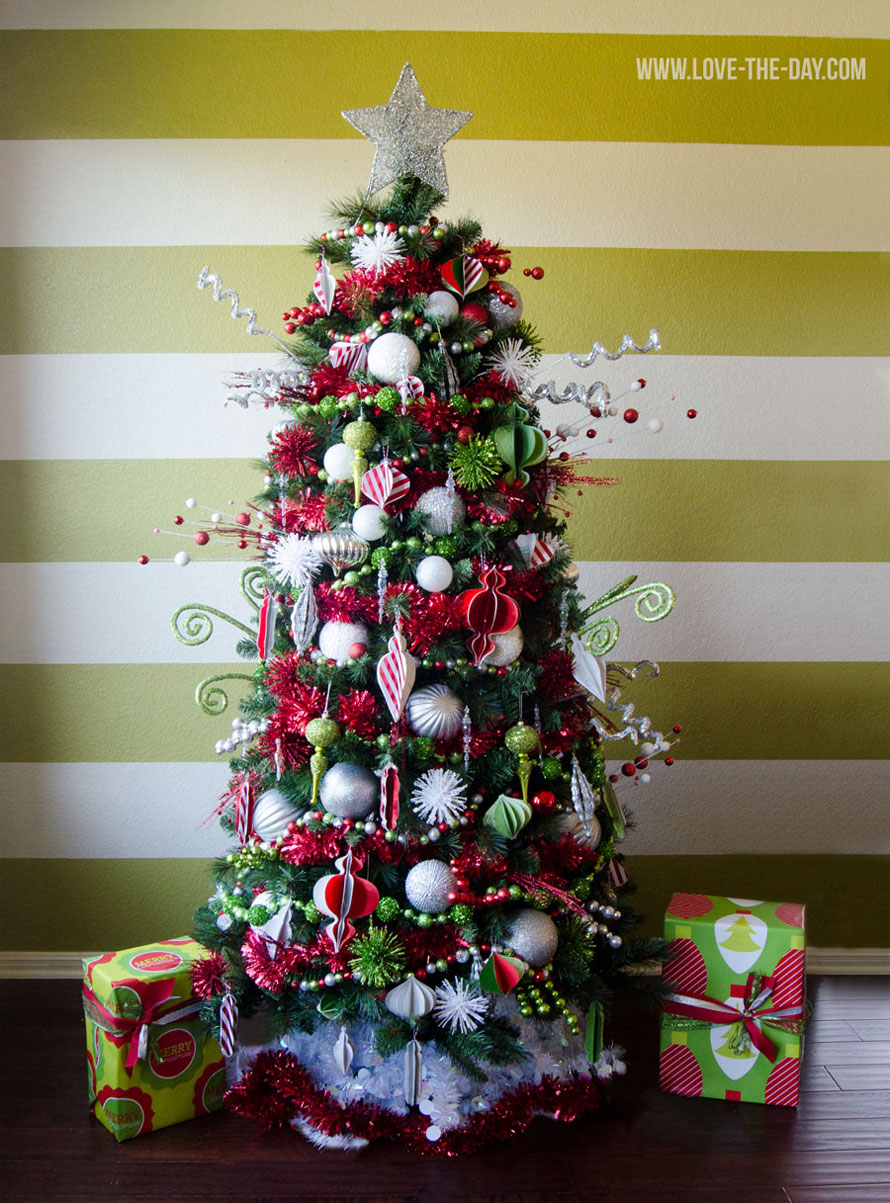 Photo source: 
Marthastewart
Christmas tree with whimsical, shiny, glittery, full of tinsel, sequins and paper ornaments.
ABC Kids Christmas Tree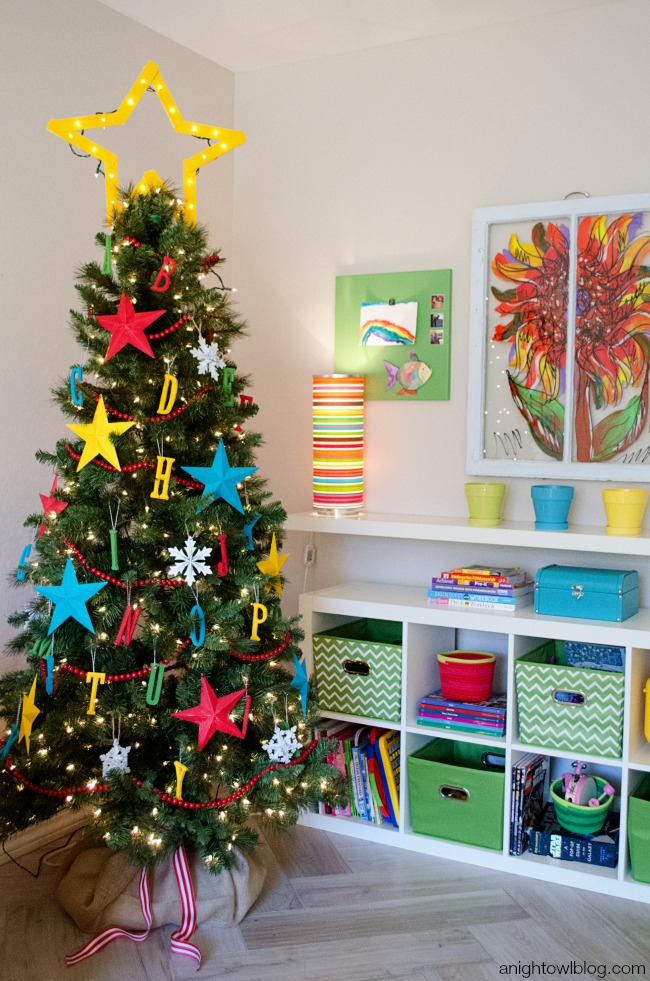 Photo source: 
Anightowlblog
A Christmas Tree with alphabet ornaments and fun, bright colors.
Black, White & Gold Christmas Tree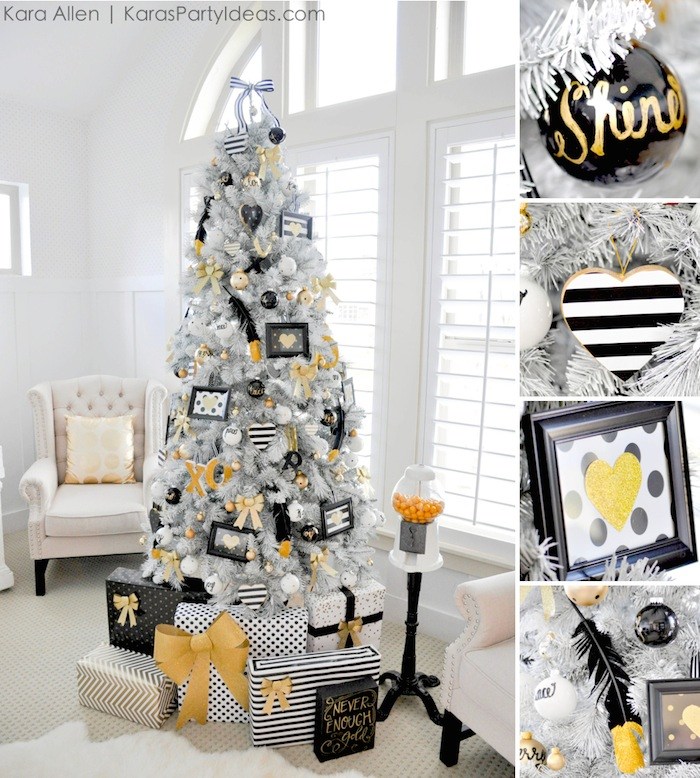 Photo source: 
Karaspartyideas
Christmas Tree with some fabulous black, white and gold wrapping paper in amazing striped and polka dot patterns.
Christmas Memory Tree
Photo source: 
Positivelysplendid
A tree can tell a story, with each branch containing a different ornament that serves as a connection to a long-ago time, place, or memory.
Santa's Cabin-in-the-Woods Christmas Tree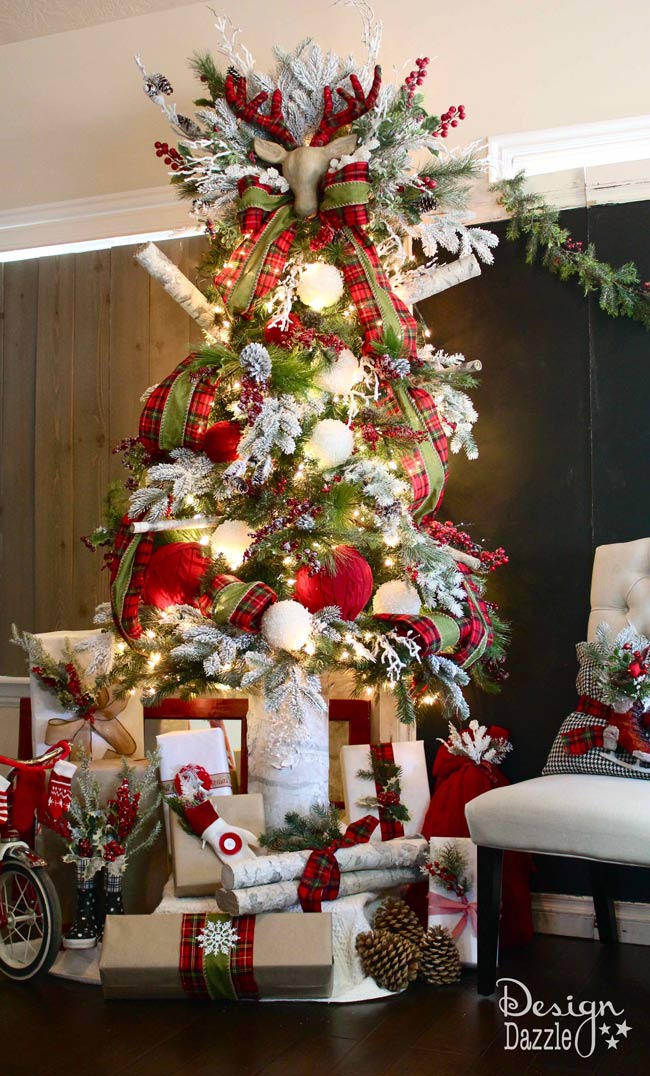 Photo source: 
Designdazzle
Rustic Reindeer Christmas Tree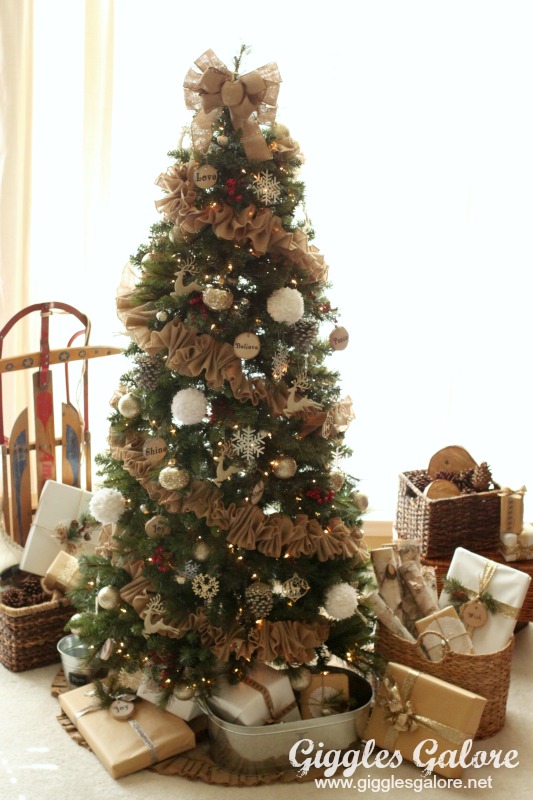 Photo source: 
Gigglesgalore
Winter Wonderland Christmas Tree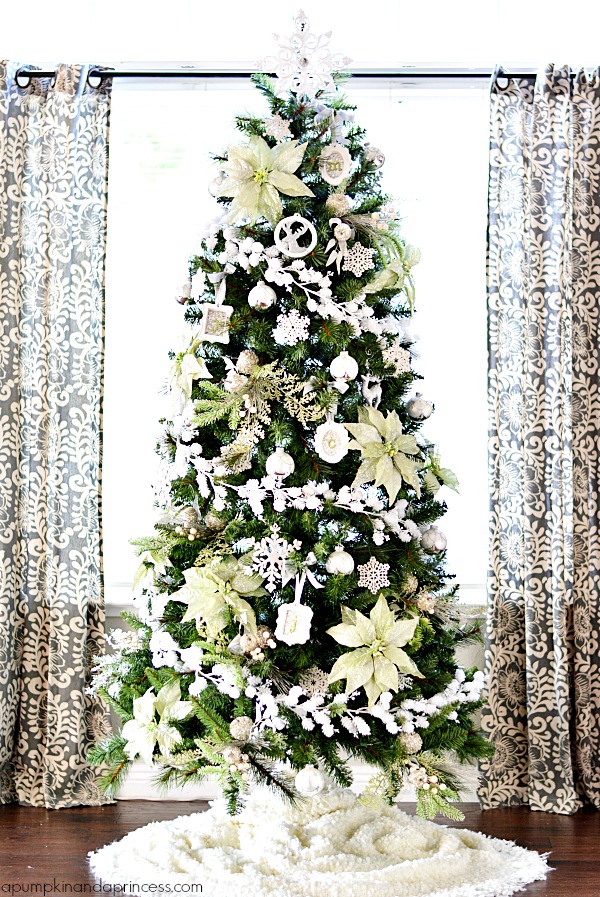 Photo source: 
Apumpkinandaprincess
Scandinavian Christmas Tree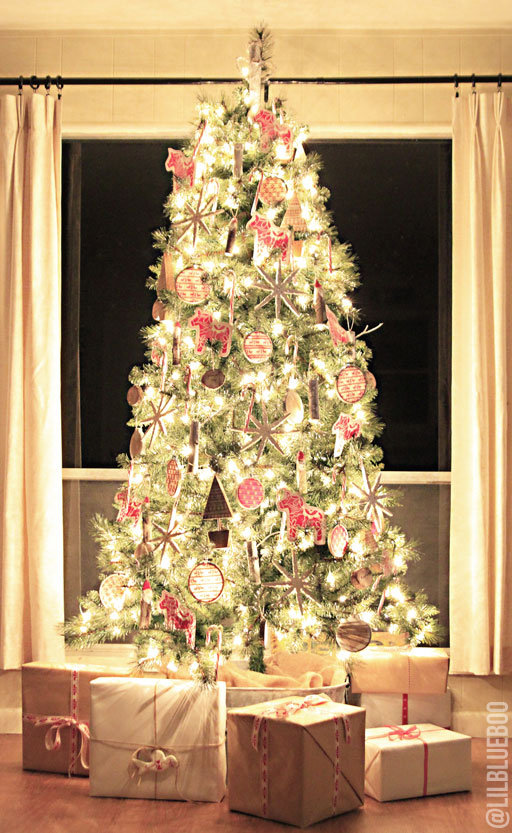 Photo source: 
Lilblueboo
Red Dala horses (a traditional Swedish figurine) adorn blogger Ashley's illuminated Christmas tree, while wooden trees and branches add to the Scandinavian look.
Woodland Wonderland
Photo source: 
Liagriffith
Blogger Lia Griffith knew she wanted to give her tree a rustic woodland look, so she decorated accordingly. "I attached three large reindeer on my tree branches as if they are running through the forest," she explains on her blog. "And for top of the tree, I had to indulge in a kraft [paper] reindeer trophy."
Homemade Decor
Photo source: 
Happytogetherbyjess
Starburst ornaments made from paper straws and clear plastic ornaments filled with paper shredding add homemade details to this stunning tree.
Family Favorites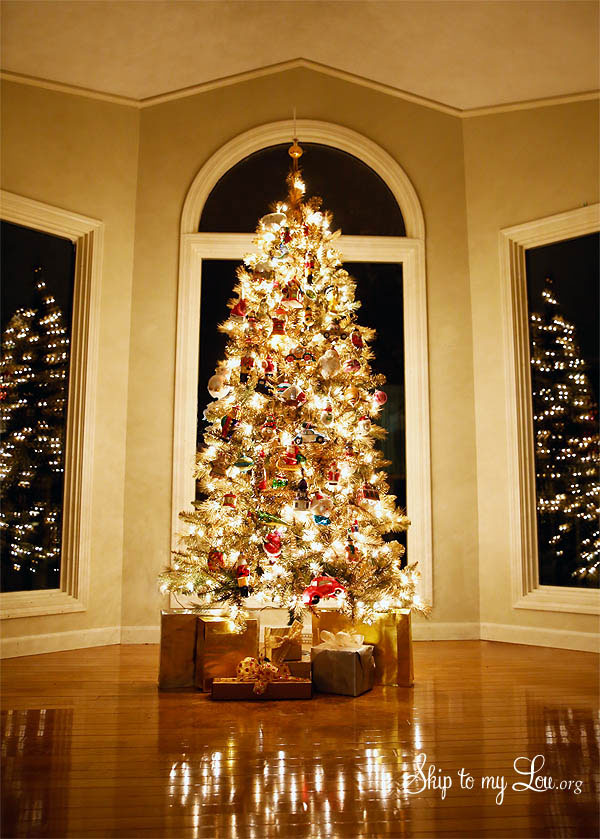 Photo source: 
Skiptomylou
Our favorite part about blogger Cindy's glowing tree? The ornaments are all representative of places and things that mean the most to her family. From a gumball machine ornament for her daughter to a Santa driving a car for her son, Cindy's tree is an homage to her family.
Neutral Metallics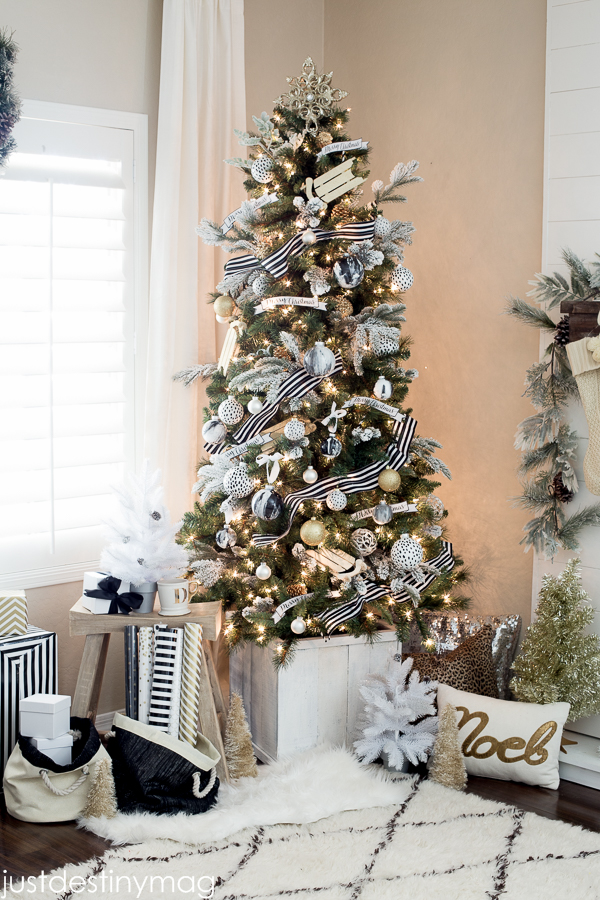 Photo source: 
Justdestinymag
Black-and-white striped ribbon wraps around a Christmas tree that's adorned with flocked branches and faux marble ornaments.
Asian-Inspired Christmas Tree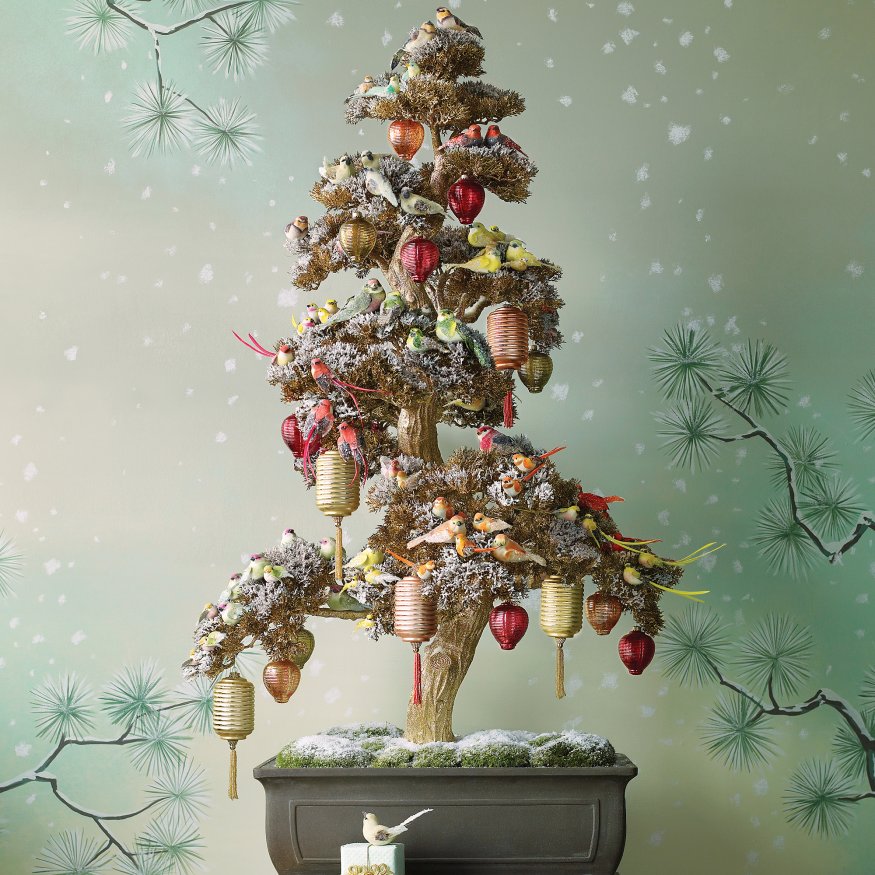 Photo source: 
Marthastewart
 Inspired by the bonsai collection at the Arnold Arboretum in his native Boston, Martha Stewart Living's Kevin Sharkey created this enchanting roost using an artificial bonsai.
Christmas Tree Decorating Ideas With Garland