50+ Best Free Mobile App UI PSD Design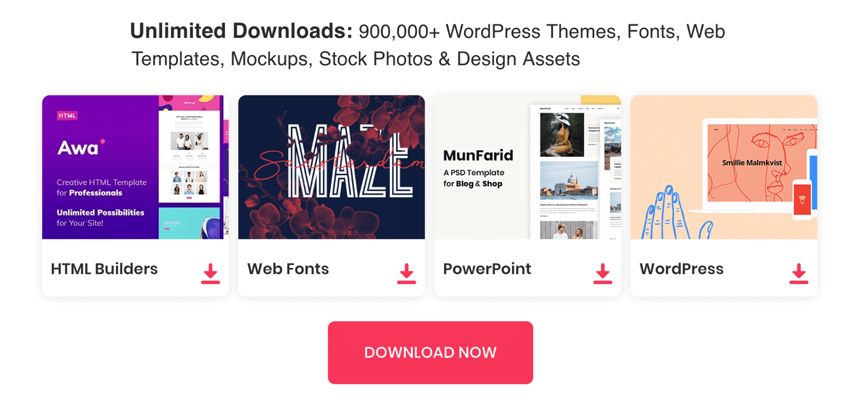 Today we introduce design elements with free mobile app ui designs which are impressive in looks from 2016. All these free psd files listed here are new design trends. Designers spent lots of time in making mock ups of App UI, in which they have to use design UI elements again and again.

You Might Also Like:
So you looking to make your App Design process faster? These sets of the best free mobile App UI PSD design  includes all common UI elements to improve should help you. The color combination of these free mobile psd ui kits is just one thing to notice and will look good on your mobile app design as well.
Collection of 50+ Best Free Mobile PSD App UI Kit last update for 2016 including popular UI Elements for App help make your own app design quickly.
We will update this Mobile PSD App UI Kits collection over time so please follow us on Twitter/ Facebook/Google plus to get updates.
Free Fair Mobile UI Kit PSD Sketch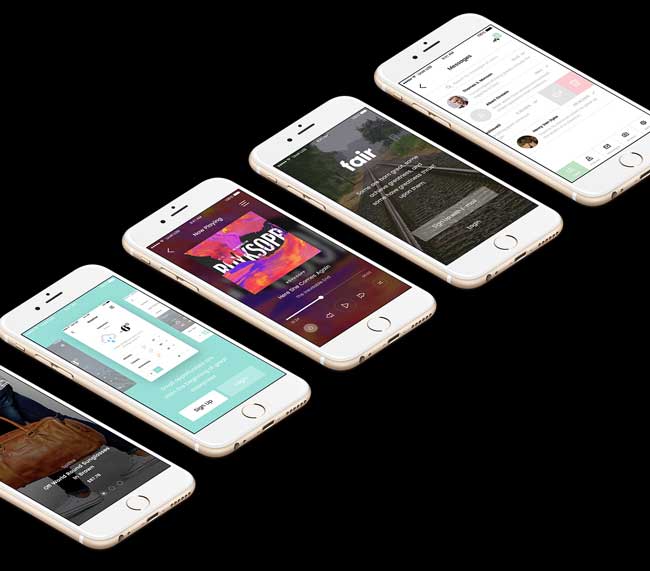 Fair is a free Mobile UI Kit with more than 130 app screens included. Fair is the excellent assistant for fast creation of your project. In it excellent fonts and colors, which now in a trend are picked up. Fair Mobile UI Kit has been designed with vector shapes and fonts picked up from Google Fonts library. All elements are well-organised and sorted by folders, so that you can quickly edit and customise your screen in the smartest way possible. Fair Mobile UI Kit available 2 format PSD and Sketch for free download.
Free Modern and Clean iOS App UI Kit PSD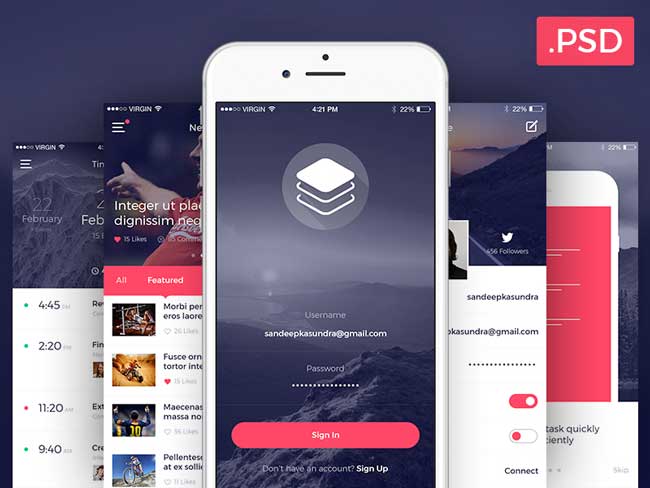 A free IOS App UI Kit with flat modern and clean design style. This UI Kit includes 10 clean app screens in full PSD file.
Free Routes IOS App PSD UI Kit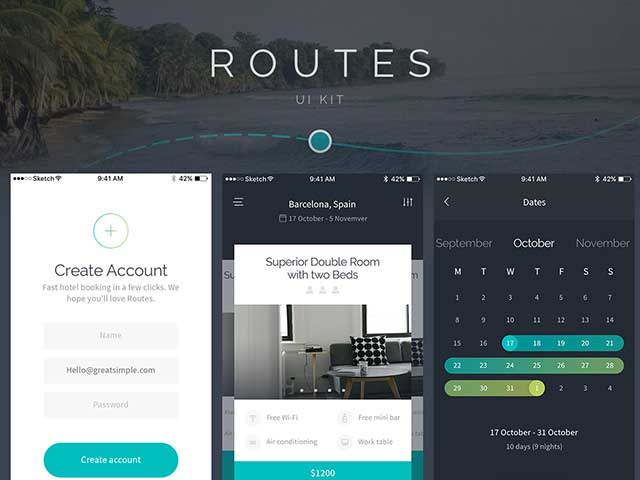 Routes is a free IOS App PSD UI Kit includes 12 app screens available in both Sketch and PSD file formats.
Free Phoenix IOS App UI Kit PSD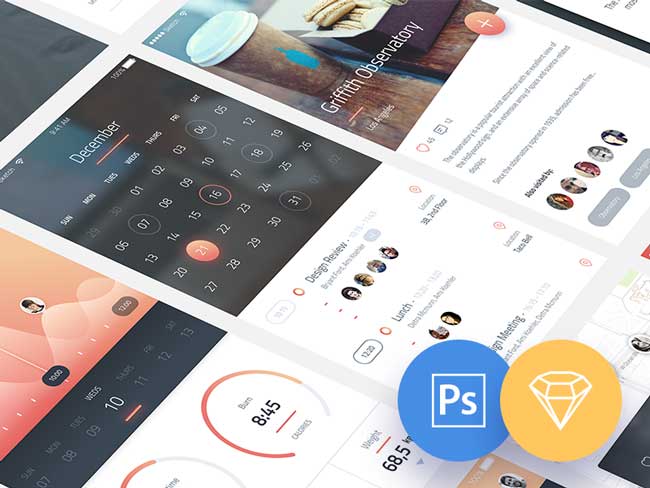 A Free Phoenix IOS App UI Kit containing 12 beautifully designed screens for both Photoshop and Sketch. Phoenix IOS App UI Kit is great for for make iPhone 6 App.
Pickles – Restaurant PSD App UI Kit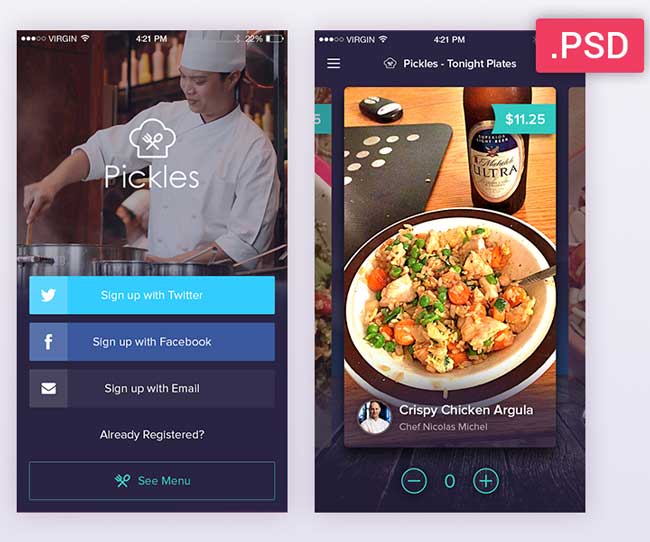 Pickles is a free PSD App UI Kit design for restaurant App, just in time for lunch. This Restaurant PSD App UI Kit includes 4 app screens.
To-Do App Ui Kit PSD/Sketch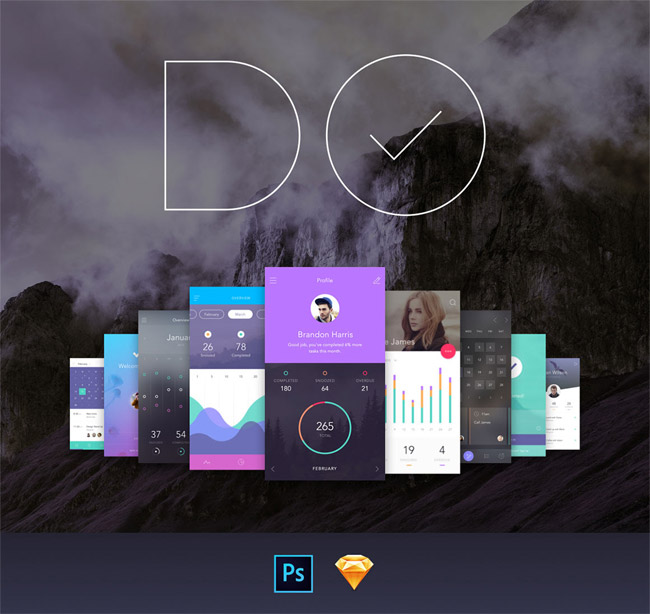 To-Do App Ui Kit is a Flat, Clean and Colorful  UI Kit with features enough UIs to build all kinds of apps. You can free download To-Do Ui kit with Photoshop PSD and Sketch types include 130 screens, 10 themes and 250 components.
Free Android Material Design UI Kit PSD
A Free Android Material Design UI Kit PSD for design any Android apps. This UI Kit includes most of popular user interface and wigdget to create a complete Android Lollipop applications.


Free Fitness App Ui Kit PSD

A Free Fitness App UI Kit with 13 PSD Files. The UI kit is flat and modern design, ready to use free for your projects.
Material Design PSD UI Kit
Material Design PSD UI Kit consists vibrant color UI Widgets that are just perfect for any mobile widget applications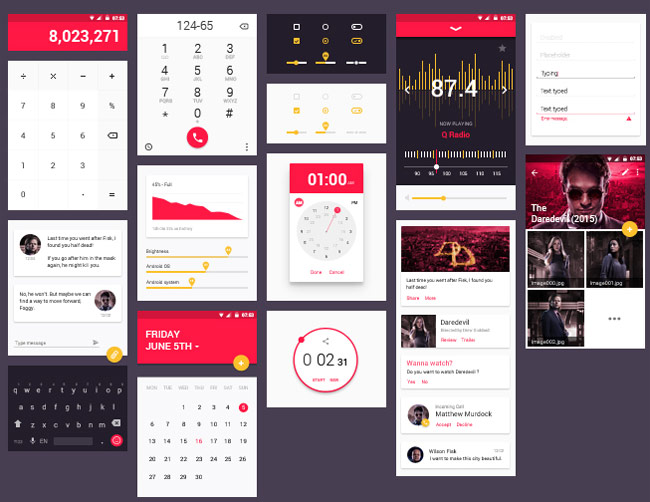 Ace iOS 8 Mobile UI Kit PSD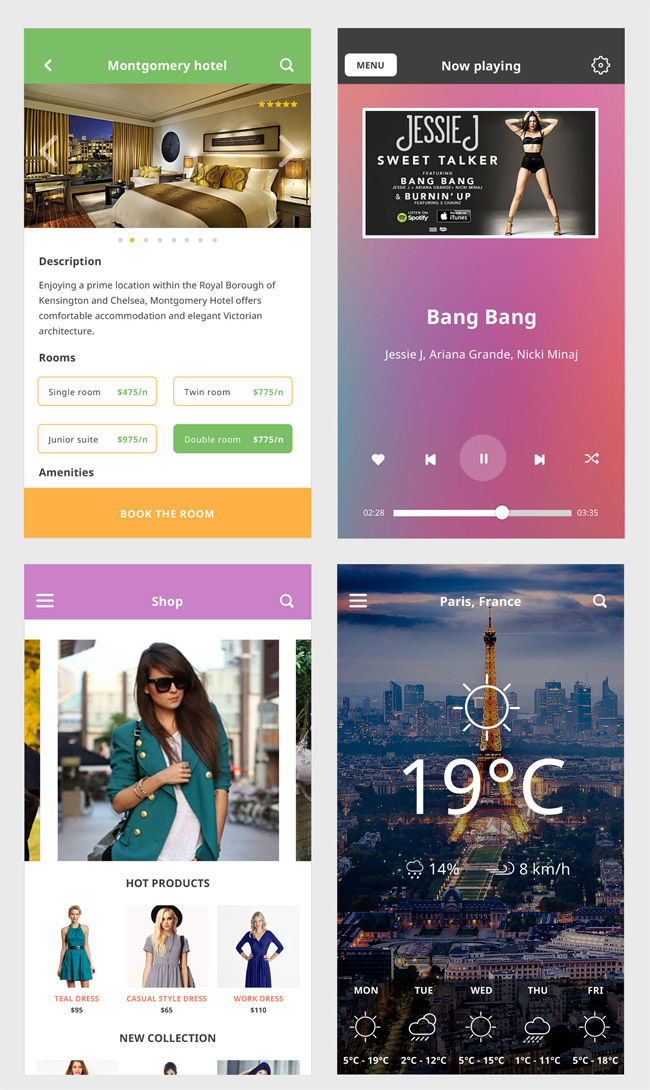 Ace iOS 8 Mobile UI Kit is a modern PSD UI kit for designing apps and prototypes that will look just awesome on iPhones.
Free Verve UI Kit PSD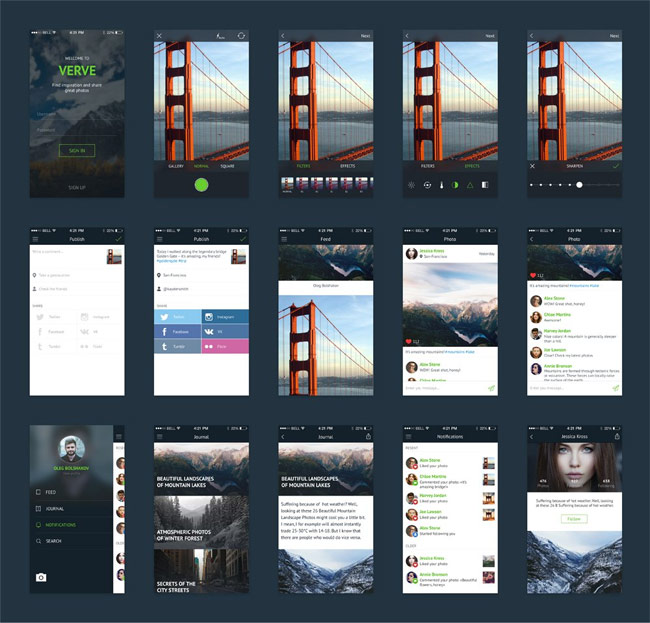 Here's a freebie psd of the iOS Photo & Social app. Feel free to download and use it.
Exchange App UI Kit PSD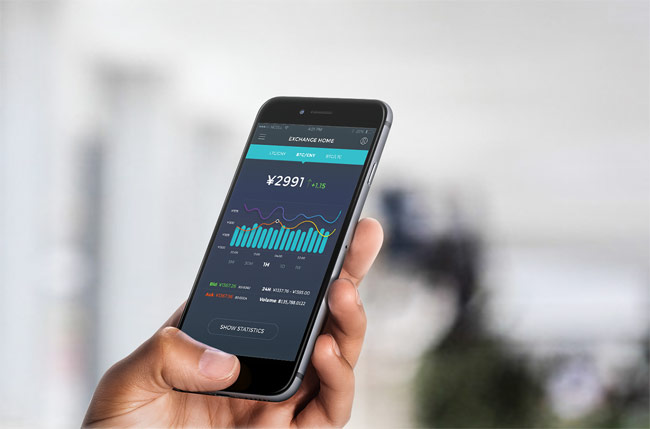 Alarm & Remainder App UI Kit PSD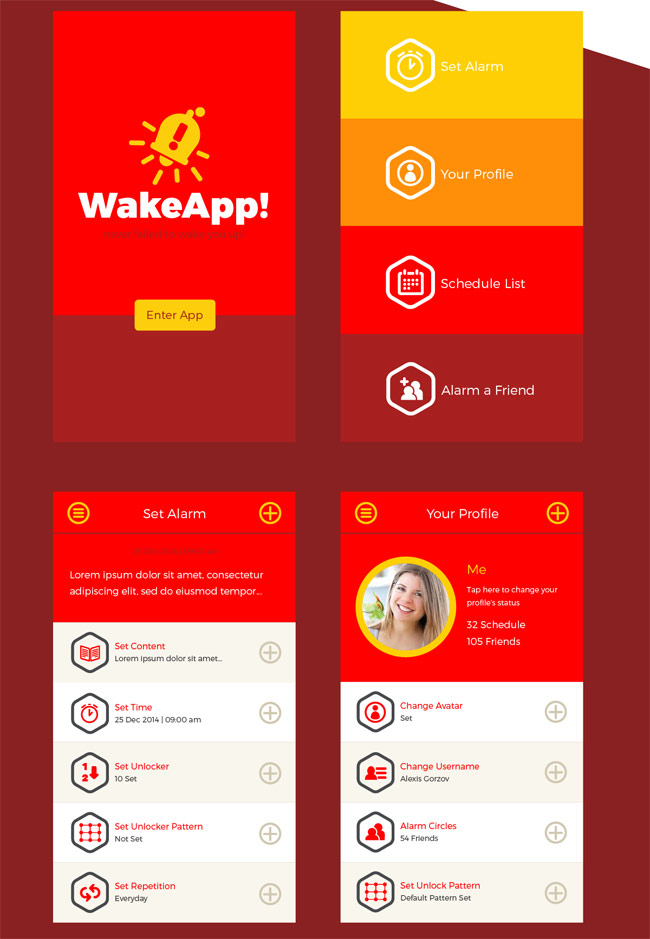 You can use Alarm & Remainder App UI Kit PSD for alarm, reminder app with inner circle features.
E-Commerce App UI Kit PSD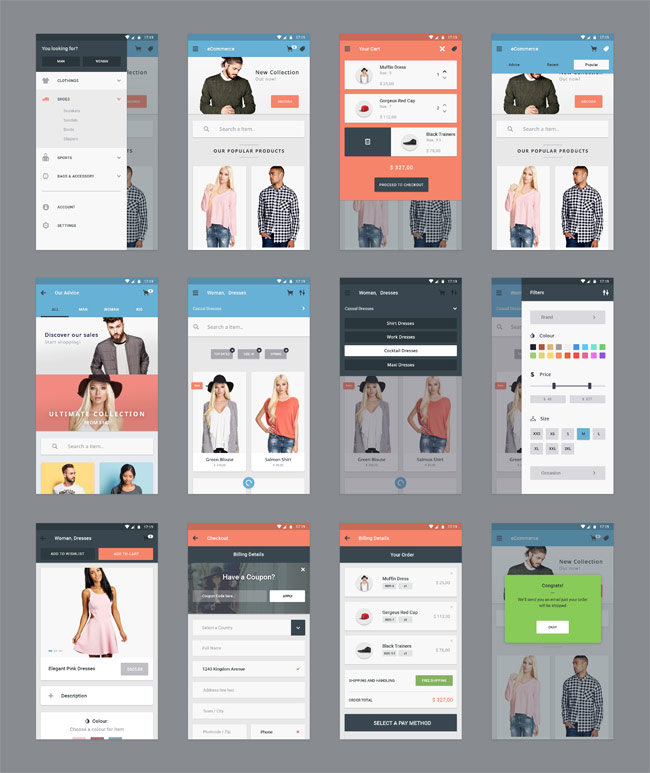 A free eCommerce App UI Kit PSD with Material Design style. UI Kit includes 12 screens in Photoshop file. You can free download and use for your project.
Cafegrapp – IOS 8 App Design UI Kit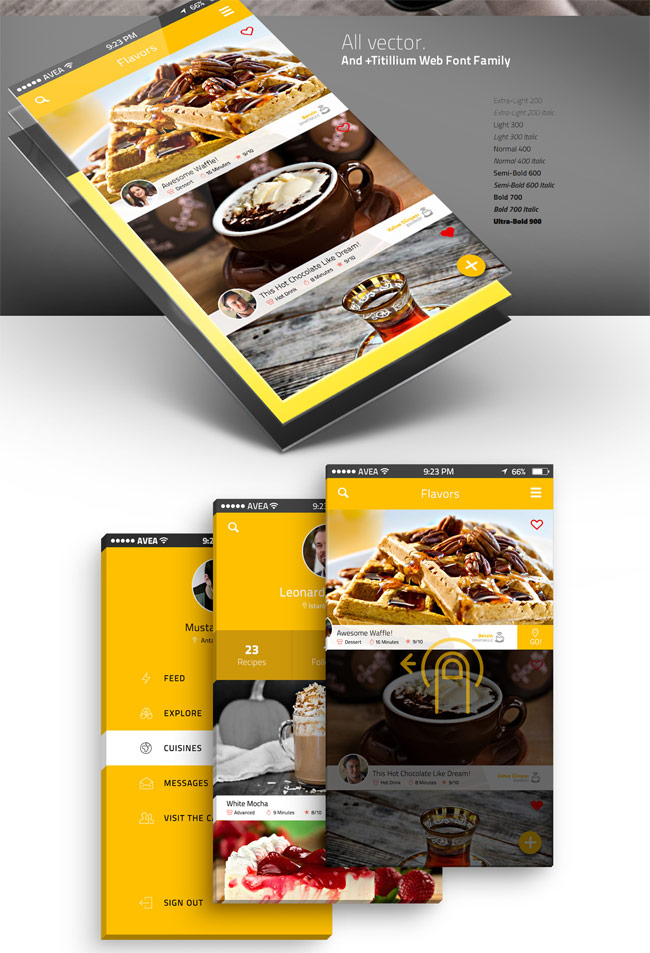 Blue App UI PSD for iPhone


Awesome Application for iPhone with flat design, simple elements, business colors and designe are some caracteristics for this UI. We have 5 screens with profile, sliders, graphics, message board, icons and other useful elements. The design is optimized for Retina.
iOS 8 GUI PSD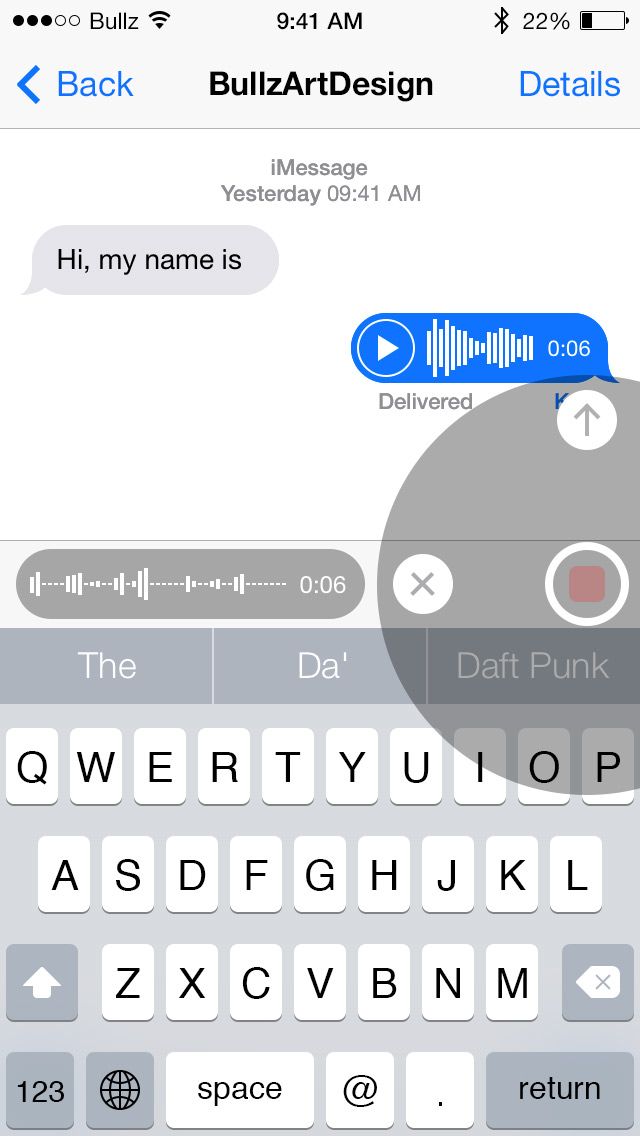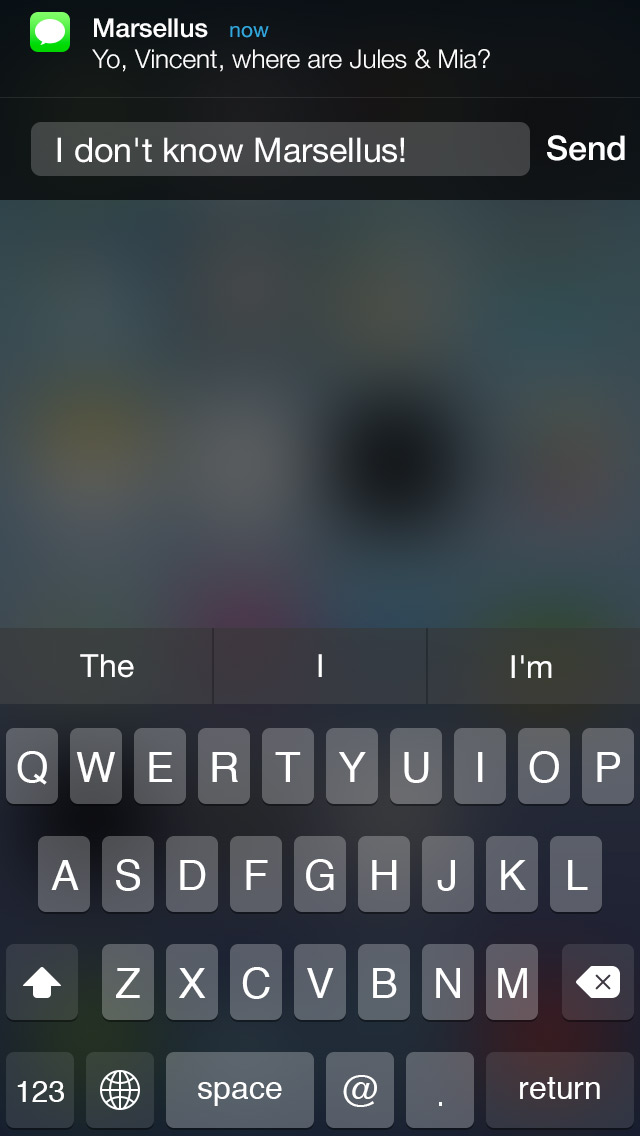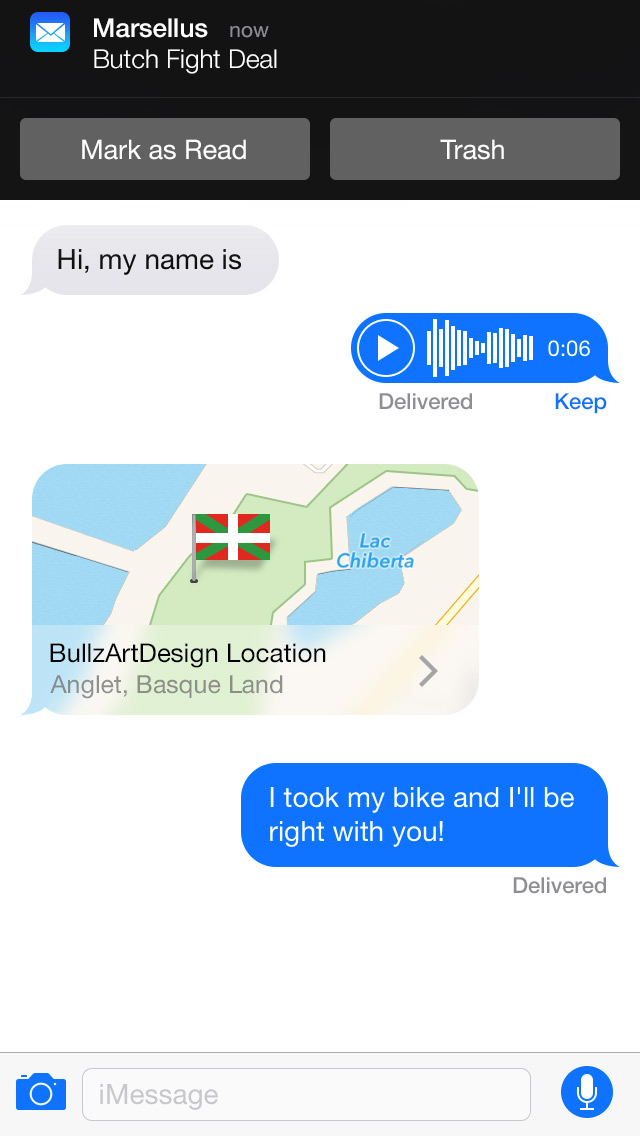 Free download iOS 8 GUI PSD include full PSD files with new iOS 8 UI elements: Quickly reply for iMessage, Quickly reply for Mail and New Spingboard features
Flybi App PSD for IOS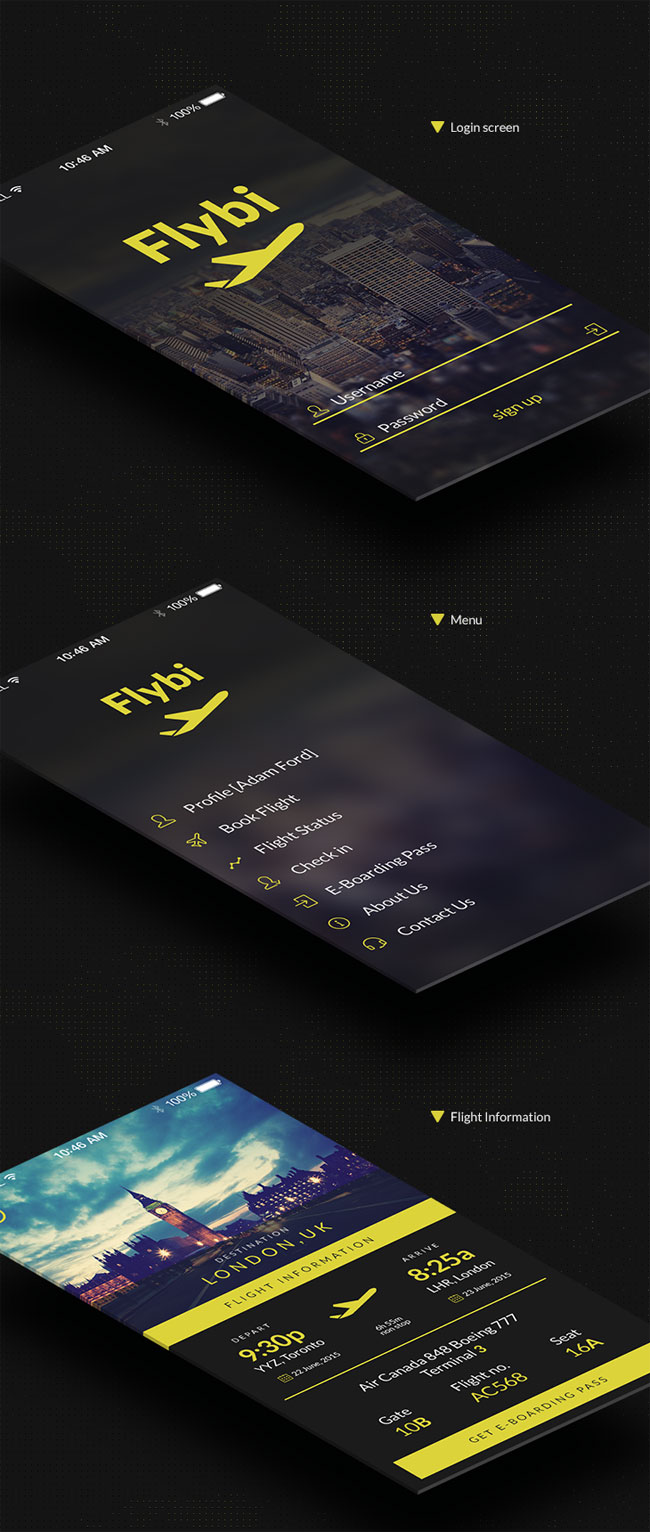 Flybi is a flight information app designed to allow easy access to flight booking and online checking. Aiming to have all flight data such as e-boarding pass and luggage information all at your fingertips. The PSD template for this IOS application is customizable to every pixel with all smart objects and easy image and colour replacement.
Snap Sack App PSD for iPhone

Snap Sack is an free iPhone App PSD for Managing Photos and Album and share those with friends on Twitter and Facebook.
Instagram App UI Design PSD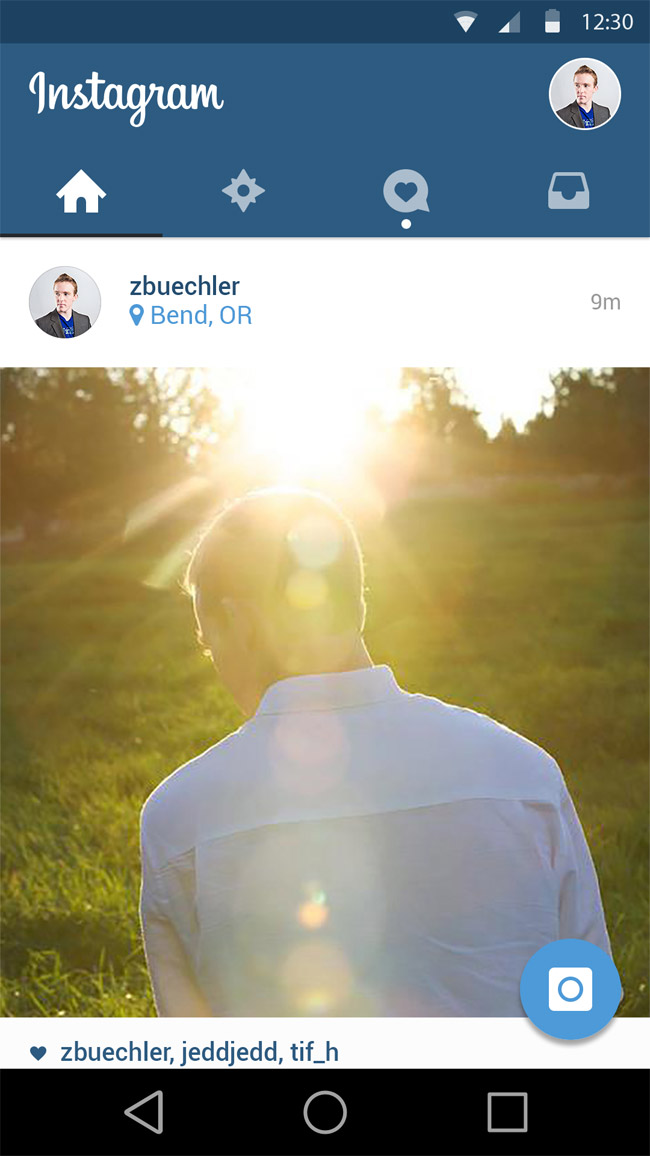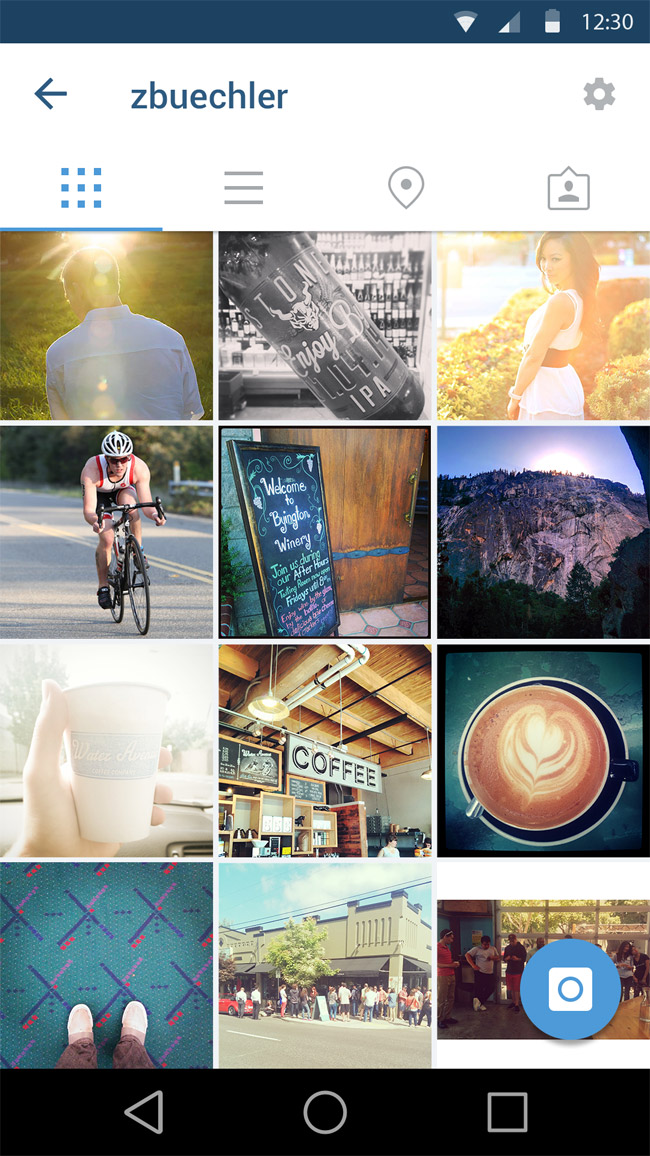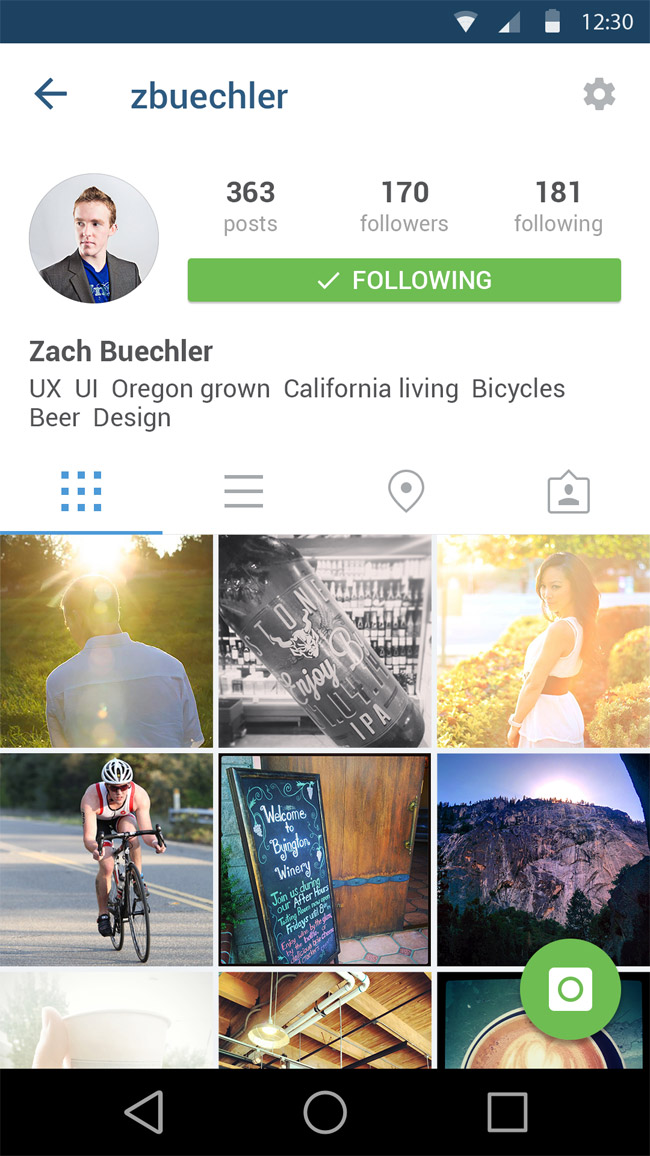 Free download Instagram App UI Design with fully PSD layer. Instagram done according to the Material Design Style on Android L
Free Music Player PSD for IOS 7

Beeline App UI Kit PSD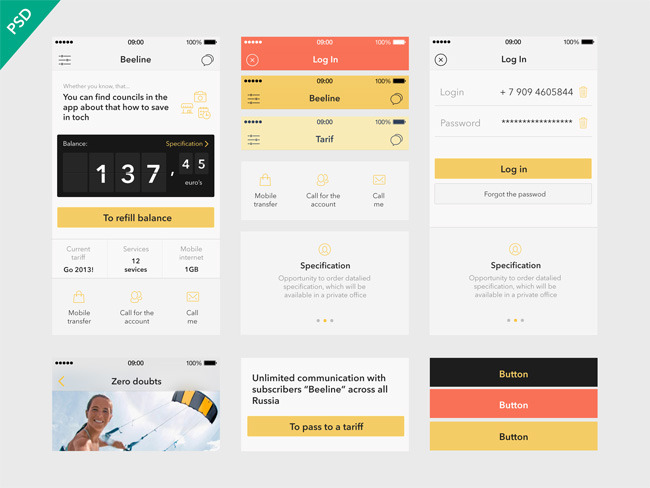 Beeline App UI Kit is an UI kit for iOS 7, file in PSD format and including several minimal and useful elements.
Flat Music App UI PSD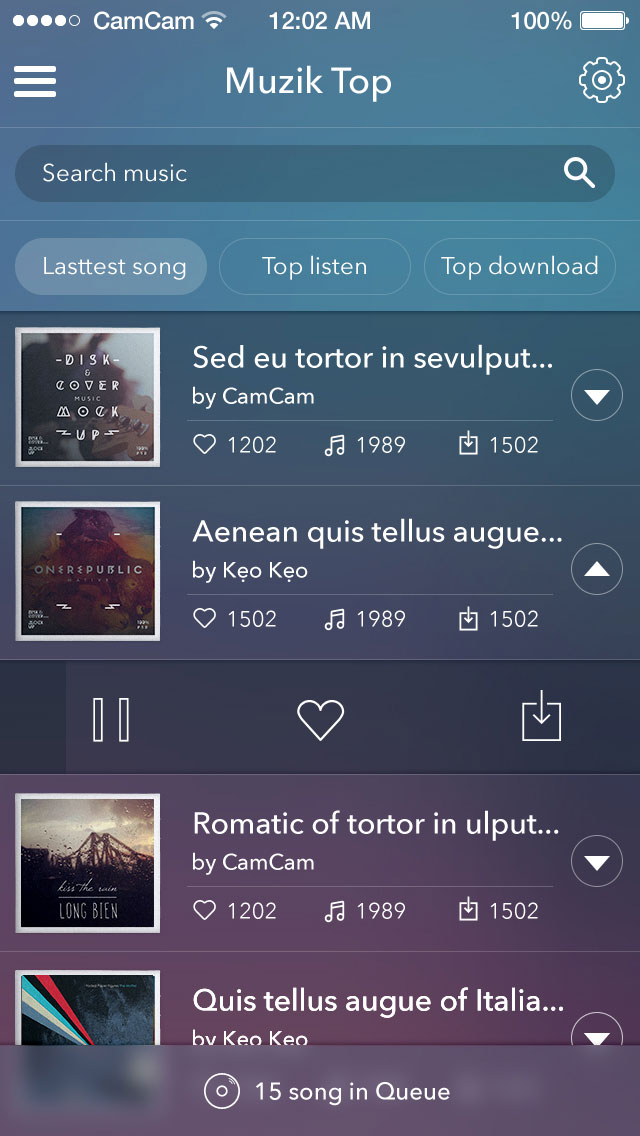 IOS Chat App Screen PSD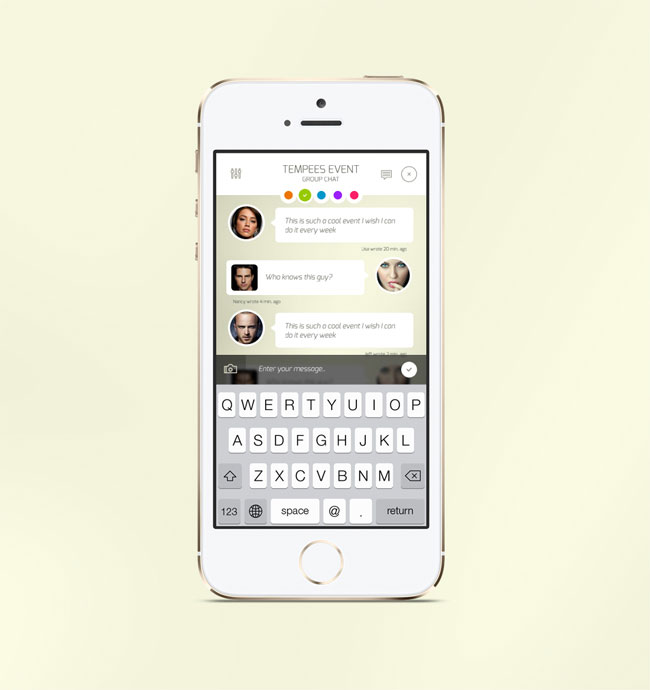 Chat screen for iOS apps, nice header with few icons + colourful presets with popup, chat bubbles with user pictures + attachments and input type with button..
Challenge App PSD for IOS 7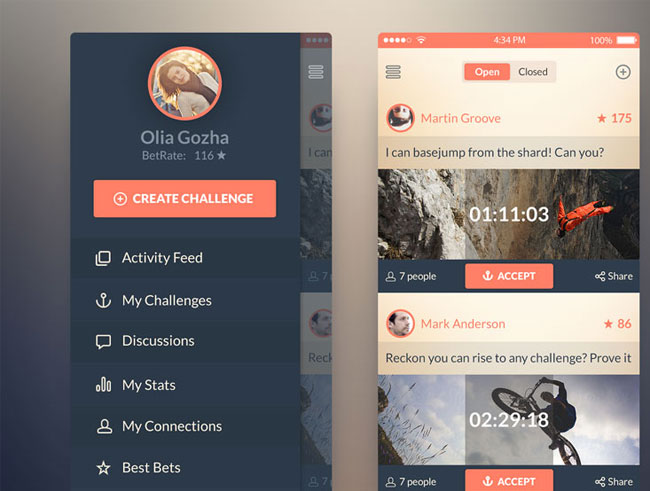 Challenge App PSD is Freebies with IOS 7 Flat style design to create challenges and bet your friends app. It's include 2 screens in PSD file.
Flat App UI PSD

Statistics and Analysis App UI PSD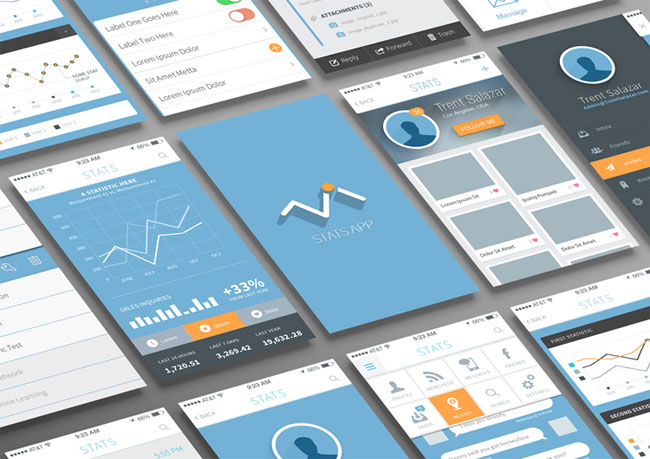 10 Fully Layered Mobile Screens and Mobile Mockup with PSD files format
Google App UI PSD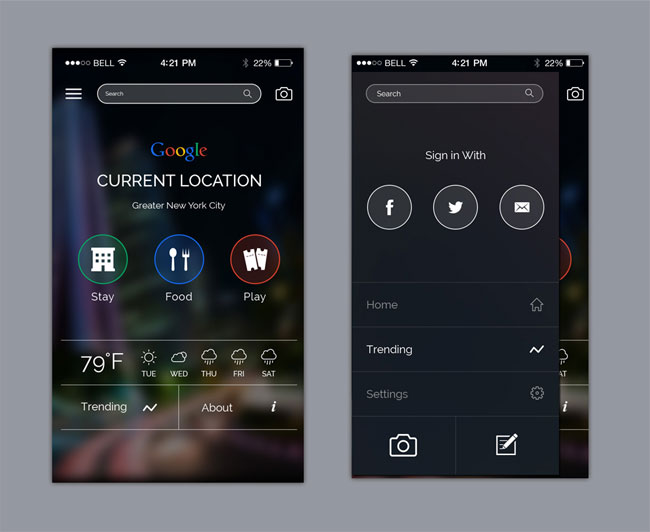 Google App UI PSD Concept includes: search loacation, Restuarant, weather, Hotel etc
Free Music App UI Kit PSD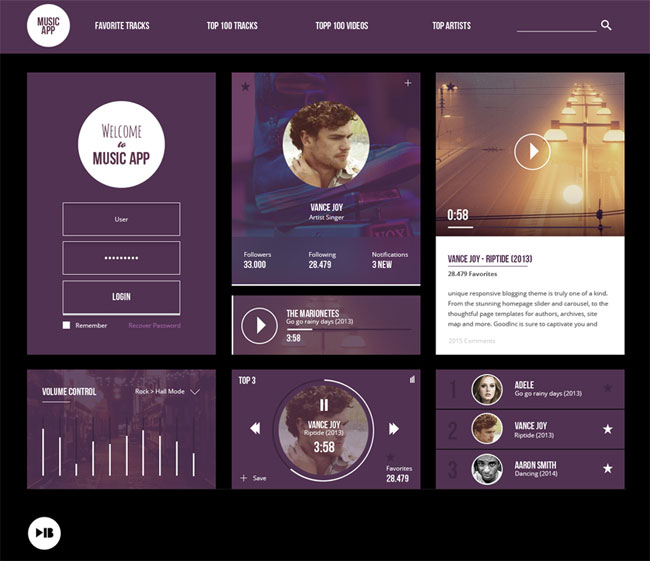 Free Profile App Screen PSD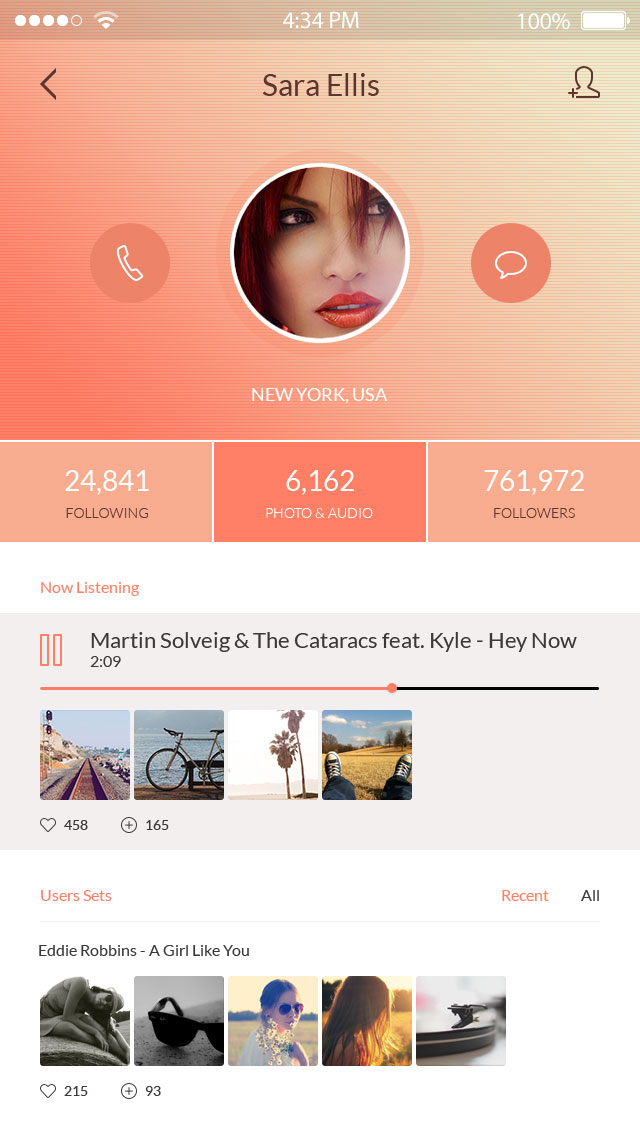 Free Profile App Screen PSD to create user profile for app which allows people to share photos + audios which inspired them to make these photos.
Food App UI Kit for iOS 7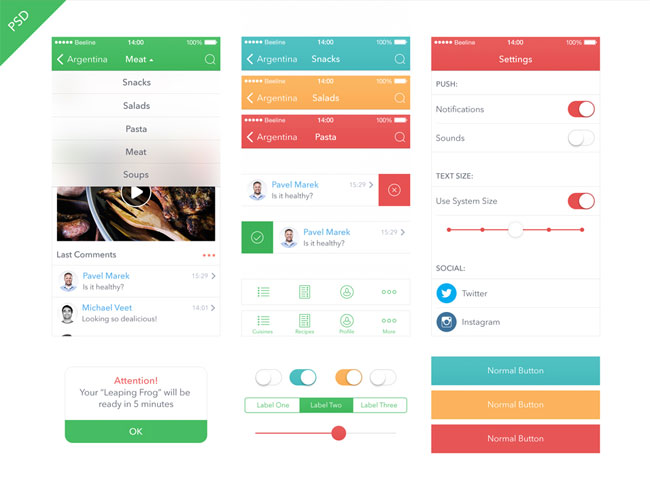 Free Login Screen PSD for App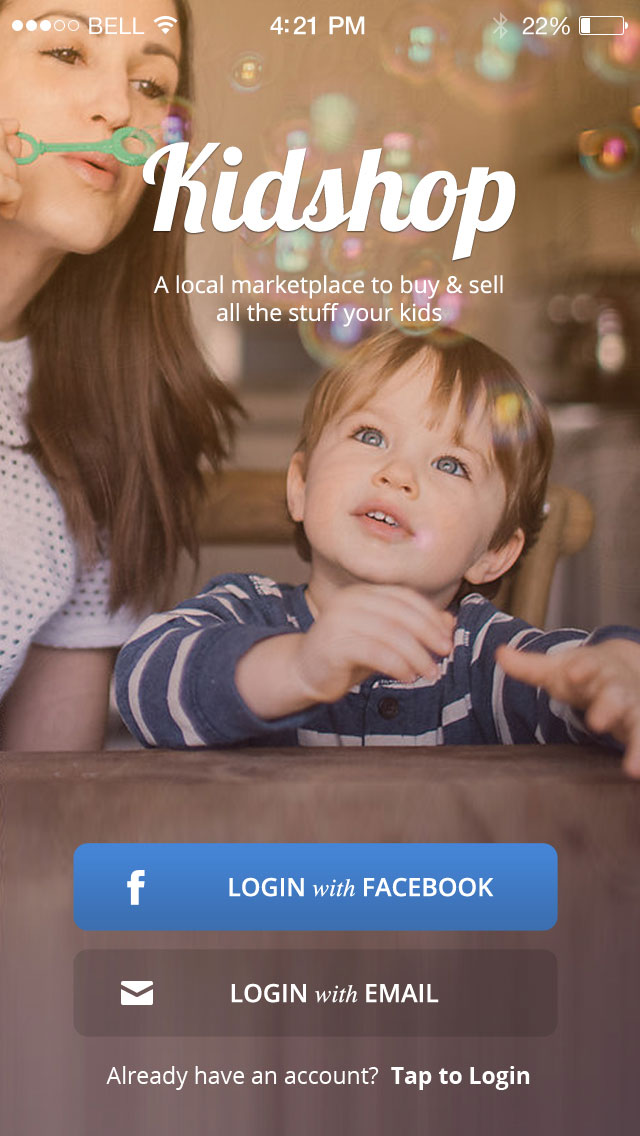 Flat Mobile App UI kit PSD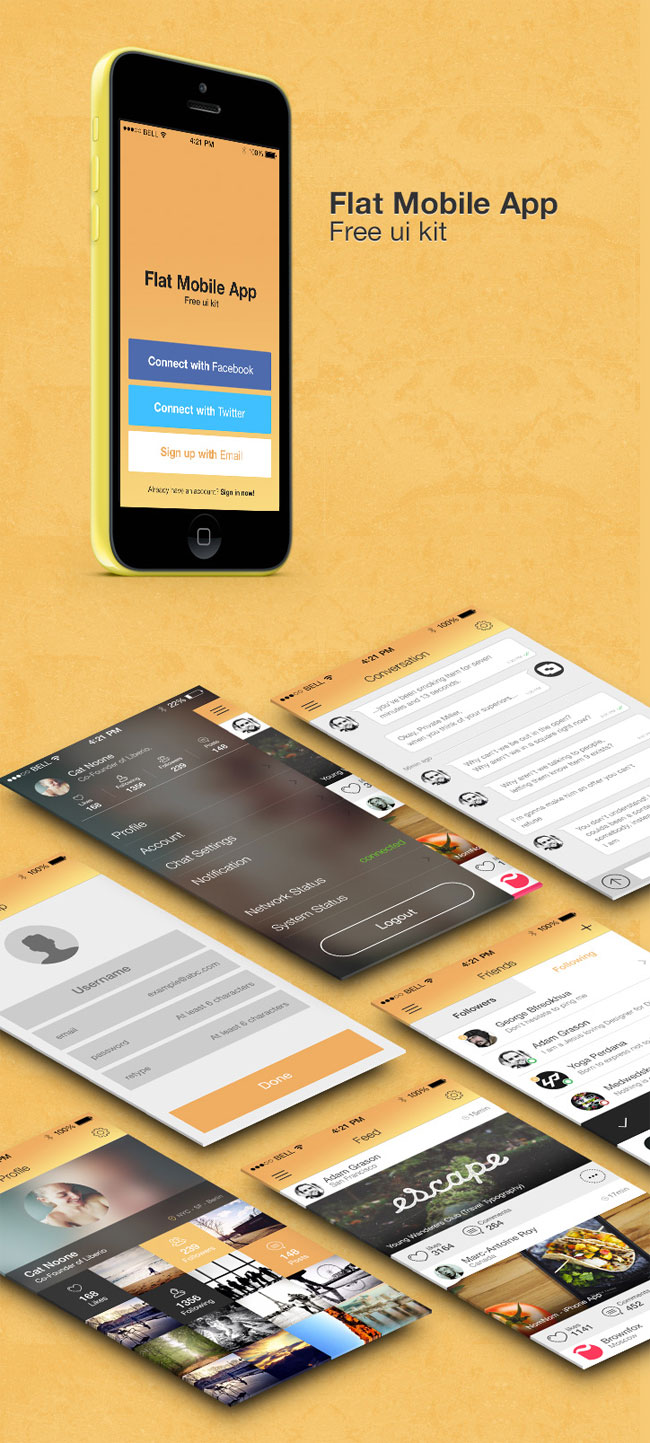 Free Movie App UI PSD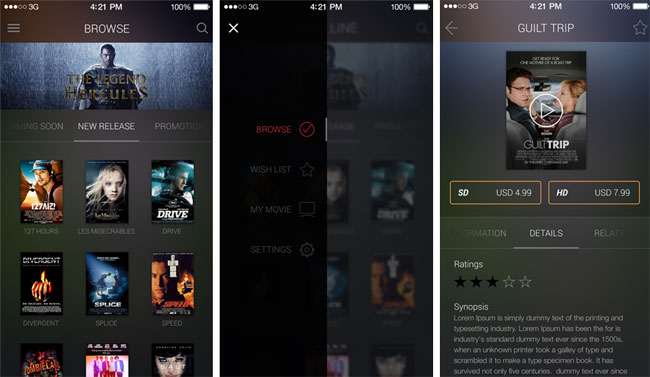 Iphone Teen App UI Kit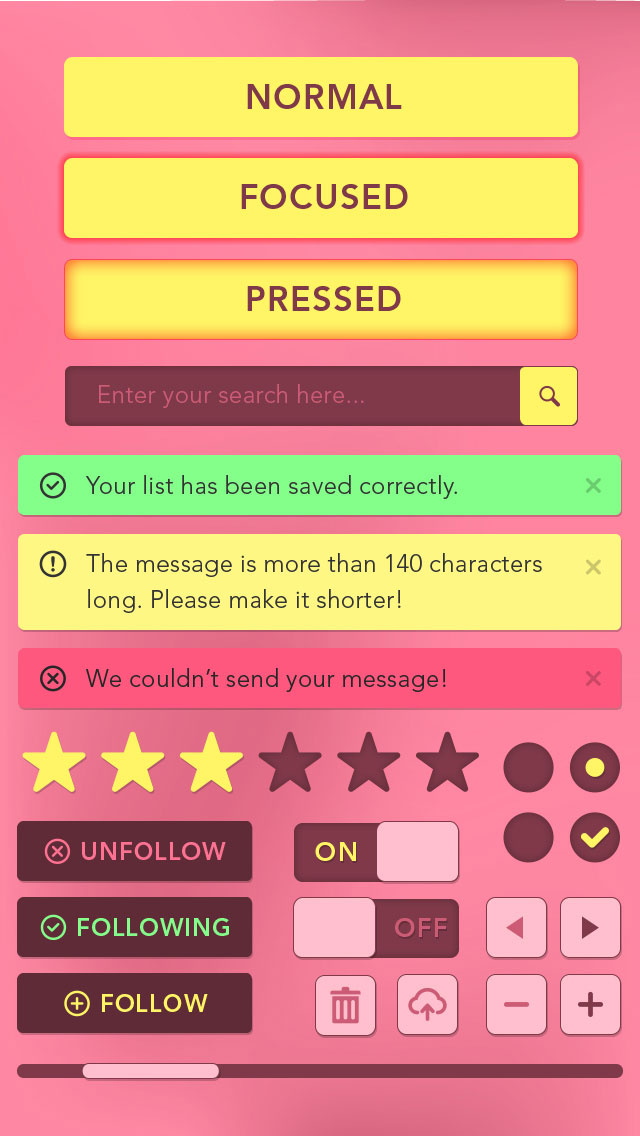 A free PSD UI Kit to create Mobile App for Teen, freebie including a lot of useful elements like: buttons, search box, notifications, rating, selection box, check box, arrows, scroll bar, etc
Cooking App UI PSD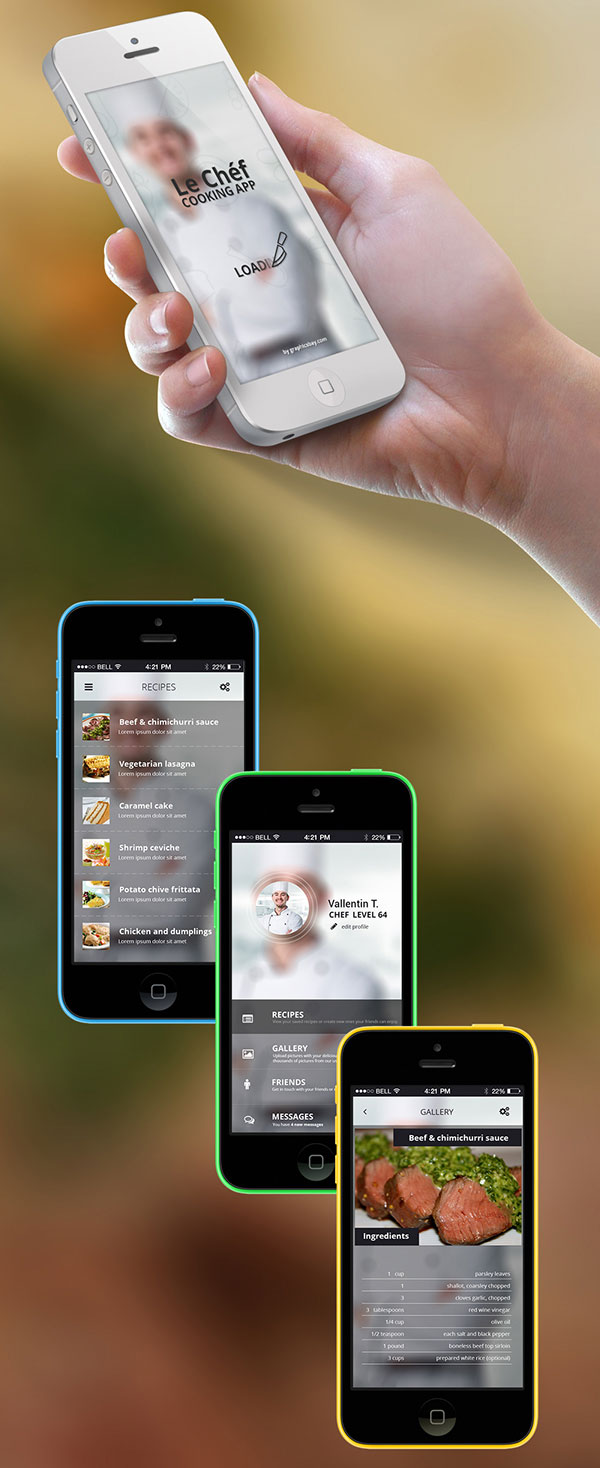 Cooking App UI PSD with 4 screens. It's simple, flat, pixel perfect, with vector shapes and it's for cooking. The screens are optimized for retina display.
FM Radio App UI PSD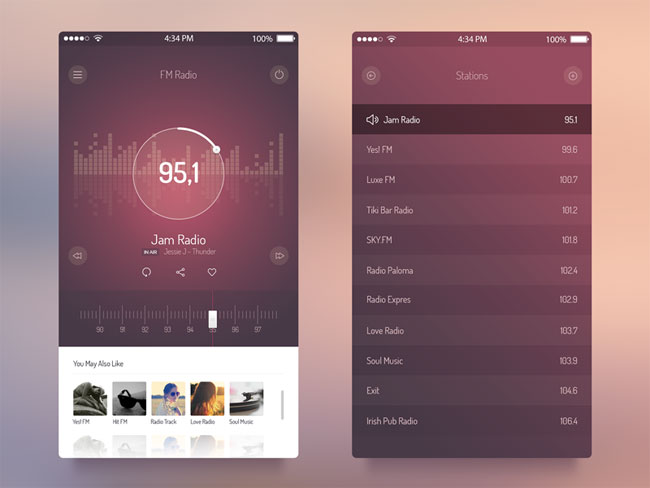 FM Radio App UI PSD made in modern iOS 7 style. FM Radio App UI contains 2 screens: single radio screen and list of available stations
Delivery App for iPhone UI Kit PSD


A flat inspired UI with swith solid colors that makes it a distinctive iPhone UI Kit design.You can easily change the colors to make it fit any project with custom UI elements.
PSD Quest App for IOS 7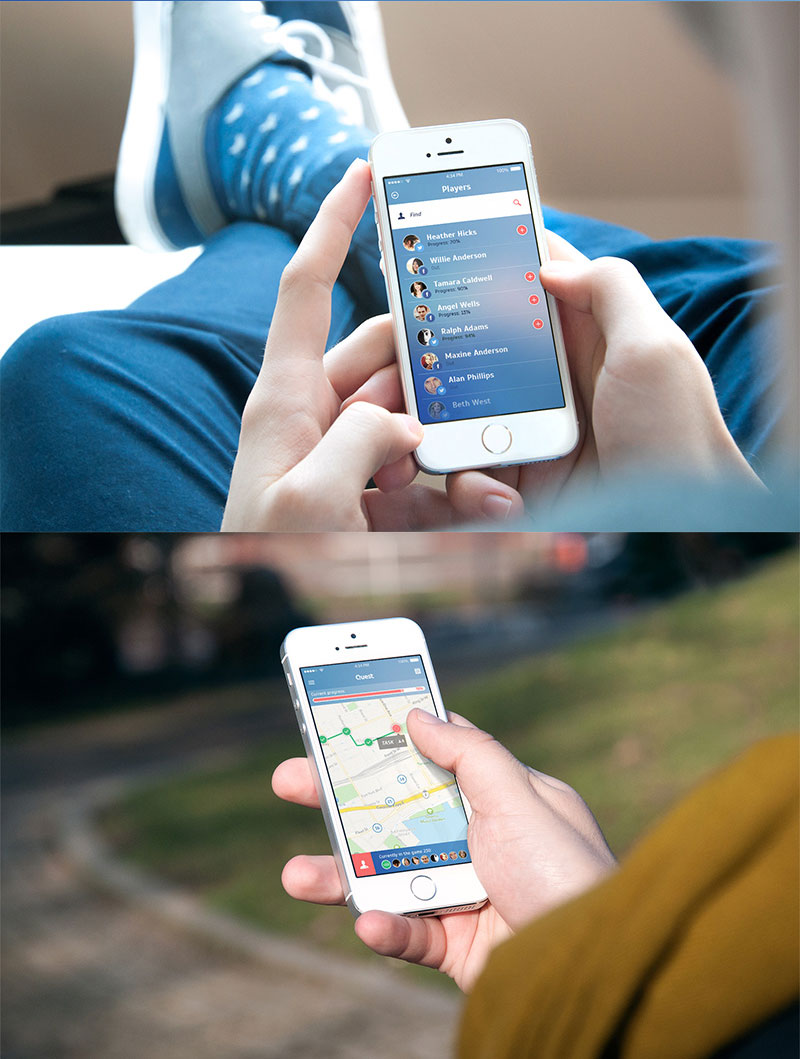 Quest App includes 1 psd with 5 screens. This app was designed as a game where you can add friends to your quests
Blog and Article App UI PSD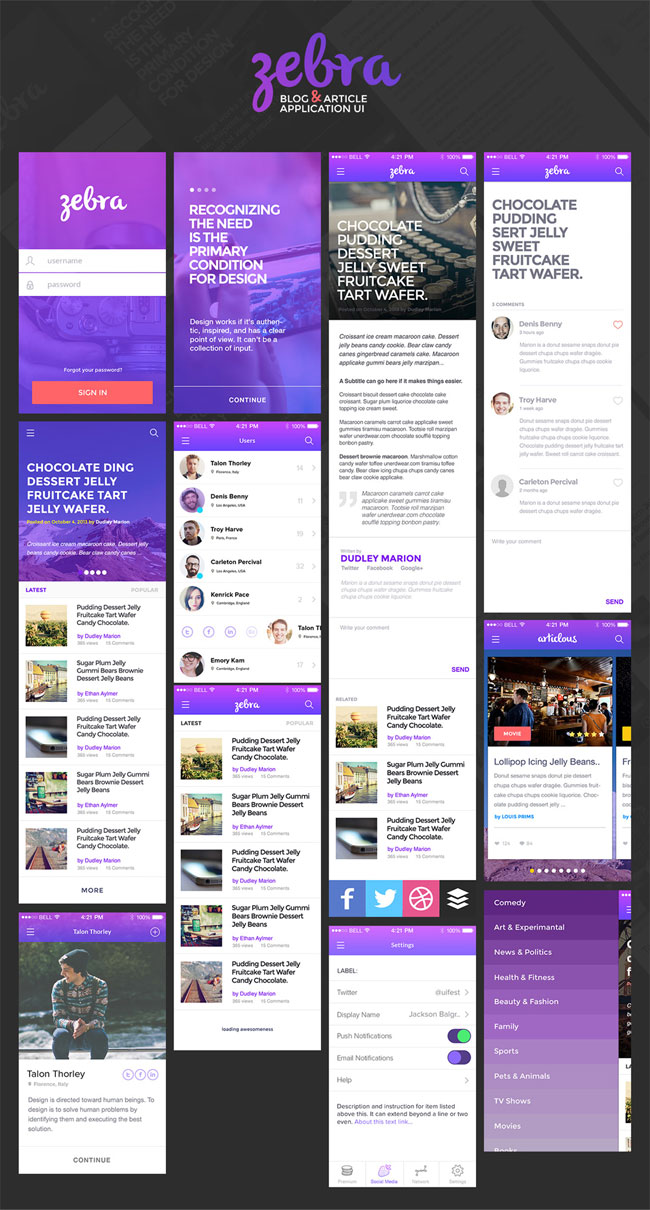 Blog and Article App UI PSD is design concept for a blog or article app reading / writing. The pack contains more then 10 screens, log in, walkthrough, article listing list, article listing widget, latest posts, commenting, profile, followers, categories, settings, etc. Download it and have fun with it. You can build upon it or use it like this for your next mobile apps. Vector shapes, smart objects and layer styles makes everything easy to scale and edit.
Nagham Music App for IOS 7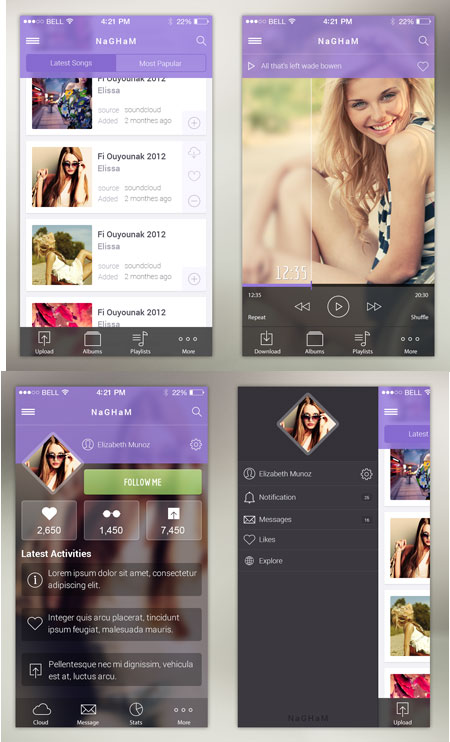 Nagham is a music app designed for IOS 7 contains 4 PSD files with some icons, You can use it for inspiration or helping you to pick up some resources.
Designer Portfolio App Ui Kit PSD


A portfolio concept application design ui kit with all its elements; free to download in psd format.
Profile App UI for IOS 7 PSD

Weather App PSD Template for IOS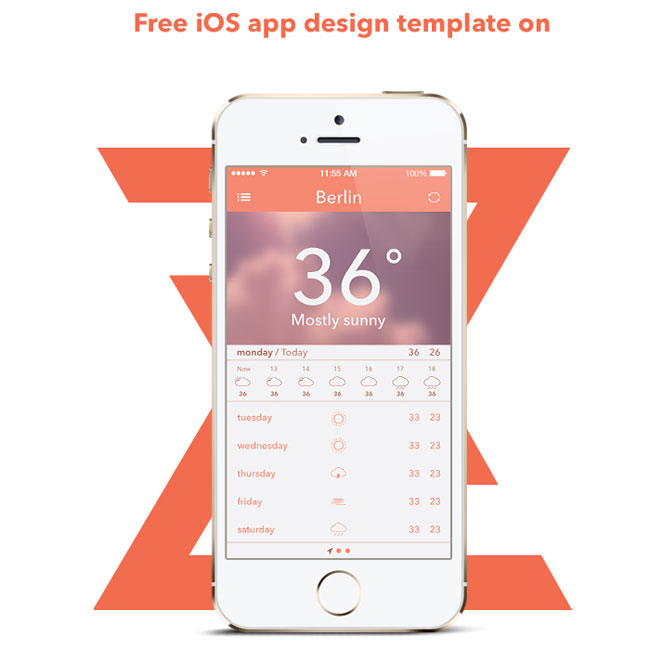 You can use Weather App PSD Template to create your own iOS app using Photoshop. Grab our Weather iOS app template too, so you get all the ingredients to create and customise your iPhone app that displays weather informations for different locations.
Free App Screens PSD for IOS 7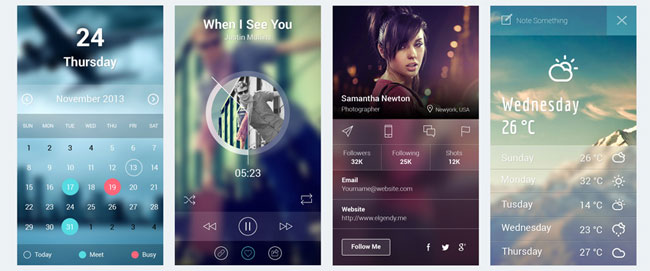 UI kit inspired by iOS 7 visual style. Get inspired and use the different elements included to create great looking apps
Soccer App UI PSD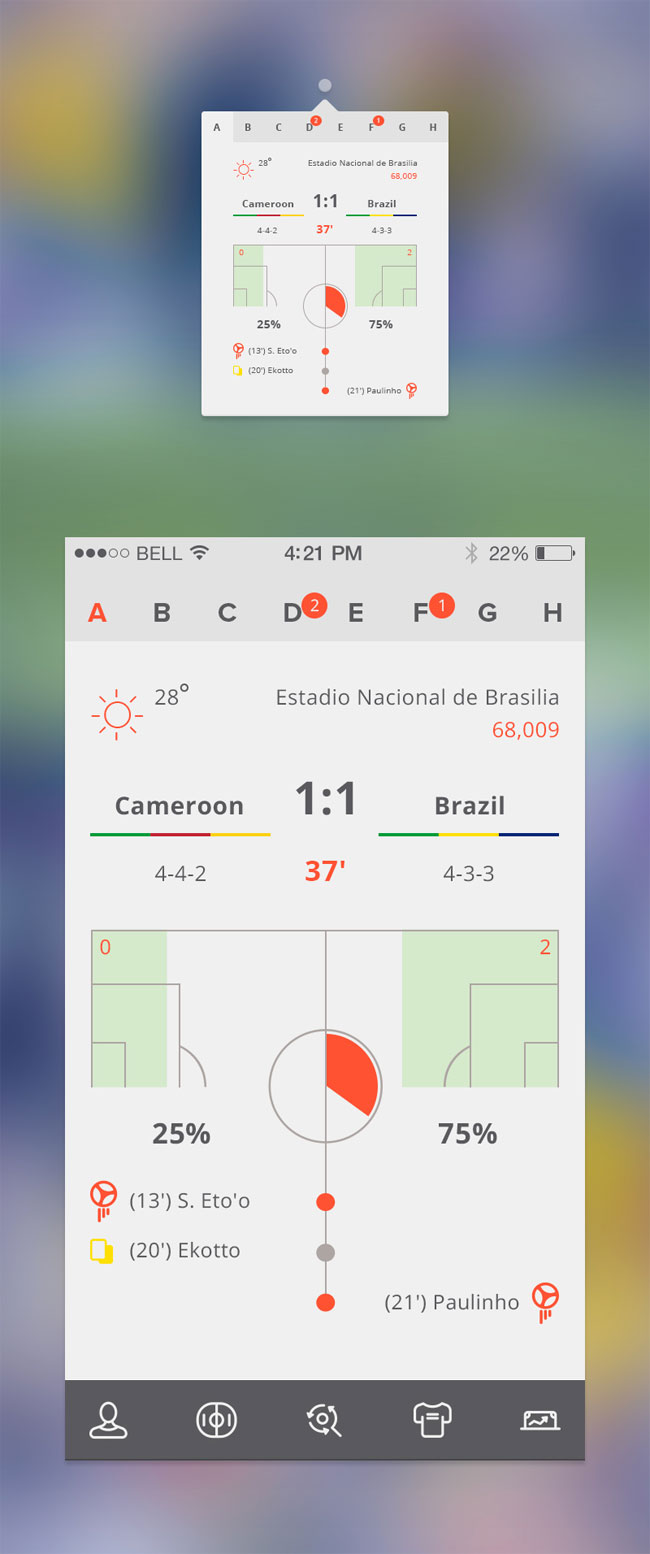 Weather App UI for iOS 7

WRNC App UI PSD

Smart Chat App UI PSD