15+ Best WordPress Booking Calendar Plugins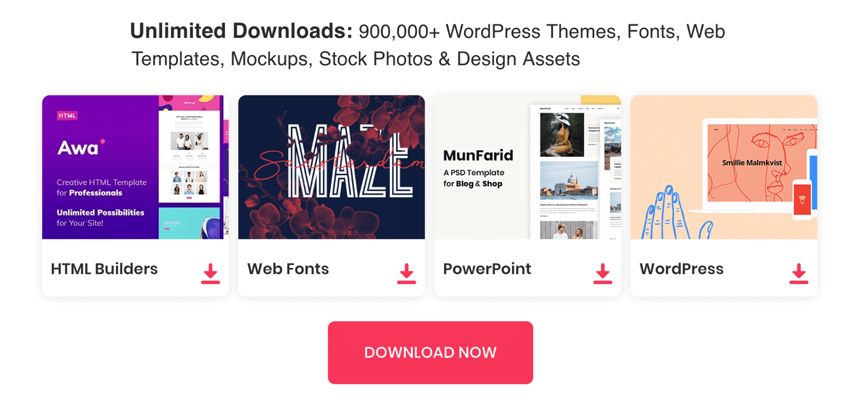 Best WordPress Booking Calendar Plugins, perfect collection for rent apartments, hotel houses or offer any other services that need scheduling.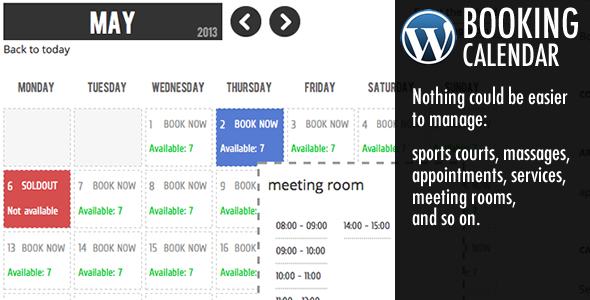 I have collected some of the Best WordPress Booking Calendar Plugins include free and premium. Hope you enjoy reading the post and take time to leave a comment for me!
Booking System PRO (WordPress Plugin)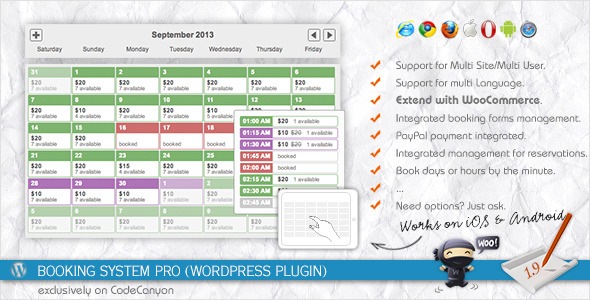 This Plugin will help you to easily create a booking/reservation system into your WordPress website or blog. The Booking System will display calendars for users to see availability and book dates and hours.
WP Booking Calendar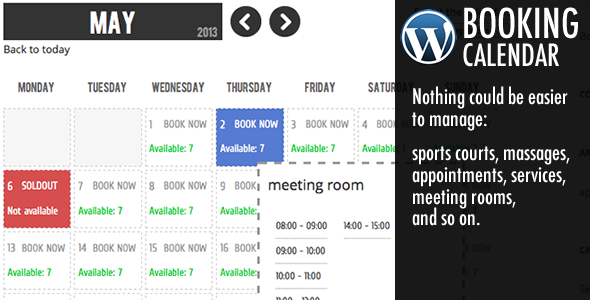 Booking Calendar helps you to easily add to your own wordpress website a powerful and simple booking system to in a few minutes.
Event Booking Pro – WP Plugin [paypal or offline]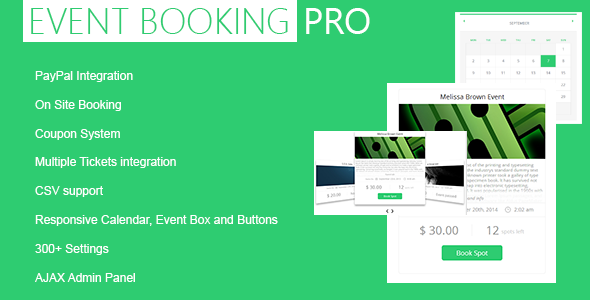 Online Hotel Booking System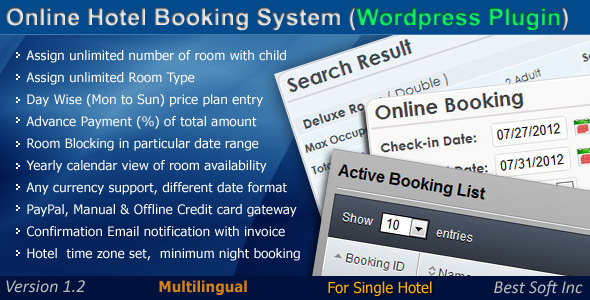 Online Hotel Booking System is powerful booking engine for single hotel. Powerful hotel reservation system with real time availability and room booking functionality. You can easily integrate with your website or new template. You can manage room, room types, capacity, hotel rates with different date range and month wise advance payment feature. Online reservation manager at the back-end with invoices.
WordPress Seat Booking System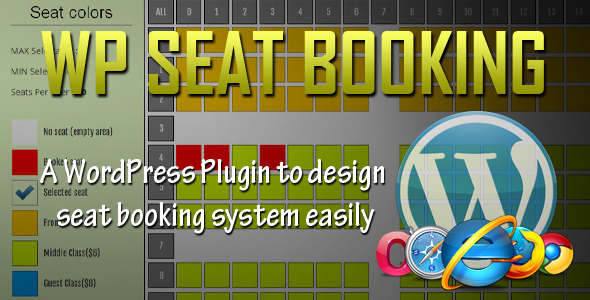 This scripts allows you to create a seat booking system, that can be applied to anything where you need seats i.e cinema halls, buses, trains, shows, etc. It allows admin to design the interface as per the need. The customers(users) can see that interface to select seats and process them. Here are some of the features
Responsive Flip Book WordPress Plugin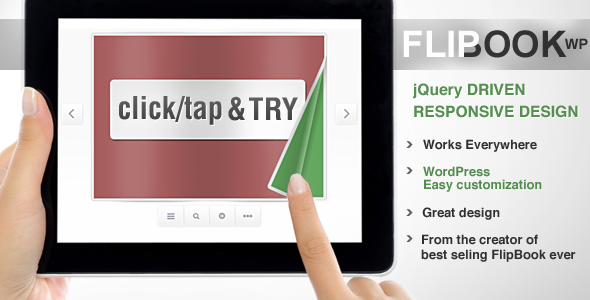 Responsive Flip Book WordPress Plugin. It is fully HTML & jQuery driven no Flash Player needed. Works on desktop and mobile devices! You get the same experience on every platform because responsive design makes it look good on all resolutions. Easy to customize with an advanced admin panel.
X Calendar – WordPress Calendar plugin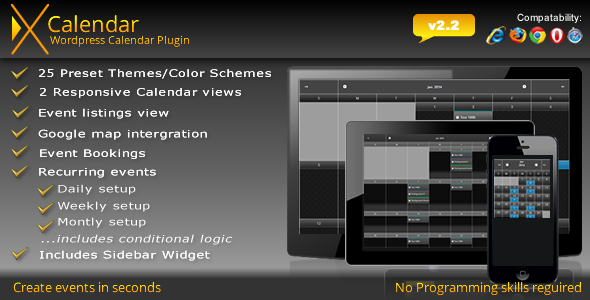 X Calendar offers a range of features with preset styling, 2 calendar views, event listings, cool effects and much more. View the online demo and have a look at the different color schemes and calendar views on dark and light Themes.
Flip Book WordPress Plugin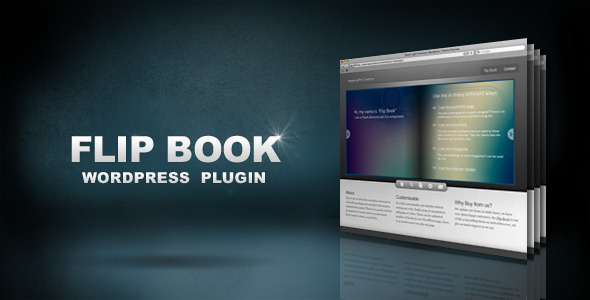 Flip Book WordPress Plugin is based on XML Flip Book / AS3 one of the three top selling items of all times on ActiveDen . It has been built from scratch. Almost everything you see on the page is easily customizable through the WordPress administration panel – easy installation, no coding skills required.
ez Schedule Manager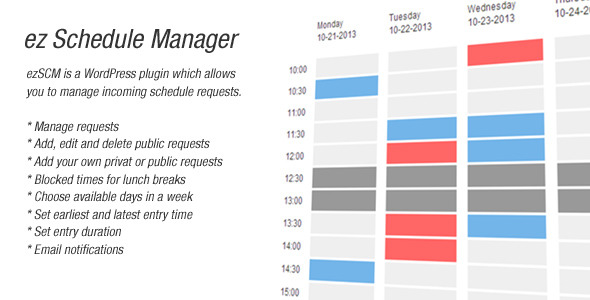 ez Schedule Manager is a WordPress plugin which allows you to manage incoming schedule requests. In case you offer contact requests, this is the right plugin for you. Guests are able to view your public schedules in which they can add requests. Admins have an overview of their schedules with all public (and private) requests in a week.
Car Rental System (WordPress Plugin)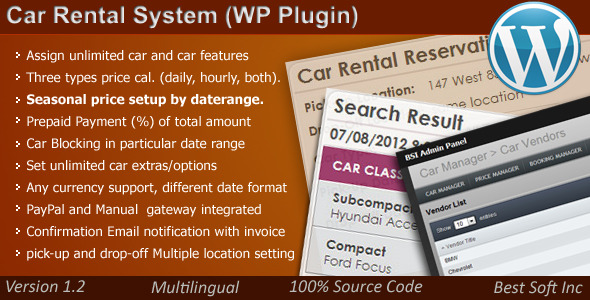 Now both your car rental business and website can run smoothly, by accepting online reservations and managing your entire fleet, all from one single control panel. By offering highly-customizable booking system, your customers will be able to see vehicle availability, and make online reservations from your website, with just a few clicks.
BookingWizz for WordPress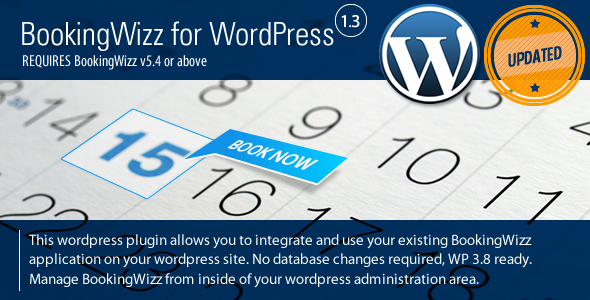 BookingWizz for WordPress – is long awaited addon which will allow you to integrate bookingwizz into your wordpress site without any hassle. Plugin will install bookingwizz for you (bookingwizz must be purchased and uploaded to your site root) with a click and will seamlessly integrate whole system interface into your wordpress site, you will not have separate login to manage your events/bookings/calendars. BookingWizz for WordPress has 2 widgets and 5 shortcodes at the moment.
WordPress Pro Event Calendar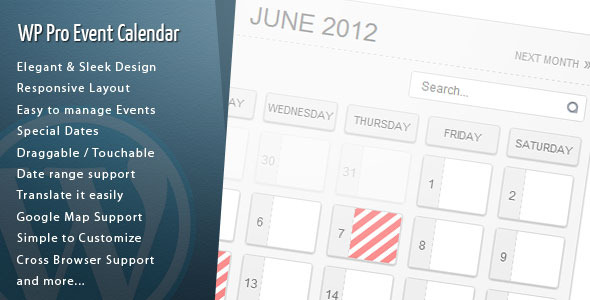 The Pro Event Calendar plugin adds a professional and sleek calendar to your posts or pages. 100% Responsive, also you can use it inside a widget.
WordPress Events Calendar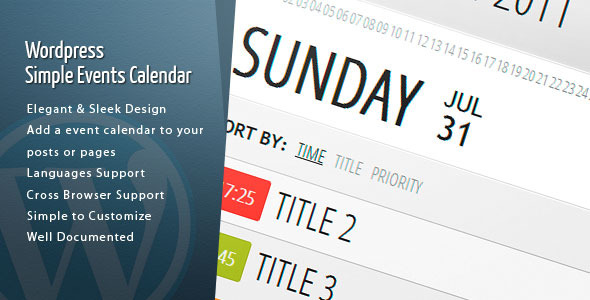 Professional and elegant plugin that adds an Event Calendar to your posts or pages.
Reservations Calendar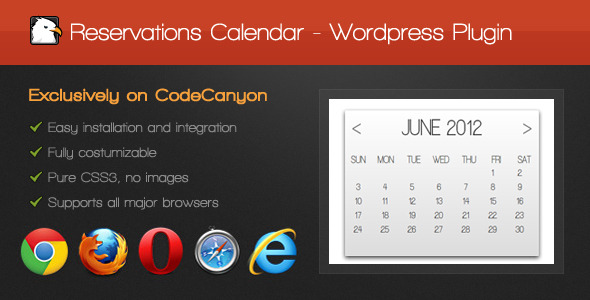 The Reservations Calendar plugin allows users to 'rent' a time interval on specific dates using PayPal
Events Calendar – WordPress Plugin DZS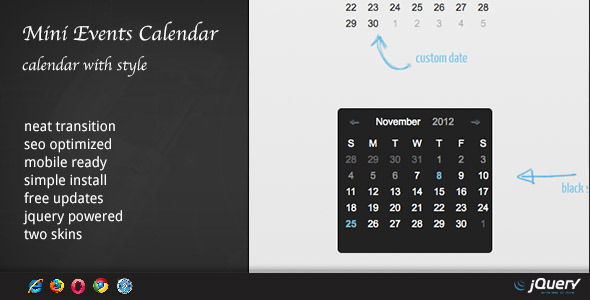 The events calendar you have to been waiting for. Simple to setup. Powerful. Documented. Fast. – DZS Events Calendar WordPress Plugin