10+ Best Shopify Themes for Bakeries and Coffee Shops 2016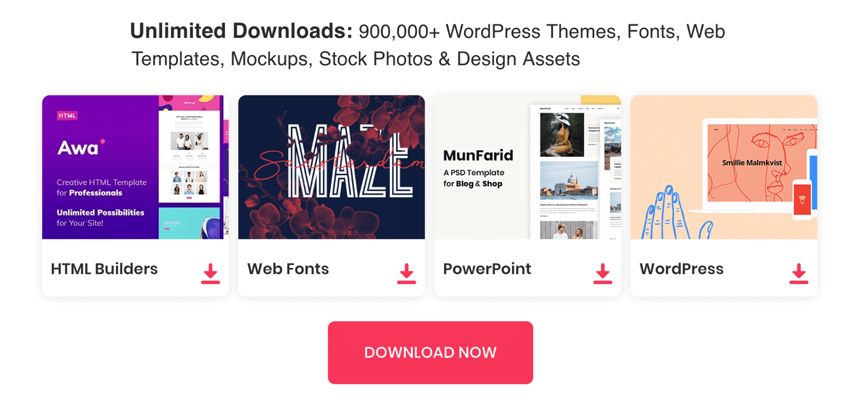 Hey Coffeeholics out there! Are you bored of slow and poor-design templates? Or are you desperately searching for another template for your Bakery or coffee shop? Pick up one Shopify theme for coffee shop from 10 below responsive ones.
We have discovered them while doing a research project on eCommerce design. All of them are responsive and ready-to-use with no coding or design experience. So as a shop owner like you, we think they are quite easy to use on your own without wasting too much time and money to hire a developer or designer. Besides coffee shops, you can use these themes for your bakery, or any kinds of food and drink shops. You will also find a similar WordPress themes for Bakeries and Coffee Shops. Let's get started!
Sweet's King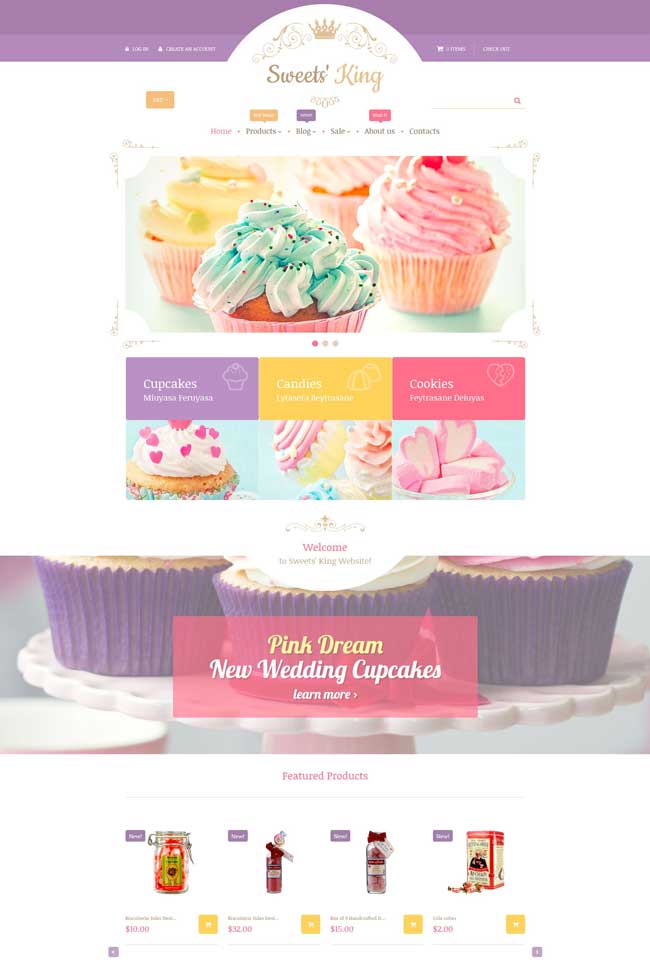 Sweet's King is a responsive Shopify theme designed focus for Bakery Shop. It built with HTML5 and CSS3 technologies, with this simple grid system design, you can easily display your all kinds of bakery, cake in your shop. Sweet's King shop integrated currencies USD, GBP and EUR so can help you serve many different customers. With fully responsive design it compatible all web browsers, as well as mobile devices like iPhone, iPad, and Android.
Food Shop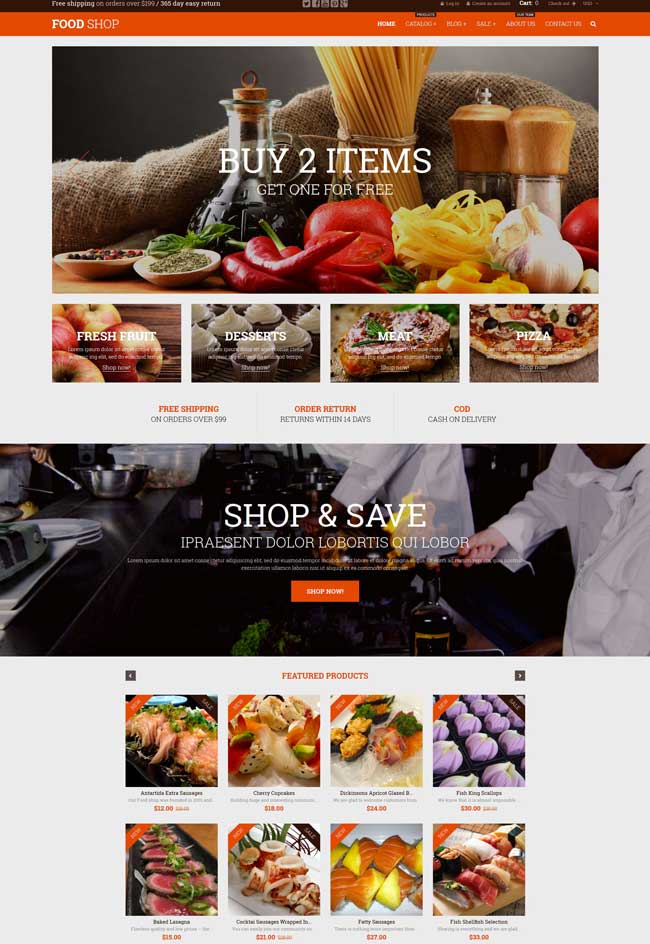 Food Shop is a Shopify theme with flat design and polished layout suitable for Food and Drink, Cafe, Bakery and Restaurant website and shop. Food Shop theme built with HTML5 and CSS3 code, fully responsive and performs efficiently on mobile devices. If your business deals with some other sphere, this well-coded theme can be easily transformed to meet your needs. This Food Shopify theme is optimized for good SEO performance, mobile-friendly on Google Mobile Search, is cross-browser compatible and comes with such features as large hero areas, multiple post format options, custom widgets, online chat, and much more..
Tea Club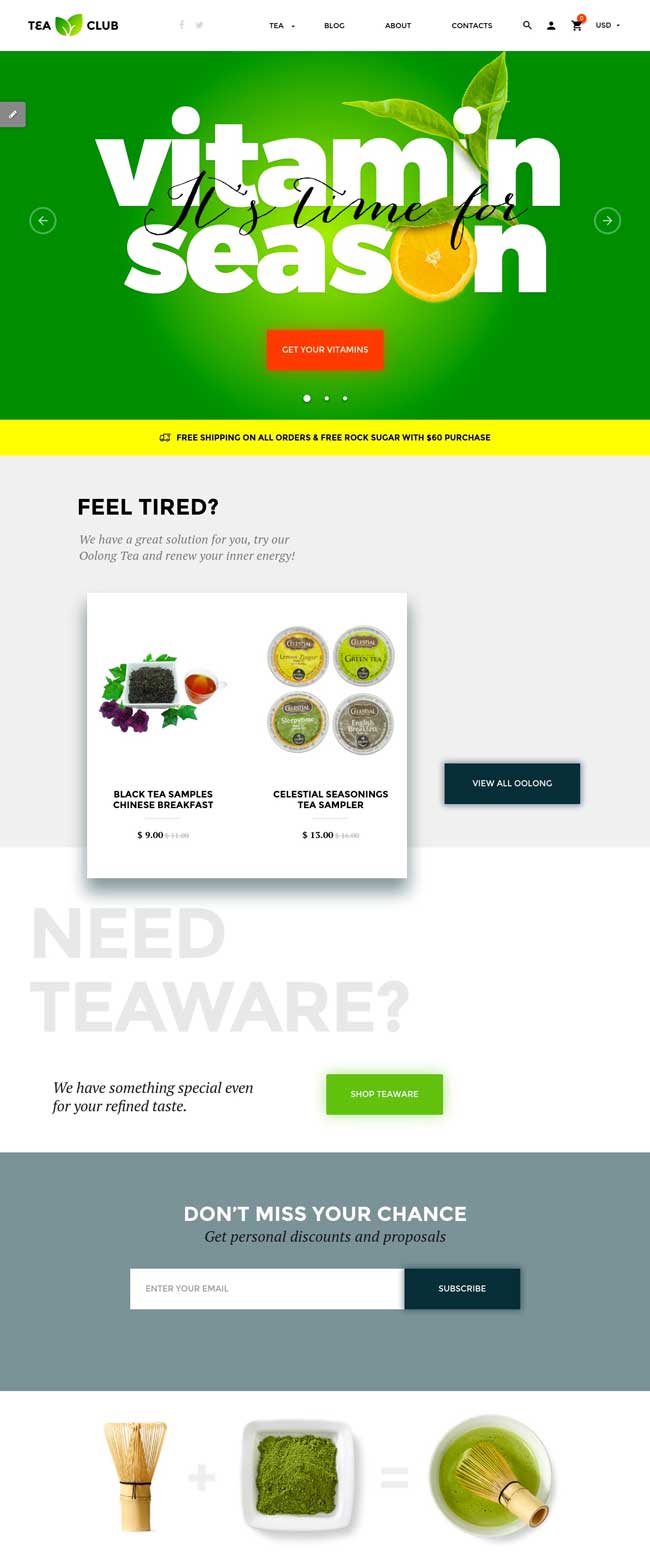 Tea Club is a clean content-centric layout responsive Shopify Theme designed for Organic Food, Coffee, Grocery and Health online stores. With a neutral background and transparent images will highlight the impressive images for your Products. Theme includes powerful Admin Panel with Theme Color Switcher you can quickly change multiple color schemes for your store. The navigation of this theme is represented by an informative customizable Mega Menu, where you can adjust text links, banners, videos and ever custom text blocks. The Swiper Slider included in the package allows you to create beautiful touch-enabled slides, ensuring great look on any desktop or mobile platform. Among the other features of Tea Club you will also appreciate its convenient product quick view and predesigned newsletter popup window added to help you with setting up your email marketing campaigns with ease.
Weekend ($160)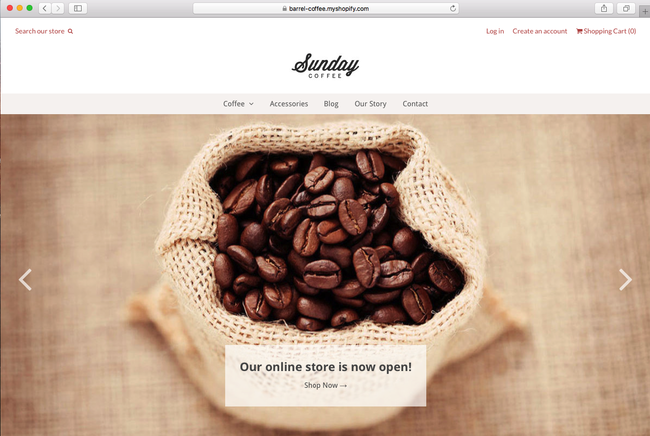 Weekend is a responsive grid-based Shopify theme for your coffee shop. With this simple grid theme, you can easily display your all kinds of coffee in your shop. You can also build a website about your coffee brand by using this Weekend theme. Weekend performs smoothly on all web browsers, as well as mobile devices like iPhone, iPad, and Android.
Here are all coffee types on Weekend theme.
Alchemy ($150)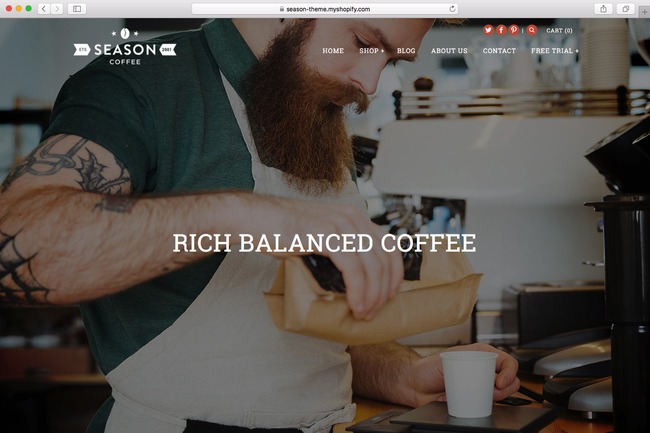 Alchemy is undoubtedly your coffee shop's companion. This Shopify  theme performs well on retina displays. With built-in SEO-friendly, you can easily bring your coffee shop to more customers on Google search. Moreover, this theme is packed with various unique styles to choose from. If you are, you can also customize this theme to make your website like-no-other.
This is a coffee menu for your coffee shop using Alchemy theme.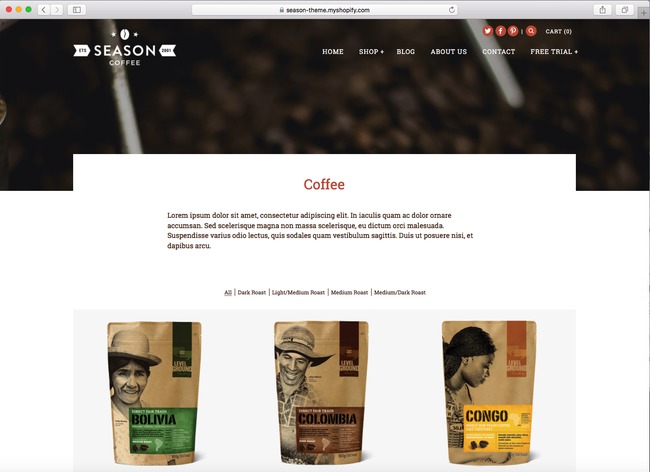 Pacific ($180)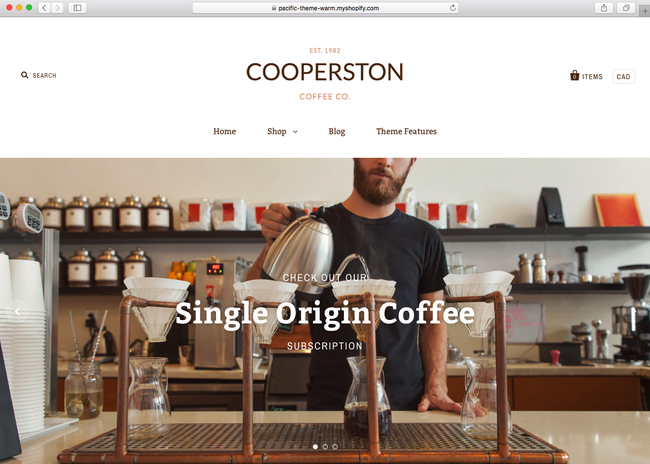 Want to sell coffee beans, or coffee makers? This Shopify theme is made for you! Packed with minimal and responsive design, Pacific lets you control the focus on your products, which boost up sales for your coffee shop. Mega Navigation helps your customers find their products faster and easier, with multi-layered menu.'
Here is a category for coffee gears on Pacific theme.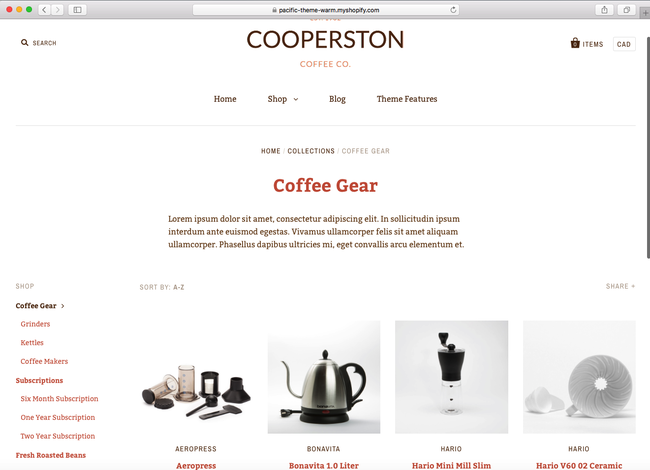 Responsive ($160)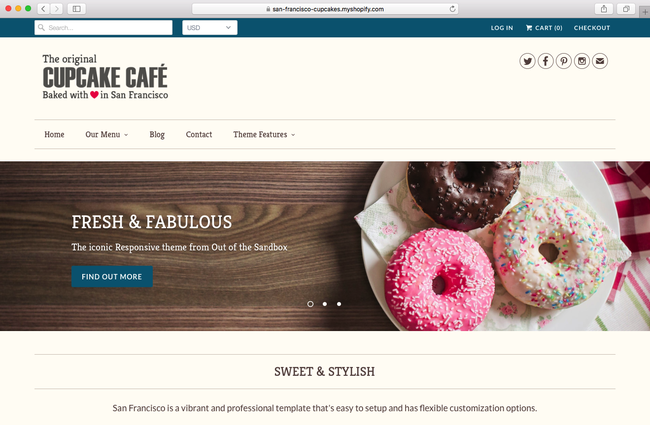 As its name, this awesome Shopify theme brings you a responsive performance across any devices. This theme is packed with all common styles that render beautifully on all screen sizes, including heading layers, tabs, text boxes, checklists, videos, and grids. Responsive is also suitable for selling cupcakes.
Below is your category for coffee tastes using this Shopify theme.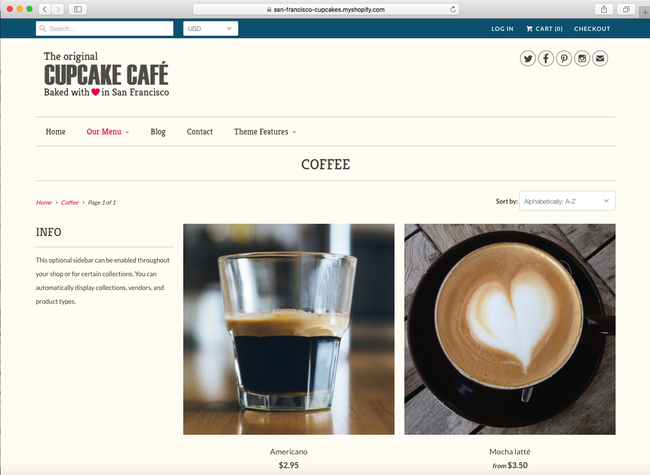 Focal ($170)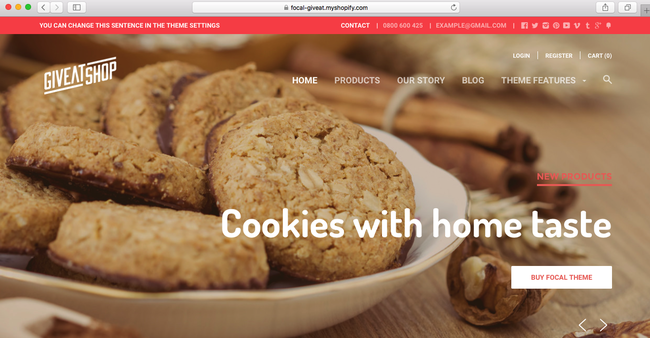 Hell yeah, sell coffee and cookies on a single website using a single theme is possible! This Shopify theme brings you a product-centric design, with best product detail displays. You can sort your products by tastes, integrate Instagram filtered pictures, or write blog posts about your coffee shop. Taste it in your way.
Here is how your cookies look like when using Focal Shopify theme.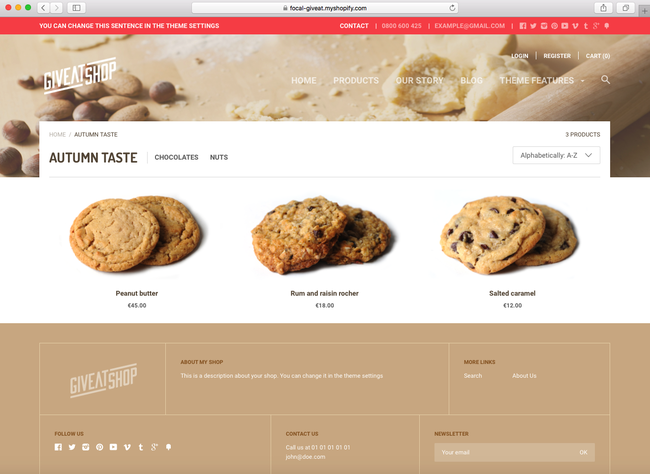 Coffee House ($139)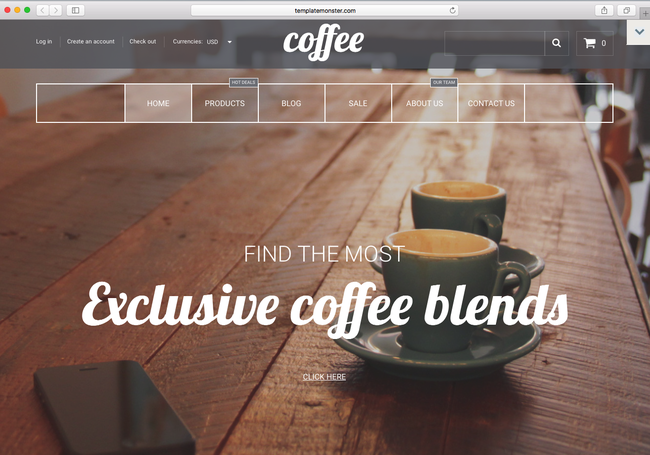 Coffee House is a 100% responsive Shopify theme from TemplateMonster. This Shopify theme includes many eCommerce features to help you boost sales for your coffee shop. With extended header, your coffee product categories and promotional banners will be more visual, which in turn helps your customers find the product they want instantly. Full-width responsive layout helps you create a perfect look of your coffee shop on any screen sizes and devices. Coffee House is compatible with latest Shopify version, so you never have to worry about its performance.
Here is an example of coffee category on Coffee House theme.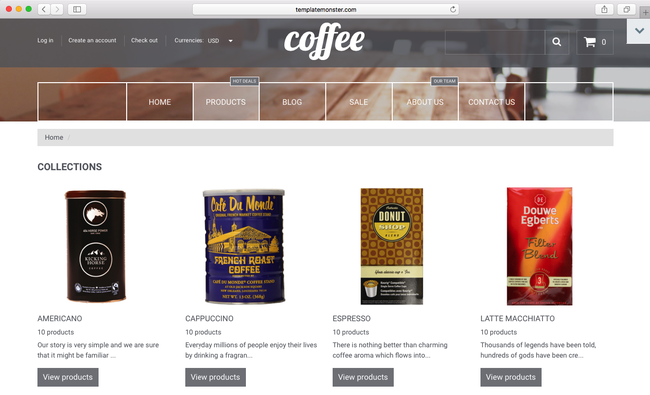 Coffee Store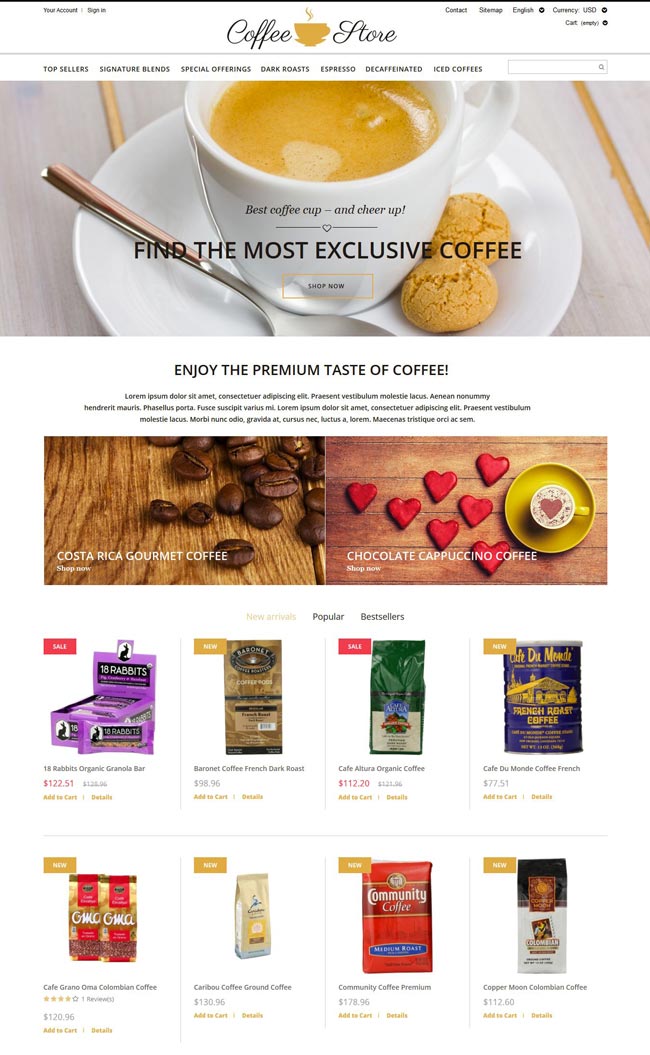 This Shopify theme is the best choice for bilingual coffee shops. Opposed to pure white background, banners and featured products look more appealing. With this theme, you can easily set up product content for your shop to fit with 2 languages with 2 currencies. This theme goes with powerful customizations, so that you can personalize your coffee shop without wasting too much time and effort. Featured products are supplied with New and Sale stickers, as well as two functional buttons. Main menu, integrated search bar and informative footer provide swift navigation. Besides coffee, you can use this theme to sell sunglasses, or any eCommerce niches you want..
Still need a more suitable Shopify theme for coffee shop?
Pick a Shopify theme from the above list, then you can get ready to start your coffee shop right away.
Still need more resources for your coffee shop? Checkout more templates, graphic, and inspiration for your coffee shop.
Have anything to discuss on this topic? Please let us know on the below comment section. Don't be shy!