15 Best Medical WordPress Themes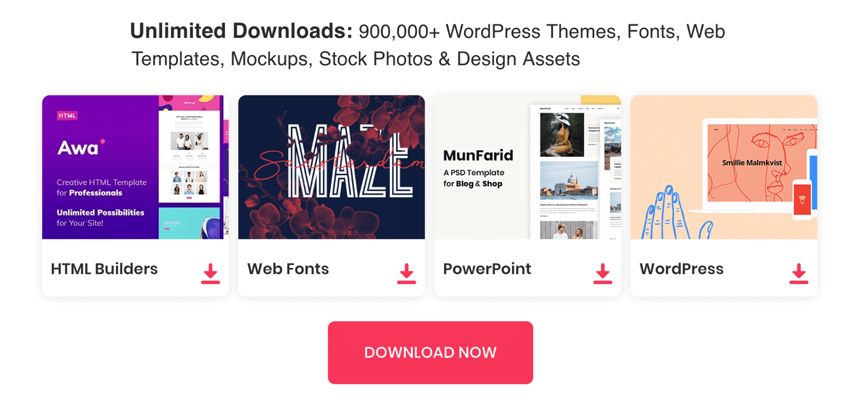 When it comes to our health, we all want to give it best care. We look for experts in the field, for clinics that use most modern equipment and provide effective treatment. Moreover, we also seek care and support from staff, who know their job and strive to help people.
A successful medical website needs to reflect on those things. It should emphasize quality of services provided, knowledge and skills of medical staff and welcoming atmosphere of the place.  To achieve this you may spend a lot of money to hire out a professional to do it all from scratch. Alternatively, you can get a medical theme that has all the design and coding done. What is left is just installing it in 2 steps and entering your contents there.
In this post we want to share with you 15 medical website templates, which are the most successful ones in the field this year. All these healthcare templates feature responsive layouts that look equally stunning on all screens from phone to desktop PCs. They are technically advanced and amaze users with Parallax slider and backgrounds, as well as flat icons, animated elements, different types of gallery posts, more than 600 Google fonts, interactive maps, stick-up menu, and much more.
You may like this:
These 15 medical themes run on WordPress CMS (Content Management System), which is world's most popular and widely loved CMS. WordPress themes are easy to manage. Create and edit posts in WordPress dashboard, upload media and experiment with layout in template options. It's a perfect choice for those, who don't feel like losing sleep over it and learning a lot of technical stuff.
Health-loaded WordPress Themes: Top 15 Medical WordPress Themes for 2015
Why not to get your website top performance? Modern medical themes pay off manifold, both by time saved and quality of product you get. If you are ready to shine brighter online, check out Live Demos and choose the one that better reflects your unique vision!
Help When Needed: Medical Services WordPress Theme

User experience was a focal point in development of this flat, easy-to-navigate WordPress theme. It allows you create fun-styled colored blocks with multiple shortcodes and equips you with medicine-related flat icons for comprehensive site navigation.
Never-fading Smile: Dentist's WordPress Template
One of the most popular medical themes of this spring, this theme definitely stands out for its clean layout and sky-blue color scheme. Moreover, technology-wise it's just perfect. It loads quickly, features stunning CSS hover effects, brings you diverse options for animated gallery and slider layout, and much more.
Science of Hair Growth: WordPress Theme for Hair Clinic
Professional, yet upbeat, this theme asserts that you are an advanced clinic that utilizes latest technologies. Flat animated icons and circle-shaped pop-ups add zest to it and let it differ from other, more mundane medical websites out there.
Young Smile: Dental Care WordPress Website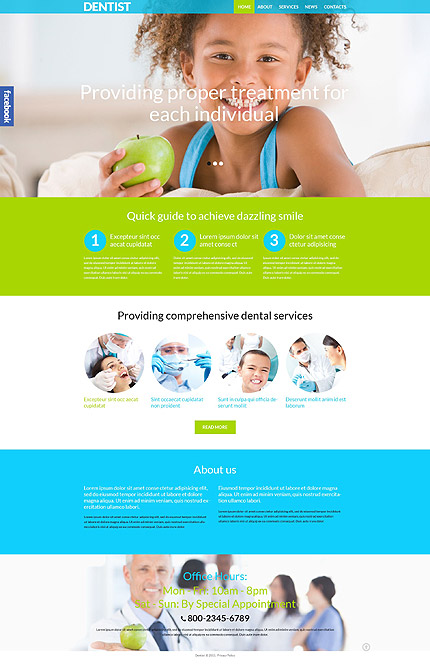 It's important to maintain a snow-white smile from childhood on. This website design helps you motivate people to visit dental clinic and restore a perfect smile of their childhood. This template features Parallax slider and backgrounds, extended shortcode options, stick-up header menu and animated back-to to button.
Lasting Teeth Repair WordPress Template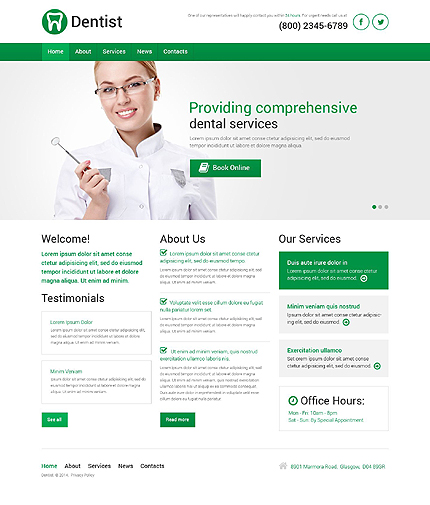 This visually clean dentistry template brings you an informative three-column frontpage that serves as an extended roadmap to your website. Social integration block is handily displayed in header to let people reach you out in social networks.
Luxurious Hair Responsive WordPress Site
There are no age boundaries to having healthy hair. Luxurious Hair WordPress theme proves this by picturing impressive results of your work and providing extended Testimonials section.
More than Healthy Teeth WordPress Website

With this WordPress theme, website contents are divided into clear-cut categories separated by white space that lets them breathe. Themplate's frontpage features extended footer navigation and fullwidth Google Map that lets people easily find your place.
Forgetting Health Problems: Healthcare WordPress Site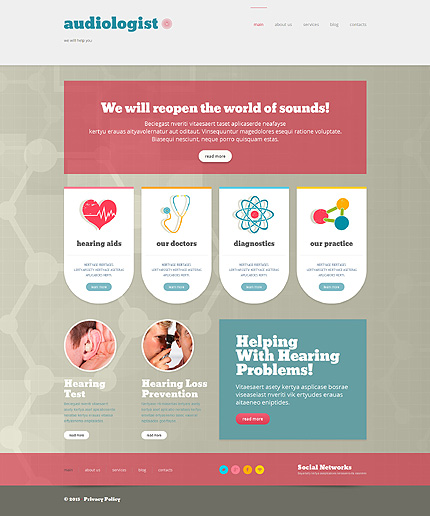 This medical theme is visually pleasing and by no means reminding you of white, sterile and unfriendly hospitals. Its welcoming colors place healthcare within client's comfort zone by choosing your place over others. Enjoy full social integration and 100% responsive design that lets it look equally well on all devices.
Gates to Perfection: WordPress Theme for Plastic Surgery Clinic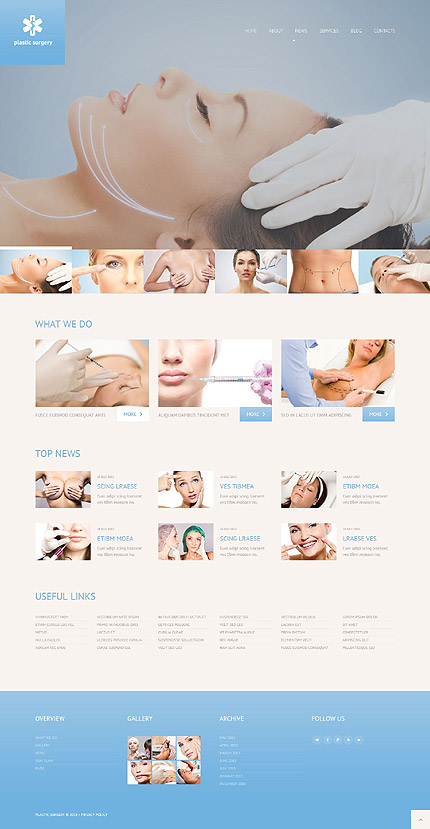 This site design invites you to showcase life-transforming results of your work. Fullwidth slider with thumbnails, widgets for gallery and featured images for blog posts allow you persuade your page guests that change, which they can achieve with your help can take their life to a new level.
Reliable Medicine Responsive WordPress Template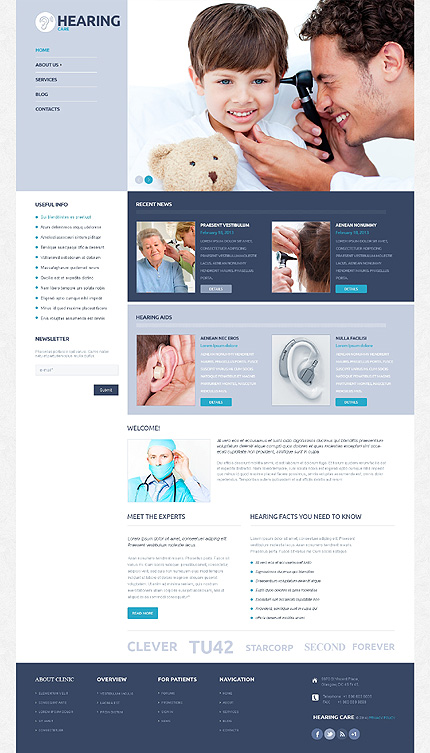 This theme underlines professionalism of services you deliver. It emphasizes how reliable and science-grounded you are by featuring faded-blue color scheme and bringing your news and updates to the center of attention. Boost appearance of your contents with shortcodes and create differently styled lists and tables. All these options come in handy with your comprehensive WordPress dashboard.
Pure Health: Clinic WordPress Site Design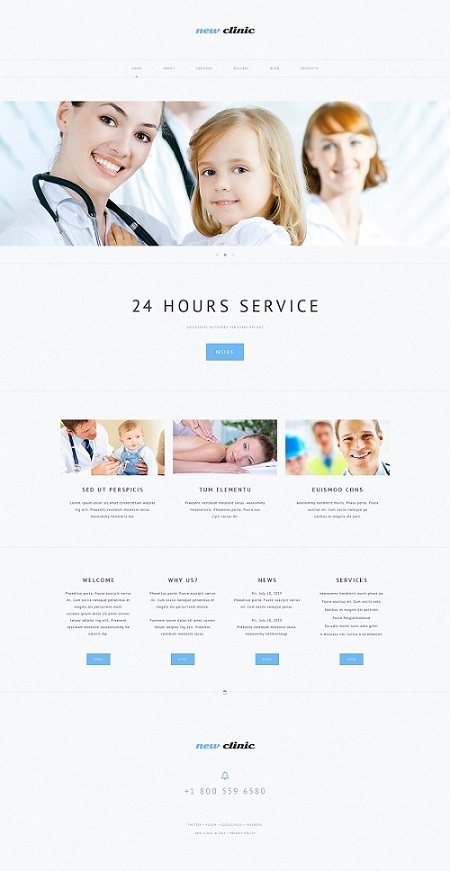 This spotless-white minimalist theme breathes with absolute health and positive outlook. Smart use of negative space is coupled with use of unusual fonts and fullscreen images that scroll with Parallax effect. Moreover, this template brings a stunning UI to mobile users by scaling all the elements.
Hoping for the Best: Rehabilitation WordPress Site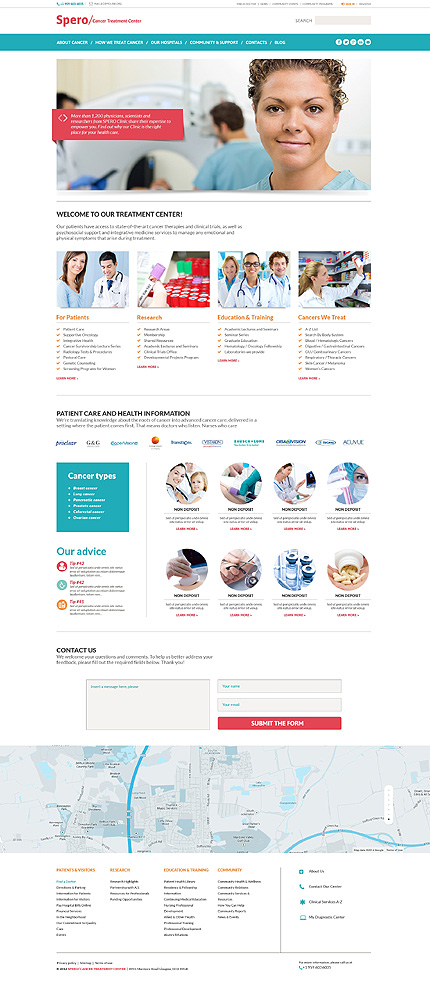 Blue, red and white are the colors that are most popular for health and medicine templates. This theme takes a new perspective on this trio, pacifying with its color scheme, as well as rounded typography and chamfered blocks.
Hollywood Smile: Dentist's Responsive WordPress Theme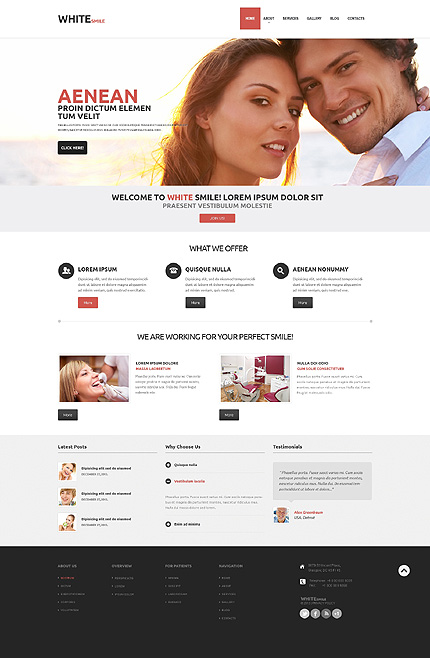 If you need an up-to-date dentistry website, this one is one of the best options. It offers you informative Home and About Us pages, one-click contact form and interactive Google Maps, as well as full social media integration, responsiveness and cross-browser compatibility.
Healthy Outlook: Medical Services WordPress Website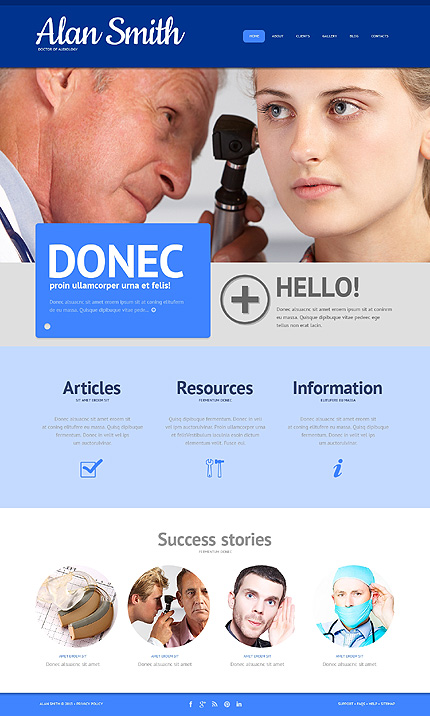 This theme centers around presenting your contents as easily accessible as possible. Readability is ensured with bold text over white background. It is easy to navigate the website as every page can be reached within one click from the homepage.
See the Difference: WordPress Design for Optometrist's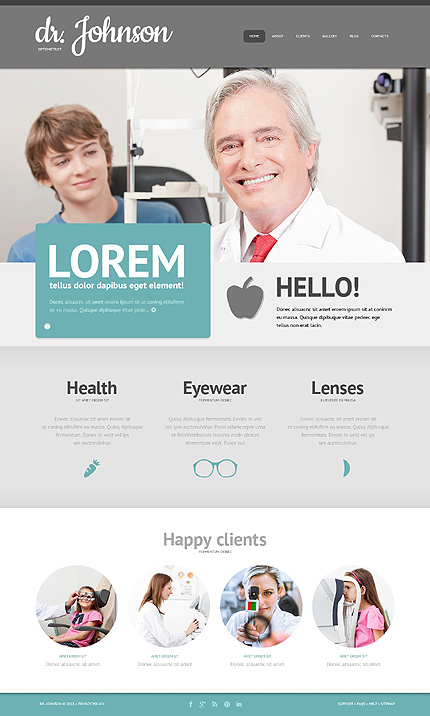 This responsive template features bold fun typography and reminds you of importance of good eyesight. Fullwidth slider, flat icons, custom layout blocks and styles are at your disposal for creating the best online spot to connect with clients.