20+ Best Google Maps Plugin for WordPress 2016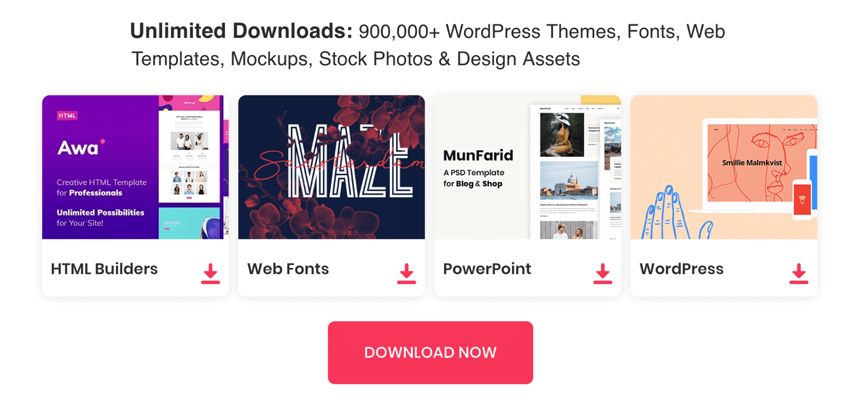 Best WordPress Google Maps Plugin 2016 allows you to create custom Google Maps and embed in posts, pages or widgets on your WordPress site never easier.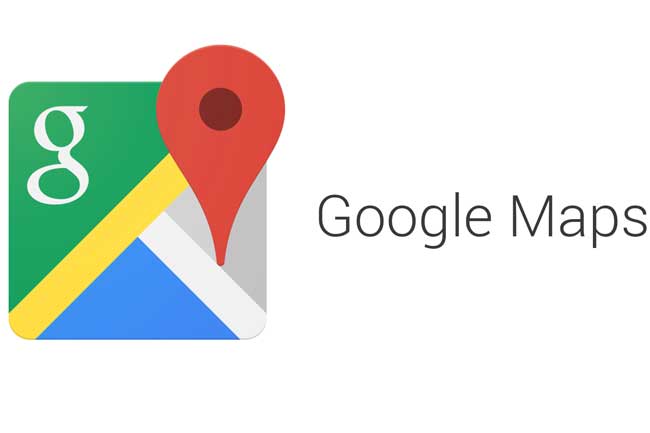 Google maps listings have the capability to provide the exact location of your business. There are many premium Google Maps plugins available to download but here is a collection best of the best WordPress Google Maps Plugin for your website. Lets download and using the Google maps plugin. Enjoy !
Hero Maps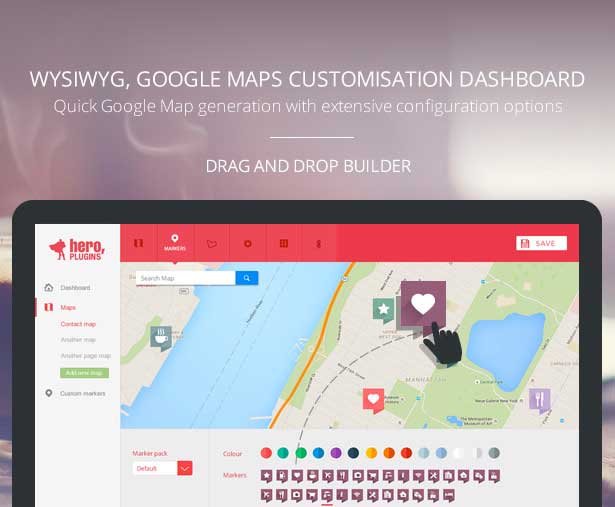 Hero Maps is a responsive Google Maps Plugin for WordPress. Hero Maps Plugin help for quick and easy Google Maps addition to your WordPress site. It offers extensive configuration options, the ability to aggregate all your markers in one map via Marker Geo Mashup, and provides a simple drag-and-drop interface for marker generation.
FlexMap
FlexMap is a premium Google Maps WordPress plugin. FlexMap plugin provides many features with different map types such as creating area mapping, Polygone, Polyline, circle, rectangle, single markers, and street view markers. With a simple visual map editor, It is extremely easy to make and place your map anywhere on your front-end WordPress site.
Responsive Styled Google Maps – WordPress Plugin
Google Maps plugin, easy, simple, responsive, styled and mobile friendly!
Google Maps + Sliders plugin for WordPress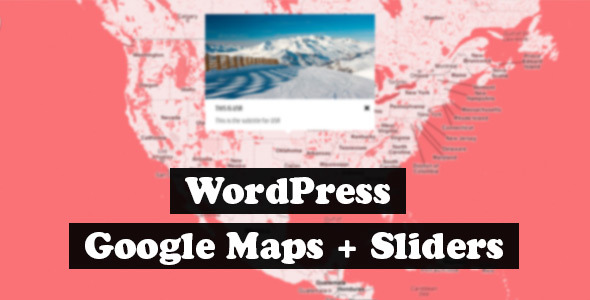 This is a jQuery javascript project around Google Maps. But it's different from other Google Maps scripts because it can display Google Maps in different styles. It also has a nice image slider that lets you impose animating images on the map.
5sec Google Maps PRO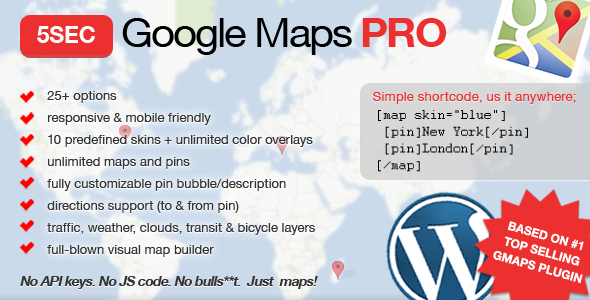 Advanced Store Locator for WordPress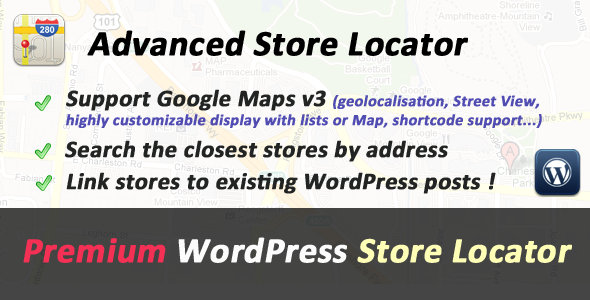 This advanced Store Locator enables you to add and manage all your locations and their related information, and making it easy for your users to search and locate your stores or businesses on a Google Map. This plugin comes with 2 type of display: on a Google Map or on a list. Your users can enter their own address to locate your closest stores. The plugin also supports a street view display of your location
Simplified Google Maps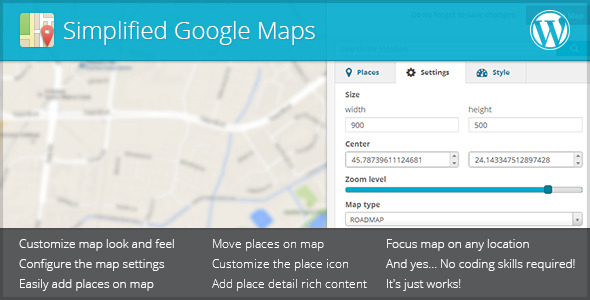 Simplified Google Maps is a very unique plugin, it will allow you to easily create, administrate and customize maps at the WordPress site. Most Google Maps WordPress plugins require that you should master some advanced web development skills. But not anymore! I have created a plugin that handles all the hard work for you, so that you can focus on the end result.
Progress Map WordPress Plugin
Progress Map is a wordpress plugin for location based listings. The goal is to help users having websites like hotel listings, real estate listings, restaurant listings, job listings, store listings & more… to list their locations on Google map and easily move through it using a carousel.
Google Maps Generator for WordPress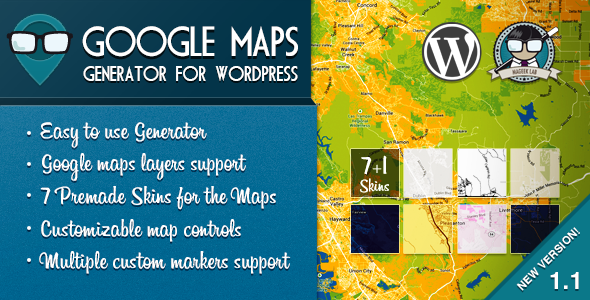 Map List Pro Searchable location directory and map
Map List Pro for WordPress lets you quickly display your locations in a paged, sortable, searchable, and filterable list. It comes ready to go with more than 25 styles and is fully customisable.
Google Maps Editor for WordPress
Google Maps Editor for WordPress let you create beautiful maps within the WordPress text editor. You have the choice between classical Google Maps style and five exclusive color themes made for Google Maps API .
Google Interactive Maps
WordPress Plugin for creating responsive interactive maps
Mapped contact form pro WordPress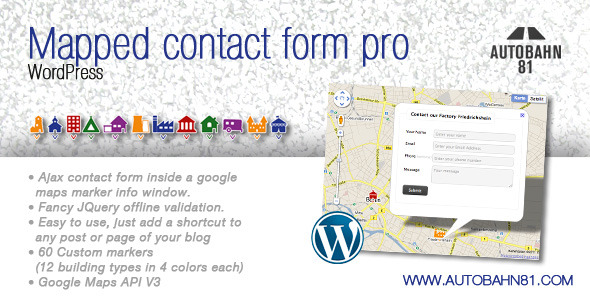 A ajax contact form inside a google maps marker info window. Works for one or multiple locations. A different email address for every location can be configured. If only on location is on the map, the info window with the wordpress contact form opens when the map is loaded.
WiLD Google Maps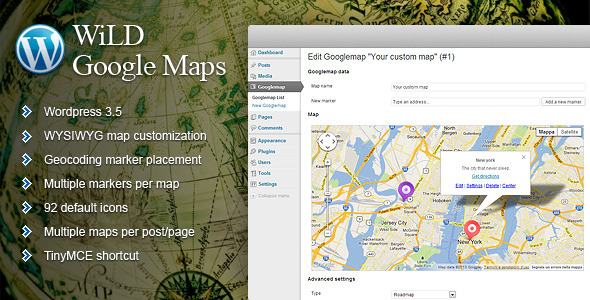 Point Of Interest (POI) Auto Map For WordPress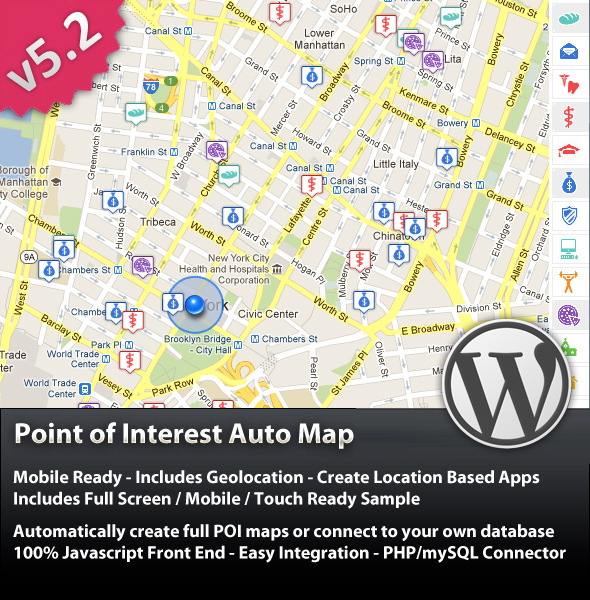 Poi Auto Map combines the power of Google's Maps and Places APIs to give you a simple way to add highly interactive Point of Interest maps to your WordPress website. All you need to do is define a starting address and a list of point of interest categories and POI Auto Map does the rest. Move the map and watch the points update. You can also define a database connection from which to source your POI points. This is the largest update yet in both features and performance.
Pretty Routes: Add Routes to Google Maps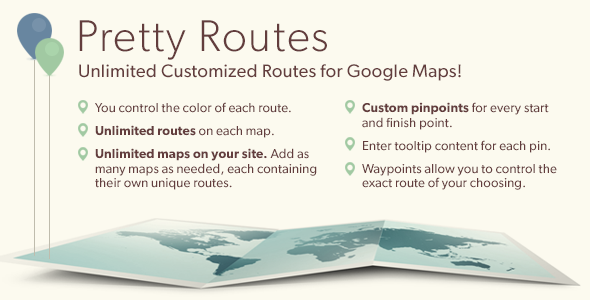 Pretty Routes is a robust WordPress plugin that lets you add unlimited customized routes to Google Maps. Not only can you add unlimited routes that chart 'to' and 'from' locations as needed, but Pretty Routes also let's you add customized pinpoint graphics to each location (using any graphic you choose), customized tooltip content, and even specific colors for each route on display.
Embed Made Simple
Easily add map/text based listings, with powerful search functionality, to your WordPress website. Similar to padmapper and hotpads.
Store & Places Locator with Google Maps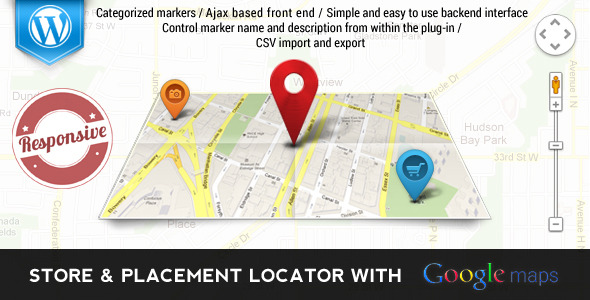 Store & Placement locator for WordPress fills the gap of having a map based location finder for almost any requirement. Whether you want to show your branch offices, distribution locations, showrooms or pickup points this plugin helps you to conveniently visualize your network using simple shortcodes. Works with any theme and integrated seamlessly.
Open Street Map Plugin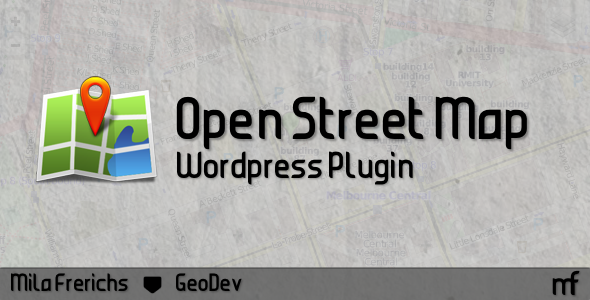 A Simple Plugin to manage Maps and Places with the Open Source Open Street Map. You can add Layers by yourself and geocoding address is supporting via Google Maps and Yahoo.
WooCommerce Checkout Location Picker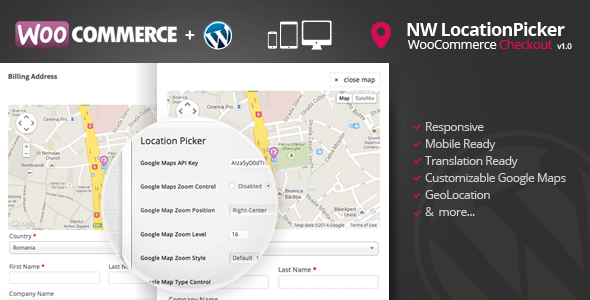 WooCommerce Checkout Location Picker comes in your customers help to ease their pain caused by filling in all those fields at checkout.
JQMap Route Calc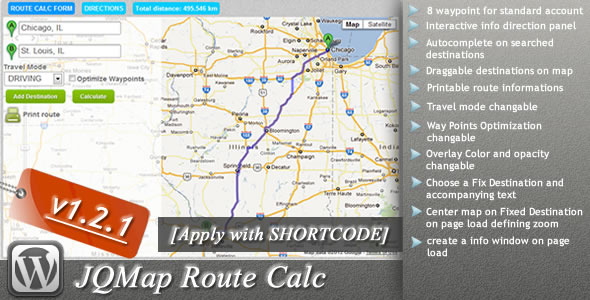 this plugin provides to calculate a route from point to point.
Where We Are Contact Form