Top 10 New Free WordPress Themes 2017 to Create a Strong Online Presence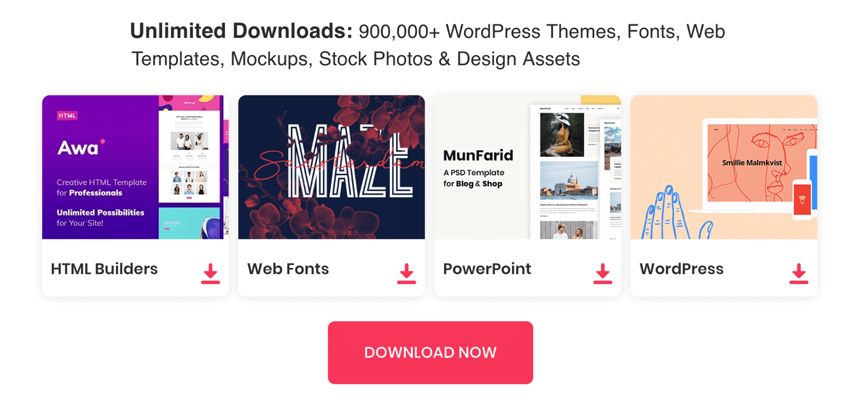 Let's defer to the wisdom of prosperous and experienced Ms. Toni Clayton-Hine, ex-vice president of Global Marketing and Value Proposition at Xerox Corporation. She once said: "Getting smart about having an online presence is one of the strongest sales tactics you could consider." Creating and promoting your personal brand online is a smart investment in your future. Each and every successful business owner knows that a powerful brand can bring high returns while a poor online business demonstration can ruin it forever and destroy all chances of reaching your enterprise goals.
Business Website as an Essential Part of Modern Marketing Strategy
According to The Score Association studies, 97 percent of consumers search for local businesses on the internet. That means that most part of your client base is online, so you should be there as well. No matter what size your business is or to what market niche you belong, having a corporate website is a crucial component of your marketing strategy. An online presence helps you communicate with your target audience in order to portray why your service or product has to be bought.
Unfortunately, small businesses are spending little time on building and maintaining an enterprise website and managing their online presence resulting in poor profits. The research showed that only 70 percent of small enterprises spend approximately hour per week on developing their online marketing strategy. However, each and every entrepreneur should understand that most customers search for the product online after hearing about it through word of mouth. They gather feedback, testimonials, reviews and other useful information about the needed product. Just imagine, what will happen when they have not found your brand online? Of course, your potential customers would go to your competitors who put yourself out of being powerfully online presented. Given the above, you would feel better armed with the best premium WordPress design. Thus, you can capture a wide audience, boost traffic and convert it into profit.
Another vital pitfall many business owners face is paying too little attention to improving their online presence. The study showed that 53 percent of small enterprises with 1-3 employees have no interest in further developing their website. Most of them are not engaged in investing and improving a business site because of the mistaken opinion that it is costly and time-consuming. However, if they have tried to use one of best free WordPress themes by TemplateMonster, they would change their mind. WordPress themes are easy as pie to install, customize, maintain and turn into an all-winning and powerful website without much effort. See for yourself with this set of 10 new best WordPress themes for free.
Bitunit – WordPress Theme for Bitcoin Solutions
Today such a revolutionary invention as Bitcoin is in great demand. Bitunit, a top-rated, incredibly innovative, professionally designed and fully responsive WordPress theme will perfectly suit your money digitization website. With Elementor Page Builder tool, it is easy to edit any page and create desirable layouts to any taste. The clean coded and well-documented theme comes with a set of handy web forms and additional features to make your website user-oriented and eye-catching. Bitunit offers users to choose the most engaging and suitable for their needs font from a great variety of Google fonts. Fascinating gallery and visual editor will allow enhancing your website functionality and performance to the full. In addition to the rich variety of social media integration and rich UI kit, the template includes a demo. This Retina ready theme boasts impressive fresh-looking design perfectly suitable for your bitcoin buy and sell website. Your search for the ideal template ends here, choose Bitunit!
Monstroid 2 Lite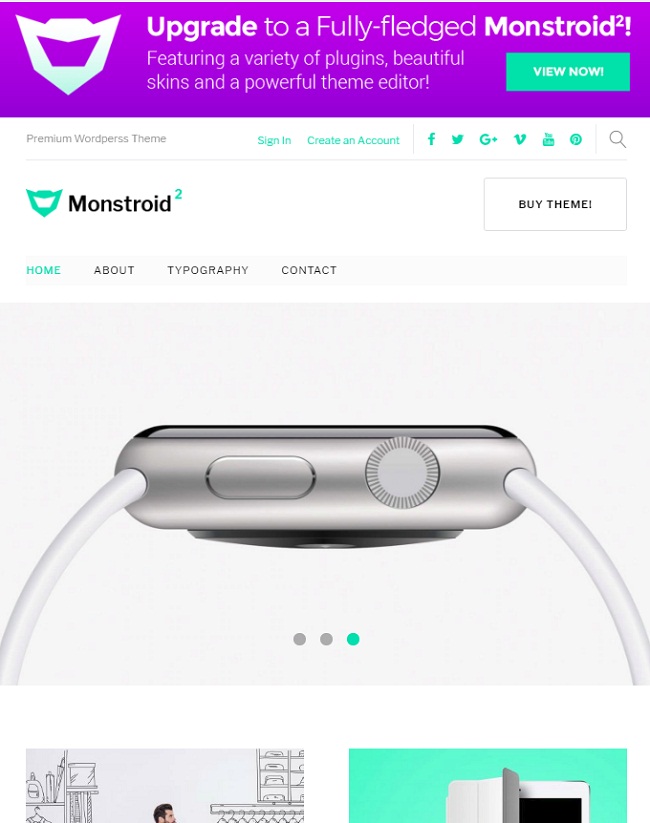 The multipurpose WordPress theme Monstroid 2 Lite can be adapted to any market niche. Its incredibly flexible and extremely minimalistic design in combination with a full-featured package of handy options gives you an absolute freedom to make a website of your dreams. No specific programming skills or knowledge are required. The theme is fully responsive so it will look perfect on any modern device with any screen resolution. Moreover, Monstroid 2 is easily editable with Live Customizer tool. There are tons of Google fonts to choose from and handy social options that will definitely improve your ranking and attract more traffic to your website. To interact with customers you can use a stunning commenting system and efficient blog page. Try Monstroid 2 today, and you will raise money for successful business tomorrow. The theme is designed to go well with a business of any kind and size. Don't hesitate, try it today!
Iridescent – Free WordPress Theme for Wedding Album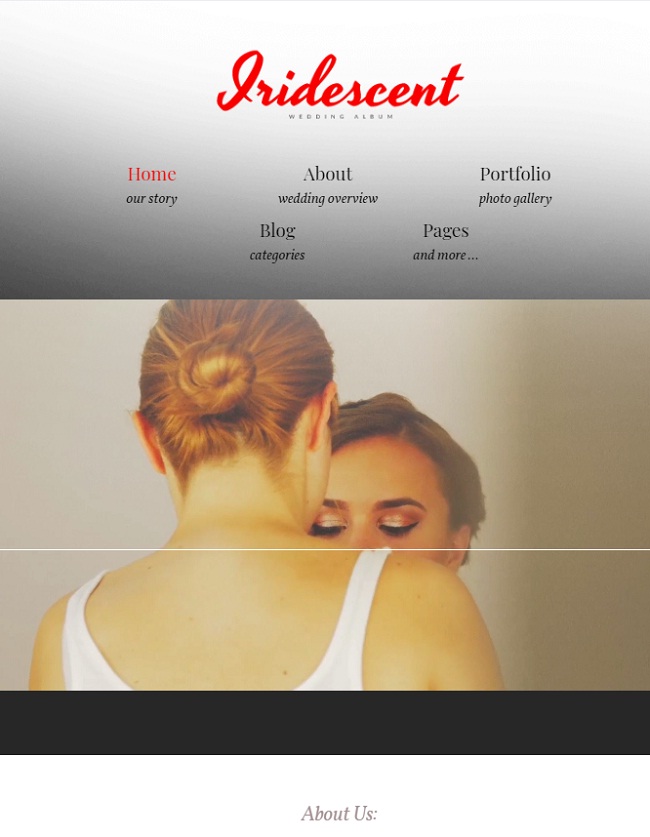 Iridescent is waiting for a creative and ambitious person with an extraordinary look forward. The theme boasts a pack of handy features like drop and down cart, Google map and tones of Google web fonts to choose from. Iridescent offers an advanced functionality like a stunning blog page, captivating gallery, and portfolio that will definitely grab an audience's attention and boost traffic to your website. For users' convenience, there is a Commenting system implemented to build up a dialog with visitors. Furthermore, the template has Favicon that plays a great role in building your brand awareness and developing an overall online branding strategy. This Retina Ready theme is cross-browser compatible and easy adaptive to any device with any screen resolution. The theme is specially crafted for the purpose of building personal blog or wedding album. Its cherished and gentle looking design bringing out positive and romantic emotions will touch visitors' hearts and stay here forever. Try this free theme out, and feel how quality and affordability are walking hand in hand.
MalcolmY – Modern and Stylish WordPress Theme for Freelance Designer Personal Portfolio
MalcolmY is easy to turn into an attractive, elegant, thoughtful and impressive personal portfolio or business website. Creative designers will be able to set up a powerful blog and freelance portfolio page just in a few clicks. The theme is search engine friendly and has numerous social integrations that will help you conquer the top search engine rankings as soon as possible. MalcolmY is powered by the latest and cross-compatible HTML5 and CSS3 technologies, based on a natively responsive code that perfectly suits desktop and laptop browsers to mobile and tablet screens. The theme has a stunning blog page that will help you share your thoughts with an audience and interact with potential customers. Thanks to a handy and intuitive post module you will be able to organize your blog in the way you want. A sleek looking and professionally crafted design will grab people's attention and push them to action. Moreover, for your website visitors' convenience a newsletter subscription tool and testimonials are included. No doubt, with MalcolmY your website will definitely succeed in your market niche. Try this free theme, don't waste time and money since your efficient blog is waiting for you!
Talking Business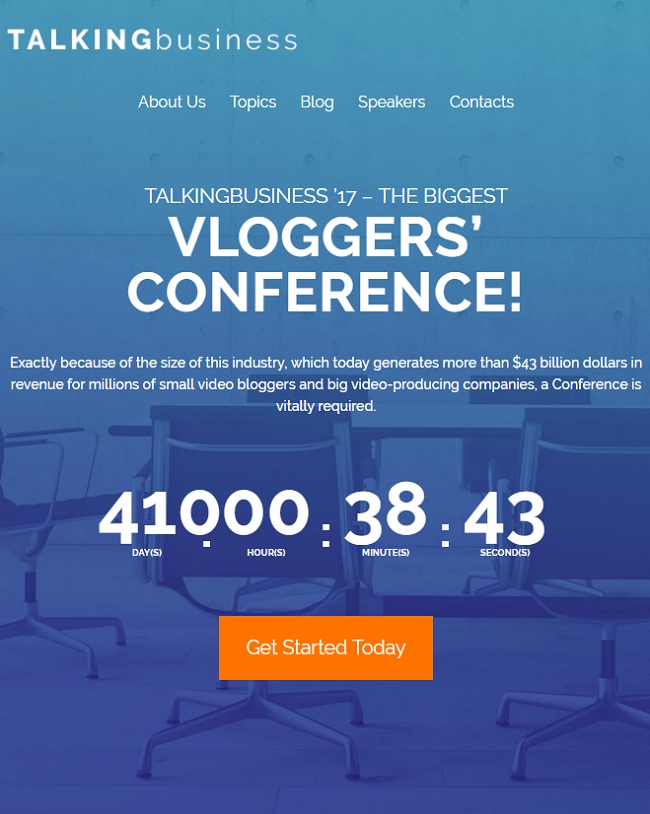 Are you looking for technical aids to present your conference to the world. Talking Business will help you arrange the best conference ever! This fully responsive and highly editable WordPress theme is stuffed with an appointment booking tool, Newsletter subscription and handy web forms aimed to enhance your website to the range of top-rated websites. Its minimalistic and well-thought professionally created design will help to emphasize your business message. For easy and fast page layouts modifying use Power page Builder tool. Thanks to detailed documentation that comes with the theme the process of installation and customization will be easy as pie. Talking Business is equipped with the standard and necessary Contact and Search Forms as well as additional Login Form and User Registration. Having the search engine friendly code the theme will help you earn top rankings. This is the theme that inspires and nurtures creativity. So, stop doubting and start using this free template with unlimited business possibilities!
FreeBook – One-Page WordPress Theme for eBook
The world has to find out your writing talent and FreeBook theme will definitely help you make it true in the best possible way. The WordPress theme is fully responsive, cross-browser adaptive and very flexible. Using this theme packaged with tons of options and features will bring aesthetic and emotional pleasure to you. This landing page WordPress theme has an unobtrusive design that can be adapted to multiple purposes. FreeBook comes with 10+ header and footer layouts to make the website fit your personal or corporate needs. With a handy and intuitive Live Customizer, you can change the logo, color palette and font of the theme. To create and edit pages is extremely easy with using Power page Builder that has a set of content modules. With FreeBook your website will help you reach as more visitors as possible because the theme can be run on any device with any screen resolution. The template is well-documented and clean coded so you will have no difficulties to set up it. Give a chance to your e-book to be selling online wordpress themes or presented with this comprehensive and gorgeous theme.
Adveland
Adveland is great chance to build a powerful amusement park website with a full-featured interface and intuitive navigation. The theme is multilingual, incredibly responsive and visually captivating that will grab an audience's attention and push visitors to action. For users' convenience the developers implemented drag and drop website creator that simplifies the process of customization to the full. Adveland is powered by the latest and cross-compatible HTML5 and CSS3 technologies, based on a fully responsive code that ideally suits desktop and laptop browsers to both mobile and tablet screens. In addition to the rich variety of impeccable customization options, social media integration and rich UI kit, the template includes a demo version. The website template offers a solid framework, which is favorable for creating a captivating online presence. Clients, readers and general audience can be reached with handy Contact Form and Newsletter subscription. For users' convenience there are in-built such web forms as Login Form and User Registration. TM Gallery with stunning visual effects will help your website to attract more audience's attention to your content. There is a live demo at your disposal!
Pilates Center – WordPress Theme for Sport, Fitness & Yoga
Pilates Center is an absolute freedom for building a creative and trustworthy website for various sports solutions, Spa & Beauty Salon with WordPress. There is everything you need for creating a quality and professional looking site. In addition to advanced theme options and social media implementations, the theme boasts an efficient commenting system, handy dropdown menu and tons of Google web fonts to choose from. This fully responsive template can run on any device with any screen resolution. Pilates Center welcomes you with high quality graphics, well-organized interface and intuitive navigation. This Sports WordPress theme based on Cherry Framework 5 is absolutely clean and easy to install. Moreover, with Live Customizer the customization doesn't require much time and you will be able to see changes you make even without reloading the page. Your visitors will like possibilities your website offers with Timetable plugin and Appointment manager. As additional features, you may enjoy Google maps, Tabs, back-to-top button and other advanced options that make the website navigation easy and comfortable. Pilates Center is capable of rendering on fly across multiple devices and browsers that will maximize your exposure. Thanks to the implementation of the carousel option, you can display popular articles, while continuing to update your sites.
Catwalk
Catwalk will definitely meet your expectations to the full! The theme is equipped with Cherry Projects portfolio and Website slider that will help to demonstrate the beauty and uniqueness of your models. With Live Customizer it is easy to customize the theme to your needs and taste without programming skills. With Power page builder it is possible to create professional pages without coding. Furthermore, a stunning blog and Newsletter subscription will give you a great chance to keep your audience up-to-date to all latest news and events. Catwalk is thoroughly coded with clean and valid HTML, jQuery and CSS3 techniques. The layout will be seamlessly compatible with all devices: mobiles, tablets, laptops, and desktop computers. Clients and website readers can be reached with Contact Form and a blog page. The website template welcomes you with a wide large slider and impressive images. The theme inspires and gives unlimited freedom for your imagination and creativeness. Take this free theme for boosting your online presence right now!
Captivating and Deliciously Looking Ittalloni WordPress Theme for Food-Related Business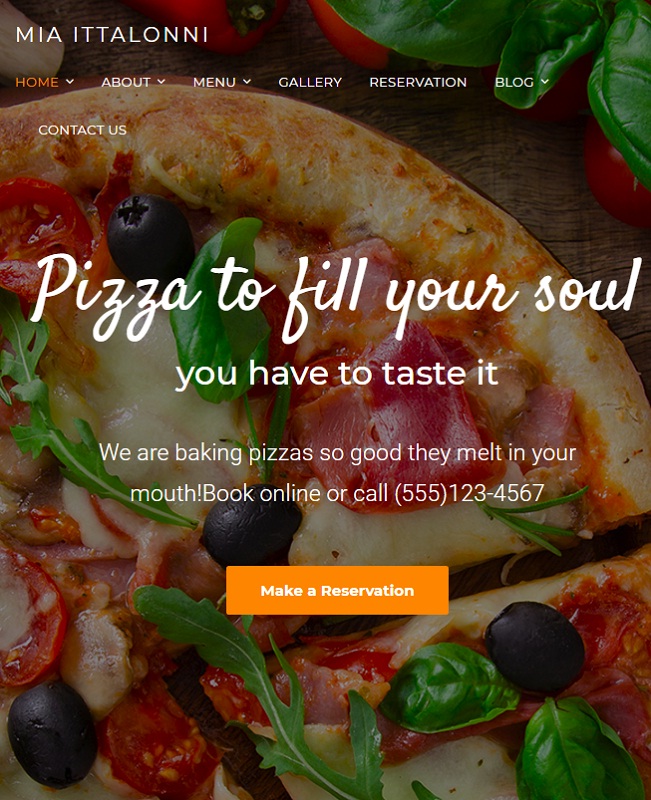 Mia Ittalloni looks tasty and professionally, works easy and fast. Whatever food-related business you run the theme will suit perfectly for all occasions. With a reliable commenting system, handy drop-down menu, social integrations and stunning Power Page Builder tool, the building of any website is in your power. This theme includes a set of Google fonts and numerous color options to build a captivating site of your dreams. The WordPress Live Customizer tool was in-built allowing users to control every option of their website. It is possible to modify the colors, images, texts, or layout types. In addition to a traditional blog page, you achieve appointment booking tool, Restaurant menu option and much more. This Retina ready template will look perfect on any modern device with any screen resolution. Thanks to seamlessly cross-browser compatibility, your website will look ideally through any browser. Mia Ittalloni comes with detailed documentation and long-term support. Thankfully, the theme is search engine optimized to increase your chances of getting high rankings.
The Internet is a worldwide platform for sharing any kind of information and unlimited source of advertising. If your business has not been yet presented online, you are wasting money daily. Most part of your consumers is looking for your brand online. As statistics show, people use the web more and more to search for any content: product reviews, testimonials, articles, and so on. All of them are your potential clients that can generate impressive traffic to your website and boost your profit. Don't lose an opportunity to become a top-rated brand online.
If you have decided to use WordPress theme for building an efficient business website, our free eBook "Best Plugins for a New WordPress Site" will introduce you must-have verified plugins. They will improve your corporate website, protect it from attackers, optimize page load time by reducing file size and so on. Find out how the new WordPress plugins can enrich your website functionality and performance in a few clicks.