20+ Free Responsive Drupal Themes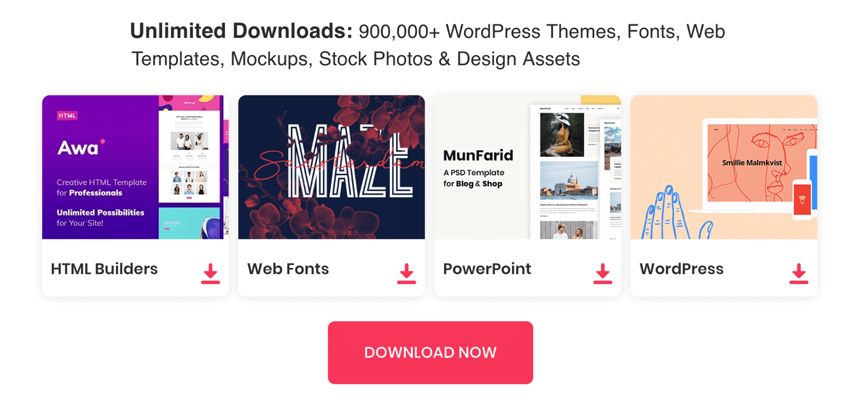 Best free responsive Drupal Themes for all kinds of business such as creative or digital agency, photostudio, small business, large business or freelancers. These drupal 7 responsive template are clean, modern, and professional for your project.
Nowadays, Drupal content management system(CMS) has become the most popular and powerful like WordPress. Drupal has met almost all the requirements from sharing content to promoting services and products. In this today's post, we have collected some of the best free responsive Drupal Themes that you can download for using in your website. These Drupal 7 themes are building in HTML5 and CSS3 features a responsive layout design, high quality, professional so it will very useful and save you lots of time. Enjoy !
Free Drupal Template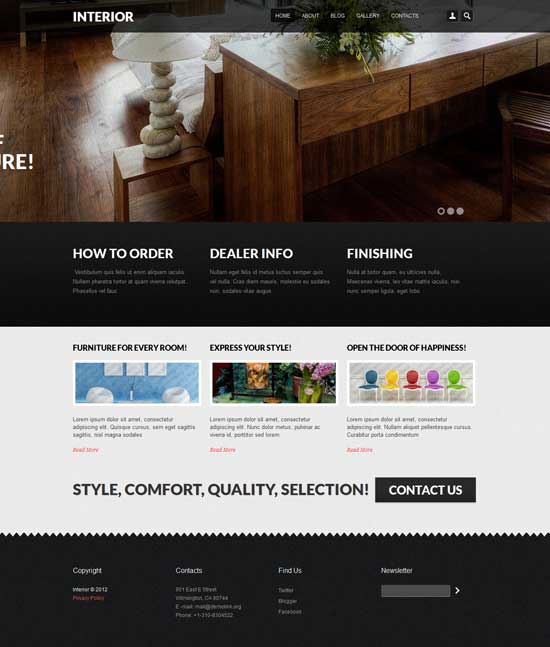 This new type of Drupal templates that from now on will be available on TemplateMonster is all about functionality – these templates include a huge set of features that weren't previously available within Drupal templates you've seen. First of all, they're all done with pure HTML5 CSS3, so the code looks good in all senses. In addition to that, these templates include easy install feature, backup feature, gallery/slider creation features, WYSIWYG editor, lightboxes, social media capabilities etc.
TB Methys Drupal Theme
TB Methys is designed in simple and bold style: bold font set and wide slideshow. Furthermore, it supports multi-color skin tone, which gives more choices to customize the theme. TB Methys comes with a set of features as you know from our Drupal themes. TB Methys is the first theme supporting multi-color serving for fashion and live style content.
Free Drupal eCommerce Theme
This revolutionary product is aimed at bringing Drupal CMS to masses. All those things that made Drupal so frightening for regular users were minimized and smoothed down. Drupal Commerce free theme was developed specifically for you to test drive this awesome product. With this free Drupal Commerce theme you can practice your skills discovering the ease of its use and the simplicity of its customization.
Phoenix Responsive Drupal Theme
Phoenix responsive theme is a Zymphonies theme. This theme is not dependent on any core theme. It's very light weight with modern look and feel.
Skeleton Responsive Drupal Theme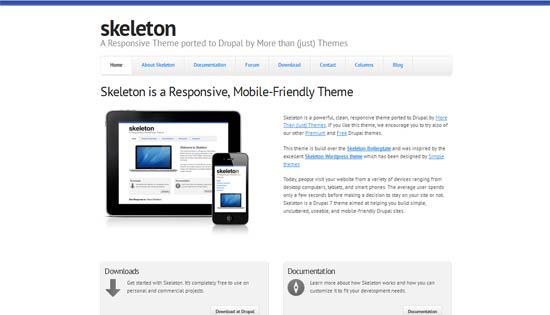 Skeleton is a powerful, clean, responsive theme ported to Drupal by More Than (just) Themes.
TB Neris Drupal Template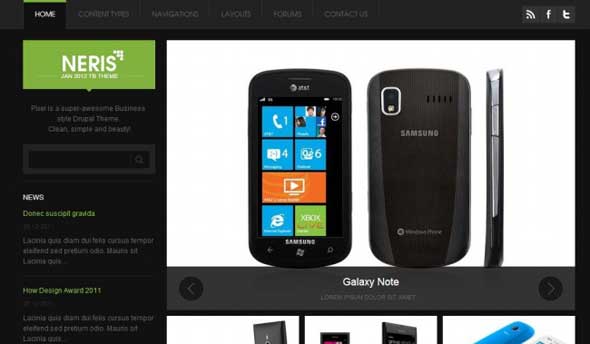 Neris is a clean business portfolio theme with a modern and simple touch. A highlight for your products and services on the web.
Free FontFolio Drupal Theme
FontFolio is a Responsive showcase theme for designers, artists and craft persons.
Office Responsive Drupal Template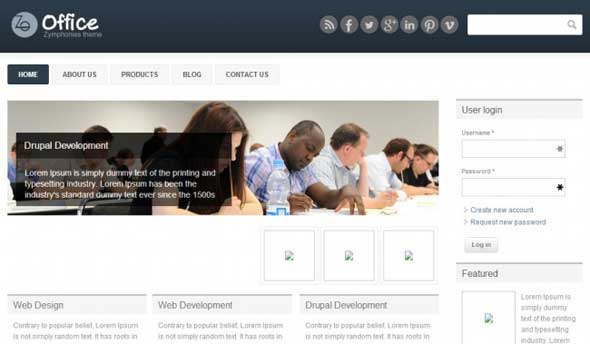 Office responsive Drupal theme is a Zymphonies theme. This theme is not dependent on any core theme. It's very light weight with modern look and feel.
Free Responsive Drupal 7.x Template V.2
This delicious theme shows a benchmark of positive simplicity, which pleases the eye with minimalist color palette and makes the communication with the pages comfortable and effortless. The compact content field doesn't include anything excessive, so it's fair enough the design is focused on the meaning, not the form.
Free Photography Responsive Drupal Template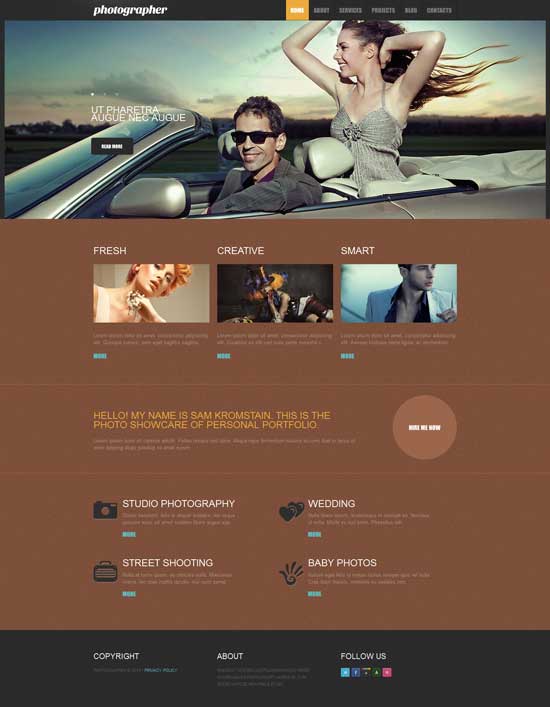 Free Squid Pro Drupal Template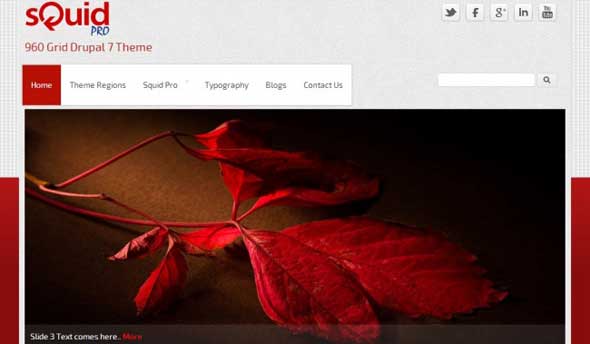 Built on the powerful grid-based layout engine, Squid Pro Theme is very light weight for faster loading. Squid Pro Theme is suited for a wide range of websites from Business / Corporate websites, to Portfolio, Personal / Blog websites.
Free TB Sirate Drupal Template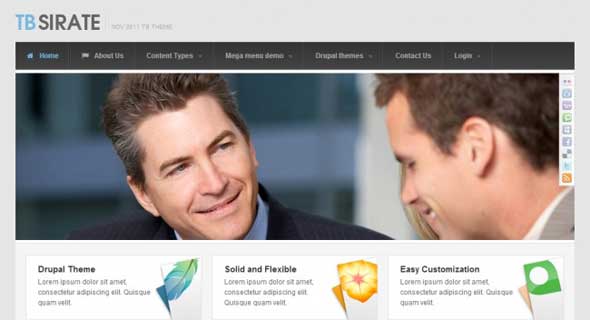 Impress your business partners with a well-organized, an informative online profile and a professional look. Clean layout and light weight code make TB Sirate becomes a great theme for small, medium-sized businesses or big corporations to get up and run quickly. TB Sirate features as a sub-theme of Drupal Nucleus.
MD Minimal Drupal Template
MD Minimal Drupal Theme by MegaDrupal. This is free minimal theme for Drupal.
Corporate-Blue Drupal Template
Corporate blue theme is a super clean professional theme with a div based, fixed width, 3 column layout developed and designed by Zyxware Technologies.This theme is based on 960 Grid System.
TB Purity Drupal Template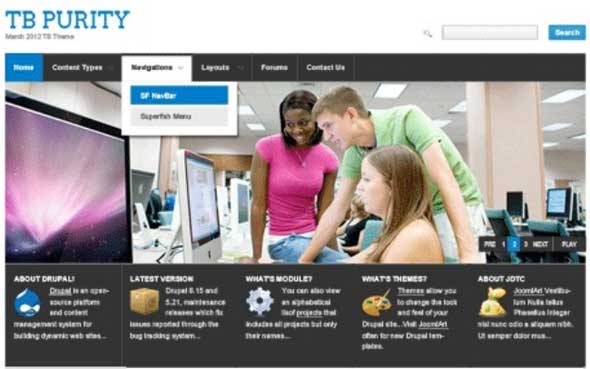 Marked as a solid theme for our Drupal designs, TB Purity inherits the successful designs of Purity template: block design with clean lines, efficient use of space, subtle but varied color schemes, typography and layout.
OpenChurch Drupal Template
 OpenChurch Drupal Template relies on the 960gs grid layout and fusion accelerator for block styling. All feature specific styles will be in their own openchurch-features.css stylesheet.
iShopping Drupal theme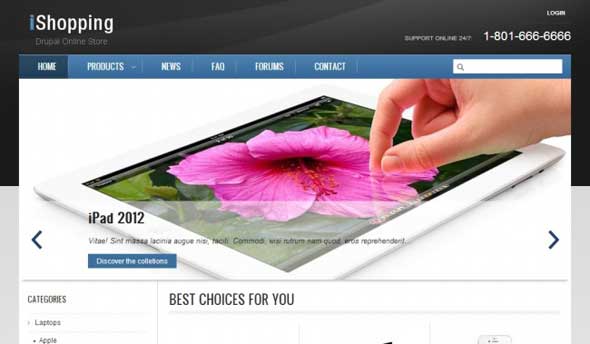 As the name has said, iShopping Drupal theme is specifically targeted for an online shopping site.
The theme encompasses all the vital features of an e-commerce site together with nice classic black and white as the main background colors, and neat structure and blocks. These are what an e-commerce site needs.
Business Responsive Drupal Template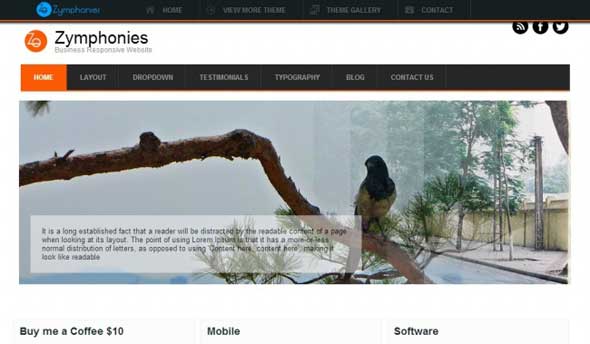 Business responsive theme is Zymphonies theme. This theme is not dependent on any core theme. It's very light weight with modern look and feel.
TB Mollise Drupal Theme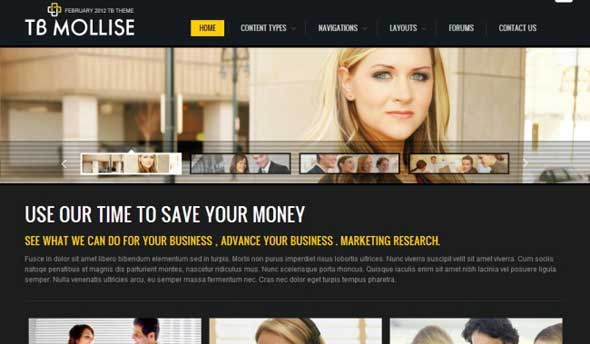 Dress up your website with Mollise. A professional theme for serious businesses. Pretty an eye catcher for your web content and underlines your services!
TB Hadelis Drupal Template
TB Hadelis is designed to display your beautiful artworks. Show your creative workspace and get attention from your potential customers.