9 Best Free HTML Email Templates & Newsletters 2019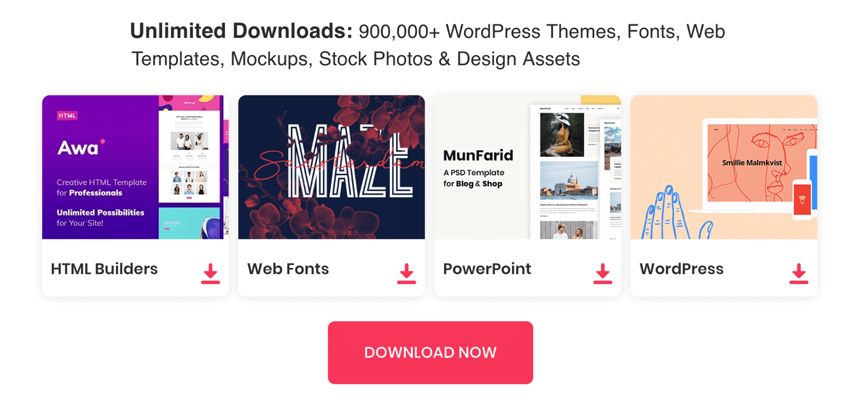 The lack of time resources and inspiration are still two important issues of marketers. In fact, these two problems are interrelated. As well as their solution: finding a proper email editor tool with ready-made templates. it will ease your work, save from boring routine operations and bring inspiration for creativity.
Each email marketer needs a personal set of free HTML email templates as a basis for campaigns and a source of inspiration. Here we're going to help you with our collection of templates we use for various occasions.
We decided to begin with this one we noticed among 500+ templates in the collection of GetResponse. This ESP has a pretty helpful email editor tool. Though GetResponse is mostly famous as great service to host webinars, the rest of their ready-made templates are worth attention too.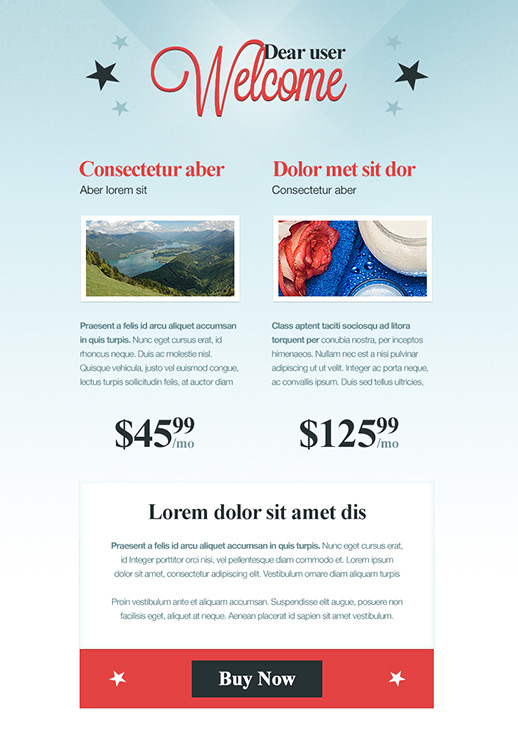 The structure of the email layout is quite simple but enough to arrange performing a welcome email. Editable soft color scheme, words of welcoming and product blocks. This way you greet customers – and get straight to the point. In our case, to value offers. CTA button is simple but noticeable – the way how this essential element must be designed.
ESPs are mostly focused on issues associated with email delivery, the set of email editor features might be not enough to craft nextgen mailings. But for the simple yet effective welcome email, this template seems to be pretty good.
The next one is a promo email template. This type of bulk mailings is probably basic in email marketing. Unlike the previous service, Stripo is a template builder tool, so you'll find wider set of options here.  "Stylish apartments" template is designed using the nextgen technology – AMP for Email. This particular template was developed for the real estate industry but can be modified for any type of business.

What is remarkable here? Stylish minimalistic color scheme, the template is almost monochrome (but of course everything is editable. Convenient menu, special sections to introduce your team, and elegant geometric approach to design with a combination of round, triangle, and square shapes. Of course, all that is good to attract attention… But the key feature is the AMP-powered image carousel block. Stripo allows you to add it as a drag-n-drop element so no coding skills are required.
And yeah, AMP block is already equipped with web-safe fallback for recipients whose email clients still not AMP-friendly.
From AMP and other cyberpunk – back to the elegant simplicity again. We all are already familiar with GDPR rules that made a stir recently. Well, all the dust had settled but requirements are still actual. Don't even think about illegal tricks here!
MailChimp coders have designed a special template for respective settings update. It's also good for other needs – password reset, maintenance issues, etc.
What is remarkable? Simplicity and practicality, as we said above. No extras, only the concise content, minimal design, and clear CTA. 100% enough to deliver important information.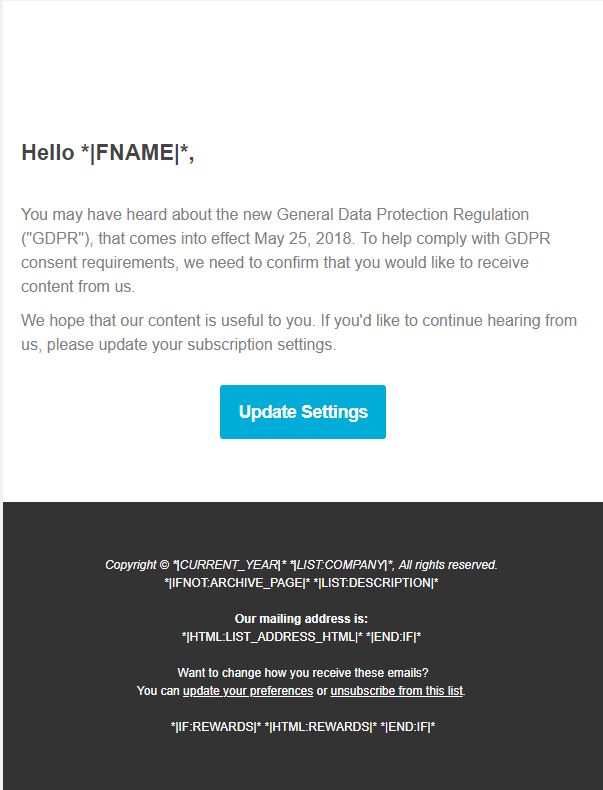 Look closer at the screenshot below and try to find a blue tip with an arrow. Yes, girl distracts 🙂 Besides jokes, this user-friendly editor assistant is a pretty good solution.
As for layout and design… Campaign Monitor is ESP with embedded template builder and ready-to-use templates collection, just like GetResponse and Mailchimp above.
Feedback is an essential condition to boost all businesses, improve strategies and get rid of mistakes… So we recommend to follow our tip and try this template. Such emails, in fact, need neither whistles nor bells – just a clear invitation to share opinion.
What does "abandoned cart" term means? This is our lost money. The stats look demotivating – only 33% of customers complete their orders while 67% fail. Chill out, abandoned carts emails come to the rescue. These triggered messages remind clients about their intentions and return up to 60% of them back to their orders! Impressive, isn't?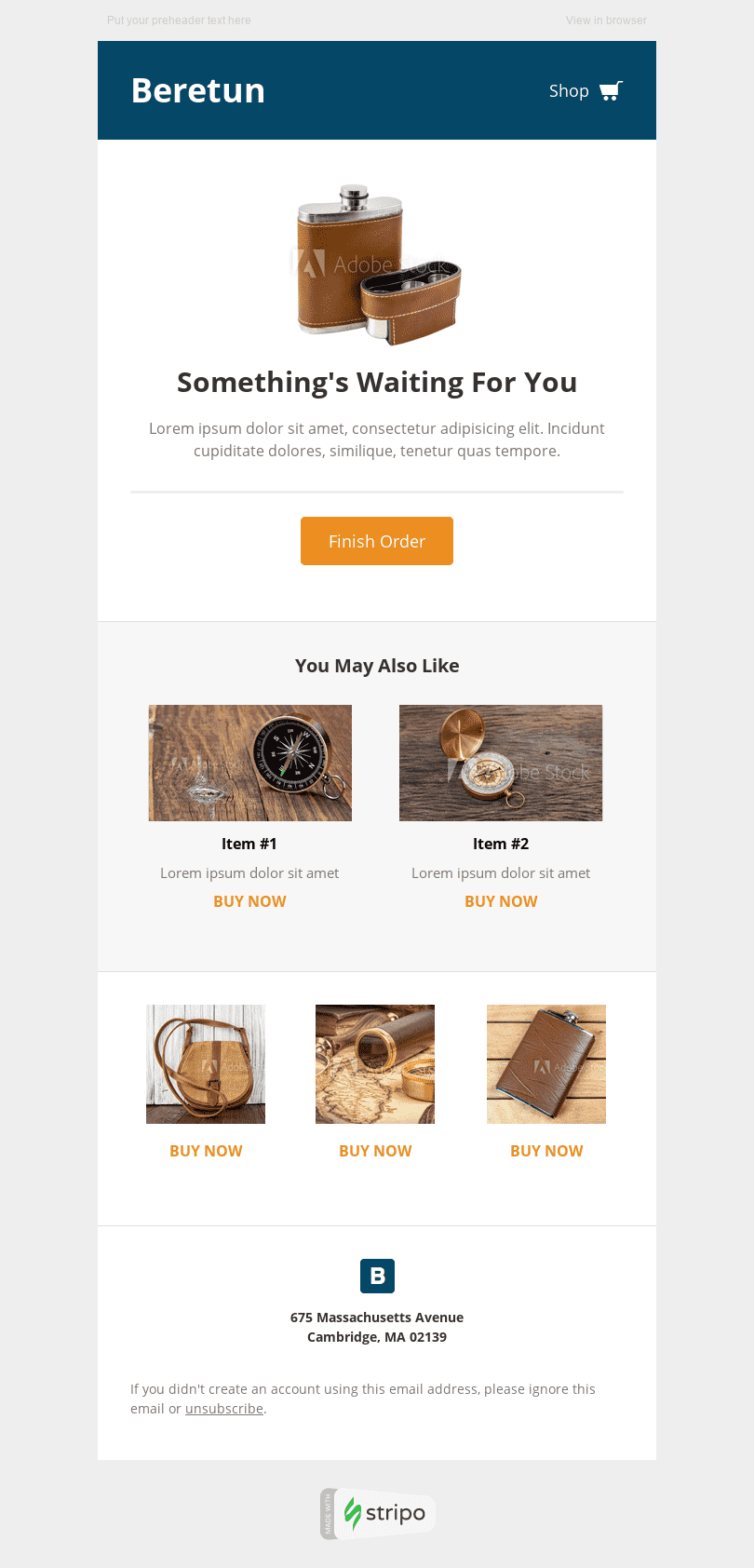 In this abandoned cart email by Stripo, you'll find everything that is needed in this case – totally editable design options, appealing copy, clear CTA… And blocks for additional offers – this is performing practice for these emails: not only remind about canceled order but offer something more in gentle unobtrusive manner.
One more template by GetResponse. It is helpful for seasonal sales mailings. We've found this one among seasonal/holiday templates, it's crafted for the forthcoming Black Friday sales – but why not redesign it for other cases if needed?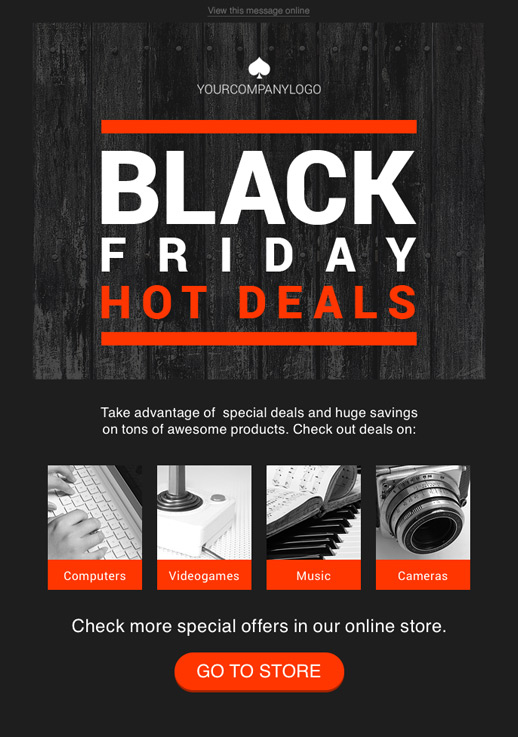 It's black/white/red color scheme is really stylish and fits Black Friday mood perfectly – but all in all, the design is editable… What's more important – layout structure. Simple but convenient – recipients are provided with a menu to choose categories according to current needs. And clear CTA – it's unreal to skip it.
Just take and customize 😉
These emails are must-have not only for bloggers or journalists. If you have news and updates, if you provide users with helpful actual information – digest is a flawless format to arrange all this. Prior to other top trends, we'd like to start with this one.
What's outstanding about this template crafted by SendPulse? It's structure – everything is in order, nothing is piled up, and we have the full set of elements needed. Just add all the required content and attach links – CTAs "Read more" are simple and eye-catching. Another successful solution is social icons at the top of the email. No need to scroll down.
Never surrender when the client seems lost. Campaign Monitor at the stage again with this re-engagement email 🙂
This template is based on the "emotions + practicality" principle. Pleasant soft colors are combined with strong and well-readable value offer to hook the clients up again. Notice that default copy (including CTA) is cute and heart-touching, it appeals to emotions… Of course, you may replace it with your text but it should work even without editing.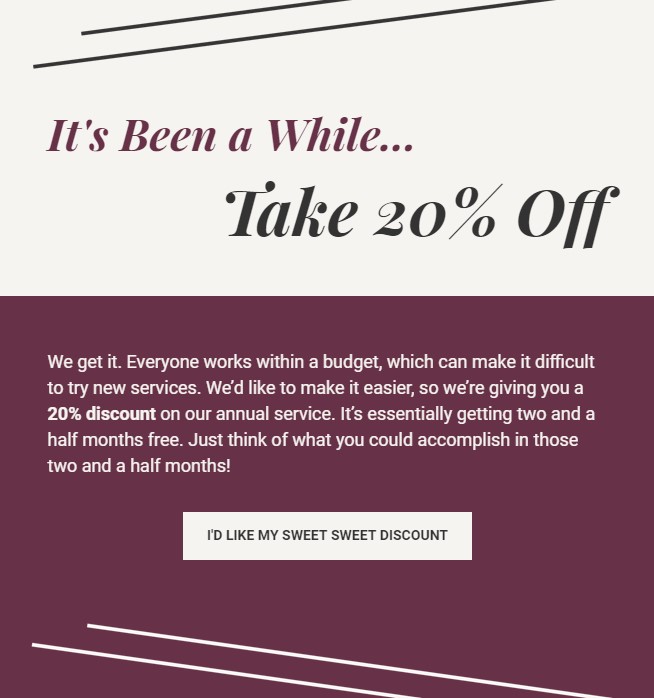 The last but not least is a very positive triggered email developed by Topol email builder. They offer just 7 ready-made templates but in fact, all their templates worth attention.
Congratulating clients on birthdays is an excellent gesture of care and politeness – and it builds your relationships. This template is perfect for pleasant cases. Bright, merry design and a gift code that is impossible to skip – all that is needed to please customer on his or her special day 🙂
Summing up
That was our top 9 of HTML templates for business. Of course, this is not full set – you also need confirmation emails, reminders, apologies, etc.
Let's end up with some basic requirements to choose email templates:
responsive layouts. This is not a feature today but a default condition. As for templates represented in this post – don't worry, they all are mobile-friendly;
easy export to the top ESPs and email clients;
banner generators to add copy, stickers and CTA buttons over the image;
work automation, block storages and other features to save your time.
Well… Try these templates, apply your imagination and creativity to send only the best emails. We wish you inspiration and the best of luck!