30 Best Restaurant Themes For Your Business To Thrive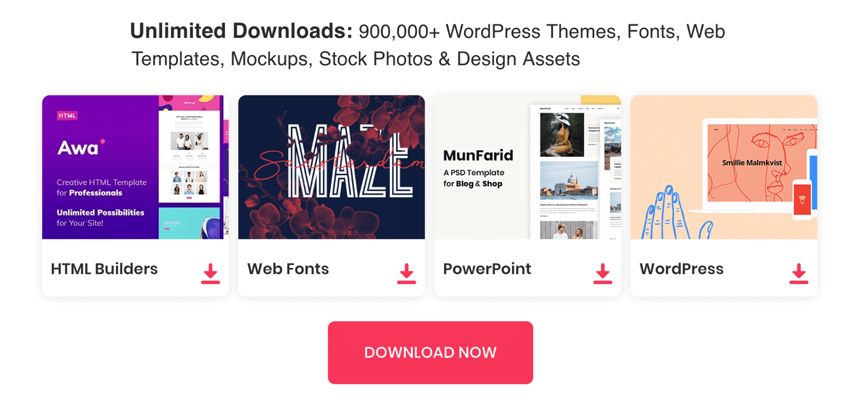 The success of your restaurant business directly depends on the number of visitors and their loyalty. To attract visitors and make them want to come back to you again – that?s the main goal of the concept of the restaurant which provides quality cuisine and service. The location is very important for your success. If your establishment is not located in a crowded place, you'll have to make the effort to attract visitors and make them book a table in your restaurant. Something unique, like the restaant on the roof or on the river bank could be your advantage.
What do visitors expect to receive from a good restaurant? Of course, good cooking, nice atmosphere and quick service. People go to restaurants and cafes on many occasions, but in general they want the same – to spend their time well. Of course, there's more to a good restaurant than just hiring an excellent chef. Dinner at a great place can be remembered for years, because this is where people date and and go to long-awaited gatherings with friends.
You may be interested in the related articles:
A lot of attention should be paid to development of the site of your restaurant. The site is the hallmark of any establishment and allows Internet users to find out all about its location, menu, prices and working hours. Visitors also have the ability to view photos of the interior, as well as book a table or make an online order, if the restaurant offers such services.
Website of a restaurant should be simple and attractive, the navigation should be designed so that the visitor could firstly read the menu and prices, its philosophy and principles. In addition, the site should allows visitors to learn about the current and planned activities, as well as special offers. Some restaurants, for example, conduct master classes for everybody who wishes to learn how to cook ethnic dishes, as well as cooking classes for children.
Professional site design, navigation, cross-browser compatibility, use of specialized fonts, logical and convenient site search – all these features can be guaranteed only by professionals. One of the easiest ways to get high quality and beautiful site that will be a pleasure to visit is the use of templates that have been pre-designed by experienced webmasters.
With one of the templates you get all the features you need for a professional website. Templates are easy to install, edit and manage. You can choose any design you like amongelegant and functional samples. Quality templates do attract the attention of visitors thanks to well-thought page layouts and eye-pleasing color schemes. Well-developed themes are ready-made and combine both usability and great look. The big taglines, creative photo galleries, easily legible text, booking tables and search forms, Google maps and fonts are those useful features which you can find in well-designed templates.
We offer you to take a look at 30 fresh best restaurant themes chosen by our experts:
Fast Food Restaurant Joomla Template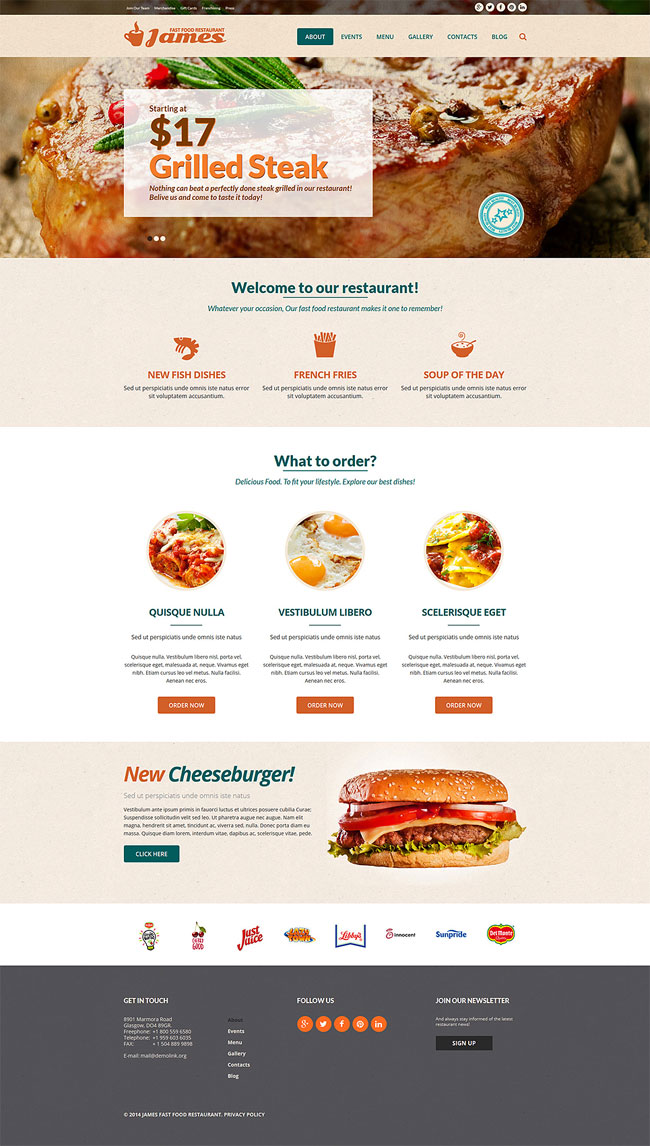 Prove that fast food restaurant is not just a quick-service. Pumpkin oranges and clear whites of this Fast Food Restaurant theme will work great for customers who are looking for upbeat dining experience. Site visitors may find handy a search bar feature, an ability to switch the layout mode on the Gallery page and opportunity to add online ordering system. Joomla CMS will provide the website administrator with a full range of powerful and easy editors, quick installation recourse, simple menu creation tool, built-in basic SEO functionality, library of extensions, compatibility with mostly all browsers. Clear and well-documented code will also please professionals
Seafood Restaurant Responsive Website Template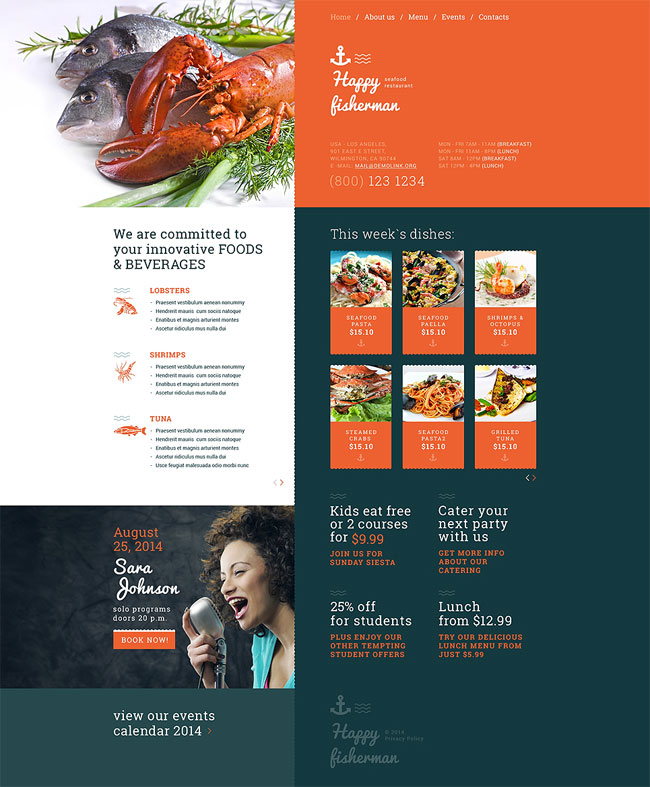 This Seafood Restaurant theme has been developed to look like the paper menu, feel like you are turning the printed pages. This template will deservedly enjoy both tasteful web designers and gourmets. It's fully responsive and proposes a lot of interesting additional features such as Event calendar, online booking, third-level menu items, etc. The template will be a good choice for any type of seafood or vegetarian restaurant.
Italian Restaurant Responsive Website Template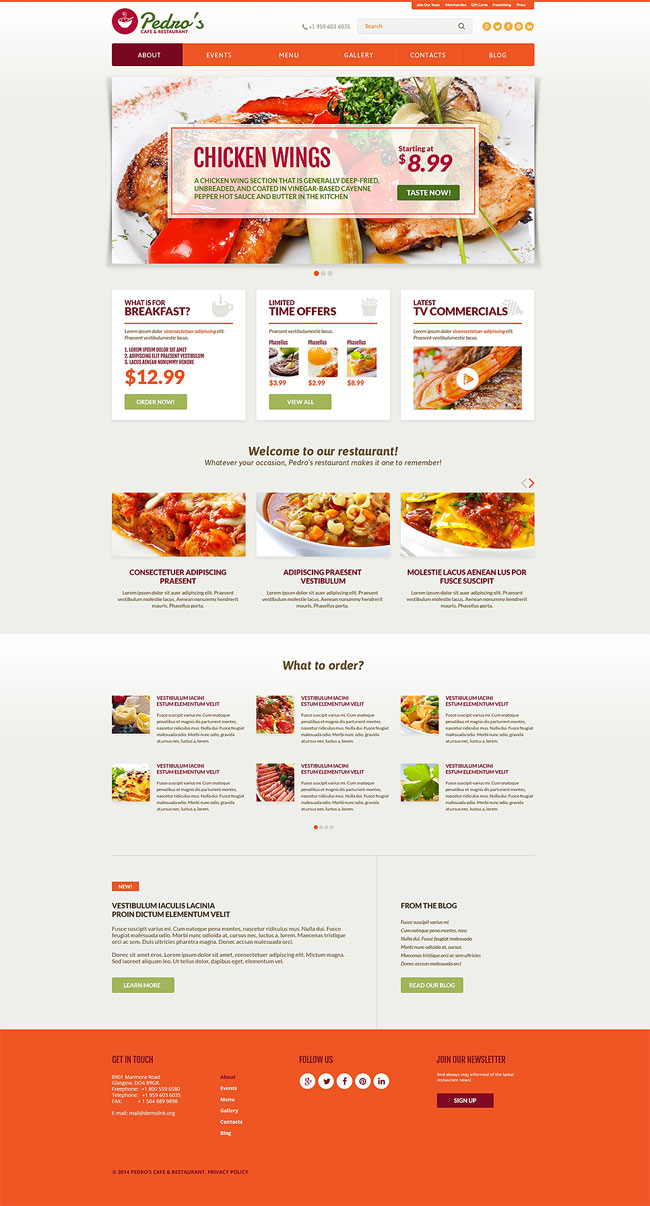 There is hardly a restaurant that doesn't have an Italian menu item, at least pizza or pasta. Among a big choice of Italian restaurant websites you simply must create something remarkably cool. A huge slider with high resolution images on the Home page will definitely catch one's attention. Clean looking layouts with separated blocks, warm orange colors on top and bottom perfectly combine with the light central part of the site. Especially pay attention on the Gallery and Menu pages ? they hide a plenty of useful options like Chef?s secrets section, etc..
Cafe and Restaurant WordPress Theme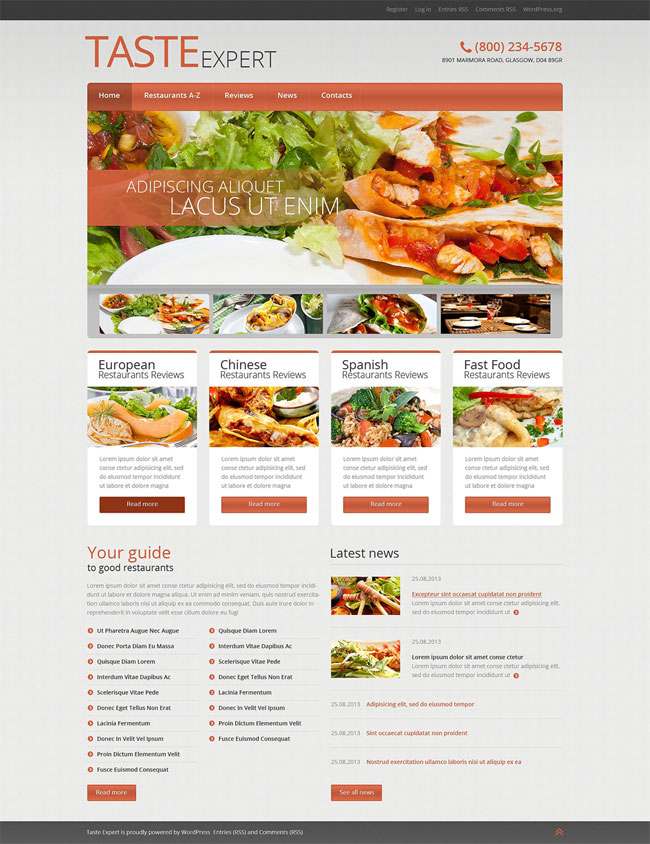 The menu is everything for restaurants and cafes, but probably not less than the ambience. On the Internet you can only show it, no taste, no smell. Use a professional slider on the Home page and a lot of the big images through the entire site to firstly impress your visitors with the pictures ? put the best ones and add some catching descriptions on them. WordPress CMS will make a customization a breeze.
European Restaurant Responsive Website Template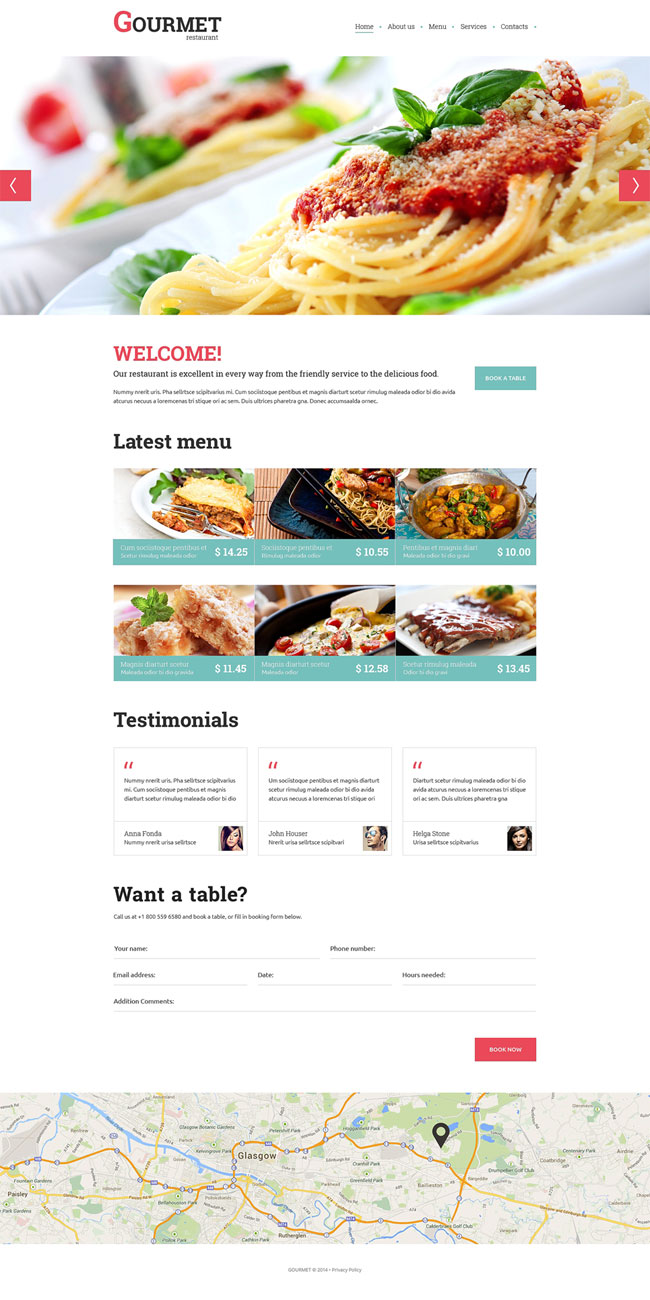 The ideal theme for those who think that everything should work in harmony. The main color is white with touches of light blue in the menu bar, menu titles and services icons. It offers a single page and a multiple page layout, color variations and a set of custom widgets, booking a table online in several easy steps.
Cafe and Restaurant Responsive Website Template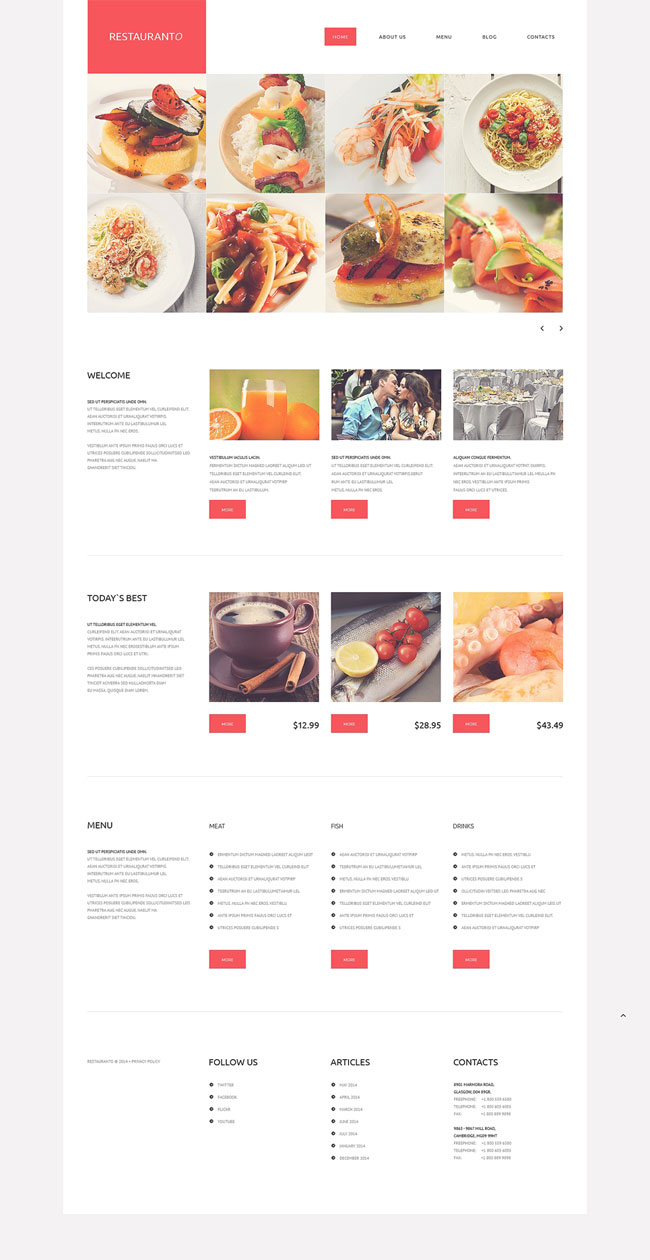 The overall design of this theme is flexible and clear. The menu is logically divided into categories that are also represented on the main page. Your site will look like a multifunctional table ? very intuitive in using. This Cafe and Restaurant Responsive theme is focusing on the open interaction with the clients through the Blog, Forum, updating Events and News.
Italian Cuisine WordPress Theme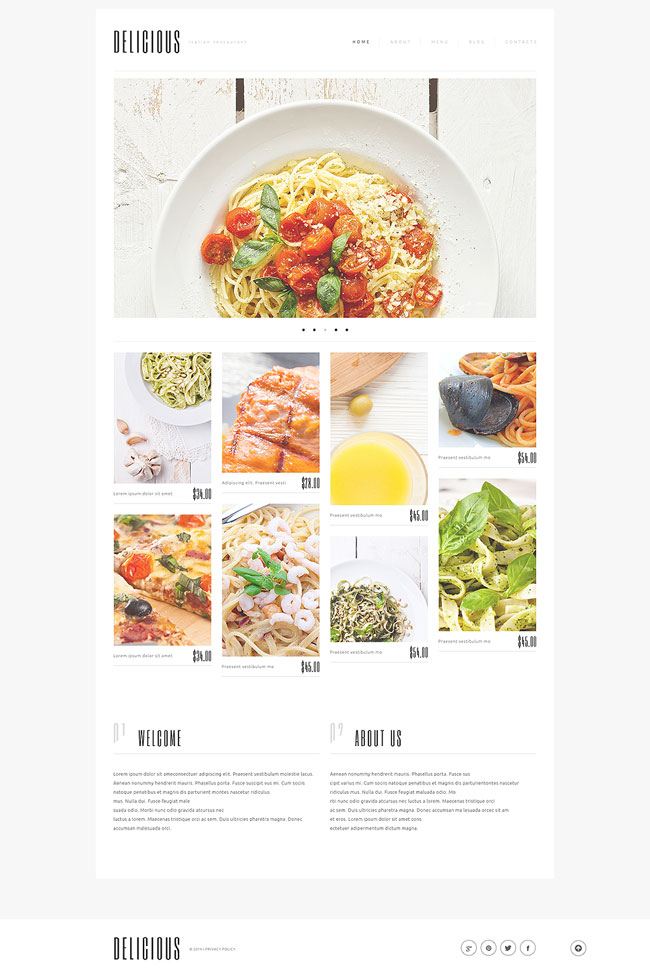 With this Italian Cuisine template you can run any restaurant website as the design is rather generic. Innovative theme is mobile ready, the thin fonts won't take much space and look extra elegant. Website management on WordPress platform proposes you a lot of free useful plugins, an easy and structured environment for customization and an ability to publish your updates under different sections on the site, – the best choice for beginners.
Sushi Bar Website Template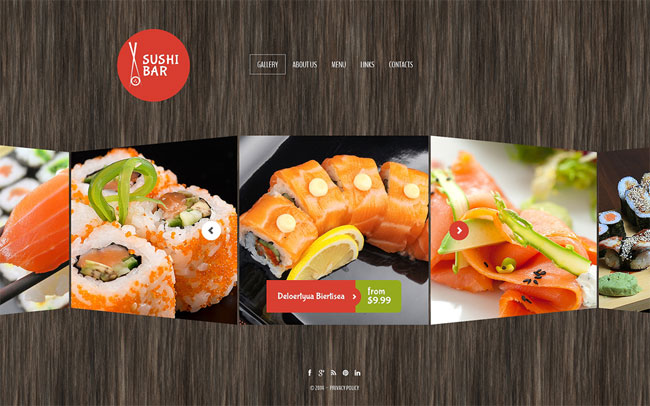 Stylish, compact and qualitative. For those who not eat on the run. Is this about your sushi bar? This template will help you stay so on the Net. Keep a tradition and at the same time reflect your local characteristics. The animated menu buttons, galleries and titles; easy-to-edit site background image; plenty of useful options through the CMS editors ? this theme is simply a gem.
Cafe and Restaurant Joomla Template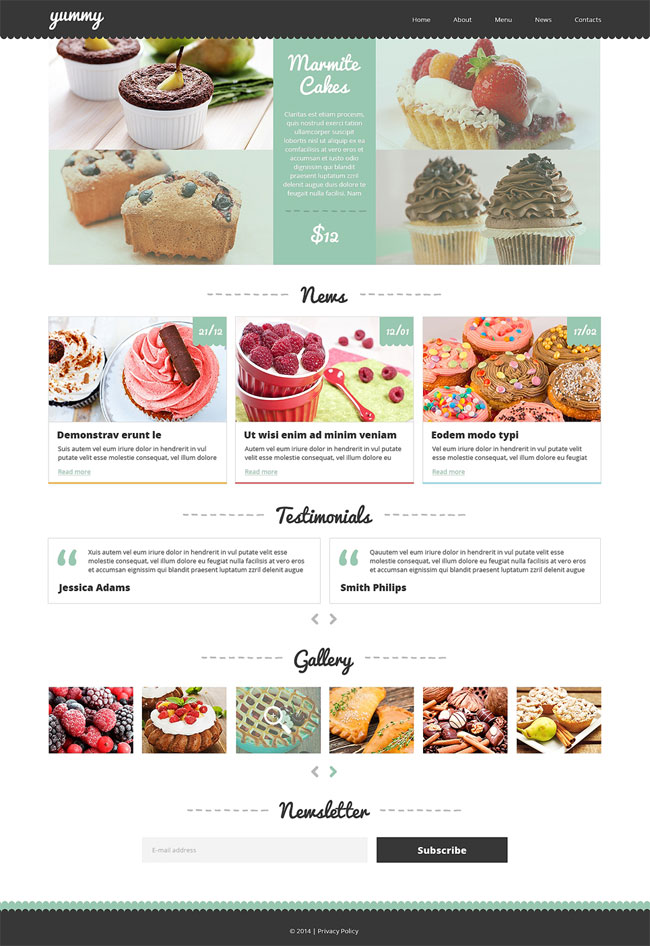 This Cafe and Restaurant theme reminds a beautiful postcard with the soft colors and cute frame. The layouts of this template are dynamic and enjoyable, can be perfect for restaurants, bakeries or coffee shops. The template is supplied with Newsletter manager, custom widgets for business hours/contact info and News, a lot of pop-up features, customers' testimonials. The customization is very easy even if you have not used Joomla before.
European Restaurant Responsive WordPress Theme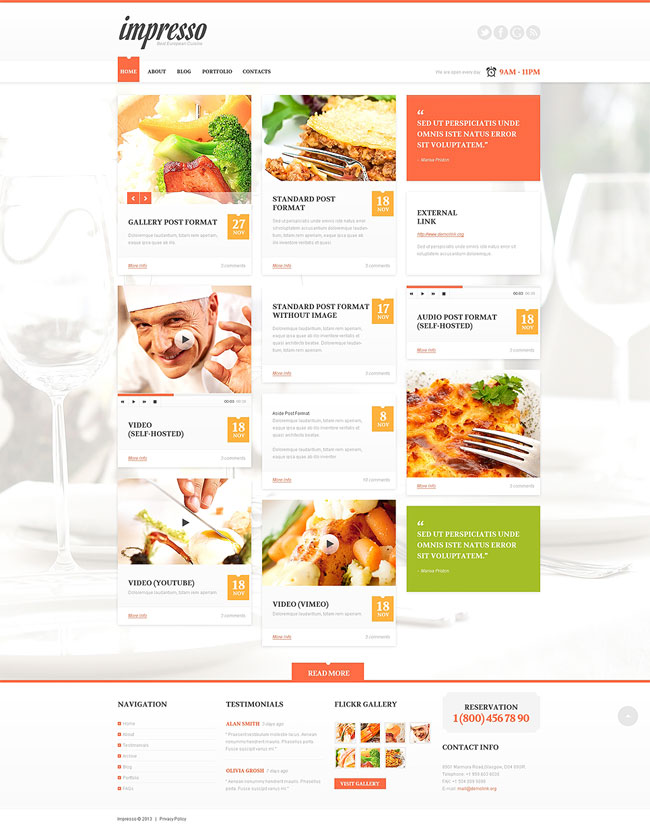 Take care of your business with this fast, easy and reliable template. It comes with functional widgets for video, a lot of cute custom icons, responsive design. Using its flexible system you are able to create unique layouts in moments, add contact forms, various types of maps, adjust social media icons. Main white color perfectly combines with warm light red and orange ones. Frequent writing to Blog will incorporate social network marketing and increase potential customers.
Cafe House Joomla Template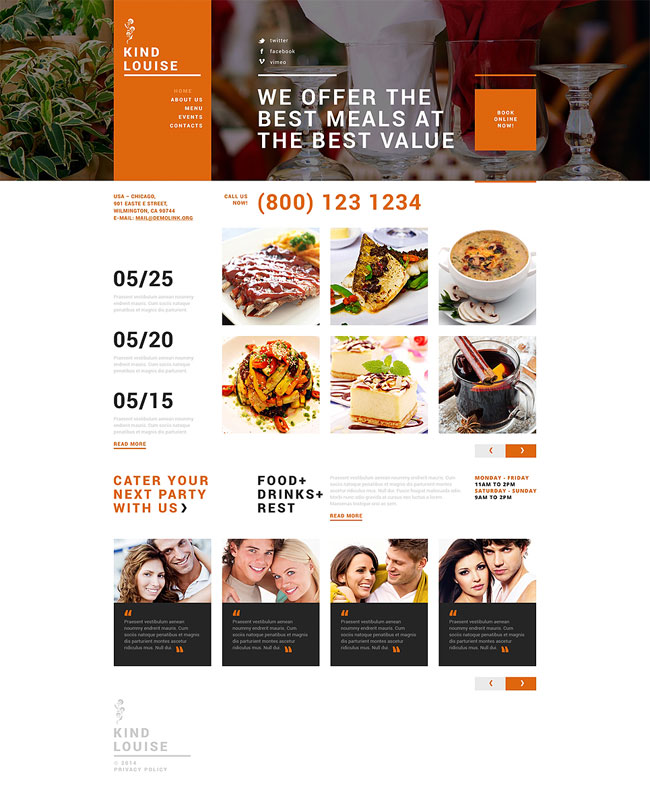 Minimalist design is always a trend. There are a lot of features on the Home page: separated blocks with the food categories which look more like a small gallery, custom calendar, Book online now option, Testimonials and News. Transparent footer looks very elegant. Your visitors will enjoy an easy-to-use forum within user area on the site.
Yummy Food Drink Cafe Drupal Template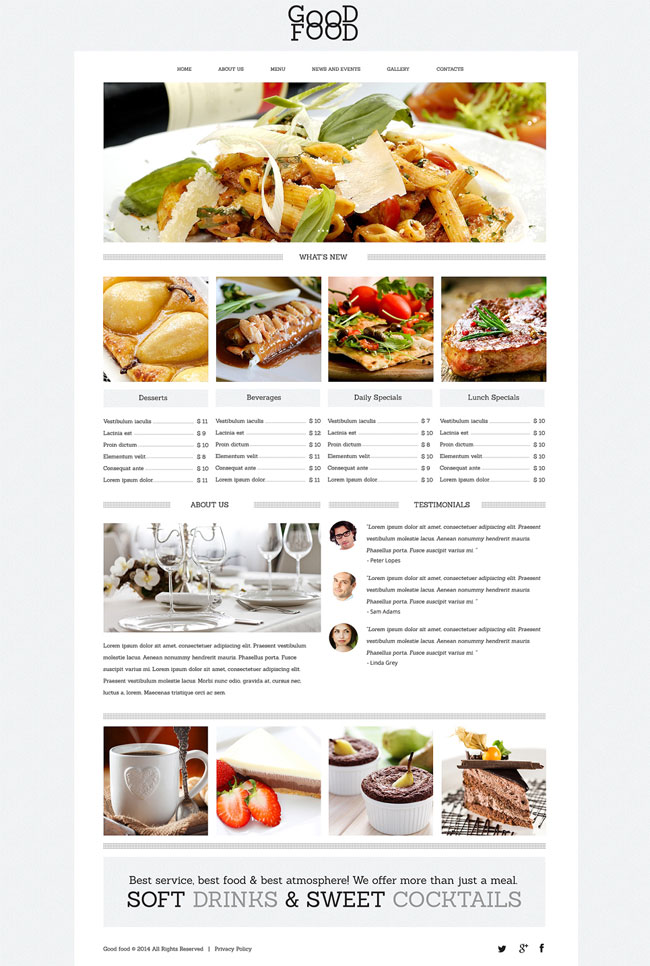 Picky people like to see the restaurant website educative and entertaining. Using this innovative Drupal platform you are free to build and manage different content types ? text, videos, blogs, polls, podcasts, statistics, user areas and a lot of another features that can help you create an interactive, educative and modern website. The design itself is traditional with white background and dark grey fonts.
Steakhouse Responsive Website Template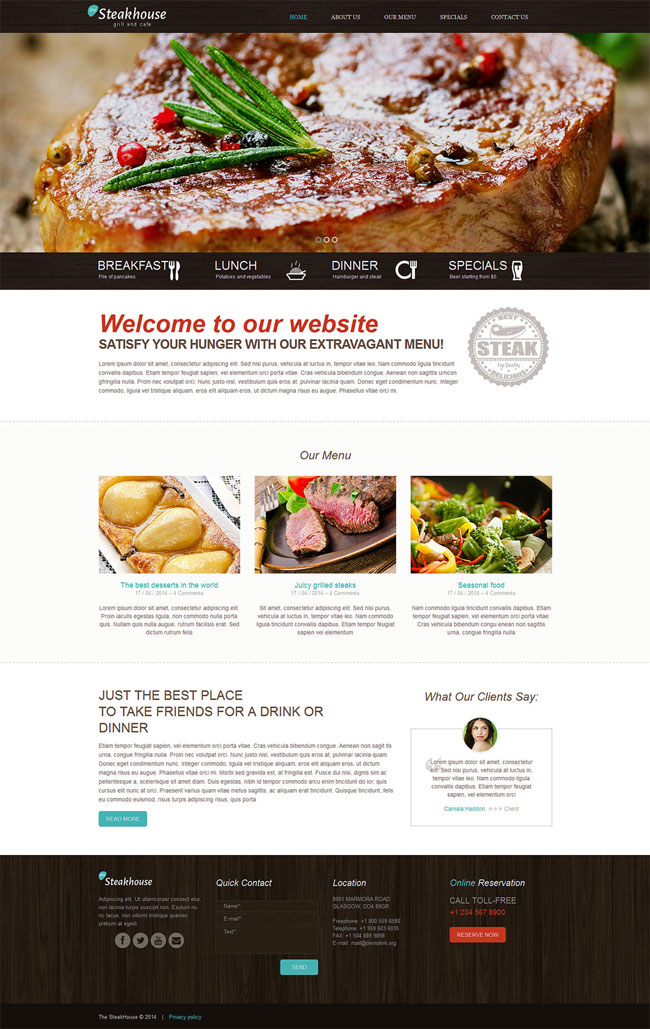 Steakhouse theme is a premium design for a comfortable restaurant. The visitors are able to explore menus, specials, online reservation and support by phone, a quick contact form, news and testimonials. The slider is supplied with the custom icons that present breakfast, lunch, dinner and specials propositions from the restaurant. This theme adapts automatically to different mobile devices.
Asian Grocery Magento Theme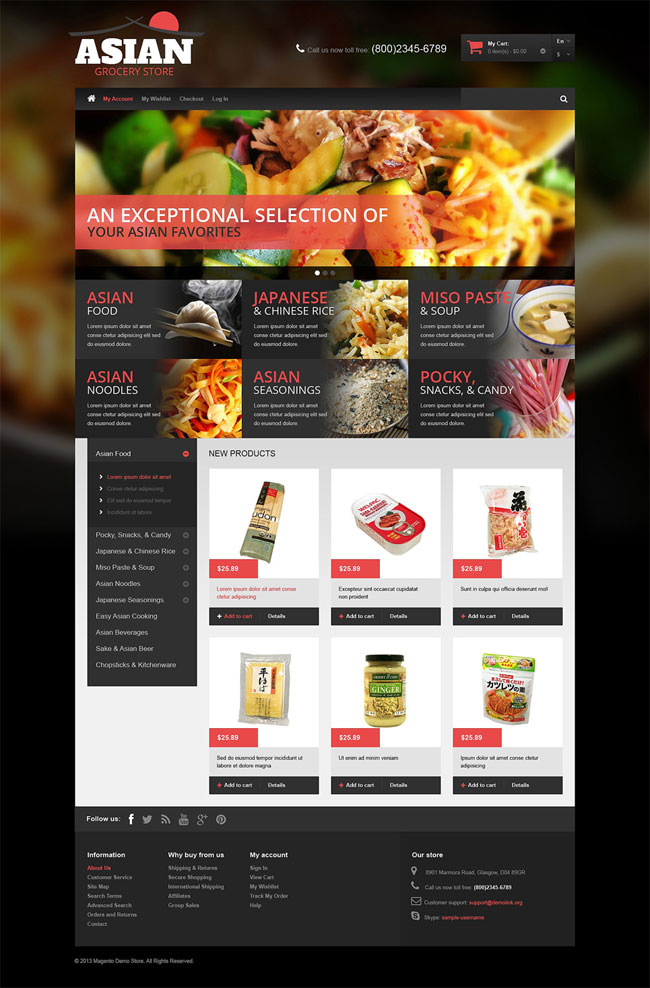 This Asian Grocery template would be suitable for fans of exotic food. Semitransparent blocks and big bold fonts propose a surprising virtual tour of the site. All new products are presented on the main page and come with details, price and add to cart option, so the visitors can get a fast and easy shopping online experience. Enjoy tons of features within friendly Admin Panel: community poll, ?search on site? bar, customer area, site map, secure shopping, affiliates, group sales and a lot of other functionality.
Cafe and Restaurant Responsive Joomla Template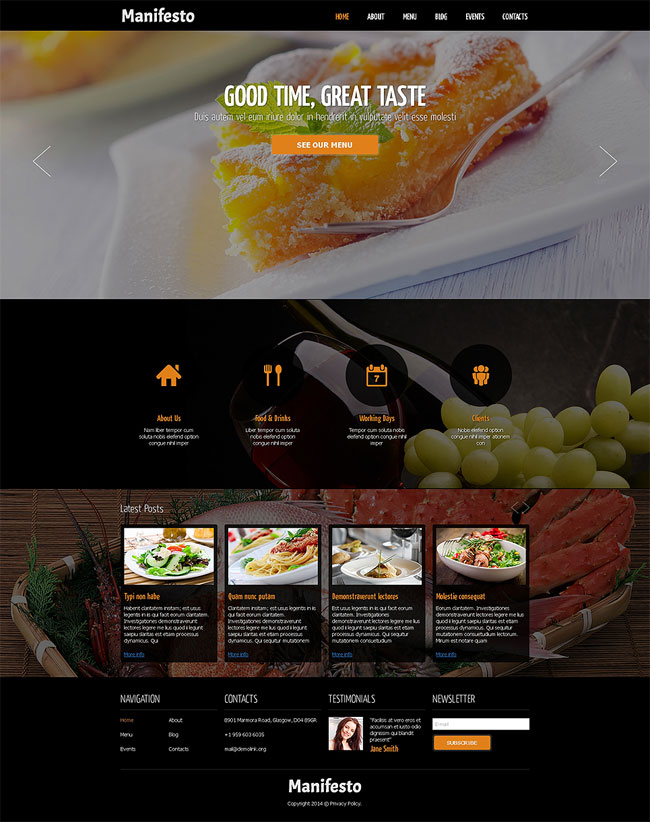 No successful restaurant without a great concept. This spectacular Joomla design with easy-to-update full page image background will help you create your unique brand. The theme is fully configurable and you can adjust it due to your needs very easy. Black as the main color will always look solid. It?s supplied with animated portfolio with filters, blog, forms, user area, newsletter bar, a huge slider with fading effects and big custom icons for menu.
Italian Restaurant Responsive WordPress Theme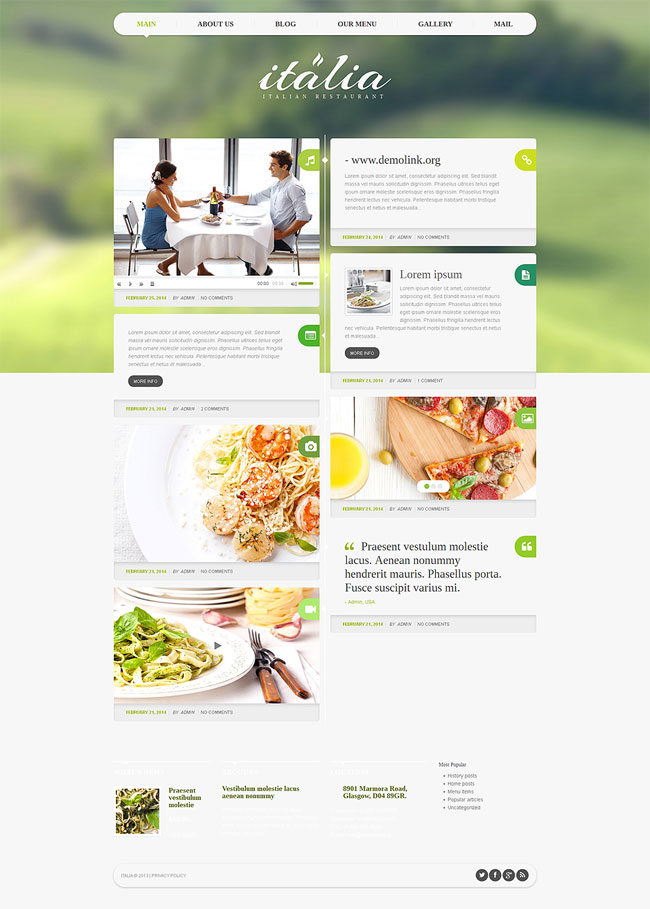 Take a risk, forget about stereotypical red, brown and orange colors of the Italian restaurant websites. In several words, this theme is a fresh, modern and free solution for your online business. The main page comes with menu propositions, testimonials, news, pictures, audio and video files. The visitors will get a handy surfing experience through the site. The gallery is divided into categories and presents high resolution images.
Italian Restaurant Responsive Website Template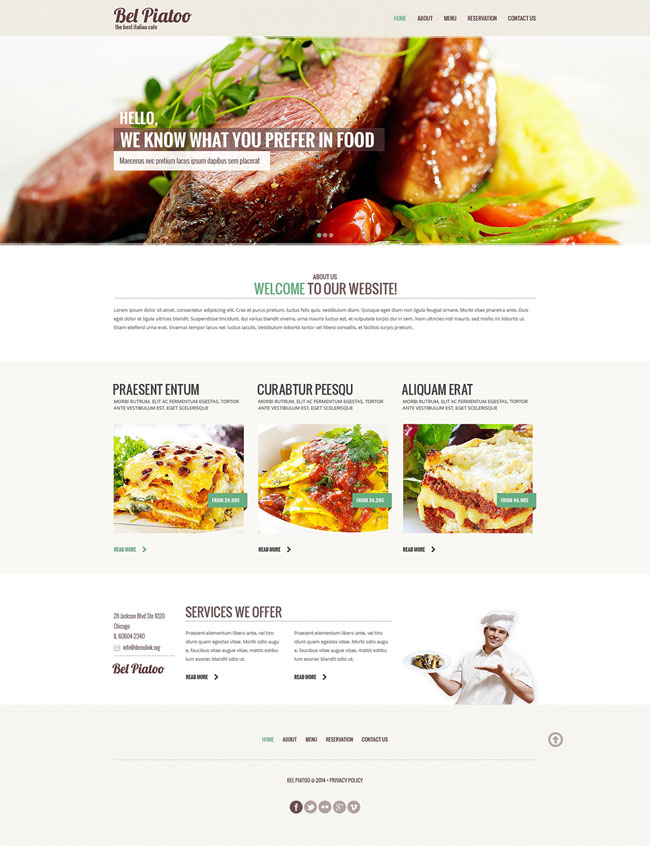 To generate genuinely positive impressions of your restaurant is easy with this 100% responsive design. To lure your Internet visitors, add the best images to slider and put impressive advertisement on them, or tell about some restaurant exciting events in several words, then put a couple of new dishes overviews to the main page and tell a little bit more about the services you offer. Don?t forget to put some words saying why you are so pleased to catch customers? attention. You already have a ready-made template for it and for even better experience.
Italian Restaurant Website Template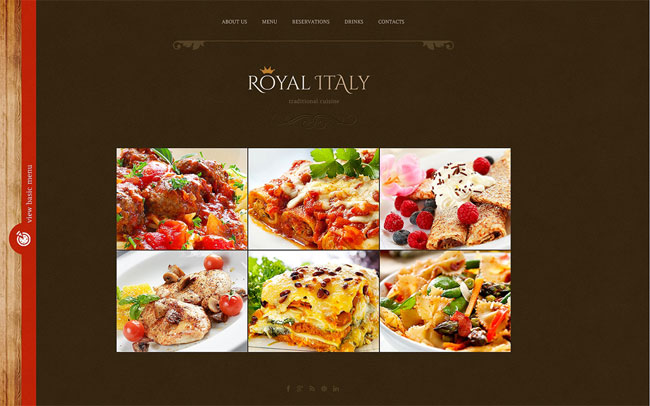 This one is a pixel clear design for perfectionists. You?ll enjoy the designer?s solution in menu creation ? animated items in the traditional blocks won?t leave you uninterested. Online orders are available through the site. Unique character of this template reflects in royal fonts, icons in classical style and serious brown color scheme.
Cafe Responsive Joomla Template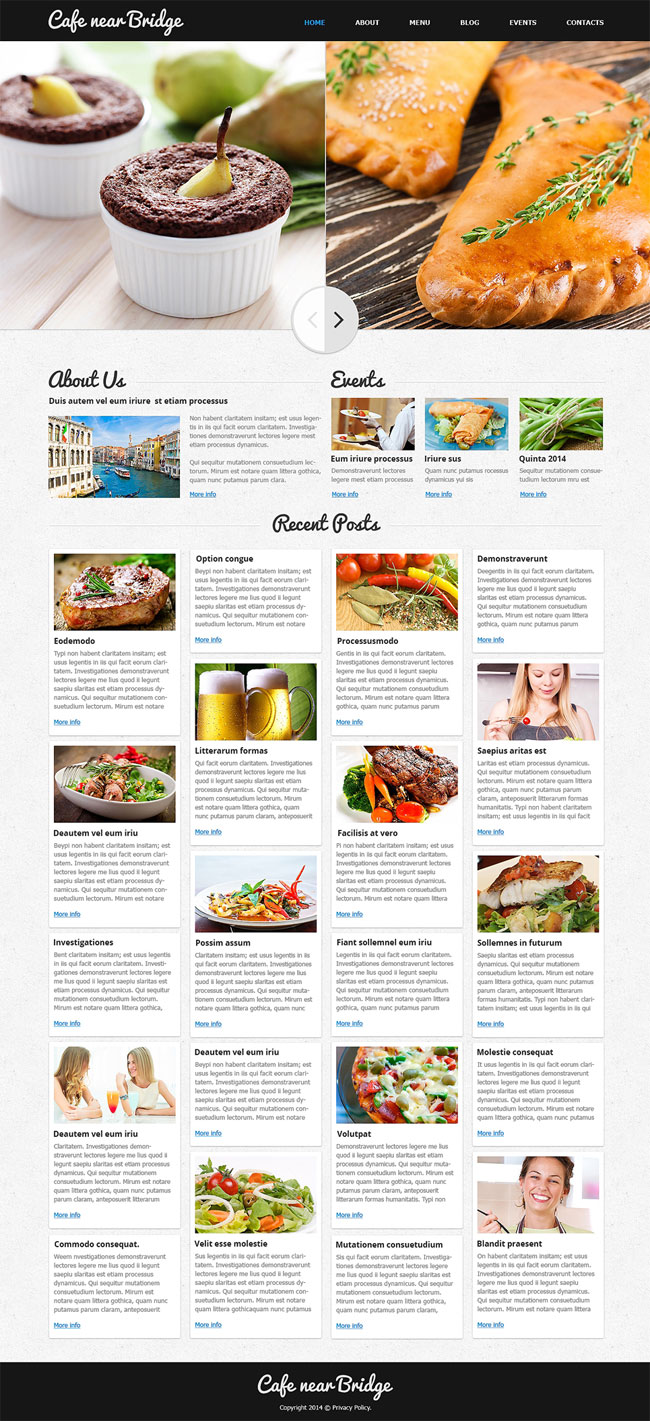 The Cafe Responsive template is good for business owners who like modern challenging combinations in the design. The upper part of the template reminds a book ? two column layout provides a handy website surfing experience for the site visitors, after scrolling down the website turns into the newspaper article with the resent posts. Such sophisticated design will attract curious consumers. A lot of animation and pop-up features create a dynamic image of the site.
Magnificent Beer Pub Joomla Template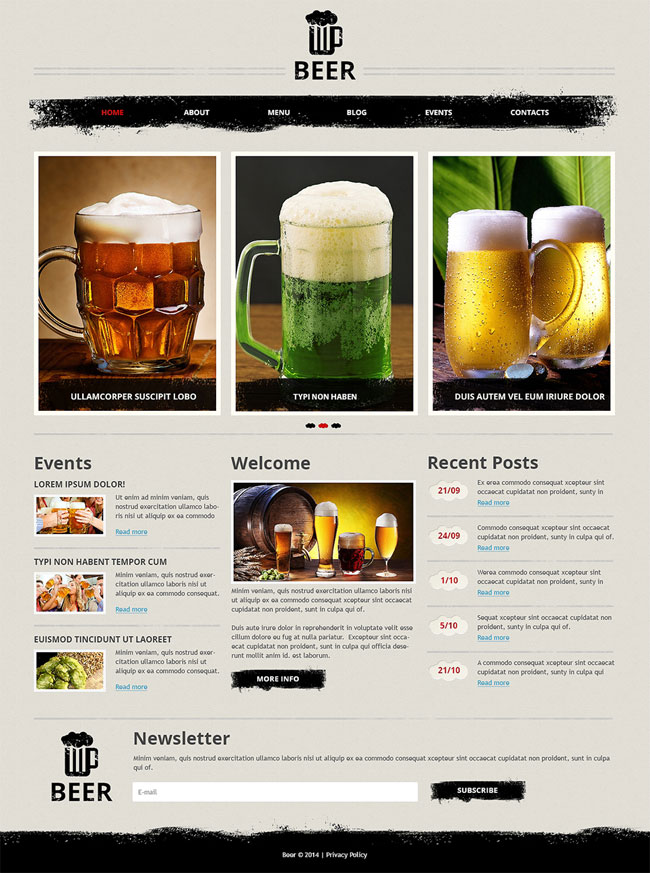 There simply cannot be a bad template for Beer Pub. Share your joy with clients who love ancient taste. You'll not allow to have anything sophisticated or unnecessary on such a serious website. Black and white color scheme is the best choice. The slides look like the pictures in the frames, the site comes with a traditional and handy interface.
Mexican Restaurant Responsive WordPress Theme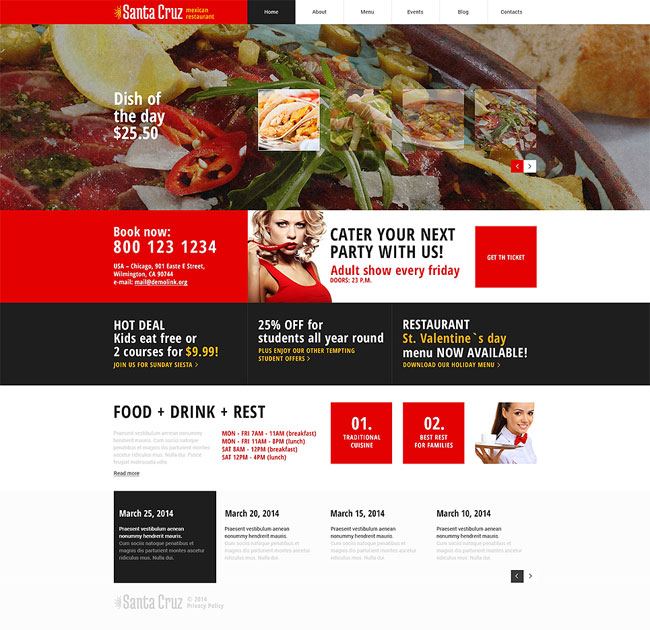 This Mexican Restaurant theme is something really spicy! It looks unusually interesting because of a lot of squares – on the menu bar, titles, promo banners, calendar, news and even small images on the slider. This is a very interesting designer's solution. Red, black and white colors are just perfect for presenting hot and spicy Mexican spirit.
Italian Restaurant WordPress Theme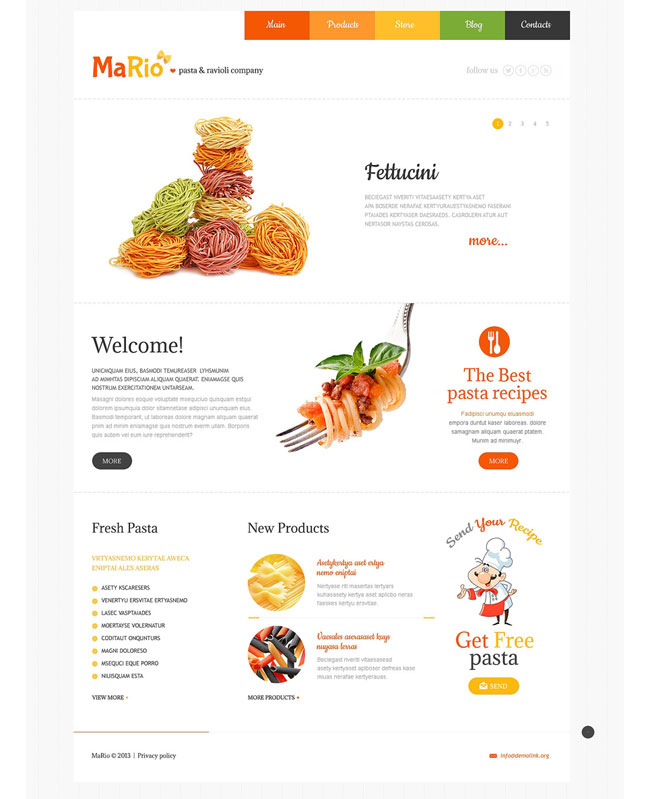 If you are a fan of clean-looking modern layouts, it'll be the best choice for your Italian restaurant. The infoboxes location is not fixed, it gives a freedom for your imagination. WordPress is just a rescuer for website administrators without professional skills.
Attractive Restaurant Joomla Template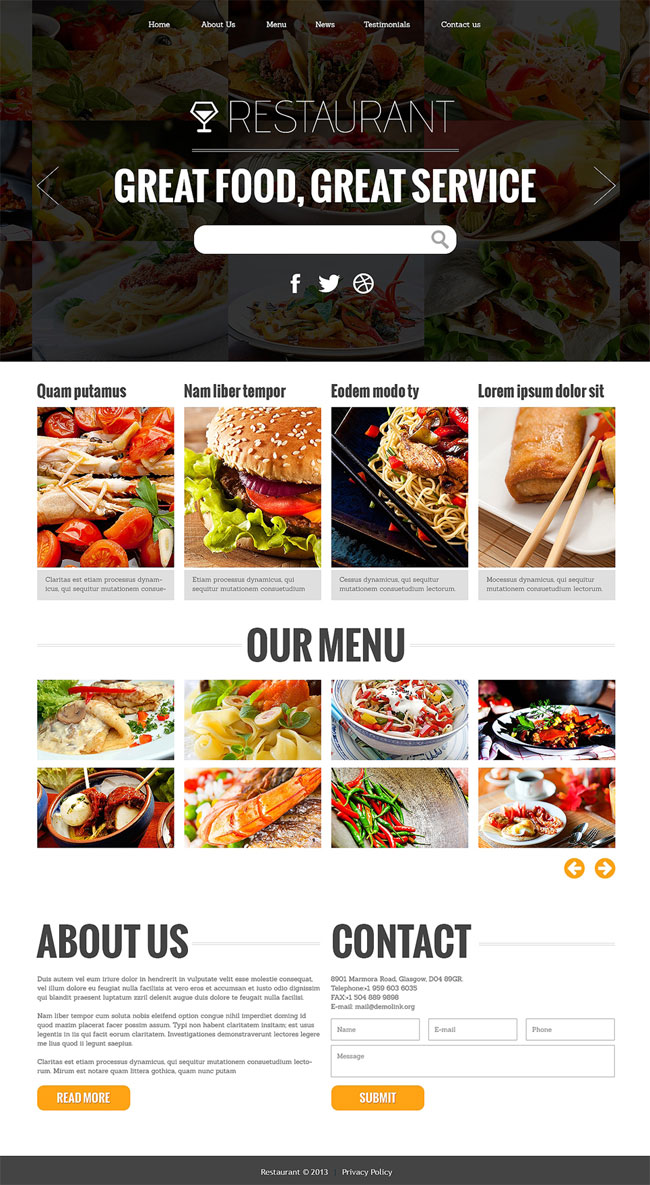 This design has been developed due to the latest techniques. Massive bold fonts, huge images, big orange buttons perfectly suit this template with shady top part. The design is very solid and dynamic at the same time. Joomla platform will provide the administrator with a range of innovative plugins, editors and options.
Italian Restaurant Responsive Website Template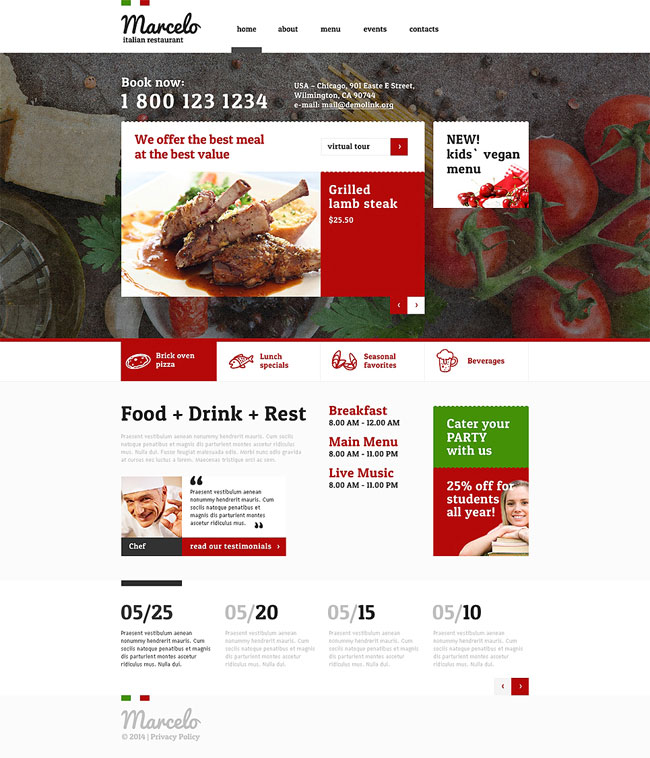 This Italian Restaurant template has a special focus on entertainment. It presents a virtual tour, a lot of promo banners, news, blog, testimonials, overviews, etc. The separated menu is underlined while hovering. By the way, have you ever seen such cute slider? The colors are traditional.
European Restaurant Responsive Website Template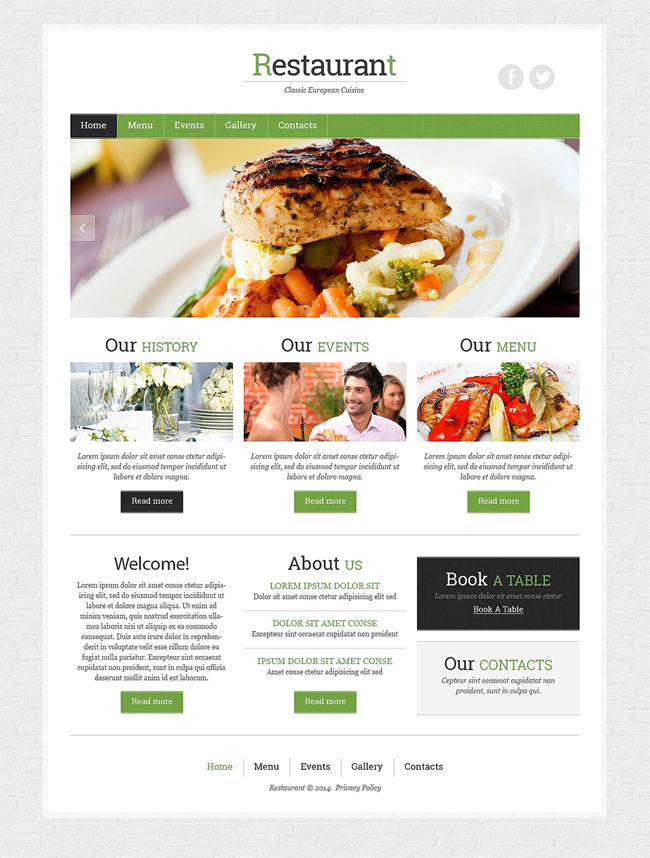 Firstly you'll be impressed with these delicious slides and slider effects that can be easily managed via admin tools. If you stress on healthy and fresh food&beverages, you'll value this green and white color scheme, the entire site looks like a poster on the wall – attentive visitor will notice bright white bricks behind the theme. Online booking is available through the site. This classical design will give your site visitors a special inspiration.
Tea Shop Responsive Joomla Template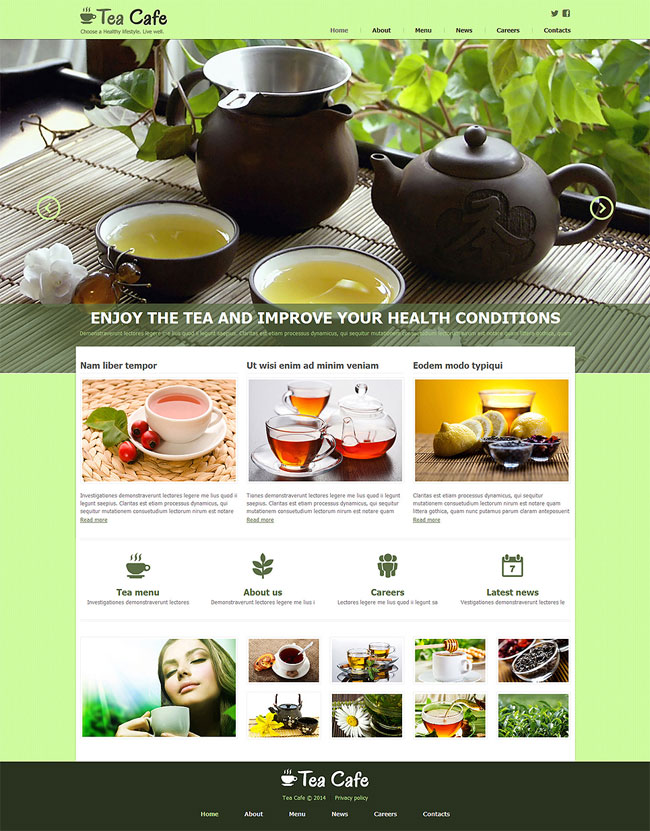 Are you a small tea shop owner? You'll be definitely attracted with the clear layout and handy navigation of the template. A half-page slider in green colors looks very cute and natural, it smoothly merges with the bottom part. A lot of sweet custom icons perfectly suite this theme. It's your cup of tea!
Cafe and Restaurant Responsive Website Template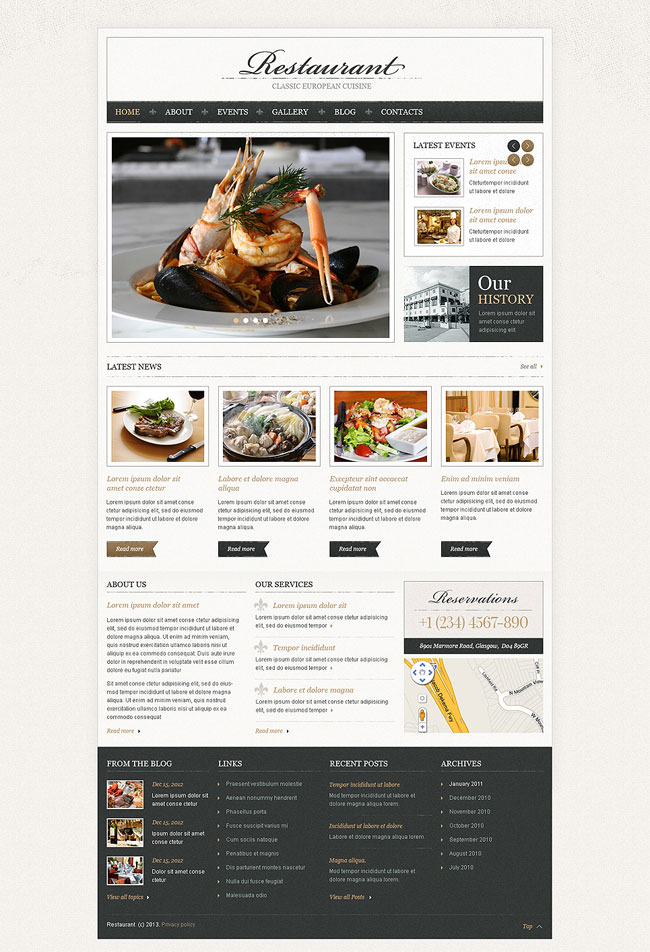 It's not an average theme, it's a newspaper of good dishes and quality service of your restaurant. Black and white fonts, tiny images, old-fashioned logo and super-easy website surfing will fully meet the needs of the picky conformist.
Cafe and Restaurant Responsive Joomla Template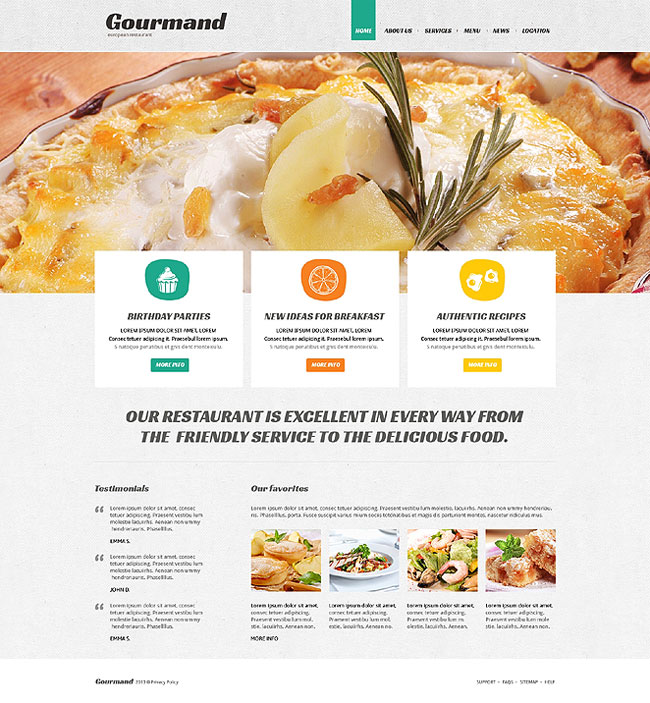 This Cafe and Restaurant Joomla theme with Italic bold titles through the site presents a very lovely design solution. A lot of bright and cute icons create a cozy atmosphere on the site, various pop-up features make it dynamic and vital. An innovative menu gallery is easy to use. Discover more great features by viewing a demo version.
Fancy Restaurant WordPress Theme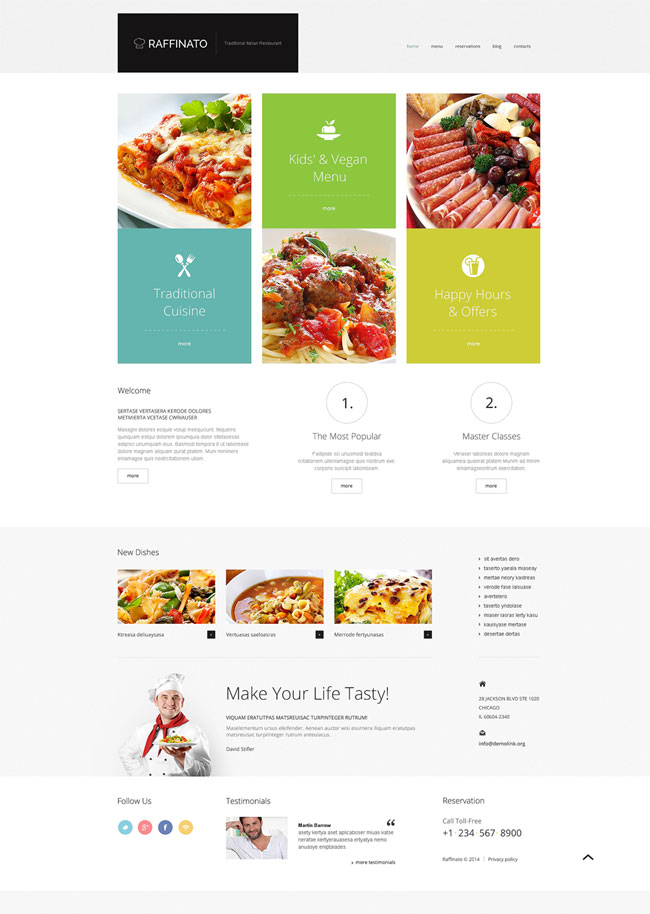 Don't want to have a typical restaurant website? Check out this design to make sure you can fell in love with it at first sight. Six animated colored blocks in the center categorized by the type of cuisine look stunning. In this theme everything is unusual and modern – small tidy menu buttons, logo in the big black block, pale social media icons will give something you've badly missed.
Meat Fish Restaurant WordPress Theme