Best Mobile Responsive Templates Under $10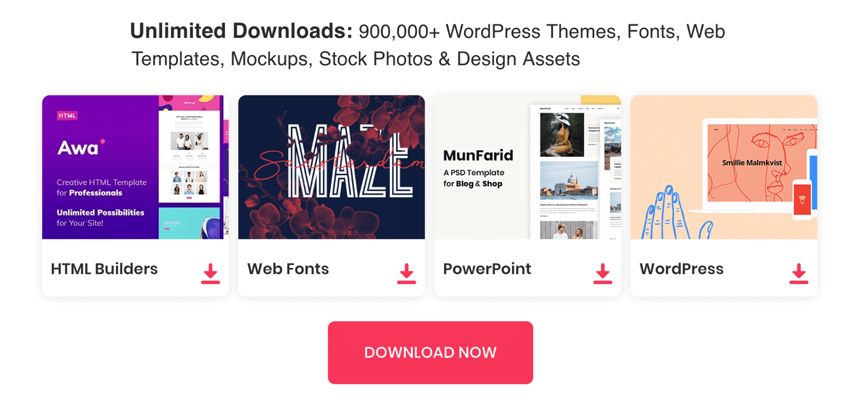 In this post you can find some very useful Mobile Responsive Templates with responsive design and layout builder. Pick one of our beautiful and unique HTML mobile website templates with responsive and customize it.
You may like this:

30 Best Mobile Website Templates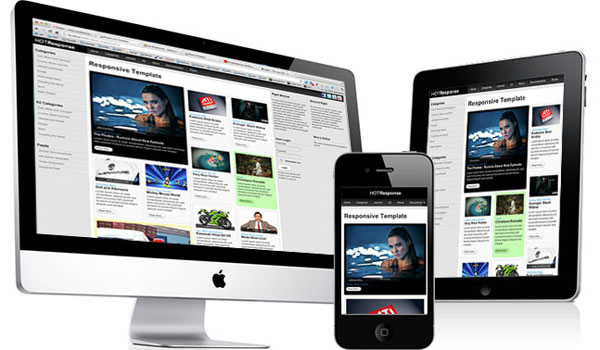 As you know mobile templates are perfect bases for websites optimized for handheld devices. Everybody is going mobile, and a decent website needs to support this trend. So, in this collection, we have collected best Responsive mobile website templates to help you with your search.
Tiger | jQuery Mobile Web Template & Web App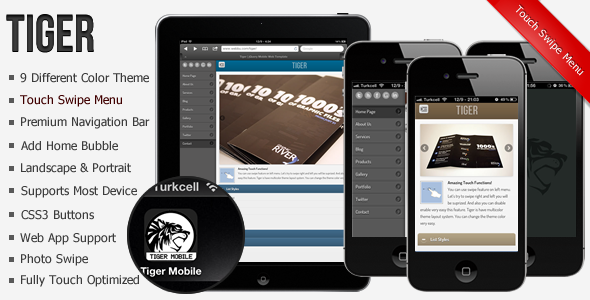 Tiger jQuery Mobile Template is best to use for business companies, personal blogs, portfolio pages, creative agencies, photographers and much more… Flexy design with jQuery Engine. You can use 9 different color.
Water Mobile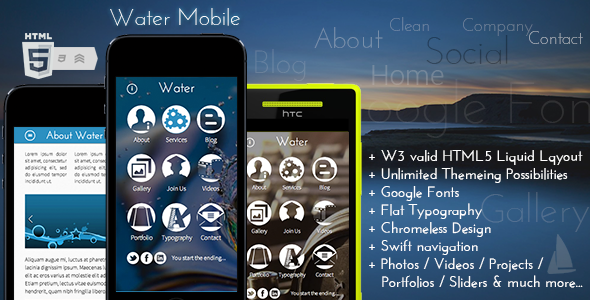 Water Mobile is a lightweight design, allowing your choice of coloration to brand your own website. It's made to be like an app – let the mobile users not know this is a website!
Ultimate – Your Ultimate Mobile Solutions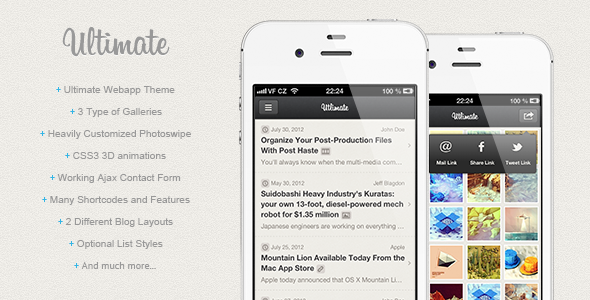 TOUCH: a retina-ready HTML5 + CSS3 mobile template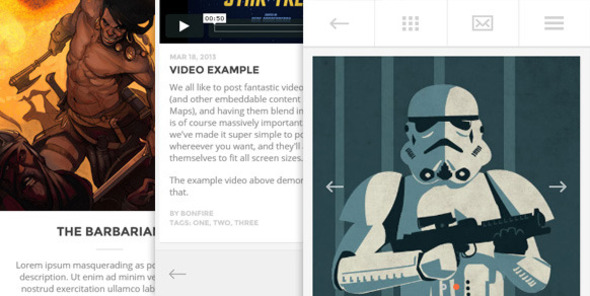 Touch is a light and airy template that makes setting up your site an utter breeze. Unlike some other templates, Touch allows for super fast editing of your site thanks to the use of includes. For example, need to add an item to the menu? No need to go through the dull task of making the change on every single page on your site; simply edit a dedicated menu file to apply the change.
Tauno – Mobile Theme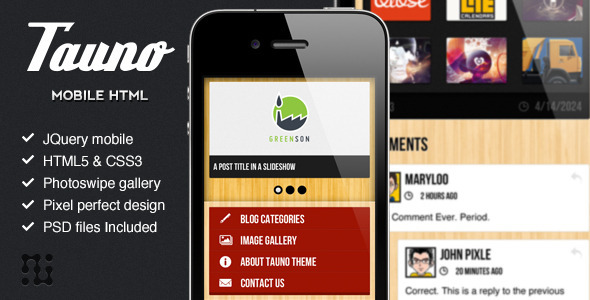 Tauno is a simple and elegant mobile theme. It is well grouped and properly layered to make the slicing process easy. The theme is designed for the Retina display resolution, ensuring that you will have a crisp and crystal clear view at the iPhone 4/4S screen.
Stacker – Responsive HTML5/CSS3 Mobile Template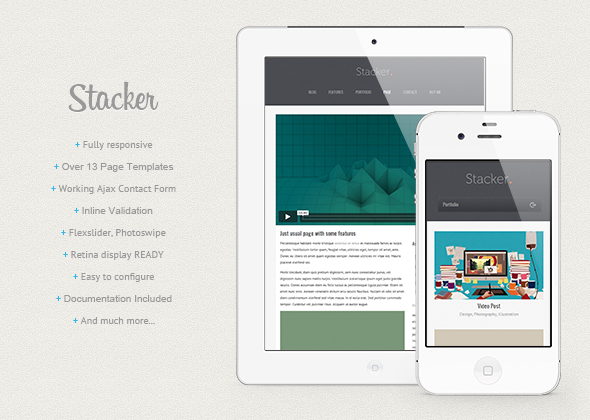 Simply – Clean HTML5 & CSS3 Mobile Theme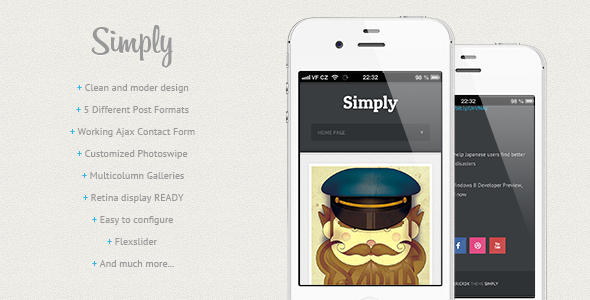 Restaurant Mobile Theme Meat&Recipes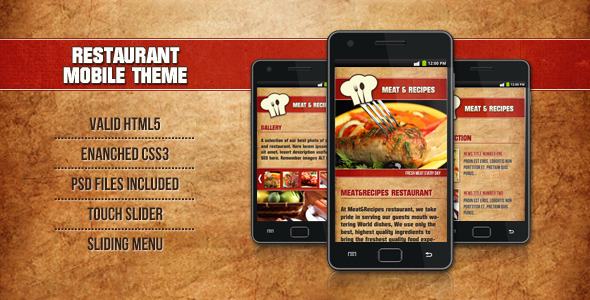 Hot Mobile theme for you restaurant. Made in HTML5  CSS3, better view on portrait version. It contains 8 HTML -CSS-jQUERY templates to fit all your needs. Well-Layered PSD included too.
Mobilize – Touch Optimized Mobile Template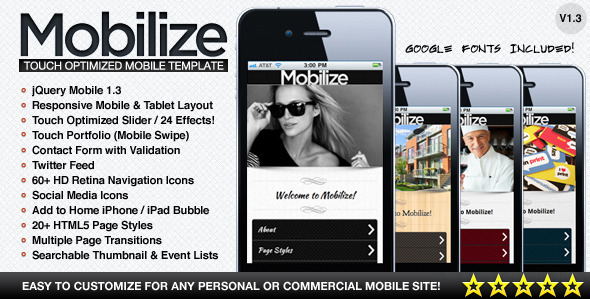 With an easy to customize responsive layout packed with features, you'll have your new mobile site up in no time with Mobilize! The homepage features a touch optimized responsive slider with 24 transitions (swipe with your finger!), optional captions, social icons and more. The interior features a touch optimized gallery, contact form with validation, and over 20 page styles. Four color schemes are included, and customizing colors is a breeze.
Mobile News Mirror Theme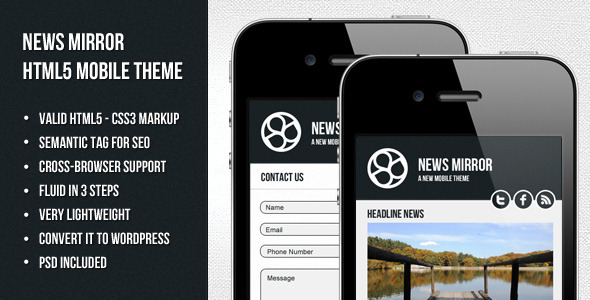 Mobile theme made for newspress, blog or magazines. Valid HTML5 , CSS3 . Made it fluid only by removing 3 css lines. Very lightweighted for fast browsing. Convert it easily into a wordpress theme!
Lotus – Mobile and Tablet | HTML5 and CSS3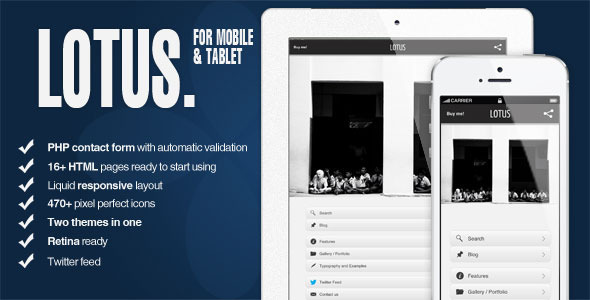 Finaly there's broad HTML5 mobile template which follows newest trends (responsive layout, beautiful design, clean interface, quick support…) – successor of beautiful five-star mobile HTML5 template AxiaMobile is finaly ready for purchase!
JournalMobile Mobile Template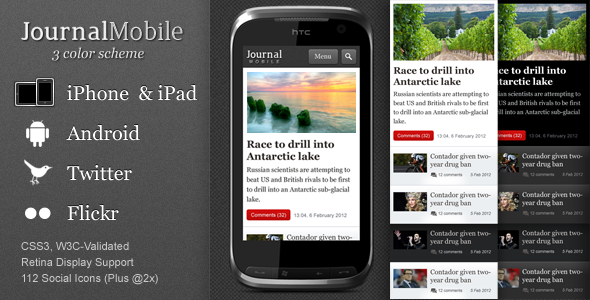 Template for mobile devices which is best suitable for magazines, journals and news blogs. Supports Android, iPhone (including retina support), iPad and other mobile devices as well. Includes twitter, flickr, last comments, calendar, related posts, tags and about widgets area, and AdSense easily can be installed. There is only two pages: main and single-post, from which, meanwhile, you can build whole theme easily.
IRONIA – Mobile Website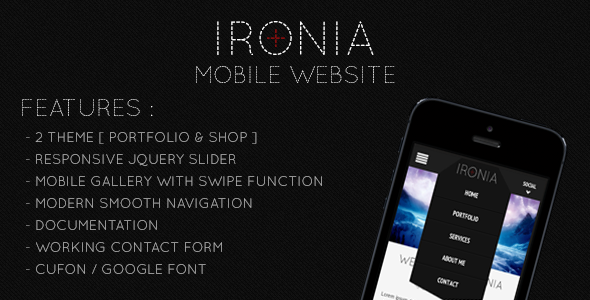 IRONIA is a mobile optimized website with 2 theme. First theme is a Portfolio and the second is a small Shop theme.
Eternity – Mobile website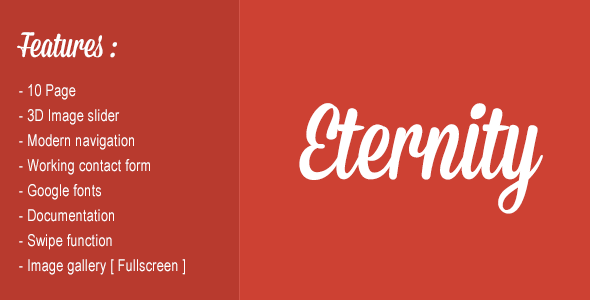 Emdot – Mobile Website & Theme Pack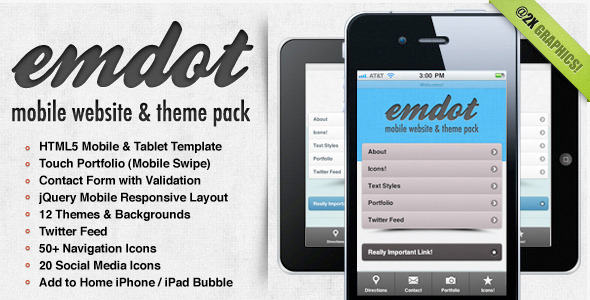 Introducing emdot, the solution to your personal or business mobile website needs. Built on jQuery mobile with a ton of great features, you'll have your new mobile website up in no time. Use one of the 12 included color themes as is, or easily customize everything to match your branding. With @2x graphics your website will look extra sharp on the latest HD smartphones, and the touch optimized gallery will have your photos looking great on the go!
AxiaMobile – Corporate Mobile | 3 Color Variations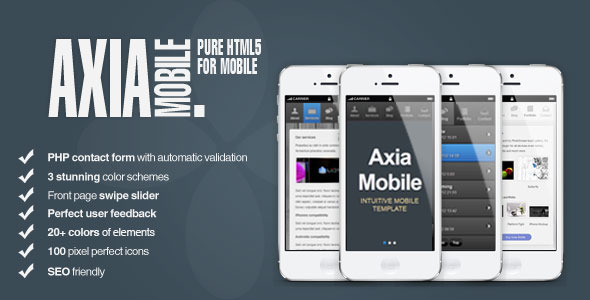 AxiaMobile is HTML5 mobile template, highly optimized for mobile (iPhone, Android, BlackBerry etc.)
White Berry Responsive Business Mobile Template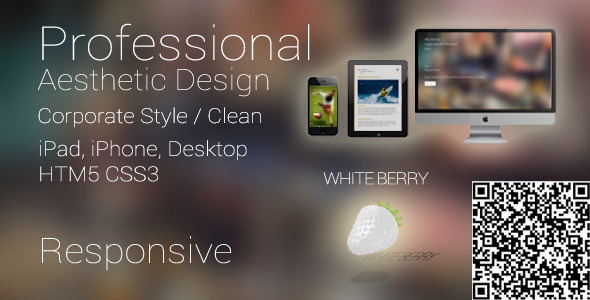 TrollerV2 Mobile Retina | HTML5 & CSS3 And iWebApp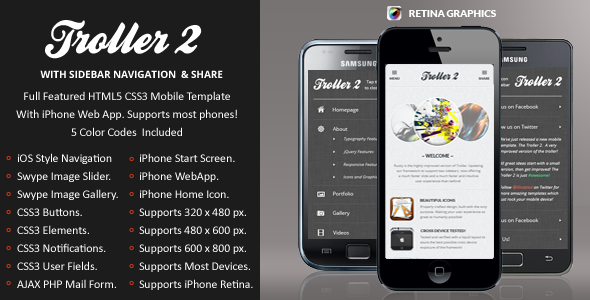 Tricky Mobile | HTML5 & CSS3 And iWebApp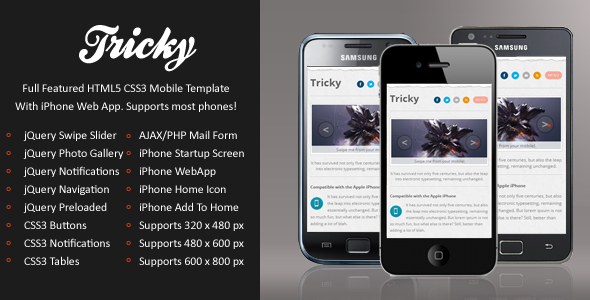 Touch Mobile & Tablet HTML5 Template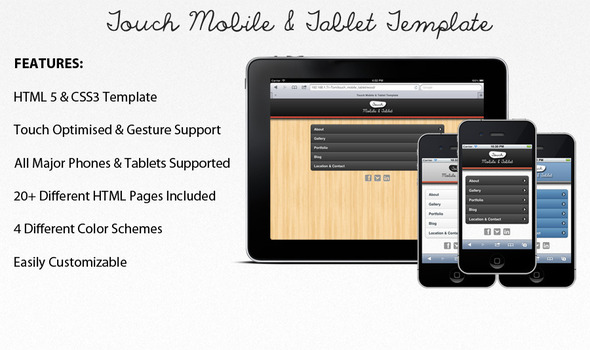 Touch Mobile & Tablet is an HTML5 and CSS3 template built for mobile and tablet devices. It is a fluid design that will adjust to screen size and orientation of the device and is suitable for business and personal sites. The template has been built to feel like a native app with slide transitions between pages. It has a large number of HTML files that can all be easily customized to fit your needs and includes four different color schemes.
Esepina Mobile | HTML5 & CSS3 And iWebApp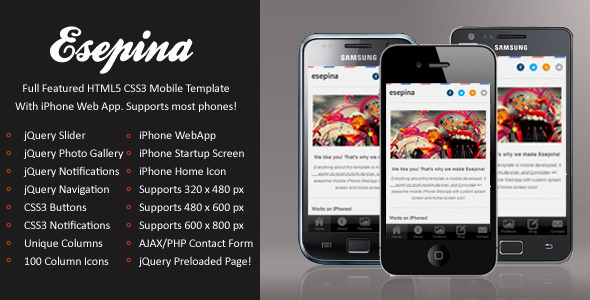 Fosile Mobile | HTML5 & CSS3 And iWebApp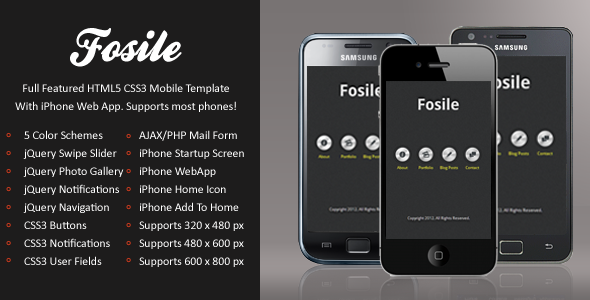 HotCake – Mobile Business HTML Template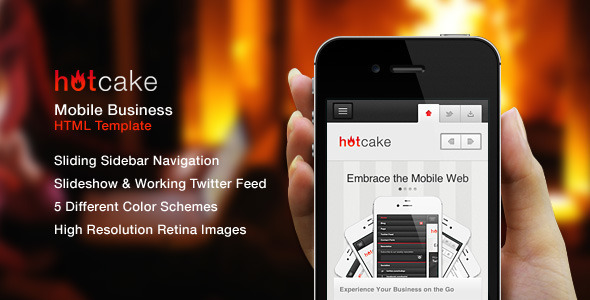 HotCake is a Mobile Business Template written in HTML5 & CSS3 which provides a convenient way for your customers and visitors to gather information about your business and products on the go. Make sure your visitors can see relevant business information or product details from wherever they are, whenever they need to, by creating a mobile version of your website using this template.