10 Best Crowdfunding WordPress Themes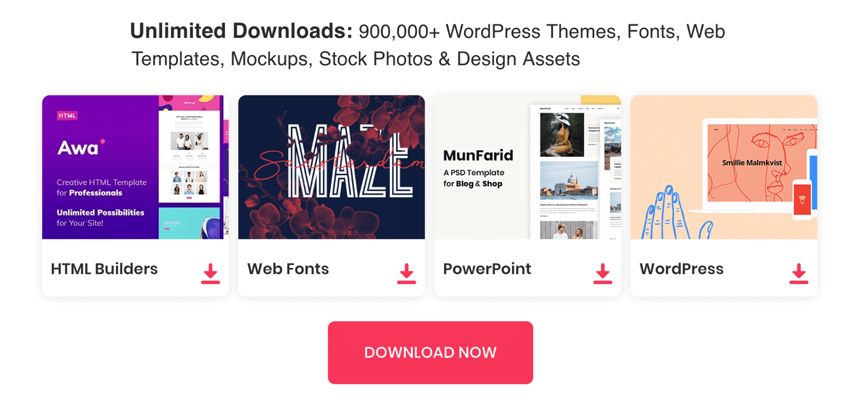 Crowdfunding WordPress Themes are best solution if you plan to set up a crowdfunding website. So if you are still do not know how to start, you're in the right place. Here is a list of the top 10 Best Crowdfunding WordPress Themes which will help you build a professional crowd funding website.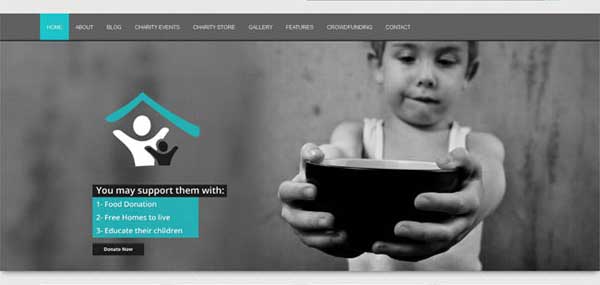 You may also like:
These Crowdfunding WordPress Themes come with payment gateways like PayPal and with project pages, responsive design, retina ready, shortcodes and much more. You can use crowd-funding themes in support of civic projects, scientific research, inventions, etc. Check these out.
Backer – The Modern WordPress Crowdfunding Theme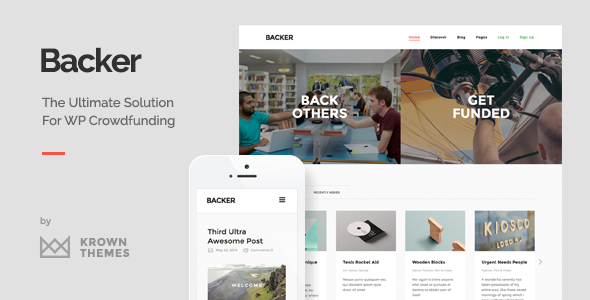 Backer is the perfect theme to kickstart your own fundraising website! Based on the popular IgnitionDeck plugin, it offers all bells and whistles to help you raise money for your own cause in your own style! Highly creative, featuring a clean & minimalistic design and packed with a lot of useful features, it can be used for all kinds of niches, like charity, music, fashion, technology and anything else that you may think of!
Fundingpress – The Crowdfunding WordPress Theme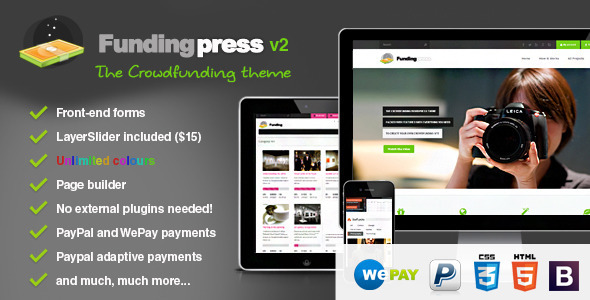 Fundingpress is a WordPress theme that allows you to create your own crowdfunding site. Users will be able to create projects that are brought to life through the direct support of others. A lot of thought and care went into the creation of this theme, that's why we are proud to say that Fundingpress not only is very easy to use, but is also packed with details so that you can easily monitor the progress of your projects.
Mission – Crowdfunding and Commerce for Churches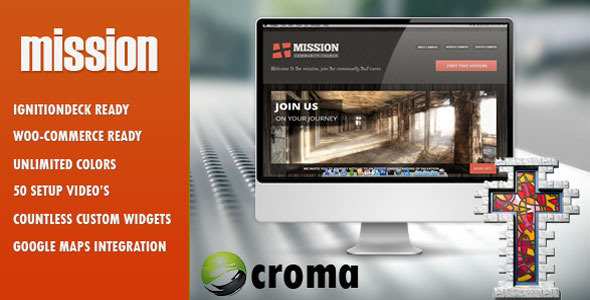 Mission is a church theme offering everything that a church would ever need, from podcasting to calendars to commerce and funding, mission aims to provide an advanced one stop solution for your church.
Franklin WordPress Crowdfunding Theme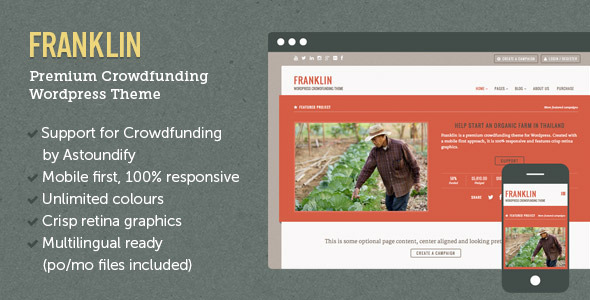 Franklin is a WordPress theme created with purpose: to help you raise money and achieve your fundraising goals.
GIG Premium WordPress Crowdfunding Theme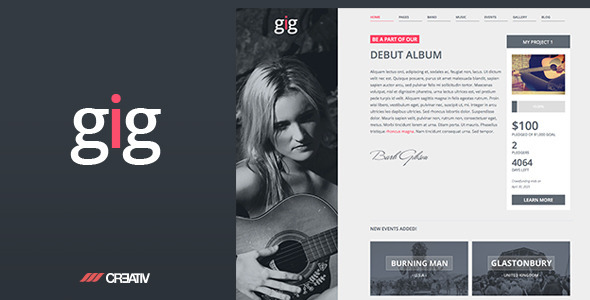 Created specifically for musicians and bands, GIG is a custom solution to enable you to display pages for band members, your music, events, blog and even crowdfunding for your musical projects with support for the Ignition Deck premium plugin.
Social Activity – Politics & Activism WP Theme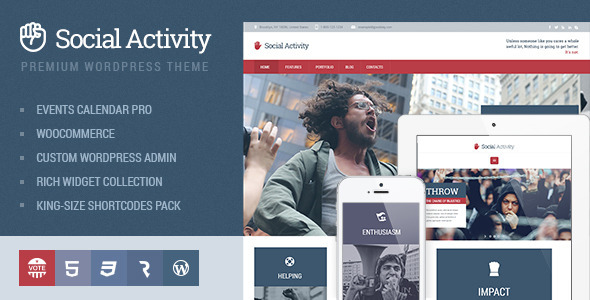 Social Activity WordPress Theme is created as a super-fitting solution for and social movements websites, political parties, fundraisers, crowdfunding campaigns and other activism websites that require special events functionality and donation payment option.
Social Activity theme features fully designed and integrated The Events Calendar and The Events Calendar PRO plugin compatibility, as well as a handy PayPal donations functionality. You can add events and calendars on your website as well as collect funds for your campaign.
Be Human – Charity Multipurpose WP Retina Theme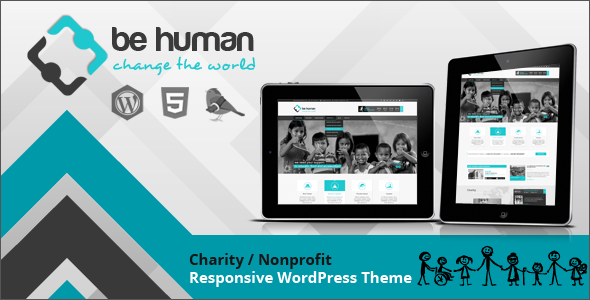 Be Human WordPress Retina theme is a web masterpiece which is designed for Charities. Theme is suitable for charities and nonprofit organizations & similar websites that need a feature rich yet beautiful presence online. It is compatible with all modern mobile devices. A very wall designed theme with a blog, gallery, events management, WooCommerce Store, Crowdfunding using Ignitiondeck.
GoRising – Charity Non-Profit Fundrising WP Theme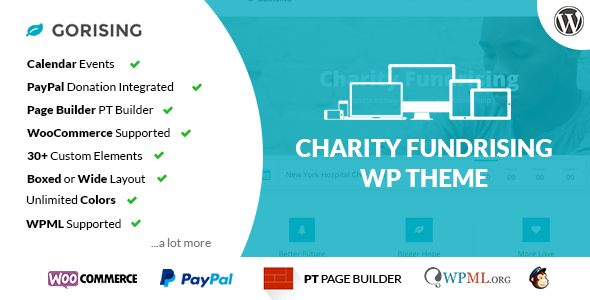 GoRising Charity Fundrising Non-Profit WP Theme v1.2 – This WP Themes perfect solution for charity, non-profits or fundrising organizations or websites.
Revive: Events & Donations WordPress Theme

Revive is an excellent Church and Charity responsive WordPress theme with PayPal donation system, based on Bootstrap 3.1. The main advantage of our theme are Paypal donations & LiveComposer page builder.
Social Reach – The Crowd-Speaking WordPress Theme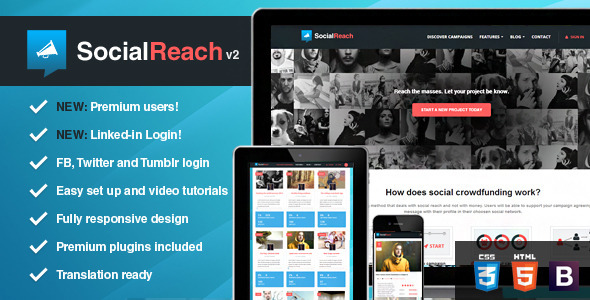 Social Reach is the first wordpress theme that lets you create your own crowd-speaking website. If you ever wanted to create your own Thunderclap, now you can with social reach.