20 Beautiful Design Ideas For Small Kitchens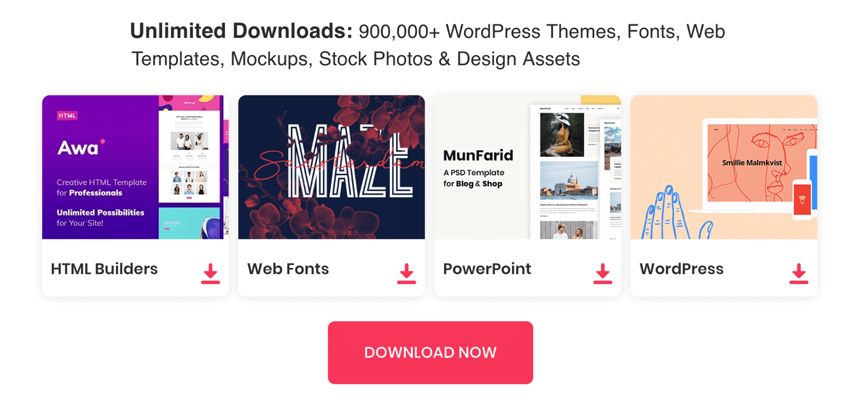 Kitchen is a very important family's living space where brings all the delicious meal and the happy smiles of mothers. From traditional to modern lifestyle, cooking, sharing and teaching unique recipes from generation to generation are done in the kitchen. Kitchen is the place to gather, share the special moments, eat, chat, and laugh. Large or small space doesn't show enough how necessary the kitchen is. With someone who love cooking and enjoy their free time in cooking recipes, kitchen is their life and their place to be "lived in". It is so wonderful if you have enough space for a large kitchen. However if your house doesn't allow for that, it takes intelligent and creative planning to have a perfect kitchen with all the facilities.
Do you desire to transform your compact and small kitchen into your dream kitchen? It is not easy but totally possible with your creation.
Here are 20 beautiful design ideas for small kitchen which is worth to consider if you really want to have an efficient small kitchen.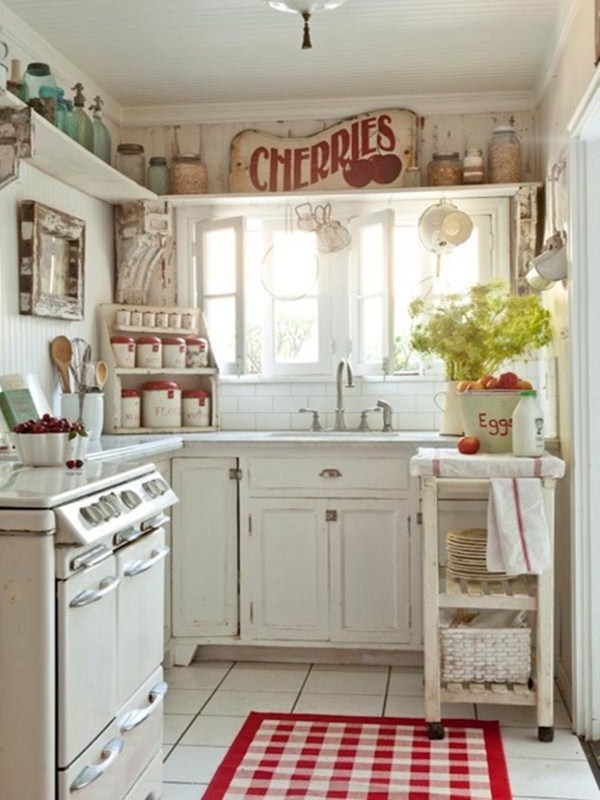 A kitchen that's squeezed into what was once a loft or lean-to needs to be cleverly planned so that even the trickiest of angles is filled with useful storage.
Whether your kitchen is being squeezed into an awkwardly shaped space or into a conversion, you'll need to use every inch available. The ideal is to get taller than average wall units to make the most of storage space, and to fit open shelves into the smallest of gaps to take extras, such as cookery books.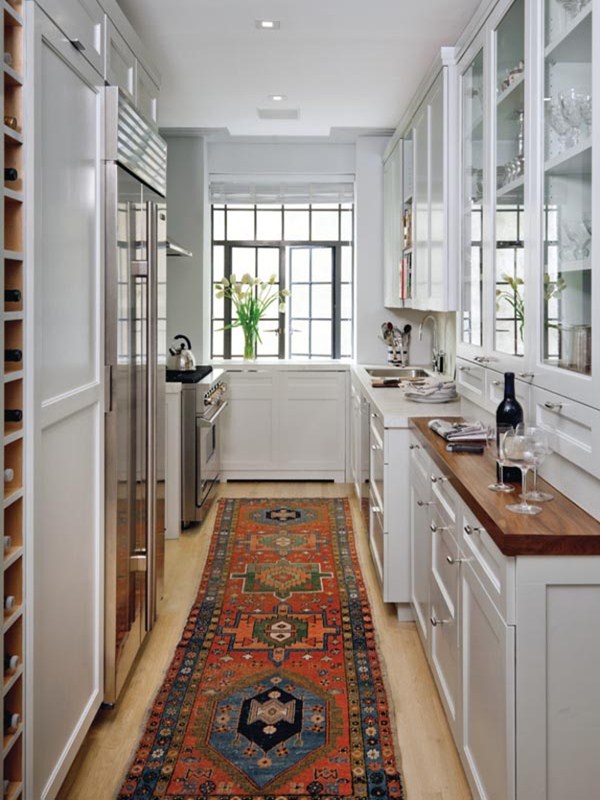 In a galley kitchen, create a view at the far end, whether with a door or large window – doing so will open the room up and help it to feel brighter and larger.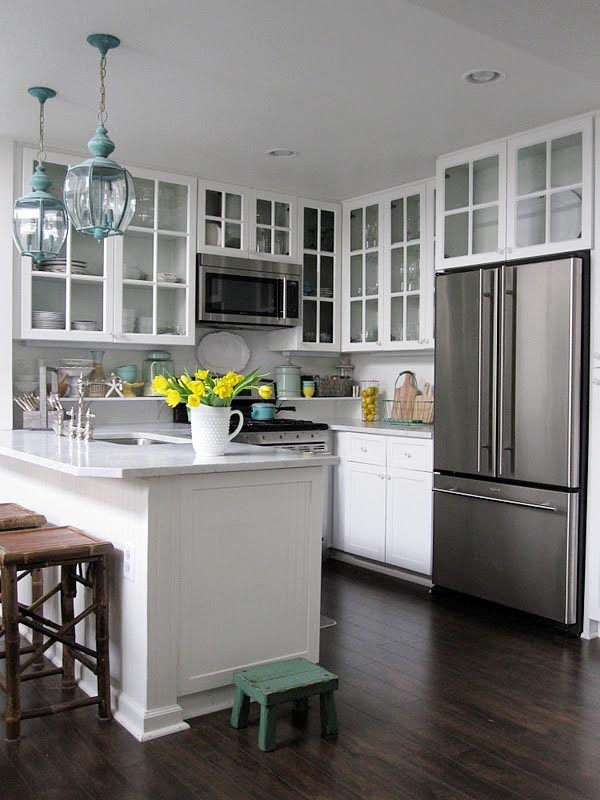 Dishwasher and storage drawers are all the rage due to their efficient use of space.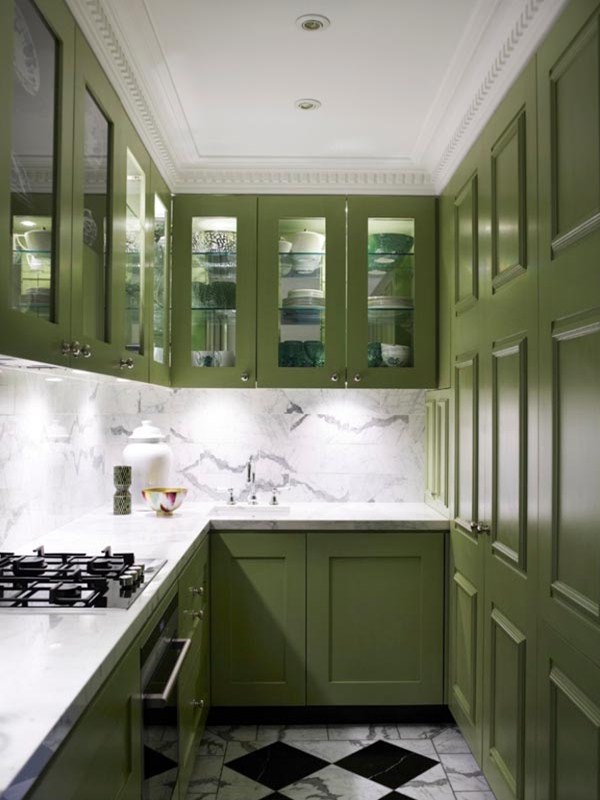 Vertical space – in other words, wall space – is a must-use in a small kitchen, but keep the room feeling as spacious as possible by choosing slim narrow units with glazed doors.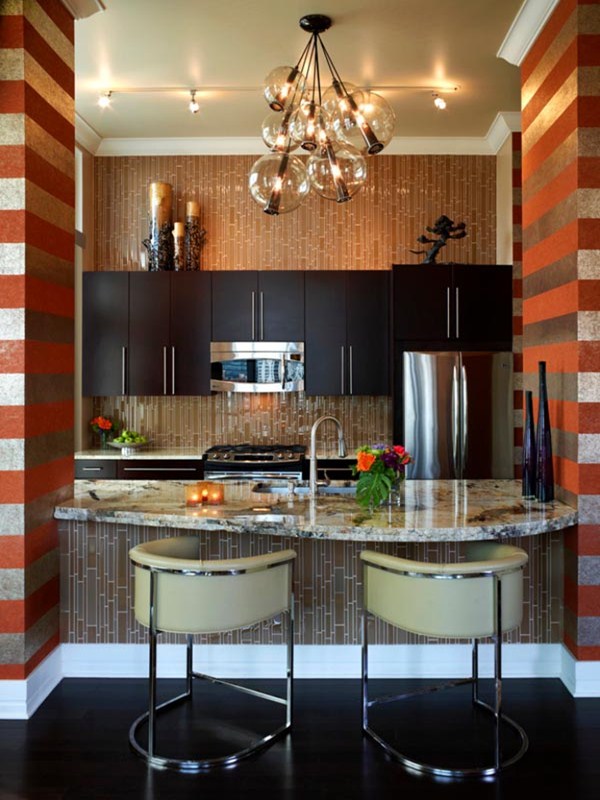 When it comes to a small kitchen, it's all about being clever. So, if there's a return that you can add a breakfast bar to – do it. Equally, if you can stand your kitchen on show-legs so that you can see beneath your units, that will trick the eye into seeing the kitchen as larger than it is, especially if your flooring is reflective.
Another way to up the personality of your small kitchen is to choose a variety of textures in your scheme. So, you might go for a heavily grained wood worktop or an exposed brick wall, as shown here.
A small room needs all the light it can get, so keep the window not only unadorned, but also free of clutter.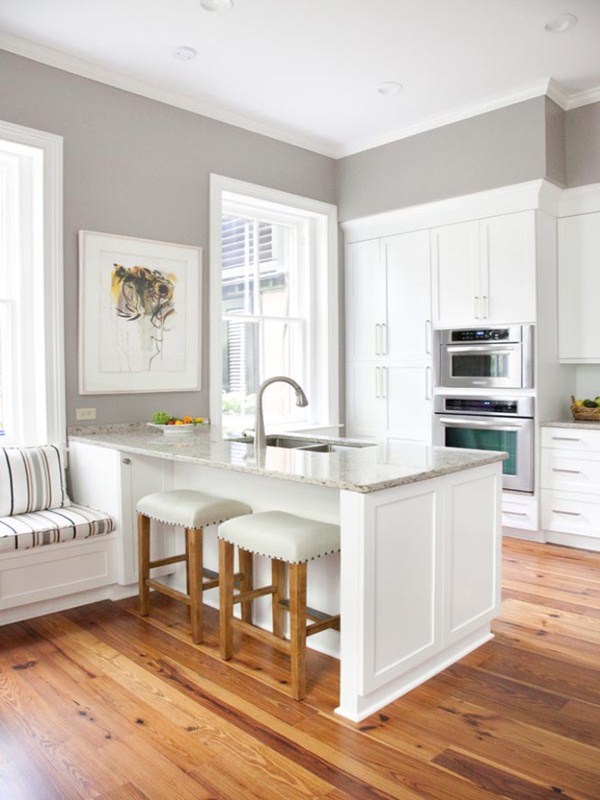 A small kitchen has fewer chances to express its personality than a large one, so if you want yours to be fun-packed, choose the unique furniture and a big window to create a free  space.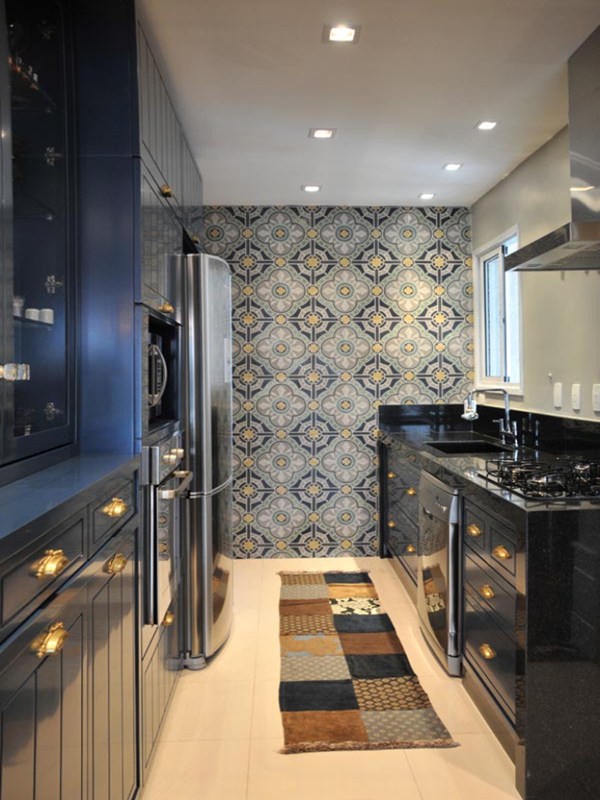 Glossy units are still right on trend – and they have the upside of reflecting lots of light, making a small space feel larger. Exaggerate the effect with almost as glossy flooring.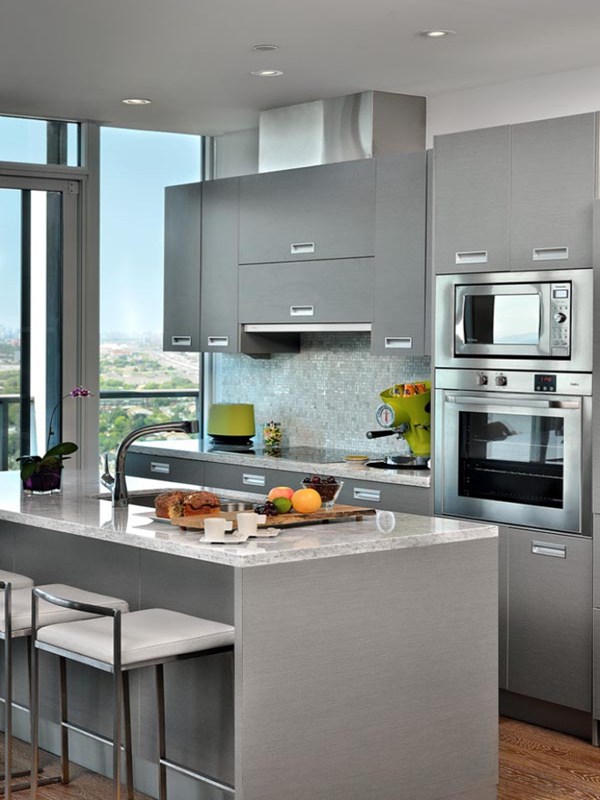 A small kitchen usually means a small or no garden, so use your window as a suspended kitchen garden, growing herbs where you might usually hang blinds.
Hanging pots and pans is handy, space-saving and rustic.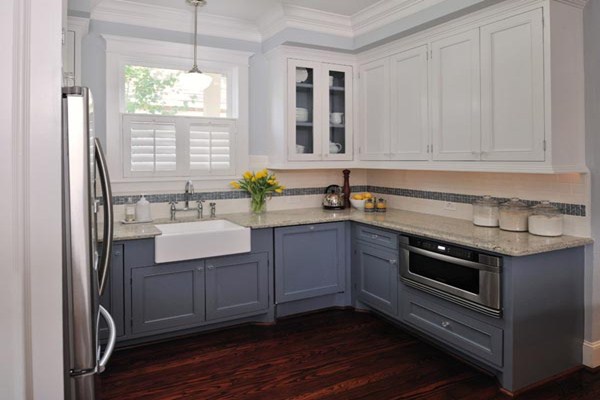 Units in white above grey based units lift the eye and help cheat the space into looking bigger than it is.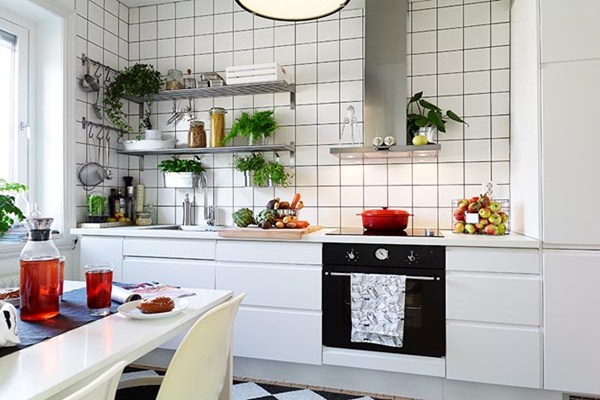 Creams and whites make any space feel larger, but think carefully about wear and tear in a busy kitchen.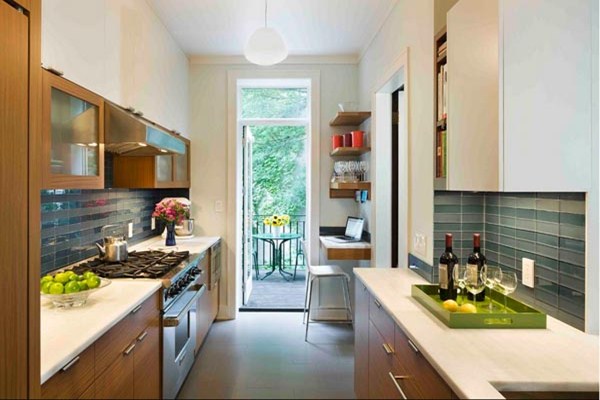 Give a small kitchen more character by choosing a different finish – although the same design – for your base unit and wall unit doors.
This tiny kitchen is light and bright thanks to white reflective units.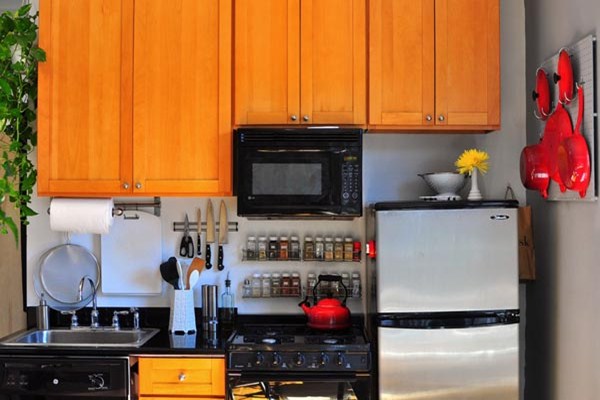 Here there are countless creative ways of storing utensils on a wall, freeing up drawer space. 
Storage really matters. Install deeper counters that can accommodate more appliances and increase work space.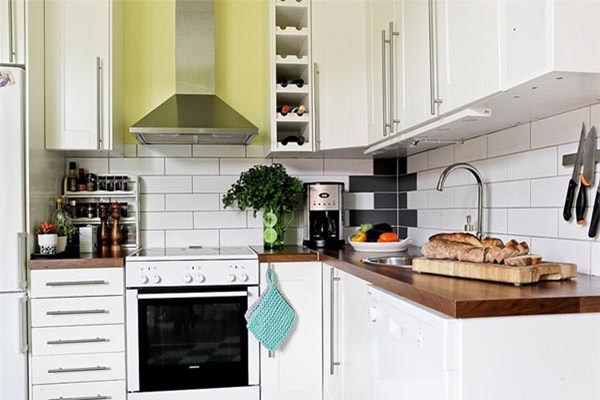 Down lighters beneath cupboards are practical for when you're cooking, and will soften the impact of bulky cupboards. 
A small space can be made brighter with colorful units but there's no doubt this will also make the room seem smaller. A muted color scheme will be easier on the eye and ultimately make the room feel as big as possible.