15+ Best Hotel Booking WordPress Themes for Hotel, Resort and Property Rental 2019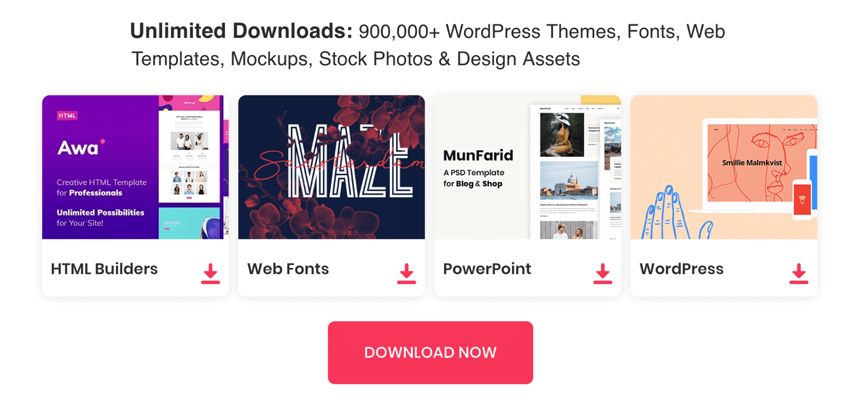 Check out these amazing collection of more than 15 Best Hotel and Resort WordPress Themes which suitable for hotels, apartments, spa resorts, and travel agencies. So you can create travel guide company websites or hotel booking wesites with these WordPress themes.
You may like this:
To create a travel or a hotel website with WordPress you would probably want to showcase your rooms, highlight your location, list the facilities and features, and provide easy ways to book the room. Finding these features in one theme can be difficult for beginners. This is why we have collection in here best Travel Hotel WordPress Themes for travel companies.
Owning a website for your hotel brings plenty of benefits and gains.
First and foremost, your hotel site is a place for prospective guests to gain information on your business (or even discover your hotel for the first time).
Secondly, showing your guests you are reachable and open for interaction would definitely increase trust and persuade customers that your business is stable and reliable.
And last but not least, the website can become one of the most prolific booking platforms for your hotel.
That is why it is highly important that the theme you use provides convenient booking functionality.
Our collection features premium WordPress templates for various hospitality establishments and properties: hotels, resorts, B&Bs, hostels, cottages, villas, apartments, suites, cabins, guest houses, ranches, bungalows, and many others.
Let's start looking for a perfect theme for your hotel business together!
Oceanica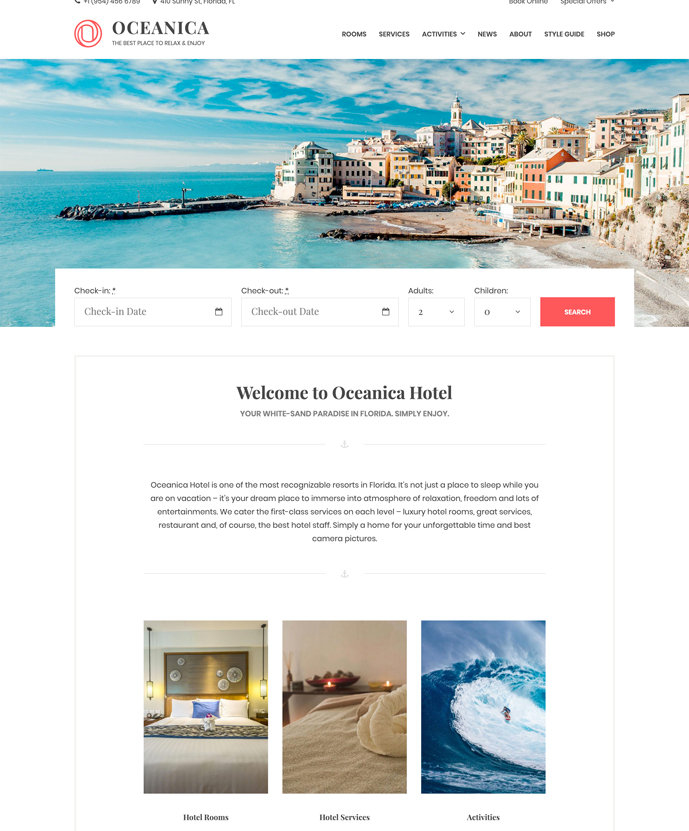 Oceanica is a multipurpose template with integrated full-blown booking system. The theme can be used equally well for building a website for a hotel, single accommodation or a villa bookable by room. Thereby, the online search for vacant properties via a real-time search form and the possibility of direct reservations with a huge variety of booking confirmation modes and payment gateways (PayPal, Stripe, 2Checkout, Pay on Arrival, etc.) are the theme's features you'll definitely appreciate and use.
The front page of the template is fully customizable: each its element can be visually edited via native WordPress Live Customizer, which is highly intuitive to use. With Oceanica you will be also able to create flexible rates and pricing plans for your rooms, showcase additional bookable facilities and services, set custom booking rules or sync your booking calendars with the largest platforms like Booking.com or Airbnb.
Vierra
Viera is a versatile hotel template that is all about bold and vibrant displaying of visual content starting from the very first page (e.g., the homepage of your website can be dressed up with full-screen animated image sliders or videos.) The theme provides 6 modes of rooms list displaying and lets you set custom background images for each post and page individually.
The room bookings are performed through basic reservation request form.
Villagio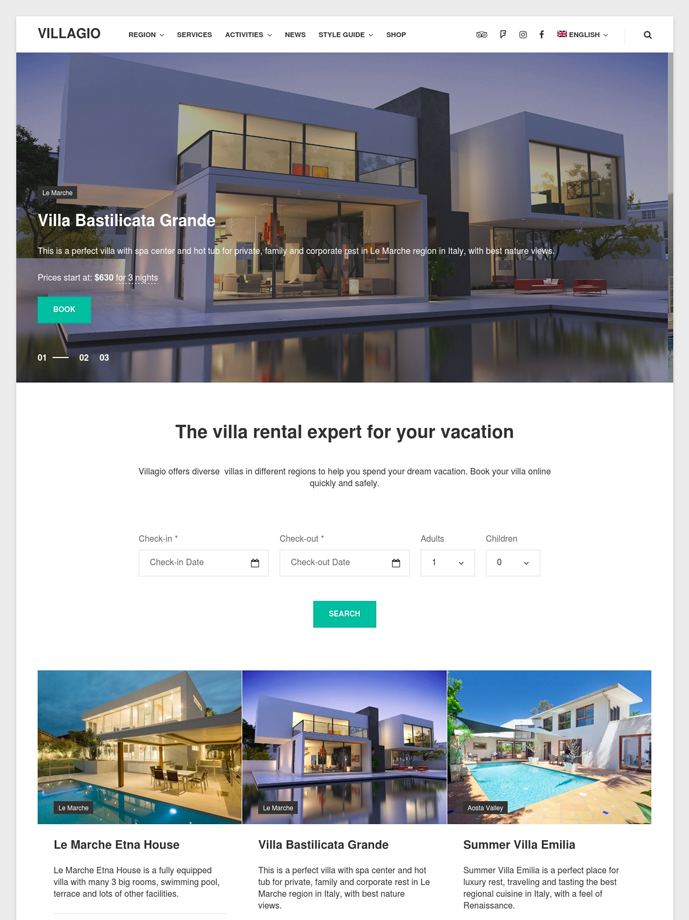 This WordPress real estate theme is an upscale solution for showcasing luxury villas, penthouses, chalets, holiday homes or any other types of vacation rentals.
Booking options are provided by premium WordPress Hotel Booking plugin, included into the theme for free. You can set the incoming reservations to be confirmed by payment for your guests to be sure their bookings are fully valid. Booking confirmation by email, managing reservations on the back-end, variable price rates for accommodations, discount coupons and auto iCal sync with external OTAs are available as well.
Hotel Booking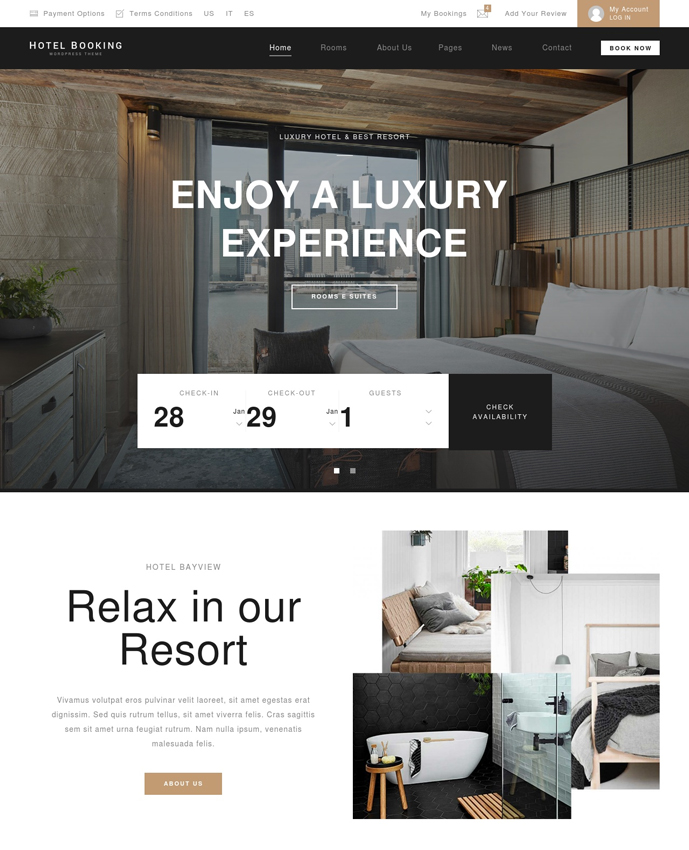 Thanks to its three pre-designed demos, the theme will be suitable for presenting any type of hospitality business establishment. Use City Hotel sample to showcase a classic hotel with multiple rooms; feature a cozy small boutique, b&b or vacation house with Chalet demo or use Apartments sample to rent out flats or other single lodgings.
Powerful booking system for processing reservations and accepting confirmation payments and built-in Visual Composer builder is yet another considerable benefits of the theme.
Hotel Zante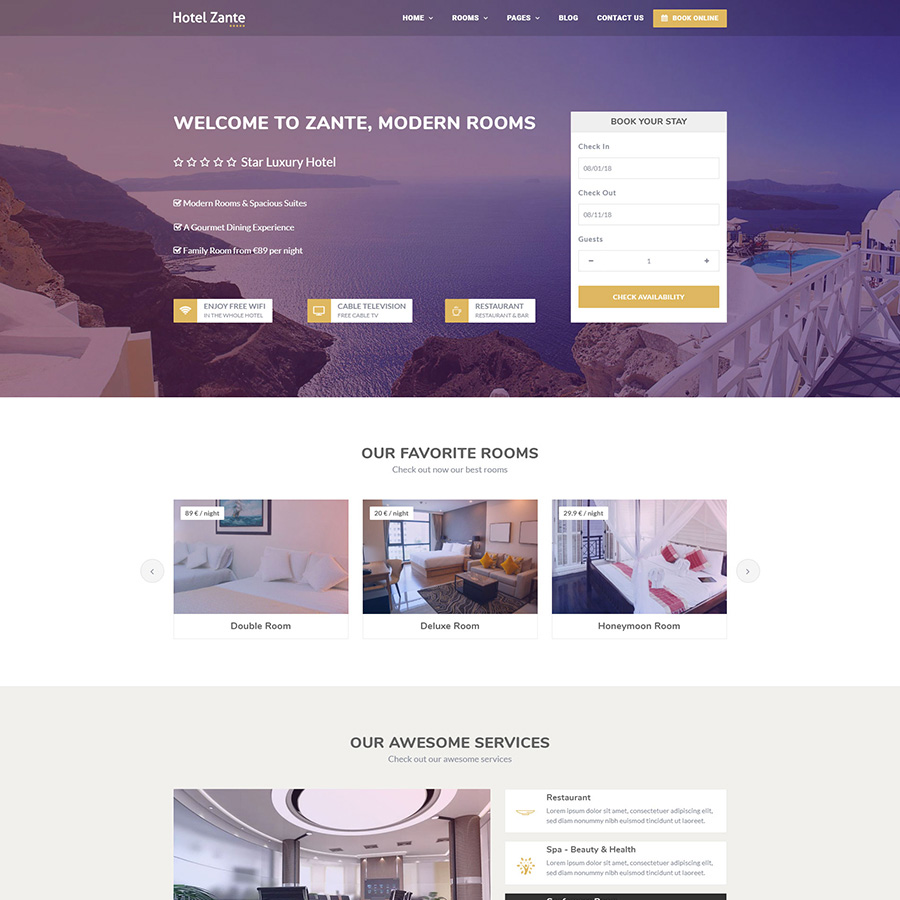 Sharp, clean and shiny design of Hotel Zante makes the theme an ideal hotel booking WordPress theme for resort hotels or coastal villas.
Excellent design flexibility is ensured by choice among 4 homepage layouts, which give you a chance to pick the most suitable design for your hotel website.
Booking management is ensured by the integrated Eagle Booking plugin, letting you describe essential features of your accommodations, list out extra services and accept reservations for them. This plugin's powerful functionality can turn the template into a robust WordPress real estate theme as well.
Morrison Hotel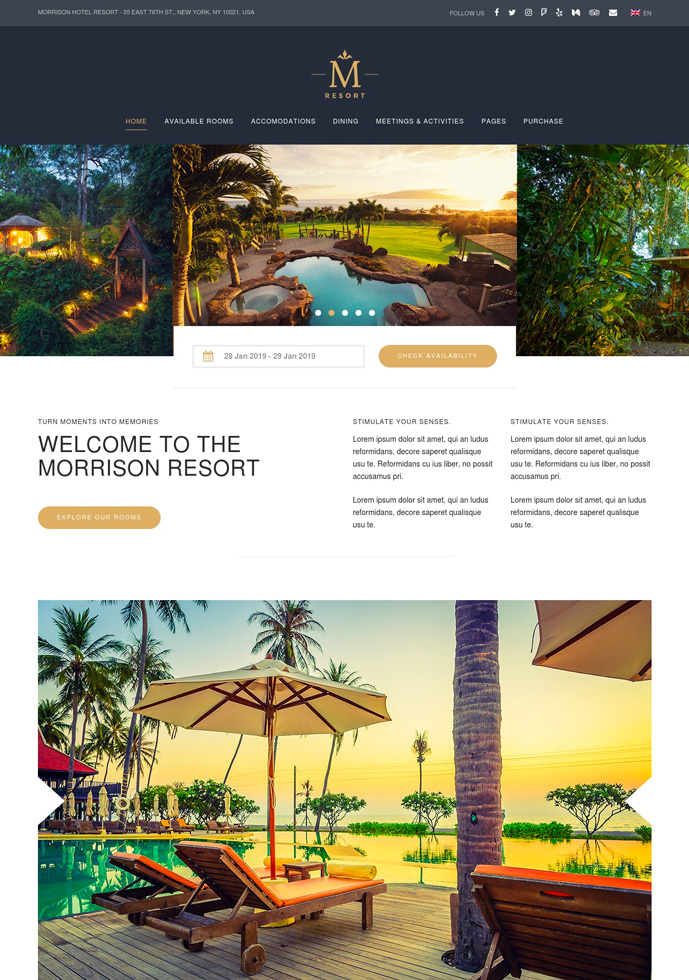 Having this theme in your arsenal, you will be able to make a selection from among 3 ways of implementing booking functionality: allow your users to make instant reservations with no confirmation needed, set manual mode of booking confirmation (the reservations will be approved by email) or entirely disable booking options for your hotel website.
The theme's orientation on flexibility enables you to choose the mode of price formation (single price, price depending on length of stay or season) and pick a proper theme demo (there are 3 samples of different purpose available.)
Mykonos Resort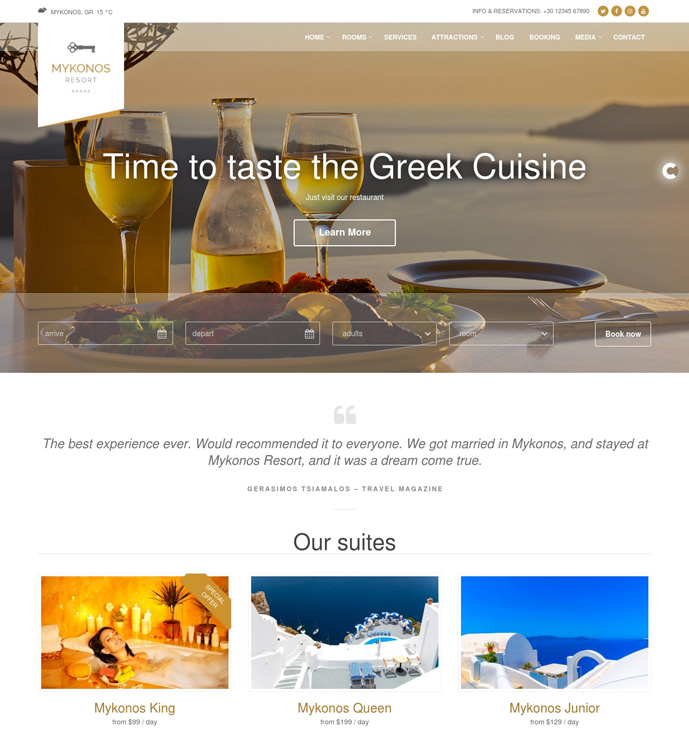 Decent option for a small beach or spa resort. Rent out rooms or separate accommodations and rest assured both are showcased properly and made available for your users to book or look through.
One of the gizmos turning the theme into quick and smart tool for building hospitality business websites are dedicated pre-made custom post templates (Rooms, Services, Attractions, Galleries, etc.) for fast and easy adding of your hotel data.
Adomus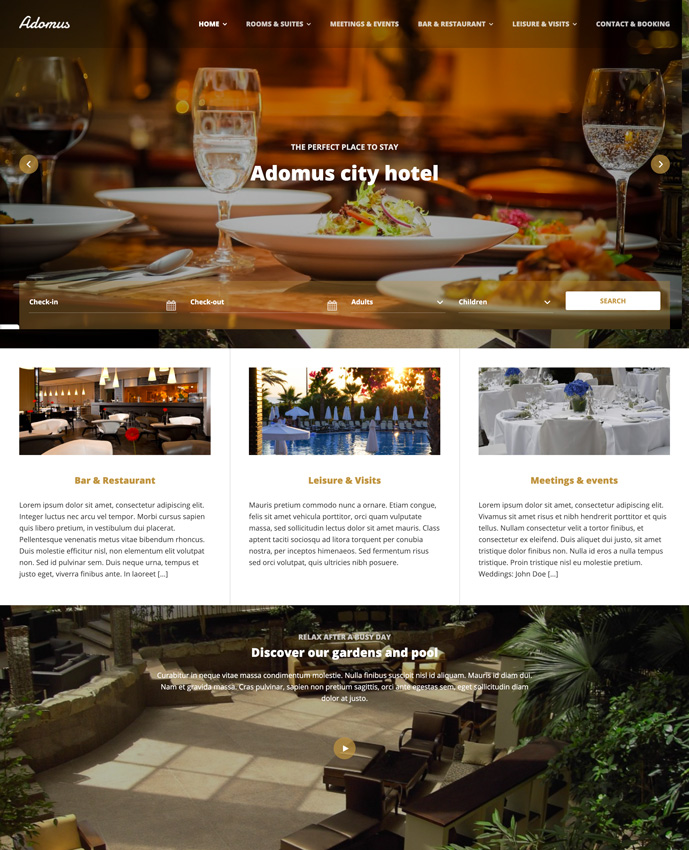 With Adomus you get all the must-have elements essential for WordPress hotel themes: your website will be equipped with a booking form and an availability calendar, PayPal and Stripe payment gateways, support for creating flexible prices and managing incoming reservations on the back-end.
The HBook plugin, powering the theme's booking functionality, can be of use as a WordPress real estate plugin as well.
Hillter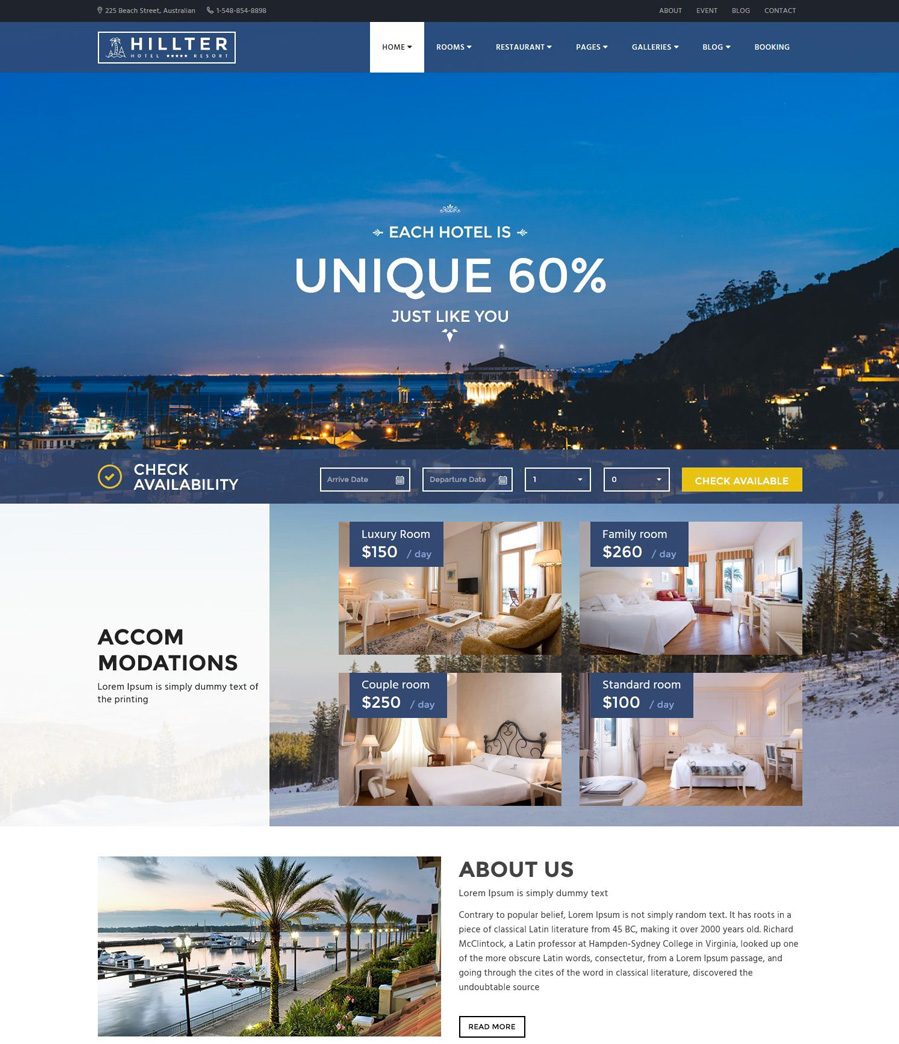 Booking-related aspect of Hillter theme is handled by AweBooking plugin that caters for the essential reservation functionality, such as creating room types and actual rooms, adding facilities and services, setting variable prices and room rates, defining compulsory taxes and fees.
Please note that payment gateways for the booking confirmation process can be set up through integration with WooCommerce.
Lava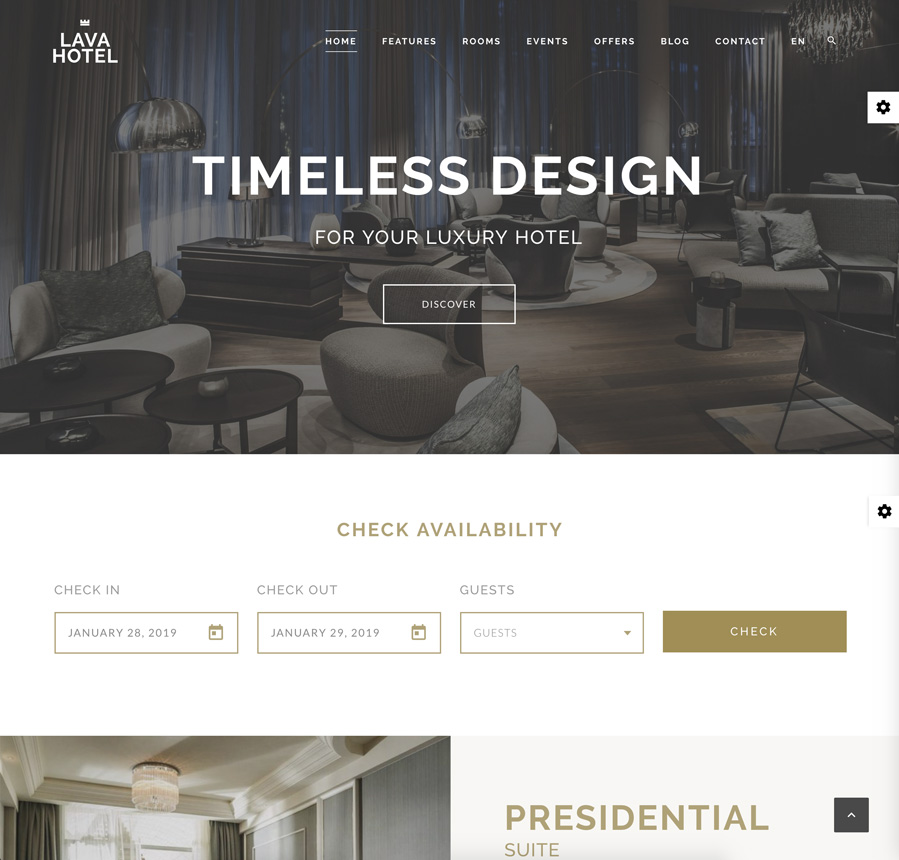 The ritzy design of Lava theme will highlight your hotel's focus on presenting deluxe holiday experience to your guests and will at the same time stay elegant and uncluttered enough to keep your website's look top-notch.
Predefined layouts for Services and Special Offers pages, and integrated event management functionality will let you arrange and showcase all the assets of your hotel in a handy and stylish way.
Hotel California
A truly versatile and uncluttered theme that at the same time can flawlessly embrace content-rich pages. This principle is applied to all the 3 full sample websites and 15 front page demos the theme provides.
Some of the homepage samples can be used for various types of hotel websites and the three full website demos are fine-tuned to fit particular types of accommodations: a ski resort, a beach hotel and a modern city hostel.
LakeInn
LakeInn is a decent choice to properly showcase a nature hotel, inn, vacation house or chalet at a picturesque mountain resort. Calm and balanced design and color skin of the theme will precisely reflect the mission and DNA of your nature-inspired hotel.
Please note that the theme provides offline email reservations only: your users will be sending you booking requests to specify the dates, the number of guests and the type of room they would like to book. Having received the reservation inquiry, you will be able to handle it manually.
Hotel Luxe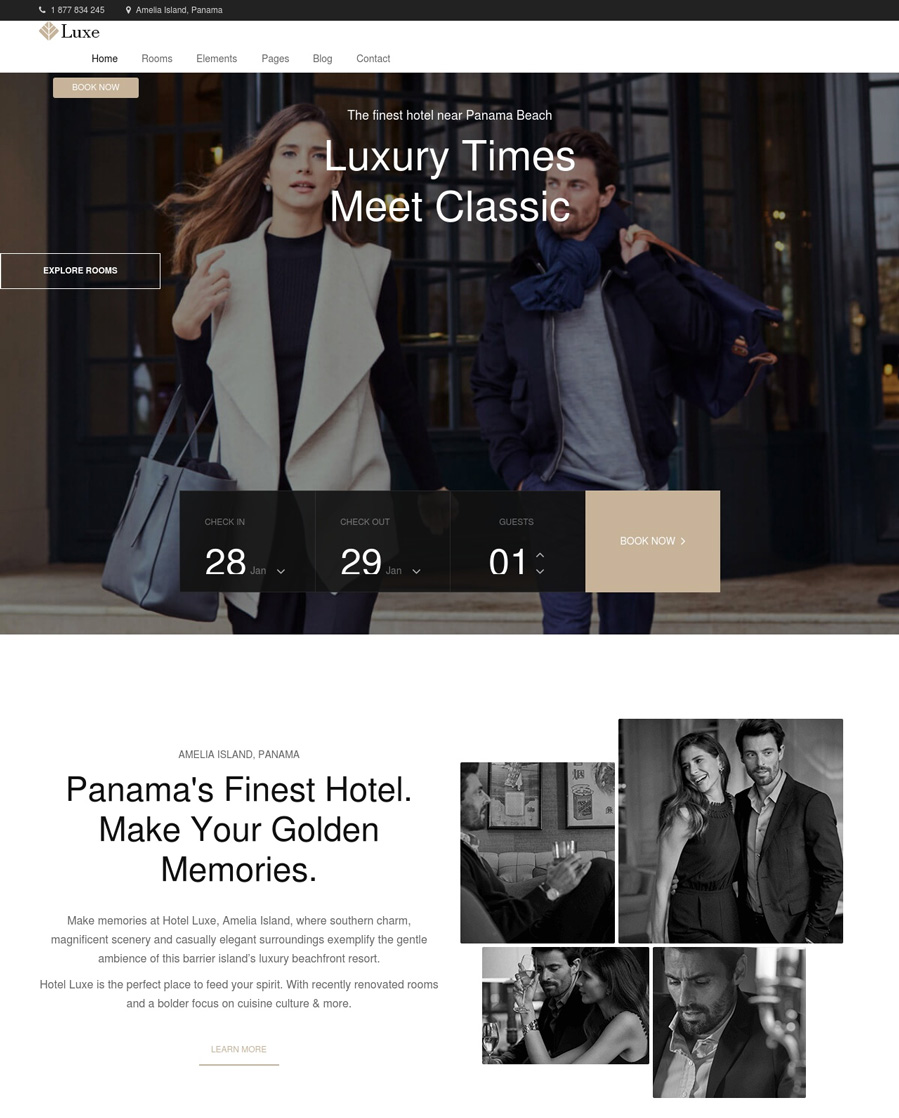 This WordPress booking theme with a polished expensive-looking design is suitable for presentation of upscale five-star hotels. The theme offers ten homepage demos, each tailored for a particular type of hotel establishment (b&b, single property, boutique hotel, villa.)
Booking options of Hotel Luxe are as high-end as its design: you will be able to create and manage your rooms, receive bookings, set flexible price rates and grant your users with discount coupons.
Grandium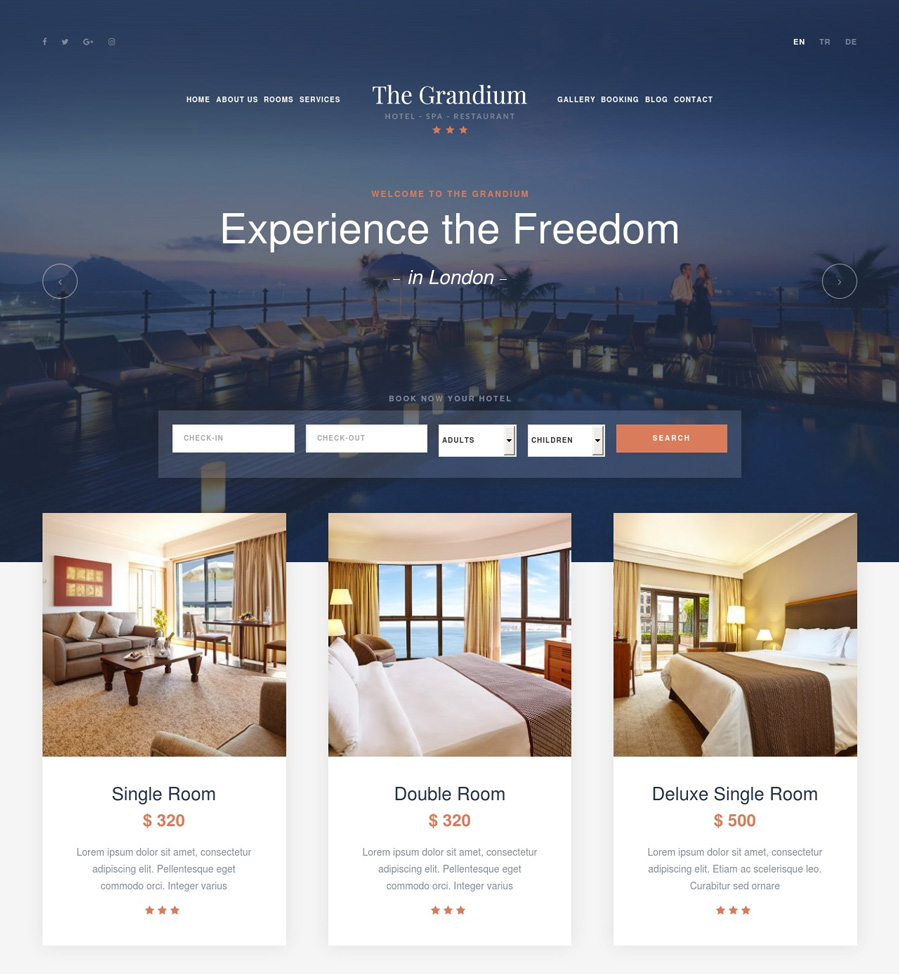 One more multipurpose hotel template, which thanks to its clean and minimal design can be suitable for showcasing various types of properties. The theme comes with a theme options panel that allows user-friendly way of customizing both general and in-depth settings without touching any line of code.
By default, Grandium provides you with an appointment booking functionality, however, if you would like to have a fully-fledged online reservation system, the theme authors recommend purchasing of additional booking plugin.
Mount Resort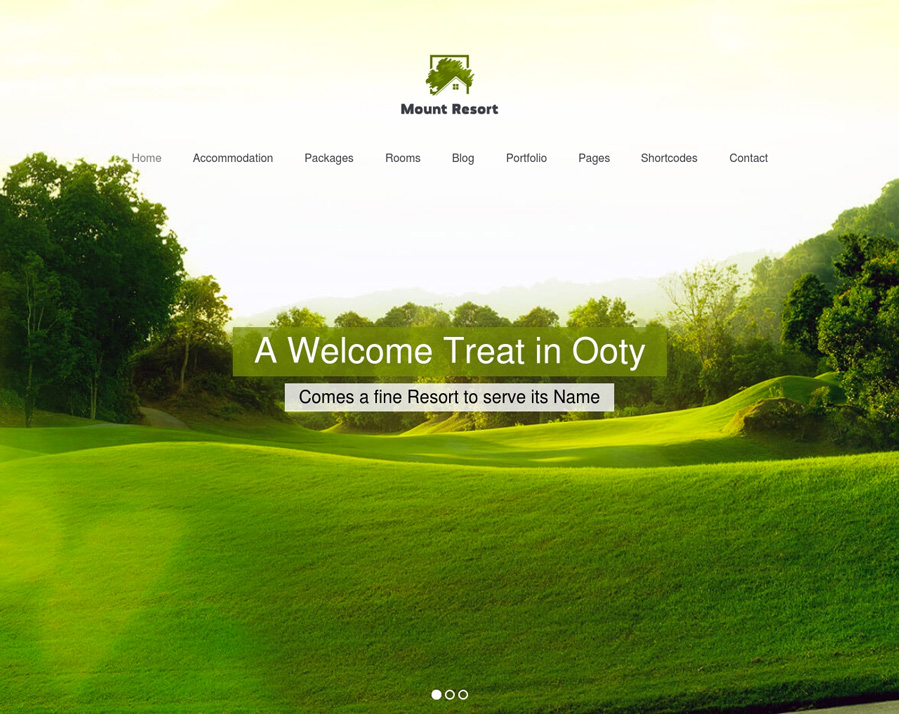 This theme will save you a lot of time while creating and showcasing the rooms or other rentals you provide by offering predefined Rooms and Portfolio custom post types.
Room post types enable you to add detailed text descriptions and a well-structured info on each room's facilities, amenities, services or available price rates.
Portfolios are, on the contrary, image-oriented and will let you create vivid visual previews of your rooms or accommodations. You are free to choose between the 9 portfolio layouts and rest assured your rentals are presented at their best.
Holiday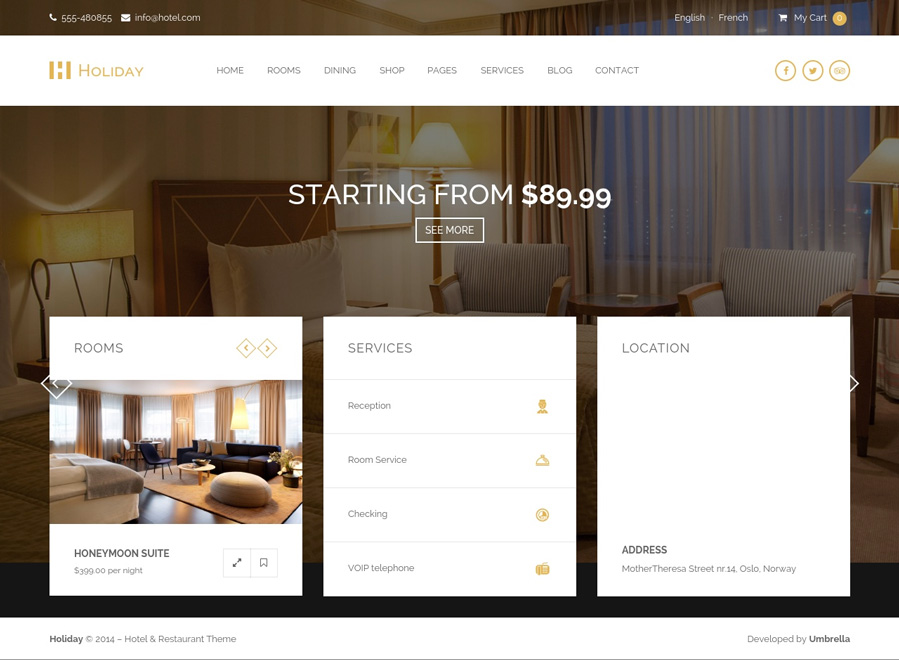 Theme developers suggest two ways of implementing booking functionality for your website with Holiday theme.
The first one is basically using the default booking option, which is backed by reservation form. Your users will be able to fill it in, specify all the details they consider necessary and send the request to you.
However, if you would like to process online payments, you will have to install the WooCommerce shop plugin and add your rooms or accommodations as products of the WooCommerce store.
RestInn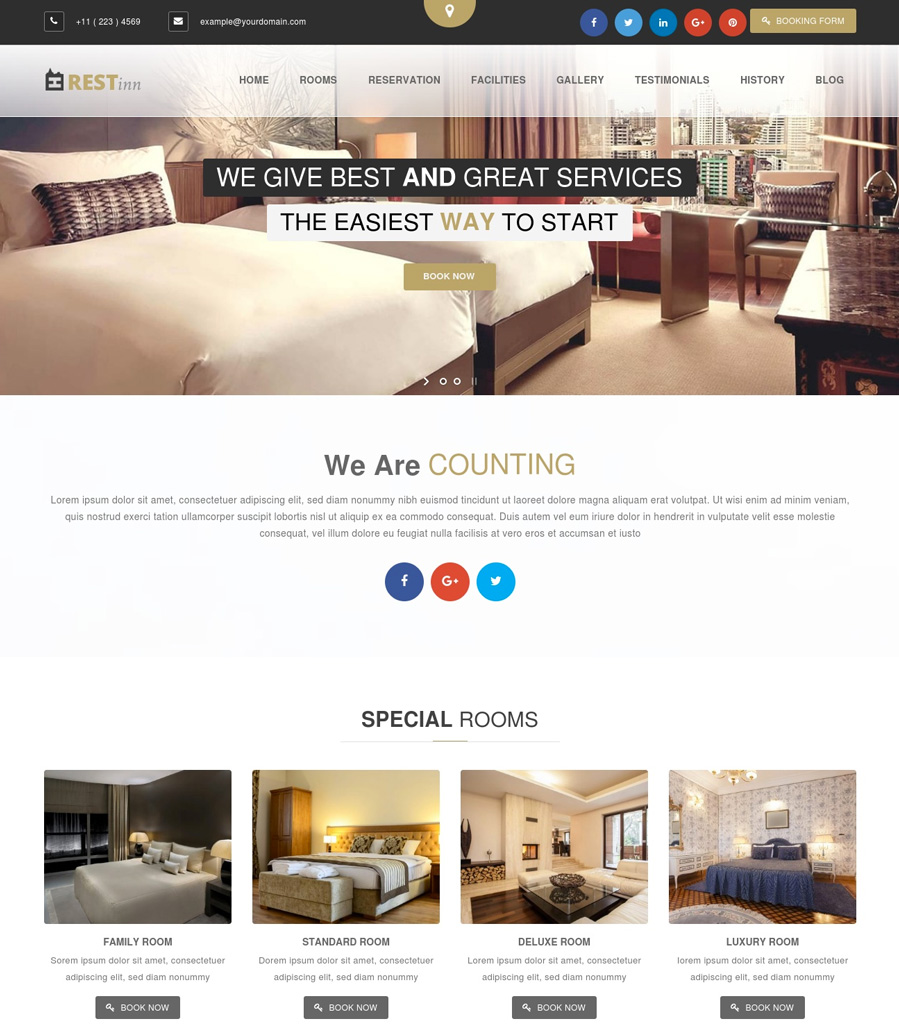 LakeInn is a decent choice to properly showcase a nature hotel, inn, vacation house or chalet at a picturesque mountain resort. Calm and balanced design and color skin of the theme will precisely reflect the mission and DNA of your nature-inspired hotel.
Please note that the theme provides offline email reservations only: your users will be sending you booking requests to specify the dates, the number of guests and the type of room they would like to book. Having received the reservation inquiry, you will be able to handle it manually.
RoyalGold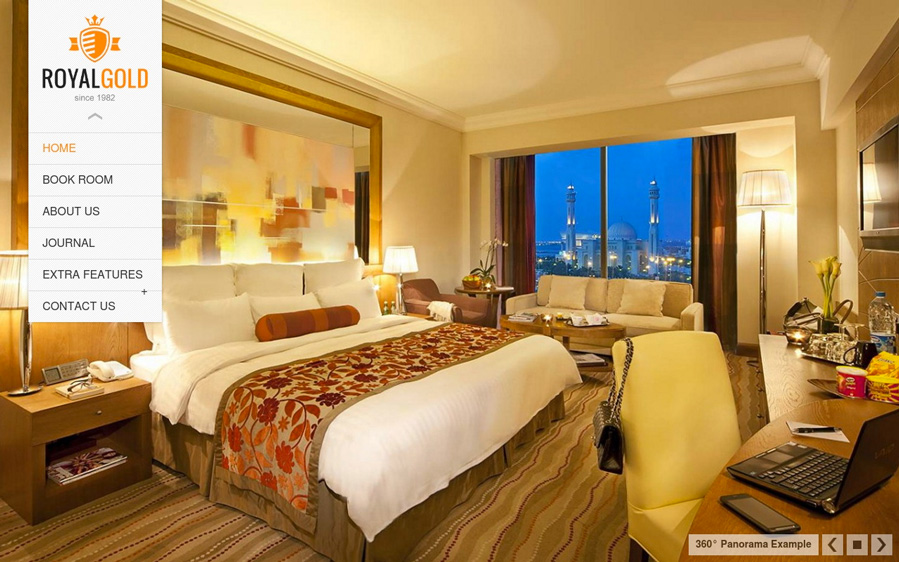 The signature feature of Royal Gold hotel theme are panoramic images. This function is implemented through the use of built-in Flat 360° plugin. 360-degree images of your hotel, accommodations, facilities or picturesque surrounding areas will create participation effect for your website guests and make your hotel site special and unique.
Online bookings are maintained through the reservation form backed by Contact Form 7 plugin.