35+ Best Social Network Plugins for WordPress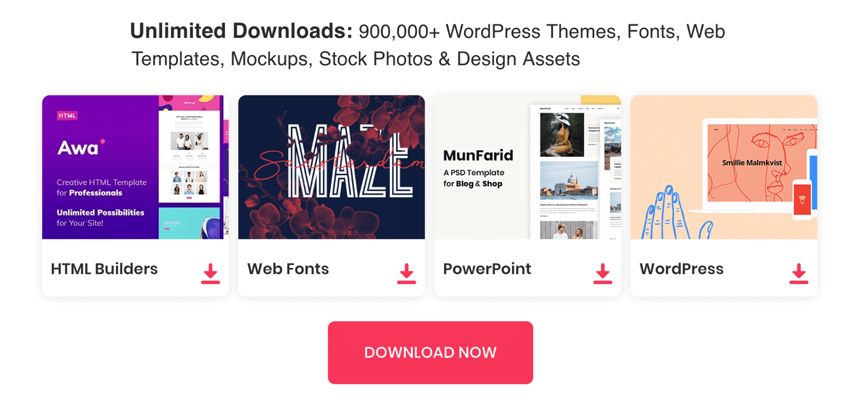 WordPress Social Network Plugins can help increase engagement, easy for users to get your social network and make them become part of your community
Social networks are a great way of sharing your content with people and if you really care about SEO, you need to care about how many people like and share your content.  Below is a list of popular and commonly social media plugins for wordpress and social networking widgets.
SocialFans – WP Responsive Social Counter Plugin
Retina Responsive WordPress plugin displaying your social accounts fans, subscribers and followers number with a lot of features coming with 30 social networks like facebook, linkedin, pinterest , twitter and 26 other social networks
WordPress Social Timeline
The DP Social Timeline plugin lets you retrieve status/posts/videos/images from different social networks in a timeline format, sorted by the newest.
WordPress Article Social Share
The Article Social Share plugin adds a sleek social bar in your articles and pages, to boost your page views.
Like 2 Unlock for WordPress
The Like 2 Unlock plugin for WordPress is a Like Button and content locker in one bottle, which allows you to lock specified content on a web page until a user clicks the Like Button and help you to get more likes, fans, traffic and customers!
Advanced Social Widget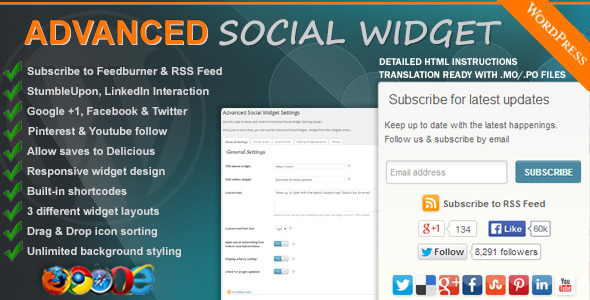 Advanced Social Widget FeedBurner Edition is a retina enabled responsive WordPress plugin that adds an advanced widget box to your sidebar giving users the ability to link your site to all the popular Social Networking sites such as Delicious, Twitter, Facebook, StumbleUpon, Pinterest, LinkedIn, Youtube and access to FeedBurner Email Subscription.
Social Audience Plugin. Twitter analytics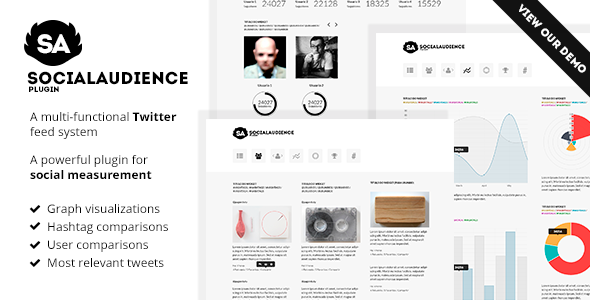 A pioneering system for the measurement and analysis of social impact through social networks (via Twitter). Display multiple data and compare results in visual graphic charts or simply display a timeline from a user or hashtag. Monitorize in real time the activity from multiple users or hashtags: new tweets, followers, retweets, mentions… Compare data in a certain period of time. View the last most relevants tweets.
Ultimate Social Deux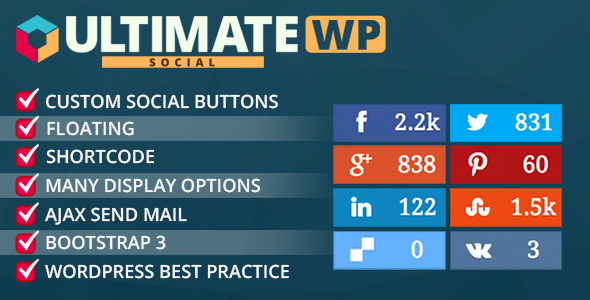 If you're looking for a customizable, easy-to-use WordPress social plugin that won't bog down your website, Ultimate Social Deux is an optimal solution. With its sleek, stylish aesthetics, numerous customization options and user friendly interface, this social sharing plugin is a definite standout. Unlike most WordPress social plugins, Ultimate Social Deux won't slow your site down.
Social Share & Locker Pro WordPress Plugin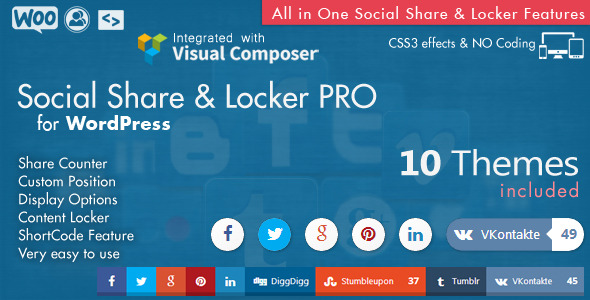 Social Share & Locker Pro WordPress Plugin is the ultimate social plugin built to help all the customers being more visible into the Social Networks. Is not just a simple social plugin, is that plugin that cover all the necessities and desires. With just few clicks you can set your social icons exactly into the right place or you can lock your content requesting a share on one of the social networks available.
WordPress Social Share Buttons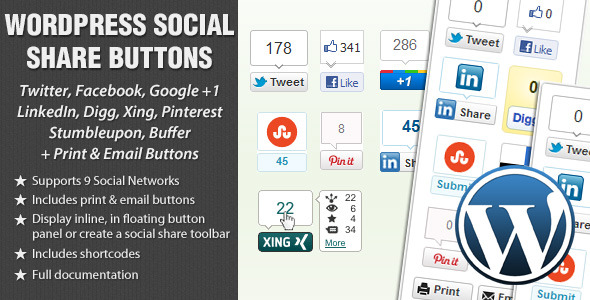 Add jQuery social share buttons to WordPress in a stylish floating panel, toolbar or display inline. Adds buttons via jQuery for faster page loading.
Social Sidebar for WordPress
Quickly add CSS3 social links to your WordPress site with this very configurable plugin!
Instagram Photo & Video Gallery WordPress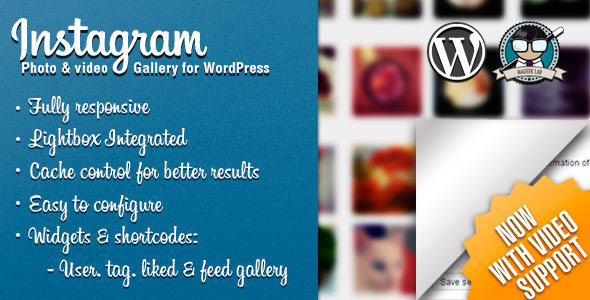 This plugin allows you to show the last photos of an Instagram user or tag and comes with several options to configure and wigets ready for your sidebar!
ShareIt – Shareable Content Snippets for WordPress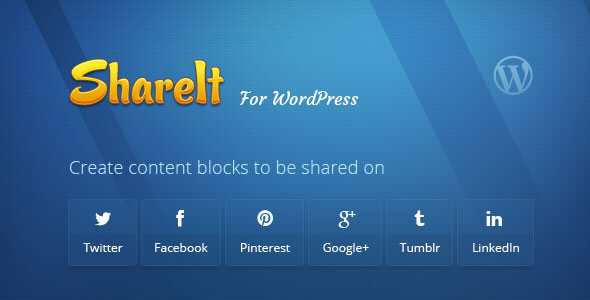 ShareIt is a WordPress plugin to create and share content snippets made of texts and/or images through social networks: Twitter, Facebook, Pinterest and Google+
Easy Facebook Fanpage and Promotion Builder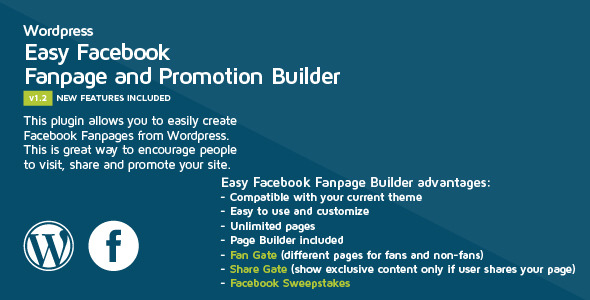 Easy Facebook Fanpage Builder gives you the ability easy and fast to create custom Facebook Fan Page Tabs linked directly to your current WordPress site. If you can create something in WordPress, you can now do it in Facebook with Easy Facebook Fanpage Builder for WordPress. Latest version 1.2.2 from November 5, 2013 with new feature: Facebook Application Manager (full change log can be seen at the end of page).
Facebook Comment Slider for WordPress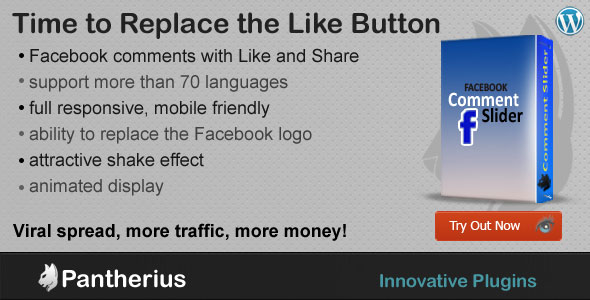 This fancy slider offers an opportunity for the users to leave comments about your website (or any subpages) when they reach the bottom of the page or with a simple click on the Facebook icon. The comments will displayed for their friends and they will connected. The Facebook Comment Slider also contains a Like and Share button. Thanks for this, it can be the most effective WordPress Facebook Plugin. When the visitor leaves a comment, it automatically Likes your WordPress page and it will be displayed on the visitor's Facebook Profile. You don't need to integrate Like button or Share button to the posts or to the pages. The users will find all of this on the Facebook Slider.
TwitterCard – Showcase your Twitter profile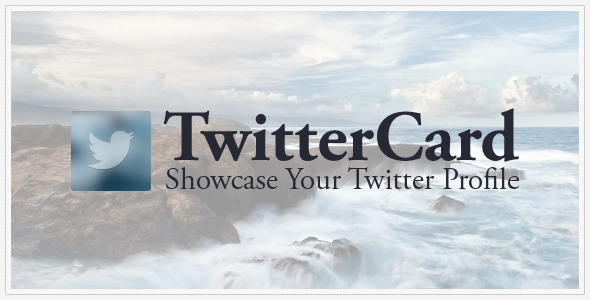 TwitterCard – Showcase your Twitter Profile – With TwitterCard you get an absolutely easy to use WordPress plugin that enables you to add a beautiful Showcase of your Twitter Account / Profile to any Widget Area or to any Post or Page of your website.
Tweetable Shortcode v.1.2 – Quick Tweet Sentences
Tweetable plugin for wordpress allows you to make sentence as a quick sharing tweet. Select some text in your wordpress post editor and simply click on the tweetable shortcode button in the wordpress editor toolbar. Induce people to tweet your words !
Affiliates Share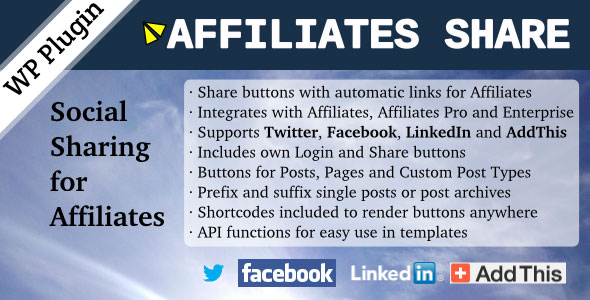 Affiliates Share is a WordPress plugin that makes it easy for your affiliates to share content using their affiliate links.
Affiliates Share integrates with the free Affiliates plugin and the premium plugins Affiliates Pro and Affiliates Enterprise. Obviously one of these is required for the affiliate link functionality, although you can also use this plugin to simply render the sharing buttons it provides.
Social Locker for WordPress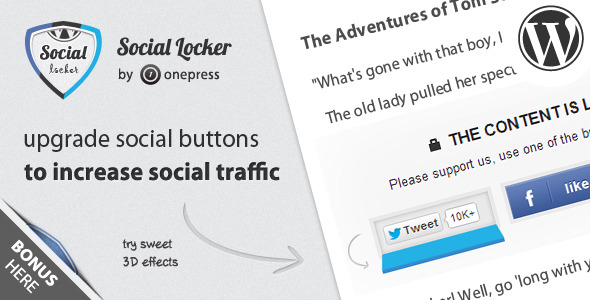 Social Locker is a set of social buttons and a locker in one bottle. It allows you to lock a part of content on a web page until a user clicks one of the social buttons (Facebook Like, Tweet Button, Google +1) and help you to get more likes/tweets/+1s, traffic and customers!
Ditty RSS Ticker
Ditty RSS Ticker is a multi-functional RSS display plugin. Easily add multiple RSS feeds to your site either through shortcodes, direct functions, or in a custom Ditty News Ticker Widget.
Create a dynamic display of unlimited RSS feeds on your site with a multitude of settings. Display feeds in a scroller, rotator, list, or widget. Please refer to the Ditty RSS Ticker help page for in depth descriptions of all settings.
Facebook Viral Content Locker for WordPress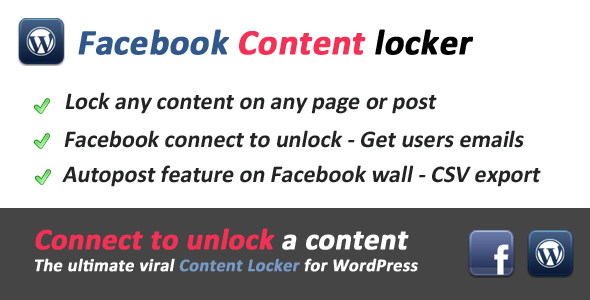 This plugin enables you to lock a content (text, video, images, etc…) inside your WordPress posts or pages, and let your users only access it after connecting with their Facebook account.
Your users will need to authorize your app to access your content, and you can define a message that will automatically get posted on your visitors Facebook wall. You also get your visitors emails stored in your database, and you can export your users data as a CSV format from this plugin settings page.
Social Share Fixed Button WordPress Plugin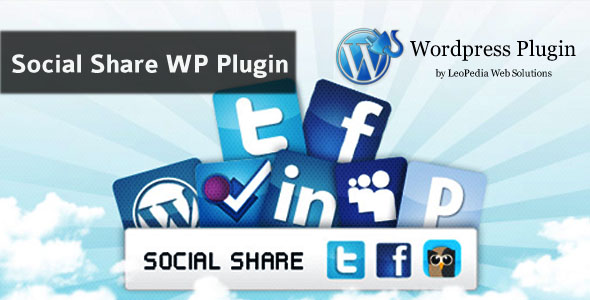 Social share Fixed button Bookmark plugin can be used for different purpose , important aspects can be defined for social share , User Post advertise , sponser's small adverts with any size for example (25*25), feedback button , live chat button etc.. all six sides left top, left middle, right top, right middle . Hence one of most powerful plugin for getting publize in other networks so user can add you in facebook fan page , add in twitter , subscribe your feeds etc…
Advanced Polls for WordPress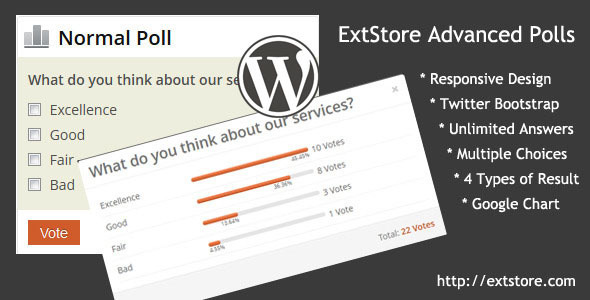 ExtStore Advanced Polls is a WordPress plugin which allows you to create polls and display its result as many graphical figures in nice-designed popup windows. There is no restriction in the number of polls, with a single installation users can add and manage polls unlimitedly.
Social Network Tabs For WordPress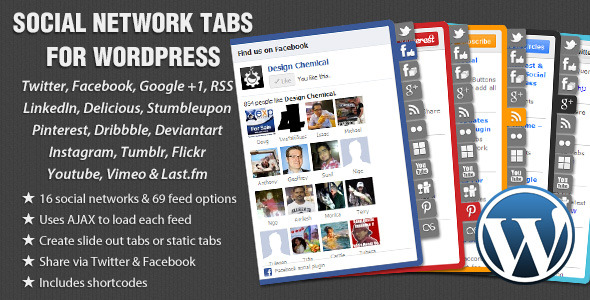 Includes 16 social networks with 69 feed options
Share Locker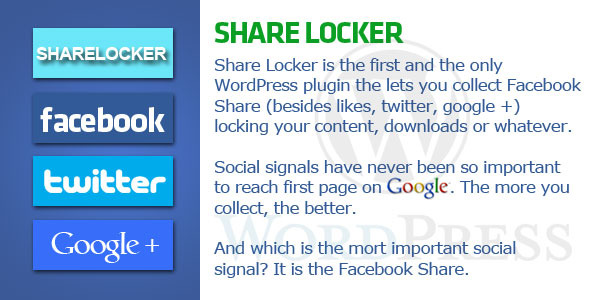 Share Locker is a WordPress plugin that lets you hide a content on a page or a post. If a visitor wants to unlock the content, she needs to click on a social button like Facebook Share, Facebook Like, Twitter, Google+ and VK.com. This feature is very useful to make your page and web site more social and viral and to gain a lot of authority and trust for the search engine positioning.
Facebook Likebox Slider for WordPress
The best Social Slider plugin for WordPress on the market. Easy to install, 3 click configuration, awesome tabs design. Easy way to get more shares, more traffic, more fans and popularity.
Twitter Tweets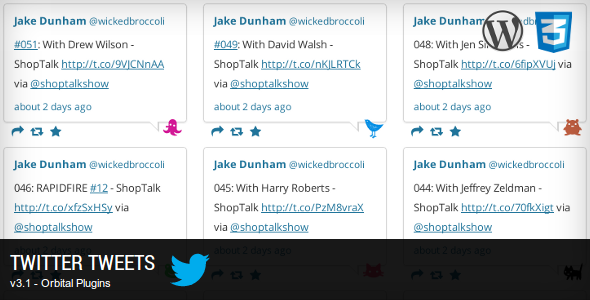 Twitter Tweets is a plugin for WordPress that allows you to easily display Tweets from Twitter using widgets, shortcodes and functions.
WordPress Social Stream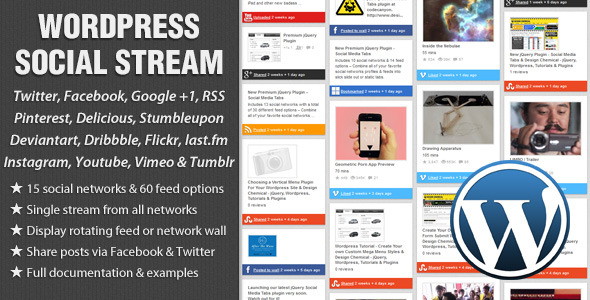 Combine all of your social network interactions into one single network stream or create a single feed for multiple social network profiles. Display using a filterable jQuery isotope powered Social Network Wall or a rotating feed list!
Latest version includes Facebook, Twitter, Google + and LinkedIn share links to make your social network streams more interactive, help promote your social network posts and boost your traffic!
WordPress Social Timeline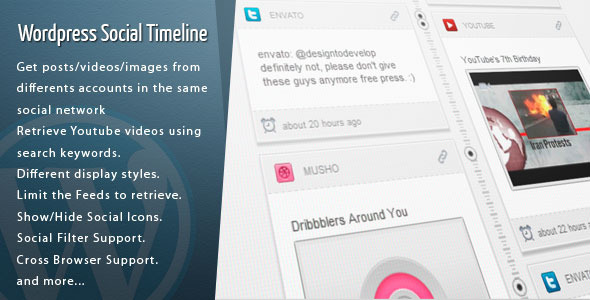 The DP Social Timeline plugin lets you retrieve status/posts/videos/images from different social networks in a timeline format, sorted by the newest.
SharePlus (+) : The most beautiful way to share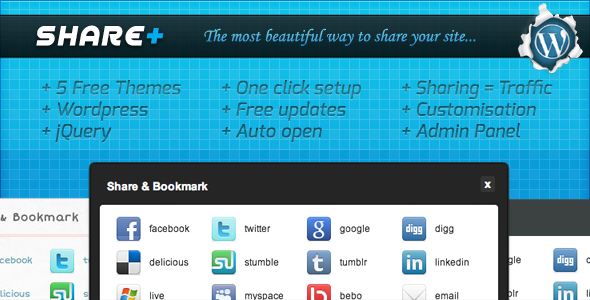 Share+ is a very powerful & highly customisable social sharing WordPress plugin which creates a new social sharing experience for your site users. It comes with five pre made themes which allows for high customisability with the power of CSS. Replace the long list of unusable sharing buttons on your webpage with a neat, simple and organised sharing experience.
LinkedIn Post Planner/Scheduler – WordPress Plugin
LinkedIn is the worldís largest professional network with over 175 million members and growing rapidly. LinkedIn connects you to your trusted contacts and helps you exchange knowledge, ideas, and opportunities with a broader network of professionals.
Instagram Theatre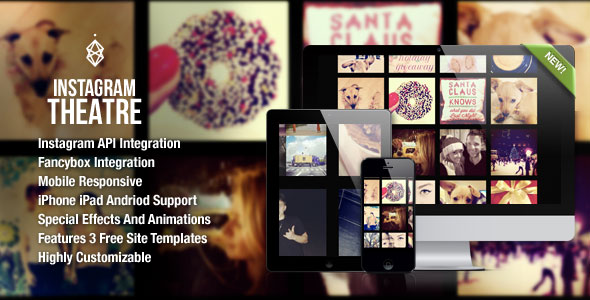 Create the ultimate Instagram gallery/portfolio with Instagram Theatre. This is a plugin designed to allow you to easily pull photos from your Instagram account and render them on your website. You can enjoy using several different layouts including grid, list, and full-screen. This plugin also comes with three fully responsive site templates so you can make your user experience similar to the one in the demo and a stand alone jQuery plugin for users who wish to use Instagram Theatre without using wordpress. Simply install the plugin and we take care of the rest!
WordPress Social Share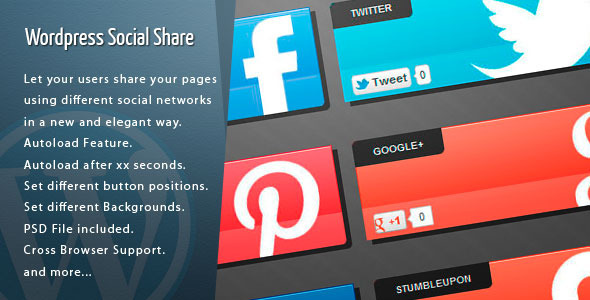 The DP Social Share plugin lets your users share your pages using different social networks in a new and elegant way.
Like 2 Unlock for WordPress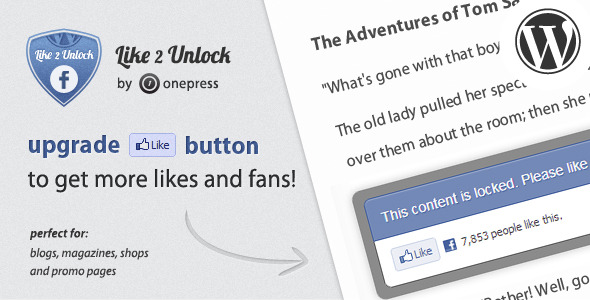 The Like 2 Unlock plugin for WordPress is a Like Button and content locker in one bottle, which allows you to lock specified content on a web page until a user clicks the Like Button and help you to get more likes, fans, traffic and customers!
Facebook Send Button Pro
Facebook Send Button Pro is a WordPress plugin that lets you harness the power of Facebook's new social product: the 'Send' button (literally released just yesterday 4/26/2011), with an easy to use shortcode complete with its own TinyMCE toolbar button.
FB Page Integrator – WordPress Plugin
FB Page Integrator allow you to create pre and post LIKE content for Facebook Fan Pages (iframe) using WordPress. You can show an image, SWF file, video from YouTube/Vimeo. This plugin support unlimited Facebook Fan Pages on single installation. It can be installed on a clean WordPress website or on the current WP Blog. FB Integrator is compatible with Lightbox plugin, so you can have a great effects directly on Fan Page.