15+ Best Responsive Shopify Ecommerce Themes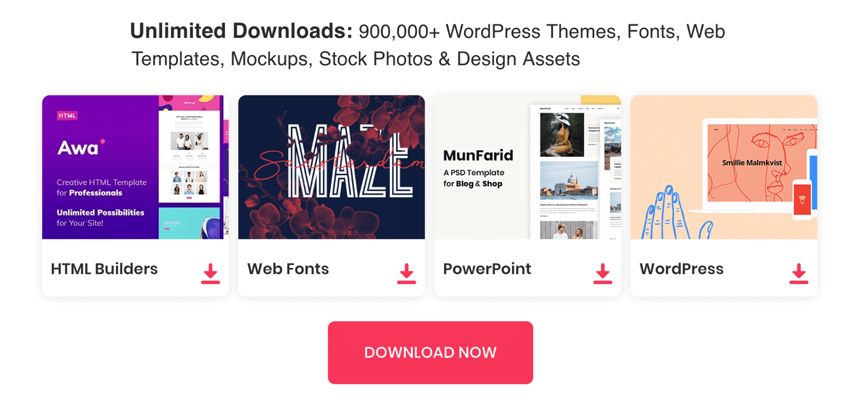 Shopify is a popular shopping cart used by numerous ecommerce companies. Today, we have shortlisted the best Responsive Shopify Ecommerce Themes that help you get your eCommerce website online. Check out our collection and picking the best Responsive Shopify Themes and save your money.
You might also like this: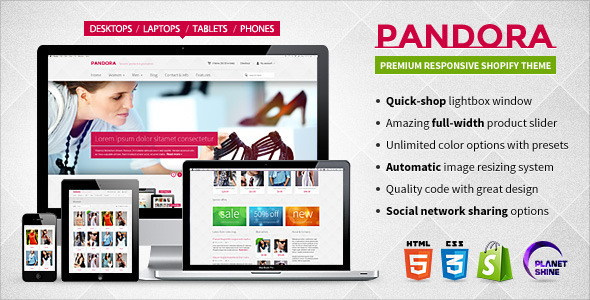 If you are looking for the best responsive Shopify themes for your online shopping sites, you are in right place today!
Saria Shop – Flat Responsive Shopify Theme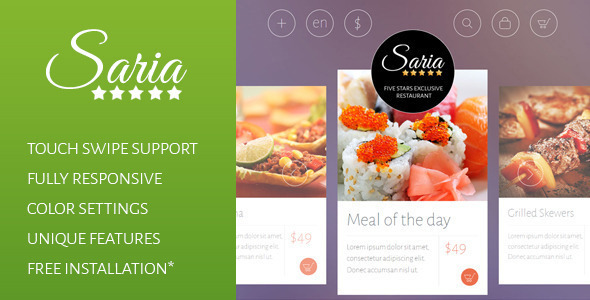 Saria Shop is a flat, clean and modern shopify theme for your online ecommerce business. It is previewed as restaurant but it can be easily extended.
Sigma | Responsive Multipurpose Shopify Theme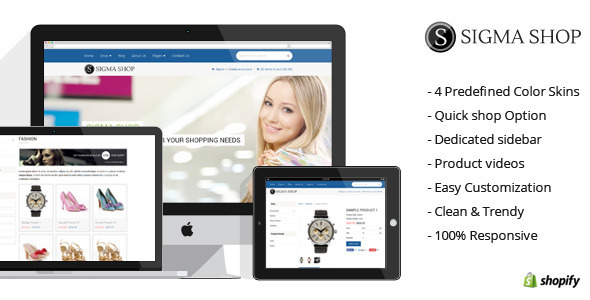 Sigma is a premium Shopify theme packed full of great features. Sigma comes packed with next-generation features and flexible theme customization settings and easy to setup. Featuring support for high-res product images, responsive layout for widescreen and mobile devices, quick shop option, dedicated sidebar, product videos and much more…Sigma features subcategories in the sidebar, navigation dropdowns, social media integration, customer accounts, SEO features and more!
Vigo Shop – Responsive Shopify Theme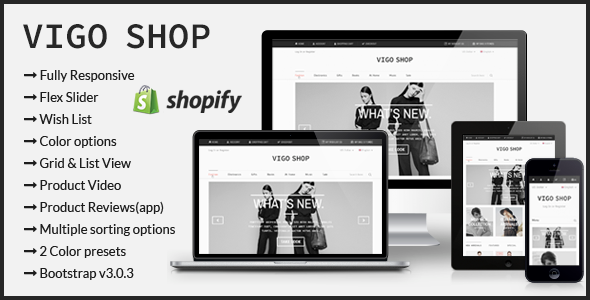 This stylish Responsive Shopify theme is Perfect for stores of any kind, such as fashion, clothing, digital gadgets, Artworks, etc., Responsive theme that's written with smooth and modern HTML5, it looks and works great on mobile devices, tablets and computers. This Premium Responsive Shopify theme comes with awesome options.It's extremely customizable, easy to use and fully responsive.
Responsive Shopify Theme – Fashion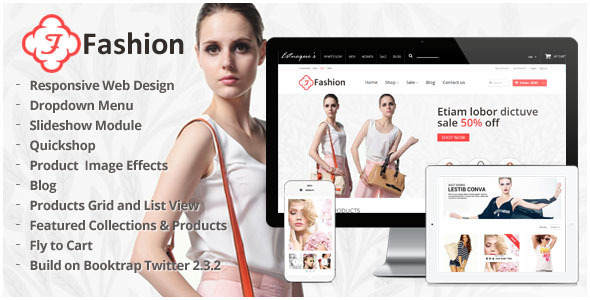 Design is optimized for all the most popular screen resolutions. When screen is resized, design elements are transformed smoothly on each breakpoint (from 320 to 1680 pixels) in order to adapt to the current resolution
Fashion Planet Shopify Theme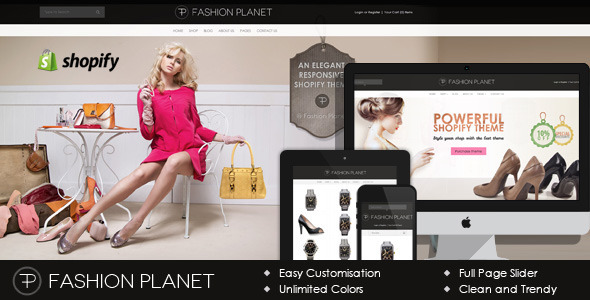 Fashion Planet is a minimal, classy and modern Responsive Shopify theme Perfect for stores of any kind, such as fashion, clothing, watches, jewels, digital gadgets, furniture etc., Mainly designed to sell rich & luxurious products. Theme is written with smooth and modern HTML5 + CSS3. It looks and works great on mobile devices, tablets and computers.
Game Store Shopify Theme – GameWorld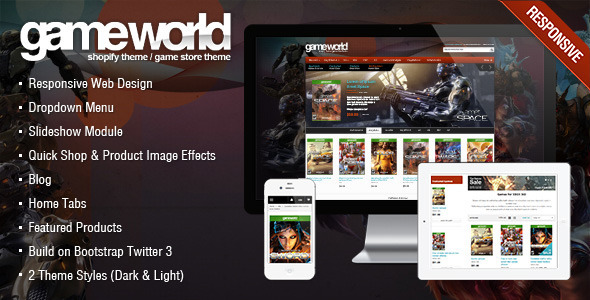 Game shops are definitely a dream place for who cannot live without game and Shopify Gameworld is the perfect theme for the stores. It has such a stunning graphics and visual effect that any gamer will be impressed. CSS3/HTML5 show special display effects and slideshow is more than that, it is an effective promotional tool for you. Color combination of this template emphasizes something really strong and bold as in an action game. Texture and colors are all skillful designed to set off the store's spirit and games' soul.
Plain – Responsive Shopify Theme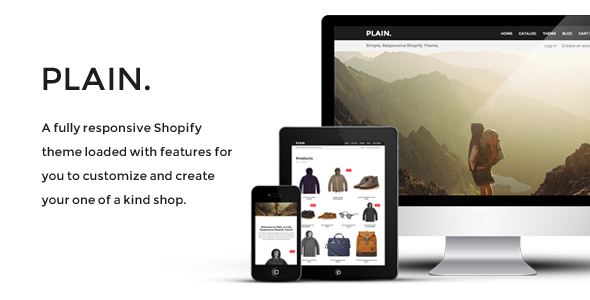 Plain is a simple and easy to use Responsive Shopify theme; meaning it will work great on computers, tablets and mobile devices. The theme comes with a wide range of theme settings that are easy to customize, ready to use, and waiting for you to put your own spin on the theme to make it stand out.
Flat Responsive Shopify Theme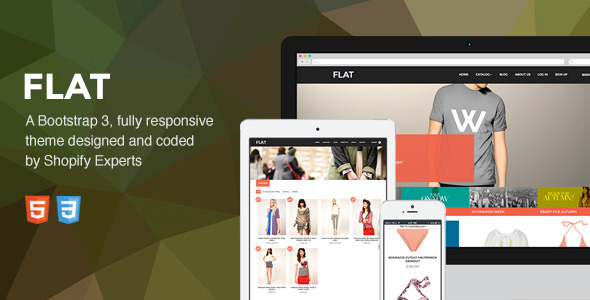 Clothing Store Shopify Theme – EstNeque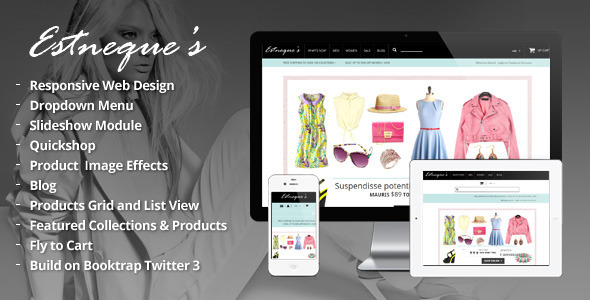 Let's make your business worldwide with Shopify EstNeque. No one can take eyes off impressively amazing visual effect of the theme, which is defined by CSS3/HTML5. It brings fresh look to your store as well as makes visitor excited and looking forward what they will experience in your store. Multi-layered slideshow emphasizes suggestion you made and make it even more attractive.
Avenia – Responsive Shopify Theme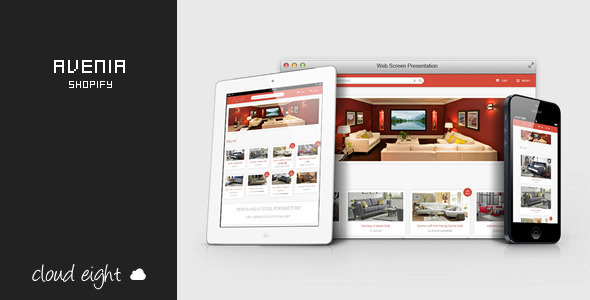 Avenia, is a highly customizable, user friendly Shopify theme with an outstanding array of features.
Serenity – Minimal Responsive Shopify Theme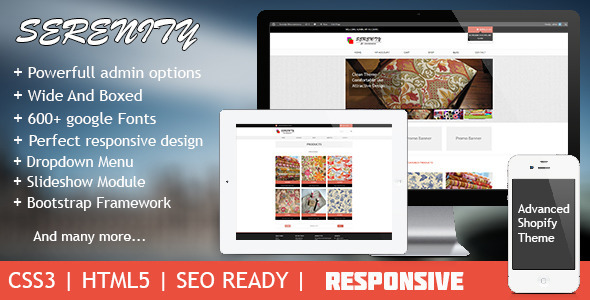 Serenity Theme : Minimal, responsive and clean design for Shopify eCommerce that fit all modern shops and boutiques. It comes with a plethora of options so you can modify layout, styling, colors and fonts directly from within the backend.
Responsive Shopify Theme – WineYard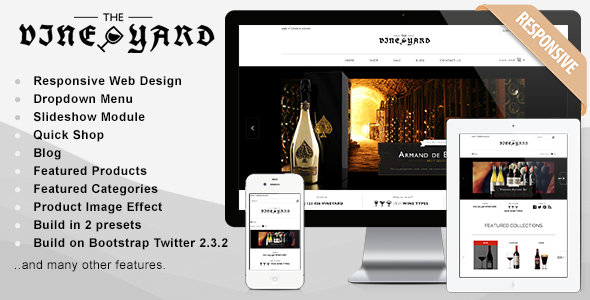 Shopify WineYard is responsive eCommerce template, especially designed for online wine stores. There are 2 choices of background this template. While the white design brings an elegant look, the dark design creates a mystery feel for the website.
Responsive Shopify Theme – ShopMusic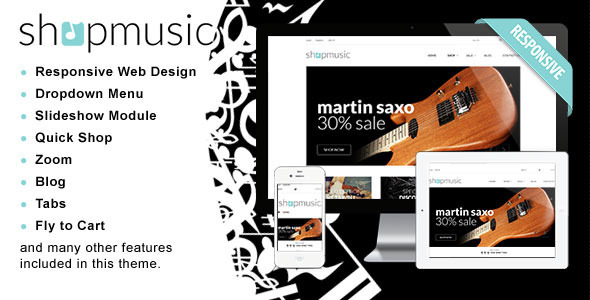 Bring you back to Classic with basic design. Shopify Music has a simple layout with white background and decorated with black. A big, eye-catchy slideshow to impress visitors right at their first look. Products are classified and organized into categories which customers can shop by menu. Also, featured categories are nicely placed in homepage with slide effect.
Responsive Shopify Theme – ActiveWear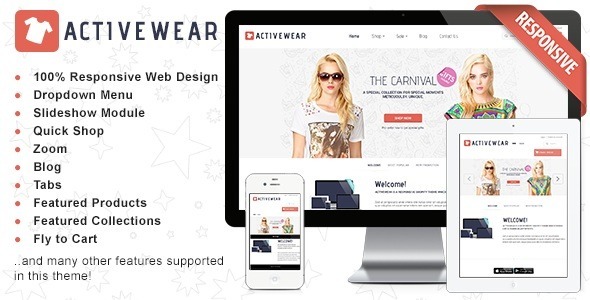 New template, Shopify ActiveWear, would be a core potential part of your success. It is suitable with variety of business, from clothing to lingerie, and from shoes to accessories. Incredibly modern and fashionable look of it will be first sight impression. With basic white, website layout becomes extremely clean and neat. This is specially for emphasizing product colors, details and all related information.
Ultimate – Responsive Shopify Theme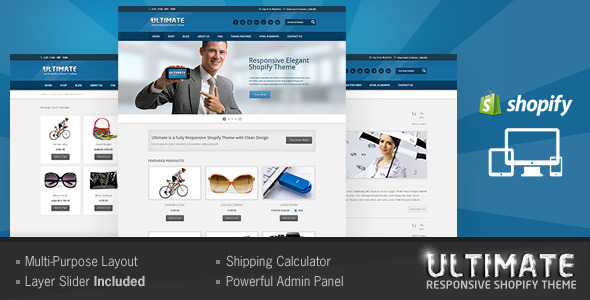 Ultimate is a classy and modern Responsive Shopify theme; Perfect for stores of any kind, such as fashion, clothing, digital gadgets, furniture etc.,