35+ Best Responsive Restaurant WordPress Themes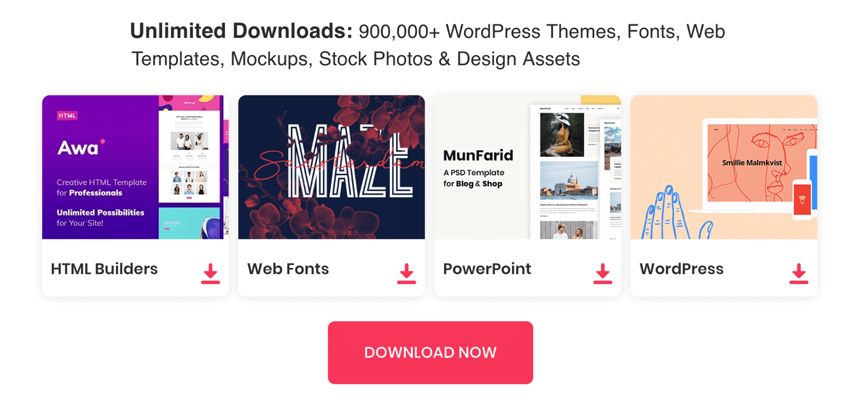 The following are a collection of the Best Responsive Restaurant Themes for WordPress, that is perfect for creating a professional image of your restaurant or business. It is easy to customize with awesome features and fully responsive template for restaurants or pizza huts.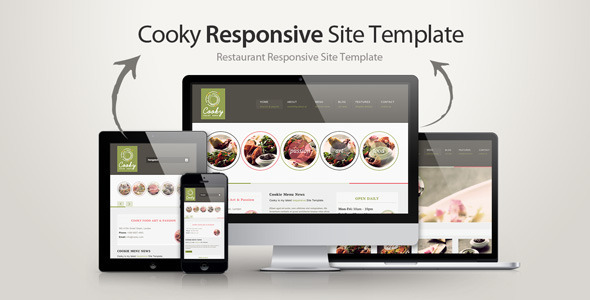 Today, Economy is leading restaurants to responsive website design as a way of adapting to consumers' digital shift. Take a look list best responsive theme for restaurants can benefit your restaurant.
 BERG – Restaurant WordPress Theme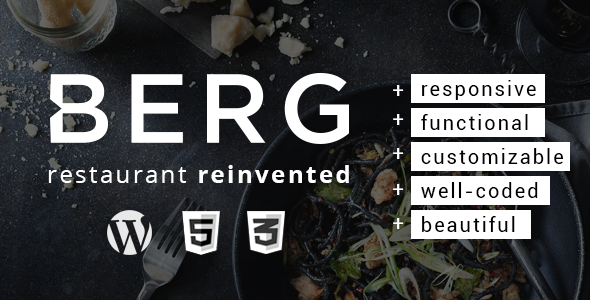 BERG – restaurant template with multipurpose ambitions. BERG is our most beautiful, advanced and feature rich WordPress theme yet. We put lot of effort and time into planning, designing and creating it.
The Flavour – Restaurant WordPress Theme
Meet The Flavour, a restaurant WordPress Theme with a classy and modern design that will definitely stand out and provide a touch of class to your web presence.
ROSA – An Exquisite Restaurant WordPress Theme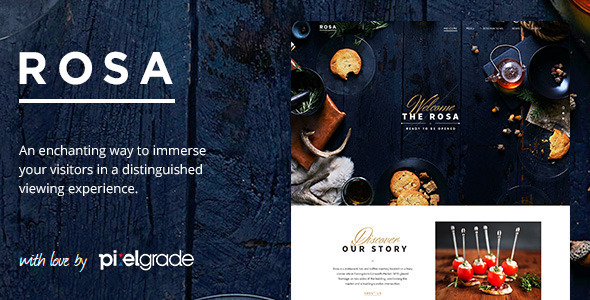 ROSA is an enchanting and easy-to-use parallax Restaurant WordPress theme that allows you to tell your story in a dynamic, narrative and enjoyable way, making it perfect for restaurants, bakeries, bars or coffee shops.
LemonChili – a Premium Restaurant WordPress Theme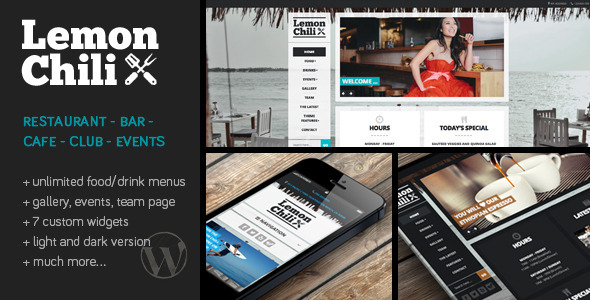 LemonChili is a premium, responsive WordPress theme with special features for restaurants, cafes, bars, clubs, events, … With LemonChili you can create unlimited food and drink menus as well as an event page, a team page and a gallery page.
Dining Restaurant – WordPress Theme For Chefs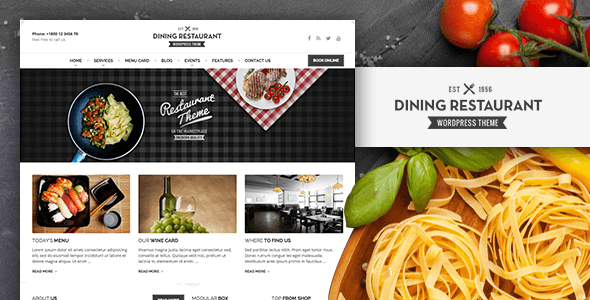 Dining Restaurant is a premium WordPress Theme for any kind of restaurant, chefs and similar businesses in food & drink industry. It is very easy to setup and use.
NUVO – Restaurant, Cafe & Bistro WordPress Theme
NUVO is an elegant, modern, functional and easy-to-use responsive parallax wordpress theme that has been purposely built for the restaurant, cafe and bistro industry. The theme allows you to choose between the different demos we have created for each type of food establishment or create your very own style to match your restaurant, cafe or bistro business.
White Rock – Restaurant & Winery Theme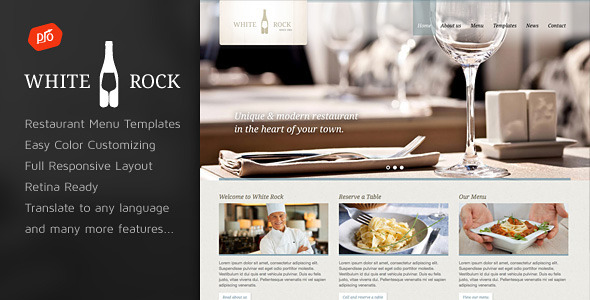 Show off your work with this easy-to-customize and fully featured WordPress Theme. When purchasing this theme, you will receive a detailed help file along with additional features like Unlimited Color Schemes and Responsive Layout.
Growler – Brewery WordPress Theme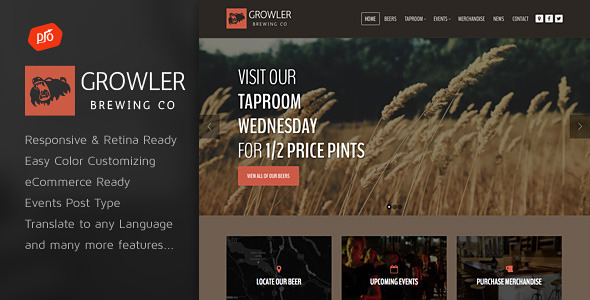 Grill Parallax Restaurant & Events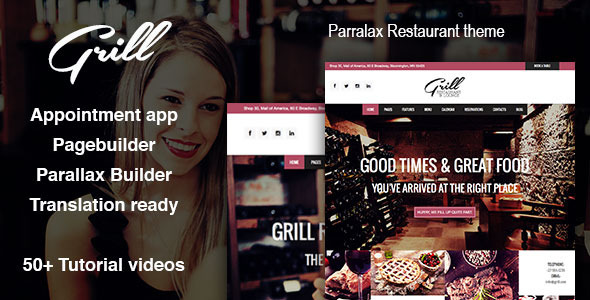 Grill is a Restaurant theme designed in the parallax pattern. This theme is perfect for Restaurants, Grills, Cafe's, Bistro's, Night Clubs and everyone in the entertainment industry.
Bistro – Responsive Foodie App-theme
Bistro is a premium WordPress app theme for Restaurants, Cafes, Bistros, street cafe's, Eateries, Diners, Food trucks and Restaurant and catering type businesses. It has an easy setup and many features that are required in restaurant business to leave a great impression. Some of the restaurant type functions offered is reservations, Food Menus, Events, Gallery, Team Members, Contact, Impressive Homepage with fullwidth slider and services information.
DynamiX – Business / Corporate WordPress Theme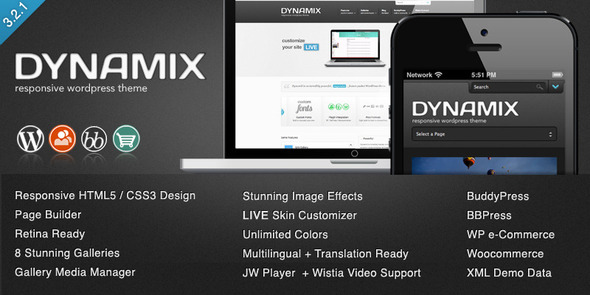 DynamiX is one of the most powerful responsive multi-purpose themes around today. Whether you require a photography , woocommerce multilingual shop , buddypress , bbpress , corporate , professional , clean , blog , church , fitness , restaurant , wedding , school – DynamiX will suit your purpose.
Pico – Food & Lifestyle Blog
Pico is a clean and elegant WordPress Theme with a focus on your content and was designed with Food/Health/Lifestyle Blogs in mind, but can be used for anyone who wants to have a beautiful blog site.It comes with a horizontal and a vertical grid layout and is responsive and designed to look beautiful whether you are using a desktop computer or a mobile phone.
Delicate | Responsive Multi-Purpose Theme
Delicate brings forth an elegant looking and highly flexible Multi Purpose WordPress theme . You can drive your visions and dreams into actions and dazzle your clients with the immense number of features we offer in our theme. One such intriguing feature is our Advanced Admin Panel where you can change colour, font, font size, page layout, blog style, etc and also control SEO settings and responsiveness. Our theme is fully responsive and also has Woocommerce with extensive back-end options to enrich product and sales page designs.
Bonanza – Responsive Multi-Purpose WordPress Theme
Bonanza – multi purpose theme. Create online stop, company site, personal portfolio or blog. Mix and match to create your ultimate site.
Zinc – Multi-purpose WordPress Theme
Zinc – is a multipurpose theme with plenty of features to cover up a large number of website types you can create with it. Zinc supports numerous features and website types such: Corporate, Shopping, Portfolio, Gallery, Blog, Magazine, Photography, Restaurant, etc. With its flexible layout builder you can create great and uniqe page layouts in seconds, build contact forms, maps, social networks and many many other supported elements.
AgriTourismo – Responsive WooCommerce Theme
Agritoursimo theme is designed for wineries, eco products merchants, cheese producers, agricultural and tourist sites, also for other industries.
Cooker – Online Restaurant, Food Store
Cooker is great template excellent for restaurant, bar, pub or bistro. Clear code and perfectly organized in sets PSD files make everything clear and easy to find.
Made – Responsive Review/Magazine Theme
Oishi WordPress Theme
Oishi is a perfect premium WordPress Theme for restaurants or coffee shops but that's not all, it comes with three beautiful skins, also you can adjust the appearance to fit any business, it comes with clean and easy to use options.
Circles – Retina Responsive Multi-Purpose Theme
Circles is a very professional yet super-easy to use theme
Ristorante Responsive Restaurant WordPress Theme
Ristorante is very modern Specialized WordPress Theme for Restaurants, Bars and Caffes. Fullscreen design with Fullscreen Slider allows you to show nice restaurant premises or tasty food. You can also use Food Menu Generator to create professional looking daily menu or À la carte in seconds. Theme also features Event Enquiry Form that can be used to make table or banquet reservations. What more, theme adapts automatically to small mobile devices like iPhone or Android. Precise and user friendly admin panel allows you to do a lot of customizations without knowing any HTML or CSS. Colors, images, fonts, widgets, sliders, portfolios, galleries,… everything can be customized and configured via admin panel.
SaltKitchen-Restaurant Food Recipe Theme
super premium theme for retail/restaurant. It comes with very nice and friendly design. This is exactly restaurant website should be. This theme also comes with super extensive admin panel. It has tons of features.
Pluto Fullscreen Cafe and Restaurant
Pluto is the WordPress theme for Cafe and Restaurant built with latest WordPress features. Custom Post Type, Skins & Colors, Extensive admin panel etc.
Dish Restaurant Multipurpose WordPress Theme
California – Restaurant Hotel Bar WordPress Theme
California – Restaurant, Hotel, Coffee, Bar WordPress Theme is a fully configurable and easy to use responsive WordPress Theme with HTML5 Video Background Support and a lot of other great features. It has been specifically designed to be easily customized and it's created for creatives who want to make under construction page in few minutes.
Forked – Responsive Restaurant & events
Forked is suitable for Restaurants, Bistro's, Hotels, Clubs, Foodtrucks, Breweries, and anyone in the foodie or event industry. The theme is built on the very unique Croma Restaurants and events framework that brings features ot the table that is nowhere to be found outside of this framework.
Tasty Crunch – Food Recipe and Restaurant theme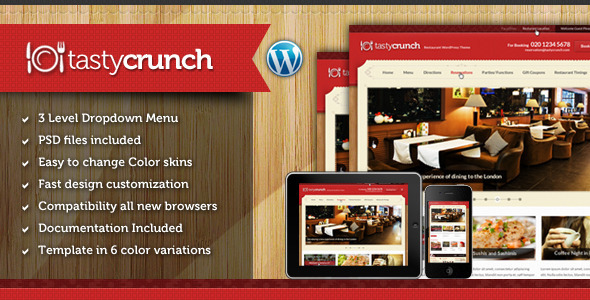 Tasty Crunch is a wordpress theme specially designed for Food Recipe and Restaurant websites. This template is easy to modify and ready to be up and running out of the box.
Fine Food – Restaurant Responsive WordPress Theme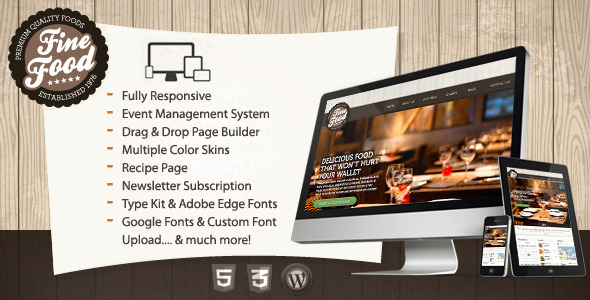 Fine Food is a Responsive WordPress theme suitable for any kind of restaurant, hotel, café, coffee shop, spa and similar websites that needs a feature rich and beautiful presence online. The main features, which are extremely important and super useful are, 3 features including Events Calendar & Management, Menu & Recipe and Facebook fan page compatibility
Victoria Premium Restaurant WordPress Theme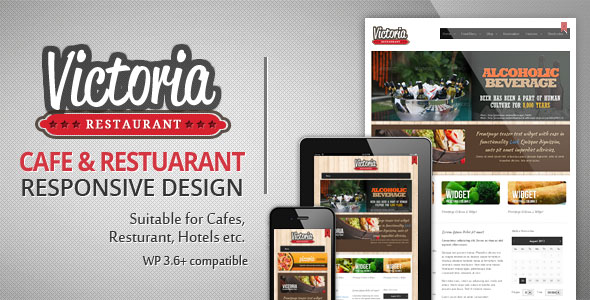 Victoria is a very powerful theme with many features easy to edit for both, users without programming knowledge and for developers. It empowers you to change any color of elements such as backgrounds, texts, links, menu links, typography, etc. The main content block is placed before the sidebar regardless of the sidebar position, so it is crawled first by search engines, so its SEO Optimized
Coffee Shop – Responsive WP Theme For Restaurant
Coffee Shop is a premium responsive WP template for Cafes and Bistros website. After purchasing this theme, you will receive the WordPress version as well as 5 PSD files. They are all layered and well organized in folder for easier use.
Bordeaux – Premium Restaurant Theme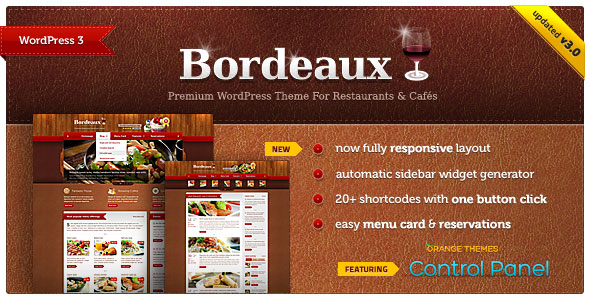 Beautiful, pixel-perfect design and easy to use Orange Themes Control Panel makes this WordPress theme one of the best in business. Featuring great looking menu card design with multiple page support and table reservation system. It also can be easily customizible thanks to valid HTML code, which means you can adopt this theme for you blog or other type of website.
Cooky Restaurant Responsive WordPress Theme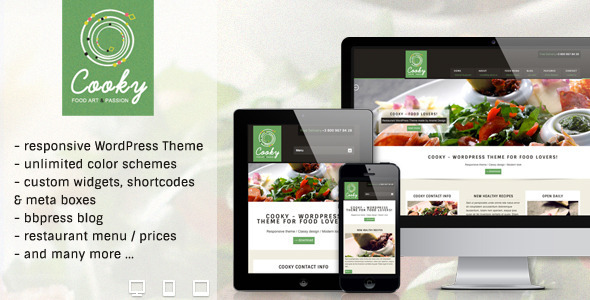 Cooky WP theme is loosely based on our own "Cooky" Site Template, but features many useful add ons that make this WP theme easy and fun to use. As the name suggest it is built having food and restaurants in mind and was probably inspired by having an empty stomach after long day behind the screen
Dine & Drink – Restaurant Responsive WP Theme
Dine & Drink is Responsive Restaurant WordPress Theme, suited for any kind of restaurant, cafe, coffee shop, bakery, cake, mexican cuisine, pasta, pizza, ice cream, japanese, sushi, salad etc.
Forkbite – Food Recipe and Restaurant theme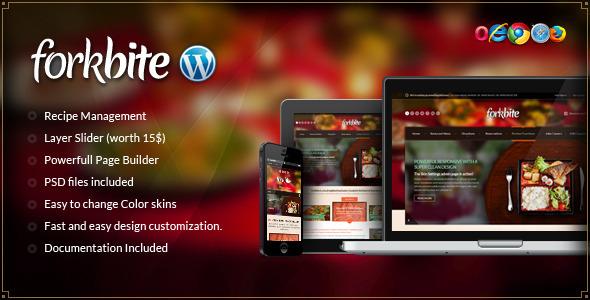 Forkbite is a wordpress theme specially designed for Food Recipe and Restaurant websites. This template is easy to modify and ready to be up and running out of the box. The PSD files included have been customized to allow fast skinning.
LinoFeast: Restaurant Responsive WordPress Theme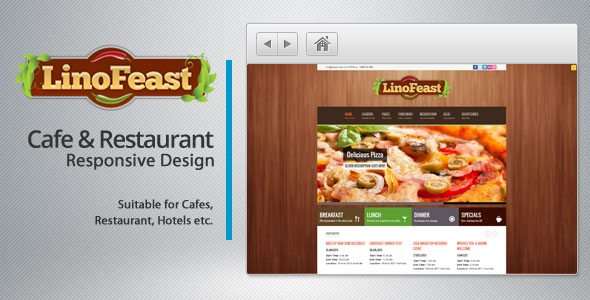 With a responsive design it's compatible with devices like Tablets, Smartphone's, iPad, iPhone, and Android Phones too. Try resizing your browsers to see different layout option or watch the site in iPhone using the QR Code in the Screenshot to see perfect responsive design. LinoFeast is a very powerful theme with many features easy to edit for users without programming knowledge and for developers too. It empowers you to change any color of elements such as backgrounds, texts, links, menu links, typography etc.
Grab Restaurant – WordPress Theme
Grab is a WordPress theme aimed at restaurants and eating places. Grab enables you to add food items along with details such as price, serving size and key ingredients that make up dish or beverage.