10+ WordPress Themes for Small Hair, Beauty and Makeup Salons 2016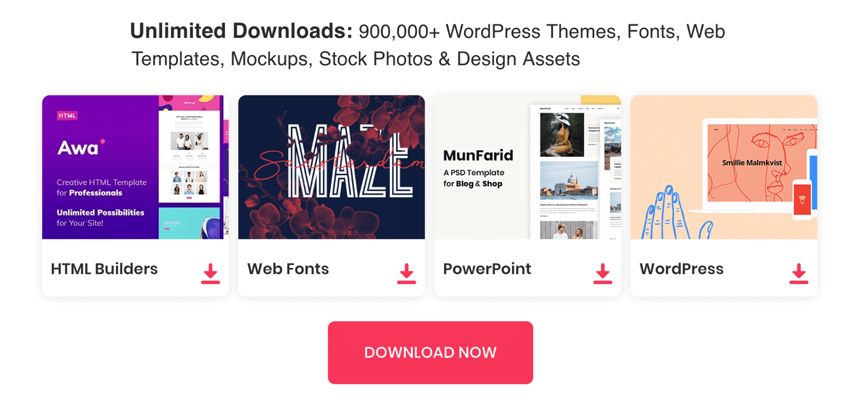 Starting a bootstrap way to success with a small hair and/or makeup salon? Probably you've already had to deal with all that headache of setting up various social channels and social bookmarking, buddying with local partners, preparing advertising leaflets or even throw the book of marketing rules and invented your own way to surprise potential clients.
Moreover, not much a surprise if your scarily educated friend already asked you whether you are going to create a website. Still salon owners are curious whether they need it as all this seems to be more about local business. Agree, probably people won't travel from other cities and countries just to make a haircut at your salon, but the percent of the local customers can significantly increase. It's a wonderful advantage in a local competition. Tourists also happen. Not all of them are that romantic souls to risk and walk into the first available barbershop; for many it's necessary to get some customer reviews first, surf through services and pricing, view some of the real works, etc. That all has common sense. And this write-up aims to give you more idea of what is important for the target customer in a hair and makeup salon website from the standpoint of an overall look and functionality.
As you might guessed from the post title, I'm going to focus only on WordPress themes that can help you build memorable and usable online presence. Okay, what are the most needed parts for your salon website?
Design
Keep it attractive, but remember that attractive design alone is not going to win. Choose something simple and easy to navigate. Off-putting is good only if it's a kind of promo-code banner (though it still can contribute to banner blindness). A common stylistic fault is wordiness, a common web design fault is redundant features. If the template is overloaded with extra features/functionality, it's simply mugging. Of either designer or website owner. Better leave more white/solid space to prevent cluterness and increase readability.
And other bare-bone features:
Services/products page is a must-have.
How should it be set up? The more details it contains, the better. The more clear structure, the better. Generally, the Offers page implemented as a table is the best way to go, as it helps to quickly visualize and compare your products and services. Though it's hard to create tables in WordPress, each responsive theme deals with this task very well. If there is a lot to read about each product/service, you can tie them to the read more page or put the info into the pop-up window with details.
Price-guide!
Very often this page is the third most visited page for salon websites. For some people it's the first visited one. Prices can be shown in the same table along with the services or in a separate pricing table.
Photo Gallery or Portfolio.
Customers of the business niche in question are not going to believe your experience expressed in words only. It's important that you take some time and do the homework to be able to present some of the works (you may grab a couple of your friends for the first experiments and the first photos). From the usability standpoint, portfolio section should be properly structured (it can be categories/titles/subtitles or whatever) so the site visitors can quickly find the needed example.
Testimonials.
Sounds obvious, agree? For the business like yours voice of the customer is everything: your reality, brand-building, or just average positive gossip that can result in one more loyal customer. It can replace any rating system.
Blog.
No news to share? Use a great arsenal of available hair and makeup tips&hints, trends, experiences, news from celebrities, etc. and share your minds about it on blog. This is a great engaging and entertaining resource for your potential clients and a positive contribution to Google rankings (namely, unique constantly updated content).
Contacts.
Your contact details (at least phone number or email address) should be prominent on each page (putting it in footer/header is a common practice). It's better to place Working hours on the Contacts page as well. You can also go with Google map for better usability.
Booking.
Not necessary point, but it makes life easier. You and your clients save tons of time without a need to call, take calls, write everything down, and so forth.
Selected themes have all the named necessary features. Some of them also come with additional functionality like built-in shop or products slider, which can be noticeable advantages for interested website owners or, on contrary, redundant for the others.
The theory has ended. Time to put it into practice taking a tour through the following collection!
Hairdo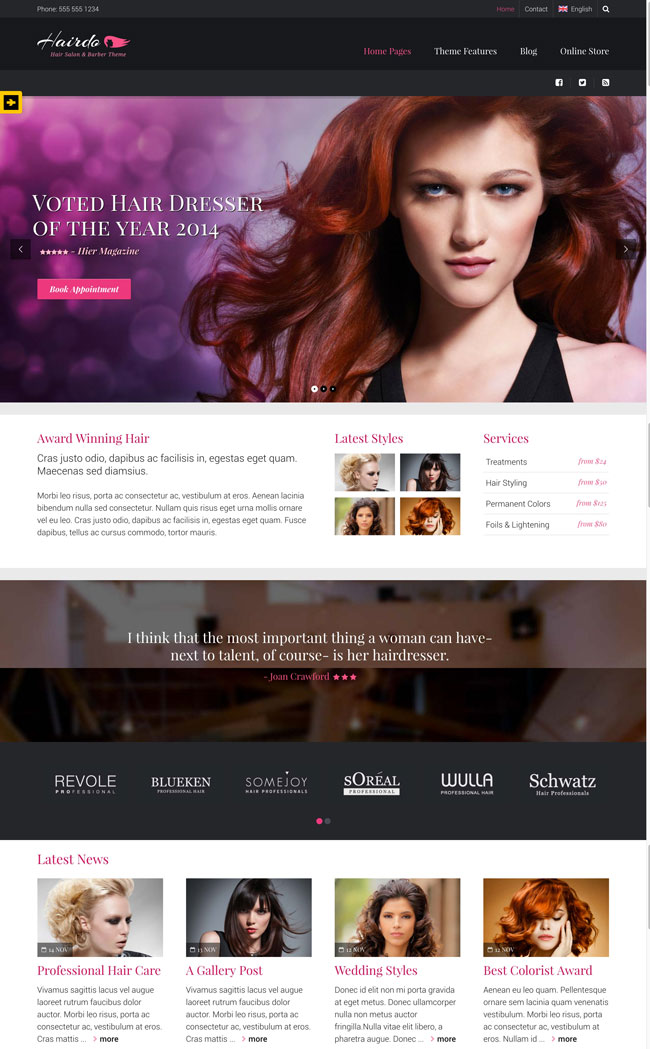 A great lightweight theme for hair & makeup salons, barber shops, and tattoo websites. It comes with tons of opportunities for the website customization. You can set either boxed or trendy full width layout for the website pages (both left and right sidebars available), use customizable page builder blocks, Google fonts and Awesome icons, and even update website header with the header builder (it comes with many templates for you to choose from for the most optimal design). And this is still the smallest part of the available features; you can view more details on the theme page. The theme is fully compatible with many popular plugins like Events Calendar, Contact Form 7, MailChimp and many others.
Entrepreneur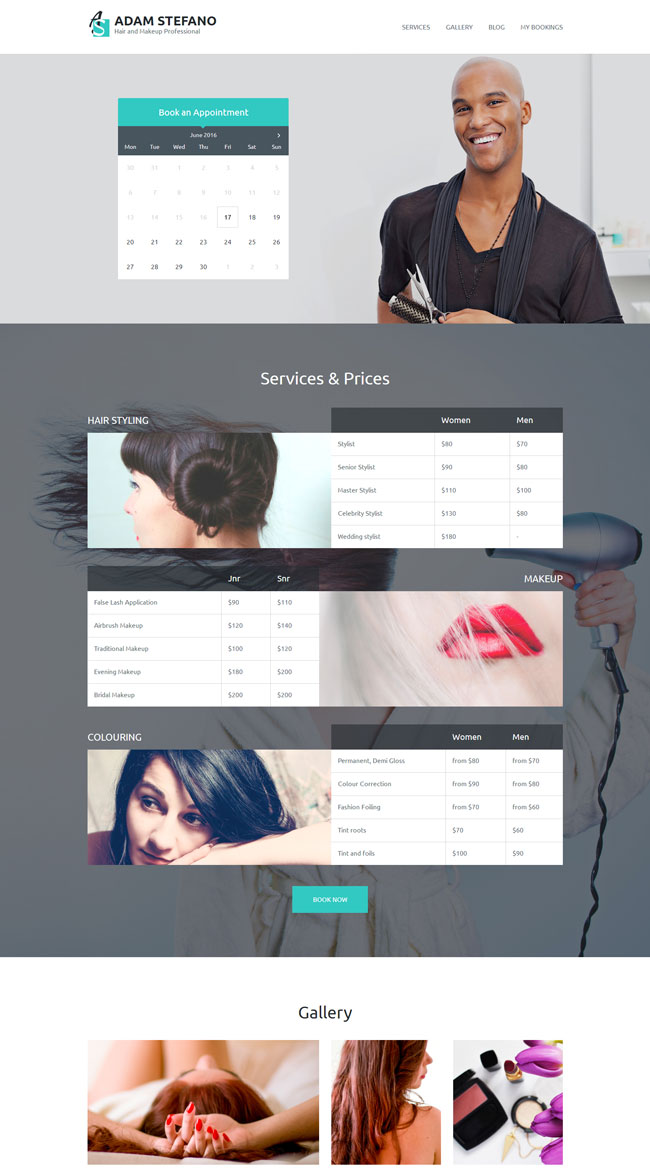 This theme is a Hair and Makeup Professional WordPress Theme great combination of only in-demand content blocks and widgets with a clean perfectly structured layout. Your clients will never get lost on the website build with this template, it's very easy to navigate and has all needed content sections in the spotlight on the front page: Services and Prices table, Portfolio gallery with trendy hover effects, creative Testimonials section, Blog, and premium Appointment plugin to manage your bookings. It comes with implemented popular front-end MotoPress drag-and-drop editor, so every non-tech website owner will find it easy to create complex layouts with all possible content elements. If you are a fan of the WordPress Customizer, Entrepreneur lets you easily update, hide or shift content sections and change any information via this editor. Moreover, all images in the downloaded theme fall under CC0 license, so you can use them on the site for free
Trimmer

Great theme in a clean and bold design, fully eCommerce ready. The color scheme is very powerful so it can result in a very memorable website. The theme offers all necessary functionality for proper functioning – Booking system, one-click demo installation, unlimited colors and a drag-and-drop builder to update posts and pages. You may also add all needed media files to engage and attract more visitors. Moreover, the theme supports 5 Post Templates (Standard, video, link, gallery, audio), Revolution slider, fully responsive and Retina ready.
BnB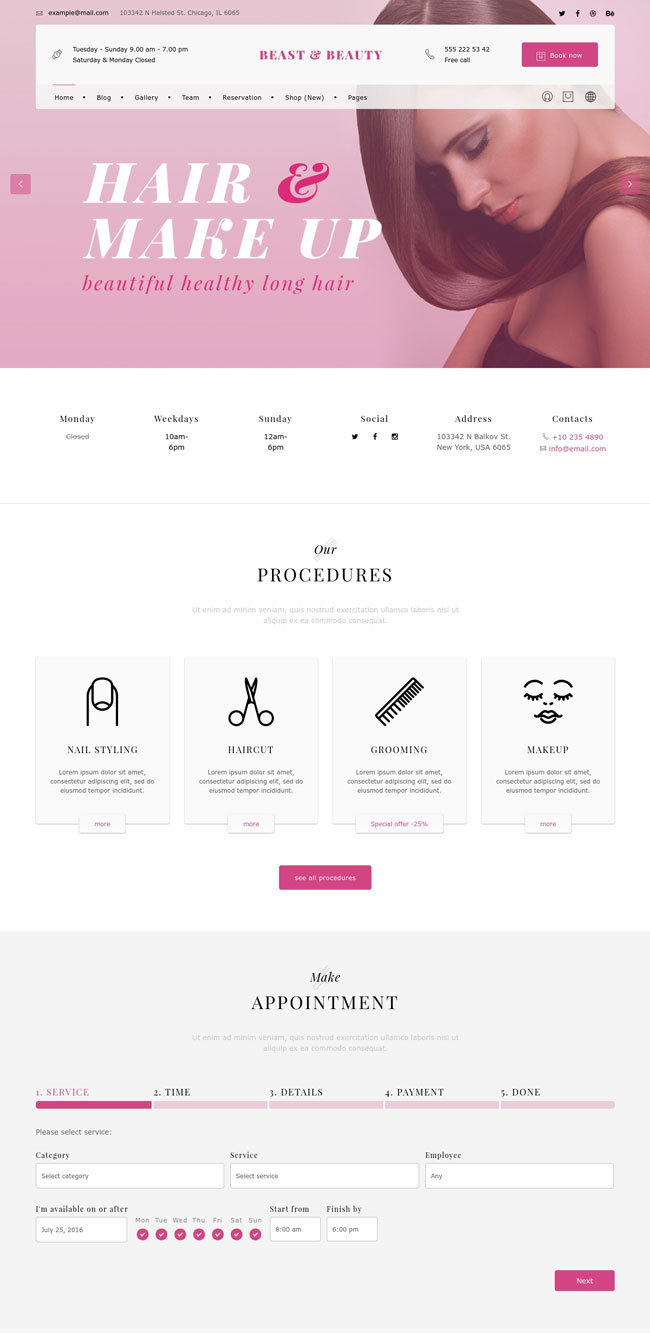 Extremely elegant multipurpose theme that can be used for hair and makeup salon, beauty salon, fitness, or barber shop. Built-in eCommerce possibilities can be considered as the biggest standout of the template. All necessary content modules are already included and are easily customized: Booking opportunity, Opening Hours, Services featured with creative icons, Shop, FAQ, Pricing, and very unusual creative Testimonials section. The theme also offers a page builder with many ready-to-use shortcodes, advanced slider, custom widgets, and custom post types. At the first glance the theme looks very professional like one of those world-famous brand websites in the industry.
Hair Care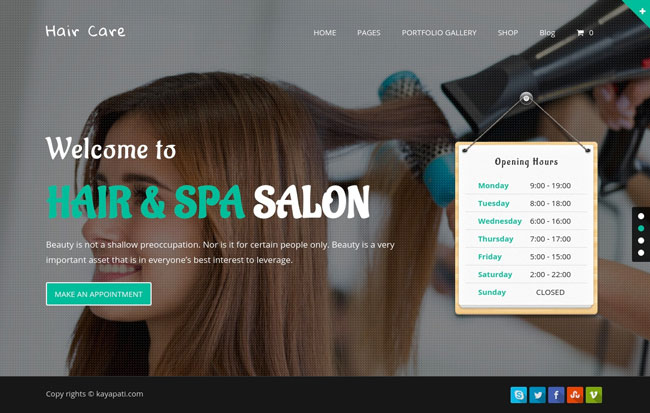 Hair Care wordpress theme comes with more traditional look, where you need to navigate to each needed page individually. The plus is, the home page is a real lightweight, it loads faster ensuring satisfying user experience and better Google rankings due to the load speed criterion. It also comes with support for eCommerce if you have something to sell. The biggest advantage of the template is that you have a great choice of more than 20 ready-to-use front page layouts. Also, you can easily update the theme via the WordPress Customizer. Google fonts, custom sidebar, Portfolio and gallery pages are already built in.
Hair Salon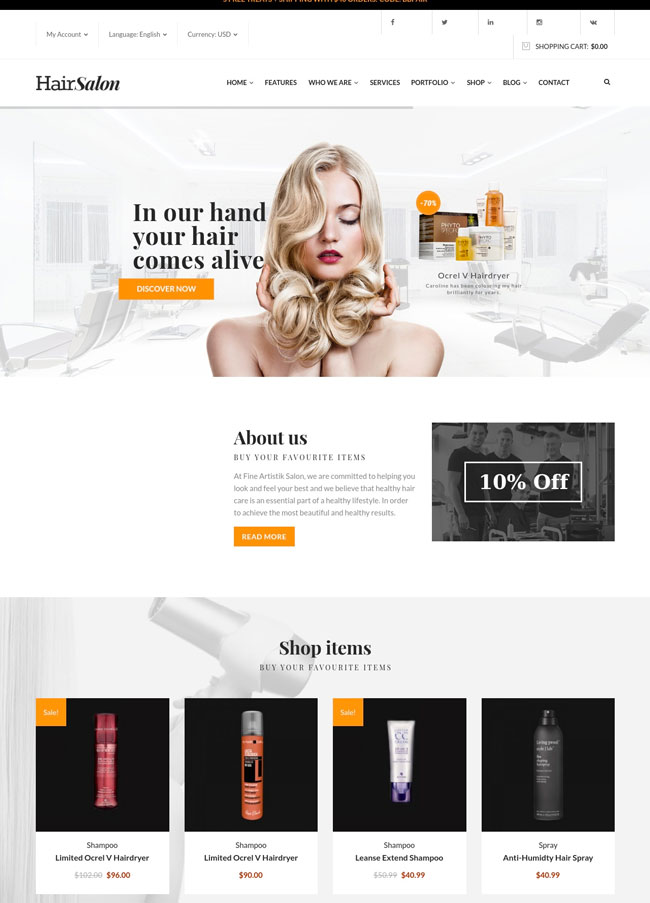 This Hair Salon WordPress theme can be customized to meet the needs of hair salons, beauty salons, hairdressers, beauty treatment businesses and much more. Fully animated and dynamic slider will prevent banner blindness so that all your important messages won't go unnoticed. It's a very feature-rich theme. Except for all must-have content blocks, the theme also lets you sell products online, which is a great opportunity if you need this option on the site. To a certain extend, the theme may look a bit overloaded with features, but if this is what you are looking for, use it for your advantage.
Coiffuer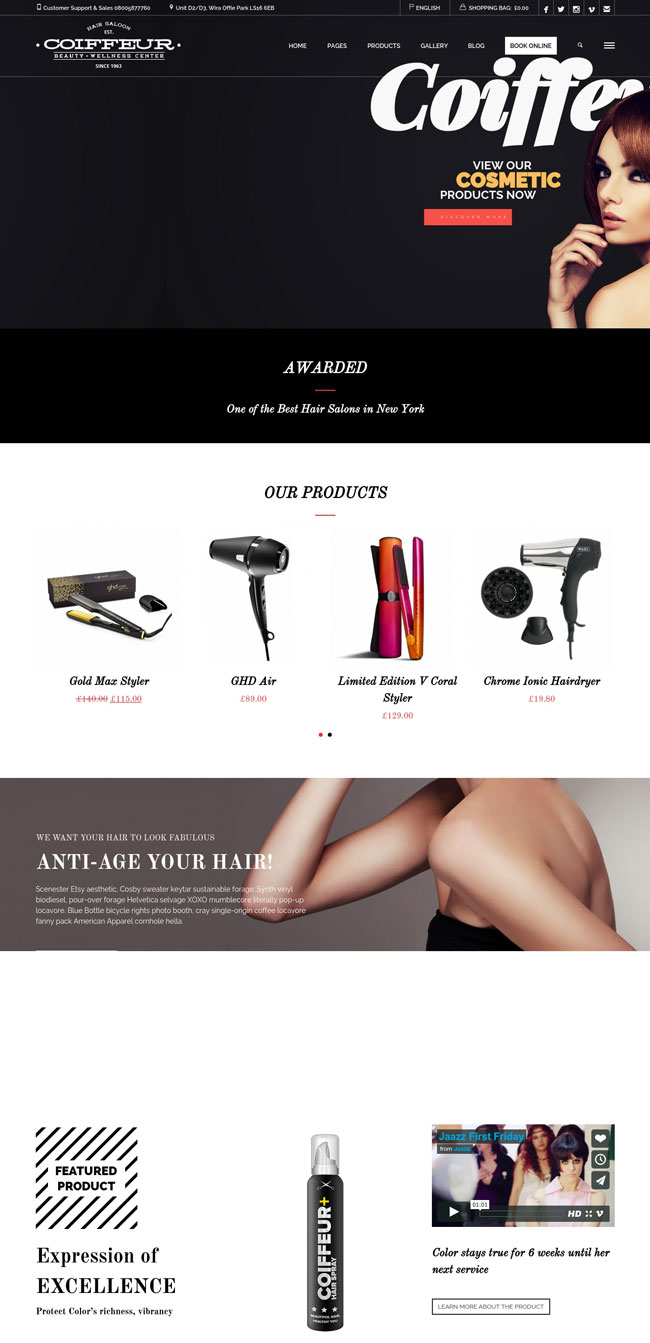 Coiffeur is a premium WordPress Theme, suitable for hair salons, beauty salons and hairdresser. Not only hairdressers and makeup artists can build their business with this theme, but also various beauty salons. A great contrast of a trendy full width content blocks with narrower sections increases website readability and provides pleasant user experience. As for functionality, you should enjoy a variety of page templates, custom online booking form, customizable pricing tables, trendy slider, different photo and video galleries, transparent customized pages, parallax page sections, product slider to increase conversion of the shop, and much more.
BeautYou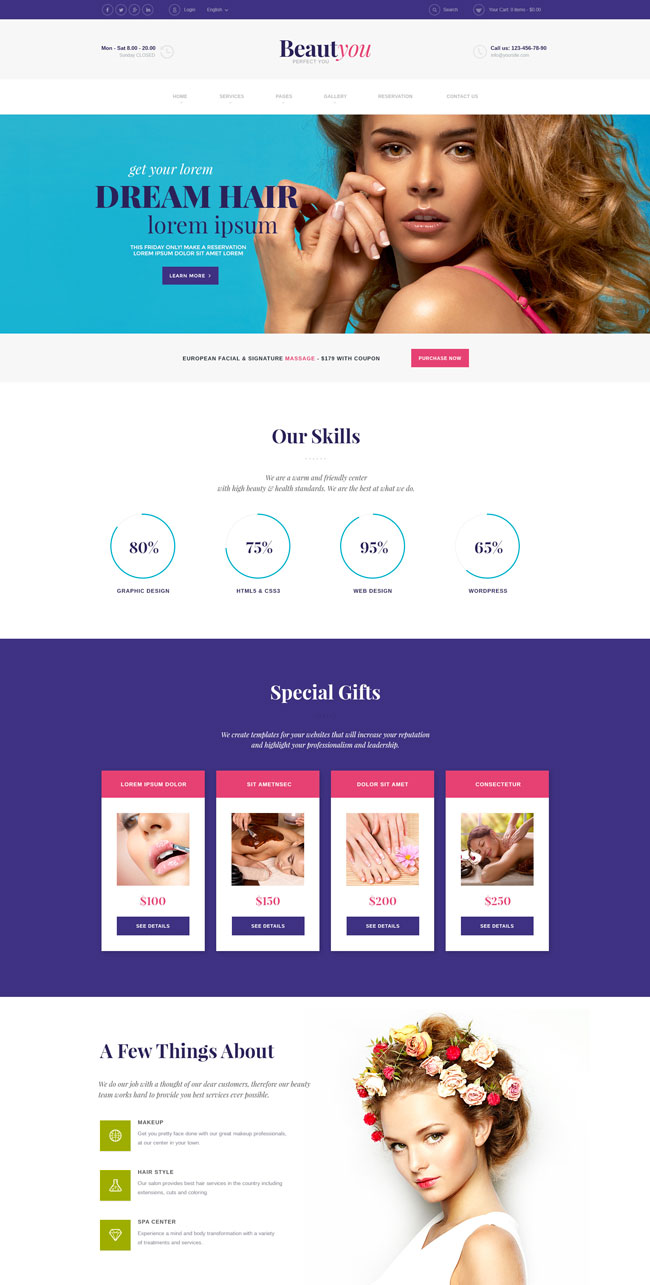 Hairstyling and makeup are just two of many business niches this template can be used in. The overall design is very bright and colorful, with many engaging features. Hard to count the number of options this theme proposes – you'll less likely need to install any additional plugin to properly customize the theme. It comes packed with multiple layouts and color options, three different slider types, Visual Composer and shortcode builder, side menu, a lot of different blog styles, customizable portfolio and plenty of other features.