10+ Best Free Statistics Plugins For WordPress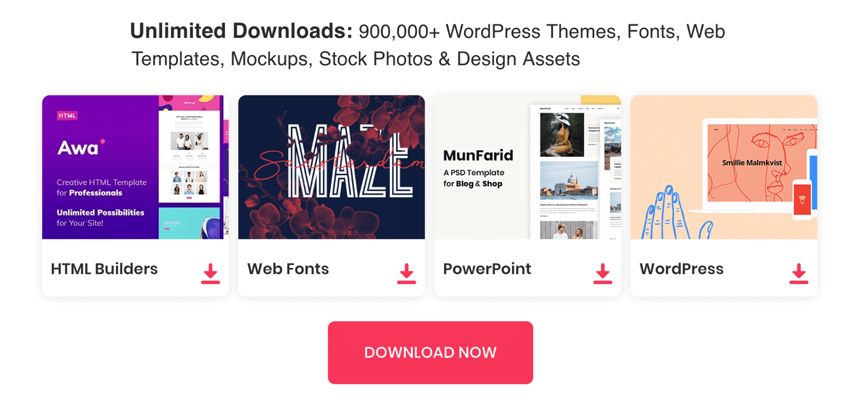 Here are best free statistics plugins for WordPress in 2015 were hand-picked which will help you track your visitors in real time. Using any of these WordPress stats plugin you can easily get traffic stats on your WordPress blog.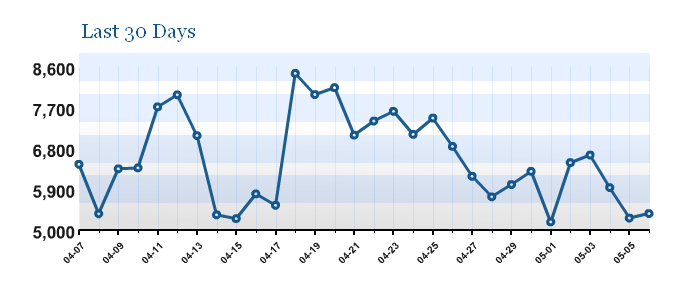 There are huge number of Statistics Plugins which you can download for your WordPress site so choosing the perfect visitor details plugin can be hard, today let Designmaz help with our picks for 10 best WordPress Statistics Plugins currently for 2015. Check out below!
WP Statistics

A comprehensive plugin for your WordPress visitor statistics, come visit us at our website for all the latest news and information. Track statistics for your WordPress site without depending on external services and uses arrogate data whenever possible to respect your users privacy.
StatPress Visitors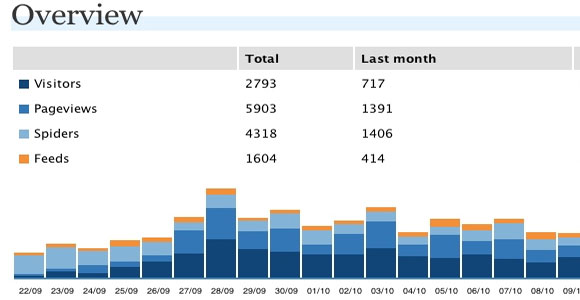 StatPress Visitors (a highly improved fork of StatPress Reloaded) shows the real-time statistics on your blog. It corrects many programming errors of the original StatPress and StatPress Reloaded. It collects informations about visitors, spiders, search keywords, feeds, browsers, OS, etc.
JetPack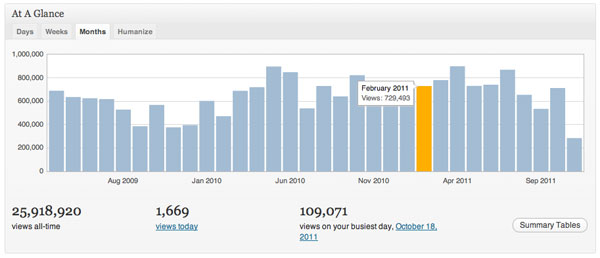 Jetpack is a WordPress plugin that supercharges your self-hosted WordPress site with the awesome cloud power of WordPress.com.
WassUp Real Time Analytics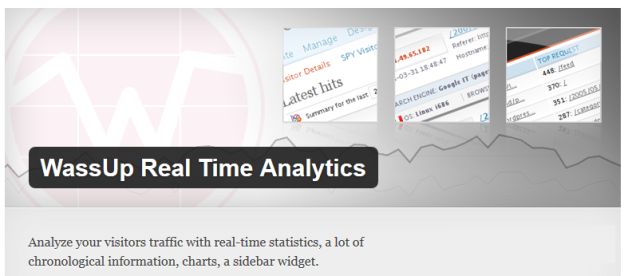 WassUp is a WordPress plugin to track your visitors in real-time. It has a very readable and fancy admin console to keep track of your visitors that gives you a detailed view into almost everything your users are doing on your site. It is very useful for SEO or statistics maniacs.
kStats Reloaded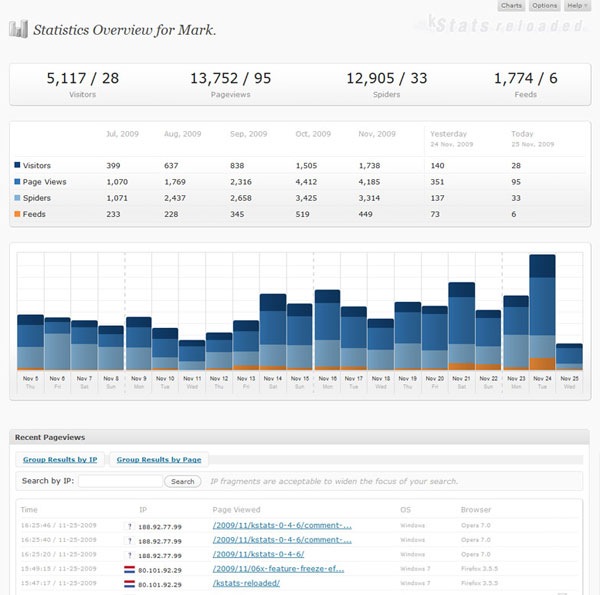 Using kStats you can instantly see who's coming to your site, where they are coming from, be it another web site or one of the many popular search engines, and much more. See up to the minute information on how many unique visitors you've gotten, how many pageviews they've resulted in, including information on which crawlers are visiting and indexing your WordPress site.
gAnalytics – Google Analytics WordPress Plugin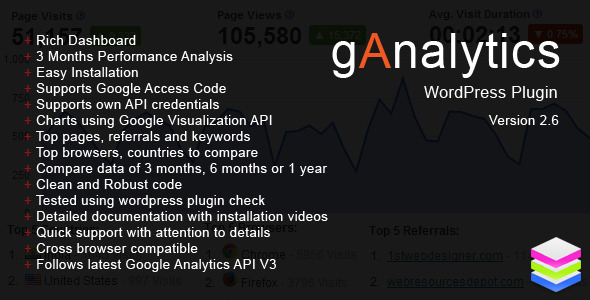 Google Analytics is a widely used web statistics tool from Google. gAnalytics plugin brings the key statistics right into your WordPress dashboard. We studied what analytics data is tracked by WordPress admins frequently. We put those data using colors and graphs for you to easily understand what you need.
Blog Stats by W3Counter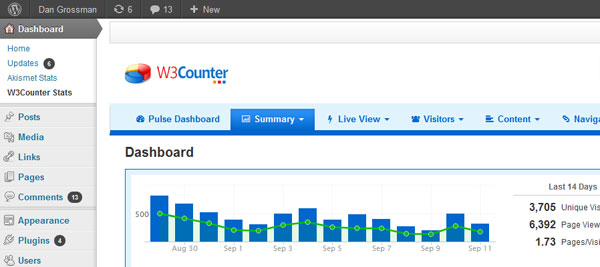 In addition to making it easy to view your stats and add the tracking code to your blog's theme, the plugin also makes use of W3Counter's Visitor Labeling feature. Whenever someone leaves a comment on your blog, their name is stored in a cookie by WordPress to fill in the comment form on future visits. The plugin passes on the author's name to W3Counter, where it will show up in your "Who's Online" reports instead of an IP address. Clicking on the name will show you the browsing history of that commentor on your blog.
ExtraWatch Heatmap, Real-time Visitor Tracking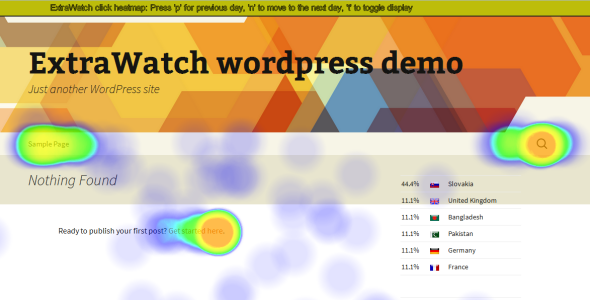 Search Meter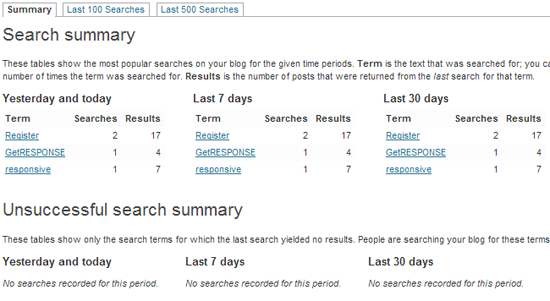 Search Meter tracks what your readers are searching for on your blog. View full details of recent searches or stats for the last day, week or month.
Post Analytics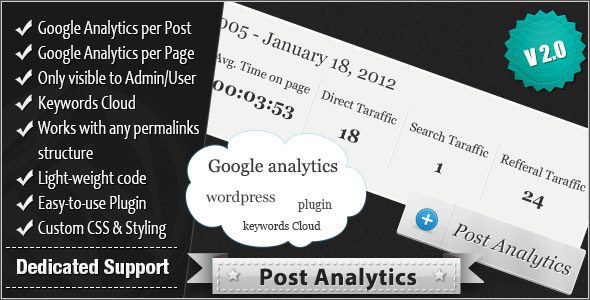 PressStats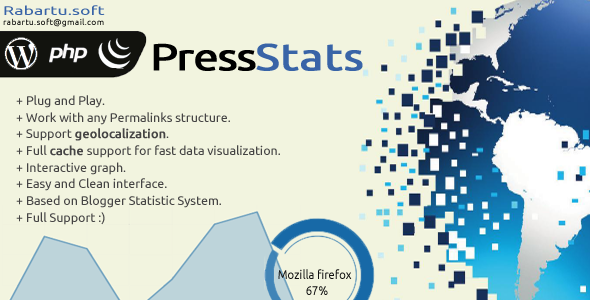 Powerful statistics system for WordPress like Blogger