10 Best WordPress Themes for Financial Companies and Insurance Agencies 2018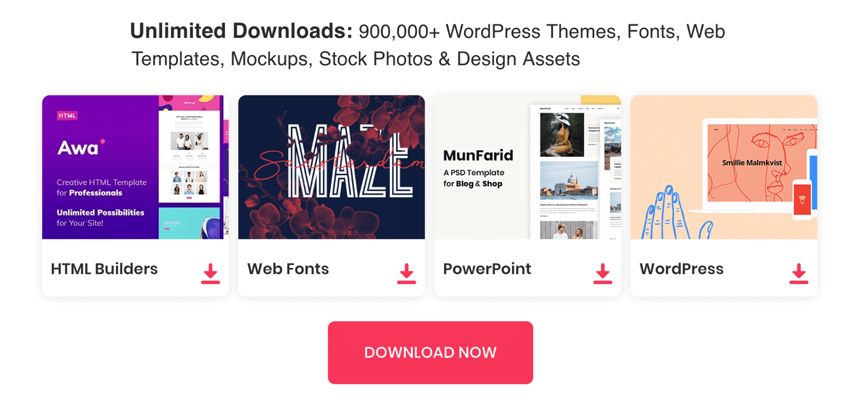 With the advancement of the Internet and online technologies, different companies aspire to run their businesses online to cover a bigger audience. Financial companies and insurance agencies are not an exception, either. To make a business successful, an efficient website is a must.
If you are in need of a website for your company, you may be considering different options. First of all, you may have a website crafted specially for you by professional web designers and developers. In this case you will get a unique item that totally satisfies your desires. Secondly, you can find a large variety of ready-made templates, choose the one you like most of all, and adjust it to your needs.
So, let us compare a custom website and a website created with the help of a ready-made template. Undoubtedly, a custom website will look unmatched and have all the features that you require. The question here is whether you are sure what features you will need exactly to run your website effectively. Ready-made templates are developed after a thorough investigation of the market and needs of different companies, so a lot of useful features have already been included into them. Moreover, creating a custom website is a very time-consuming process, so you will have to wait while it is developed and to pay a group of professionals for their work. As for the ready-made templates, they are much cheaper than custom websites, and you can see what you get at once. Moreover, they allow for different customization options, so you are free to adjust your webpage to your needs. You do not have to worry that you will lack experience, as let's say WordPress themes are easy to edit and require little or no coding skills.
To make your choice, have a look at a collection of finance WordPress themes that will be appropriate for different businesses dealing with finances and insurance.
Imperion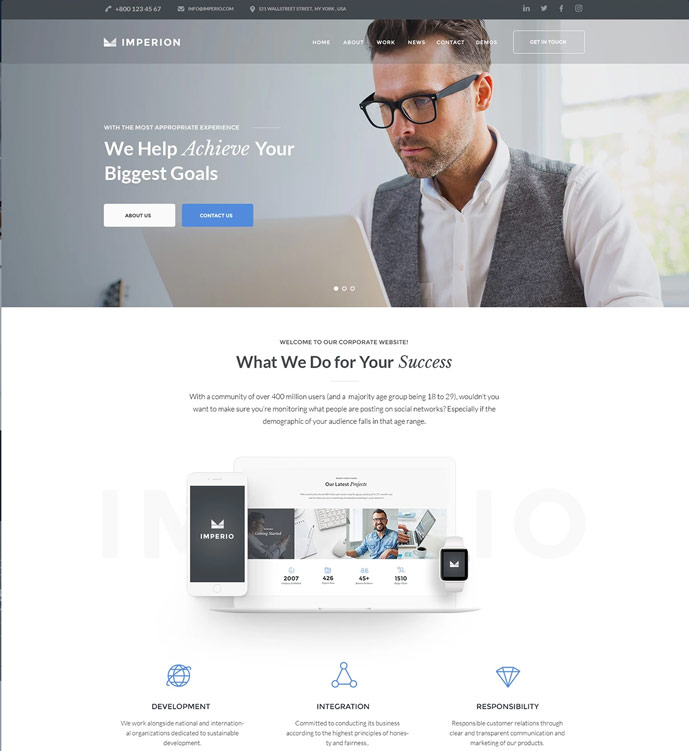 This multipurpose wordpress theme will suit any business due to an enormous variety of options included into it. Firstly, you can change skins and adjust the general look of your site according to your company's style. Secondly, numerous content modules and JetElements addon give you a possibility to add different types of content, including brands, carousels, and post sliders. Thirdly, the theme includes a WooCommerce Package, so you can easily run an online store. Moreover, the template includes a TM Timeline and the Events Calendar that greatly facilitate the process of planning and arranging different events. Additionally, the theme is equipped with numerous Cherry plugins that increase the functionality of your site. With Cherry Projects, you will be able to present your business projects in an easy and efficient way. With Cherry Search, your customers will see search results quicker, while due to Cherry Socialize social media pages will be integrated to your site, giving people the possibility to share your content. Also, you can display your clients' feedback with the help of Cherry Testimonials.
Bitunit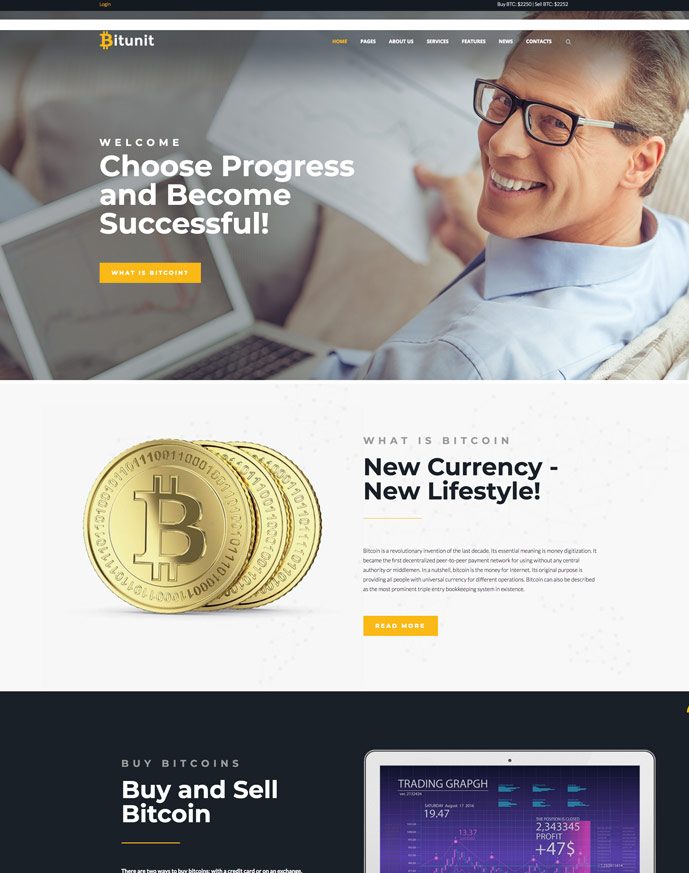 Bitunit – Bitcoin WordPress Theme developed specially for corporate clients and fast-growing businesses, this theme will impress you with both its look and functionality. Take advantage of Elementor, a drag-and-drop builder of a new generation that will give you unlimited possibilities for customizing your page and at the same time facilitate this process. Also, Live Customizer will give you an opportunity to see all the changes that you make without reloading your page. With a great number of header and footer layouts, upgraded Service and Contact pages, you will create a unique website that will suit your needs. The functionality of your website can be increased with the help of various plugins. You can add smart sliders and Cherry sidebars to arrange data in different ways. Additionally, you can showcase your projects with Cherry Projects plugin, present information about your team with Cherry Team Members, and include your customers' feedback with Cherry Testimonials. As the theme is Ecwid-ready, you can manage an online store without any difficulties; as the theme is WPML-ready, your site can be run in different languages. Timeline plugin will help you plan different events, while Contact Form and Newsletter Subscription will provide a constant connection between your company and your clients.
Legacy – Estate and Insurance Agencies WordPress Template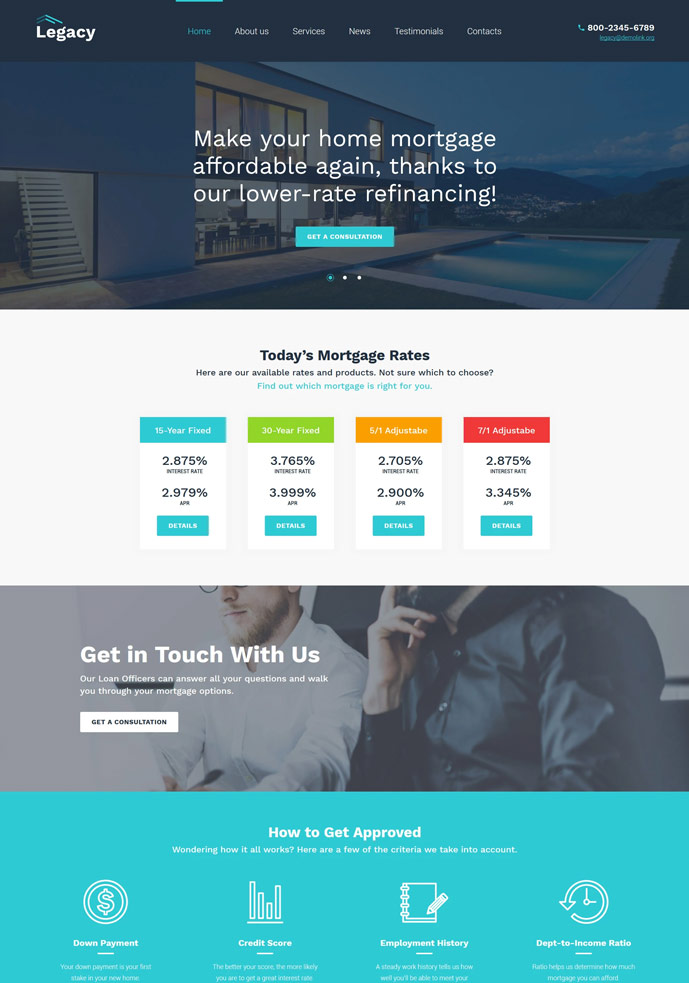 Elegant and stylish, this theme will be appropriate for different companies dealing with finances, including estate and mortgage agencies, as well as insurance companies. The template includes more than 25 modules, a library of presets, and drag-and-drop functionality, which will ensure the easiness of creating a webpage. Moreover, Content Modules will let you add data of different types, including images, videos and audio. You can also insert call-to-action buttons, contact forms, pricing tables, countdown timers and many more – various elements that will improve your site's usability. Custom widgets, such as Simple Slider, post carousel, accordion, and social media widgets, will not only advance your webpage's functionality, but also help you increase your online presence. Furthermore, the theme is Retina-ready, so you can be sure that your high-resolution pictures will look perfect. The theme is also Ecwid-ready, so it allows for running an online store. As it is WPML-ready, you can easily translate your page into different languages. Additionally, it has Google maps integration, so you can show different locations on the map right on your site.
ChainBit – Bitcoin and Finances Company WordPress Template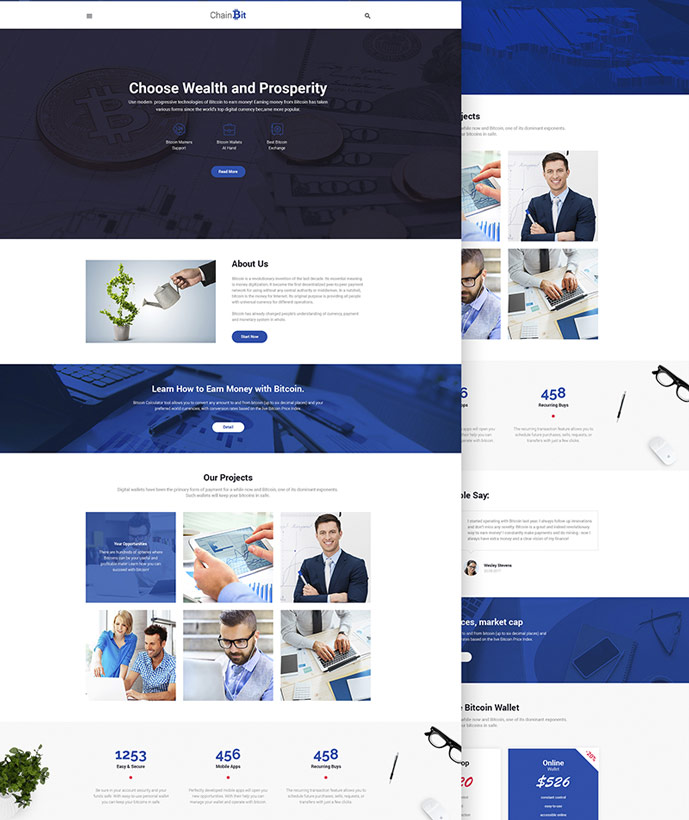 To create a successful website that deals with finances, you can use this modern template that contains an incredible amount of handy features. First of all, you have numerous options for customization, so you can easily find an appropriate look, no matter whether you prefer dark or light colors. Secondly, well-designed modules that are a part of Elementor, the latest drag-and-drop builder, will turn the process of creating a website into an enjoyable experience. Thirdly, mobile first paradigm of this template will ensure that your website will look as perfect on mobile gadgets as on bigger screens. You are able to add high resolution pictures to your website and be sure that they will look great, as the template is Retina-ready. Moreover, if your company deals with finances, you definitely value your time, so Calendar and Appointment Booking plugins, which are included into this theme, will help you plan and use your time efficiently. Additionally, you can increase your site's functionality with Cherry plugins, presenting information about projects and team members in the most effective way. If you like arranging elements into clear categories, you will enjoy using MegaMenu that allows for careful organization of numerous elements. Furthermore, Contact form, Newsletter subscription and other social options will ensure that you will stay in touch with your customers all the time.
Roox – Insurance Companies WordPress Template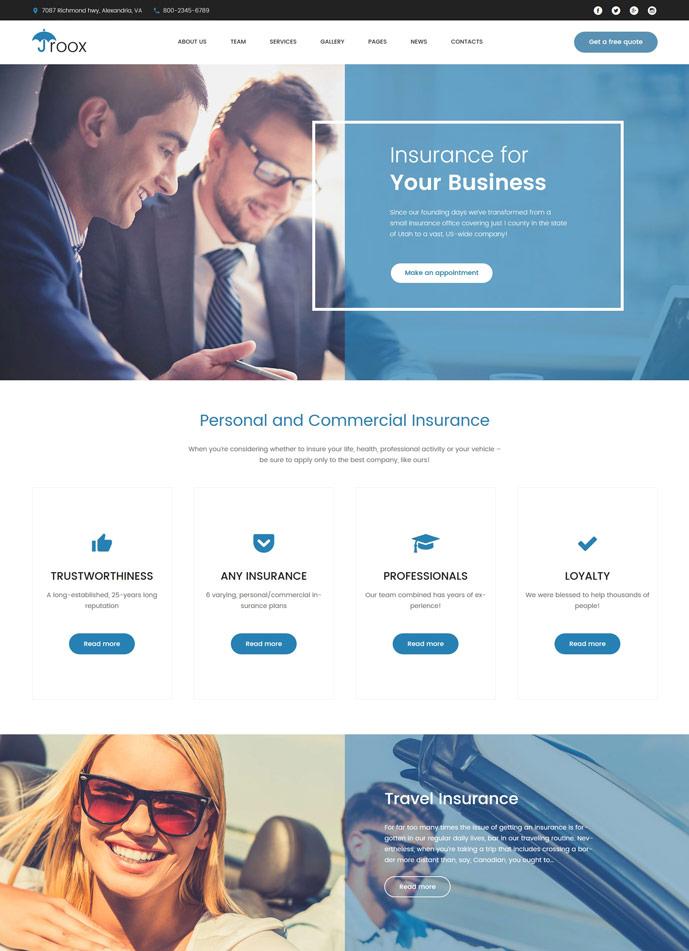 Aimed at presenting services of different companies, especially insurance ones, this template is equipped with various useful options and features. Choosing from more than 25 modules and a library of presets, you can quickly customize the design of your website. Cherry Services plugin will help you showcase your services in a professional way and add those widgets that you find the most useful. Undoubtedly, it is important to present information about your team in an impressive way, and Cherry team Members plugin will surely facilitate this task. At the same time, you can create impressive responsive galleries in different layouts with the help of TM Gallery. With Content modules, you can add data of different types, including Call-to-action buttons, maps, blogs, contact forms and so on. Furthermore, Appointment manager will be useful both for your company, as you will be able to organize your schedule effectively, and for your customers, who will get a possibility to book an appointment directly on your site, thus saving their time. Multiple events can be arranged with Timetable plugin, and you can also change the appearance of your timetable. Numerous other custom widgets, such as Simple Slider, post carousel, and social media widgets, will enhance your website's functionality and give you more ways of presenting your content.
Perfect – Business Companies WordPress Template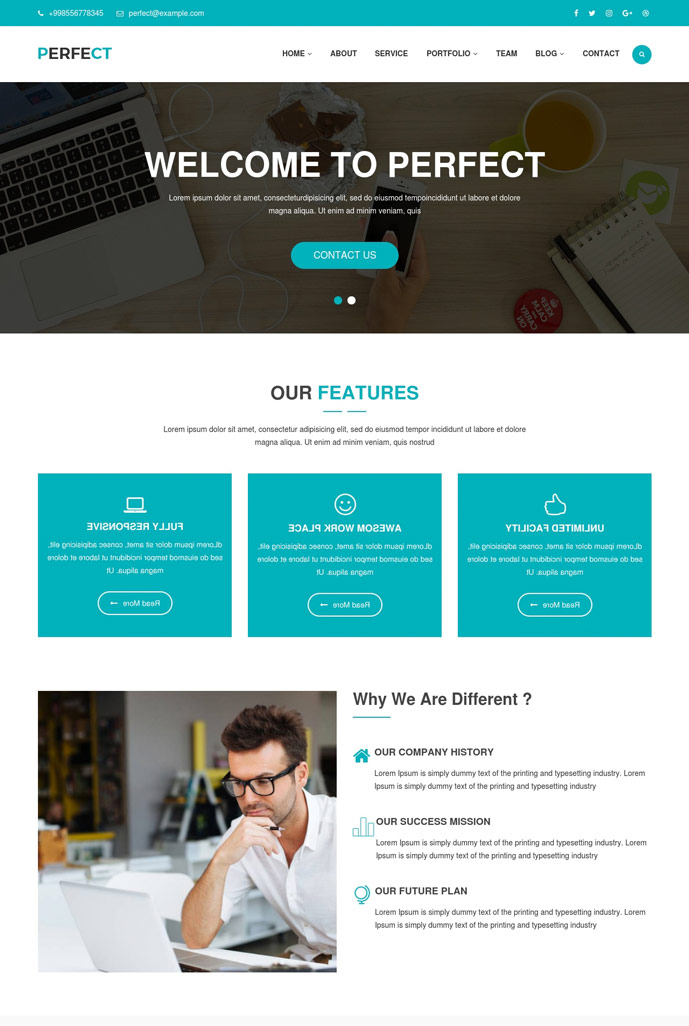 This highly interactive theme includes a variety of pages to showcase your company. You can edit and customize the Home Page, About Page, Service Page, and Portfolio Page, choosing from different header and footer styles, as well as sidebars. Moreover, it is possible to create a blog on your website and embellish it with more than 500 in-built Google fonts. You can also arrange information in different columns to showcase it to the best advantage. If you need to include videos, you can do this easily. The theme can also boast of the smooth scroll, which ensures your customers' satisfaction. As the theme is WPML-ready, it can be maintained in different languages to attract a larger audience. Furthermore, various social options, including Contact form and Instagram feed, will help you build a stronger online presence. Despite the enormous variety of features and customization option, the template is really easy to use, as it does not require any coding knowledge.
Loan Dolphins – Mortgage and Financial Company WordPress Template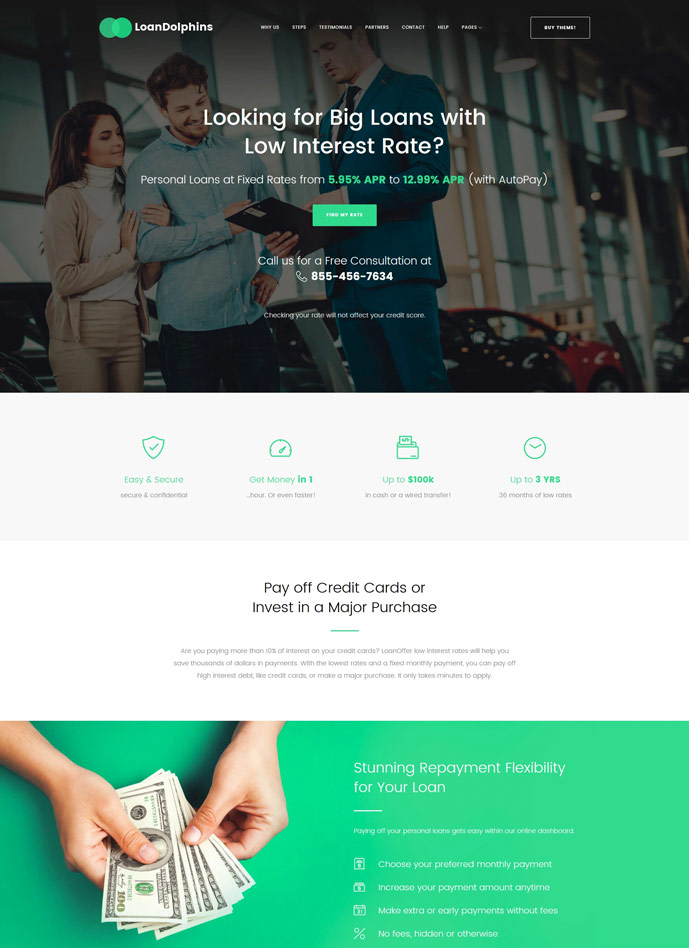 Using this corporate theme, you can create a website for your company without any difficulties. As the template is built with Power drag-and-drop builder, you can simply choose from more than 25 modules, 7 header layouts, and a library of presets to adjust the general look of your website. Multiple layout options will definitely allow you to experiment with the structure of your webpage to satisfy your needs. The dropdown menu will be helpful for arranging data into different categories, while a calendar will come in useful to plan different events. Selecting from various content modules, you can add data of different types, including pricing tables, contact forms, call-to-action buttons, countdown timer, and so on. Being Retina-ready, the template lets you add images of high resolution and guarantees the perfect look of your media libraries on different devices. Additional ways of presenting your content are offered with a collection of custom widgets, such as Simple Slider, post carousel, and social media widgets. Moreover, newsletter subscription, a contact form, and a commenting system will allow your customers to get in touch with you directly on your website.
MineBit – Bitcoin Financial WordPress Template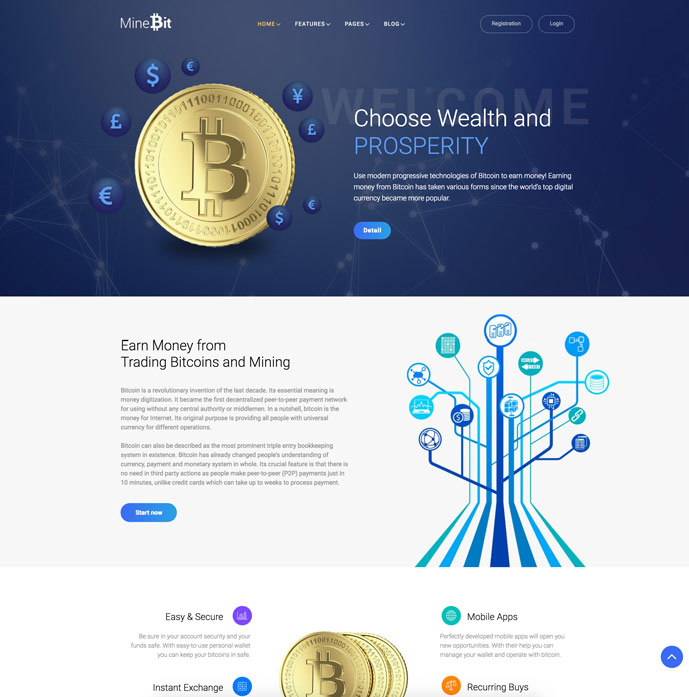 Developed specially for financial companies, this theme will give you with numerous possibilities to present your aims and services, while providing your clients with fully engaging and impressive experience of using your site. Numerous plugins, such as Our Team, Projects, and Services, will facilitate the process of arranging your information. To customize your webpage, you can choose from different Home pages, add headers and footers of different types, and select various layout options. Moreover, you can add pricing pages, careers and clients pages. There is also a possibility to create a blog and adjust its looks, adding content of different types and picking up different layouts. It is possible to create amazing galleries with images, add video and audio files, and insert links and quotations to convince your customers. Additionally, financial companies will enjoy using different types of safe and reliable wallets included into this template. Various social options will help you establish a strong connection between your company and your customers in social networks, while contact forms and newsletter subscription will ensure constant communication.
Tradex – Forex Trading and Finances WordPress Template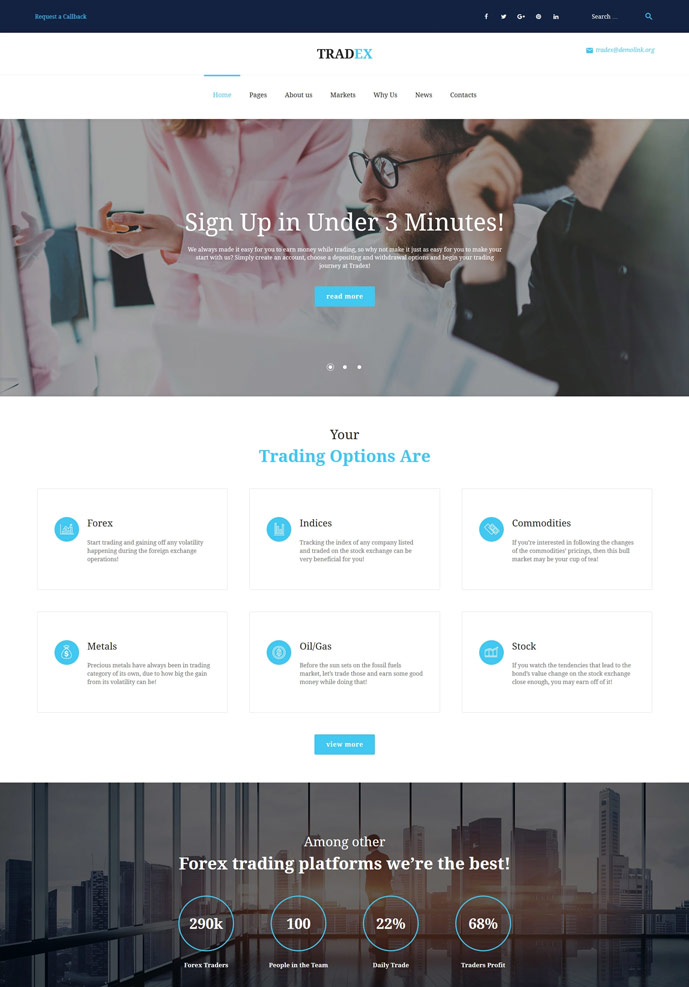 To create a website that deals with currency trading, stock exchange, and other financial operations, you can use this theme without restraint. Take advantage of advanced theme options and choose from numerous layout options to apply different styles that will satisfy your needs and desires. As the theme is based on Power drag-and-drop page builder, you can design your webpage without any difficulties, without having to touch any single line of coding. Numerous content modules will allow you to add not only images and videos, but also call-to-action buttons, pricing tables, countdown timers and other data of different types that you may need. To display your content in various ways and to emphasize something, you are able to use custom widgets, such as Simple Slider, accordion, carousel, and social widgets. These social options, including Twitter feed, will enhance your online presence and establish a better connection with your clients. The calendar built in this theme will definitely be useful for your company and your clients to plan different operations. Furthermore, the template is WPML-ready, so your webpage can be translated into different languages and thus your business can be expanded to a bigger amount of countries. Additionally, the theme includes a possibility to add background video and an amazing Parallax effect to impress your customers at first sight.
Bankorama – Banking and Finances WordPress Template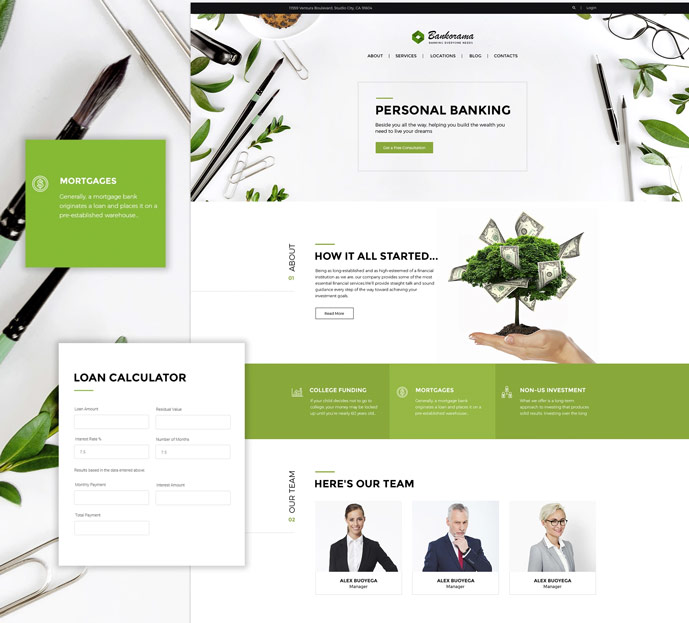 Ideal for companies that provide such business services as banking and financial consulting, this smart and fashionable theme will give you an enormous amount of customization options and increased functionality. Firstly, you can showcase all your services and present your company. Secondly, you can efficiently introduce your team members and tell your customers who they are going to work with. Thirdly, you can impress people with your projects, presenting information about them in the most efficient way. Also, you can include other people's testimonials to increase your credibility. Furthermore, there is a possibility to run a stimulating blog to keep your clients informed about the news. The webpage will be easy to customize and to add content, so coding skills are not required. To adjust the look of your website, you can choose from 7 headers and 3 footers, apply different color schemes to match your company's style, and opt for one of the four stunning blog layouts. Google fonts and incredible typography of this template will help you to add emphasis to certain elements. What is more, the theme includes 15 topical images to suit your business, and with the theme's responsive design you can be sure that all your pictures will look perfect on different devices.
As you can see, ready-made templates are equipped with numerous incredible features that will facilitate running a business. With a ready-made theme, you get a possibility to present your company, team, and projects, to carry out financial operations, to plan different events, to stay in touch with your customers, and so on. Being highly customizable, ready-made templates will provide you with various options to make your website look unique and to emphasize the elements that you need.