Consulting – Business and Finance Consulting Firms WordPress Theme Review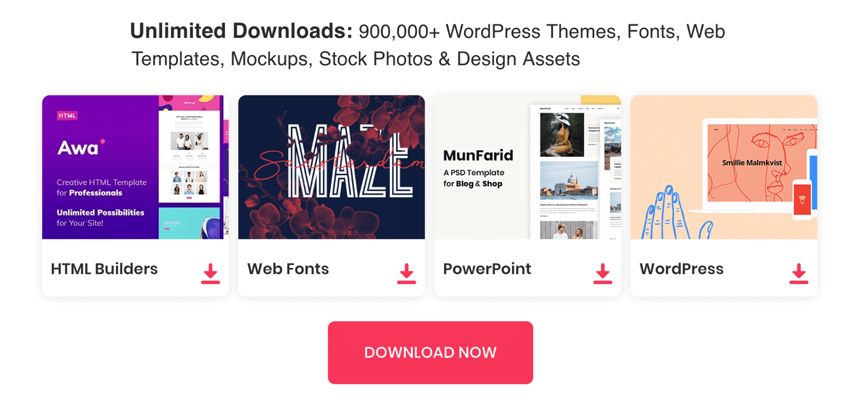 The Consulting WordPress Theme is a theme designed for Business and Finance Consulting firms. It has post types that have been specially designed for Consulting firms and many other built-in features that will help you setup your website quickly.
Whether you are a independent consultant or an agency who need a clear, beautiful website so Consulting Themes is among the best choices. It has a library with all necessary pre-built content layout included. With 19 awesome demos, you are free to chose the exact thing you need and the beautiful thing you love.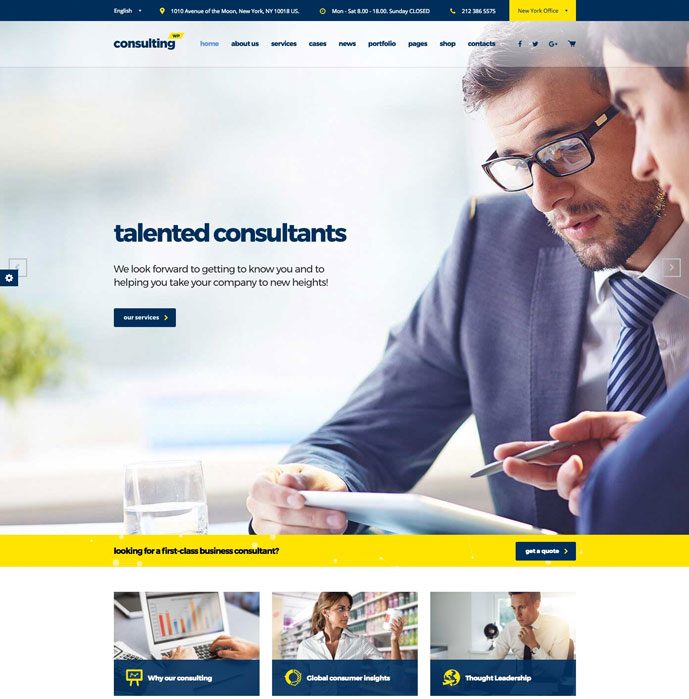 Consulting – #1 Selling Consulting Business and Finance WordPress Theme
Consulting Theme Overview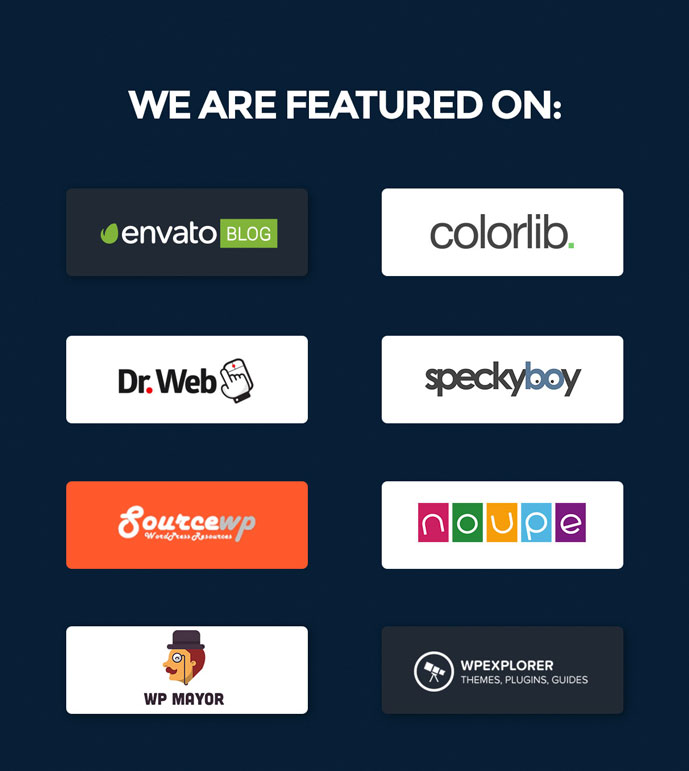 The Consulting WordPress Theme is a clean, neat and beautiful theme. There are some unique  features you may find it useful for a consulting or finance website:
Multi-Location on Google Map: You can add your locations both on the website and with Google map.
Three Portfolio Layout Templates: Add portfolio cases with photos, videos and description.
Make an appointment Plugin: Let customers book your services directly via website.
RTL support & 8 Ready Translations: Easy translation to any language, 100% WPML compatible.
Demo Content Included One-click Import: One click and you have a ready site just like the one you see in our demo.
24 hours turnaround support
Demo
Consulting demos named after famous cities in the world like New York, London, Tokyo, … It supply all needs for a professional consultancy website. It also easy to customize follow your idea, whether you are a veteran freelancer or a newbies that want to run some very first business. All you find are here!
Each demos fully included of features and functionality. And it is really easy to add content to the site, only with some simple clicks. Then you can use tools to edit content follow your desire. All necessary options are pre-built and available there in your hands.
You have your power with the wide-range customization. There are over seven hundred Google fonts available, with the most common style and many uncommon style you may never seen but would like. Beside, you can design the unique color schemes for your website that suitable to your brand, your services and more…., whatever design style you can image. You can also build your attractive slideshow easily with Slide Revolution.
After are some quick looks about 5 of 19 nice Consulting Theme demos.
New York Demo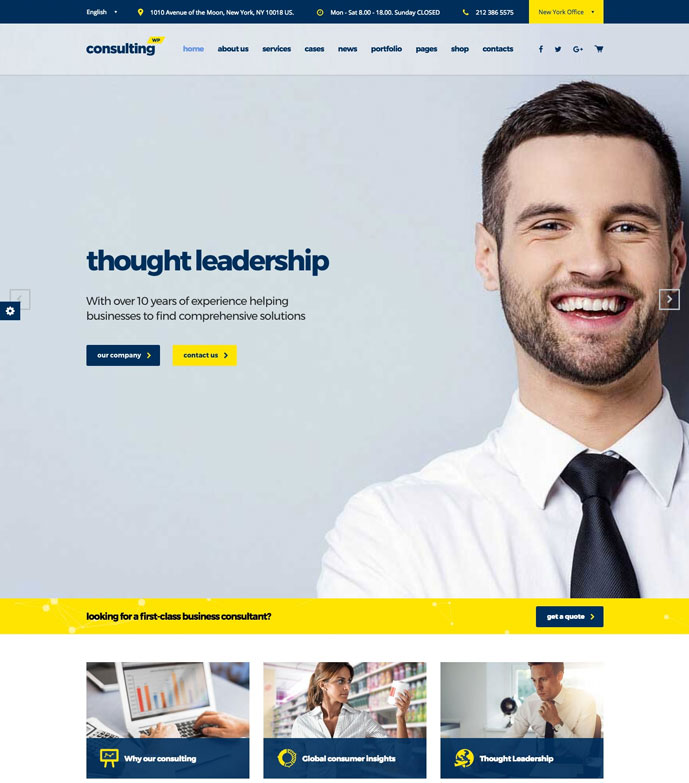 This demo has fullscreen slider. It's simple, neat and clear. This style of design suitable and bring a feeling of professional for business. Homepage is a flow of blocks with rich information when visitor scrolling vertically. You can add as many content as you like to the flow for emphasizing your service or your agent's image.
Seoul Demo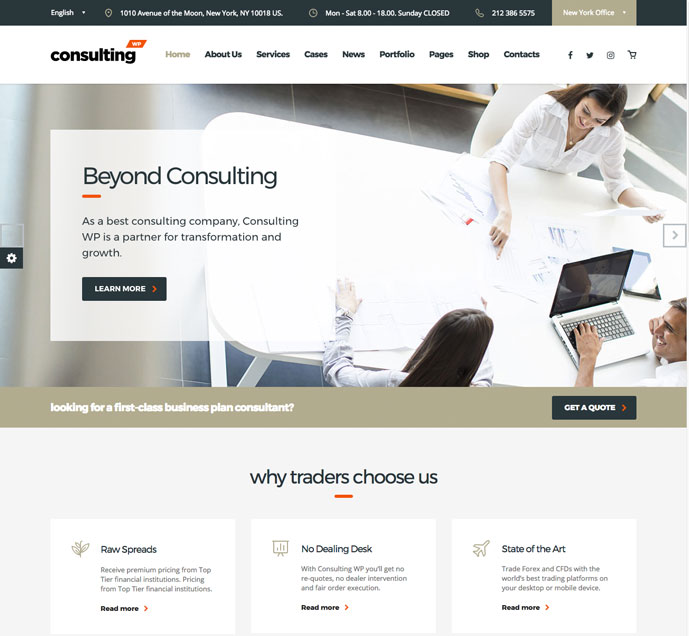 Seoul Demo bases on simple and soft background color which is dominated by white color. It brings a feeling of comfort and believing. It is recommended for agencies deal with insurance or real estate.
Paris Demo
This demo has a left-sidebar menu, leading a thought of promptly work. Beside, it has blocks which are clear and informative, as well as graphics and company's strengths that illustrated with icons. It suitable for B2B business.
Singapore Demo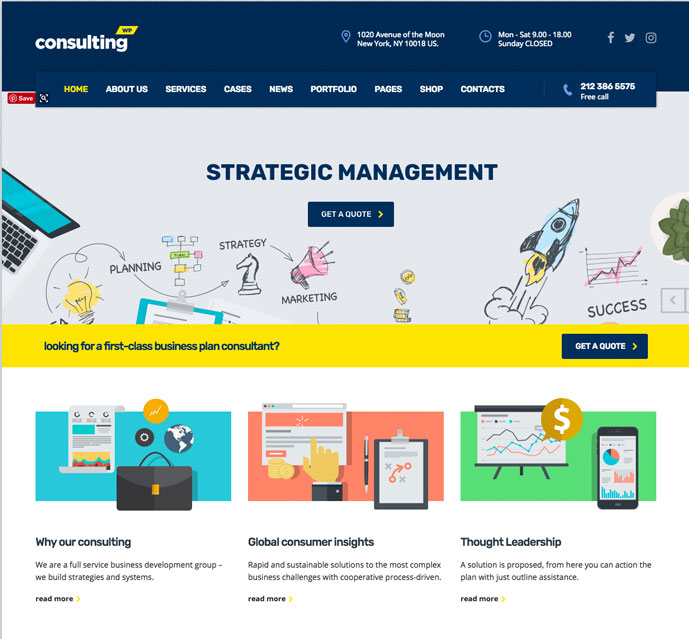 Singapore demo has a fixed width and flow of vertical blocks. What special here is the animation and illustration style. It bring a feeling of friendly and cozy – something that professional but not too serious.
Oslo Demo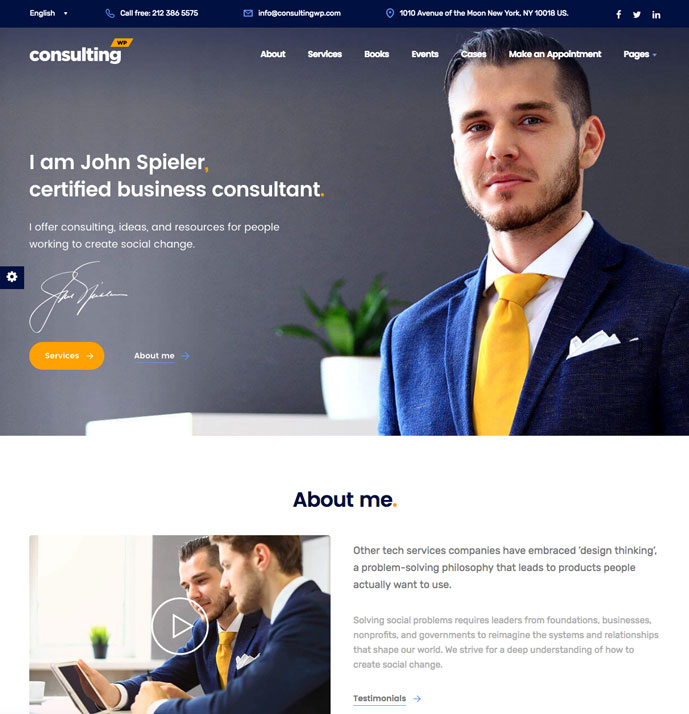 Oslo Demo is follow Scandinavian style: strict and neat. There are not much here, except business. The font is so clear, the service is straight away with an appointment widget on the main page. Nothing more, just intensively working.
Consulting WordPress Theme: Features
Important Features:
Consulting Theme is modern theme that concentrates on financial and consulting style. You have choices from 4 stylish, clean, awesome color skins, as well as 4 header layouts to meet your expectation about content and design
Fully customizing

Consulting Theme has a bunch of custom progress bars, graphs, pie charts. These are powerful tools help you present your idea in a beautiful way to attract your customers. All are built-in and easy for you to use
Care about user experience
In a competitive market, user's experience play a major role in any business. Customers like company who care of them. What they think about your company come first when they experient your very first product: your website. Different visitors use different devices when surfing web. So Consulting Theme provide a fully responsive and retina ready that optimize user's experience on your content and idea, on any device. You know your visitor would be served well. 
Some more…
There is thing that you may care, Consulting Theme is built with Sass – stable and robust grade CSS extension, is WPML, translation ready. Now it is so easy for you to share your content to international market. Beside, Google maps has been integrated with multi-location. Your international future customers will find easy way to reach your services as well as your company.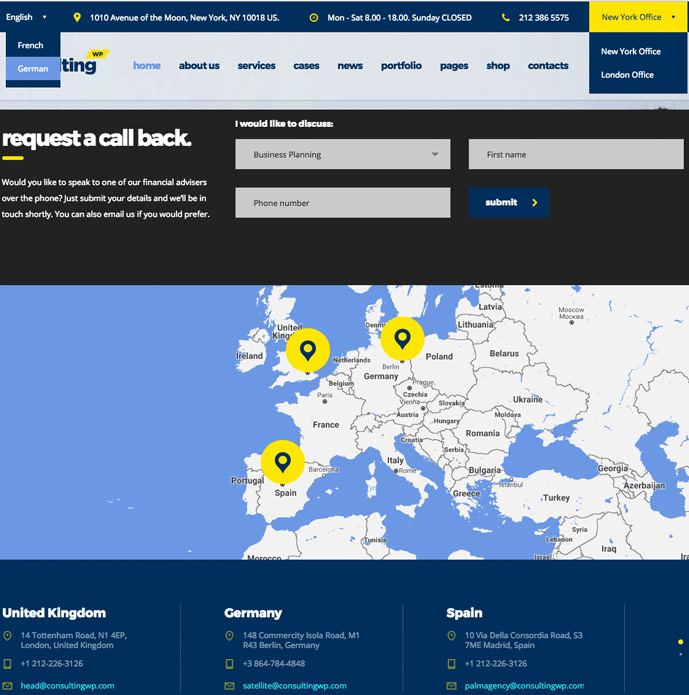 Consulting Theme is easy to handle with "ready-made" templates, as well as huge possibilities customizing it's 19 "ready to go" demos. Yes, as I mentioned before, the theme includes backbone plugins: Visual Composer, Slider Revolution and Booked.
Simple style editor
Even if you are newbies in the field of web development, Visual Composer will be your powerful tool which help you design the website, without knowing so much about coding. It is simple as drag and drop editor.
Beside, Slider Revolution is available here help you create the most attractive slide show, include your video also. Just chose your desire photos and video and decide the flow of them to show.
Because this theme concentrates in consulting so Booked plugin is a must. Your visitor need to meet your service to become real customer. With this plugin you are free to choose how you and your customer meet. It keeps records that help your customers and your company easy to deal with, such as choosing date, finding next available meeting…
To make your website unique, you also can change header layout as well as the elements inside. It depends on you how to make the right impression on your future customers with header customizing. Every built-in and "ready to go" tools is right here to help you. So it goes as far as your imagination.
Event and Appointments
This widget is very convenient and necessary, especially for your consulting website. Firstly, you can schedule appointments base on your company time-plan. Moreover, you will decide who will incharge of the tasks. So that all your organization work smoothly, well planned with minimum efforts of dealing with time-plan tasks. Beside, the widget is amazing simple to use. It also create a feeling of trust when you are ready to meet your customers at anytime they decide.
Portfolio, About us and Contact pages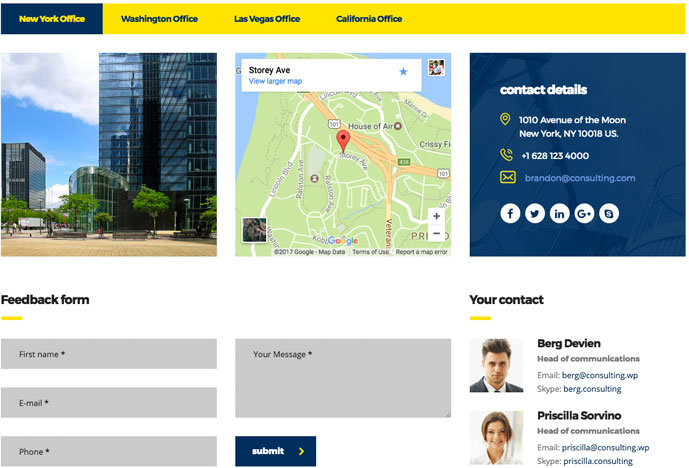 These pages are extremely important, because they show the visitors who you are. They help you create belief of very firt sight – which is vital to any business. Consulting theme just handles it well.All demos allow you to make a awesome pages with highlight of your works experience, successful, your projects and testimonials. You also can show interactive graphics, performance counters, full-screen sliders with video also, or any content your visitors would like to see.
All demos allow you to make a awesome pages with highlight of your works experience, successful, your projects and testimonials. You also can show interactive graphics, performance counters, full-screen sliders with video also, or any content your visitors would like to see.
If you have several offices around the world, so consider using interactive map on contact page. It helps showing the office's location on the World map, look so fantastic!
About us page is your company's face. So Consulting theme provides a lot of useful features here. You can post almost everything here: text, image, video, presentation. You can also have presentations, necessary widgets, funny quotes, … here. And it is easy to make and create as drag 'n drop style.
Online shop options
Even your company deal with consulting or finance, you sometime may need to sell some online products. Consulting theme knows it and has the online shop function available there for your need. It is convenient and easy to use, base on the platform of WordPress.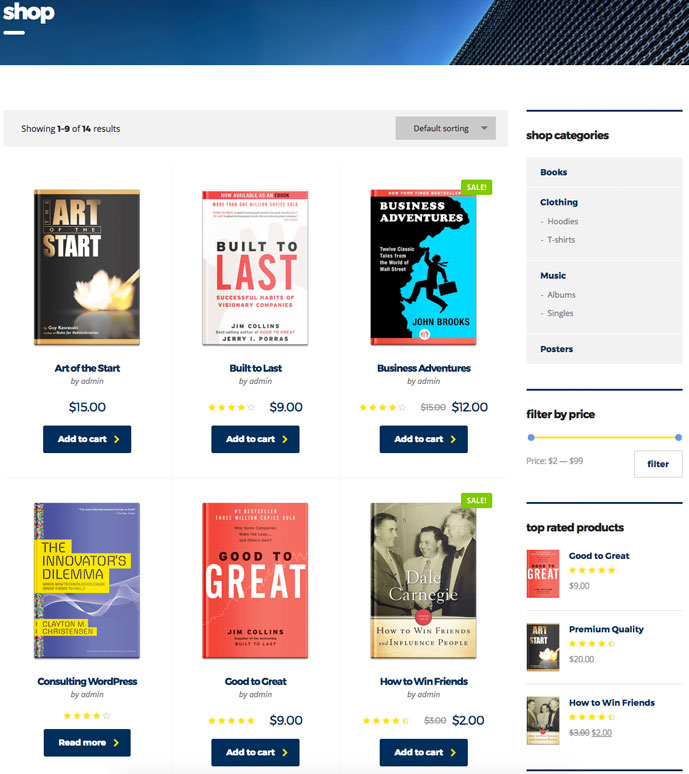 Beside amazing demos, you can completely sell products or services online without making unexpected changes to demos layout and design. It includes WooCommerce plugin which is an excellent, effective tool helping you manage your store and selling your product online, despite what size of your store is.
Theme flexibility
Consulting WordPress Theme is also very flexible. Let see why:
It has WordPress MultiLingual system. This function helps translating your website to any language. For more, Consulting also includes content – translation for its content into eight languages: English, French, Italian, German, Persian/Arabic, Portuguese, Spanish and Russian. You build your site one time, then when your organization expand internationally,  you already have the international language available there for your expansion. It is so convenient!
It is fully responsive, retina ready design
It includes some of the most useful important tools such as: WooCommerce, MailChimp, bbPress, Contact Form 7, Gravity and more.
Over 120 ready-to-use shortcodes.
Cross-Browser guarantees for FireFox, Safari, Chrome and IE10+.
Insight some of my favorite tools:
Visual Composer Drag and Drop Page Builder Tool
Visual Composer is considered to be the best selling page builder tool in WordPress world. This plugin includes a tool help you drag and drop, allowing you to create custom layouts for your content that beyond your need.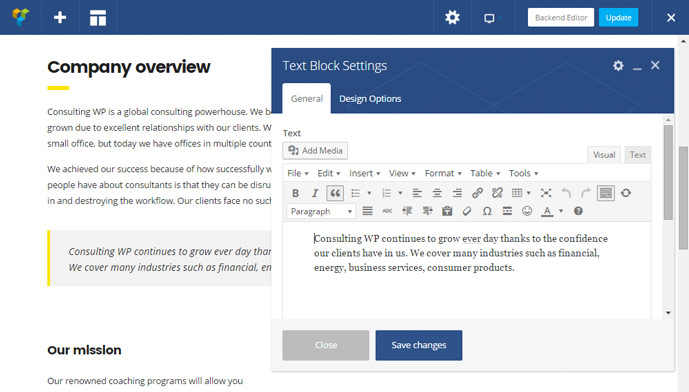 Visual Composer is compatible with all the other templates and layouts. That means you can use this tool anywhere you wish for customizing your pages. Moreover, you are free to build your own unique page layout from blank.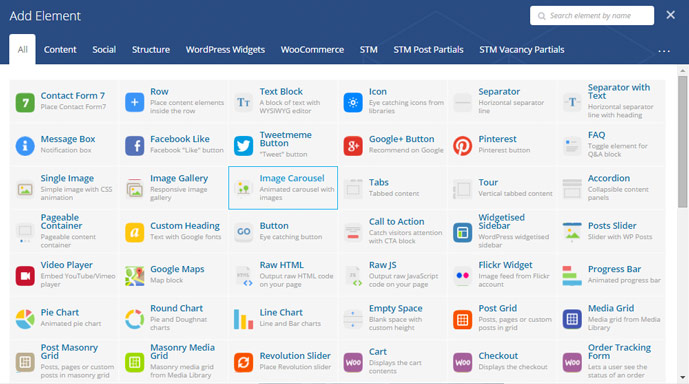 Having Visual Composer in hand, you have plenty choices of adding new page elements with large amount of numbers. You will soon find out that these are almost useful elements in building your website. And it is so easy – just drag and drop!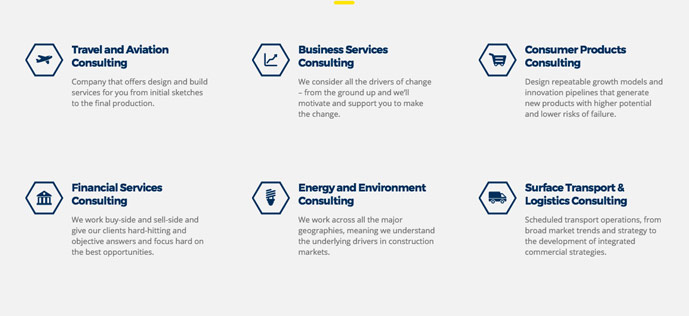 This way give you the idea way transform text and images to featured multimedia content. Some useful and popular elements are icons, messages boxes, graphs, charts, slideshow, social media feeds.
Normally you have to pay 34$ for Visual Composer. But when purchasing Consulting theme, this expense is already covered. It is so cute!
Customization Options
If you want to create your own unique layout and style, but also do not want to build from the scratch, so there are other customization options you should try.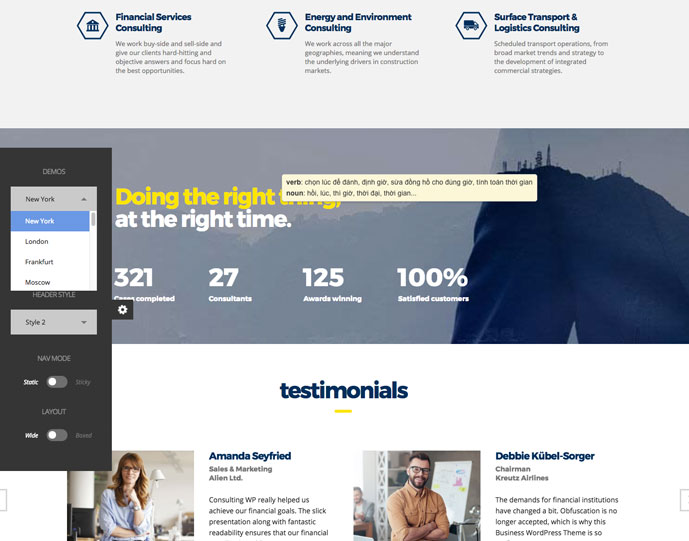 A very quick way to give your website a immediately different look is that you change one from four predefined color skins. And there are also four different header layouts for you to choose. What more, you can make use of custom widgets on your sidebar, footer or on other areas.
The Consulting theme also has very high level support for the WordPress Customizer tool. So you can use this tool making change to many elements, areas of your site as far as WordPress Customizer tool can reach.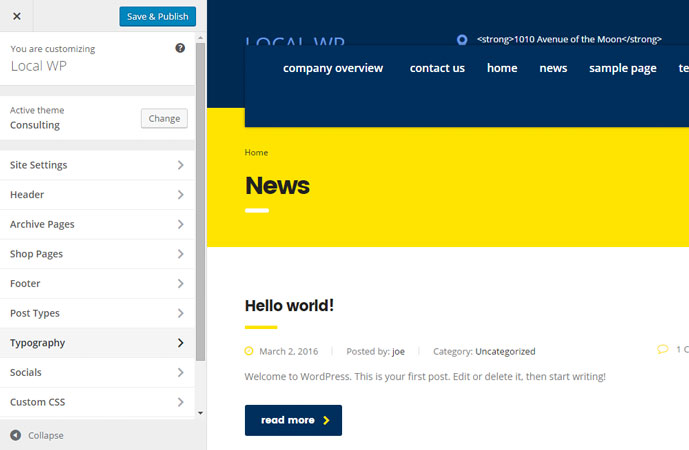 You can see support for the Customizer is well integrated. You can change many elements such as: layouts, header, menus, typography, footer, …  Just only within the scope of the Customizer.
Something special…
Services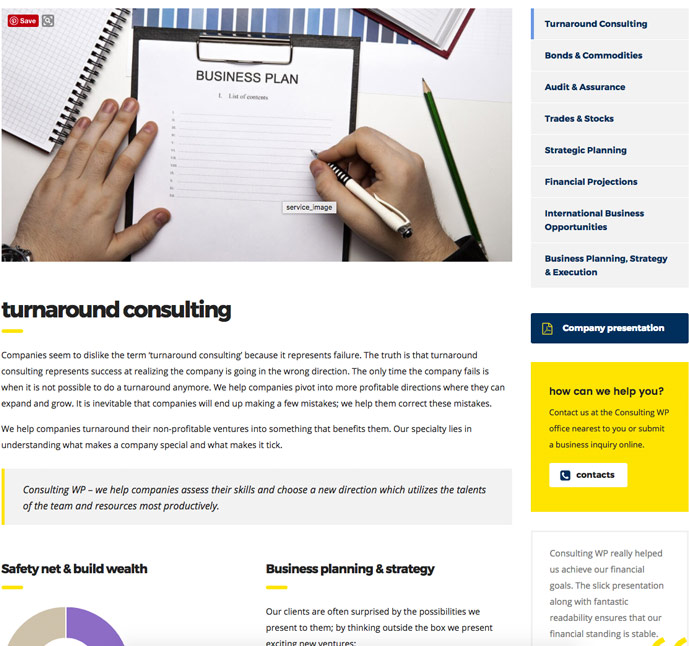 This theme has a custom post type describing a service your company offer via any element VC (Visual Composer) offers you:
Testimonials
If you want to create testimonials in one place and then use all over the site, so inserting a VC element, custom posts have been created.
Works
Works are created as another custom post type, called Testimonials. It has categories that can be ordered as needed. So you only create single post: you could add images, title and categories  for each Work post.
Vacancies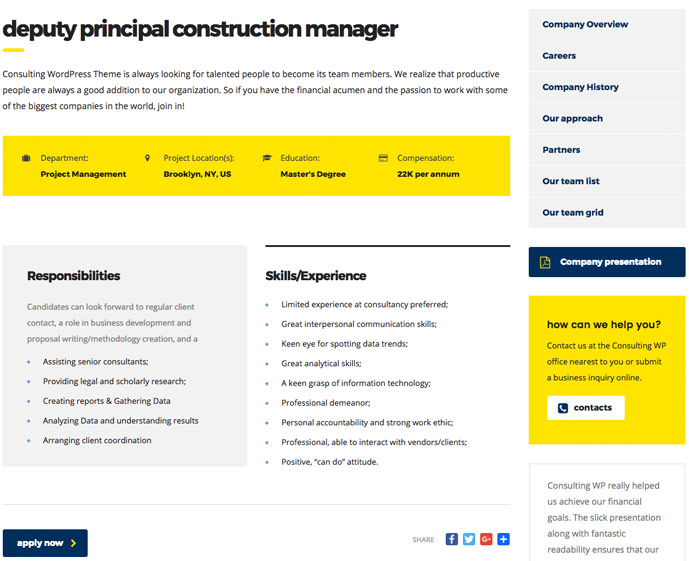 The theme used a custom post type to describe vacancies of your company. It has extra fields for a vacancy (Information) apart from any element VC offers you.
Staff page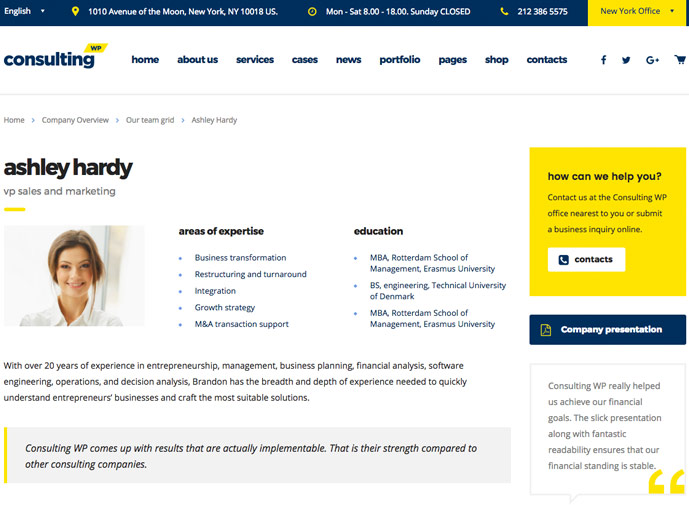 You can add your company staffs and their additional information via Staff menu.
Conclusion
Consulting WordPress Theme is an excellent theme, combine an awesome design with rich of useful features. It stunned me with 19 beautiful demos, covered up all style of consulting and finance services that you can have. Moreover, it includes some of the most popular basic and easy to use tools, also their expenses. It helps building a beautiful, clean website in an effective and easy way.
Try the Consulting Theme today!