25+ Best WordPress Gallery Plugins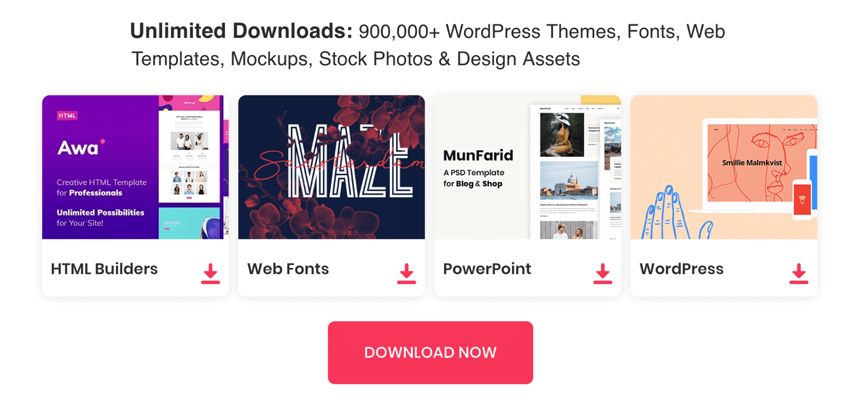 By using Google search engine you will see hundreds of WordPress gallery plugins available that you can to create your professional image gallery very easily.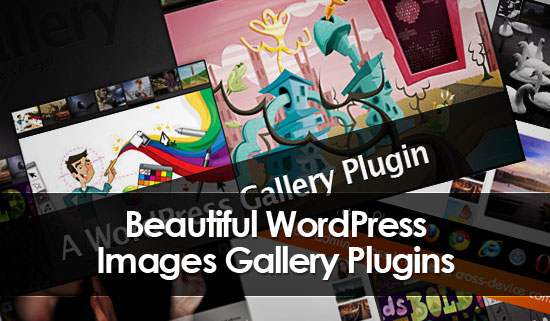 WordPress gallery plugins will be a great way for photographers or developers to extend their WordPress sites to better show off their work. While there are dozens of different WordPress Photo Gallery Plugins so it is not easy to choose Best WordPress Gallery Plugins. In this post we want to show you 30 powerful premium WordPress gallery plugins for you website.
Pinterest to wordpress plugin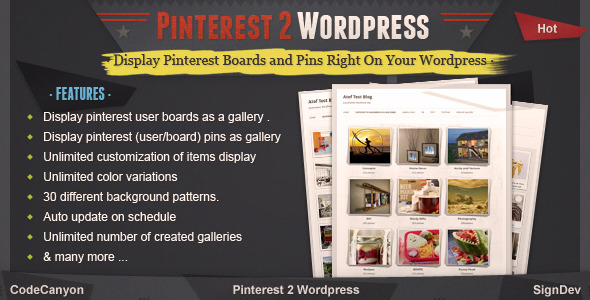 Pinterest to wordpress plugin Provide the complete solution to integrate your pinterest account with your wordpress . it displays pinterest boards and pins in your wordpress and update them automatically .
Responsive FlipBook v5 – jQuery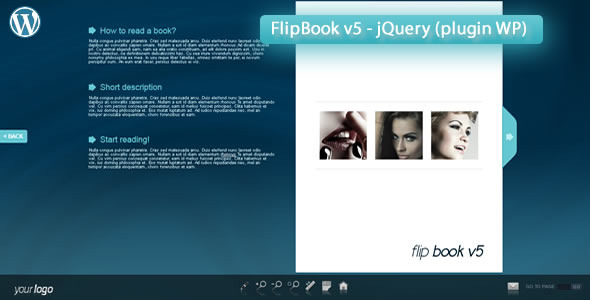 flipbook is based on the library turn.js 3rd release. Library "turn.js 3rd release" is not included. You need to download it separately here.This library is free to personal use. If you need for commercial use – here you can buy license "3rd release".Cost of License "turn.js 3rd release" is 45$ for five domains ( 9$ per domain).
Double Viewer WordPress Plugin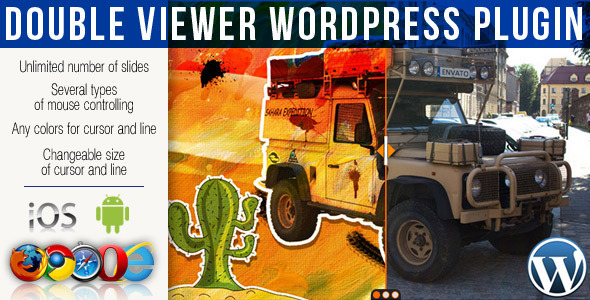 Double Viewer WordPress Plugin is an easy-driven and comfy app which allows you to compare two different images in one slider.
WordPress Gravity Gallery DZS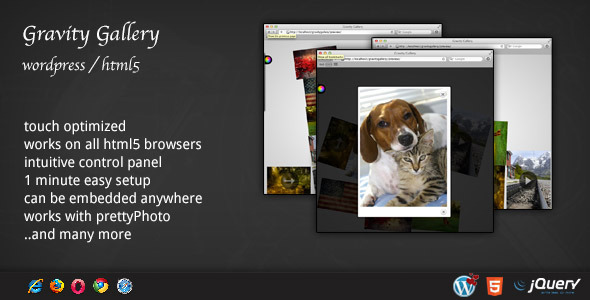 Display your portfolio or media albums in a unique way with Gravity Gallery. With awesome physics and great graphics it channels the full power of HTML5. It's fully compatible with lightbox galleries like prettyPhoto so you can zoom on your showcase photos / videos with no problem. Cusomise the gallery size, items size and their parameters. With these options, the possibilities with what you can do this gallery are endless. It can be customized by users with basic HTML skills.
This gallery is compatible with all the major HTML5 browsers – Firefox, Chrome, Opera, IE9, Safari. Even provides a fallback for IE8 and IE7 so you won't miss a single client with the media you are showcasing, even on a older browser. Also it's fully touch compatible and optimized and it works great on the iPad / iPhone.
360° Panoramic Viewer – WordPress Plugin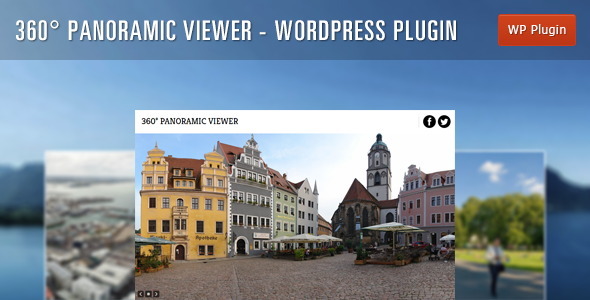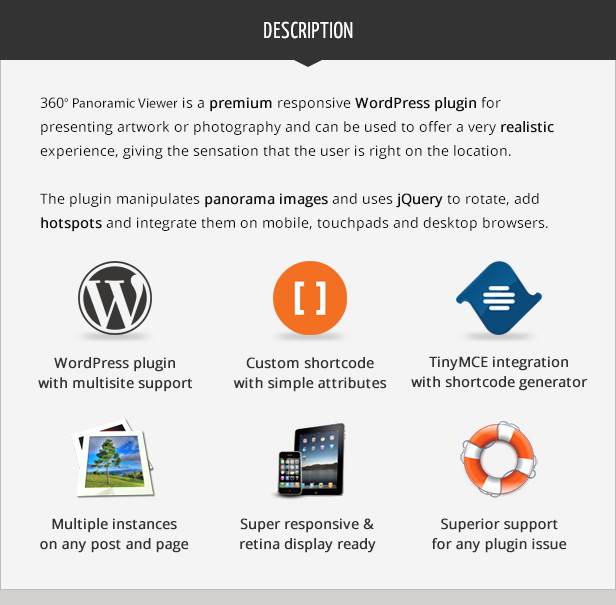 FlipBook v6 – WordPress Plugin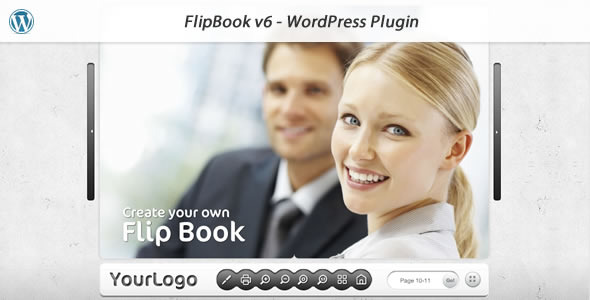 WordPress Responsive 3D Gallery Plugin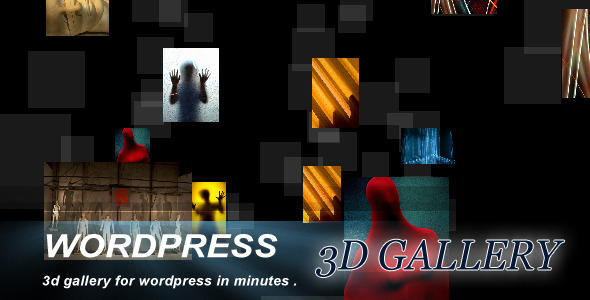 WordPress Responsive 3D Gallery Plugin adds a fancy responsive 3d gallery to your wordpress . simple install then you will have an awesome 3d gallery .
Justified Image Grid – Premium WordPress Gallery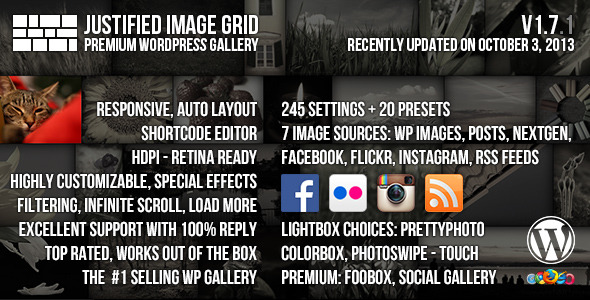 This responsive WordPress gallery plugin aligns your thumbnails into a justified grid using jQuery, like Flickr and Google image search. Make your galleries stand out in an eye-catching and unique new way! Replace the standard WP galleries
as [justified_image_grid] with lots of new features and options. WordPress manages the galleries and this plugin will display them. Or alternatively you can load images from Facebook, Flickr, Instagram or use NextGEN as an image manager/source. Unleash the power of image RSS Feeds and pull videos from Youtube, Vimeo and images from 500px, Pinterest, deviantART, Stumbleupon, Imgur, Tumblr, WordPress.com blogs and more! Or just make a responsive banner of Recent posts using their featured images! Also works with custom post types and custom taxonomies. Filter the thumbnails by tags or any taxonomy!
Control every aspect: row height, appearance, special effects like desaturation, color overlay with magnifier icon, borders, multiple captions, free and premium lightboxes, mouse activated animation… It's easy to install and comes with 20 presets out of the box. The setup is a breeze with two admin areas: the plugin settings and the Shortcode Editor (you can edit your previously generated shortcodes!). 245 settings are spread over a tabbed interface in two admin areas for quick access. The settings are available to change on a per gallery basis, extending the global settings and presets. No coding skills are required. There is no need to remember shortcode attributes/values because of the Shortcode Editor that has examples and contextual help.
Your download includes an extensive 66 pages PDF documentation with full settings reference, troubleshooting guide and clickable bookmarks – table of contents. There are also some narrated HD videos available. An excellent, fast-response support is provided with guaranteed reply. It covers installation, technical and compatibility issues. Buy with confidence, the author is here to help!
ImagePress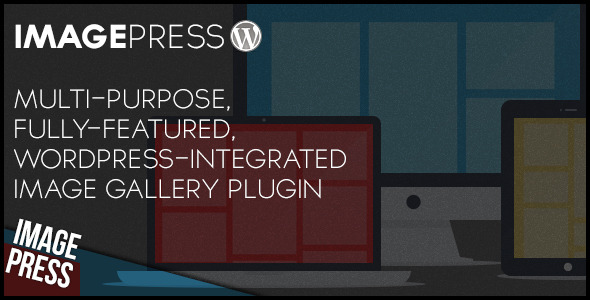 ImagePress is a multi-purpose fully-featured and WordPress-integrated image gallery plugin. ImagePress can be installed on any WordPress site.
jQuery Facebook Gallery WP
The jQuery Facebook Gallery WP plugin allows you to show all your Facebook albums (images) on your website. Please note that this script will only work with Facebook pages that belong to businesses or organization or pages that are registered as fan pages. It will NOT work with personal Facebook profiles. Also, please make sure that the Facebook page you want to use has no active age restrictions since these restrictions require authentication and access tokens for each user. This script is a pure javascript/jQuery solution and does not require a PHP server.
WordPress Ultimate Restaurant Menu Maker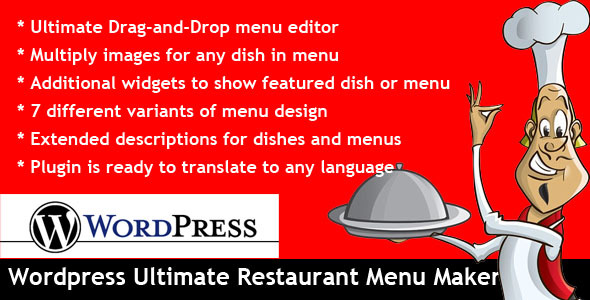 WordPress Ultimate Restaurant Menu Maker allows you to create menus for your cooking / restaurant web site.
UberGrid – responsive grid builder for WordPress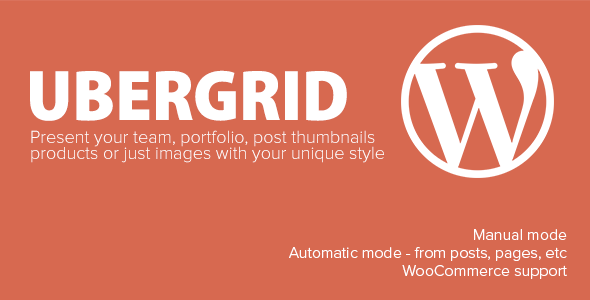 UberGrid is a powerful responsive grid / gallery builder for WordPress that will impress your visitors with stylish grids built in minutes. You can use UberGrid to present your portfolio, team, products, photos, blog posts, or anything else that can be presented with square cells. Its unique customisability will adopt to almost any needs.
Multipurpose Before After Slider
Want to showcase your case studies and demonstrate difference between original Vs. new image?
This plugin can help you do that easily and effectively.
Go – Responsive Portfolio for WP
This plugin is the ideal solution for creating portfolios, showcases or teasers. You can create new custom post types or use your existing blog posts, custom post type posts or products. If you would like to create a portfolio or looking for a complete solution managing portfolios, this product is a useful tool for you. It's very easy and fast to create stunning portfolios and integrate them into your WordPress site using Admin Panel. You will surely find the one most appropriate for you, which can be customized in a few seconds.
uSquare – Universal responsive grid for WordPress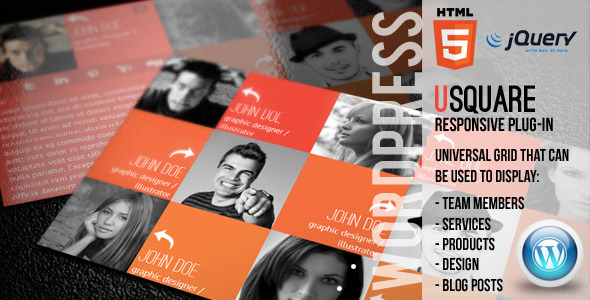 uSquare is a wordpress responsive squared grid that can display your content in a unique and interesting way. You can use it for displaying team members, products, services, designs, blog posts or anything else that comes to your mind. In our live preview we have included 3 modifications of the original file in order for you to see how uSquare can serve your purpose.
While we developed uSquare responsive grid plugin we carefully thought about its responsive layout. We wanted to make sure that all elements are visible and accessible with all resolutions for responsive layout.
WP Auto Albums – Multi Level Responsive Grid
This is a WordPress plugin that scans a folder in your WordPress in which you can put as much images, folders and levels you can imagine and the plugin will make a grid responsive gallery taking the folders as albums.
Global Gallery – WordPress Responsive Gallery
Create fully responsive galleries fastly and with ease on your website. Global Gallery comes with three gallery layouts, four lightboxes ready to use and is designed to be visible on each device: whether you are using a retina MacBook or an Android phone.
Before-After Viewer – WordPress Plugin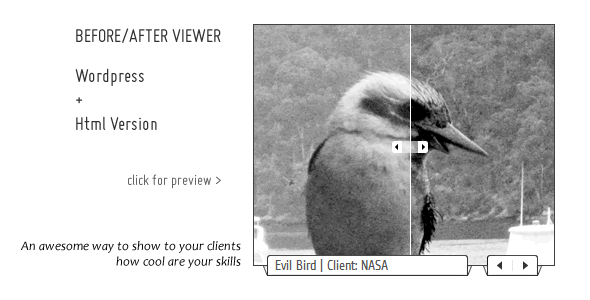 360 Degrees Viewer – WordPress Plugin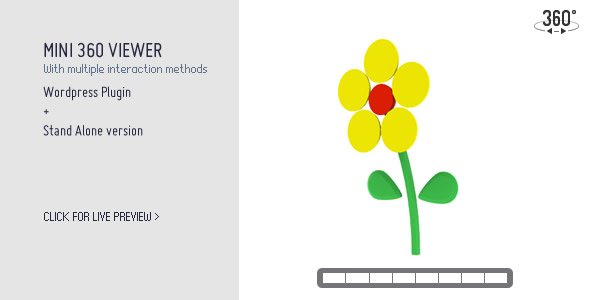 This viewer uses a list of images to simulate a 360 degrees object rotation or object animation.
The multiple interaction methods makes is usable even on touch devices.
Thumbnail Gallery (WP NextGEN Gallery Template)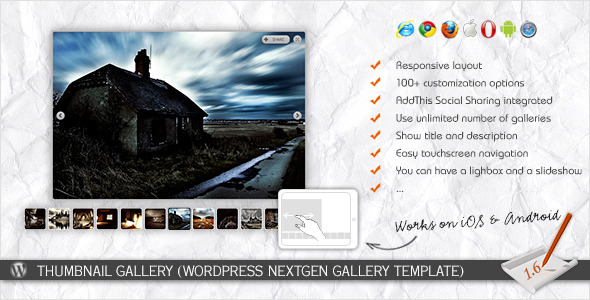 This NextGEN Template will help you to easily add a thumbnail gallery to your WordPress website or blog. The gallery is completely customizable, resizable and is compatible with all browsers and devices (iPhone, iPad and Android smartphones).
Distinctive Portfolio – 4 in 1 WordPress Portfolio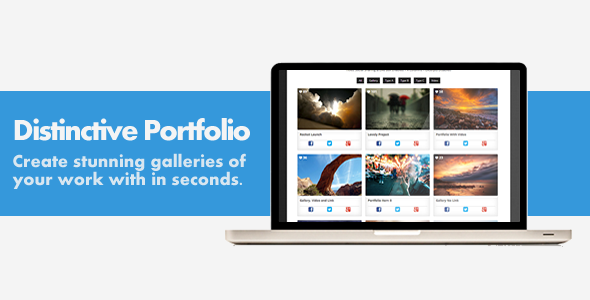 Using the powerful shortcode generator you can easily setup your dream portfolio exactly the way you want, and then style it to your tastes with the excellent DTPanel options panel.
Distinctive Portfolio is fully responsive (resize your browser when viewing the demo to see it in action.
The DT Portfolio post type allows you to add additional images to each project, as well a video from YouTube or Vimeo. Not only this, you can also link each project to a specific URL of your choice, the projects page, or even no link at all. Its all handles by the included options and has been created to be very simple yet very powerful to use.
You can control each of the layouts fully with the shortcode generator. You can choose to display/hide project title and excerpts, as well as how many columns (1-4) you wish to use.
Media Grid – WordPress Responsive Portfolio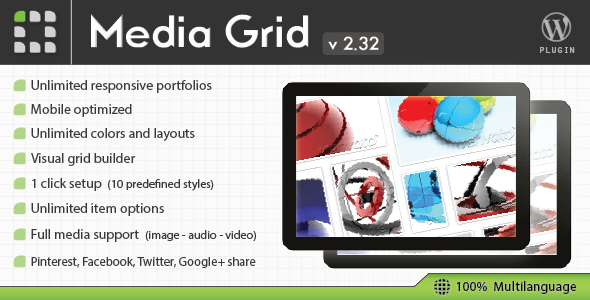 Create responsive and filterable portfolios with ease on your website. Media Grid comes with masonry layout, is designed to adapt each portfolio to any situation and is mobile optimized for responsive themes.
Wall/Grid Gallery (WordPress Plugin)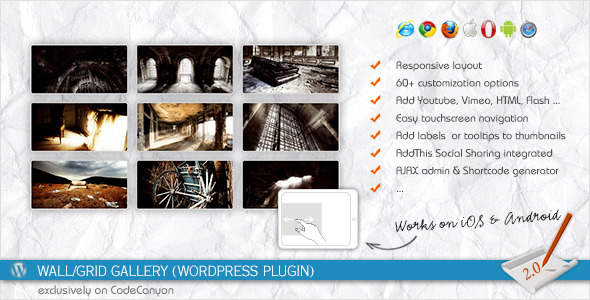 This Plugin will help you to easily add a grid gallery to your WordPress website or blog. The gallery is completely customizable, resizable and is compatible with all browsers and devices (iPhone, iPad and Android smartphones). You will be able to insert it in any page or post you want with inbuilt short code generator.
Thumbnail Gallery (WordPress Plugin)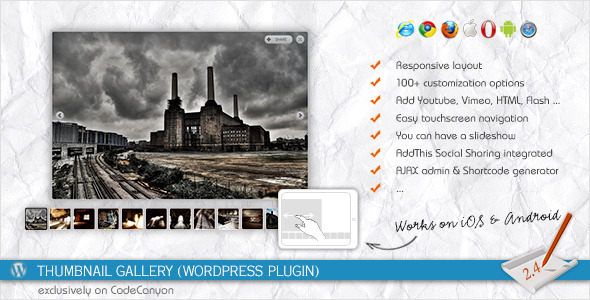 This Plugin will help you to easily add a thumbnail gallery to your WordPress website or blog. The gallery is completely customizable, resizable and is compatible with all browsers and devices (iPhone, iPad and Android smartphones). You will be able to insert it in any page or post you want with inbuilt short code generator.
WordPress Banner Rotator / Slideshow Plugin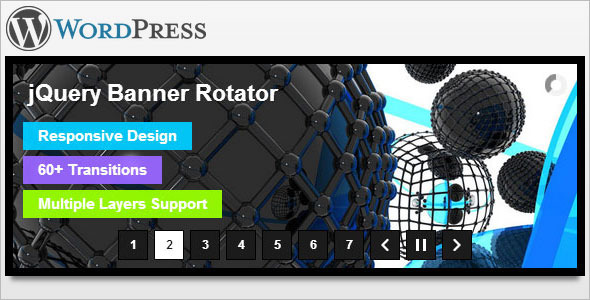 This is a WordPress plugin for the jQuery Banner Rotator. This plugin provides an easy way to create an image slideshow for your WordPress site. The plugin also has a comprehensive management system for your banner rotators and its images.
Fancy Gallery – WordPress plugin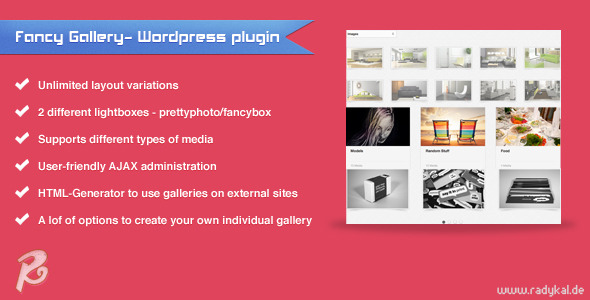 I am glad to introduce you Fancy Gallery as wordpress plugin. It comes with an outstanding AJAX admin and a lot of features. You can create unlimited of galleries and every gallery can hold unlimited of albums. You can add different types of media – Images, Video, Websites to the albums.
One of the biggest feature is the Generator. It allows to use galleries, you created in wordpress, on external websites. The generator creates the code for the head and body tag and all you have to do is to copy and paste it in. VERY EASY!
Gigabox – Responsive WP Gallery/Image Effect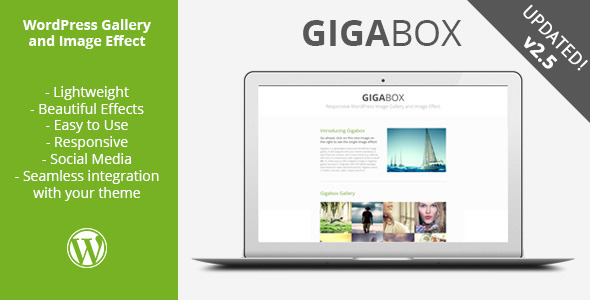 Gigabox is a lightweight responsive WordPress image gallery . It will integrate with your theme seamlessly and it won't look out of place. Also it won't bloat your website with tons of unnecessary code, Gigabox's JS file is only 9 KB. It's really easy to manage Gigabox Galleries because Gigabox comes with custom admin interface. (check out the demo site for screenshots). Gigabox works in Firefox, Chrome, Safari, Opera and IE 8+.
EZ Plug In Portfolio
EZ Plug In Portfolio can display you work using any of the THREE shortcodes provided (all fully documented). You can display the items in full, with a nifty filter or you can display just a sub set of your work by project type of even the tag you assign to your work. The Choice is truly yours!
EZ Plug In Portfolio offers you everything you need, and includes a lightbox with several skins you can choose from, as well as a suite of styling options and customisation options all available for the powerful options panel.
Lightbox Gallery Manager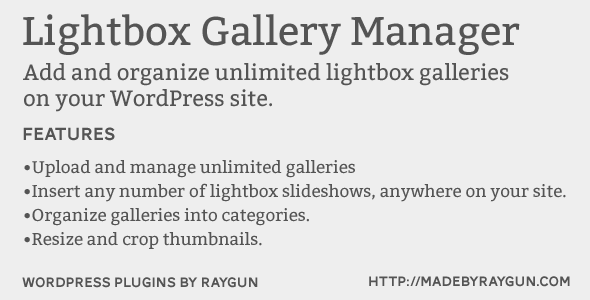 Lightbox Gallery Manager is a WordPress plugin that offers an easy way to embed unlimited lightbox galleries on your WordPress site. You can organize your images by category and add single sets or whole categories with a simple shortcode.