45+ Best WordPress Advertising Plugins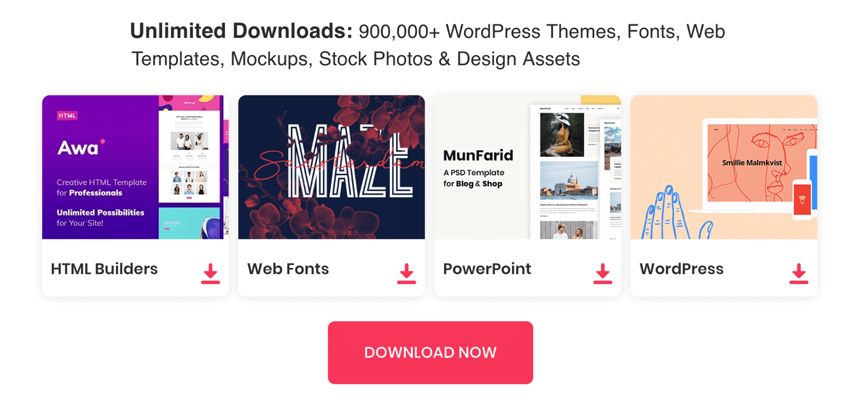 You have got your blog and you are ready to monetize it but still wondering what are the best advertising management plugins for WordPress ? In this article we have collected some of the Best WordPress Advertising Plugins which allow you to take full control over your website advertising.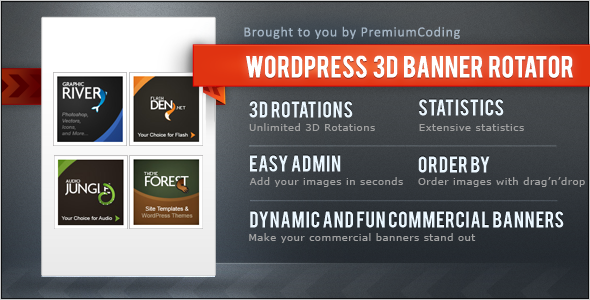 If you are looking for a simple and easy way to put Advertising codes e.g adsense, BuySellAds in right place into your website this article is what your looking for! Create and manage unlimited Advertising with this WordPress advertising plugins.
Foobar – WordPress Notification Bars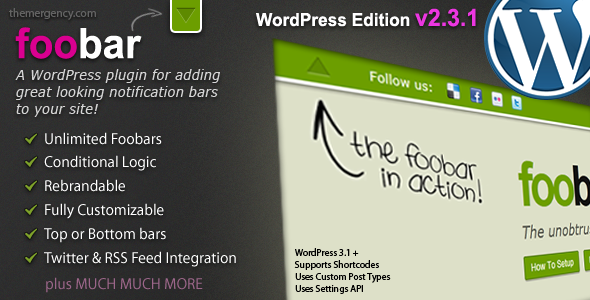 A WordPress plugin for adding great looking notification bars to your site.
attentionGrabber: WordPress Notification Bar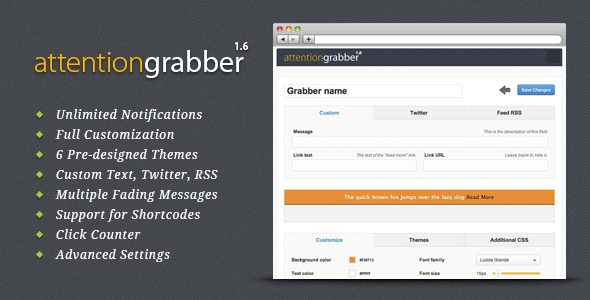 attentionGrabber is a plugin for WordPress that allows you to add a notification bar to your website. With this plugin you can easily display custom texts, Twitter posts and Feeds RSS. Also, the huge list of features lets you fully customize the notifications look. AttentionGrabber is a simple but effective solution to market your products and share contents through your website.
AdPress – WordPress Ad Manager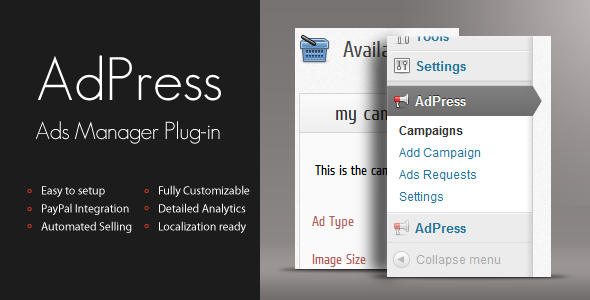 AdPress is a premium plug-in to manage Ads. It's a powerful and fully featured platform to sell and display ads for your WordPress blog.
WP PRO Advertising System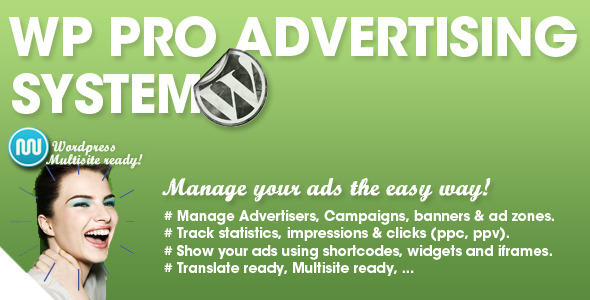 The  WP PRO Advertising System WordPress Plugin allows you to manage advertisements on your WordPress site. It has many powerfull features to put advertisements on your website, manage advertisers, campaigns, banners & adzones, track clicks, impressions & CTR all in just a few seconds. If you are looking for a simple, easy but very professional way to manage advertisements on your website this plugin is what your looking for!
smartPop-Up BOX – WordPress Plugin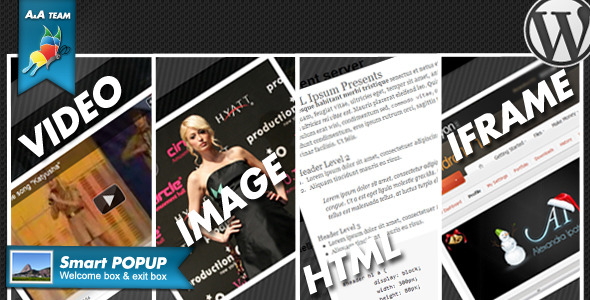 Nice Notifications – WordPress Notification Bars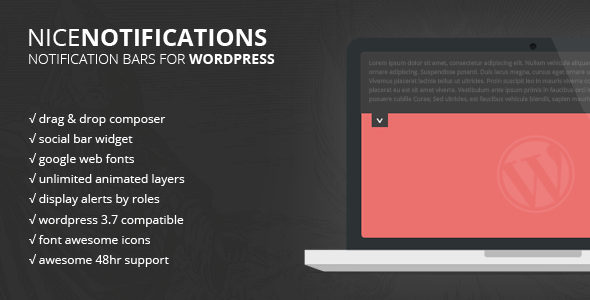 Nice Notifications is a notification bar plugin for WordPress 3+. Design and compose your own alerts, notification bars, social bars, tweet rolls, and pretty much anything you like with awesome effects and an easy to edit drag-n-drop visual composer.
Interstitial Ads for WordPress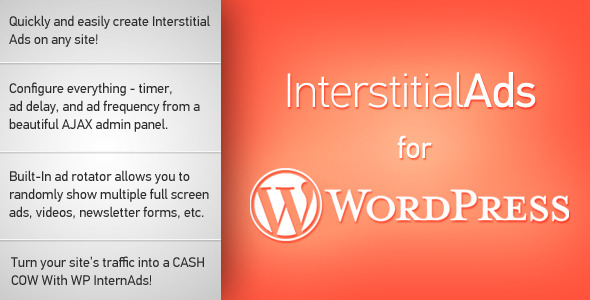 Interstitial Ads for WordPress is the only plugin of it's kind that allows you to show immersive Interstitial Ads on any WordPress powered site. Make your traffic work for you and turn your WordPress site into a cash cow by pushing ads, subscription offers, trials, etc!
Banner Manager Pro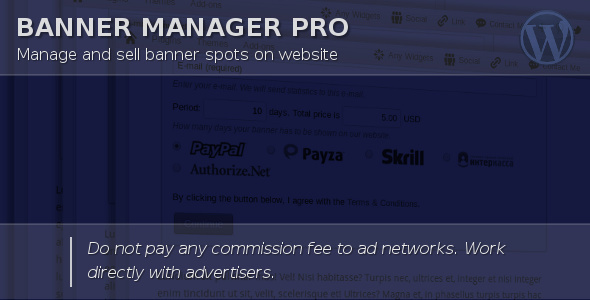 Banner Manager Pro is a plugin which allows you to manage and sell banner spots on your WordPress website. You can set as many different types of banners as you wish, sell them directly to advertisers, and accept payments through multiple payment gateways (PayPal, AlertPay/Payza, InterKassa, Authorize.Net, Skrill/Moneybookers). You don't have to pay any commission fee to ad networks, because now you can work directly with advertisers. It's really easy: install the plugin and start making more money today!
uAd – Advertising for WordPress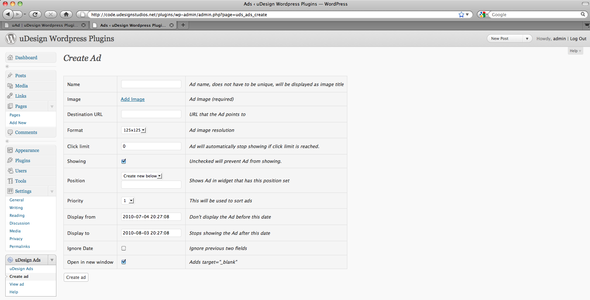 uAd is a complete Advertising package by uDesignStudios. It has been first created as an additional feature for our WordPress themes, but has become a powerful advertising solution since. Now we've decided to offer this functionality as a separate plugin for WordPress for all of you to enjoy.
EZ Notification Bar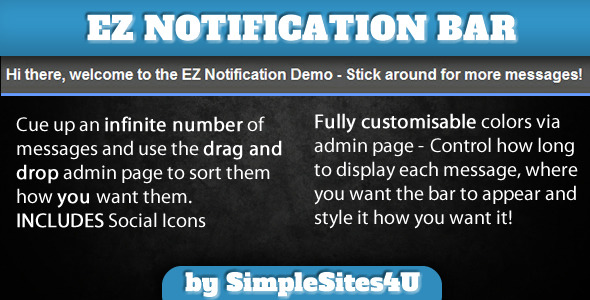 EZ Notification Bar for WordPress is an ideal solution for anyone looking to draw attention to any content you wish. With this plugin you are able to add an infinite number for message via the inbuilt admin options, and you can then sort, or resort them into you chosen order via a unique drag and drop interface.
Notification Bar Plugin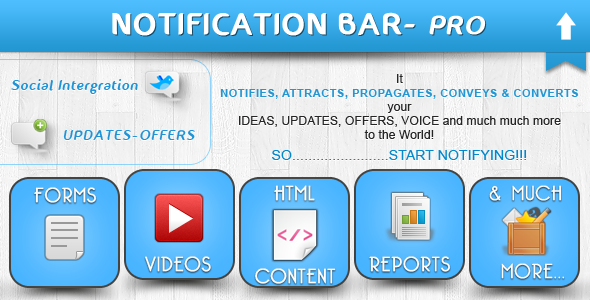 Notification Bar Plugin Allows you to add a cool notify bar to your WordPress website. This plugins gives you an additional extended message feature which you can control by settings in the backend.
NagAds – WordPress Plugin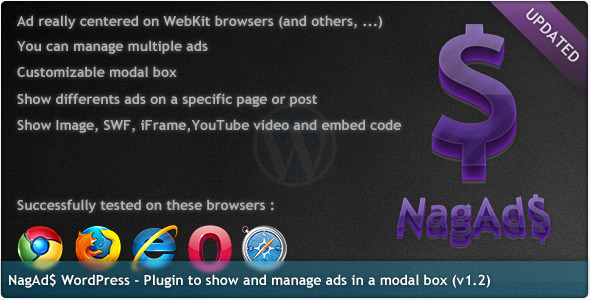 The main feature of this WordPress plugin is showing ads in a modal box (lightbox kind) on your blog's pages. You can show ads of different kind such as an image, a SWF file, a YouTube video, an iFrame and you can even embed your own code. You can easily add, edit and remove ads from the plugin settings page, you can also edit various styling settings like the background color (overlay or in the box), the border color, … you can also set an image to ad some texture to your overlay background.
Wp Header Bar – WordPress Notification Bar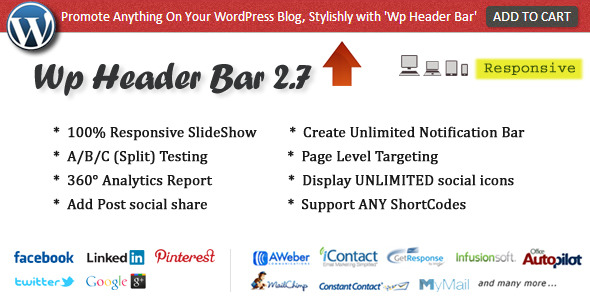 Wp Header Bar is a simple yet attention-grabbing, customizable responsive bar resting at the top of your WordPress targeted pages to help drive traffic to a specific destination on your site. You can use wp header bar as a call to action to read your latest blog post, sign up for your newsletter, take advantage of special pricing, etc. etc.
WP Pre Post Advertising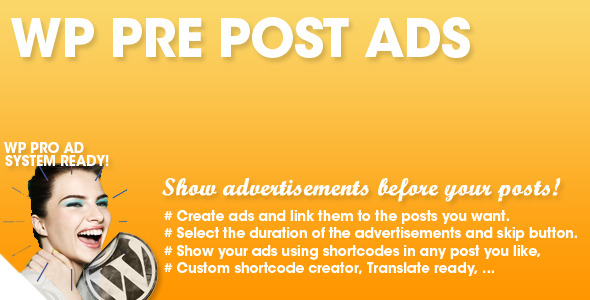 This WordPress Plugin allows you to show an advertisement before showing the actual post/ page. The plugin first loads an advertisement and shows a countdown. As soon as the countdown finishes the actual post gets loaded.
WordPress 3D Banner Rotator with Statistics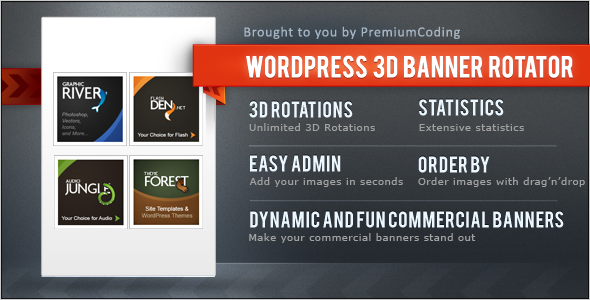 Advert Flap Pro – WordPress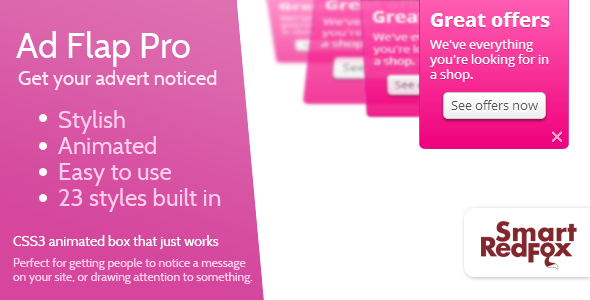 Ad Flap Pro is an animated advert for WordPress sites. It is one of the most effective ways to get your message or advert out to people on your website, without being too intrusive. It animates in initially so that users notice it, and then waits to be clicked. The user can close it at any time to remove it from the screen.
WordPress Data Fetcher – WP Plugin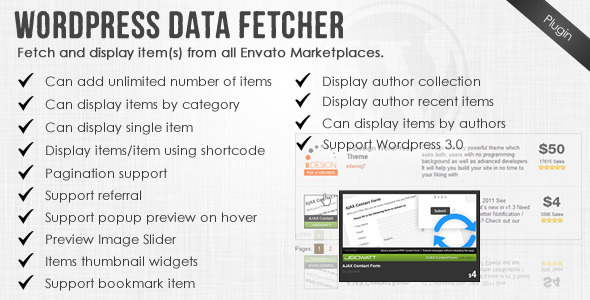 WordPress Data Fetcher is a wordpress plugin that fetch and display items from all Envato Marketplaces, yes in all their 9(nine) Marketplaces, namely
Envato Affiliate Cash for WordPress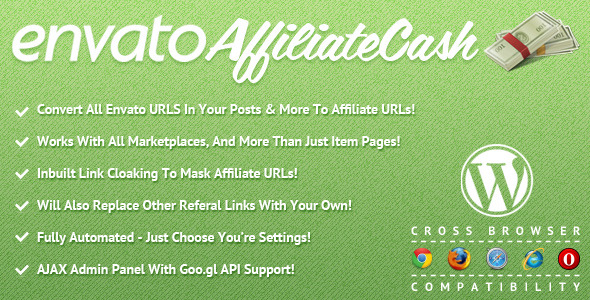 Envato Affiliate Cash for WordPress makes it easy to generate tons of referals to Envato by automagically converting your marketplace links to referral URLs. Do you have a site with a bunch of Envato links already in your posts, comments etc? Are you looking for an easy way to make an affiliate site for Envato? Envato Affiliate Cash is all you need!
Easy Responsive AdSense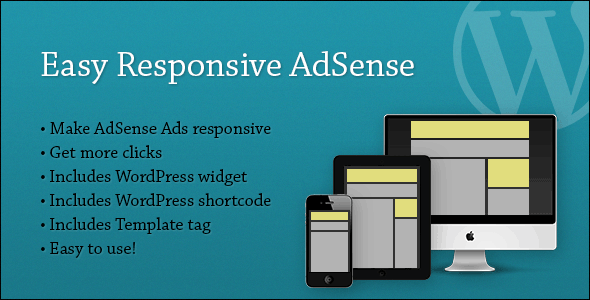 Easy Responsive AdSense is a WordPress plugin that lets you specify multiple Google AdSense ad sizes for a particular location in your responsive WordPress theme. When the page is loaded, it will choose the best ad size to display, based on the current width of the ad container. Ads can be placed in your template using the provided widget, shortcode, or template tag.
Useful Banner Manager Premium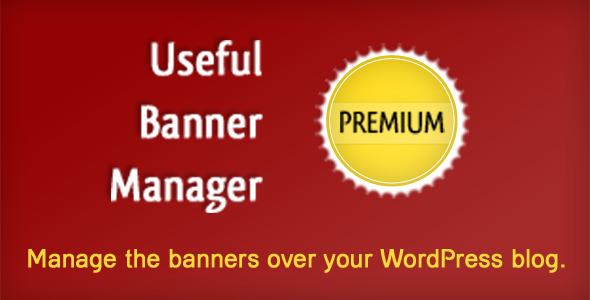 Banner Manager allows you to put banner advertisements all over your blog. You can put them in the header, footer, sidebar, and in the posts and pages. You can put banner ads anywhere that you think it would look good on your site. Remember, that any time some clicks on one of those banner ads, you will see more money come make its way into your account.
AdFly Rotater For WordPress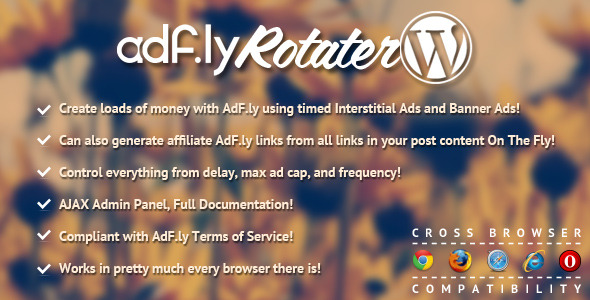 AdFly Rotater for WordPress allows you to instantly turn any WordPress site into a cash generating powerhouse! Instead of using low paying CPM ads, setup powerful AdF.ly interstitial ads and paid for every view, every time! Bonus: You can also use AF Rotater to automatically add AdF.ly affiliate redirects to all links in your post / page content without effecting other parts of your site like navigation, sidebar links etc.
Banners Rotator Generator For WordPress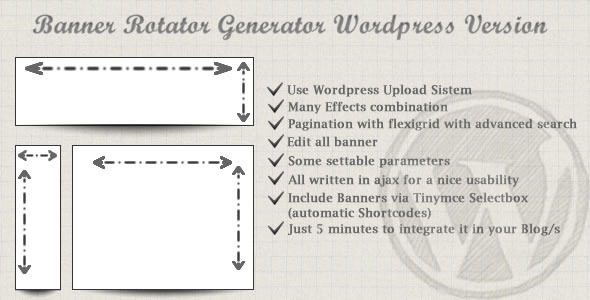 BugMeBar – A simple little notification plugin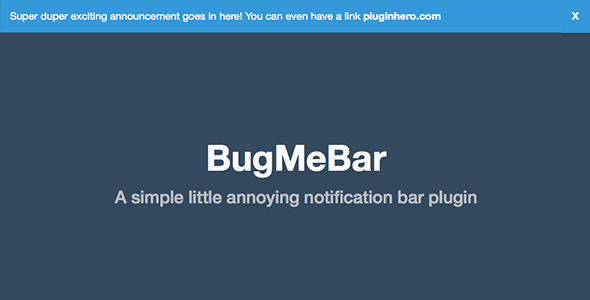 BugMeBar lets you add a message to the top of the screen which a user can dismiss. You can use a cookie if you like so that the notification bar can stay gone once the website visitor has clicked close.
60 Second Ad Manager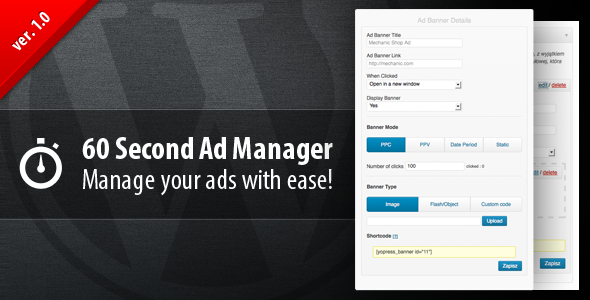 60 Second Ad Manager is a premium plug-in to manage your WordPress ads. It is powerful, simple and elegant tool to use. Our promise is to have you up and running with your ads in less then 60 seconds, hence the name
WP Envato Referrer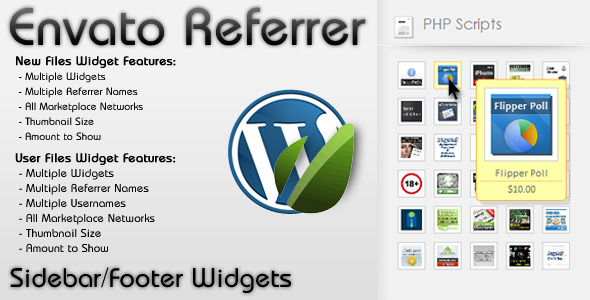 Automatic Envato Referral URL WordPress Plugin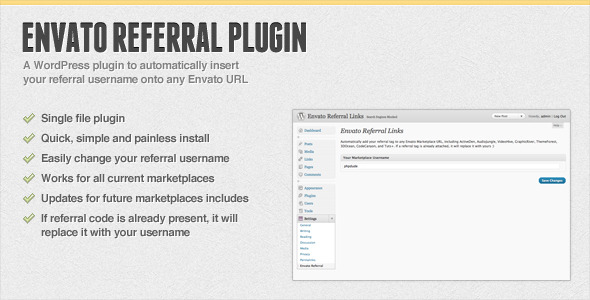 A WordPress plugin to automatically insert your referral username onto any Envato marketplace URL . If the URL already has a referral code on it, it will replace it with yours. The beauty of this, is that you don't have to be an author to participate in Envato's Referral scheme. Seeing as you're already a member when you purchase this script, you simply use your username and can start referring users right away.
Simple String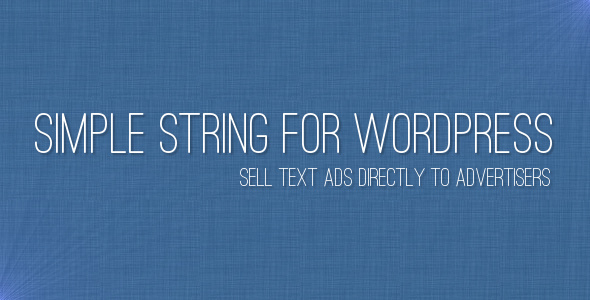 Simple String is a plugin which displays hyper-linked ad string on your WordPress website. The plugin allows your visitors/advertisers to purchase and include their strings into rotation. The plugin does it in automated mode and accept payments through PayPal, Payza/AlertPay or InterKassa. With Simple String plugin you don't have to pay any commission fee to ad networks, because now you can work directly with advertisers. It's really easy: install the plugin and start making more money today!
WPLinkTrade – Text & Banner Exchange for WP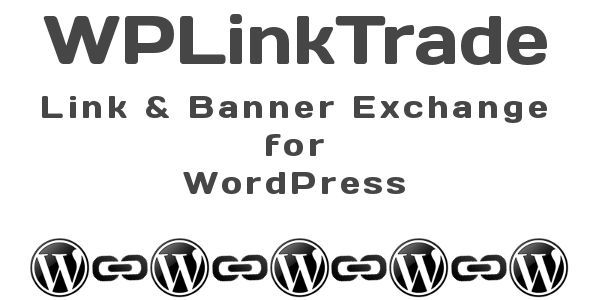 WPLinkTrade is a Link & Banner Exchange Plugin for WordPress. It allows you to exchange text and image links with other related web sites with ease. It has never been so easy to increase your site's link popularity. Your link partners can easy exchange text and banner links with you by filing a really simple submission form.
Envato Items Info WordPress Plugin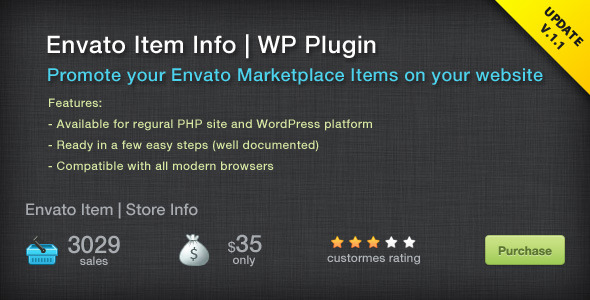 This plugin allows you to display all info about an Envato Marketplace item into your website. The Plugin is available for regular site with PHP support and for WordPress platform. The main folder contains both plugin types and PSD files for custom changes.
kk Easy Ads – Managing Advertisements Easily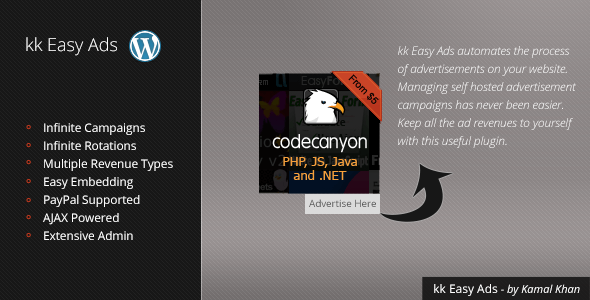 kk Easy Ads automates the process of advertisements on your website. Managing self hosted advertisement campaigns has never been easier. Keep all the ad revenues to yourself with this useful plugin.
WPLM – WordPress Link Monetizer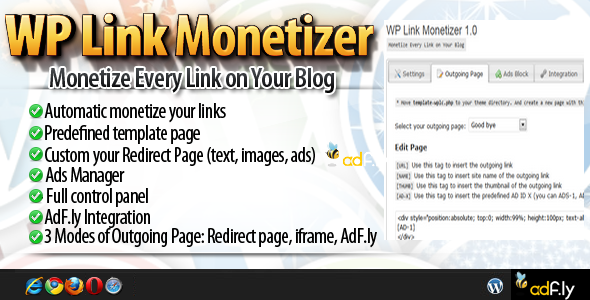 WPLM (WordPress Link Monetizer) is a WordPress plugin that can automatically monetize every link on your blog!, redirect your visitors to an advertising page, or even integrate adf.ly to each link of your site. The plugin gives you a lot of control over which links get monetized, categories / pages / sites to exlude, integration mode (iframe or redirect link), ads manager and much more.
Roo Classifieds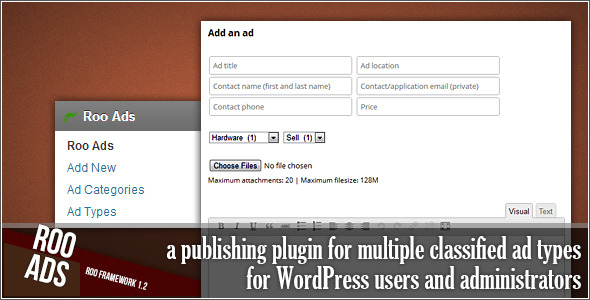 Roo Classifieds is the new kid on the block, a popular classified ads plugin for WordPress. Its feature-rich control panel and straightforward behaviour was built for ease-of-use and tight integration with WordPress. Roo Classifieds is using native custom post types and taxonomies.
CTR Enhancer WP – Tool for advertising publishers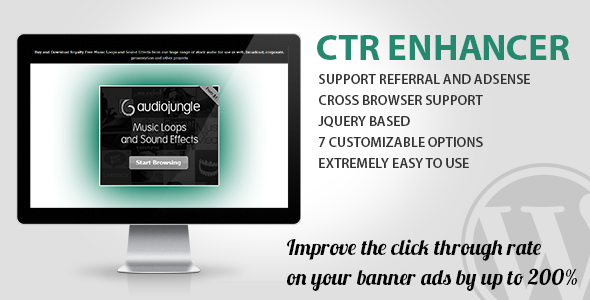 WP Easy Links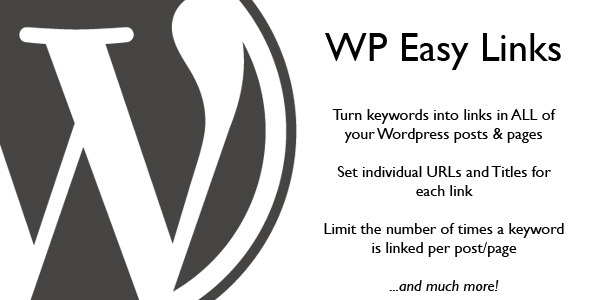 EyeCatcher Notification Bars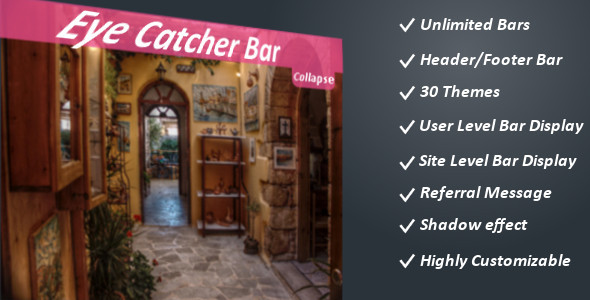 Eye Catcher is a Pro WordPress Notification Bar Plugin to catch the attention of your visitors. Create any number of Header/Footer Bars using Eye Catcher. Eye Catcher is highly customizable.
wp_aadb – WordPress Anti ADs Blocker, Anti Adblock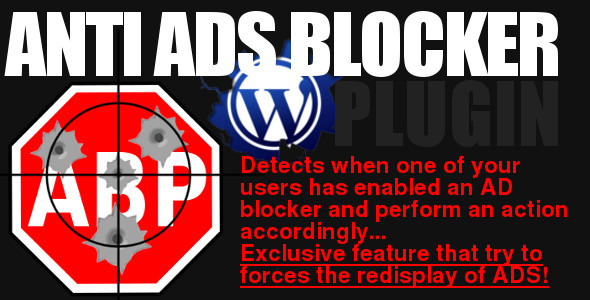 WordPress plugin of $AADB, the anti ad-blocking system with which you can protect your website against visitors who hides advertisements.
AutoPupo – Automatic Ads Post Generator Plugin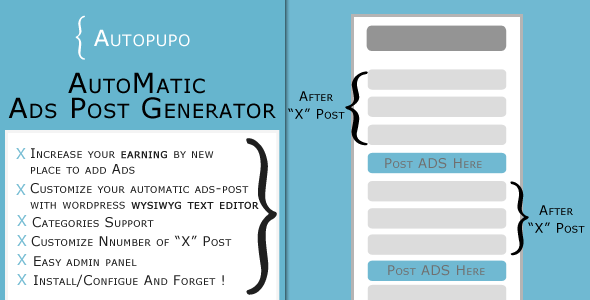 AutoPupo WordPress Plugin Automatic Ads Post Generator ; increase your earning by new place to add Ads ; it is a post placed after "X" number of posts automatically , ADS-Post can be customized by wordpress wysiwyg text editor to add your Script or what you want ; it is a simple and efficacious as a smart solution .
Envato Item Display Affiliate WordPress Plugin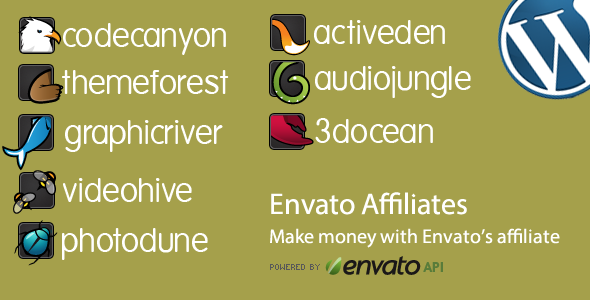 WP-AdPunch – The Ultimate Ads Plugin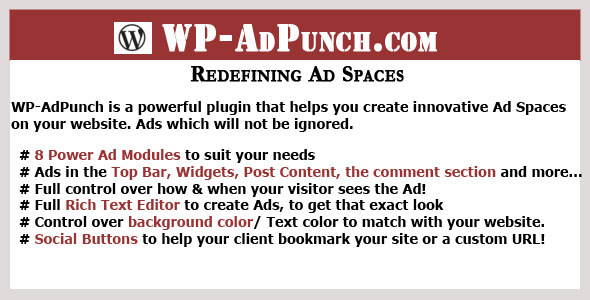 Content Writers and Marketeers seldom have to resort to Pop-ins and pop-outs, for the extra content they wish to highlight. Most of the time users dont even see it, and close them before they read them.
WordPress Premium Traffic Management Plugin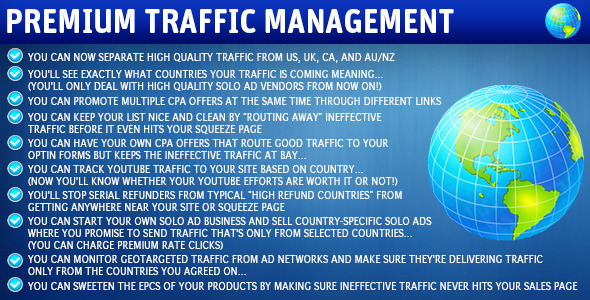 New plugin allows you to to Route traffic from any country, to where ever you want it to go.
Bannerama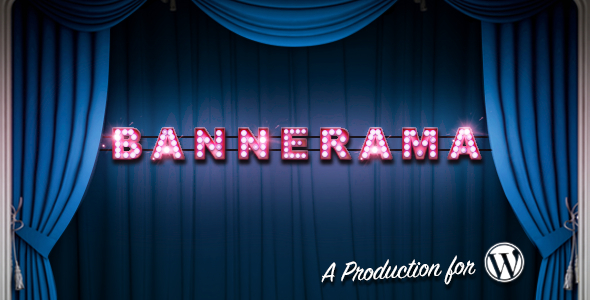 Bannerama allows you schedule banners to be posted on your site at specific times without any intervention (you can also schedule an end date!). Easy to use and setup Bannerama uses native WordPress functions for an elegant lightweight core and fully commented code throughout. Banners are unobtrusive as a user can easily hide them forever by clicking the x to the right of all banners
nBar – Advanced WordPress Multipurpose Bar Builder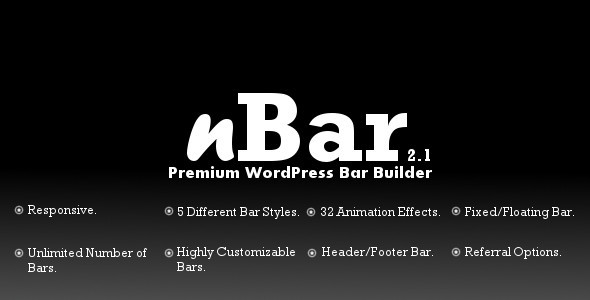 nBar is a Premium WordPress Multipurpose Bar Builder Plugin using which we can build Unlimited(n) Number of Header and Footer Bars for the WordPress site. The Header and Footer Bars built using nBar can be used as Notification Bar, Advertisement Bar, Information Bar etc.
WordPress Monetize Now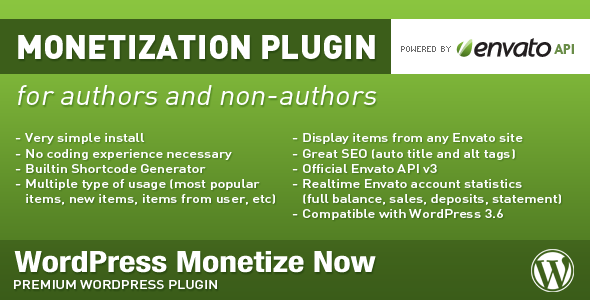 If you have ever wanted to start a site that is monetized by the Envato Affiliate Program, then you should know that WordPress Monetize Now is the only plugin that you really need.
BAN – Blocked Ads Notifier With Statistics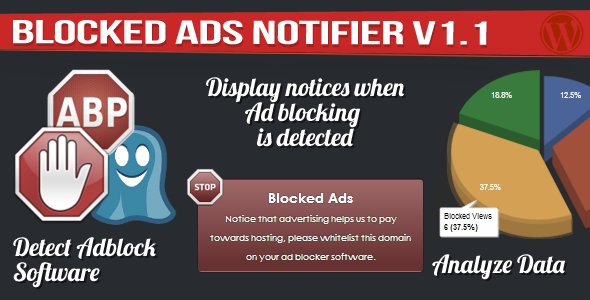 Blocked Ads Notifier or simply BAN is a premium WordPress plugin that detects adblock, adblock plus, ghostery and all other popular adblockers out there with ease.
Flaunt It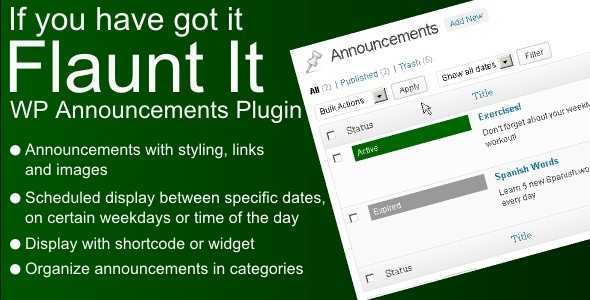 If you have got it flaunt it! Flaunt It is a WordPress plugin to display scheduled announcements. Configure it to show announcements between specific start and end dates, on certain days of the week or during some time of the day. You can structure your announcements in categories, and then display them on pages or posts, or with a widget.
Premium Prestitial Ads