15+ Best Watermark Plugins for WordPress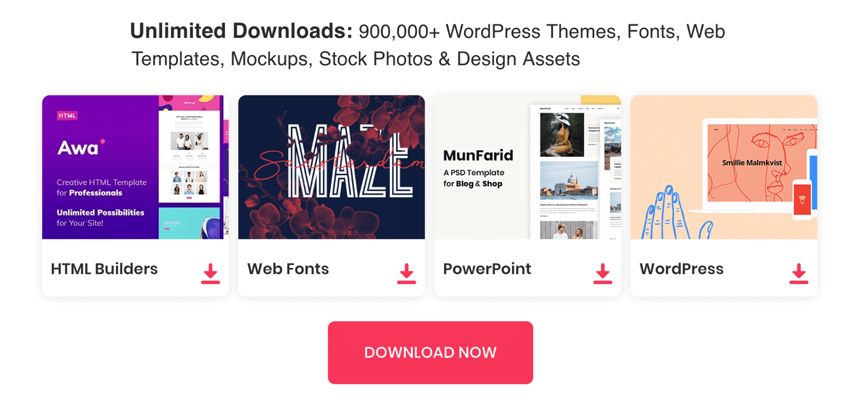 You are tired with content scrapers and looking for the Best Watermark WordPress plugins to protect your images ? The following is a list of some of the best Watermark Plugins for WordPress that allow users to automatically watermark images and protect them from unauthorized usage.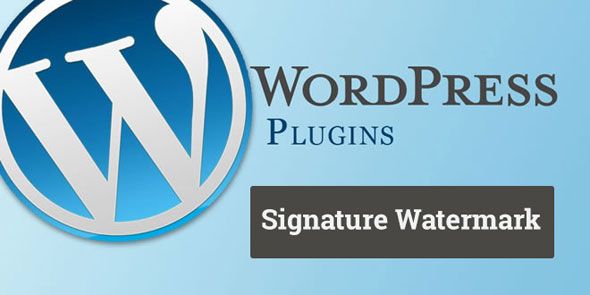 This article contains best free and premium Watermark Plugins for wordpress website. Some allow you place text watermarks. Some allow image watermarks. And some allow both. We hope that you will like this collection and find this collection useful for you. Now check out these watermark plugins on your site.
Image Watermark

Image Watermark allows you to automatically watermark images uploaded to the WordPress Media Library and bulk watermark previously uploaded images.
Easy Watermark

Easy Watermark can automatically add watermark to images as they are uploaded to wordpress media library. You can also watermark existing images manually (all at once or an every single image). Watermark can be an image, text or both.
Watermark WP Image Protect

Watermark WP Image Protect allows you to watermark all the images on your site. Unlike other watermarking techniques and plugins, the original images are unaffected and you do not need to edit or re-upload the images, it is done automatically for you on-the-fly.
Fast Watermark Plugin for WordPress

WordPress Watermark Processor plugin can add unlimited number of watermarks (text/image) to ANY image available on the host.
Premium Watermark for WordPress (Plugin)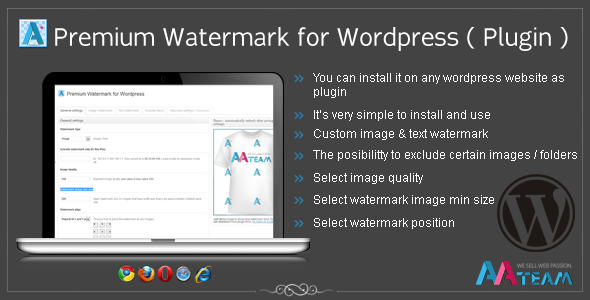 Smart Watermark – A must have Opencart Plugin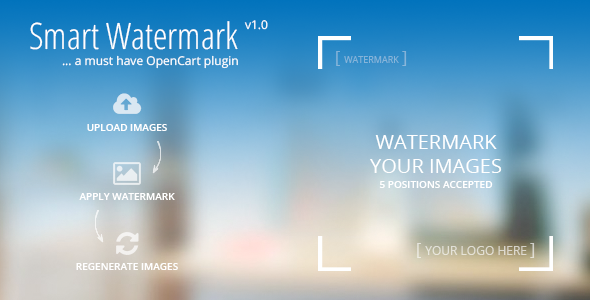 Smart Watermark is an Opencart plugin that allows you to extends the default functionality and auto generate watermark image on most of product pages. Smart Watermark allows you to upload you own image from admin panel. Works with jpg,png, etc
QR Watermark for WordPress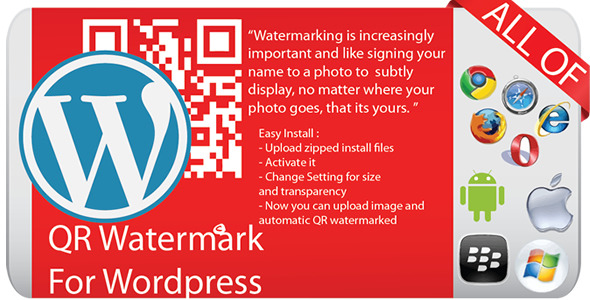 Easily, secure, protect your photos/art with a QR watermark. Once upload to a photo your archive wordpress sites your creation and ownership. Watermarking is increasingly important and like signing your name to a photo to subtly display, no matter where your photo goes, that its yours. Watermarking can also be used to add a personal message or fun graphics to any photo.
WP Watermarker

smWatermark WordPress Plugin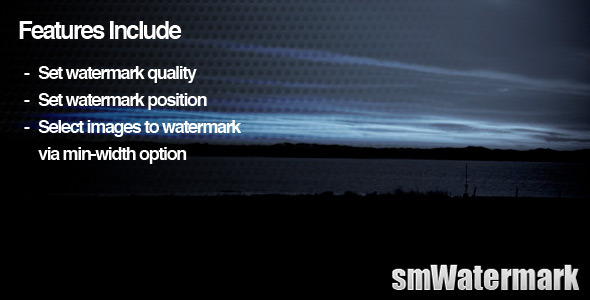 The smWatermark WordPress Plugin is the only plugin you need if you want to protect your images with a custom watermark. Unlike other plugins that only allow you to do a text watermark, this plugin allows you to upload a custom PNG image.
Watermark Hotlinked Images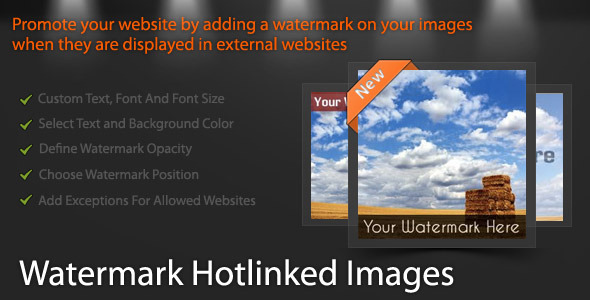 The plugin "Hotlinked Watermark Images" allows you to take advantage of this situation: by displaying a custom message on your images when they are displayed on external websites, you can promote your website… This is your compensation!
smartWatermark – wordpress plugin
SmartWatermark – watermark all your images in only a couples of minutes!
Watermark
The watermark is placed on your images through a htaccess and php file. This means your images are actually not modified. You can still download them from your FTP, and they will not have any watermark.
CyberProjekt Image Watermark
Watermark can be text, image (png or gif) or both. Plenty of options can be set – from position, and size of watermark – separately for different types, text color, transparency and font, size of target images. It is able also to rotate uploaded images by exif data. Plugin also allows manual watermarking from WordPress media library or direct of files from upload plugins directory.
Smart Watermark
Plugin allows you to add image watermark to images uploaded to the WordPress Media Library and add watermark to old images via bulk processing tool
Watermark RELOADED
This plugin allows you to watermark your uploaded images. You can create watermark with different fonts, colors and apply those watermarks to different image sizes (thumbnail, medium, large, fullsize). You can also position the watermark anywhere on the image within Watermark RELOADED settings. Watermarking settings are simple to use and provide you with instant preview of how your watermark will look like on the uploaded image.