20+ Best Responsive Minimal Magento Themes 2017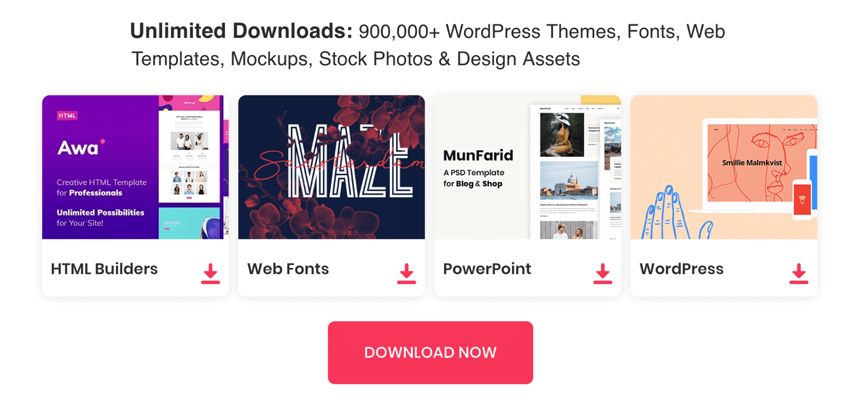 A premium list of 20 best responsive Magento theme with minimal, clean, modern and stylish design. This Magento templates was designed for fashion designer, apparel, electronics, cosmetic, tools and multi purpose store. Enjoy our collection of the best Minimal Magento Themes 2017.
Looking for a new Magento template for your existing Magento store or for a new project? So this article is for you.
Alto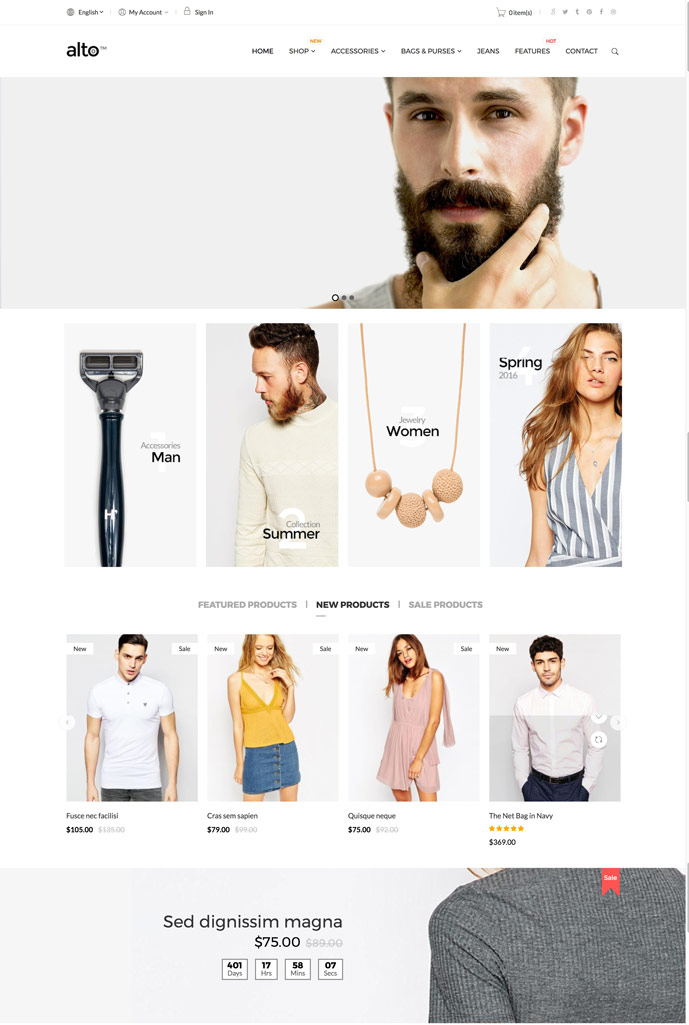 Alto is a clean and clear, dynamic and resourceful, reliable and tech-savvy, stylish and professional, easy to use and highly convenient, readily responsive Magento website theme suitable for every type of store. Alto is a power pack with customizable admin settings, a sophisticated set of advanced tools working in coordination to empower webmasters with or without previous coding experience to craft unique, functional and modern online store in a matter of minutes. With included 10+ extensions, well over 40 uniquely customizable layouts you can deploy as you wish within your highly pliable page layouts such as Bestsellers, New, Featured, Random, Latest and Special products. Powered by the Magento eCommerce Open Source and compatible with Magento versions 1.7.x, 1.8.x, 1.9.x, 2.x, Alto's online shop templates are sturdy and filled with resources, ready to process payments and shopping carts overnight, just add your product catalogue and go live! Try Alto today.
Electro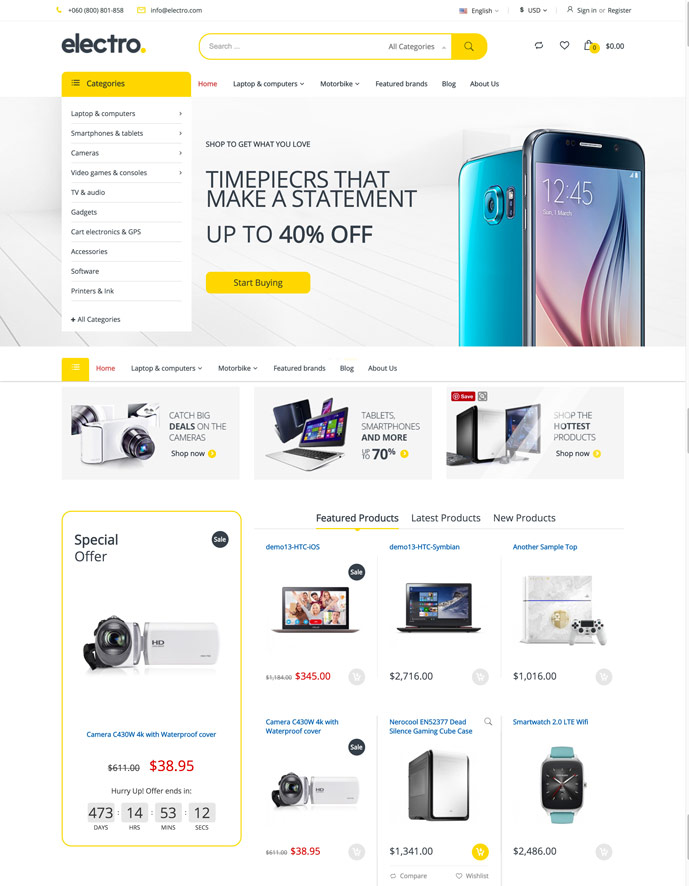 Electro is a clever, fast-loading and lightweight, mobile friendly and tech-savvy, rapidly responsive Magento online store website theme.  This Magento theme can facilitate the construction of a professional online store. Electro with its sleek, intuitive admin user interface, a thoroughly optimized coding that deploys the latest and greatest HTML5 and CSS3 resources and multimedia management technologies, all coordinated through a modern, modular Bootstrap design, rendering Electro a perfect theme for webmasters reaching across several different audience demographics, including out of the box cross compatibility with all browsers, devices, platforms and screen sizes or orientations. This theme offers great theme customization options such as unlimited color options, parallax image support, custom logo upload, noticeable sticky header, built-in sliders and an optional Wish list feature that you can enable for your target customers. This theme includes more than 10 powerful extensions to help you sell, accept payment and manage the inventory with ease. With Electro, you can set up store online in a matter of minutes without any coding. Tons of templates and layouts such as Bestsellers, New, Featured, Random, Latest and Special products give you access to full-blown websites with a single click.
The Look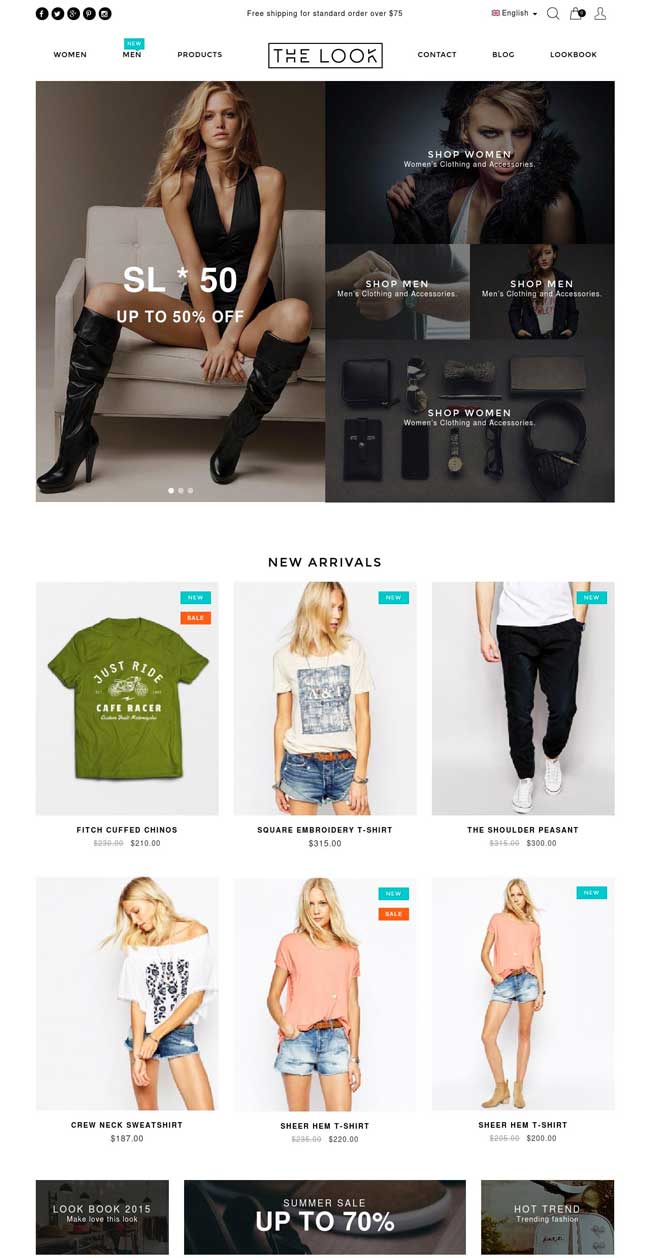 The Look is a extremely powerful and flexible premium magento theme with responsive and retina ready design. Specially perfectly fits trendy fashion website with a strong, sweet and elegant style. The Look comes with a lot of great features that would take you months to develop. It is fully responsive, it looks stunning on all types of screens and devices. The Look comes with many features such as Google maps, Instagram Feed, Lookbook, Magento Email Transaction, Product Color Swatch, Product Color Swatch Gallery Images, Product Listing Color Filter, Magento Newsletter Popup, Product Listing Price Filter, Product Detail Magento Cloud Zoom and RTL Language Support Extremely. It embodies a sensible design with a product-centered layout to captivate every customer's heart. It has included a variety of skins, It is built with Bootstrap Framework, and it has Retina Ready Icons. It has been designed pixel perfect and meets the newest trend web experience.
Minimal Magento Theme for Fashion & Jewelry Stores
Minimalist is a PremiumResponsive Magento theme built with Bootstrap 3 framework, Retina ready. Minimalist come with advanced admin modules, theme support general typography, support all HTML elements, 24 columns grid system, support adaptive layout. It's extremely customizable, easy to use and fully responsive. Suitable for every type of store.
Stilex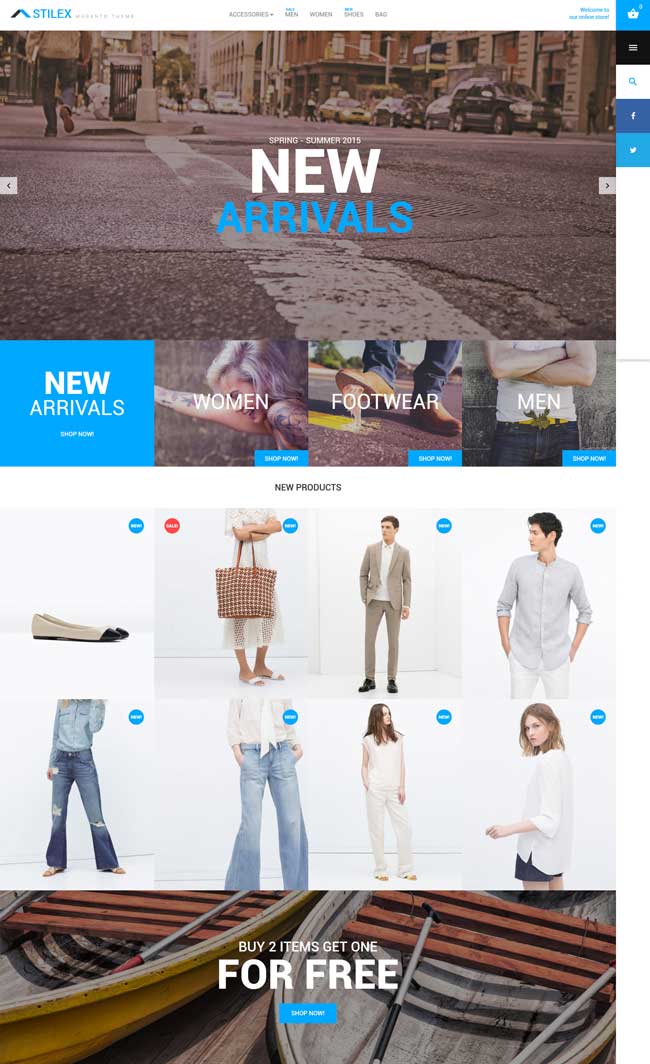 Stilex is an elegant minimal Fashion Store Magento Theme designed with valid HTML5 and CSS3 with a powerful back-end perfect for any eCommerce site, especially fashion, beauty, accessories, wedding , etc… It features a smart Back-end that is easy to navigate. Coming loaded with plenty of customization options, it allows you to change the look and feel of the theme with ease. With a powerful back-end you can easly manage colors, fonts, layout structure and style. The template features a user-friendly MegaMenu and integrated live search in order to let customers come across the desired items in no time. Banners and product images have a cool hover effect that reveals product details, star ratings, price tag and several calls-to-action on a mouse over.
Ketty Store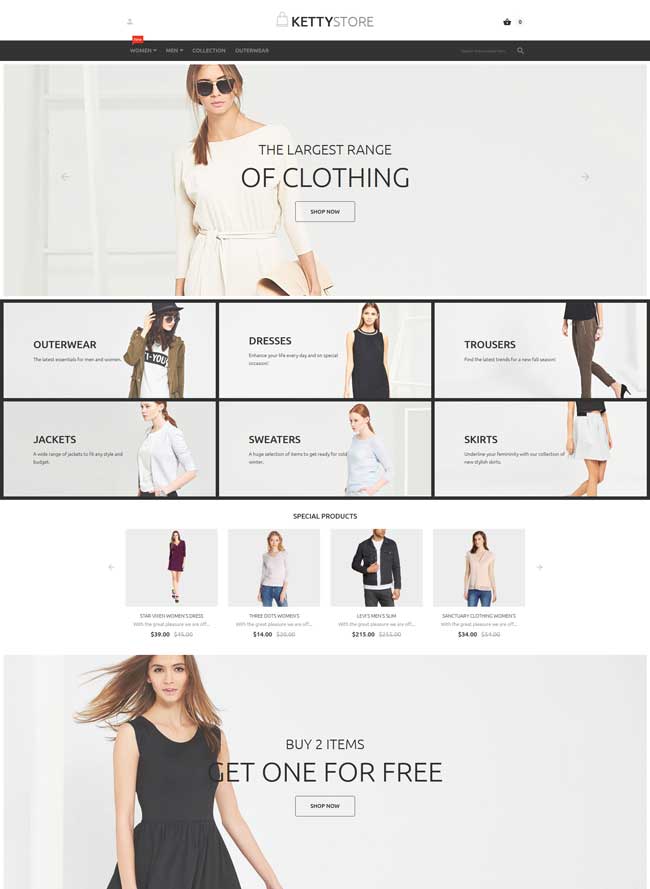 Ketty Store is a universal Fashion Shop Magento Theme. Ketty Store was created using valid HTML5 and CSS3 technologies with fully responsive layout that is intended for bringing an elegant and refined look to your eCommerce project on mobile and other smart phone devices. Easy in navigation, it provides a number of configuration options, which allow you to tweak the design just the way you wish. In addition to the powerful customization options, the theme has a visually pleasing layout enhanced with the parallax scrolling effect, cool animation, bold visuals, and impressive sliders.
ARW Sweet – Minimalist responsive Magento Theme

Minimalism is a minimalist responsive Magento Theme has become one of the most popular trends of website design nowadays. There are some highlighting feature you may concern, they are: Revolution Slider, Mega Menu, Color Swatches Supported, Brand Extension, Product Widget and much more.
Vintage – Minimal Ecommerce Magento Theme

Vintage Minimal Responsive Magento Theme is designed specified for fashion shop, watch shop, jewelry or any types of store according to shop master's purpose. At the very first glance, you all can see that this is a very unique and modern theme thanks to its design. Vintage give users very new and amazing feelings in every actions they do within your site. That is a smart way to impress your customers, let them stay long and even turn back to your shop many later time.
MT Gurs Minimalism Responsive Magento Theme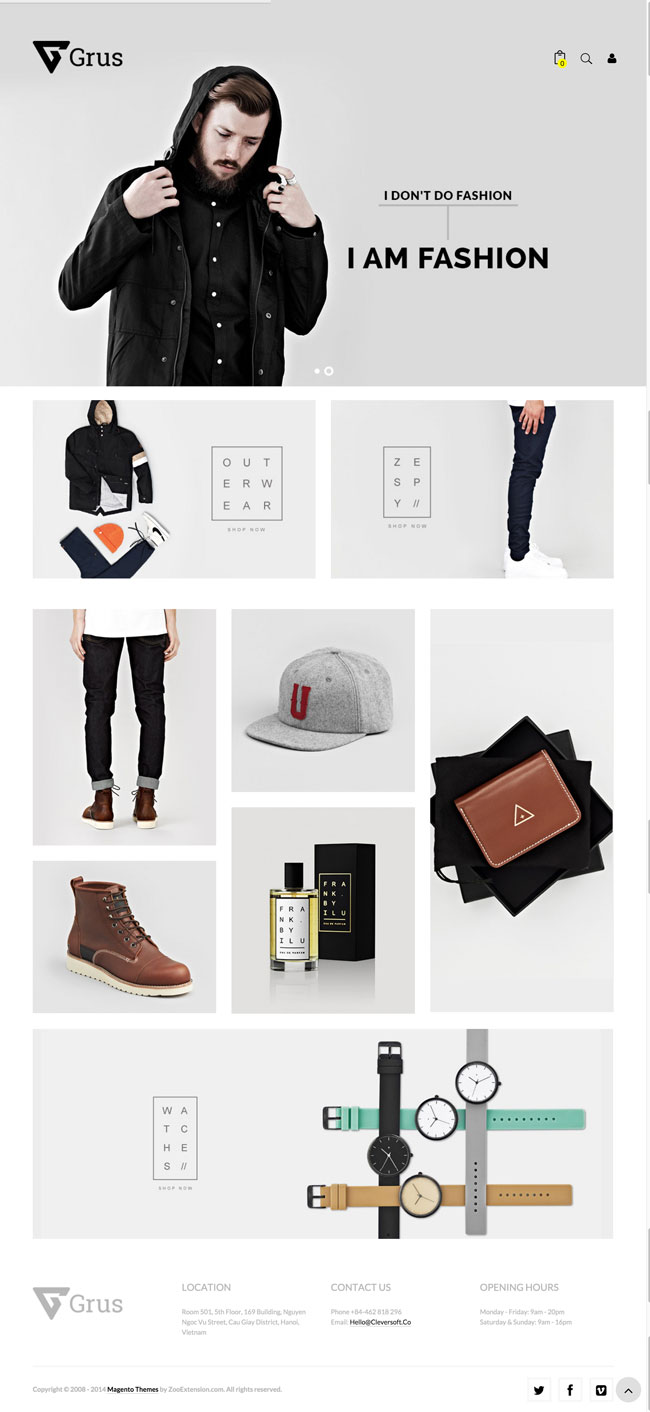 MT Gurs Minimalism Responsive Magento Theme designed especially for online shop Magento Theme MT Grus. Similar to former Magento Themes, MT Grus also consists of many interesting features then you will find it so suitable for every kind of Online Store, such as Sport, Jewelry, Clothes, Shoes and so on.
Minimalism – Responsive Magento Theme
Minimalism – Responsive Magento Theme
Oh Mon Dieu! – Minimal Magento Theme

A minimalist Magento theme fully compatible with Magento 1.6 which is very easy to customise in the back-end, in fact the whole theme was designed to be easily adapted.
Minimal Multi Purpose – Responsive Magento Theme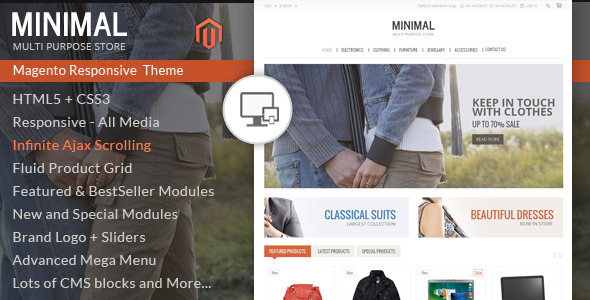 Minimal Magento Theme is designed for fashion designer, apparel, electronics, cosmetic, tools and multi purpose store. Minimal Magento Template is looking great with colors. All sub pages are customized. It is very nice with its clean and professional look.
Sanorita – Responsive Magento Theme
Sanorita – is a responsive magento theme. A premium magento theme with minimal, clean, modern and stylish design. It was designed with focus on user experience and usability, to make Magento shopping easy & quick. Its easy to customize. Sanorita is a fully responsive theme for Magento, which adapting display to all devices (screen, widescreen, iPhone, iPad, Android).
Aesth Minimal Magento Theme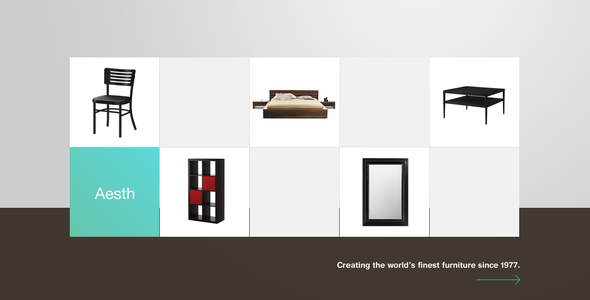 Aesth's design focal point is minimalism which is essential when showcasing aesthetic products, hence the name Aesth. If your store's appeal is visual, then this theme is for you.
SM GameShop – Responsive Magento theme
SM GameShop is build be fully responsive and adaptive with various styles depend on your screen size, your devices, mobile, iPhone, iPad and other tablets.
WebShop – Multi-Purpose Responsive Magento Theme
MT Webshop is a responsive multi-purpose magento theme, comes from 9MagentoThemes.com. It will be a great solution for online store selling: Fashion, Clothe&Shoes, Jewelry, Hi-Tech…and more…with so much modern functions. The theme is very nice and clean. The design perfectly outlines the products in the store with minimalism approach.
Crisp and Clean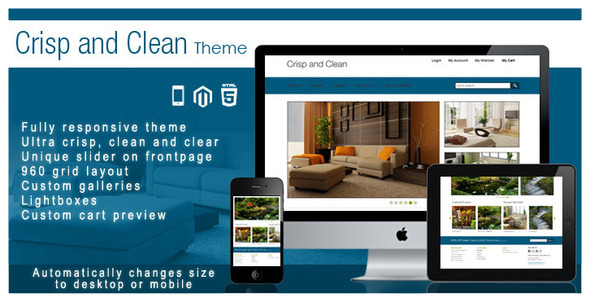 Crisp and Clean Magento supports Magento CE version 1.4.1.x, 1.5.x, 1.6.x, 1.7.0.0, 1.7.0.1 and 1.7.02
Tribeca Magento Theme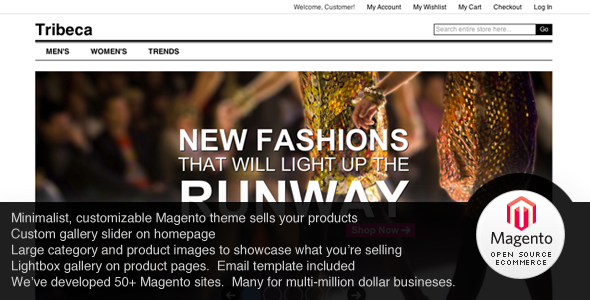 Etios – ULTIMATE Responsive Magento Theme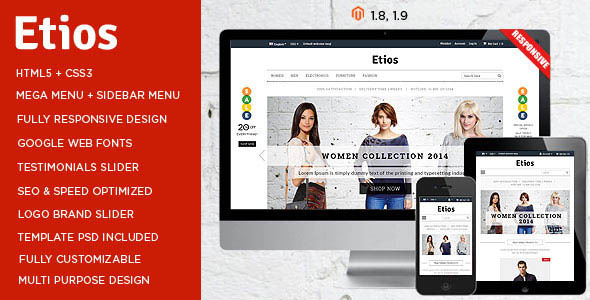 Etios is a responsive multipurpose Magento theme which is fully customizable and suitable for any kind of Magento store on any device. This responsive theme is a general purpose responsive theme which can be highly customized and tailored for any heavy Magento store.
Sheets Magento Commerce Theme