20+ Best PrestaShop Themes for Electronics, Digital and Mobile Stores 2017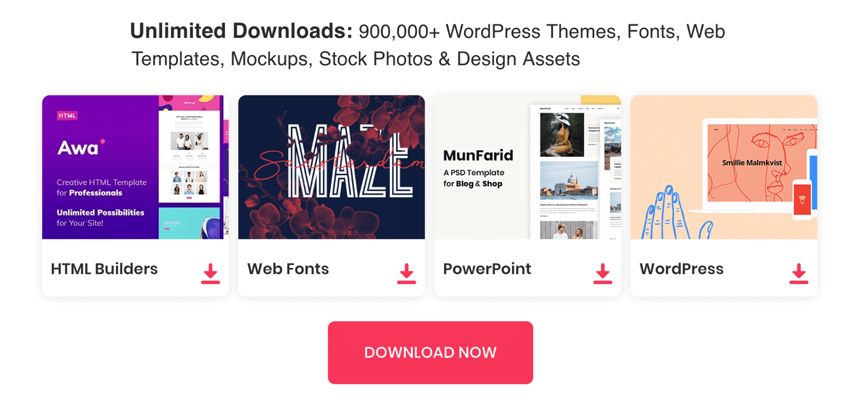 If you are looking for a quick and cost-efficient solution for your electronics, mobile phones or digital gear store, have a look at our article featuring 20 best PrestaShop themes for the niche. All of the themes you'll see below were developed by the guys from TemplateMonster, web design and development professionals with more than a decade of experience in the industry.
So, what do their PrestaShop themes offer you?
The themes have fully responsive designs, which means that your customers will be able to shop on the go.
TemplateMonster's PrestaShop templates can be switched between 5 languages: English, German, French, Italian, and Russian.
Installation files are included into the download package. After a super simple installation, your template will look just the same as on our Live Demo. All procedures are made clear for you, so you can easily embed the content into a website.
Documentation provided with the templates is extremely explicit. Understandable manuals will guide you through the PrestaShop installation process, template installation, and further website customization.
The themes give you full control over slideshows displaying images of your products on the home page. With the help of a fully customizable slider, you can add images, indicate slide or fade effect, choose between 30 easing methods, and even edit the speed of movement and transition. Furthermore, the slider is multilingual now.
A new option has been added to enable animated 'Add to Cart' process with page scrolling. What is more, products are now displayed in the shopping cart with images, to improve visibility and increase your revenue from sales.
The themes are supplied with Lazy load, a delay in loading of images on long web pages. Images outside of viewport are not loaded until user scrolls to them. Using Lazy Load on long web pages makes the page load faster.
Font Awesome icons are vectors, which means they are nice on high-resolution displays. These icons are free and simple to use.
With Ajax Search you can get search results while you type. Results narrow as you continue typing but you always have the possibility to remove characters and return to broader results again. Such kind of things help the user find exactly what they need quicker, which makes the site more usable.
Cookie Policy feature will help you stay a law-abiding merchant warning the user that your website may collect their personal data or ask user's permission to do so. This works as a popup window appearing when the user enters your site the first time.
This was a brief list of key features of premium PrestaShop themes for electronics and digital stores. It can be continued, but browsing the items yourself is a better way to explore them. Feel free to click 'Demo' and 'Info / Download' links for more information.
This was a brief list of key features of premium PrestaShop themes for electronics and digital stores. It can be continued, but browsing the items yourself is a better way to explore them. Feel free to click 'Demo' and 'Details' links for more information.
Leo Bicmart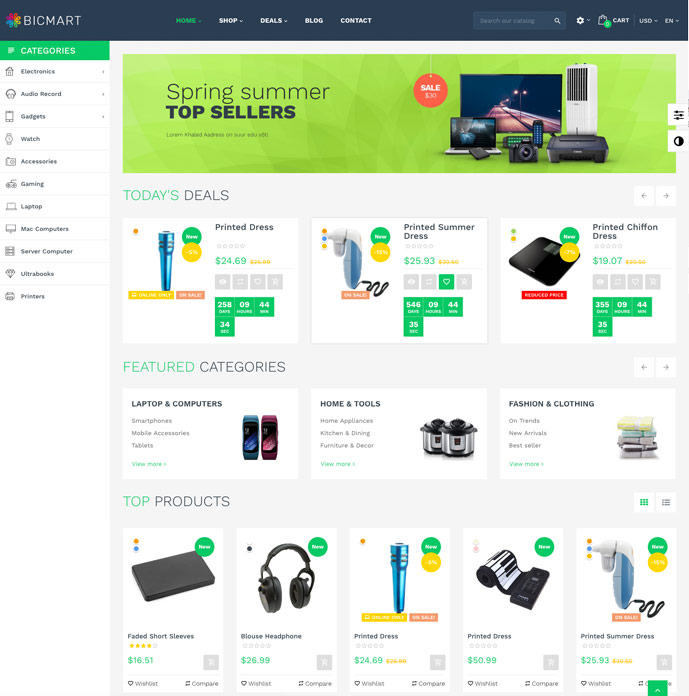 Leo Bicmart is a smart and clean Prestashop theme specially designed for Hi-tech, Electronic shop and store sites. Leo Bicmart theme rich with cool theme features that will give your customers a smooth online shopping experience. A carefully weighed analysis of the structural components of a successful online shop website, interpreted through the lens of advanced HTML5 and CSS3, AJAX and Parallax technologies in a Bootstrap framework, has culminated in Leo Bicmart, the ultimate theme for online shop websites. Leo Bicmart Prestashop Theme comes with lots of built-in functionality which includes powerful admin panel will help you manage your site better, customize easier. Every single element withinLeo Bicmart has been optimized for the purpose of empowering webmasters from any background and of any skill level to churn out professional looking, completely functional, sophisticated and modern online shop websites in a matter of minutes, right out of the box, without writing a single line of code. It comes with 4 homepages and a live demo to check out. It is completely responsive and retina ready to work and adjust suitably on any device with different screen sizes. Lastly, Leo Bicmart is fully optimized for SEO with the latest web technologies to help your website rank well on major search engines on the web. Try Leo Bicmart today!
Eveprest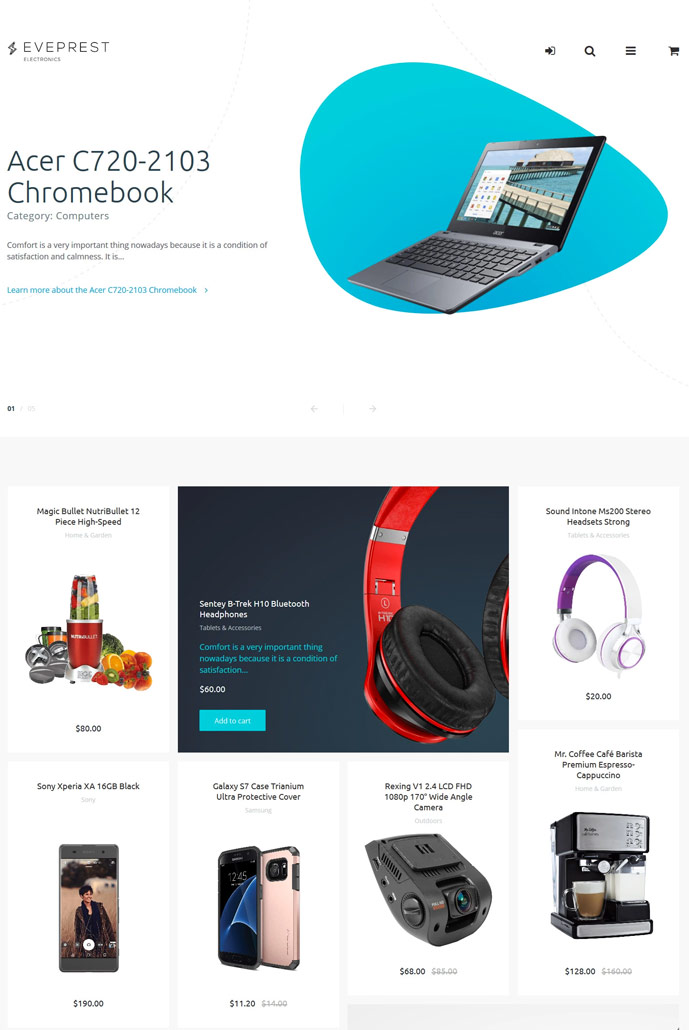 Eveprest is a clean and clear, flat and crisp, beautiful and minimalist, easy to use and wonderfully tech-savvy, reliably responsive PrestaShop multipurpose commercial website theme. Eveprest is a theme designed to make the sale, right out of the box and from day one, It was designed specifically for electronic e-stores, however you can use it for fashion, furniture and jewelry eCommerce websites. Eveprest comes with 4 different layouts that can be used out of the box. The theme is a great choice for online stores that sell gadgets, mobile phones, laptops and other electronic products. Eveprest is a great choice for building an online store because it is fully responsive and adjusts smoothly on any types of devices and screen sizes. This theme also loads perfectly on all major web browsers, so you are guaranteed that your website actually reaches all your target consumers. In addition to that you receive more than 10 premium PrestaShop modules for free, so you can customize the look and feel of your header using the very powerful premium modules. With TM Collections your customers can create collections of their favorite products and share them with their friends. Customers can get a closer look at their preferred items, due to a product cloud zoom function with with TM Product Zoomer module. Eveprest also supports LESS Development dynamic CSS technology and allows you to add custom CSS and JS Code in theme control module without any hassles. Try Eveprest now!
iShop
iShop is a computer Store PrestaShop Theme can become a powerful computer hardware store designed in a clean and concise manner. It will be a perfect fit for electronics, digital, mobile, and other eCommerce projects that sell tech gear or other goods. If you want your store to be properly displayed across all the major web browsers and modern devices, then this fully responsive and crossbrowser compatible template will be a great starting point for you. Flexible and dynamic, the theme can be customized in literally any way you wish. With the purpose to provide the users with seamless online shopping experience, the theme's pack was loaded with online chat, MegaMenu, commenting system, categories accordion, cloud zoom, star rating, quick view, social options, and a host of other advanced functionality.
Muto
Muto is a luxurious, elegant, fully responsive, Bootstrap and HTML5 / CSS3 Prestashop Theme suits for online store to sell everything such as Digital, Electronics, Fashion, Accessories, Furniture Wines, Gifts and Toys, etc… Muto comes with 4 unique theme layouts which is a great starting point for you. With two styles for display website full width and boxed layout, smooth transition, you can easy to customize this theme in Admin Panel or direct template files.
Theme header is very bright with colorful background and text, icons. Category List Slider module is used and arranged sensibly in home page with title according to category products: Digital, Fashion, Gifts and Toys. New products, featured products, bestsellers are displayed in slider beautifully. The highlight in the Home Page is the slideshow and vertical mega menu, in vertical Mega Menu shows many products categories with small and pretty thumbnail image.
In addition the Blog, Testimonial, Twitter are integrated in Muto Prestashop theme. Footer of the theme brings helpful information about your store such as : introduction about your store, manage customer accounts , the ways to contact your store, … Besides, you can also show more product categories at Footer for customers can access categories easily without scroll up to header.
You can easily create or change this site that meet your desire of future online store. It's not just super flexible theme, it is the combination of tons of features.
Flexshop
Flexshop is a fully responsive design PrestaShop theme great for built online store for selling electronics, digital, mobile, and other eCommerce projects that sell tech gear or other goods. This theme provides fully functioned with Mega Menu Customer, Vertical Mega Menu, Product Comments, Cloud-zoom, Quick view and Layered navigation block, etc.. Vertical Mega Menu display sibling categories with their thumbnail image, Home page is also supplied with tabs keeping featured, new, best-selling and special products in easy reach. With Category List Slider, Category Tabs Slider, your customers can see the outstanding categories along with their thumbnail image.
On the Footer integrated with social media, visitors can find a form for subscribing to your mailing list. In addition, Daily Deal module shows a timer counting down attached to the product on sale. Finally, this theme also includes RTL direction support for languages written in right-to-left.
This theme is fully responsive and will perform equally well on all screen resolutions and devices.
Mango
Mango is a ultimate Responsive Prestashop Theme with more than 20 variants theme layouts will suit all your preferences in a best way. You can switch between different variants of theme header to showcase your top products with Mega Menu. This web design looks very contemporary. If you like clean and clear design style, you will appreciate its aesthetics. Flat elements, bright, neon colors, big fonts, HD images – all these elements feast our eyes. Tabbed navigation in the content area is a great benefit as lots of customers don't want to go further than the home page of the website. Latest mobile phones look really cool there. There is a space for custom blocks under the content area, so you can post your essential information into the section. Social sharing icons and newsletter subscription form are right above the footer. They are emphasized with grey color, so they won't stay unnoticed. The footer contains subsidiary navigation links and company contacts.
Electroni
Electroni is a professional PrestaShop theme for online Electronic Devices stores. It features a clean and minimal layout that makes the content look legible. It also offers several galleries that will help you showcase any kind of images the best possible way. This electronics PrestaShop theme is fully responsive and will perform equally well on all screen resolutions. You can also adapt the theme to any other project on the fly. That is achieved through the well-structured code. Click here for video review of the theme.
Mobi
This responsive PrestaShop theme was built for selling mobile gadgets and electronics online. Its sidebar-based navigation allows customers to move around your store with ease while exploring different categories of your inventory. Next to the vertical menu, there is a slider meant to display your special offers with high-resolution images, descriptions and prices. The layout of this mobile phones PrestaShop theme also features a few custom blocks that can bring the coolest items of your inventory to the forefront too. As for the main product block, it comes with tabs to hold more items without taking up more space on the page. Blue color accents serve as eye catchers to important details including prices, cart, new product label, and others.
PrestaShop Theme for Mobile Phones Store
Build a store for mobile phones and electronic devices using this responsive, well-coded PrestaShop theme. Its full-screen slider overlaid with language, currency, shopping cart, and login options, both social and traditional gets into attention area. Such position makes these elements instantly accessible. Visitors can preview other slideshow images as thumbnails on hovering. An apt blend of colorful and light blocks adds vibrancy to this mobile store PrestaShop theme, whereas parallax and hover effects make it more dynamic. A subscription form shows up in a popup window as soon as the customers enter the store. This smart technique allows you to increase the list of your subscribers effortlessly.
Electronic Devices Store PrestaShop Template
Use this top-quality template for creating a professional e-Commerce website. It combines a clean, minimalist layout with powerful functionality. It features multiple galleries, mega menu, full-width sliders, various kinds of product labels, etc. A fully responsive layout is another great feature of the template as it makes it perform great on any device automatically adjusting the content to any screen resolution. Thanks to the assortment of flexible options, this electronics store PrestaShop template can be adapted to any other project quickly and easily.
Mobile
This mobile phones store PrestaShop template was designed with the user in mind. It offers an intuitive navigation and features smart content positioning, which allows online shoppers to find the desired products in an instant. Categories menu was moved to the left sidebar. Featured products were organized into a grid-based list on the front page. Product badges and quick view option help the users to make decision quicker. On top of that, you can filter the products by popularity, new arrivals, bestsellers, and specials.
Mobile Store
This ultra modern PrestaShop theme will perfectly fit any online store dealing with computers, mobile phones, and other electronics. You can choose from 4 cleverly selected color schemes, each completely changing the look of your website. The top area of theme's homepage is enhanced with a page-wide slider added to showcase your hottest offers. Category banners are equipped with beautiful hover effects, whereas the product previews provide image switching on mouse over, letting your customers fully explore a product without having to leave the page.
Moby
This is a vivid example of theme where simplicity and flexibility work best. Here coral and black colors perfectly match each other in the fair background. Highlighting calls to action with vibrant coral hues you will not only draw user attention to the meaningful areas, but also trigger a purchase. The grid based layout looks neat and well organized. The color scheme, fonts, images, and content structure can be changed to fit your business. In a word, the template includes everything you might need for an online mobile phones store: dropdown menu, advanced search, newsletter subscription, online chat, categories accordion, and more. You will not need a mobile version to make your store properly run on mobile devices and tablets since the theme is fully responsive.
Handheld Devices
It seems as if the designer decided to make a strong accent on how contemporary this website is. It is made in metro style. Flat elements, bright, neon colors, big fonts, HD images, every detail is impeccable. Just imagine the powerful affect this website will make on the user. Tabbed navigation at the content area is also a great benefit as lots of customers go no further than the home page. Current, high-tech phones look really cool here. There is a space for custom blocks under the content area, which is also a plus as you can post your essential information in the section. Social sharing icons and newsletter subscription are right above the footer. They are marked out with the help of grey color, so the visitors will definitely notice them. The footer contains the data users expect to see there: subsidiary navigation links and company contacts.
MobileStore
People are always interested in the latest gadgets and are looking for opportunities to buy them. Let your shop be the one that allows users to easily find what they are searching for. Be sure, they will come back after getting good experience from the first purchase. Focus on clients, visual appeal, and ease of customization will please both you and your store visitors. Want to make this happen? Then try this lightweight, responsive design and make it work for your business prosperity.
Smart
This template in material style will be a perfect fit for tech and electronics stores. It offers a side mega menu that allows you to organize the content into logical categories and make it look clean and structured. This electronics store PrestaShop theme offers an assortment of advanced options. A fully responsive design ensures a cutting edge website performance and allows the layout of the website adjust to a particular screen resolution to make the content readable and clear.
Home Electronics
This theme looks really up-to-date. It is made in flat style and will become your unique mean of self expression. Show the world that your products are one-of-the-kind. It will be easy with this design. You can place as many items as you wish on the home page thanks to the tabbed navigation. The items are supplied with informative 'Sale' and 'New' stickers. An impressive slider is surrounded by banners. Some of them are image-based, others bear bold, legible messages. Custom blocks above the footer leave the space for your essential information. Would you like to step into the world of ecommerce? With this template you will feel at home there.
Tech Gear
Check out this premium theme that can become a perfect fit for communication, charity, mobile company websites, etc. It features a clean and stylish layout with full width images and parallax scrolling that give the homepage quite a cool look. Thanks to the responsive design, the theme performs equally well on any screen it is displayed on. So, even smartphone users will easily reach your site from their mobile devices. That is why Tech Gear Prestashop Store can help you build a new loyal community and drive more customers to your business.
Cords & Wires Store PrestaShop Theme
If you want to sell cables online, you should target your store mostly on construction companies of different sizes. A bright yellow color is traditionally associated with such kind of works, so it's not surprising that the author of this design used it in this theme. A tabbed content area lets you display more products on the home page. The template's navigation is represented by a sidebar menu and large graphic banners. One more information block can be found above the footer. Here you can place any custom text, social media sharing options, and other essential things you wish. In short, this theme will give you the possibility to feature main products as well as important information about the company avoiding clutter.
Electro
Grab this template if you want to be noticeable on the web. Its color scheme won't let your potential customers skip your web store. Powerful red accents scattered all over the design guide clients' eyes through the page. Huge fonts in the slider draw visitors' attention and inform them about special store offers and discounts. Product categories and sections with special offers are placed at the left sidebar. Promo banners are arranged either under the slider or above the footer. Featured products are supplied with bright call-to-action buttons, stimulating buyers' activity. Are you ready to make a decision? It's a good choice.
Electronics
This professional neutral design will create a trustworthy image of your store. Black and white layout is simple and minimalist; there are no distractions for the users. Navigation via main menu and footer links is user-friendly and efficient. Slider images are displayed together with descriptions. The theme is supplied with comprehensive documentation and contains customized modules.
Dark Purple Mobile Phones Store
Dark purple layout is rather uncommon for online stores. Thanks to this design trick you will immediately single out your project from the rest of similar ones. Slider gallery shows the newest phone models. Banners promote special store offers. Featured products stand out against the dark background. Footer accommodates additional navigation links and social sharing block.