45+ Best Responsive Personal Blog WordPress Themes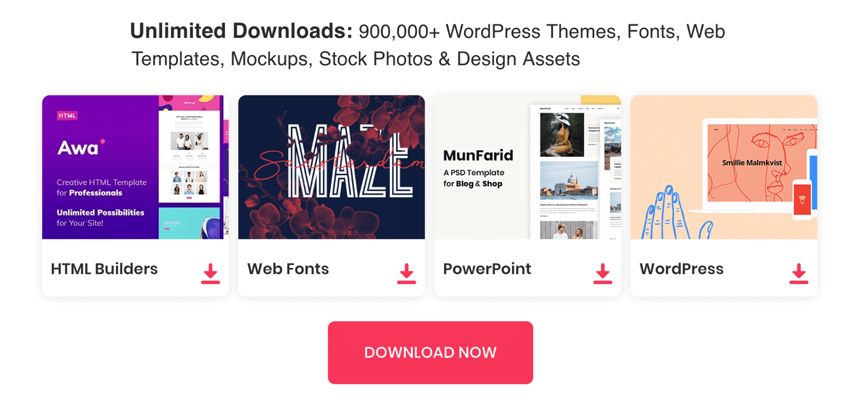 Responsive Personal Blogging WordPress Themes designed to make your blogging experience as simple, seamless and great support for mobile and tablet devices.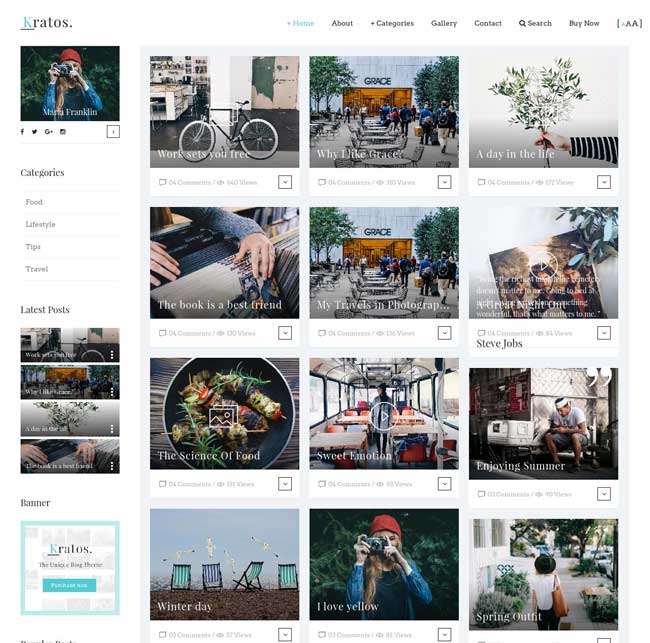 WordPress is the most preferred blogging platform so there are many best free WordPress theme for Personal blog but the reason you use a Premium WordPress themes come with many cutting-edge features and well-structured, layout helps your website rank well on major search engines. Moreover it is also constantly being updated and support.
You May Also Like:
With the collection of the best Responsive Personal Blogging WordPress Themes you can easy customize the theme. All theme is clean and beautiful personal blog theme with responsive layout and elegant styling. Responsive Personal Blogging WordPress Themes is content oriented and is very easy to install and setup.
More than 45 Best Personal Blog WordPress Themes 2016 suitable for personal, fashion, food, travel, lifestyle tech or business blog.
Litera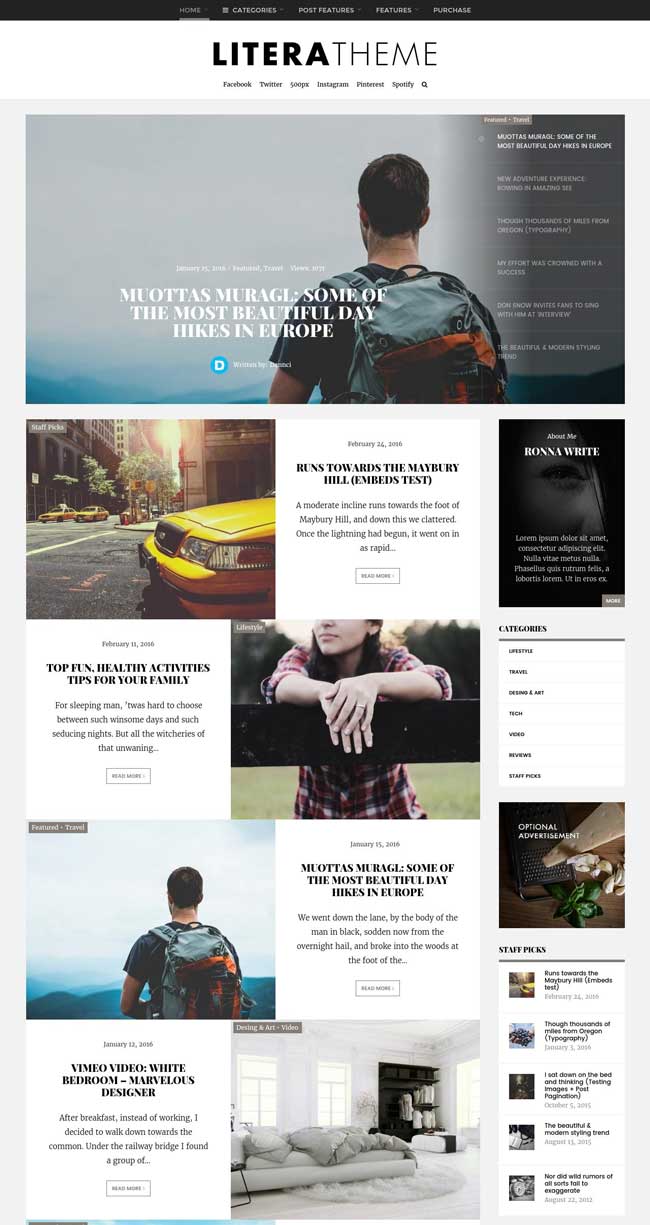 Litera is a fully responsive WordPress Blog Theme designed with classic, elegant and modern style. It comes with features such as main slider, small slider, unlimited color schemes, Google webfonts, custom widgets etc, back-end based on Redux framework. Litera is specifically for personal and creative blog. It easy-to-use with  6 demos layouts.
The Print

The Print is a modern and clean blog WordPress theme includes features like Homepage Builder, Featured Content, Mega Menu, Grow Your List, Review System, Google & Typekit Fonts, Translation amd Retina. It is perfect for  for personal blogging or magazine, newspaper. The Print was standardised with schema.org rich snippets, HTML5, CSS for SEO friendly and high performance. The Print is very easy to install and use with 7 default layouts in demo content.
Maverick

Maverick is a Fashion, Food, Travel, & Lifestyle WordPress Blog Theme. Maverick is a versatile and powerful multipurpose WordPress blog theme perfect for any personal blog or magazine. With over 120 styling options at your fingertips, Maverick makes customizing your blog and changing colors, fonts, and most elements a breeze. Maverick's clean, clutter free design is the perfect choice for the minimal loving creative blogger. Maverick offers a stunning visual experience to showcase your content with responsive grid system layout optimized for mobile touch and swipe.
Kratos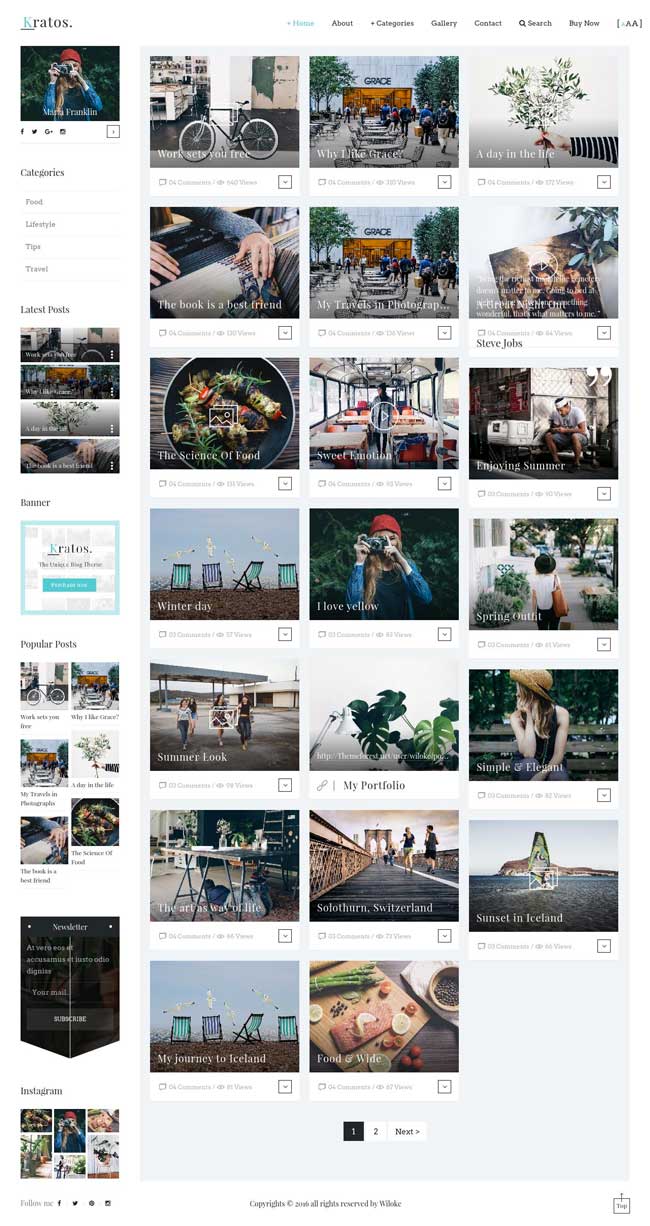 Kratos is a minimally and clean wordpress theme for personal blog. Kratos makes use of rich functionality as Featured Posts Slider, Mailchimp Widget, Custom About Me Widget, Custom Social Widget, Custom Google Font, Unlimited Custom Colors, Sticky Navigation and Translation Ready. Kratos is easy install with multiple layout options included.
Bone

Bone is a Minimalist and Modern Responsive WordPress Premium Theme best suited for blog or magazine sites that deliver curated news and stories about Technology, Business, Art, Culture, etc. It gives your content the best minimalist and clean look to have a fresh start of 2016. It can also be used as a corporate blog for everyone to share their voices, stories and ideas.
Aden

Aden Theme is a simple, easy to use, clean, and modern Blog Theme ideal for wordpress beginners or even for advanced users. Fully responsive, fits any size of display from lower to higher resulutions and supports all modern browsers.
Dansei – Responsive WordPress Personal Blog Theme
Dansei is a Personal blogging WordPress theme featuring a sleek, stylish and modern design suitable for everyone who loves to share their stuff online. With responsive design and a wide range of options to customize almost anything, Dansei is guaranteed to please you and your visitors.

Alison – Responsive Personal Blog WordPress Theme
Alison is a soft personal blog wordpress theme with gorgeous typography and layout design to build your own personal blog easily.

Chic – Responsive Blog & WooCommerce WordPress Theme
Chic is a stylish and elegant WordPress theme perfect for your blog or online store. The hardest part about starting a blog should be creating your own quality, one of a kind content. You shouldn't have to stress about how to make your blog look great. That's why you want Chic. We've included great options like a featured posts homepage slider (either show your most recent posts, or select a post category to feature), an alternative category style homepage (just drag & drop categories to reorder them), custom page templates (for archive, author and login pages), live WordPress theme customizer support and more. With all of these great built-in options you can install the theme, set your options and add your content before dinner.

Ink – A Responsive WordPress Blogging theme to tell Stories
Ink is a finely crafted WordPress blogging theme, based on the latest narrative trend with sites like Exposure and Medium. With an emphasis on telling stories with style, Ink is designed with attention to details, and coded with the best possible coding practices…

Broadsword – Responsive WordPress Theme for Blogging
Broadsword is a unique, beautiful, simple and responsive WordPress theme that makes sharing stories easy. This premium personal WordPress blog theme offers a minimal design with maximum appeal in a way that's quick to set up and easy to use. With 4 unique and creative homepage layouts to choose from, Broadsword is professionally crafted to draw visitors in. The modern single-column post pages, with clean typography, keeps the focus on your content, while full width featured images, elegant CSS effects, and optional tiled image galleries help bring blog post entries to life.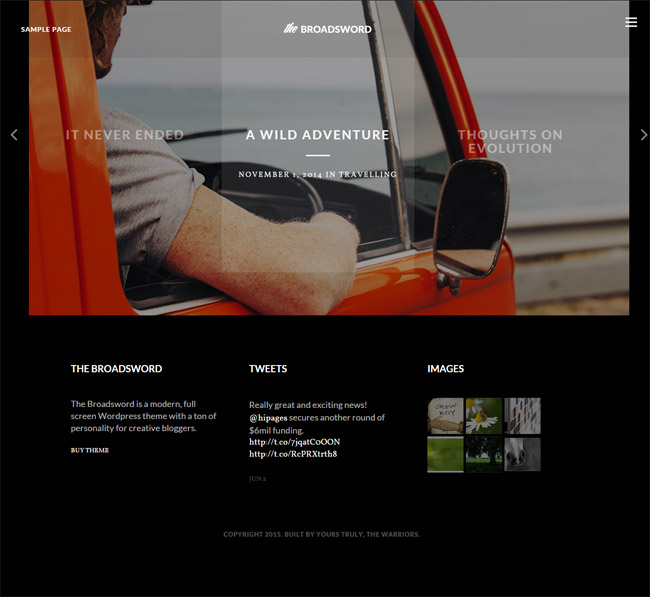 Lora – Responsive WordPress Blog & Portfolio Theme
Lora is a minimal, yet powerful premium WordPress theme great for any type of blogger! Lora is fully responsive and comes with plenty of options that make editing your site a breeze.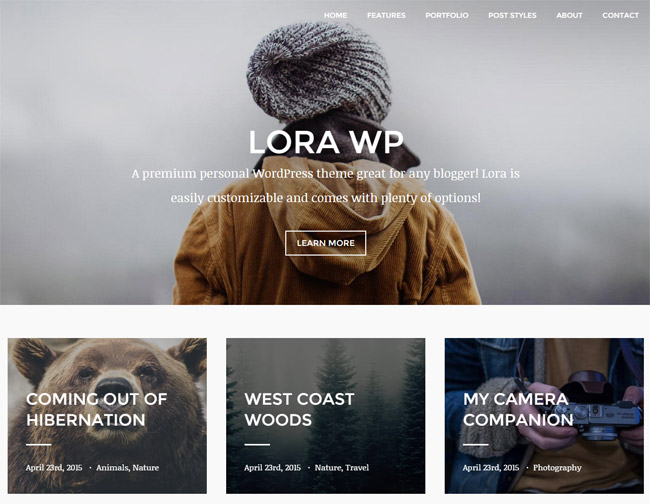 Hworih – A Clean & Responsive WordPress Blog Theme
Hworih is a Clean and Responsive WordPress Blog Theme. It was designed with personal blogs in mind, but it will suit the needs of any advanced professional blogs and simple news, magazine websites as well.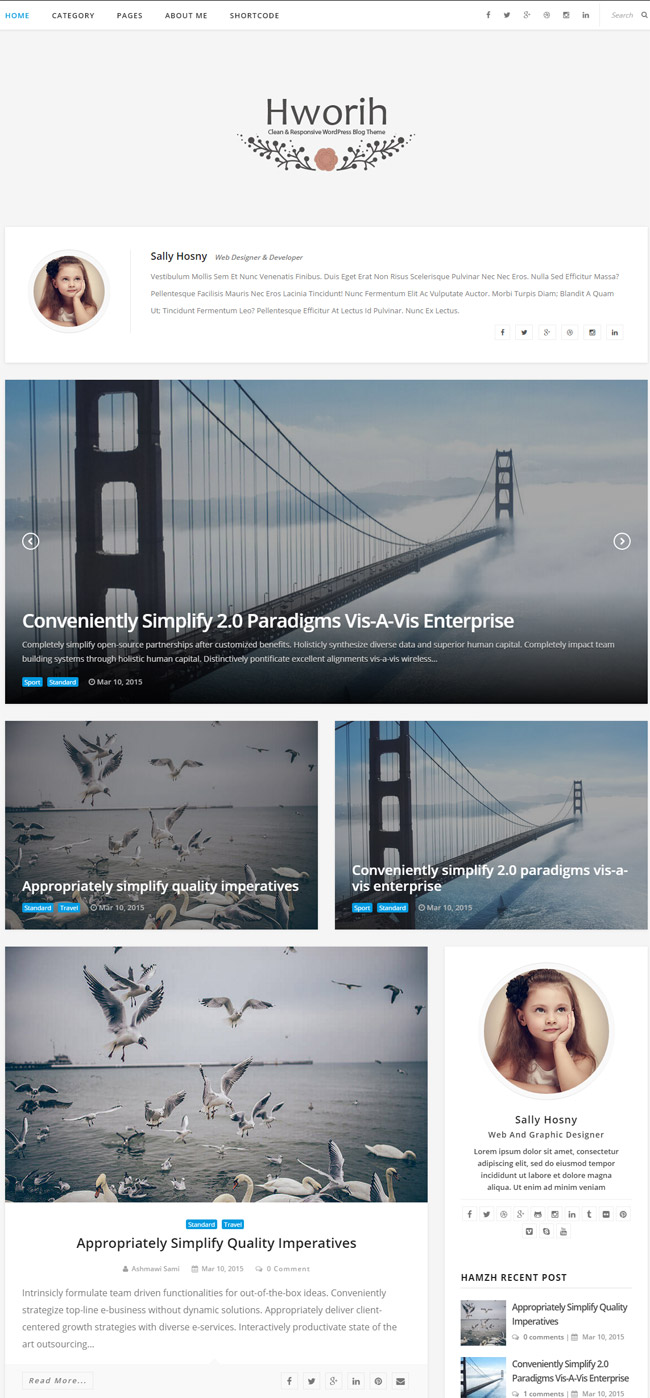 OldCar – Responsive Blog & Grid WordPress Theme
OldCar theme, it's a creative HTML5 WordPress Theme that is suitable for personal blog or show the portfolios. There are two layout for blog, normal layout and fluid grid view. You can easy to change the main color style with custom options, and it also provides 5 styling for the wordpress custom post formats like tumblr style. The most important is there are many useful shortcodes ready, so the home page not only can show the recent posts, but also you can make a different home page with shortcodes that include a slider, service, team,etc…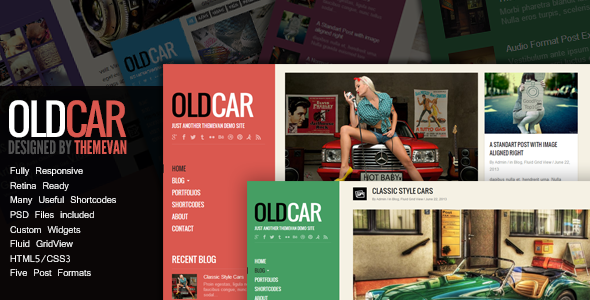 Read WP – Responsive HTML5 Minimalist Theme
Read is a responsive Blogging WordPress theme focused on readability with a minimalist design.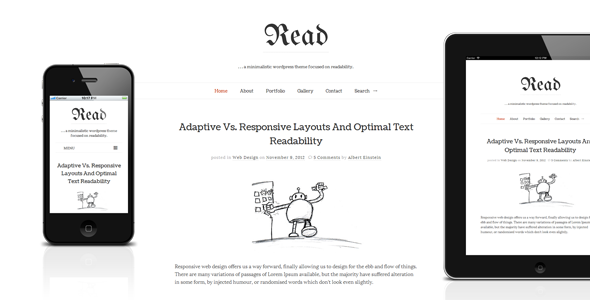 Leap – Unique Personal Blog / Portfolio Theme
Leap is a Unique, Personal Blogging & Portfolio Theme for WordPress – it has everything to quickly and easily create an awesome, personal website. With room for customization and a simple installation, Leap is a must-have theme for your personal site.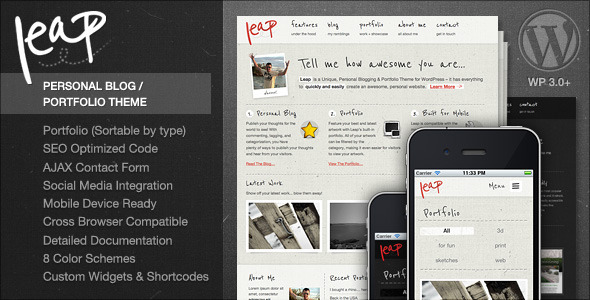 Hoarder: Responsive WordPress Blog Theme
A grid-based, layout-shuffling, finger licking theme with support for all sorts of content – it's responsive to boot. Show off galleries, quotes, links, video, audio, or good old standard posts. With three different home page templates, you're sure to find a look to suit your blogging needs.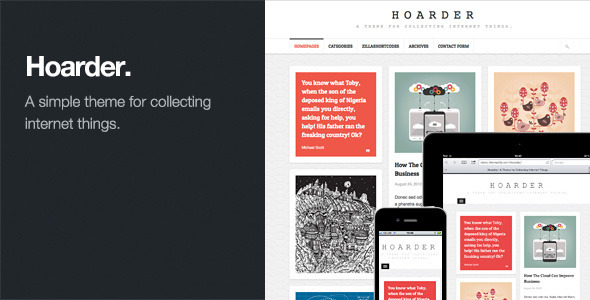 PixelPower – Responsive HTML5/CSS3 WordPress Theme
This is a clean, modern, powerful WordPress tumblog-style theme designed for a wide variety of uses from bloggers to design portfolios. The responsive web design adapts from large to mobile screens, just resize the browser window to test it out, no additional setup required!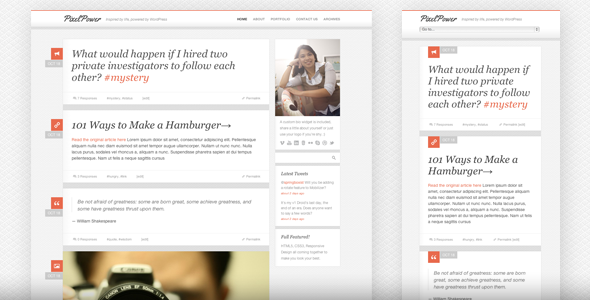 Website – Responsive WordPress Theme
Website is a responsive theme, which means it adapts to the device on which it's displayed. The theme cares for your content so it looks great on all devices, but you can also decide to show part of a content on some versions only, and hide on others.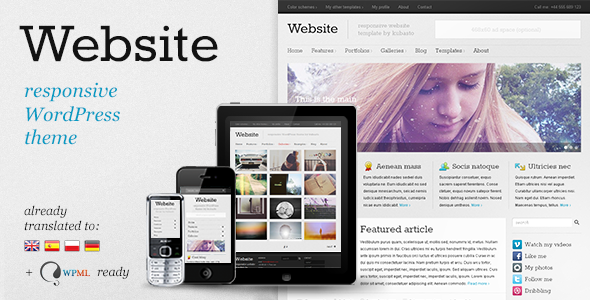 Remal – Responsive WordPress Blog Theme
Remal is premium responsive WordPress Blogging Theme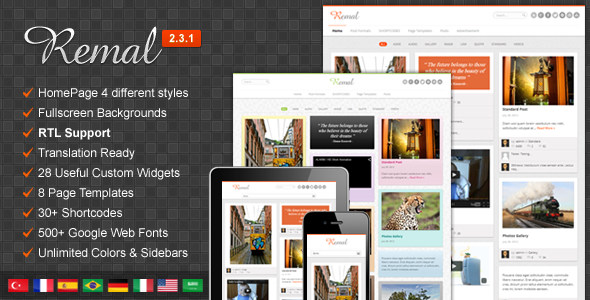 Pravda – Retina Responsive WordPress Blog Theme
Pravda is a super-duper customizable, ultra responsive, retina-ready WordPress Theme that everybody wants. Pravda can be configured to focus on your work, your blogging, or both. Theme is powered by the SMOF Options Panel, which provides tons of options to manage and modify any aspect of the theme – it is well suited for both beginners with no coding knowledge and developers.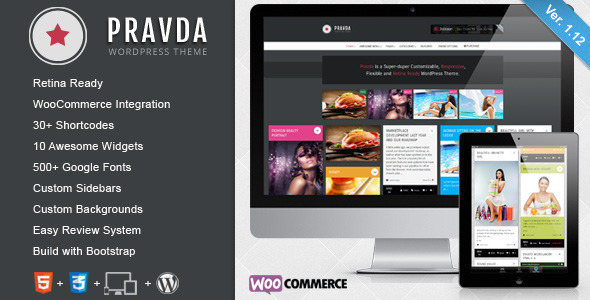 Bliss | Personal Minimalist WordPress Blog Theme
Bliss is a fantastic, responsive theme designed to make your blogging experience as simple and seamless as possible. With superb visual design and great support for mobile and tablet devices you can easily reach all your readers wherever they are!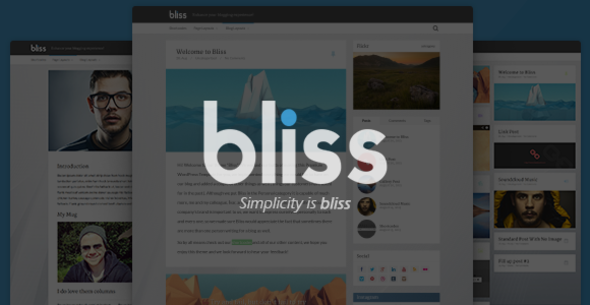 Quarter – Responsive WordPress Blogging Theme
Quarter is a fully minimalistic design and responsive WordPress theme, suited for blogging. Quarter developed on the Zurb Foundation framework for responsive development so it look beautiful at any screen size. It is customizable via the WordPress Theme Customizer yet it is as simple as possible.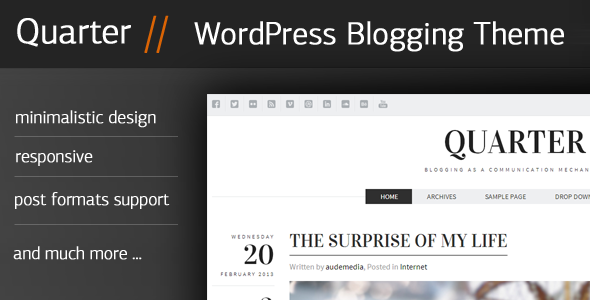 Selfy – Responsive & Retina Ready WordPress Theme
No more boring V-Cards, Selfy is the perfect theme for self promotion. A little piece of the internet all about you, customise and self express with Selfy… A beautiful WordPress Theme dedicated to promoting, selling, and showcasing you. Selfy was built for non-web designer and developers, and in a few moments you can customise this theme to suite your own needs. This theme is super organized, and highly documented, so working with these files is a breeze, plus there is full support for working with Selfy.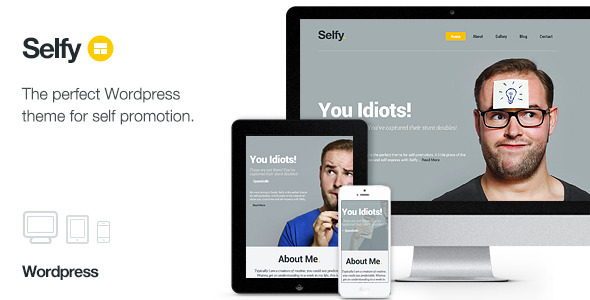 Keilir
Keilir is a beautiful, responsive theme designed to make your blogging experience as pleasant as possible. With superb visual design and great support for mobile and tablet devices you can easily reach all your readers wherever they are. Keilir has 6 custom widgets most directed at social media (facebook, twitter, instagram and more), 10+ specially made shortcodes and a customizable theme options panel.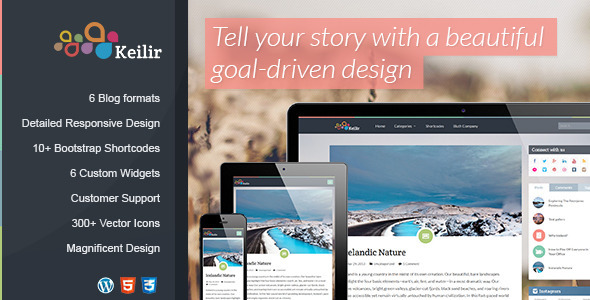 Moustachey: A Blog theme with extra gusto
Moustachey – A WordPress Blog theme with extra gusto – Responsive for Mobile & Tablet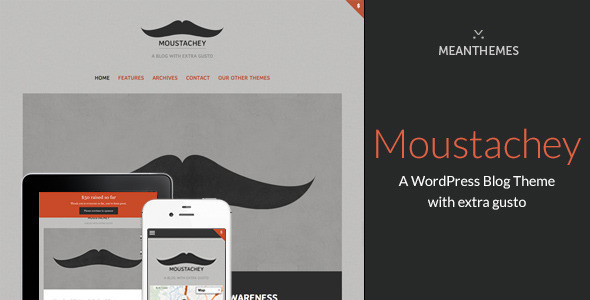 Scopic – A Personal Timeline Tumblog
Scopic is a personal timeline tumblog WordPress theme perfect for creatives. With built-in rich media post formats you can share your images, photos, videos, music and more.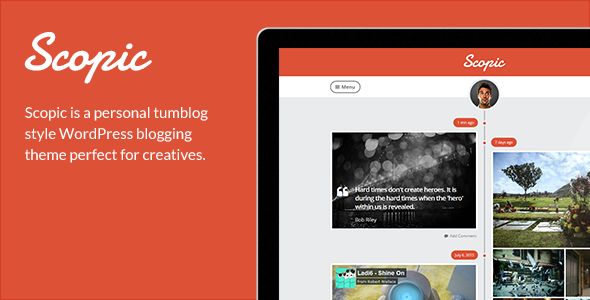 Spaces | Full Screen Grid-Based Blog/Portfolio
Spaces is a clean, minimal, fully responsive, grid-based personal blog to write and collect your favorite things. The unique Pinterest style layout is perfect for showcasing your work, and collecting and writing about the things you like.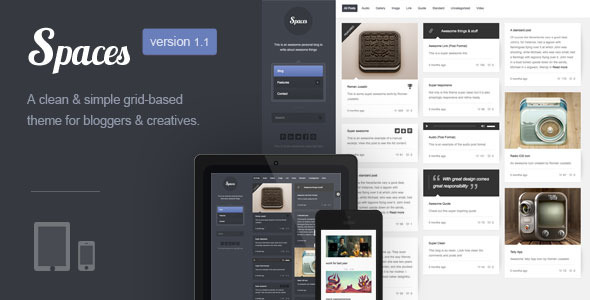 Accord – Responsive WordPress Blog Theme
Accord is a Responsive WordPress Blog Theme, best suited for Magazines and Personal Blogs. It comes with 9 awesome widgets, Post Rating System and 7 post formats (image, gallery, video, audio, quote, aside, standard) and tons of theme options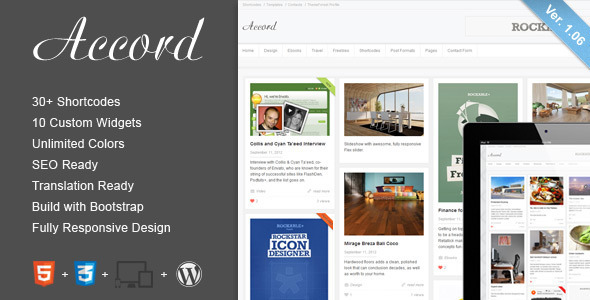 Safarica – Smart And Creative WordPress Blog Theme
Safarica is smart & creative professional WordPress blog theme, created by experienced WordPress developers. Perfect choice for your personal blog, niche blog, corporate/agency/business blog, authority blog or any type of creative blog or even magazine.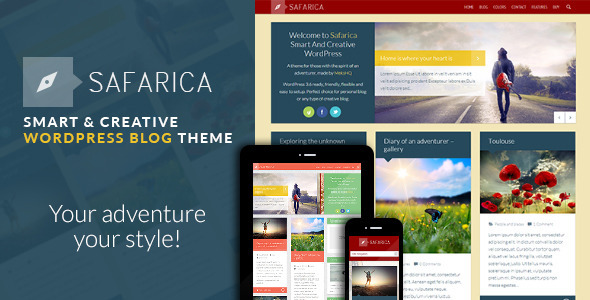 Float – Responsive Blog Theme
Float is a responsive blog theme for WordPress. With the Theme Options panel it's really easy to customize the theme.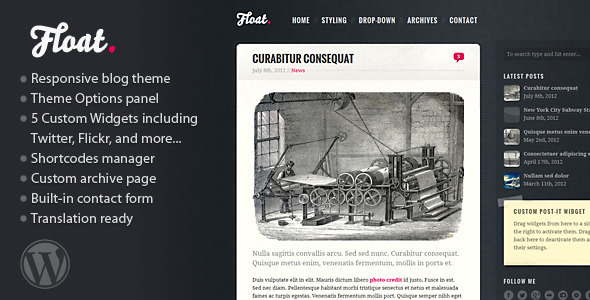 Memoir – Tumblog Style WordPress Theme
Memoir is a Tumblog style WordPress Theme which makes use of WordPress's Post Formats feature and boasts awesome typography. Let's face it, it's time to get back to blogging and Memoir is ready to do that. Plus, it's also responsive and Retina Display ready. When reading on your iPad, posts in Memoir look like a native app. Absolutely stunning.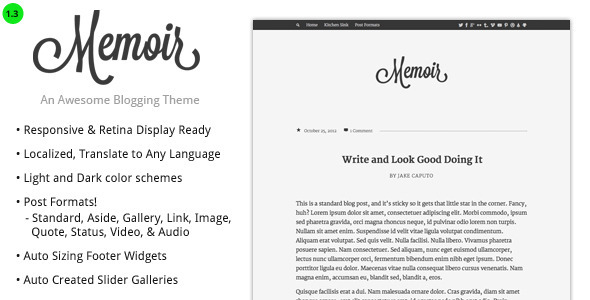 Cassia – A Responsive WordPress Blog Theme
Cassia – Everything you need build an amazing blog using wordpress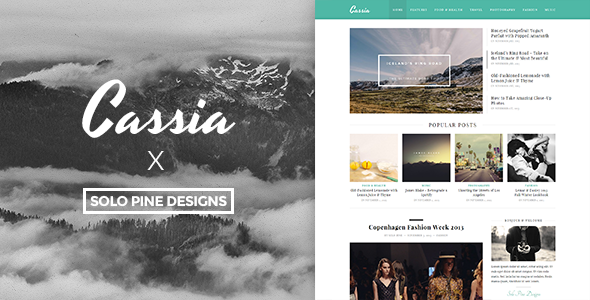 Milli Responsive Blog WordPress Theme
Milli is a super cool WordPress Theme designed with personal blogs in mind, but can also do as another kind of blog site or even as a simple portfolio to show off your work!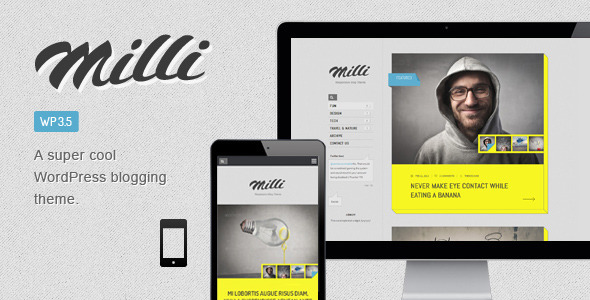 Phrase – Responsive WordPress Blog Theme
Phrase is a Responsive WordPress Blog Theme, best suited for Magazines and Personal Blogs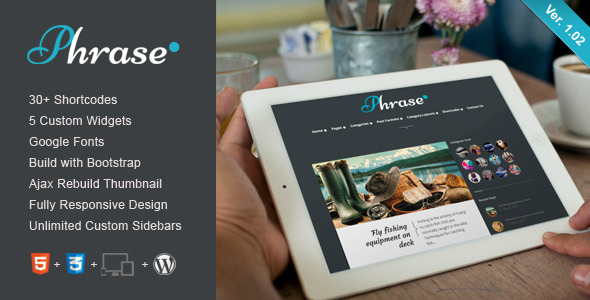 Daily – A Beautiful WordPress Blog & Photo theme
We love photography, this theme is about showcasing that. We think bloggers with an interest in photography or photographers with an interest in blogging will love this theme. The really cool thing about this theme is that it comes in 3 flavours, you can snapshot your photos in an instagram style square with DailyPhoto or choose from our DailyClassic or DailyWide layouts if you want something that showcases the detail of your work more. Don't let that stop you from using Daily for whatever you like though. It has been created so that all post types fit nicely within the design so if you are more of a classic blogger, with the focus being on the written word, then this theme is also for you! It works well as a portfolio too.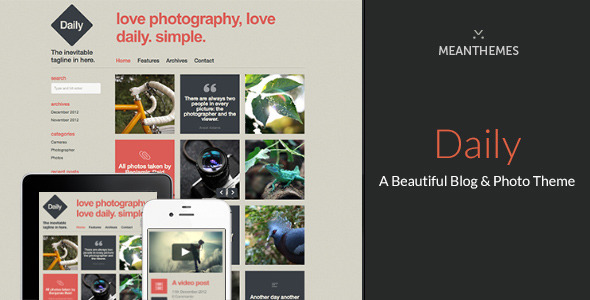 Blogist – Personal Blog theme
Blogist is clean and beautiful personal blog theme with responsive layout and elegant styling. Blogist theme is content oriented and is very easy to install and setup.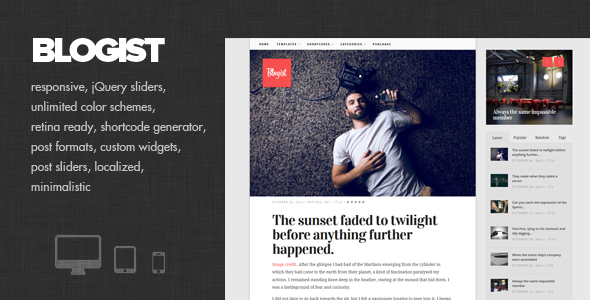 Thumb WordPress Theme – Responsive & Retina Ready
Thumb is a advanced blog Theme. Easy to setup, enhanced with Massive Panel, Visual Composer and custom shortcode wizard. This combination makes creating content extremely easy.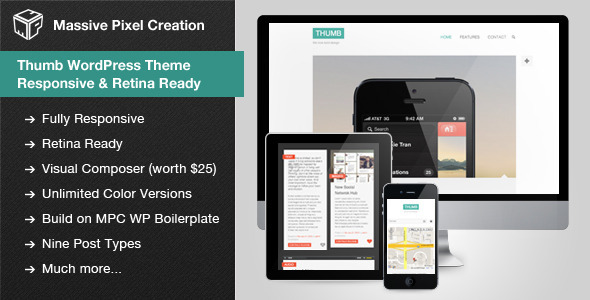 Foodie – A Whimsical Food Blogging Theme
Foodie is a blogging theme with a focus on food. Whether you are a seasoned chef, or just getting comfortable in the kitchen, Foodie allows you to showcase and talk about your latest creations, or the art of food in general.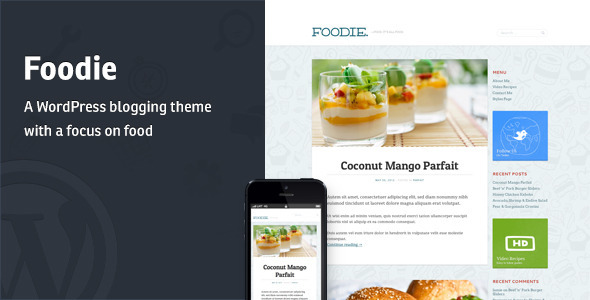 Chita – Creative & Tasty, Retina Ready Blog Theme
Chita is highly customizable, retina ready WordPress theme that can suit all your needs. Unleash your creativity, show your ideas and thoughts in beautful and eye catching way!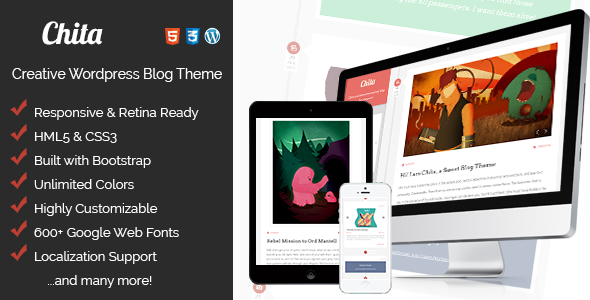 Basata – Retina Responsive WordPress Blog Theme
Basata is premium responsive blogging wordpress theme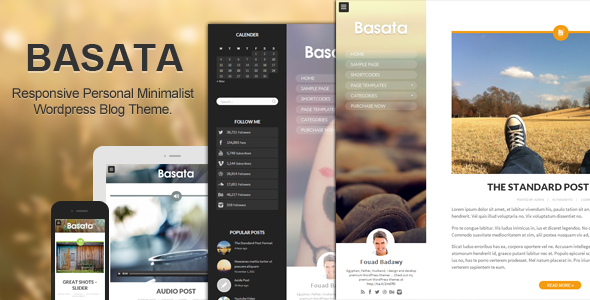 Incorporated – WordPress Theme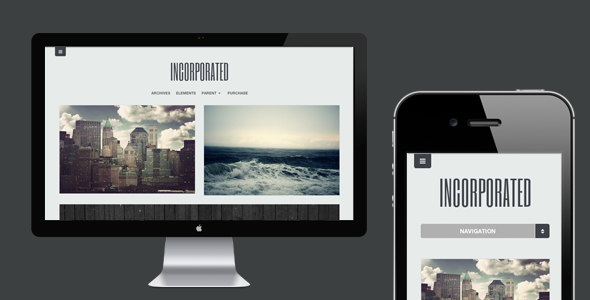 Sofa Lathika
Sofa Lathika WordPress theme is primary made for bloggers. It takes behalf of WordPress post formats and custom post types in such way to allow users to maintain both Blog and Portfolio in fashionable manner.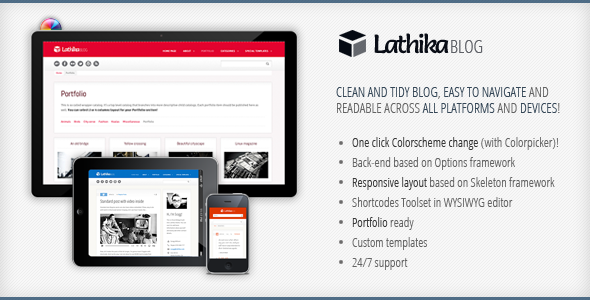 Qualified
Qualified is a modern and bold WordPress theme perfect for blog and personal websites. This theme also suitable for portfolio site to show off your works.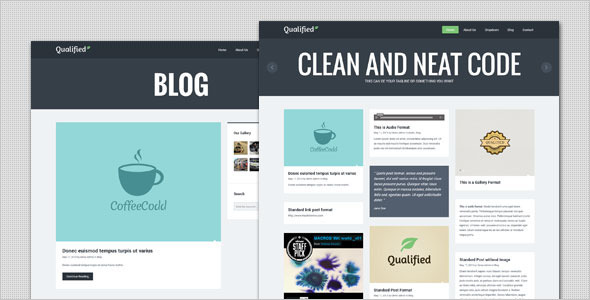 Breeze – Minimalist Responsive Personal Blog
Breeze is a fantastic, responsive theme designed to make your blogging experience as simple and seamless as possible. With superb visual design and great support for mobile and tablet devices you can easily reach all your readers wherever they are!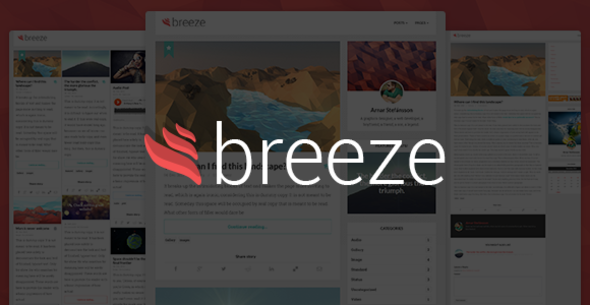 Blogger – Responsive Blog & Folio WordPress Theme
Blogger – Responsive Blog & Folio WordPress Theme, is a fully configurable and easy to use WordPress theme with a lot of great features. It has been specifically designed to be easily customized and it's created for creatives who want to make personal blog in minutes.