Ireland in 15 Stunning Pictures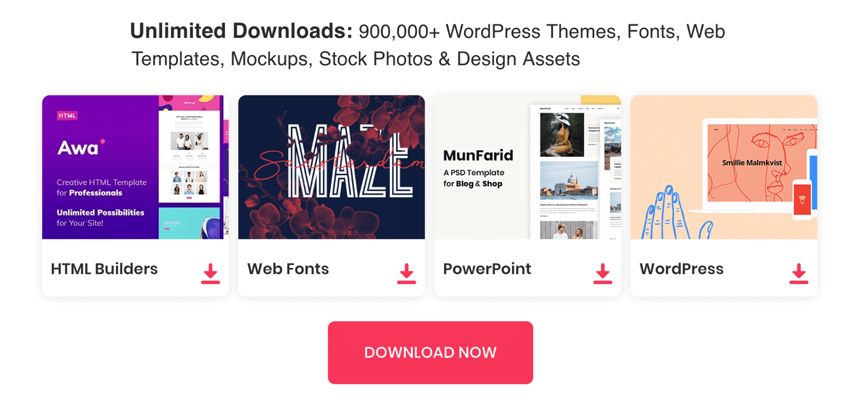 With acres of wild and windswept countryside, cute-as-a-button villages and hair-raising coastal cliffs making up the Ireland surprisingly varied scenery. An overview of the most beautiful places in Ireland in 15 Stunning Pictures.

We compiled this list ourselves but we're open to change! What's your favorite place in Ireland?
You Don't Miss:
1. Cliffs of Moher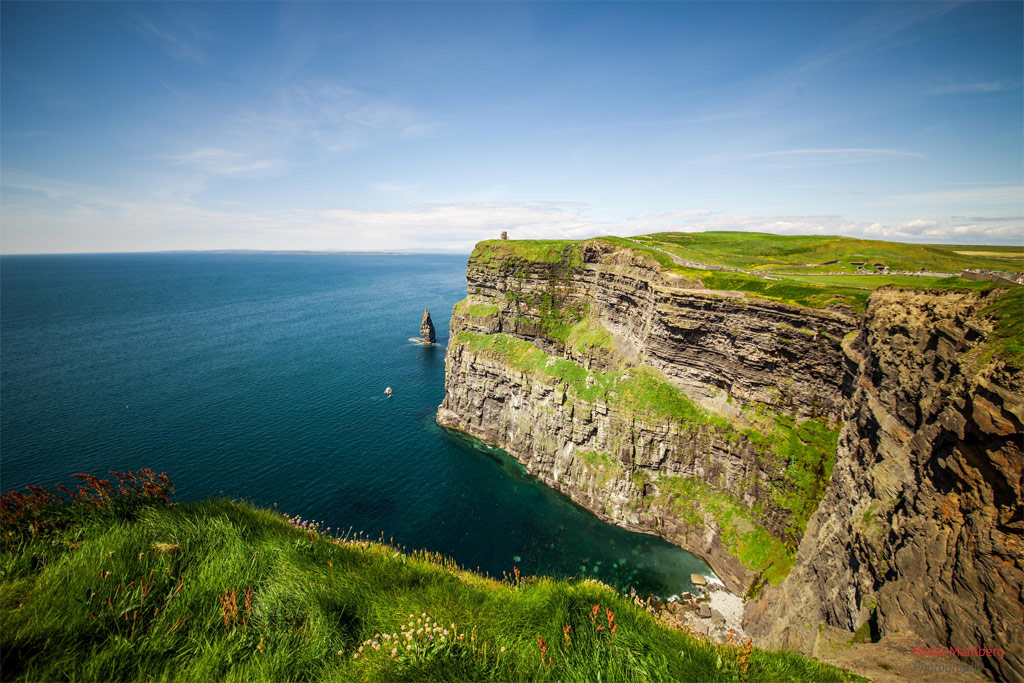 Photo by: Mirko Mahlberg
The Cliffs of Moher are Ireland's most visited natural attraction with a magical vista that captures the hearts of up to one million visitors every year. Standing 214m (702 feet) at their highest point they stretch for 8 kilometres (5 miles) along the Atlantic coast of County Clare in the west of Ireland. From the Cliffs of Moher on a clear day one can see the Aran Islands and Galway Bay, as well as the Twelve Pins and the Maum Turk mountains in Connemara, Loop Head to the south and the Dingle Peninsula and Blasket Islands in Kerry. O'Brien's Tower stands near the highest point and has served as a viewing point for visitors for hundreds of years.
2. Boyne Valley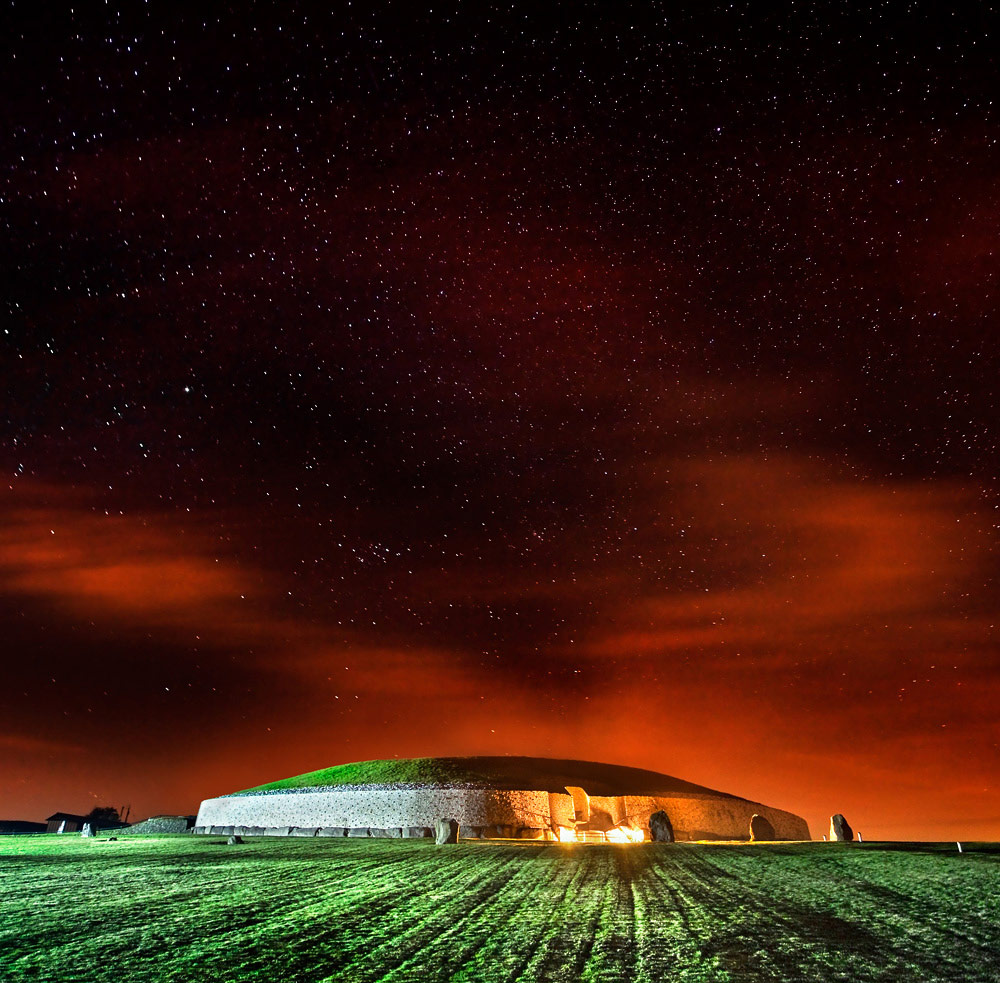 Newgrange by: Stephen Emerson
Brú na Bóinne (the Boyne Palace) in County Meath contains some of the most important historic sites and monuments in Ireland, and is a designated World Heritage Site.
It features the massive megalithic ancient passage tombs – which are graves dating back to ancient times – of Newgrange, Knowth and Dowth. These tombs are older than both Stonehenge in England and the Pyramids of Giza in Egypt.
Newgrange, which was built about 5,000 years ago, is Ireland's most famous prehistoric site. It's especially famous for a spectacular event on Dec. 21, also known as the Winter Solstice, the shortest day of the year. The tomb was built in such a way that on this day, it is illuminated by a narrow beam of sunlight which shines through a specially designed roof box. Those who have seen this say its an unforgettable experience.
3. Ring of Kerry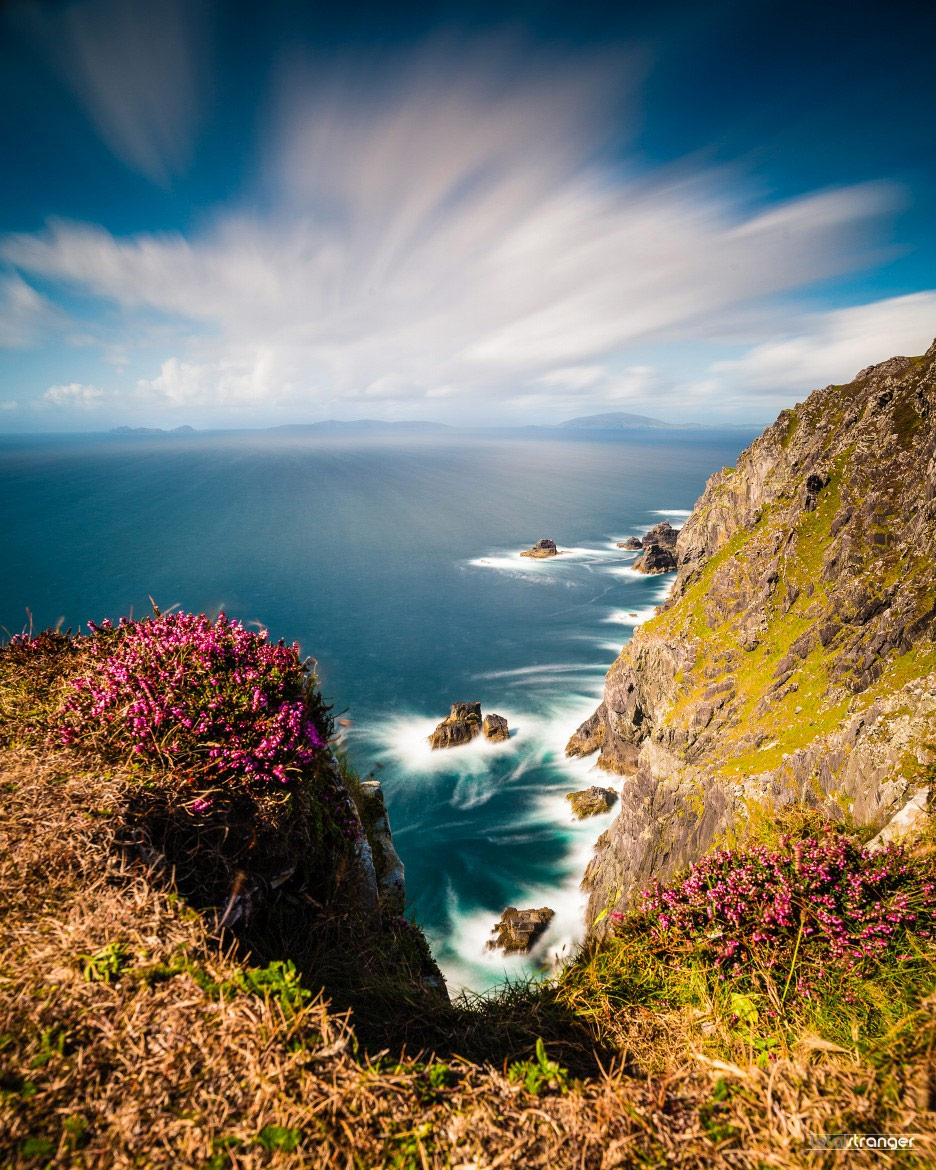 Photo credit: Holger Glaab
Ireland's most scenic tourist trail, the Ring of Kerry, runs 120 miles through some of southwestern Ireland's most jaw-dropping landscapes. A patchwork of lush meadows, glacial lakes and heather-topped mountains, the Ring of Kerry includes highlights like the rugged Beara Peninsula and the Kerry Way – Ireland's longest and oldest walking route. Stop off on route at the Killarney National park, a UNESCO World Heritage biosphere reserve, home to the 15th century Ross Castle and a herd of wild red deer.
4. Giant's Causeway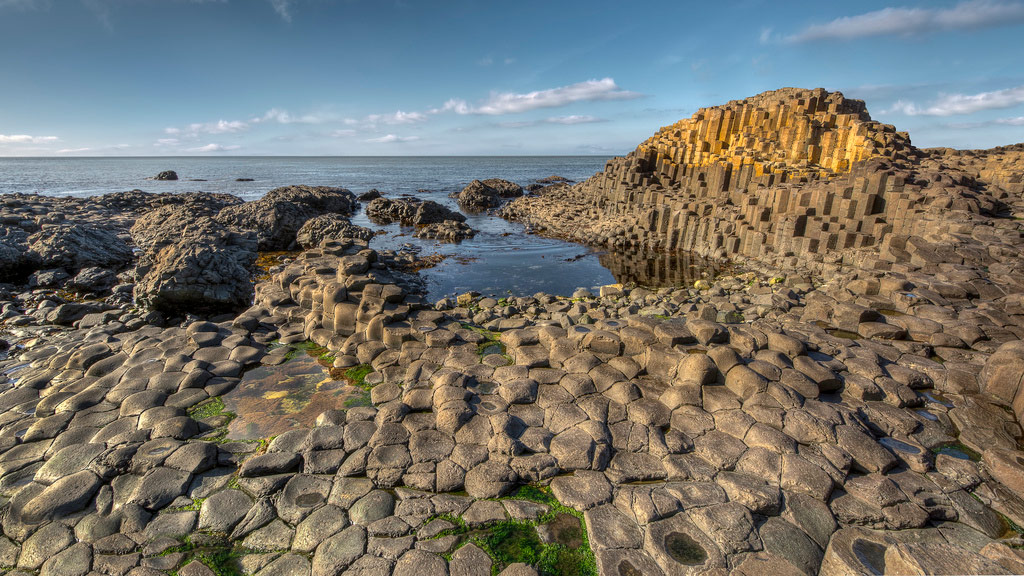 Photo credit: Gareth Wray
The Giant's Causeway, a coastal area of about 40,000 basalt columns near the town of Bushmills in County Antrim, is one of the most popular tourist attractions in Northern Ireland.
Folklore tells us that an Irish giant named Finn MacCool once lived in the area, and from across the sea he could see a Scottish giant, Benandonner, his rival, whom he had never met.
Finn challenged Benandonner to come to Ireland to fight. Because no boat was big enough to carry the giant, Finn built a causeway of stones in the water so that Benandonner would be able to make it across.
When Finn realized the Scottish giant was far bigger than he had expected, he fled to the hills where his wife disguised him as a baby. This move foxed Bennadonner because he thought that if the child was that big, the father would be even bigger. Benandonner fled back to the Scotland, ripping up the causeway behind him, so that Finn wouldn't be able to follow him.
In truth, Giant's Causeway was created by a volcanic eruption 60 million years ago – an interesting fact, but the Finn MacCool myth is a bit more fun to believe.
No matter how it came to be, the Causeway is one of the best places to walk through in the North.
5. Aran Islands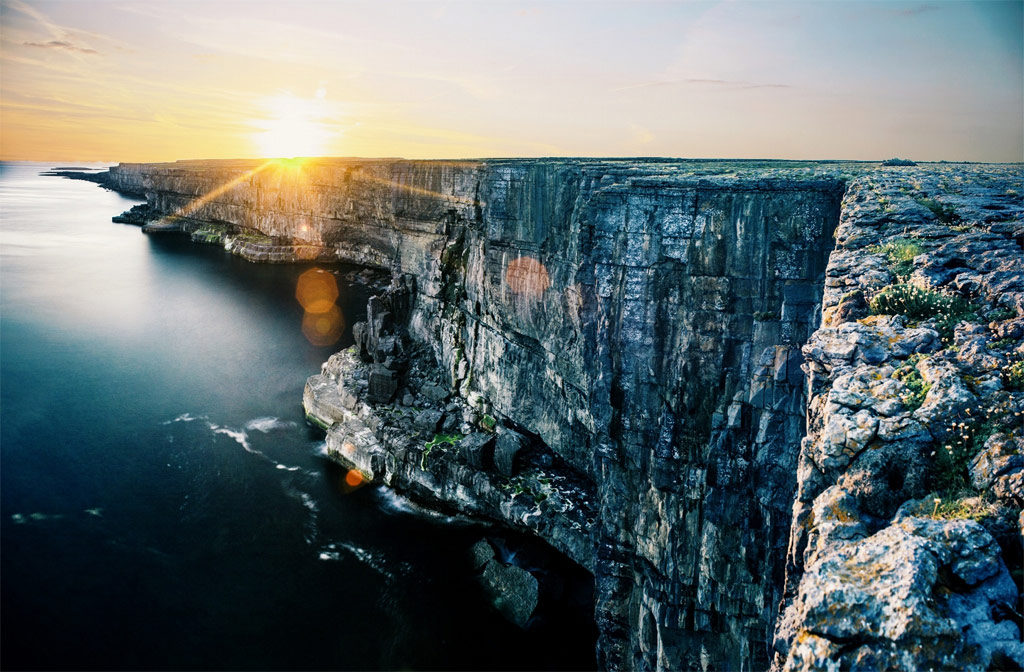 Photo credit: Tanner Wendell Stewart
Famous for their traditional knitted 'Aran sweaters' (sold all over the UK) and car-free roads, the Aran Islands are one of few places left where you can experience a traditional Irish village, unmarred by the modern developments of the mainland. Here, many locals still speak Gaelic as their first language, live in small farming communities and drive pony traps. The countryside is equally enchanting – historic forts teetering on cliff tops, endless sandy beaches and miles of rugged coastline.
6. Skellig Islands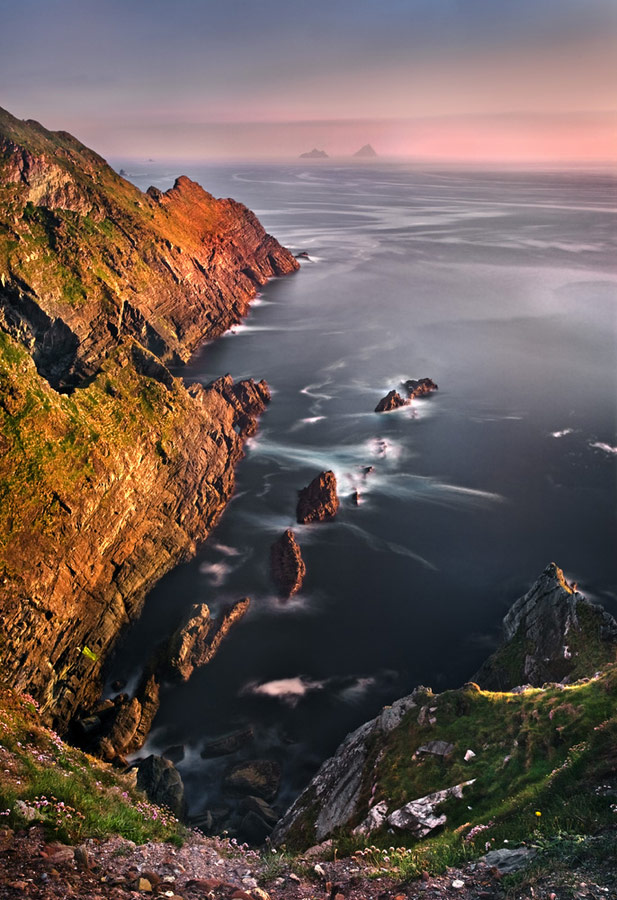 Photo credit: Stephen Emerson
Ireland's magnificent UNESCO World Heritage Skellig Islands make a worthy side trip from the popular Ring of Kerry tourist trail, a pair of small rocky mounds that rise up from the sea off the coast of Portmagee. Not only are the two islands – Skellig Michael and Little Skellig – home to a fascinating 6th-century monastic complex perched on the 230-meter high cliff top, but they also host an impressive array of birdlife. Look out for Gannets, Black Guillemots, Cormorants, Razorbills and Herring Gulls as you climb the hair-raisingly steep 600-step climb to view the monastic remains.
7. Burren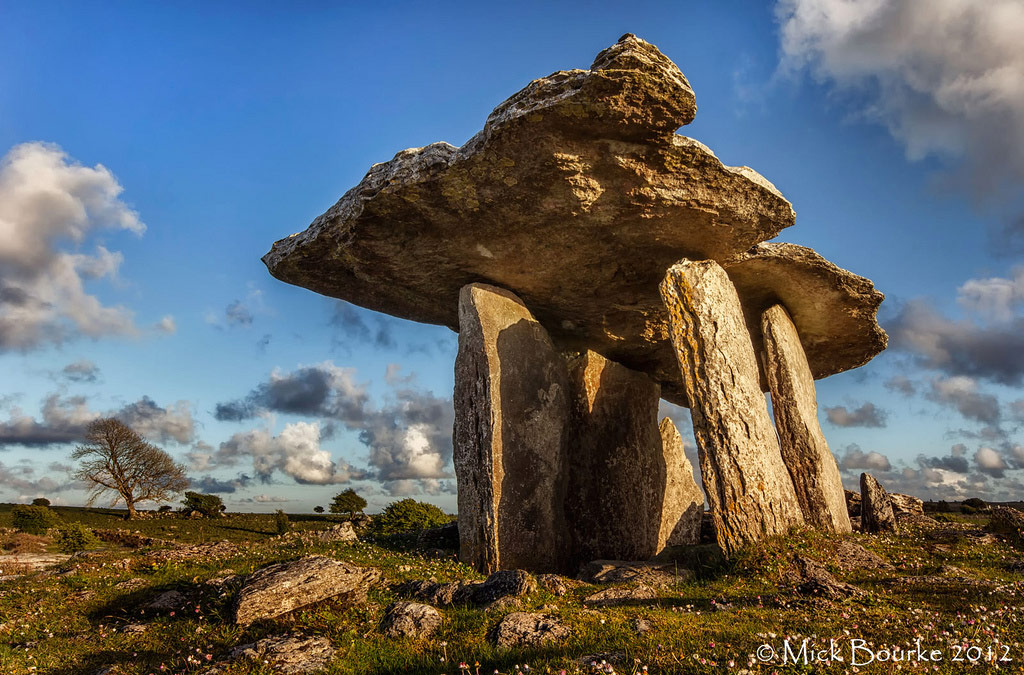 Photo credit: Mick Bourke
The Burren, which is formed by limestone karst plates (in other words, it's a great big rocky mass) is one of Ireland's most famous natural attractions.
The limestone terrain holds a special fascination for geologists and botanists for its Mediterranean and alpine plants.
Described as a botanist's paradise, the Burren has one of the most diverse and beautiful floras in Ireland: 635 different plant species (including 22 of Ireland's 27 native orchids) have been recorded here.
The region also has a number of more rare and elusive species such as the carnivorous pine marten, the snake-like slow worm and the rare lesser horseshoe bat, as well as over 100 breeding birds and almost all of Ireland's native butterfly species.
The diversity of species is due to a happy coincidence of natural and cultural factors. As well as the unique growing environment provided by the thick limestone and thin soil, low impact traditional farming practices such as the ancient practice of winter grazing contribute to the presence of this rich flora. The European Union has designated most of the Burren as a Special Area of Conservation, a title reserved for the finest natural environments in Europe.
8. Glenveagh National Park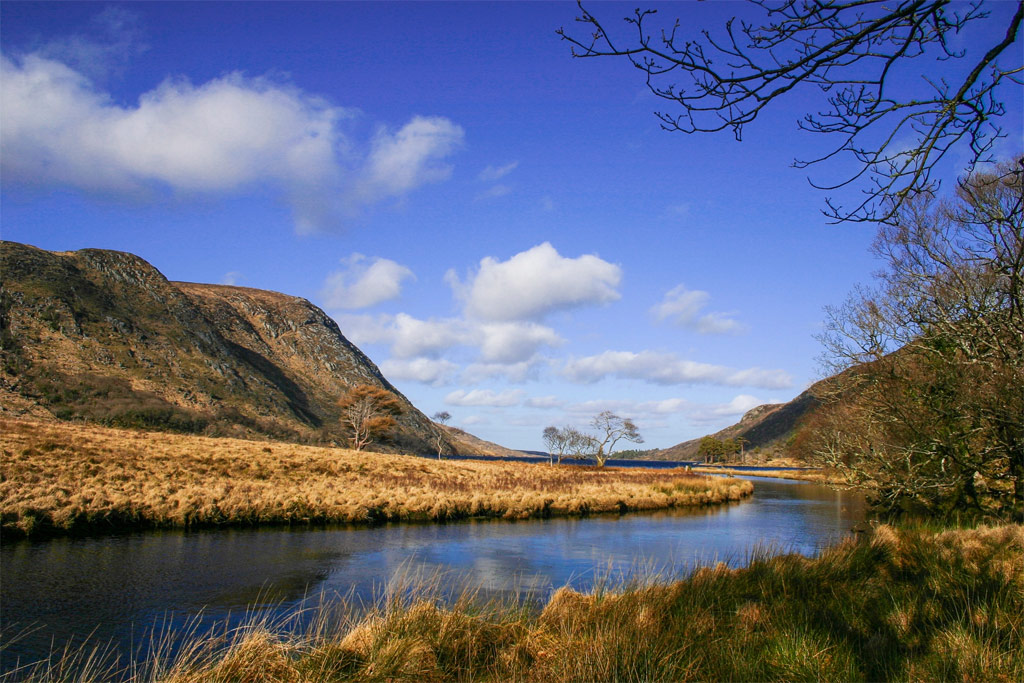 Photo credit: Martina Fagan
Ireland's second-largest National Park at 14,000 acres, Glenveagh is County Donegal's number 1 attraction, drawing hikers and fishermen from all over the country. While you're taking in the mountaintop views, enjoying afternoon tea in the 19th century Glenveagh Castle or fishing for salmon and trout in the glittering lakes, keep a lookout for the park's rare wildlife. The formerly extinct Golden Eagle was reintroduced to the park in 2000 and they share their habitat with Ireland's largest herd of red deer.
9. Connemara National Park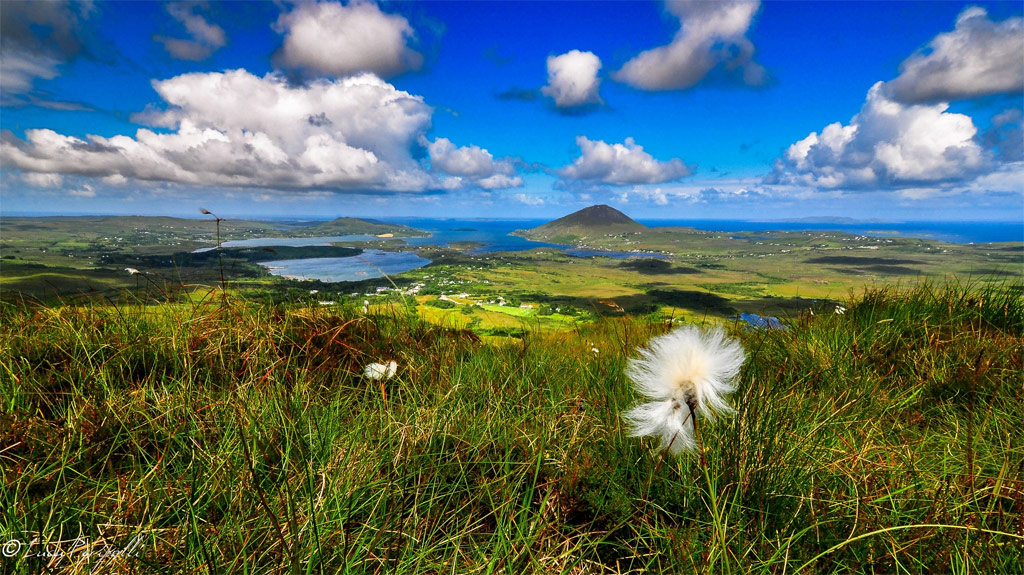 Photo credit: Luca Peripolli
Another one of Ireland's National Parks, Connemara is famous for its herd of native Connemara Ponies and its wild countryside, sprawling around the famous Twelve Bens mountain range. Three of the Twelve Bens – Benbaun, Bencullagh and Benbrack – lie within the National Park boundaries, traversed by a vast network of hiking and climbing trails. Another highlight is the magnificent Kylemore Abbey, a former monastery housed in one of Ireland's most beautiful castles.
10. Trinity College Dublin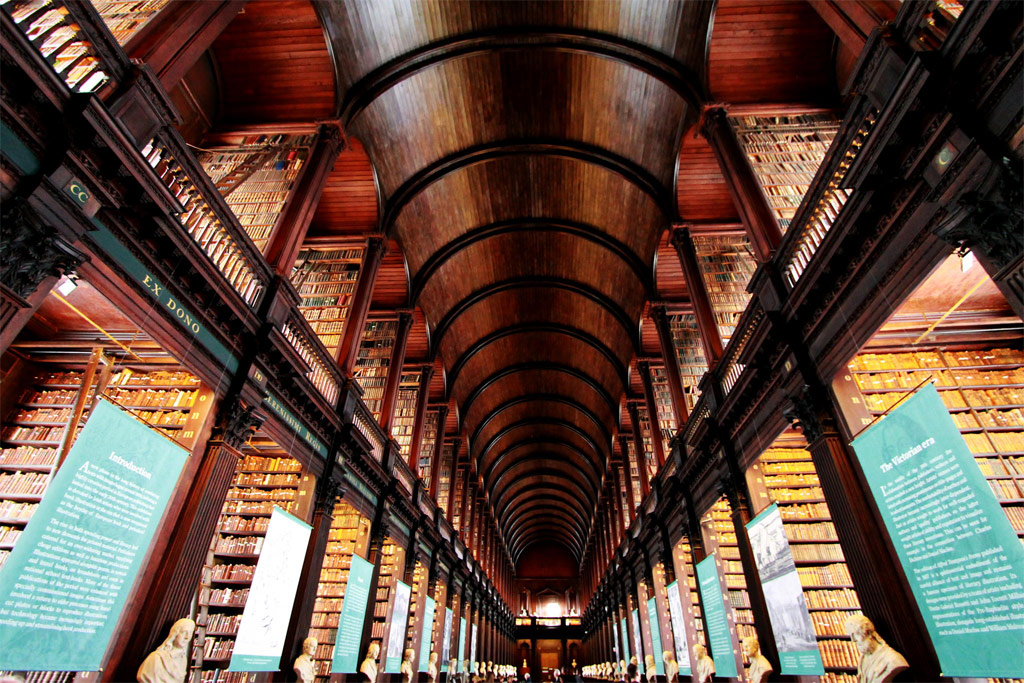 Photo credit: Sander Monster
Trinity College is Ireland's most prestigious college – and although its rivals at University College Dublin might dispute this, it's probably the best university in Ireland.
But one thing not up for argument is the magnificent setting of Trinity: many of its majestic buildings are hundreds of years old. (The college was founded by England's Queen Elizabeth 1 in 1592.) Architecturally at least, Trinity is way above its nearest rivals.
It is also worth taking one of the guided tours around the college as nearly every building seems to have an interesting story. Many of the tour guides appear to be Trinity College drama school graduates: They always seem to add a little dramatic flair to their tours.
11. St. Patrick's Cathedral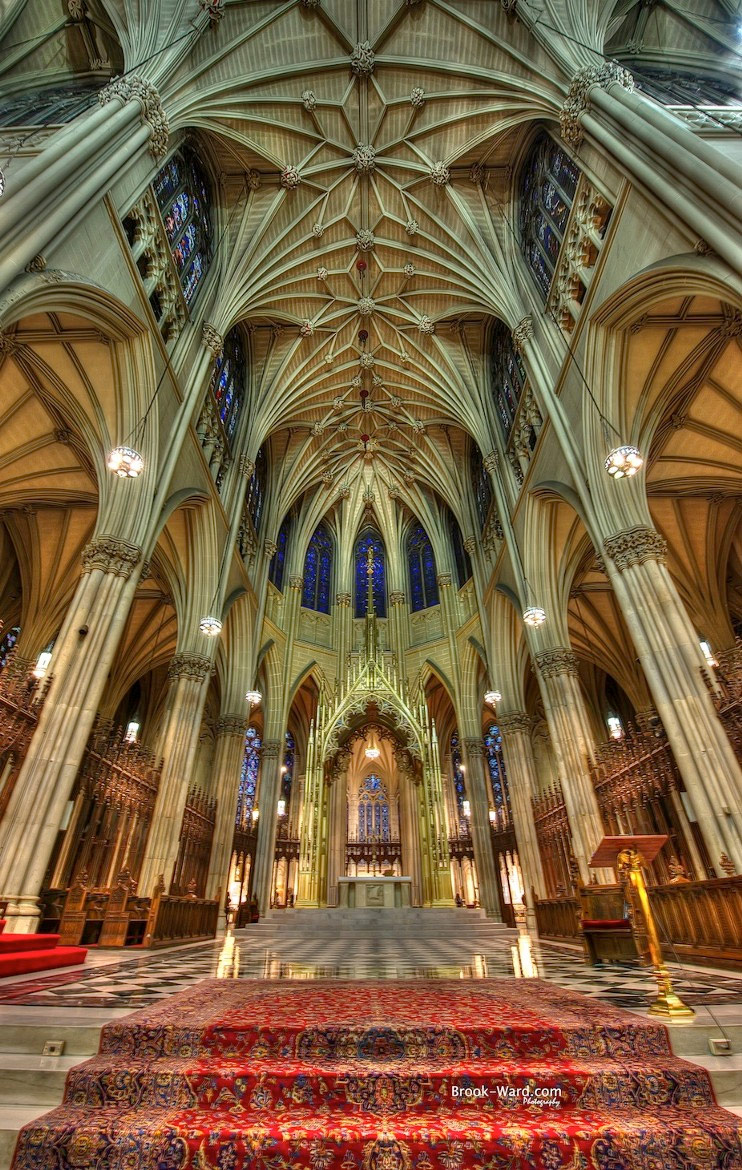 Photo credit: Brook Ward
St. Patrick's Cathedral, Ireland's largest church, is also one of the biggest tourist attractions in Dublin.
In a well close to the cathedral, St Patrick was believed to have baptized converts from paganism to Christianity. To commemorate his visit, a small wooden church was built on the site. Later, in 1191, the present building was constructed, and St. Patrick's was raised to the status of a cathedral.
St Patrick's is also notable for being the first place where Handel's "Messiah" was performed, in 1742. Another interesting fact: Jonathan Swift, the author of "Gulliver's Travels," who was the dean of the cathedral from 1713-45, is buried here.
While this cathedral is replete with history, St. Patrick's is not, however, a museum. It's still very much a living building with services held every day of the year. There are also sung services six days a week. The choir sings two services every day during school terms – the only cathedral in Ireland or Britain to do so.
12. Glendalough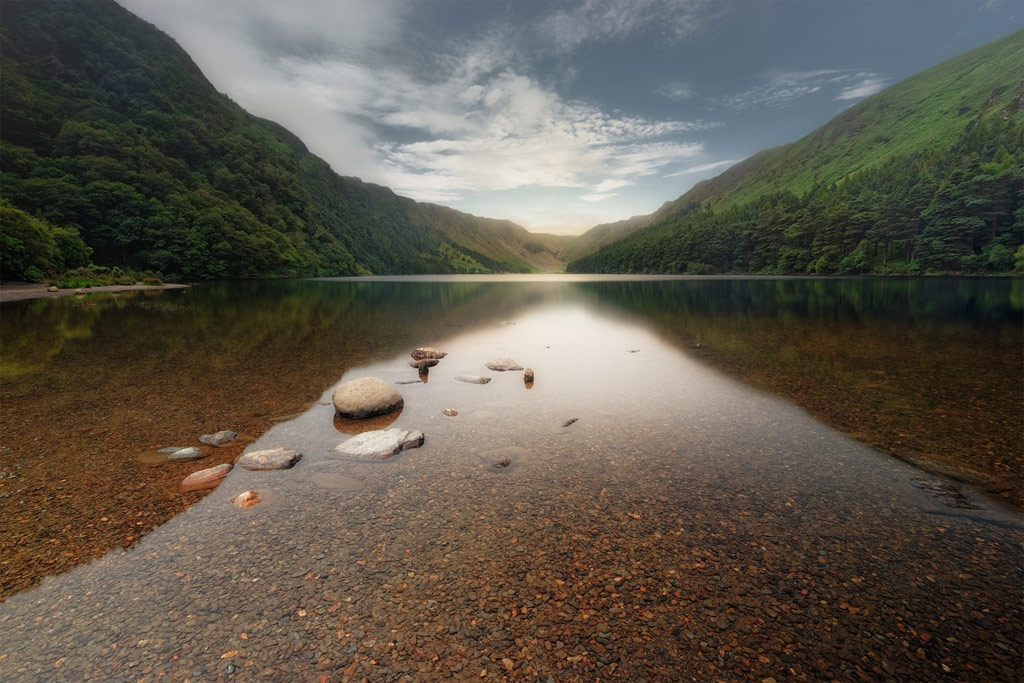 Photo credit: Aleksandrs Mikulans
A popular day trip from Dublin, Glendalough, or the 'Valley of Two Lakes', is one of Ireland's most prominent monastic sites, nestled in the heart of the Wicklow Mountains National Park. The 6th century Christian settlement was founded by St. Kevin and boasts a series of impressive remains set against a backdrop of picturesque Irish countryside. Nicknamed 'the garden of Ireland', Wicklow is a nature lover's paradise of rolling meadows, vast lakes and hillsides carpeted in purple heather.
13. Cooley Peninsula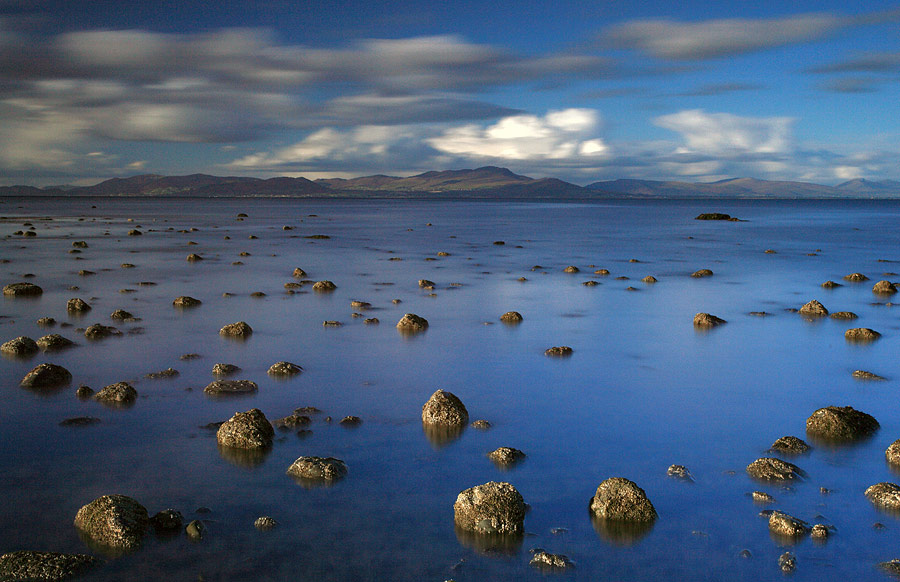 Photo credit: Damien Wogan
At northeastern tip of Ireland, the remote Cooley Peninsula juts out into the Irish Sea just below the border of Northern Ireland and while the region remains largely free of tourists, there's still plenty of stunning scenery to take in. Enjoy the views from the forested Mourne Mountains, stop off at the charming medieval village of Carlingford and walk the windswept coastline in one of the country's most rewarding off-the-beaten-track destinations.
14. Guinness Storehouse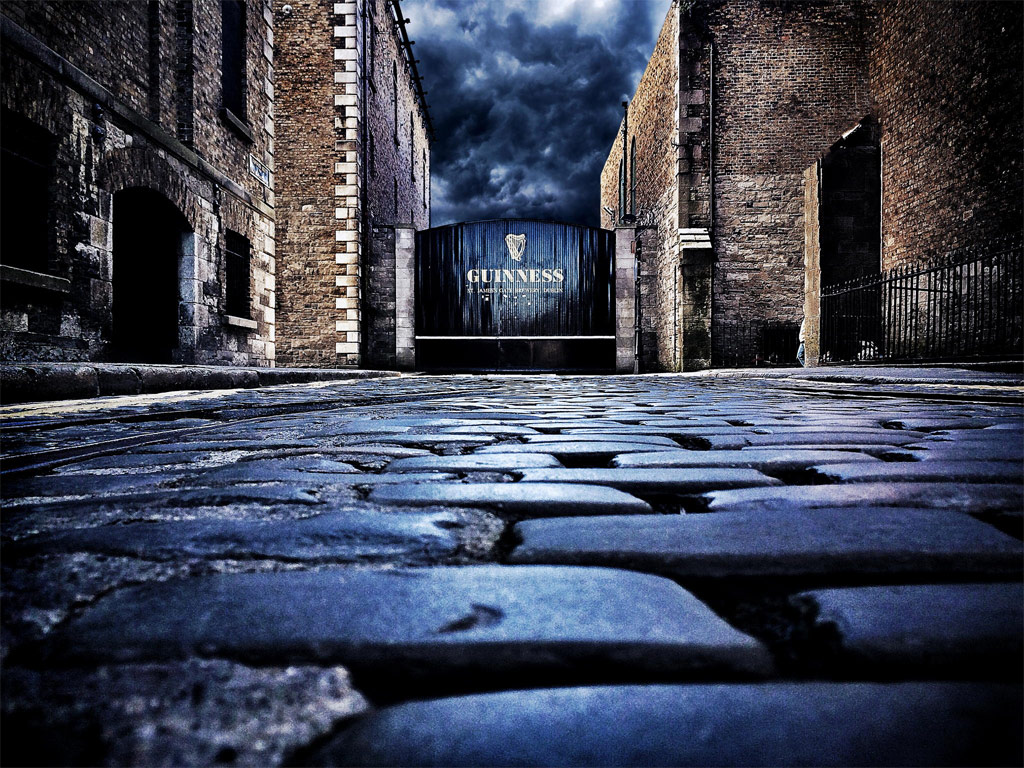 Photo credit: Reuben Fields
A trip to Dublin's most popular tourist attraction is pretty much compulsory for any self-respecting tourist in Ireland's capital. Or, at the very least, it should be.
The Guinness Storehouse tells the story of how Guinness is made and how this famous drink came to be one of Ireland's best-known exports.
It is in an awesome building: its core is in the shape of a giant pint glass, and consists of seven floors. After walking around for about 45 minutes and being constantly told how wonderful Guinness is, pretty soon the subliminal messages start to kick in.
Before you know it, you find yourself craving a pint of the black, delicious stuff like your life depended on it, even if you were previously not a fan. (It is, after all, an acquired taste.)
The top floor, which has the Gravity Bar, is the most fun. There you get a complimentary pint of Guinness. You also get the most spectacular view of Dublin, which is worth the admission price alone.
15. Malahide Castle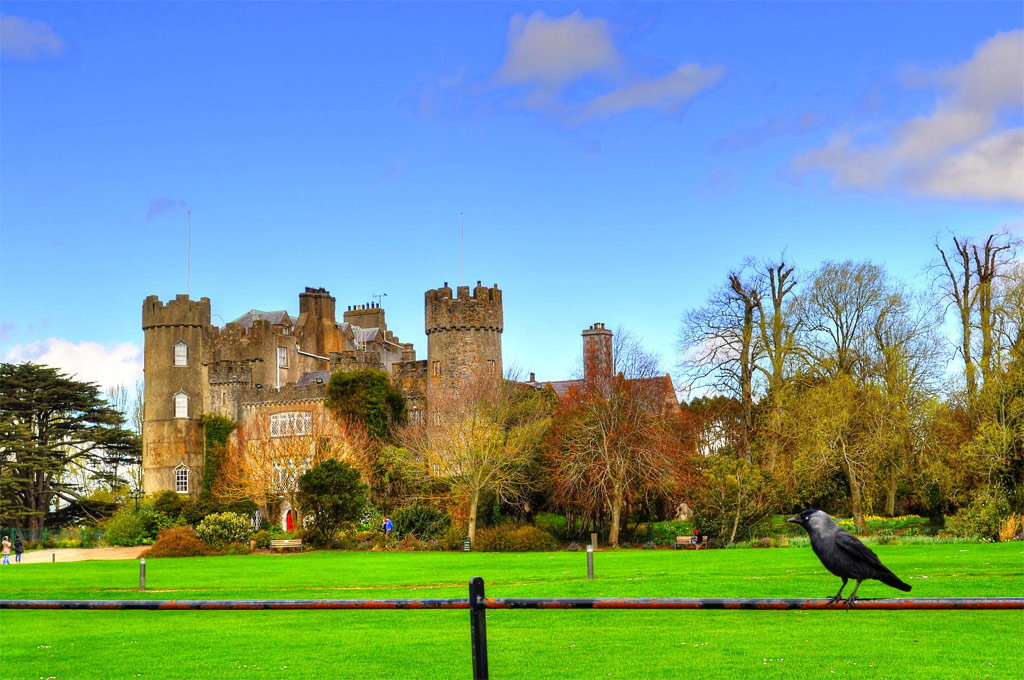 Photo credit: Paulo Ranieri
Malahide Castle is set on 250 acres of park land in the picturesque seaside town of Malahide. For nearly 800 years it served as both a fortress and a private home. It is said to be the oldest Irish castle continuously inhabited by the same family, the Talbots. They lived here from 1185 right up until the last Talbot died in 1973. Legend has it that 14 Talbot cousins breakfasted at the castle before riding out to the Battle of the Boyne in 1690 never to return.
The house is beautifully furnished with period furniture and also boasts an extensive collection of Irish portrait paintings, mainly from the National Gallery. Many alterations have made been over the years made to the Castle itself, but the surrounding parklands have barely changed in 800 years. The grounds are also open to the public, and appeal to all visitors of all ages. A major feature of Malahide Castle Demesne is the beautiful Talbot Botanic Gardens.